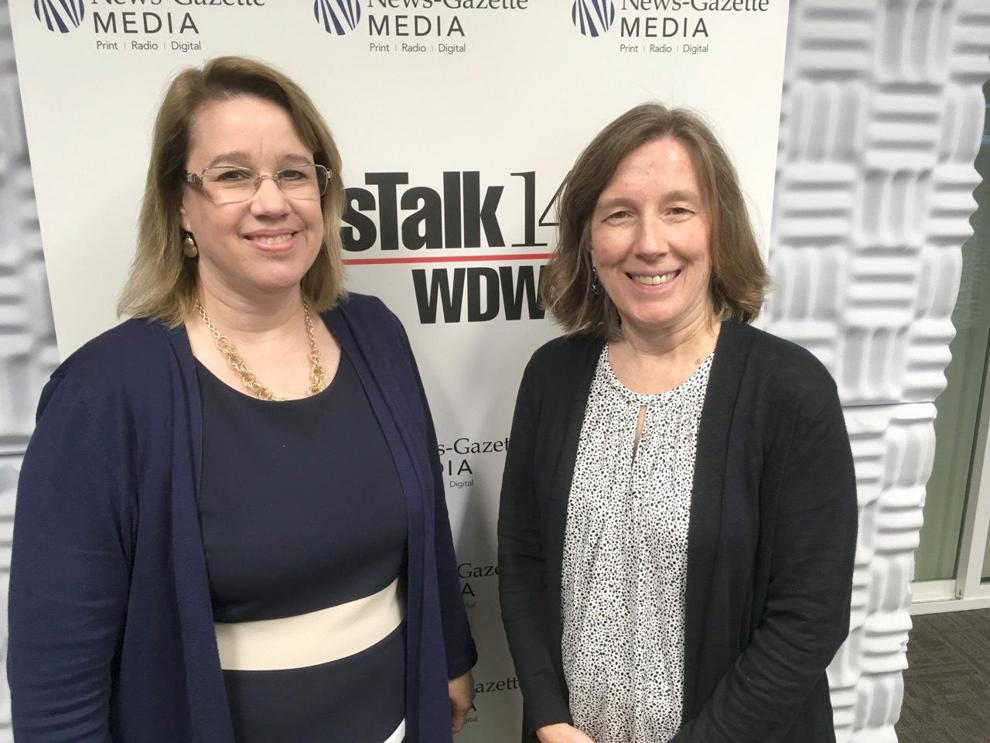 Biochemist Susan Martinis said she always felt supported as a woman in science but knows there are challenges — scarce numbers, family pressures, even the threat of discrimination or harassment.
In this week's episode of "Campus Conversation," the University of Illinois interim vice chancellor for research talks with host Julie Wurth about her experience as a woman in STEM, efforts to curb sexual harassment on campus and her work with national organizations to stop universities from simply "passing the harasser" on to other schools.
She also talked about the state of federal research funding, ownership changes and expansion at the UI Research Park, and the chancellor's new economic development efforts.
The full episode is above; some excerpts follow:
Sexual harassment has been a big issue over the last year or so, with some high-profile cases and questions about how the campus may have handled them. What does the campus need to do to change that?
The good news is that we're already doing it. The chancellor felt this issue was of great importance, with a national spotlight on this and all the national groups that are forming to help make change. He immediately opened up a position of the vice chancellor for diversity, equity and inclusion. ... I think that shows a real commitment by the campus for change.
I think there's policies and processes that the chancellor and the provost, with some help from me, are putting into place, to make sure we don't just "pass the harasser," as is often said at the national level as the Band-Aid is ripped off of these subjects. We want to make sure that everybody is safe.
In other words, don't just encourage someone to leave and agree to not talk about it?
That's right. And I know the chancellor and provost are committed to ending those types of confidentiality clauses.
Is it particularly difficult to weigh these cases in academia, with faculty privacy rights and rules protecting academic freedom?
When a faculty member is involved, it's challenging, because of tenure issues. And tenure, of course, has been really important to bring out new ideas and diverse thoughts.
Aside from the faculty issue it's two things: It's a personnel issue, and it's being fair to the person involved. And that includes the victims. Most of the time the victim would like to stay quiet. They've already been through a lot.
How has Fox-Atkins' sale of 11 buildings to a new majority investor affected the Research Park?
I think it's given us a few more players to think about. And I think with a few more players and getting to know our partners, it's also giving us some more opportunities. The owners and representatives from GEM (Realty Capital) have been down frequently to interact with us and try and understand our needs in the Research Park. ... They want the same things we do. They are very interested in growing the Research Park, which again is my mission, to double the Research Park in whatever capacity that means.
Is the plan going forward to diversify ownership?
I wish I could answer that question. Right now we have a committee that is looking at what would work best in a call for new proposals when the current development agreement expires (in 2021).
How will the Research Park tie into the Discovery Partners Institute effort? Did you share the concerns about shifting too much emphasis to Chicago?
The good news is not only am I over the Research Park, but I am also the point person on campus for interfacing with DPI and the Illinois Innovation Network. So that gives me at least weekly contact with the people in charge of the DPI, including the current interim Director Bill Sanders, to see what's going on in DPI, how they're interacting with the state and how that relates back to us as a campus.
We look at DPI as a portal into Chicago. It's a portal for access, it's a portal for Chicago to better realize what's downstate and look at us more closely. We really don't believe that that's going to be a drain on the Research Park. We think it's going to only help us grow.