URBANA — David Denson will be 57 years old when he's released from prison for the 2017 murder of Terry Moore Jr., a father of seven he did not know when they argued over a broken bottle.
"I am not a murderer. This case is not who I am," said Denson, 30, of Champaign moments before Judge Tom Difanis sentenced him to 28 years in prison for what the judge called a "totally and completely senseless" crime.
The sentence was 12 years less than what Assistant State's Attorney Troy Lozar had sought for Denson, who had what the prosecutor said was a short but "concerning" criminal background.
And it was eight years more than Denson's attorney, Ed Piraino of Champaign, had sought on behalf of the father of four who had a good full-time job and supported his children.
Both attorneys agreed that Mr. Moore's fatal shooting early on Aug. 20, 2017, in a downtown Champaign parking lot was born of a culture of violence that is common in this community and others.
The facts remained that Mr. Moore, 30, of Champaign was unarmed and that Denson left home that day with a gun he was not legally allowed to have that was equipped with an extended magazine that held 25 bullets.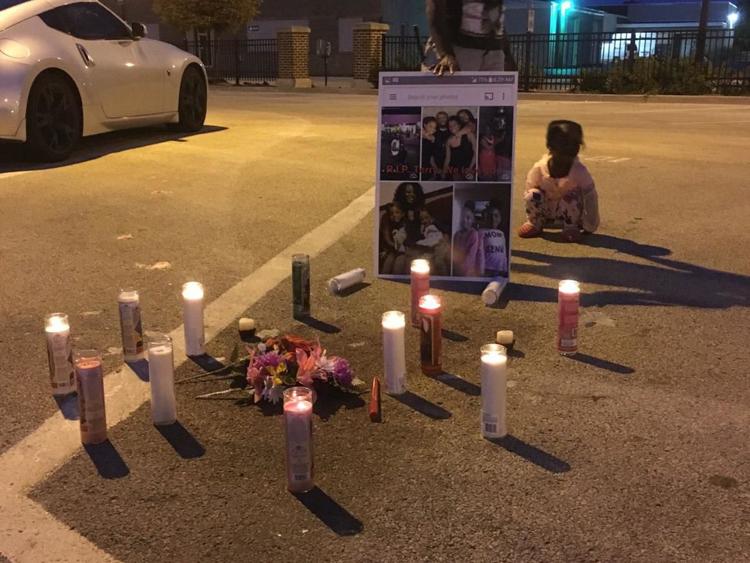 The facts laid out by Lozar when Denson pleaded guilty in July were that at least 30 people were partying about 4 a.m. that Sunday in the parking lot near Washington and Walnut streets, just north of The News-Gazette.
Denson, who was drinking, picked up a bottle and threw it toward an alley, where it shattered near Mr. Moore, who believed he was its intended target. The two men began to argue and kept at it despite Mr. Moore's friends' attempts to intervene. Denson ended the exchange when he pulled the gun and shot Mr. Moore once in the chest.
Denson immediately left in a car with two other men. Police found him 12 hours later at his mother's home at the time on South Smith Road in Urbana. They also found the gun with the extended magazine that lab experts confirmed was the murder weapon.
Twalla Woods, Mr. Moore's older sister, testified that her brother's death will forever impact the lives of his seven children, now ages 3 to 13, as well as her and the rest of their family.
"Terry was the life of the party. Terry was my protector, my brother, my best friend, my son," she said. "He did not deserve it. At first, I hated Mr. Denson. Now I forgive him. I have to, to move forward with my life."
In an effort to lessen Denson's sentence, his mother, Patricia Edwards, testified that her son helped support her, was never involved in gangs or violence and took care of his children. She said she was unaware he had a gun in their home.
But Kierra Gatson, the mother of two of Denson's children, admitted that sometime in 2016 or 2017, she bought the extended magazine online for him at his request. Because of a 2016 felony conviction for driving under a suspended license, Denson could not legally buy a weapon.
And just 10 days before the murder, Denson had pleaded guilty to unlawful use of weapons by a felon and was supposed to turn himself in on Sept. 13, 2017, to begin a three-year prison sentence. Another judge had allowed him to remain free to get his affairs in order before reporting for prison, a common practice with defendants with minimal prior records.
Lozar argued that Denson's choice while free that month to arm himself, get drunk and kill a man "will reverberate at least a generation or two" for both his offspring and Mr. Moore's.
"This crime and so many more like it are so senseless, so incredibly unnecessary, that the tragedy is we are starting to accept them as commonplace," Lozar said, calling Denson "dangerous."
Piraino agreed about the senseless violence, but observed: "It's a new culture. Everybody carries a gun. It's a fact of life and it's happening," he said. "When you take a gun to a party, nothing good is going to happen."
But Piraino stressed that Denson had not gone out intending to shoot anyone, much less kill a man, and the Legislature took that into account when it set the sentencing range for murder at 20 to 60 years.
"He wants to have a second half of his life to put the pieces together and make up for what he has done," Piraino said, asking for the minimum.
In a 3½-minute statement, Denson apologized to Mr. Moore's family, his own and the court and said he prayed that the victim's family could find peace and forgive him.
"There is not one day I don't wake up and repent of the sin I committed. I wasn't raised this way," he said.
Difanis said what sets Denson apart from many of the young men he sentences for shooting crimes is that he's 30 and was headed for prison in a month, yet he chose to go out partying while armed.
"If a family member knows a son, brother or fiance has armed himself and is going to be out and about, they need to do something," the judge said. "This was totally and completely senseless."