CHAMPAIGN — On the morning of Sept. 11 in years past, students in the Army, Navy and Air Force ROTC programs at the University of Illinois were easy to spot — hundreds of them would run across campus, commemorating the day in a highly visible way.
This year, they decided to pay their respects in more solemn fashion.
Instead of running, they climbed the steps at Memorial Stadium as the sun rose above them, replicating the first responders' climb of the 1,980 stairs in each of the World Trade Center towers.
"This is a much more intimate way to honor the firefighters and the casualties during 9/11," said senior Alexa Emano, who will be commissioned as a second lieutenant in the Marines upon graduation. "Running around campus is great — people are able to see us out there on 9/11 — but this is different because we're actually climbing the stairs, going through what the firefighters were actually going through."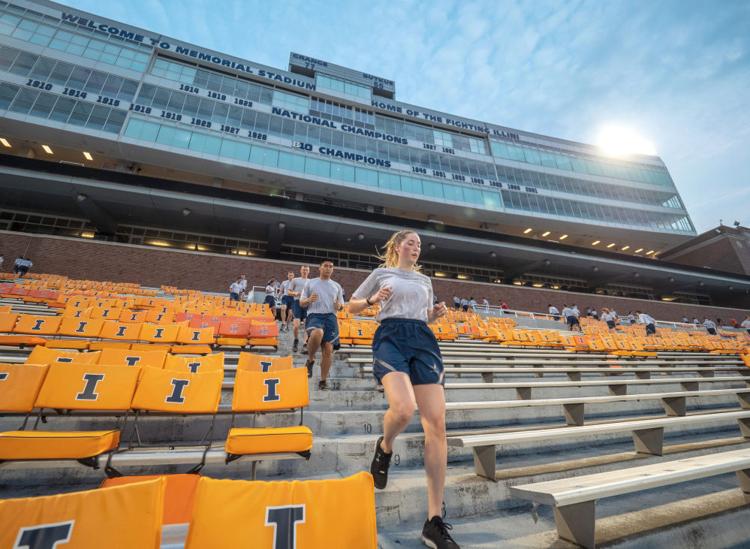 Emano began putting the event together this summer after receiving an email from her battalion commander, Capt. Anthony Corapi.
Corapi wanted to leave a mark on this group of cadets, most of whom are too young to remember the towers falling in New York during the terrorist attack 18 years ago.
"Many of the kids that we lead in our ROTC units either weren't born or were toddlers (in 2001), so we're having to teach them," Corapi said. "And I think it's a solemn responsibility we have as a military and as first responders to keep it alive and not just let it sit in the history book, which is where it's going.
"It happens with any event in history. It just kind of becomes part of a book. It's in the past. But it's our job to keep that memory alive."
So after securing the availability of the stadium, which she did with the help of Navy SEAL-turned-Illini football assistant Jake Zweig, Emano, a Navy ROTC cadet, coordinated with members of the Army and Air Force ROTCs, along with local fire departments.
And on Wednesday, the vision was realized.
On all four sides of the stadium, future members of the military paced the steps, going up and down and back and forth. Some ran and others walked. Some wore T-shirts and shorts, while others wore 15-pound flak jackets and carried packs that weighed 40 pounds or more.
For Noah Woodfall, a senior with the Air Force ROTC who studies aerospace engineering, Corapi's strategy worked.
"Each step symbolizes something," Woodfall said, "so it has a little more meaning to it."
Emano's legs grew tired as she led the climb in the north end zone with a 40-pound bag affixed to her back. It was physically and mentally draining, and she won't soon forget it.
And that's exactly the point.
"I have to say, I have jelly legs right now," she said. "With the packs on, it really becomes a physical and mental game out there. It was just one foot in front of the other. ... We're sweating, it's a mind game, and it's, 'One team, one fight.' So it was a really intimate experience this time around."