Cheapest gas in town would be ... let us know here
CHAMPAIGN — Buying a pack of Newports at a local convenience on Friday, Aaron Aguirre of Champaign called the state's impending $1-a-pack cigarette tax hike "ridiculous."
"They want to tax you on things that you enjoy — sugar, everything," Aguirre said.
His eyes widened when he heard about the 19-cent-a-gallon increase in the state gasoline tax, also set to take effect today.
"That's terrible," he said, adding that he will be moving out of Illinois soon. "Unfortunately, I'm here for work."
Trucking companies, gas stations and everyday drivers and smokers braced for a double whammy of tax increases that took effect at 12:01 a.m. today, just in time for the Fourth of July holiday.
State legislators doubled the current 19-cents-a-gallon motor fuel tax to 38 cents to raise money for $33 billion in improvements to Illinois highways, bridges and public transit. And they raised the cigarette tax to $2.98 a pack to help fund a broader state capital infrastructure plan.
Not everyone is buying that rationale Friday, even if they recognized the need.
"I've heard that story before," said John Crisp of Washington, Ill., filling up his delivery van at Thornton's on Mattis Avenue in Champaign.
Crisp operates a courier service that delivers wine for companies based in Chicago. He estimates the gasoline tax increase will cost him another $100 a week, which he will probably just have to absorb.
"It's going to cost me money," said Crisp, who is thankful that he quit smoking a month ago.
He agrees Illinois roads are "pretty rough" in spots, and concedes that labor and construction costs have gone up like everything else. But he wishes lawmakers had raised the tax more gradually, "by a nickel here and a nickel there. Just all of a sudden, that's what hurts."
Going forward, the motor fuel tax will rise annually by the consumer price index, though it would be capped at 1 cent per year.
Drivers and smokers were expected to flock to gas stations and convenience stores over the weekend in anticipation of today's tax hikes and the upcoming holiday.
Thornton's was busy Friday but no more than usual, said assistant manager Kristina Hughes. Still, drivers were "definitely" aware of the gasoline tax hike, she said.
"Nobody seems very happy about it," she said.
Thornton's and other gas stations also stocked up on cigarettes in anticipation of a last-minute rush to beat the price increase.
"Everybody's talking about it. People who can afford it and can't live without smoking, they are buying like two cartons," said Vijay Puri, owner of the Gas Depot at University and Mattis avenues.
Several Thornton's customers were surprised by news of the gas tax hike. That included Kimberly Wilson of Urbana, who just moved to Champaign-Urbana from Chicago and is taking a new job as an Amazon delivery driver. She said she has to buy her own gas, so the tax increase will cost her income.
"I think it'll be worth it if they actually do the work on the roads," Wilson said, but she's not confident drivers will see the results.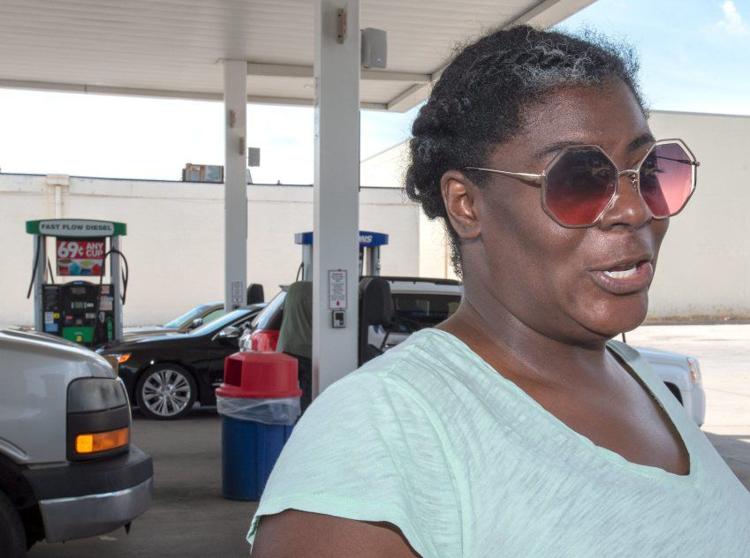 'Gotta have it'
Leroy Hodges of Champaign, who works for a local trucking company, knew the tax hike was coming and isn't bothered by it — "as long as we can put it into good use."
It will "upset a lot of people," Hodges said, but they don't have much choice about buying gasoline, he said. "You gotta have it, you gotta go to work."
Hodges, a smoker, wasn't aware of the cigarette tax increase.
"That's enough to make you want to quit," he said.
Puri believes the gas tax will "definitely" affect his business and will be hard on customers who are already "feeling a lot of pain" economically.
Gas prices have been fluctuating between $2.35 and $2.59 a gallon over the past month, he said.
"Whenever we hear any kind of news that there's some problem in the country, in the Middle East, they will go up," he said. Tom Franey, who owns a Champaign trucking business that delivers fuel to gas stations and other commercial customers, said last week was "crazy." His customers asked him to keep their tanks as full as possible before the tax hike took effect.
"Our lives as fuel haulers go as the market goes. When they come on the news and say, 'Iran shot down a drone,' that makes our days crazy, because everybody thinks the price is going to go up, so they want their load before 6 p.m.," when wholesale fuel suppliers raise their prices, Franey said.
'Wait and see'
Franey Trucking employs about 30 drivers who deliver gasoline, diesel fuel and other materials to gas stations, bus companies, industrial plants and other customers within a 200-mile radius of Champaign.
"We use a lot of fuel," Franey said.
The state also raised the surtax on diesel fuel, bringing the total tax increase on diesel to about 24 cents a gallon, Franey said. His company goes through about 7,500 gallons of diesel fuel each week, so that comes out to another $1,800 a week in added costs, or nearly $95,000 a year, Franey said.
"Not only is the actual cost of the product going up, but what I charge to deliver it is going to have to go up," he said. "It'll just get passed on to the motoring public. I can't absorb that."
Fuel used by farmers for tractors and other farming equipment won't be taxed, but diesel fuel used in trucks to haul their crops will be, Franey said. A red dye is put into agricultural fuel, so regulators can tell the difference, and the IRS sends an inspector around every once in awhile to test the trucks, he said.
Either way, farmers will pay higher delivery costs, just like other customers, Franey said.
"If they use it to improve the roads, I won't have a problem with it," he said of the fuel tax increase. "The state of Illinois is notorious for not using tax dollars for what they're intended for. All we can do is wait and see."