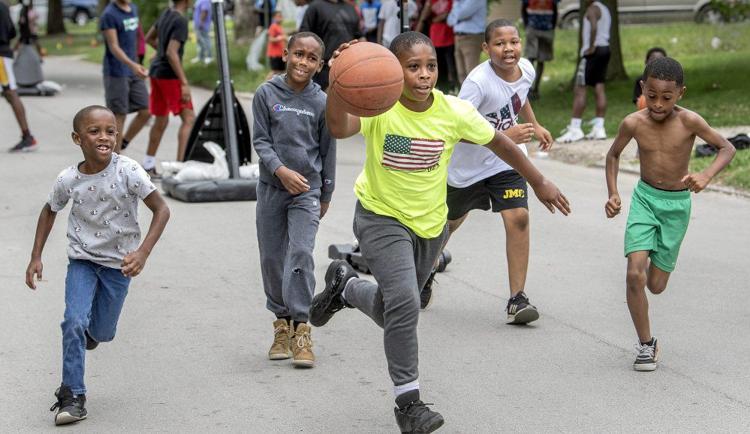 CHAMPAIGN — Berean Covenant Church Assistant Pastor Will Kyles still remembers the neighborhood block parties he went to growing up in Chicago.
At East Central Youth for Christ's "Campference," a five-day street-basketball event for children in C-U, Kyles finds himself spreading the same message of community togetherness that had such a big impact on him years ago.
"When you get older, what you think about is how do I pour back into the community, because somebody poured into me," Kyles said.
Five years ago, Berean Pastor Willie Comer Jr. and Kent Hollis of Meadowbrook Community Church shared a vision to reach underserved kids from the north side of Champaign.
"One of the things we realized was there was lot of violence happening in this community," Comer said. "We decided we're going to take the community back."
The first Campference on Champaign's Hedge Road saw eight kids attend. Today, it draws dozens, with three courts for elementary, middle and high school players.
The kids are provided breakfast and lunch, participate in group prayer, and compete in three hours of pickup basketball each day starting at 10 a.m., culminating in Wednesday's single-elimination tournament.
Effective outreach
Two years ago, Demerio Hilson, then a sixth-grader at Franklin Middle School, decided to investigate when he heard some kids playing basketball down the street from his aunt's house.
Hilson, now in eighth grade, stands several inches taller and regularly attends Youth for Christ's Midnight Basketball on Fridays, as well as the annual Campference.
"It's fun — you can compete, you can show off your moves," Hilson said.
With his height, Hilson plays as a big man, and takes pride in his ability to finish layups.
This brand of organic involvement is regular for kids that show up to Campference. Aside from some same-day canvassing and word-of-mouth outreach, Youth for Christ doesn't advertise the event.
"Once the word is out, the word is going to spread really, really quickly. We just have to have the registration forms from their parents," Comer said.
The event's easy access — held right in the neighborhood with a "universal" sport like basketball — lends to its success, Comer said.
"In terms of outreach, it's huge," said Youth for Christ's John Rawdin. "These kids love basketball; this program gives us a chance to meet them where they're at."
Religious messages
As is the case with every Youth for Christ event, Campference's activities are interlaced with Christian teachings.
Hollis closed Monday's games by leading a group recitation of the Lord's Prayer before the kids ate lunch.
"The food and games we give brings fun and brings people together, but it doesn't change a heart. A relationship with God changes a heart," Hollis said.
This year is the first that Campference will bring its setup to Urbana, stopping at Salt and Light this Thursday and Friday.
Comer said the move was inspired by the same principle of directly reaching communities in need, even if it inconvenienced the organizers.
"If we can get God's spirit back in a place where we feel the spirit has been broken, we can change that and put love back into the community," Comer said.
'It's amazing'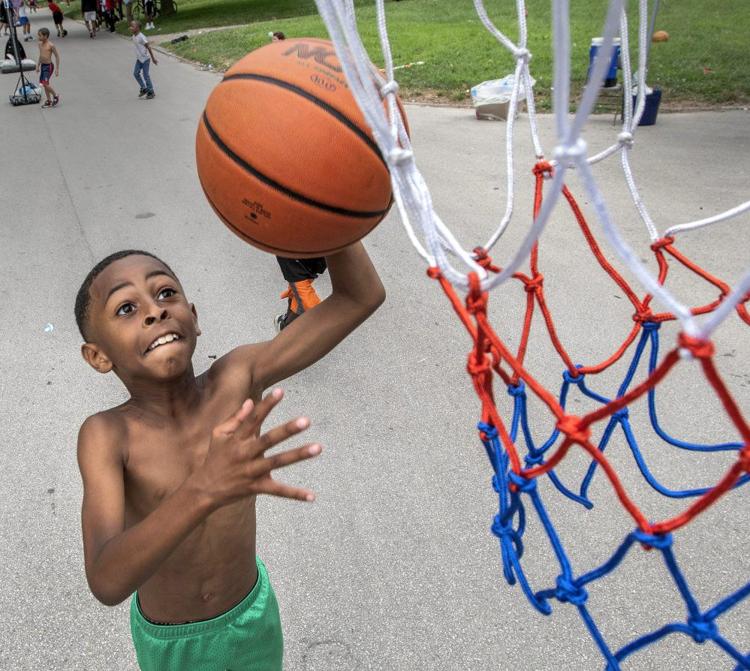 Several community leaders and organizations have taken notice of the program's success.
Among them: sponsor Martin One Source, the Champaign Community Coalition, Champaign police Chief Anthony Cobb and Mayor Deb Feinen.
"It's a plethora of people that have said first, 'You're crazy'; next, 'We're with you. How can we help?'" Comer said.
Feinen stopped by Monday to talk with Youth for Christ organizers and participating kids. She speaks highly of community figures who act independently to mend community issues.
"It's amazing," Feinen said. "Government can't do everything. Events like this let the kids know people care about their community."
Comer promised Youth for Christ kids that they'll throw a party for those of who go the first semester without a detention or suspension.
"We want to encourage them to be great, to be amazing," he said. "The only way to do that is you have to be engaged."