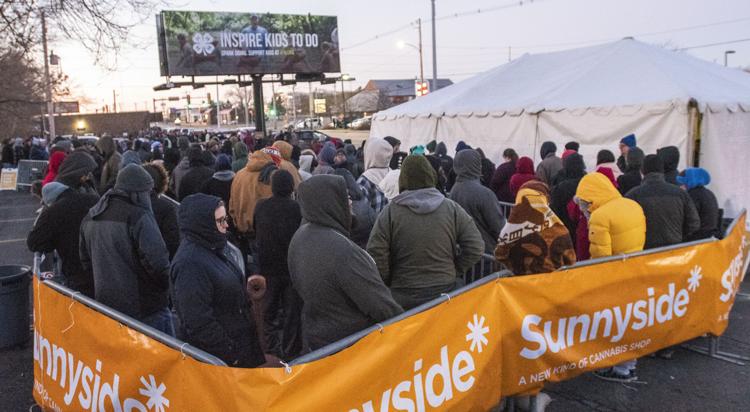 CHAMPAIGN — To earn the first-in-line spot to buy marijuana before dawn on New Year's Day, 28-year-old Nathan Guevara drove to Champaign from his home in Bloomington on New Year's Eve and camped out in front of Sunnyside dispensary all night.
His mood: "Very excited," he said.
He was one of about 500 people in crowded lines that wound their way around two parking lots outside Sunnyside, 1704 S. Neil St., C, as the dispensary opened at 6 a.m. to sell recreational marijuana for the first time.
By 5:30 a.m., NuMed Urbana's parking lot was full. That marijuana dispensary had given customers numbers as they arrived, and some started lining up at the door before NuMed's 6 a.m. opening.
Nick Lemoine, national purchasing manager for Sunnyside's owner, Cresco Labs, said purchases of cannabis flower would be limited for the first few weeks of January so everyone would have a chance to buy some. But he expected limits to ease up later this month.
Lemoine was on hand for the start of recreational sales in Nevada and Colorado, and said the crowd waiting outside Sunnyside Champaign exceeded expectations.
"Everyone is in an ecstatic mood," he said.