Questions? Drop 'em in Tom's Mailbag by emailing tkacich@news-gazette.media
FITHIAN — More than two years since some Fithian-area residents fought against the development of two large hog facilities a few miles north of town, Illinois pork producers invited state legislators to tour one of the hog buildings on Wednesday to get a better understanding of the operation.
"It's good to see it full," said state Rep. Brad Halbrook, R-Shelbyville, after going inside one of the 34,400-square-foot buildings that are almost entirely powered with on-site solar panels.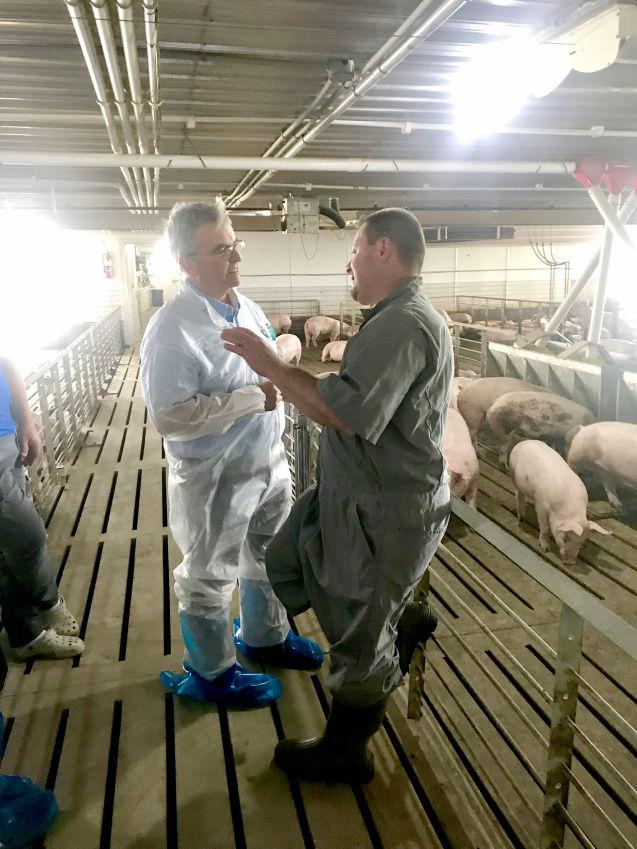 Situated on 5 acres apiece, each of the facilities can house 8,400 pigs, and they're owned by Parks Livestock based in Vermilion County.
The pigs in the barn that the group toured Wednesday are not yet at their finish weight but were well beyond the size they were when first brought into the facility.
Lawrence Parks, president of Parks Livestock, said when they arrive, the weaned pigs are about 3 weeks old and weigh around 13 pounds, and they'll stay for five to six months until they're about 300 pounds.
Then they're shipped to a Tyson Foods processing plant in Logansport, Ind.
Officials with Parks Livestock and the Illinois Pork Producers Association led Wednesday's tour for state legislators, who included Halbrook; state Rep. Tom Bennett, R-Gibson City; state Rep. Mike Marron, R-Fithian; and Landon Stenger, chief of staff for state Rep. Chapin Rose, R-Mahomet.
Other state legislators were invited, and a few who were expected couldn't make it at the last minute, including state Rep. Sonya Harper, D-Chicago, chairwoman of the House Agriculture and Conservation committee.
"This is just important to the state," said Halbrook, adding that 1 in 4 jobs in Illinois is related to agriculture. "So as the makeup of our General Assembly changes, it's important for (legislators) to know this and see this."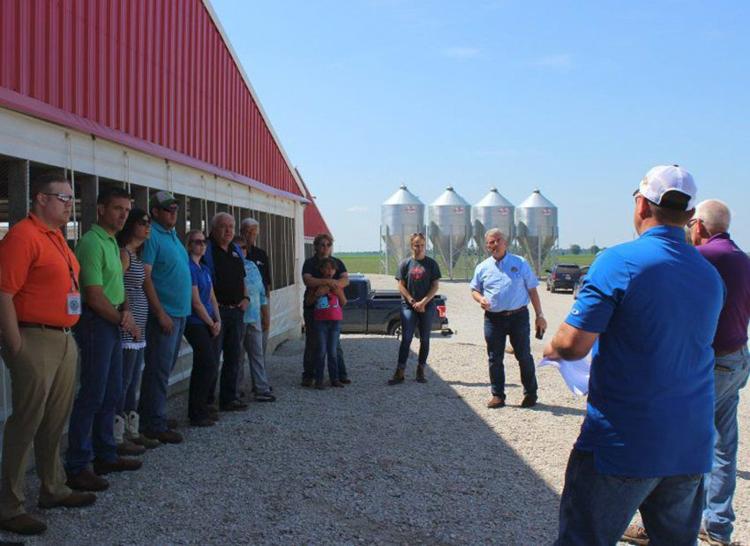 The new $16 million Horace grain feed mill near Chrisman is in Halbrook's district. Owned by The Equity, an independent agricultural cooperative based in Effingham, the Horace site that was built just one year ago supplies the feed to the two hog finishing facilities north of Fithian.
Corey Thompson with The Equity was there for Wednesday's tour and told state legislators that the hogs in each of the two facilities consume about 170,000 to 200,000 bushels of corn and roughly 15,000 bushels of soybeans in a year, and Horace feed mill gets all of its corn and beans from Illinois farmers.
Fithian farmer Gabe Shepherd owns the farmland around the facility and uses the manure generated — up to 1.2 million gallons stored below the facility in an 8-foot-deep concrete containment area.
Last fall was Shepherd's first manure application on his fields since the hog facilities started operating nearly two years ago.
He's able to fertilize about 400 to 500 acres, injecting the manure several inches below the ground, which helps control odor and runoff, opposed to applying on the surface.
Before the state granted permits for the two facilities, Fithian-area residents had a lot of concerns about the planned hog operations, especially in regard to odor and possible groundwater contamination.
During the tour, Bennett said he did not experience strong odor when he got to the facility on Wednesday and asked operators if there have been complaints.
Parks Livestock officials and the contract employees — Andy Allen and Randy Allen with 3W Ag Services who run the facilities day to day —said they rarely get complaints.
Randy Allen said sometimes a complaint is not due to the hog barn facilities but with application of manure on a field that's not even part of their field injection operation.
David James, special projects manager with Parks, said the most humid days, when air outside is not moving, are when odors are at their highest, but a computer controlled ventilation system controls the temperature and humidity levels in the barns.
Shepherd said bottom line is hogs smell, and some days people may get odor from the facility, and some days they don't.
"But there's no place where it's overwhelming," Shepherd said.
Parks said passing along details about the operation, like the odor management and how the animals are fed, housed and cared for daily and offering an opportunity for people to see it in person, is the point of inviting the legislators for a tour.
"Hopefully, they come here and see how comfortable the pigs are," he said, adding that the two Parks facilities north of Fithian generate about $70,000 to $75,000 each in property tax revenue, and most of that goes to the Oakwood school district. "Which is pretty huge for rural America."
Shepherd said he hopes the legislators see how well the animals are cared for and how environmentally responsible and clean the operation is.
"And when issues in the Legislature come up, they remember this experience," he said.