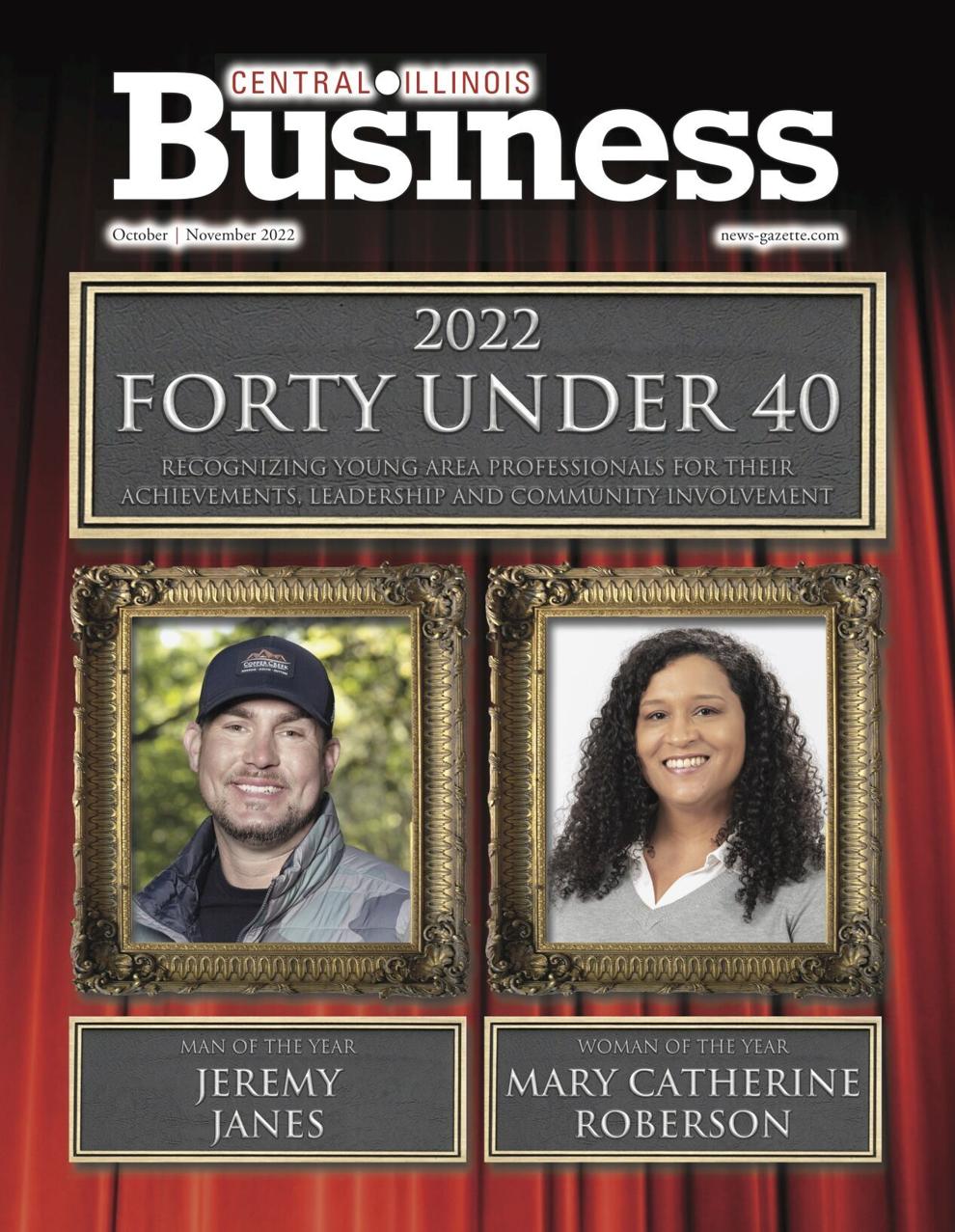 Central Illinois Business Magazine's 16th Forty Under 40 class will be celebrated this fall Champaign.
Nominations are now being accepted. CLICK HERE or email N-G VP/News Jim Rossow at jrossow@news-gazette.com for information.
To receive Central Illinois Business magazine, click here
The first 15 classes have been a hoot to celebrate as they are comprised of 600 men and women who make our community go. The prestigious list:
2008
Woman of the Year: Laura Huth
Man of the Year: Mark Randall
Bob Ballsrud, Denise Bates, Karen Blatzer, Eric Boland, Carrie R. Boyd, Lindy Brown, Michelle Campbell, Chris Cheely, Ashley Clanton, Rob Collins, Ryan Culton, Randall Green, Wendy Harris, Angie Hatfield Marker, Terra Hendrix, Zak Horn, Pamela Hulton, Michael Johnson, Scott Keeble, Carla M. Kimmell, Dan Marker, Brian McClure, Michael Meidel, David Mills, Kevin G. Moore, Luis Navaez, Jami Painter, Oliver Philpott, Rafael M. Ruggiere, Shannon Ruh, Kelly Schaudt, Jennifer Smith, Keith Souza, Kimberly Sugden, Paul Taylor, Brian Watson, Adam Yeazel, Kevin Yonce
2009
Woman of the Year: Laura Frerichs
Man of the Year: Joel Oschwald
Joe Alexander, Roaa Al-Heeti, Daniel Baker, Lorianne Bauer, Brett D. Bean, Janet Benzing, Lori Bluhm, Brandon Bowersox, Lisa Cheely, Rhiannon Clifton, Ron Drane, Jim Eisenmenger, Jennifer Greene, Jacqueline Hannah, Stephen Hartman, Krista Jones, Justin Kleinschmidt, Rob Kowalski, Thomas C. Lockman, Sarah Marshky, Dixie Mayol, Julie Melton, Doulgas L. Milburn, Melinda Miller, Kimberly Pabst, Tony Pomonis, Stefanie Pratt, Chris Randles, Deb Reardanz, Stephanie Record, A.J. Ruggieri, Sherry Schuller, Joel Schwitzer, Brian Stumph, Cory Swanson, David Wetherell, Laura Wetherell, Kris Young, Sarah Zehr
2010
Woman of the Year: Beverly Baker
Man of the Year: Mark Palmer
Jenny Bates, T.J. Blakeman, Brian Brauer, Maya Bruck, Mark E. Czys, Anne Dills, Jennifer Dixson, Natalie Ellis, Stephanie Faraci, Christina Gilbert-Manual, Jennifer Gunji-Ballsrud, Kyle Harrison, Kristie Hayes, Andy Hudson, Gordy Hulton, Clint Jackson, J.P. Jones, Libby Kacich, Jennifer Knapp, Kelly Jo Lamb, Casey Loving, Ben Mast, Andy Miller, Jonathan Myers, Lorrie Pearson, Amy Randolph, Jason P. Rector, Scott Rice, Huey G. Robinson, Anthony Santarelli, Joe Streit, Christina Tapp, Masha Trenhaile, Stacey Tutt, Staci Wahls, Bill Walter, Kristin Williamson, Megan Wolf
2011
Woman of the Year: Danielle Chynoweth
Man of the Year: Dan Ditchfield
Catherine Ahsell, Becky Ames, Alicia Beck, Scott Bennett, Jamar Brown, Tom Carrino, Karen Devine, Rachael Dietkus-Miller, Adam Dill, Scott Filkins, Matthew Foster, Wade B. Franklin, Asia Fuller-Hamilton, Chad Hoffman, Amy Hoose, Gavin Horn, Wendy Johnson, Jonathan Kosovski, William Kyles, Shayla Maatuka, Michelle Maloney, Lisa Marx, Matt Payne, Darrin Peters, Alicia Pettigrew, Brian Precious, Cheryl Precious, Jaime Roundtree, Hannah Sheets, Angela Smith, Mike Somers, Janathan Thompson, Carrie Ummel, Tana Ward, Matt Wavering, Byron Yonce, Jana Zollinger
2012
Woman of the Year: Tori Exum-Johnson
Man of the Year: Michael Frerichs
Bryan Banks, Jason Barickman, Marcus Beach, Stacy Bennett, Kristen Bosch, Anthony Bruno, Elizabeth Buckley, Kathleen Charleston, Tiffany DeSpain, Lori Gregg, Christopher Hamb, Cory Hatfield, Megan Holland, Clint Howard, Tony Howard, Alyssa Hudson, Brice Hutchcraft, Greg Johnson, Chip Jorstad, Brian Jurczyk, Jenette Jurczyk, Jeff Kibler, Kerris Lee, Erin Lippitz, Jeff Livesay, Kristi Martin, Carly McCrory, Michael McKelvey, Joe Meents, Kelli Meents, Seth Melton, Lester Potts, Jonte Rollins, David Rosch, Dana Schaumburg, Yavonnda Smith, Sara Thompson, Rickey Williams Jr.
2013
Woman of the Year: Marissa Siebel
Man of the Year: Sheldon Turner
Jason Asaad, Katie Blakeman, Jason Bletzinger, Kathryn Blum, Jamie Boas, January Boten, Justin Bouse, Cynthia Bruno, Ann Bushman, Cheryl Camacho, Sally Carter, Whitney Fleming, Clay Foley, Kurt Glosser, Natalie Gross, Chris Harbourt, Ryan Heiser, Andrea Klingel, Kelly Duitsman Loschen, Ryan Loschen, Danielle Matthews, Christina McClelland, Kip McDaniel, Brian Moline, Tracy Parish, Tristan Pisarczyk, Andy Quarnstrom, Derek Sanders, Brian Sauder, Amber Seip, Julia Sullivan, Shandra Summerville, Marla Todd, Christine Walsh, April Warren-Grice, Jennifer White, Sean Widener, Nick Zazal
2014
Woman of the Year: Becca Guyette
Man of the Year: Scott Miller
Shane Allen, Amanda Baker, Laura Bleill, Kirk Builta, Toni Burkhalter, Samuel Byndom, Michael Cation, Karly Combest, Ashley Dye, Kelly Formoso, Kyle Galbraith, Bathel Gilbert Sr., Josh George, Stephanie Grussing, Brett Hays, Jackie Hohn, Heather Horn, Tonya Horn, Erik Kotewa, Thane A. Jackson, Jeremy Johnson, Leia Kedem, Tricia Keith, Jacqueline Lacy, Katie Madigan, Mike Marron, Austin McCann, Kelly O'Neill, Alyx Parker, Scott Redenbaugh, Christina Reifsteck, Terri Reifsteck, Sky Sanborn, Stephanie Stuart, Jason Van Antwerp, Daniel Walk, Joseph T. Wiemelt, David Woodrow
2015
Woman of the Year: Stacey LaBrecque Cole
Man of the Year: Matt Difanis
Sarah Addison, Ajith Antony, Jonathan Ashbrook, Kayla Banks, Jennifer Bechtel, Mist Bell, Kathryn Bermingham, Laura Beyer, Brandon Boys, Alicia Burge, Jennifer Carlson, Gregory Damhorst, John Deckert, Emma Dorantes, Kyle Emkes, Chris Engelbrecht, Michelle Grindley, Joseph Guyette, Erika Hackman, Michael Harden, Patrick Harrington, Jay Hooper, Jameel Jones, Mary Konken, Jennifer McCaffrey, Robert Meister, Charles Mockbee IV, Crystal Odoms, John Olson, Brad Petersen, Andy Roberts, Amy Sage, Matthew Schweighart, Miranda Soucie, Billy Stull, Bradley Uken, Dan Waldinger, Angela Wolters
2016
Woman of the Year: Angi Franklin
Man of the Year: Justin Overstreet
Rebecca Bedinger, Scott Burge, Erica Cooper-Peyton, Scott Daigle, Brooke Didier Starks, Matt Duco, Carly Froomkin Burak, Victor Fuentes, Justin Gensler, Erin Grace, Katie Harrell, Zachary Hillard, Mike Ingram, Josephine Kalipeni, Natalie Kenny Marquez, Chris Kloeppel, Jeremy Larson, Josh Laskowski, Charlee Lin, Callie Jo McFarland, Kevin Monahan, Ashley Morgan, Ben Newell, Thomas Nicol, Ryan Pine, Denise Poindexter, Jamie Ritter, Caty Roland, Sherri Rudicil, Adam Siero, Holly Smith, Brian Stark, Jamie Stevens, Joshua Stone, Marcus Truss, Angela Urban, Zach Wetherell, Mark Whitsitt
2017
Woman of the Year: Maghan Moslander
Man of the Year: Josh Whitman
Andrew Allen, Sean Baird, Anna Benjamin, Kurt Bloomstrand, Collin Carlier, Matt Cho, Scott Clanin, Colin DeCair, Lauren Dodge, Carrie Eisenmenger, Laura Gerhold, Abby Hendren, Katherine (Katie) Johnston, Ahmed Khurshid, Bryan Lake, Michael Le Buhn, Emily Manganaro, Jackie Martinie, Abby McDonald, Chelsea Norton, Martin O'Donnell, Kimberly Otchere, Sonya Pasquini, Pookie Phetchareune, Elisabeth Pollock, Ross Richards, Prince Robertson, Ryan Ross, Kristen Sackley, Jacob Shaw, Zachary Sickler, Jami Tanner, Ryan Thomson, Phillip Trautman Jr., Kellie Wahl, Bryan Wang, Skot Wiedmann, Luke Zwilling
2018
Woman of the Year: Jenny Amos
Man of the Year: Chris Harlan
Brian Alexander-Ward, Tekita Bankhead, Devin Black, Lonndon Blake, Curtis Blanden Sr., Lindsay Blickenstaff, Matthew Bross, Alexis Cain, James Chandler, Kris Ehler, Nicholas Gaines, Theresa Green, Garret Hill, Andrew Hohn, John Holton, Alex Houmes, Lyndsay Howell, Matthew Kelly, Jaya Kolisetty, Joella Koss Meharry, Jacob Kuebler, Jason Liggett, Ben Manns, Josh Markiewicz, Todd Mayfield, Kevan Melchiorre, Ryann Monahan, Anthony Pendleton, Derek Peterson, Ashley Pinnell, Jen Quinlan, Lacey Rains Lowe, Siobahn Reynolds, Angie Schoonover, Jennifer Shike, Justin Spring, Holly Stalcup, Erin Tarr.
2019
Woman of the Year: Giselle Rodriguez
Man of the Year: Salvo Rodriquez
Cody Alterman, Charles Burton, Monica Cherry, Emily Cross Vayr, Rob Dalhaus III, Caitlin Drake, Manu Edakara, Femi Fletcher, Brian Frieze, Christopher Greenwold, Ainslie Heilich, Dustin Heuerman, Karen Jenkins, Erin Kirby, Robert Lewis, Jessie McClusky-Gilbert, Anna Miller, Angela Miller, Nathan Mills, Annie Murray Easterday, Lauren Murray Miller, Renee Osterbur, Kelly Parker, Beth Peralta, Stephanie Pitts-Noggle, Lindsay Quick, Lisa Rector, Ryan Reid, Jason Sakowski, Ryan Schriefer, Ally Sehy, Bryan Snodgrass, Nicholas Voss, Lee Waters, Mark Wertz, Jared White, Gerald Wilson, Mitchell Wilson
2020
Woman of the Year: Gianina Baker
Man of the Year: Christopher Brooke
Daly Andersson, Brett Anderson, Ronald Baker, Dionne Clifton, Dana Cohen, Renae Cory, Justin Cross, Laura Davis, Toni Delporte, Brandy Diggs-McGee, Kenna Dunlap Johnson, Peter Goodspeed, Andy Graham, Elizabeth Holder, Mariel Huasanga, Megan Hunter, Orin M. Hutchcraft, Matthew Hutchens, Noah Isserman, Kara Johnson, Emily King, Dan Kirby, Subhalakshmi Kumar, Kyle Meece, Geri Melchiorre, Andy Nelson, Mariana Ortega, Abbie Osterbur, Kyle Patterson, Shawna Patterson-Stephens, Ann Peedikayil, Rebecca Ries, Antonio Serna, Melissa Sotelo, Mary Surprenant, Bryan Vayr, Carrie Wells, Mitch Wilson
2021
Woman of the Year: Cessily Thomas
Man of the Year: Brandon Chandler
Anthony Benjamin, Kelli Bertram, Josh Birky, Meghan Burke, Dan Burkybile, Bobbie Butler, Dustin Campbell, Sahil Contractor, Derrick Cooper, Emily Corum, David Danenhower, Bryce Dubson, Austin Ducey, Lainey Emmons, Rachel Fenner, Seth Floyd, Molly Goldstein, Rachael Graham, Wesley Hanner, Jenell Hardy, Ranya Hasan, Amariah Hays, Jessica Hogue, Emily Jenkins, Mike Krisman, J Leman, Anish Mehta, Dana Martin, Bridget Schott, Krystle Shelton, Brittany (Banks) Simon, Mary Noel Stefan, Alexandria Stewart, Elizabeth Sullard, Brandon Taylor, Jaclyn Vinson, Michael Vittone, Shawna Waller
2022
Woman of the Year: Mary Catherine Roberson
Man of the Year: Jeremy Janes
Omar Al-Heeti, Adrian Astorina, Angela Balcor, Sophie Becker, Andy Brantner, Kayla Brown, Katie Buerkett, Rachel Campbell, Kathryn Cataldo, Dan Church, Adam Clapp, Erez Cohen, Derek Deem, Steven Farag, Katie Fidler, John Frerichs, Elsie Hedgspeth, Eric Hiatt, Austin Hill, Jacqueline Kalipeni, Drew Keiser, Kyle Koester, Tyler Kutz, Jen Lask, Brandon McFarland, Brittany Millington, Daniella Molina, Randi Potter, Rebecca Powers, Ben Quinn, Timothy Rivests, Andrew Shaw, Amber Talbott, Beth Taylor, Ashlie Velazquez-Collins, Darius White, Matthew White, DeShawn Williams