Giving it the new college try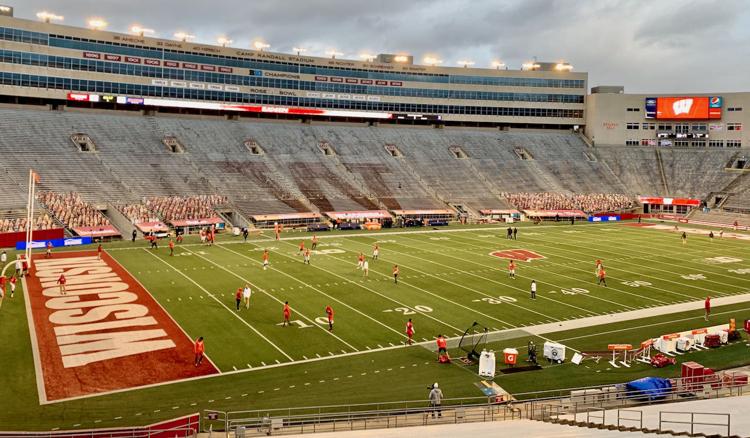 MADISON, Wis. — One-way signs aren't just for grocery store aisles these days. The three-tier eighth-floor press box at Camp Randall Stadium had them, too.
Wrong way. Do not enter. One way down.
It was part of Wisconsin's COVID-19 protocols for Friday night's Big Ten opener. College football in a pandemic has necessitated some gameday changes.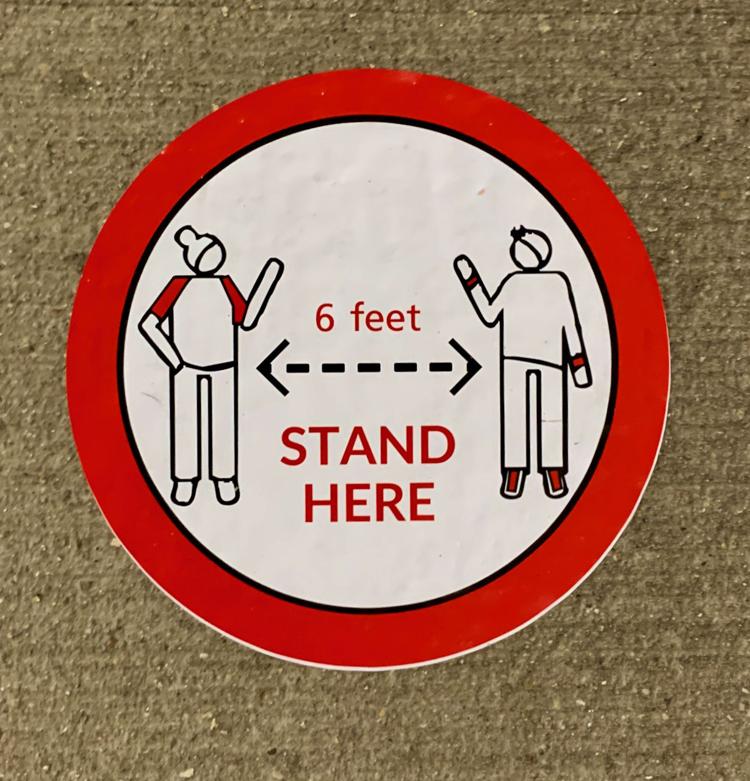 Signs to remind everyone to wear a mask were scattered around the stadium. The now-ubiquitous "stay six feet apart" dots on the floor also made an appearance in what turned out to be a line to use the elevator. Two people per trip. No exceptions.
Media seating was spaced at least 6 feet apart on all three tiers. The number of media was limited, too, with just six who cover Illinois and just more than a dozen covering Wisconsin.
The Illinois media contingent didn't include any local TV stations, who did not receive credentials. Field access was restricted, and Wisconsin also didn't allow anyone in the Camp Randall stands. The field at Memorial Stadium back in Champaign, though, was open, with a number of socially-distanced students taking the opportunity to watch the game together on the south end zone videoboard.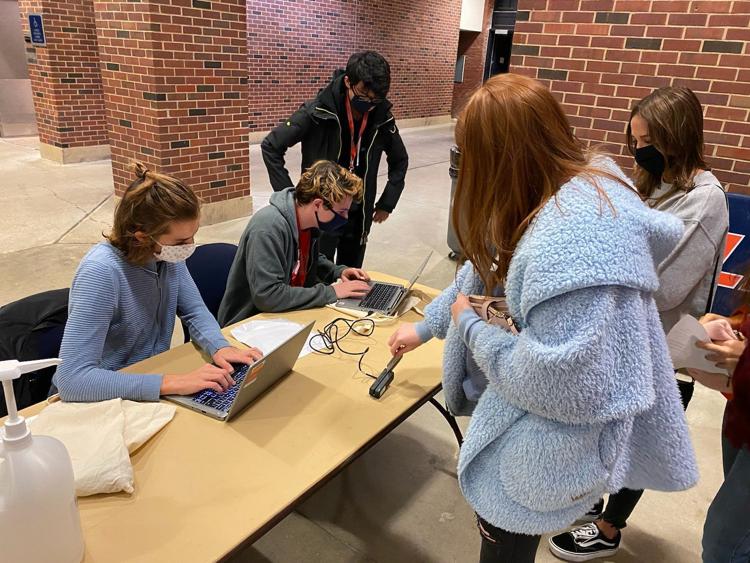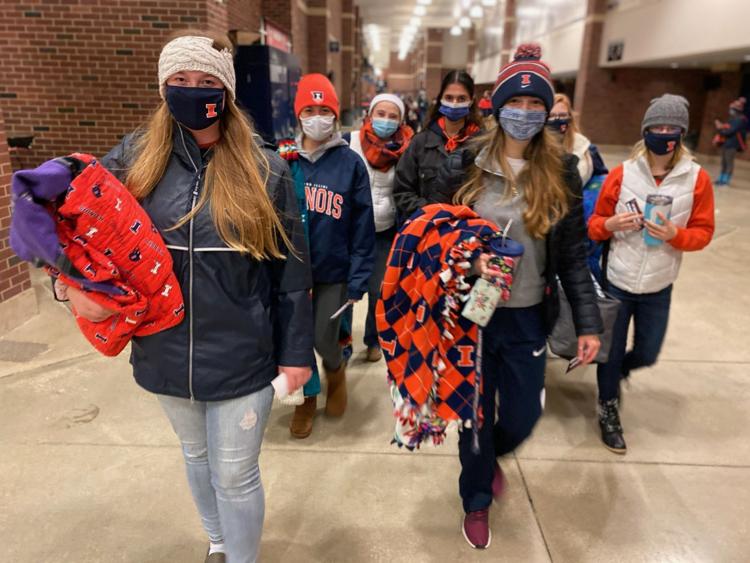 It was anything but a typical Big Ten football gameday in Madison, Wis. Doors opened for media members — the only people present other than the teams — 90 minutes before kickoff.
In any year but 2020? The media members would have been wading through scores of Badgers' faithful to try and gain entrance to the 80,321-seat stadium.
Instead of the normal capacity crowd, the Camp Randall "neighborhood" saw just a half-dozen Wisconsin students decked out in red-and-white striped bib overalls taking pictures together in front of the stadium before the game. None of them, though, wearing masks.
"It's gameday like none we've ever experienced," Patrick Herb, Wisconsin's director of brand strategy, said before Friday's game in a video he shared to detail what would be new. "The crowd at Camp Randall is basically going to be what it is right now — zero. Unless you count (the cardboard cutouts). Just because there's no fans, though, doesn't mean there won't be atmosphere."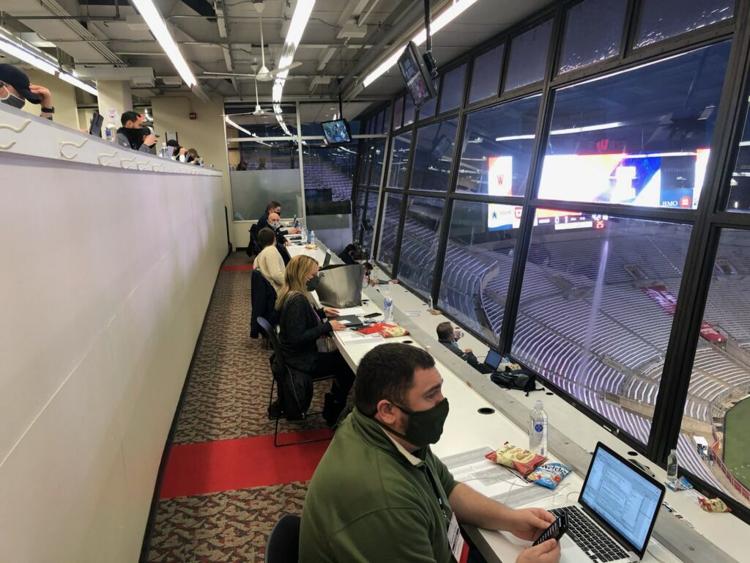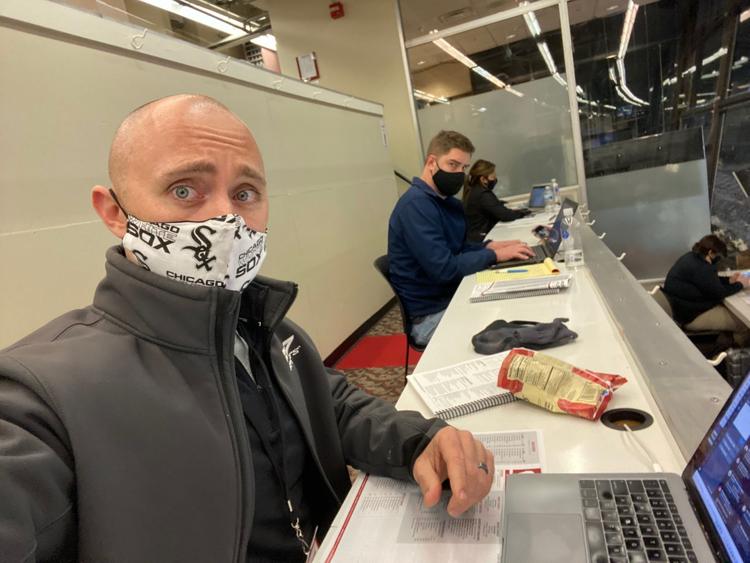 The gameday atmosphere, though, came exclusively from piped-in music and crowd noise. Camp Randall might have been empty, but it wasn't quiet, with music blaring in every dead ball situation, including House of Pain's "Jump Around" between the third and fourth quarters.
The Wisconsin marketing staff, led by assistant athletic director Kevin Kluender, was tasked with figuring out how to create a gameday atmosphere in an empty stadium. That group had a test run of its new gameday procedures during a Wisconsin practice last week.
"They had to rethink the strategy for what it looks like inside Camp Randall," Herb said. "Instead of trying to engage the fans, now they're trying to provide the best expense they can for the student-athletes and motivate them — give them a home-field advantage."
The artificial crowd noise was a feature allowed by the Big Ten. Of course, that had protocols to follow, too.
"They provided a baseline," Herb said. "Essentially a murmur you can have, but you must start it before kickoff and play it continuously through the end of the game at a decibel no lower than 70.
"You can also have some enhanced crowd noise — oohs and ahhs and celebrations after big plays — but that can't exceed 90 decibels and has to be turned back down to 70 prior to the ball being spotted for the next play."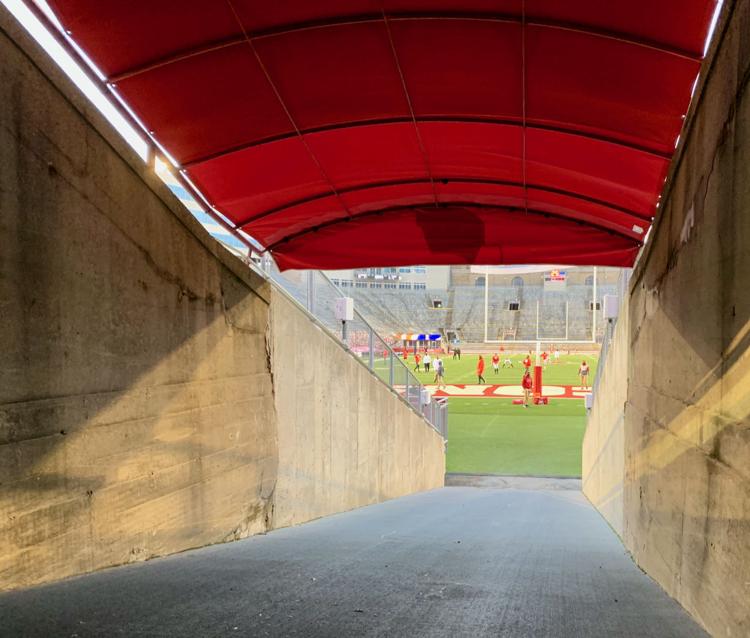 Wisconsin was hit or miss on occasion with raising the crowd noise level to coincide with key plays. The most glaring example came on the only Illinois touchdown in what would be a 45-7 Wisconsin victory. The Badgers fumbled, Illini linebacker Tarique Barnes scooped it up and scored while the stadium was nearly silent and the Wisconsin players slow to react.
Kent Brown was studying up on how Wisconsin went about creating its gameday media protocols and atmosphere. Illinois' associate athletic director for media relations will have to do the same this coming Saturday for Illinois' home opener against Purdue — an 11 a.m. Halloween kickoff.
"Personally, it helps to see somebody else go through this before we have to deal with it next week," Brown said. "We have a plan we think is going to work. I can see what they're doing here. I don't know if I'm going to have to tweak anything, but I can see how what we're doing fits into what they're doing here."
A road game to start the season, of course, had its own quirks and challenges. The Illinois football team stayed at the Madison Marriott West in Middleton, Wis. The Illini were the only occupants at the hotel and had an easy 7-mile drive to Camp Randall with zero gameday traffic to fight. The police escort probably wasn't even necessary.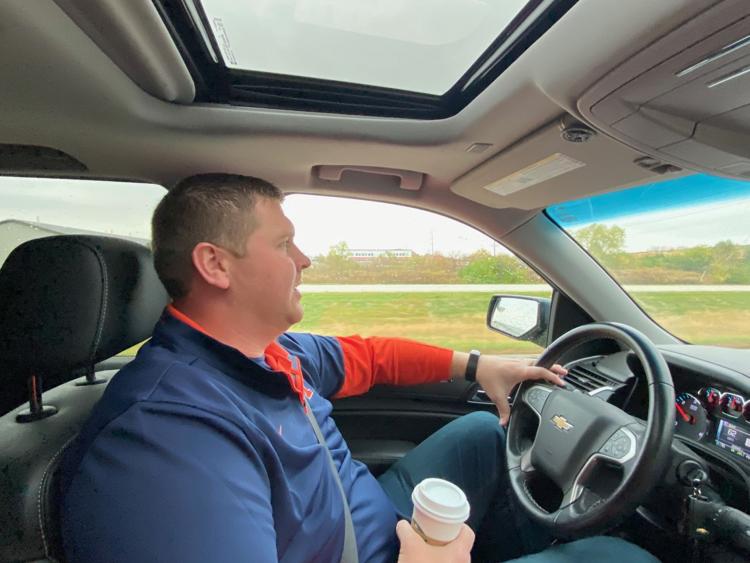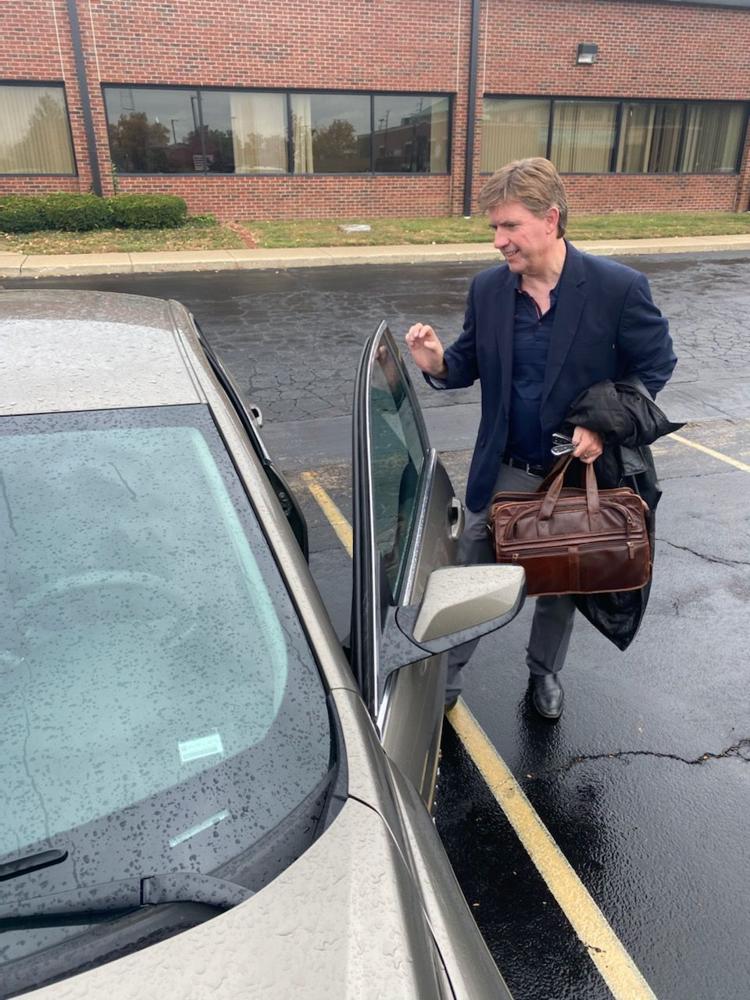 Other gameday differences included a socially-distanced radio crew of Brian Barnhart and Martin O'Donnell on the Fighting Illini Sports Network with plexiglass partitions in the booth.
"We had some of the sound effects on the field from the TV and also a crowd mic we typically have that picked up whatever crowd noise they were creating," Barnhart said. "The mix of those two sounded really good. As a play-by-play announcer, I'm focusing on the actual plays. To me, it sounded like a normal game, even though, obviously looking around, there was nobody there. (Ed Bond) did a really good job on his engineering end of making it all sound as realistic as possible."
The DIA also provided pool photography since media field access was forbidden.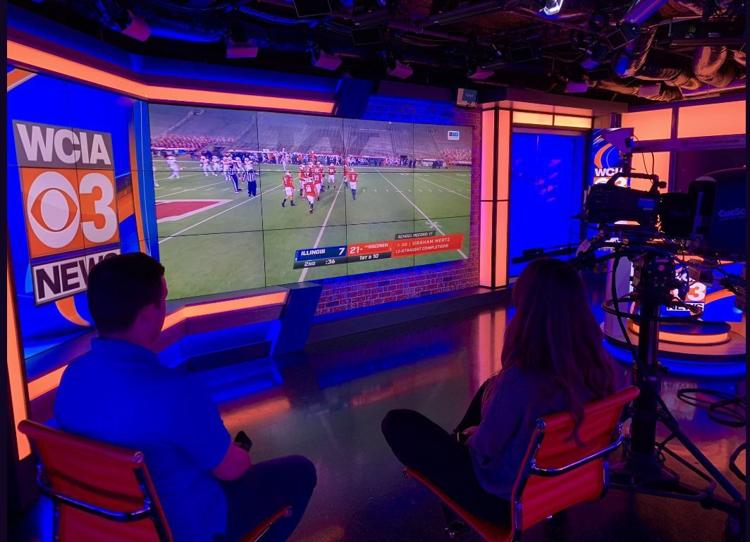 The postgame setup was also different — all on Zoom, of course — with Illinois football equipment crew taking over what was typically the interview room so the team could spread out more. A smaller room with enough space for a table, chair and computer next to Illinois football coach Lovie Smith's locker room served as the Illini's postgame headquarters.
"That's all kind of the normal this year and what we'll be dealing with," Brown said.