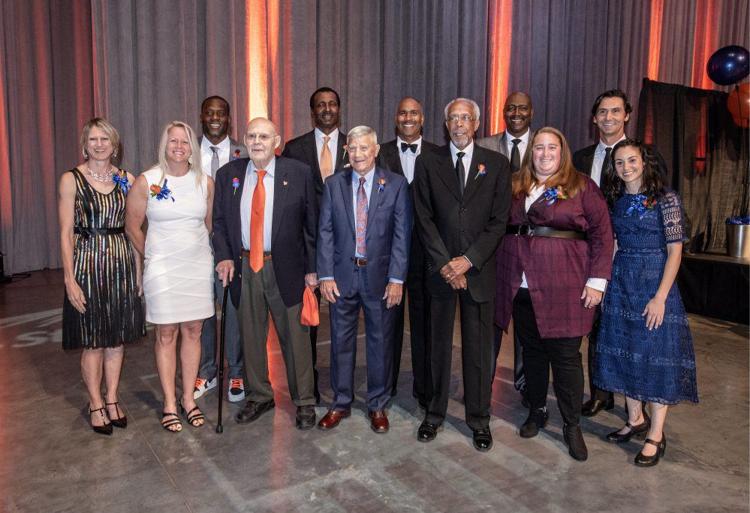 CHAMPAIGN — Ashley Berggren's induction into the Illinois Hall of Fame was basically a given. The all-time leading scorer in Illini women's basketball history was going to receive that honor some day.
Her induction Friday night, along with 15 other members of the 2019 class, ultimately was a couple years in the making.
The original idea was to have Berggren inducted a year ago, according to Illinois senior associate athletic director Marty Kauffman, but a fairly recent move to London at that time with her wife, Pria Young, created some international travel impediments.
Berggren wanted to celebrate her induction in person, and Illinois wanted her to have the full experience on campus, too.
The All-American guard got her hall of fame celebration Friday night in front of a State Farm Crowd of 350, where a highlight video kicked off the induction ceremony.
Emcee Dave Revsine of BTN introduced Illinois athletic director Josh Whitman, who called the event one of his favorite moments of the year, as 12 of the 16 honorees were on hand to mark the occasion.
Meet the Illinois Hall of Fame Class of 2019
These 16 former Illini greats will be honored Friday night. But before they are, Sports Editor MATT DANIELS breaks down the third slate of inductees to join the school's Hall of Fame
Berggren's induction makes her the first Illinois women's basketball player in the hall of fame. Among the standout former Illinois athletes inducted Friday were two other firsts in their respective sports: Jenna Hall (softball) and Lindsey Nimmo Bristow (women's tennis). More than a dozen other recipients, including all-time men's basketball scoring leader Deon Thomas, All-American football greats Simeon Rice and David Williams, longtime track-and-field and cross-country coach Gary Wieneke and Big Ten and NCAA champion wrestler Bob Norman, were also celebrated.
"It's an honor to be recognized with all the 15 other athletes," Berggren said. "Just humbled and thankful that the university and Josh Whitman started the hall of fame honor."
Berggren was a central part of the best stretch of women's basketball at Illinois. She earned Big Ten Player of the Year honors in 1997 after leading the Illini to their first conference championship and doubled down with a second straight Sweet 16 appearance in 1998 as a senior while earning Third Team All-American honors.
"To be a part of a program that went from being the doormat of the Big Ten to selling out 16,000 seats at what was then Assembly Hall is a unique experience," Berggren said. Illinois was last in the Big Ten her freshman season, before Theresa Grentz was hired as coach. "To be a part of that evolution is something very special. I feel very fortunate I was one of those student-athletes that played a little part in making that possible. That legacy will always remain. It's not going anywhere. To be able to share that with my teammates and my coaches and the support staff at Illinois was truly a great accomplishment."
Hall and Nimmo both said their selection for the hall was unexpected. Whitman surprised Hall, then an Ohio State assistant, at a Buckeyes' softball practice this past March.
"I really was speechless," Hall said. "It's still kind of crazy to think that I'm here with some of these amazing athletes from Illinois. ... To represent my teammates from that era — from the beginning of the program — is super, super important to me. To be the first is something not a lot of people get to say."
Hall, now an assistant coach at Pittsburgh, started her coaching career immediately after her own standout playing career ended in 2006. She started investing more in her players, first as a student assistant for one season with the Illini and then with stops at Ohio and Ohio State.
"I look back and what got invested in me and how I was able to grow and be successful," Hall said. "(Illinois coaches Terri Sullivan and Donna DiBiase) were so instrumental in my success. It really is hard to put into words. My time here really is just so special starting in the beginning. I was only the third class to come here. That's just a special thing in itself."
Friday's induction had Nimmo, whose oldest daughter is now a sophomore at Illinois, reflecting on her own college career. She was the 1993 Big Ten Player of the Year and the first Illini women's tennis player to earn All-American honors.
"I guess it just flashes through your mind all of the things you did accomplish when you were here," Nimmo said. "You get to relive a little bit of the glory days."
When I read my bio I was like, 'Wow, I had kind of forgotten I'd done that.'
"It's great to represent. One of the players (Asuka Kawai) got All-American status this past year, too, right? So the team is really doing well. I think it's fun to come back to campus and get this recognition as they're on the upswing and earning some honors themselves as well, too. Maybe it won't be that long until we have a second (hall of famer)."