'It's been incredibly humbling'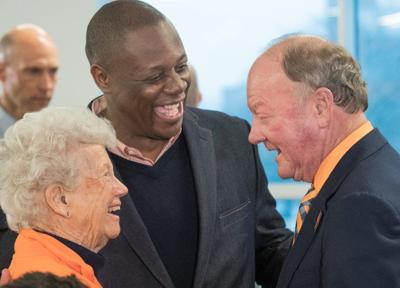 CHAMPAIGN — Get ready for more "under construction" signs at the University of Illinois athletic complex.
The latest project is the Rex and Alice A. Martin Softball Training Complex. Announced Monday at the Bielfeldt Building, the Martins gave the lead gift of $3 million toward the $6 million facility.
It is the fourth major project for Illinois athletics in the last 26 months, following Demirjian Park (track, soccer), the Henry Dale and Betty Smith Football Center and the Susan and Clint Atkins Baseball Training Center.
"These events, these naming opportunities, these new buildings have become a little bit of a regular occurrence," Illinois athletic director Josh Whitman said.
Whitman has seen a strong commitment from Illinois boosters.
"I think people now are realizing if we want to compete on the field, on the court, wherever the competition may happen, we can't do it just when we walk out to play the games," Whitman said. "We've got to be willing to do it in every element of our program. Certainly, that includes fund-raising as well.
"We can't say enough wonderful things about the way people have stepped forward, rallied around this athletic program over these last years. It's been incredibly humbling."
The Smith family gave the program its largest gift ever — $20 million. The building opened before the 2019 season.
"It literally overnight changed the landscape for the Illinois football program," Whitman said.
And now, softball. Illinois coach Tyra Perry is all for it.
"I've always kind of had the mindset that if you're on a college campus and you see construction, then that's just a great sign of support," Perry said.
In the last two years, Illinois athletics has received gifts and pledges of more than $80 million.
"I just can't thank people enough for their generosity," Whitman said.
Whitman and his staff talk to donors about the big picture: winning and what it means for the reputation of the school.
The fund-raising and facility improvements need to continue, Whitman said.
"I don't think I'm doing my job if it does end," Whitman said. "I think it's incumbent on me and our staff to continually look for ways to move the ball forward. We may not need to go out and build a new football building every five years, but if we're able to get through the agenda that we have here for the next five or six years, by that point we'll be coming back around and making some modest investments in some of our existing facilities.
"You've got a new baseball stadium at some point that's going to need to be built. You've got probably the need for a large indoor field. And you've got to do the stadium in the south and the east. There's a long list of projects that isn't going to go away until we find ways to tackle them."
Monday's announcement included several references to Shorty Eichelberger, who with her late husband Paul have their names on Illinois' softball home. Shorty Eichelberger attended the ceremony.
"When we talk about people who buy into a vision, people who support women's athletics in particular and have been instrumental in moving our program forward, really Shorty's name comes to the top of the list," Whitman said.
The latest gift is the second for Illini softball by the Martin family. Earlier, the Martins helped fund the team's clubhouse.
The new facility will feature an indoor infield.
The softball project coincides with the baseball facility. Ground will be broken at the same time, with completion before the 2022 seasons.
The Martin family was represented Monday by Rex Martin and his two daughters Ashley and Alexis.
The late Alice Martin earned her MBA at Illinois. She passed away in December 2017 after a lengthy battle with cancer.
"We're excited to be able to honor her legacy with this building," Whitman said.