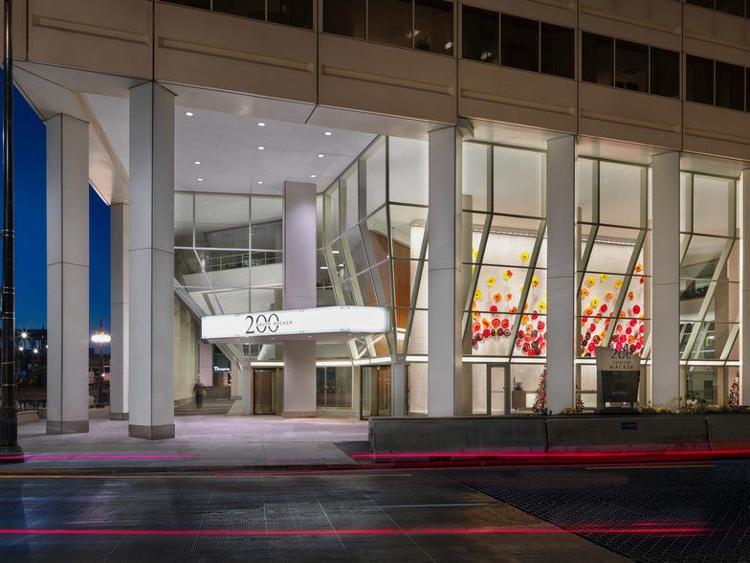 CHICAGO — The University of Illinois is spending $500,000 to develop a business plan and economic impact study for its vaunted Discovery Partners Institute in Chicago.
Boston Consulting Group was hired in June to develop a two-year, five-year and 10-year business plan for the institute, according to documents provided to The News-Gazette.
Meanwhile, the institute's budget grew to $4.2 million this year, according to the UI.
The Chicago-based research and education center is designed to bring together students and faculty from the UI and other universities to tackle big challenges and promote innovation and entrepreneurship, working with partners in industry, government and other sectors.
In August, DPI cleared its final state regulatory hurdle, as the Illinois Board of Higher Education agreed to allow it to operate for the next five years.
DPI is working out of temporary space in downtown Chicago, holding classes, funding faculty research projects and ramping up its staff.
But the UI plans to build a new 500,000-square-foot facility in a $7 billion development known as "The 78" near the South Loop, using half of the $500 million promised by the state for DPI and the statewide Illinois Innovation Network.
The plan is to have DPI at "full strength" in its new building by 2023, UI President Tim Killeen said.
The city of Chicago recently approved incentives for The 78 development, which include housing, commercial space, a new train stop and reconfigured roads and Metra tracks.
"The road is going in, the bulldozers are there," Killeen said.
The UI president said the business plan is nearly complete and has been shared with "key stakeholders," including the governor's office. He declined to share details but said the reception so far has been positive.
"I'm pretty happy with the detail, the specificity, the timelines, the milestones. The economic impact analysis is quite sophisticated," he said.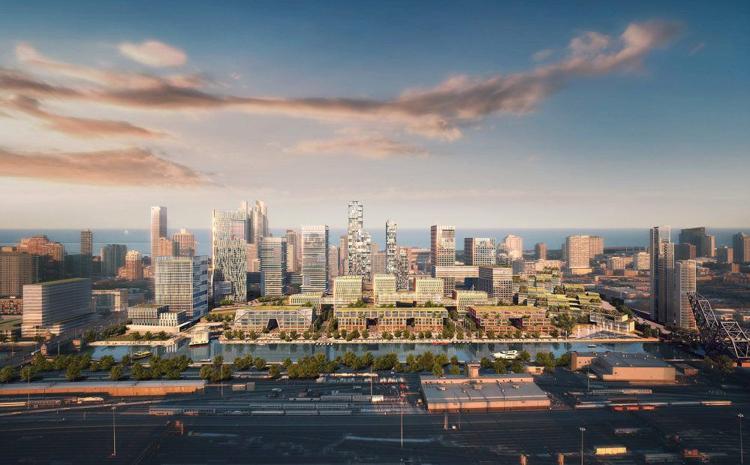 'Only get to do this once'
The assumptions going into DPI's projected economic impact are still being reviewed, Killeen said, but "it's a big number."
Asked about the $500,000 price tag, Killeen said he's seen consulting contracts that are "much bigger than that." Boston Consulting provided some work pro bono, he said.
It's not unusual to hire outside consultants for that kind of work, "particularly in projects of this scale and complexity. The consultant provides valuable external perspective, experience, and expertise," UI spokesman Thomas Hardy said in a written response to questions from The News-Gazette.
"It is a lot of money. But I look at it this way: it is 1/1000th of the overall DPI state budget, and it is important to get this thing organized in the right way," said Professor Nick Burbules, a member of the University Senates Conference, a faculty group that raised serious questions about the initiative when it was first proposed. The group spent months working out DPI's academic governance issues with Killeen and other UI officials.
Burbules said DPI is a complex organization with multiple university and corporate partners, and they "need to believe that we know what we are doing if they are going to partner with us. It can't be a make-it-up-as-you-go enterprise: the structures need to be in place and working properly from the outset."
The physical build-out in the heart of downtown Chicago is a major project in itself, he said.
"You only get to do this once, and you want to do it right," he said.
Plan targets stakeholders
Boston Consulting's exact fee structure was not provided. The UI cited exemptions to the Freedom of Information Act that protect "private information" and trade secrets that would cause "competitive harm" if disclosed.
Boston Consulting was one of five firms chosen by the university through an RFP last year to provide strategic planning and financial planning services as needed through June 30, 2021, with the option to renew for six more years.
The business plan and economic impact study will be used to "present the DPI project to the State of Illinois, City of Chicago, potential corporate and philanthropic supporters, and other stakeholders," according to the work order for the project.
"We need our various constituents to be able to tangibly understand how the DPI and IIN benefits them, the work order said.
The business and financial plan will cover expenses related to program activities — including those done jointly with partner universities and labs — as well as payroll and other costs.
It will examine what problems DPI could solve for each of its "stakeholders" — the governor, Chicago mayor, Fortune 500 firms, the "tech ecosystem" in Chicago and Illinois, community groups and philanthropic organizations — and develop metrics to measure progress, according to the document.
The plan will address annual goals for recruiting industry partners and the funding that can be expected from them; how to establish a "workforce pipeline" of university graduates for industry partners; and how to create a strategy for continued funding for long-term expenses, with multiple funding pipelines.
UI: $410 million committed
The economic impact analysis, which was due Nov. 1, will expand on a similar study done earlier on the "spending impact" of DPI and the state innovation network through building projects and university research, the document said.
That one didn't cover spinoff jobs that could be created by DPI, or the economic impact of companies that might relocate to Illinois because of the institute, the document said. The new study will also include the impact of start-ups that grow out of DPI.
Progress will be measured by the number of new patents, employees, entrepreneurs produced through DPI; graduates retained in Illinois over two, five and 10 years; companies investing in DPI; and new companies founded in or attracted to Illinois.
The analysis will also look at the economic impact of capital projects associated with DPI across the state, including the institute's headquarters in Chicago and several projects on the Urbana campus: a new data sciences hub, a biomedical facility, and the expansion of NCSA, the Siebel Center for Computer Science and the UI Research Park.
Lawmakers committed $500 million toward the construction of DPI and other facilities on the statewide network, but none of that money has been released. Gov. J.B. Pritzker made it contingent on matching funds from the private sector.
So far, the UI says it's received $410 million in commitments and another $55 million that's still "pending," for a total of $465 million.
But that's not all private funding. The UI refers to the money as "non-state dollars," with at least $230 million coming from the UI and other university partners. The UI says that money is from reserve funds, typically made up of private gifts, endowment income and overhead from research grants but also student fees and tuition.
"I don't think there's any doubt we'll get to the magic marker," Killeen said. "There's a lot of momentum in this now."
Singapore partner TBD
Corporate partnerships are an important part of the business plan, which Killeen described as "aggressive."
Killeen said Pritzker and his staff had been anxious to see the business plan and impact study, and more meetings are scheduled. A spokeswoman for the governor did not return messages from The News-Gazette.
"They seem to like everything they're hearing," Killeen said. "Hopefully, the state funds will be released. We don't actually need it today. We're already up and running and planning."
The UI has also hired JLK Architects to do a feasibility study for the DPI facility. The study's cost is expected to be less than $50,000, according to information provided by the UI.
The UI system has told the state that it will provide funding for DPI's administrative and operating costs until longer-term funding is established through federal grants and endowments from philanthropic contributions, industry partners and others.
DPI's $4.2 million budget is mostly for salaries, according to Hardy. The DPI website lists 14 staff members, including seven listed as working strictly for DPI. Hardy said some employees are housed in other university departments but work part-time on DPI.
The UI also recently announced DPI's 12th academic partner, Taiwan National University, and Killeen said he expects to be making a similar announcement about a Singapore university soon. The agreement with Taiwan's top university was signed during a nine-day visit to Taiwan and Singapore by Killeen and other UI officials last month.
The UI has signed a broad memorandum of understanding with each of those partners to work together, but specific programs and budgets will be determined later, officials said.
Asked if those other institutions will shoulder any of DPI's costs, or share in revenue from patents or grants, Hardy said details "are still being worked out, but our general philosophy is that each institution pays their own costs and receives benefits from the work they do."
Burbules said faculty governance bodies have asked about where the UI's money is coming from, to be sure it isn't being diverted from more basic university needs.
The state wants to know the UI "has skin in the game," he added. The money will return to the UI in additional state funding and fund major building projects that will benefit the campus, he said.