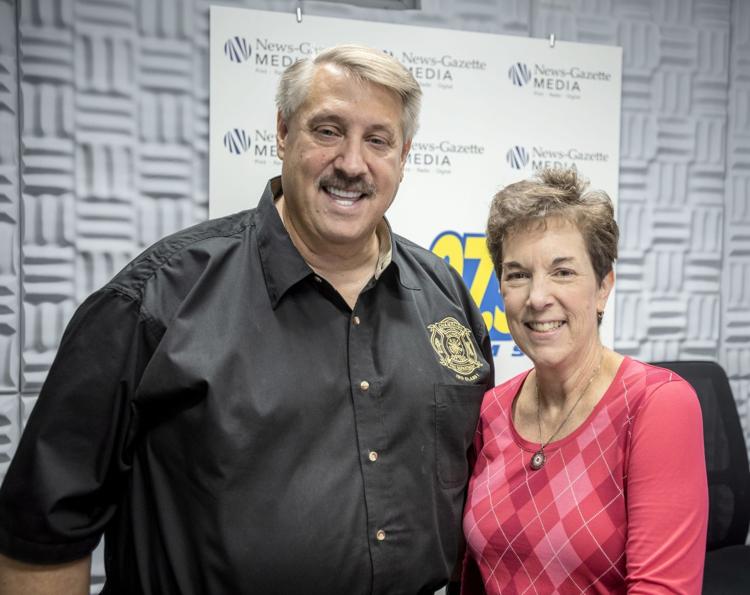 From growing up in a South St. Louis neighborhood to becoming the head of an organization of 13,000 fire chiefs from around the world, GARY LUDWIG, 60, has learned more than he ever imagined.
This week on the "Legally Speaking" podcast, Champaign's fire chief for the last five years visits with staff writer Mary Schenk about his August election as president of the International Association of Fire Chiefs and other topics.
The full interview is above; selected excerpts follow:
How did you get started in your lifelong career as a first responder?
I was 18 years old and hired by the city of St. Louis. I worked in fire and EMS. It was a government work program. Sometimes I was on the fire truck and sometimes on an ambulance. In the fire academy, the only thing I can remember them teaching us is how to control bleeding and how to take a pen apart and stick it in someone's throat to get an airway.
I had no idea what I was doing. Now, the standards are much different. I do have a paramedic license. I've been a paramedic for 40 years.
Tell us about the association of fire chiefs and your plans for your year as president.
We have fire chiefs that are members in Europe, Asia, Africa, Australia. I met with the Tokyo fire chief just two weeks ago. I'm going to Canada in September (and) Guam in October to meet with the Western Pacific fire chiefs.
We were formed in 1873. I am the 142nd president. We deal with a lot of legislative and other issues that impact the United States, because that's where the majority of our members are.
We have a $22.5 million budget ... 86 people working in the D.C. area and three full-time lobbyists on Capitol Hill.
Why all the international travel?
It's about trying to make a difference. On the coast of Africa, Liberia has one fire engine for 4.5 million people. I'm trying to help them get more fire equipment so they can make a difference in their community.
It's outreach, but it's about how we can collaborate to make things better. For instance, there's the European association of fire officers. We want to see what their best practices are that we can bring back.
You intend to testify before Congress on issues that directly affect fire service. Nervous about that?
At any given time, there is a myriad of different legislation in front of Congress that affects the fire service, and we have to advocate for that. Some of it you might expect, like wildland fire policy, (but there) are also things you wouldn't think of, such as climate change.
We also testify on such things as pipelines, how different gas products are transferred from one place to another, because if they aren't properly transferred, it can result in a fire.
Why should I be nervous? I don't work for them; they work for me. I'm here to advocate for fire-service issues and make sure our communities remain safe.
You have a number of initiatives for your year as president. Your top one?
Half of the firefighters who die in the line of duty each year die from a cardiac event. We need to stop that trend. It's usually after training or after a fire.
The common theme is they say, "I don't feel right. I don't feel well. There's something wrong." We always tell them to go back in the bunk hall and lie down. We've got to stop that. "If you don't feel well, don't make it your farewell." That's the name of my initiative.
We need to get them on a cardiac monitor, and send them to the hospital. We need an education program to teach our chiefs and company officers.