2021-22 High School Confidential: Week 24
Welcome to Year 6 of High School Confidential, an award-winning project made possible by aspiring student journalists from every corner of our circulation area. Each Friday through April, they'll tell us what's happening in their hallways at news-gazette.com.
Once a week, we'll also hand over our Snapchat account (News-Gazette) to our correspondents for behind-the-scenes tours.
Feedback? Email N-G/VP Jim Rossow at jrossow@news-gazette.com.
This year's panel:
Academy High: William Ding
ALAH: Sarah Rafferty
Arcola: Ariana Carmona
Armstrong: Mattie Kennel
Bement: Addie Fritz
BHRA: Paili Davis
Blue Ridge: Sarah Whitehouse
Centennial: Blake Burr, Montez Dubose
Champaign Central: Lucy Moss
Chrisman: Reese Anderson
Cissna Park: Emma Morrical
Danville: Kedzie Griffin
DeLand-Weldon: Kaitlyn Sayers
Fisher: Krista Martin
Georgetown-Ridge Farm: Chloe Brock
Gibson City-Melvin-Sibley: Emily Hood
Heritage: Torie Rothermel
Hoopeston Area: Emily Ray
Judah Christian: Lydia Lowry, Abi Tapuaiga
LeRoy: Kelsey Graves
Mahomet-Seymour: Tinley Peters
Milford: Alivia Schmink
Monticello: Clara Rudolph
Oakwood: Madison Doan
Paxton-Buckley-Loda: Sydney Murphy
Rantoul: Mary Cuppernell
St. Joseph-Ogden: Regan Uden
St. Thomas More: Bailey McMahon
Salt Fork: Olivia Birge
Scharlman: Katherine Smith
Shiloh: Josephine Carroll
Tuscola: Amelia Bosch
Uni High: Aakash Vasireddy
Unity: Maddie Reed
Urbana: Park Mitchell
Villa Grove: Molly Little
Westville: Bryce Burnett
On to this week's  report: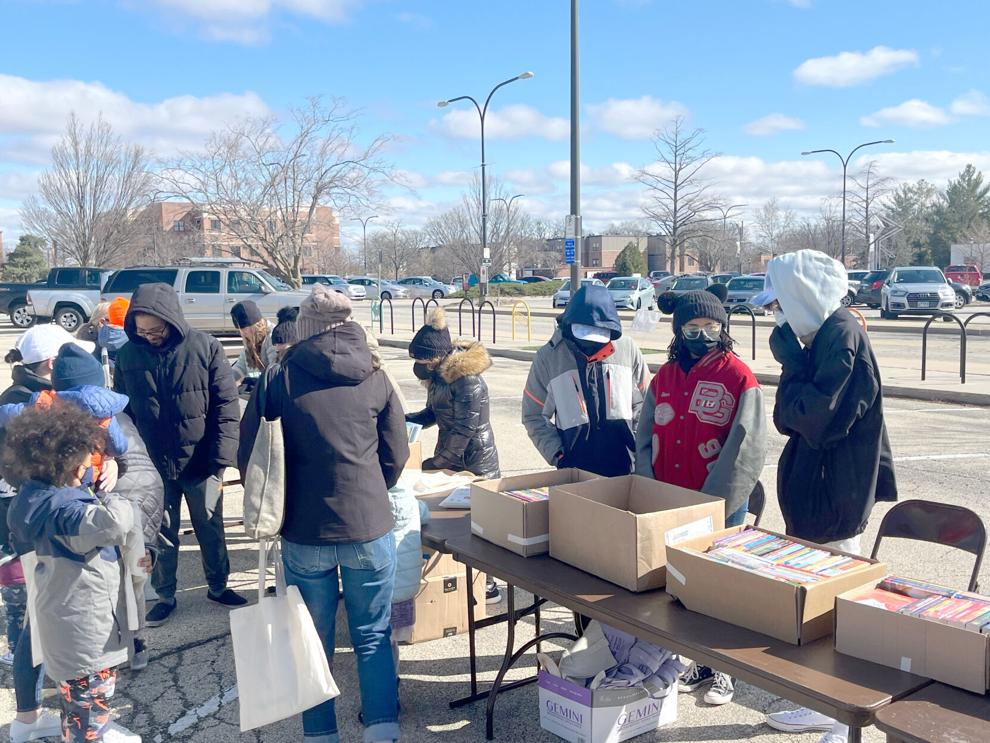 Academy High
Members of the school's community service club, Caring Crew, volunteered at a Read Across America event led by Urbana Park District, helping set up and handing out hundreds of free books to children and their families. Pictured: Sophia Libman, Dillon Jones, Baraka Culpepper and Ray Scifres.
— William Ding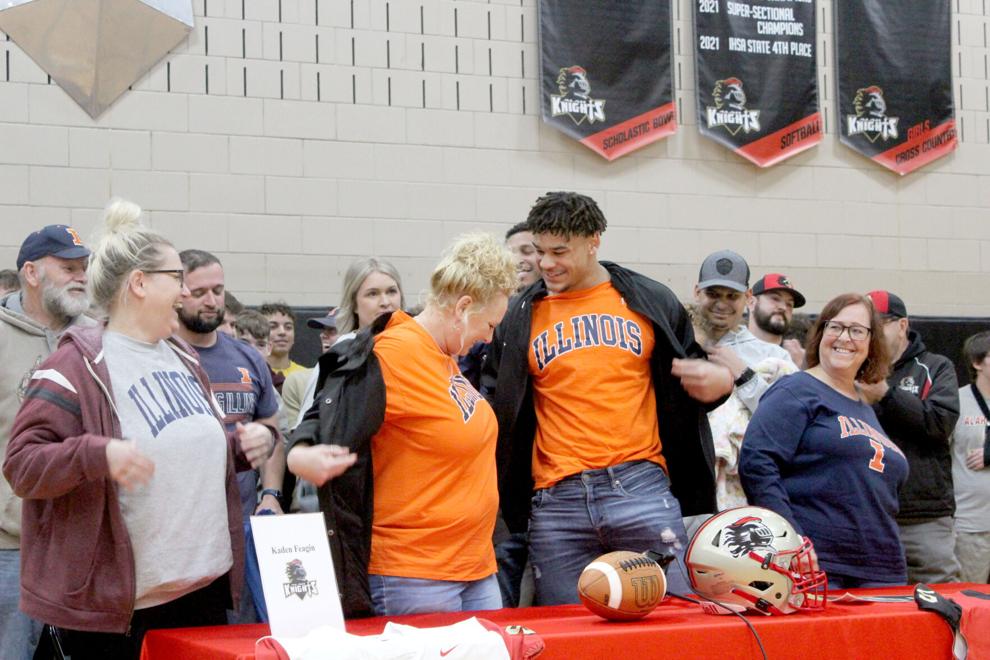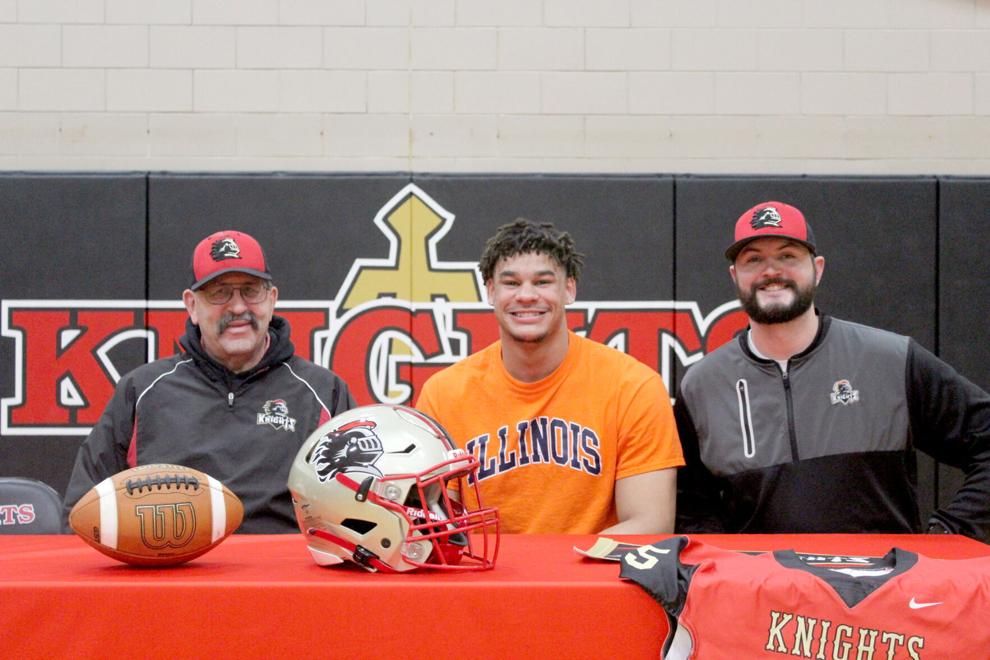 ALAH
Kaden Feagin made it a memorable 18th birthday when he made his college decision last Wednesday. With family and students supporting him — and a heavy media presence – the junior football standout announced for the University of Illinois. Pictured: Feagin with high school coaches Don McCarthy and Ryan Jefferson.
— Sarah Rafferty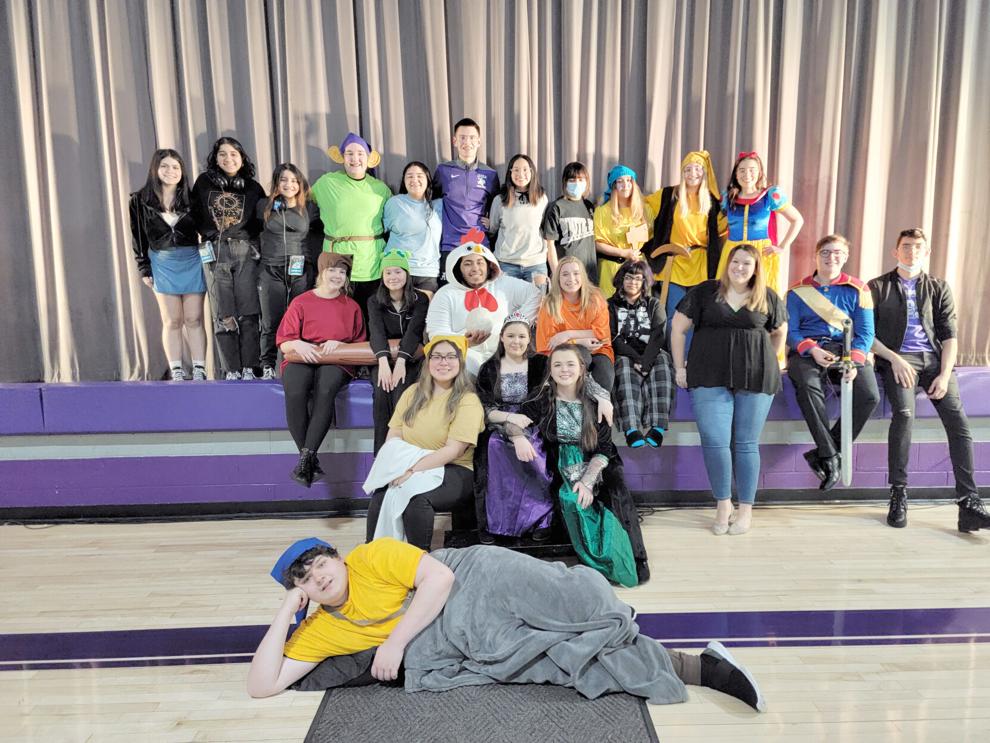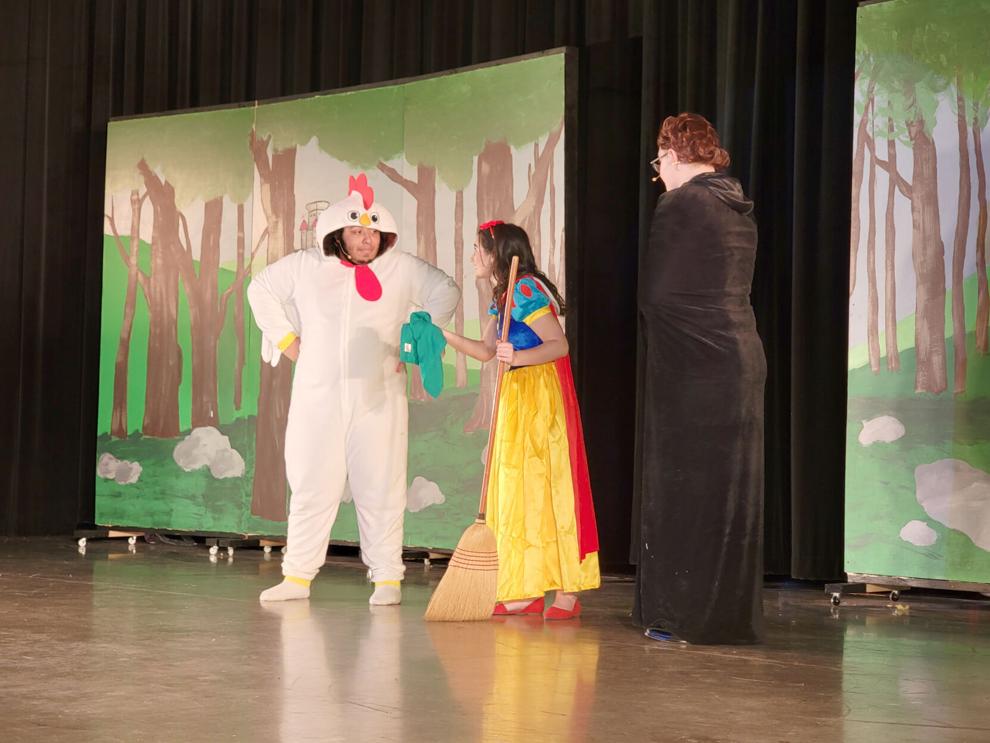 Arcola
Drama Club presented two performances of "Snow White (The True Story of an Evil Queen)" the weekend before spring break. Pictured: The cast, plus senior Clayton Cassilas, junior Morgan Doud and sophomore Alex Hawn.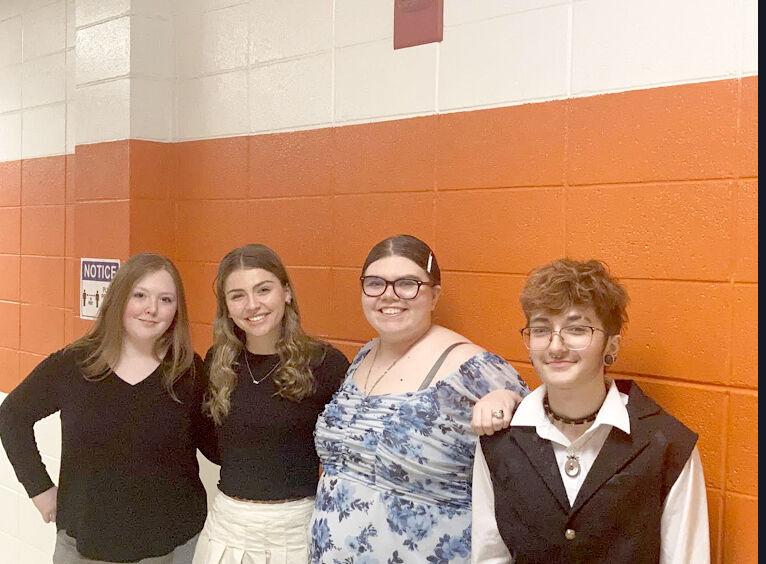 Armstrong
Four students in choir class participated in the Vermilion County Honors Music Festival Concert at Westville High. Pictured, left to right: Kalie Hardwick, Mattie Kennel, Cassidy Nelson-Skenandore and Oliver Williams.
— Mattie Kennel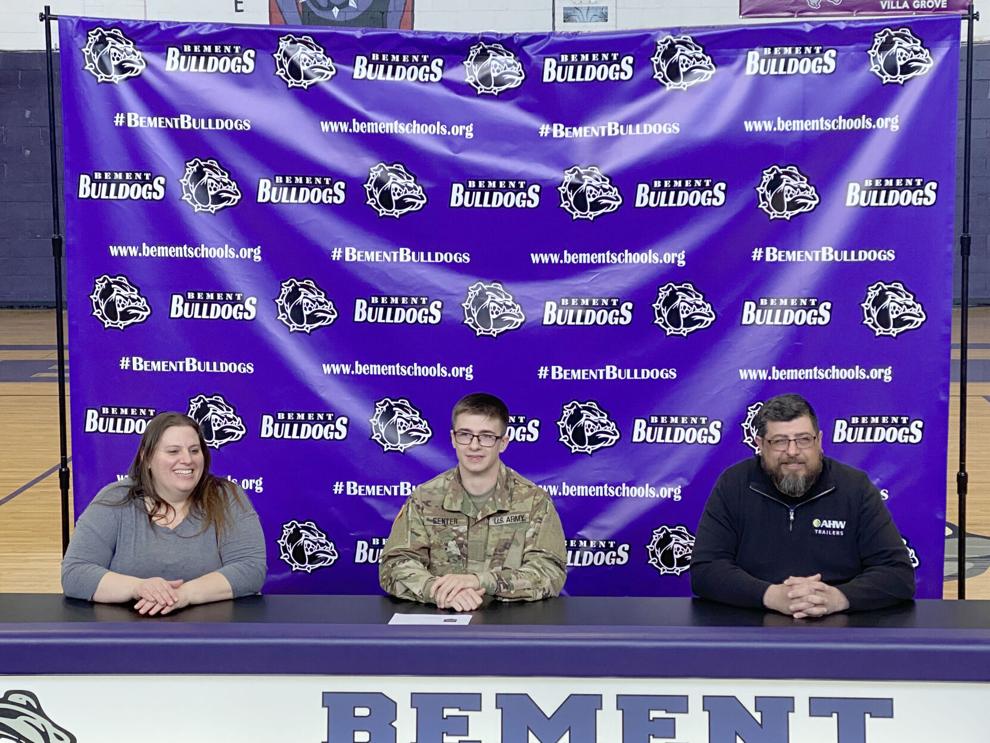 Bement
James Senter enlisted in National Guard in November 2021 and spends one weekend every month training. In July, Senter will start basic training. Last Friday, he signed his "letter of intent" in front of faculty, students, friends and family. Pictured, left to right: Stephanie Senter, James Senter and Billy Senter.
— Addie Fritz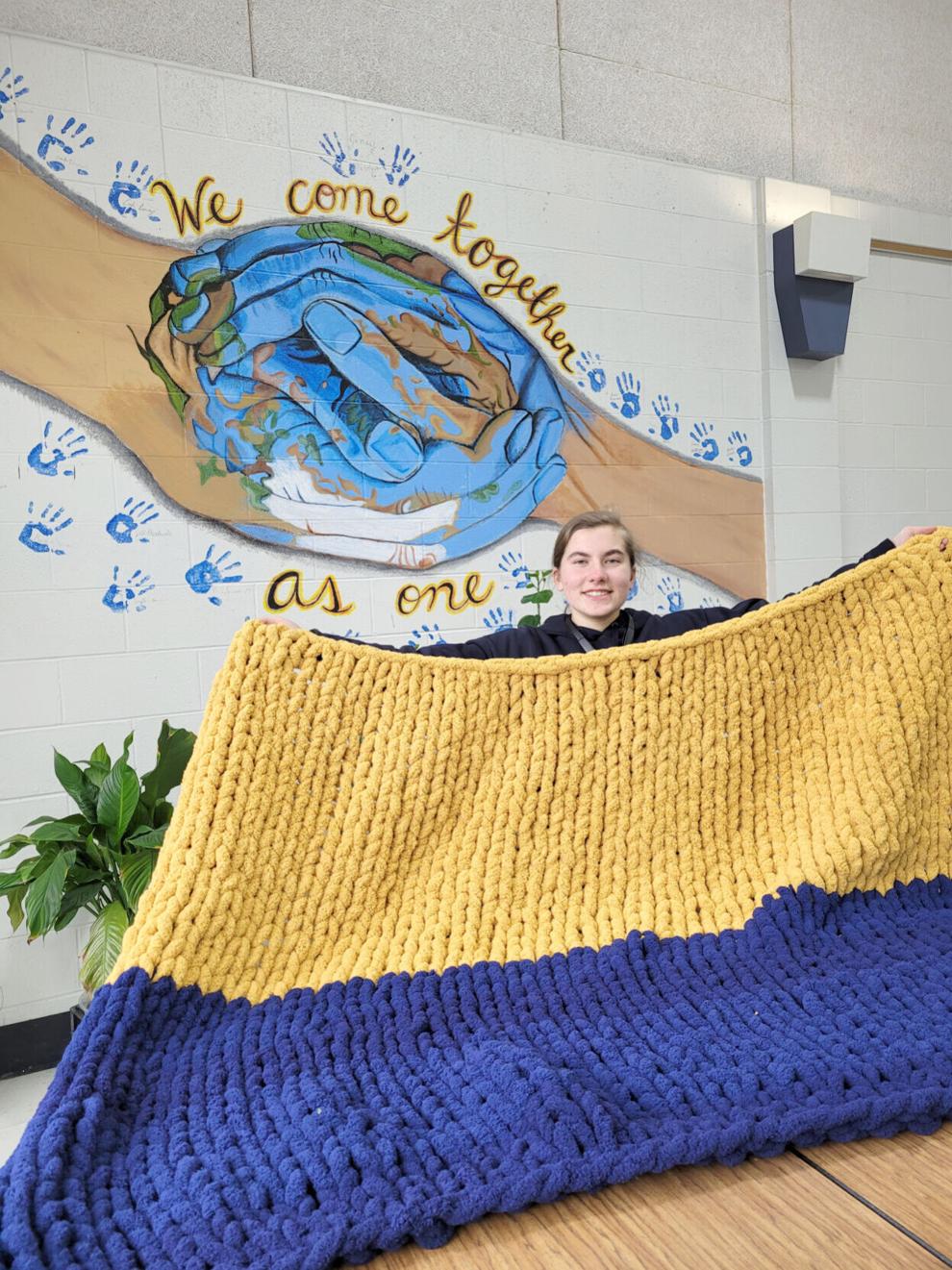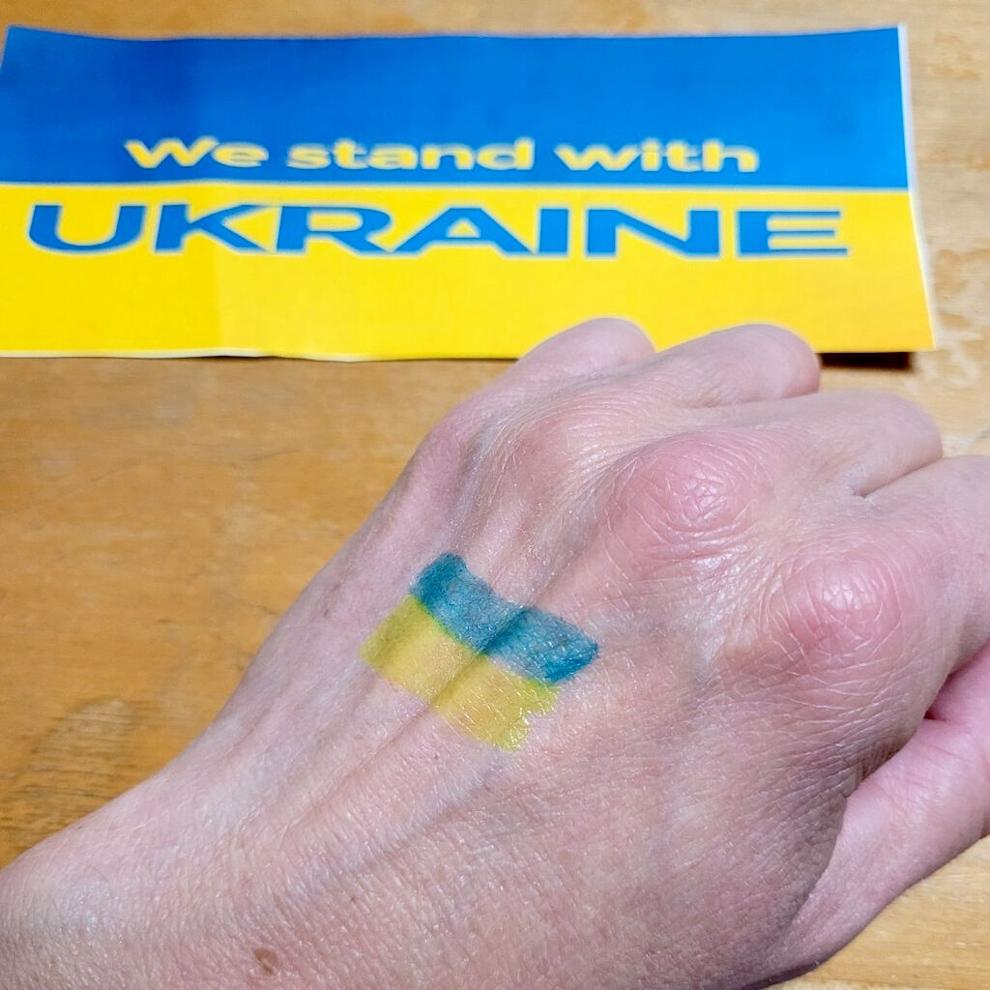 BHRA
BHRA Students 4 Ukraine, a group interested in the situation in Ukraine and particularly in helping refugees, is hosting a bake sale at the school on Friday to raise money for World Central Kitchen, an organization that brings food to areas in need. Also, history teacher Jennifer Guminski's students are selling blue and yellow bracelets and raffling off a blue and yellow blanket made by student Catherine Luttrell.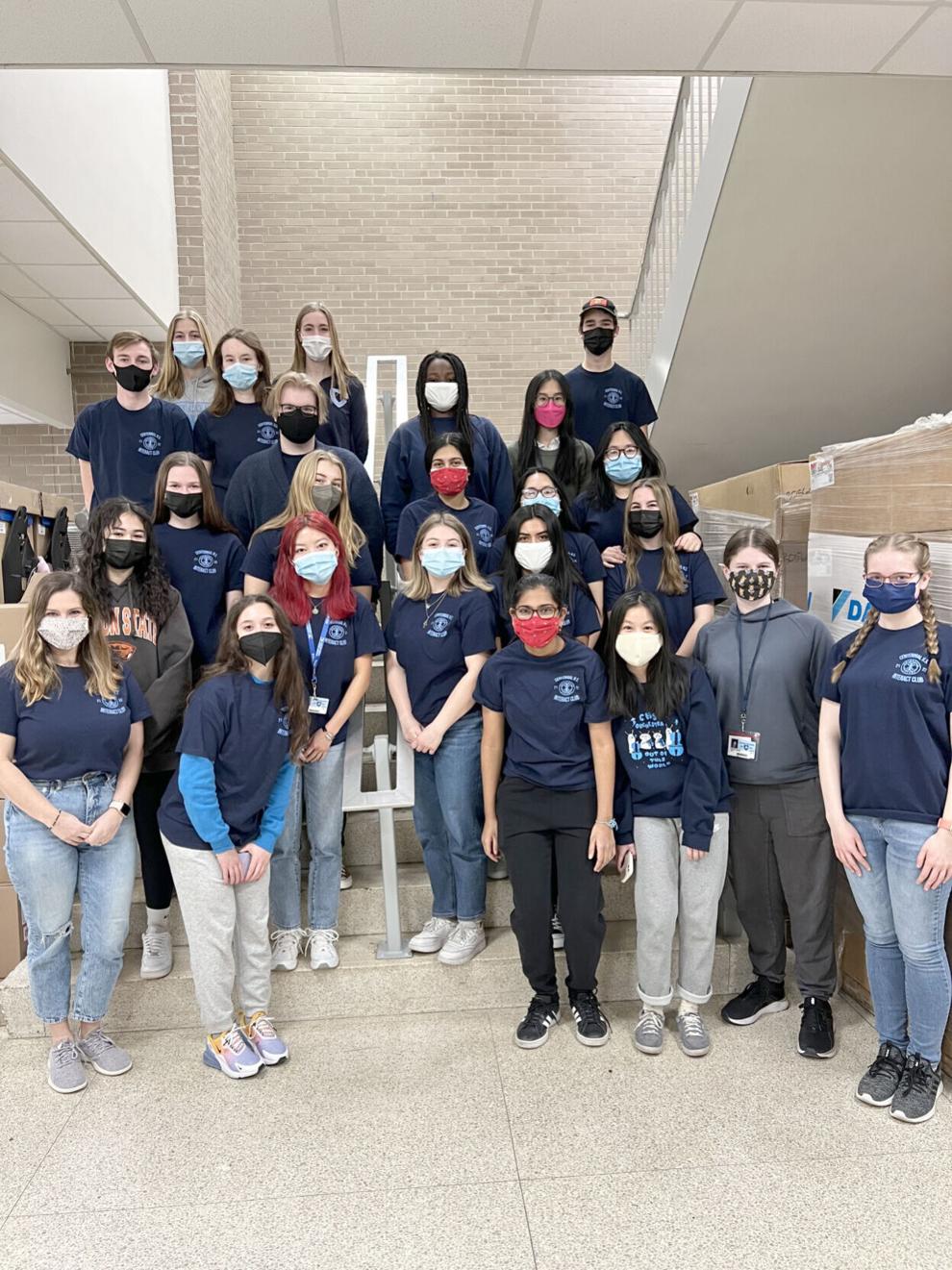 Centennial
Interact Club is hosting Austin's Day on April 9. Austin Cloyd was a former Centennial student who was killed in a Virginia Tech mass shooting in 2007. Senior Interact leader Ellison Radek said: "To keep her memory alive, Interact coordinates a day for club members and Centennial students to volunteer in the community." Interact secretary Hannah Stickels said more than 50 student volunteers from National Honor Society, Key Club and Interact will join Rotary Club members to help out at a number of area organizations, including Salt and Light, Don Moyer Boys and Girls Club and Cunningham Children's Home. Pictured with Interact sponsor Alyssa Andersion (bottom left): Kayleigh Cox, Kate Yahnke, Henri Turner, Griffin Gorrell, Audrey Heckel, Hope Omoniyi, Leyna Tran, Kassidy Phillips, Lexie Seten, Rudra Patel, Hayden Bui, Amelia Bui, Hannah Stickels, Sofia Hartman, Sylvie Leyerle, Ellison Radek, Maria Contreras, Ana Almeida, Aastha Patel, Tiffany Nguyen, Emily Windelborn and Devan Bianchini.
— Blake Burr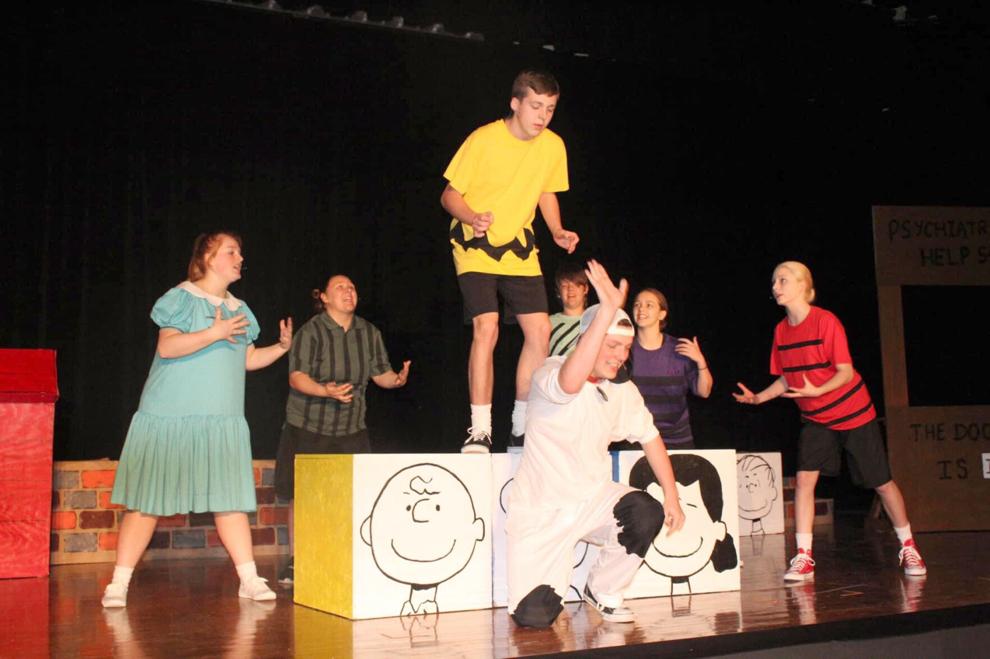 Chrisman
After training for two months, the cast of "You're a Good Man Charlie Brown" put on a performance for the elementary school last week before an open-to-the-public show last weekend.
— Reese Anderson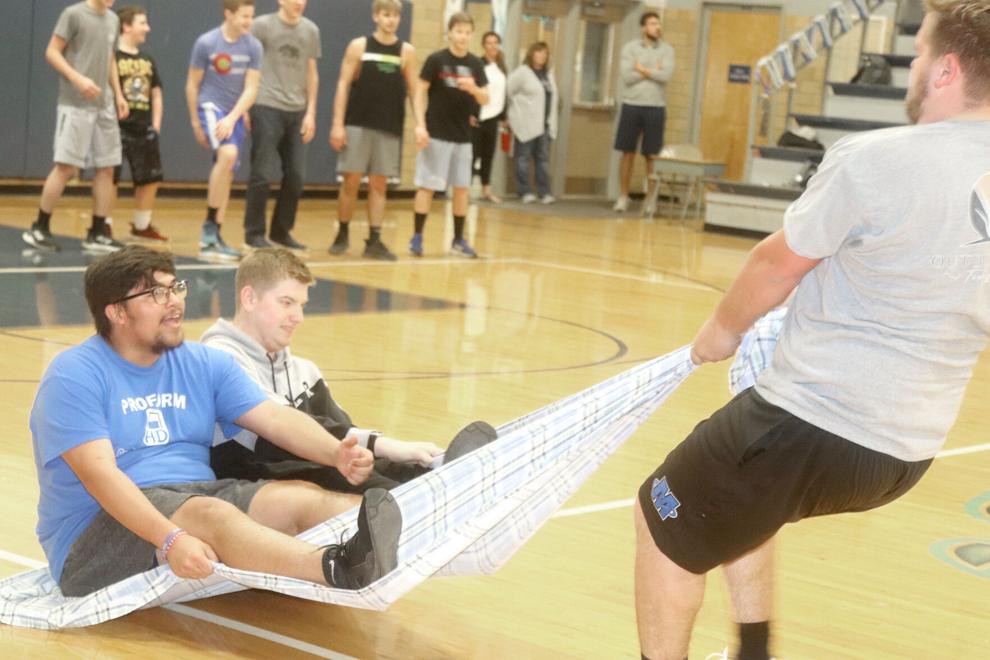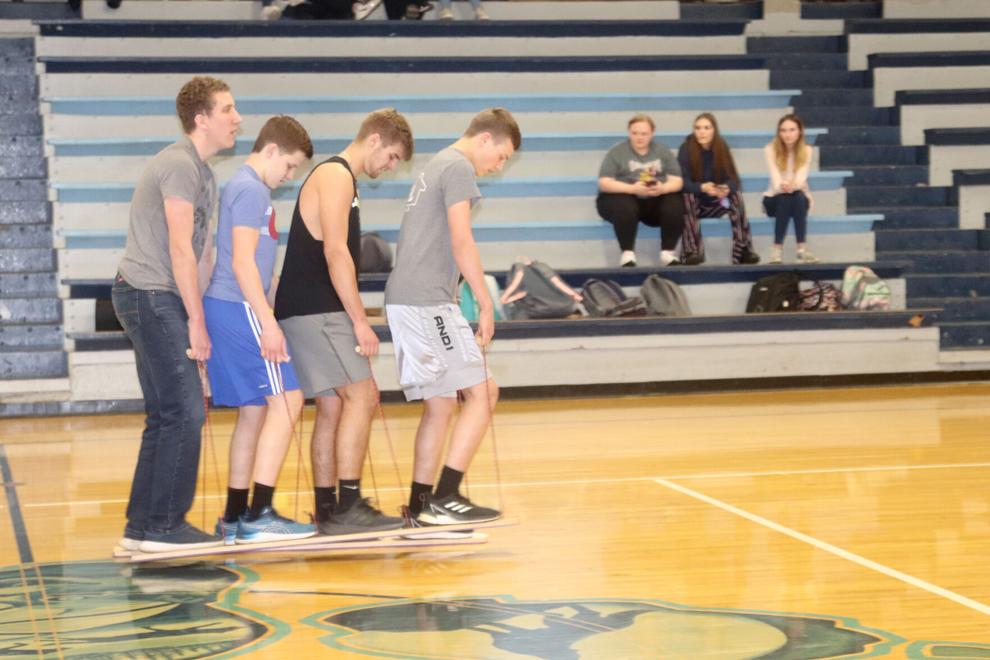 Cissna Park
The day before spring break, students competed in a variety of games, including a third-legged race, musical chairs, tug-of-war and rock-paper-scissors (hula hoop version). Pictured: Damain Renteria, Trae Cobb and Kaiden Clingenpeel; and Eil Kaeb, Chase Petry, Tyler Kaeb and Caleb Walder.
— Emma Morrical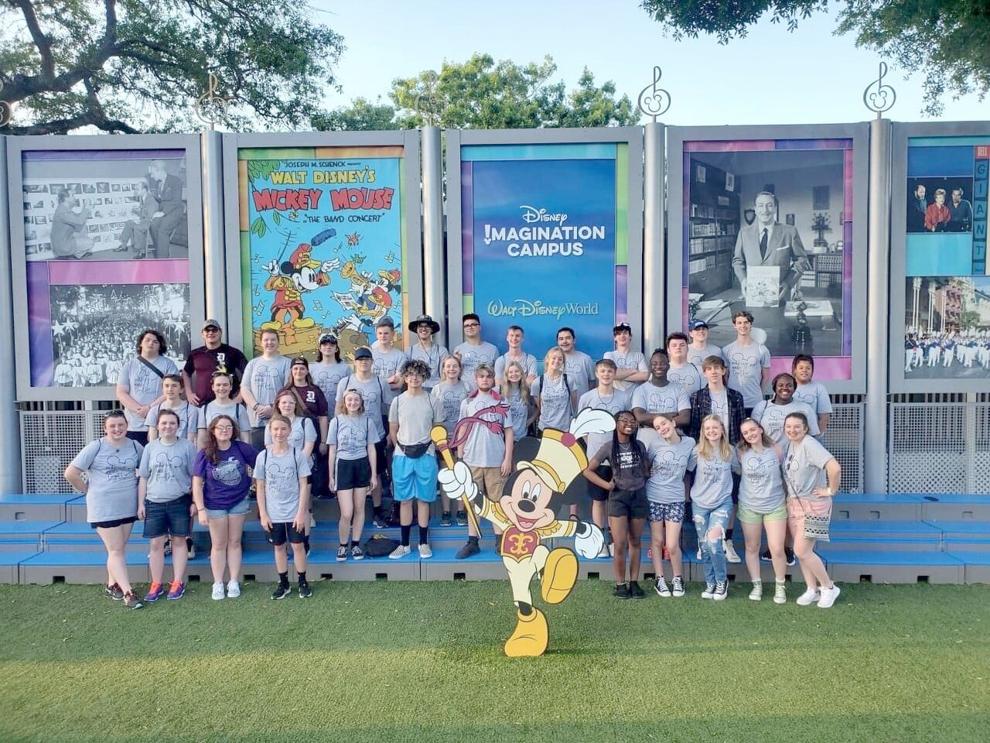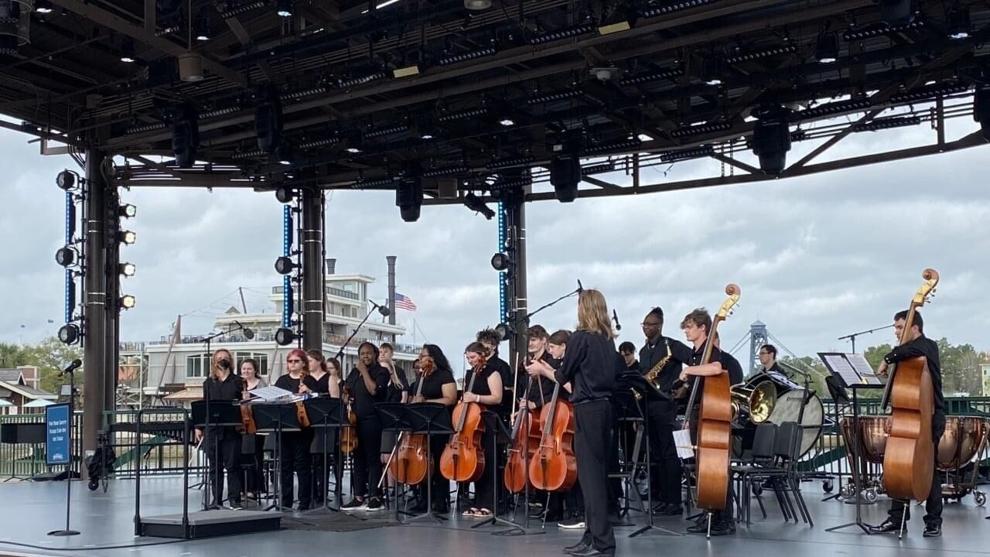 Danville
For spring break, the school's band and orchestra traveled to Disney World in Orlando, Fla. The band performed at Magic Kingdom, the orchestra at Downtown Disney. Both groups participated in the Soundtrack Sessions Workshop with clinician Mr. Richard Irvin.
— Kedzie Griffin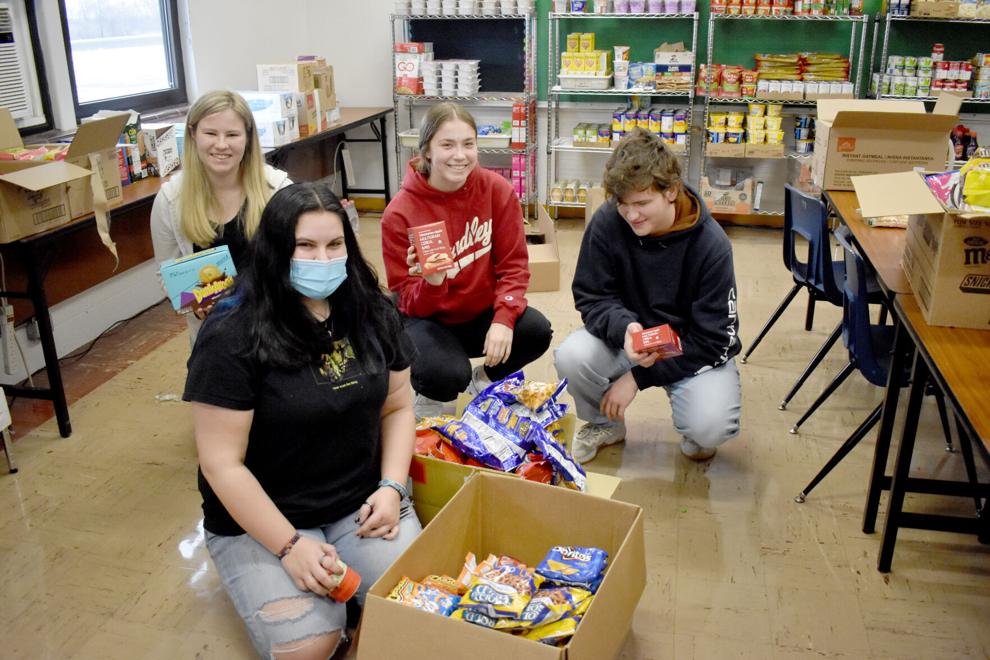 Heritage
Student council and Family, Career and Community Leaders of America partneredto start the Hawks Nest, which helps provide students with food, hygiene products and school supplies. Students anonymously place orders that are delivered to their lockers. Pictured: Courtney Sanford, Raegyn Sprandel, Bri Struck and Kenneth Schoonover unpacking a new delivery.
— Torie Rothermel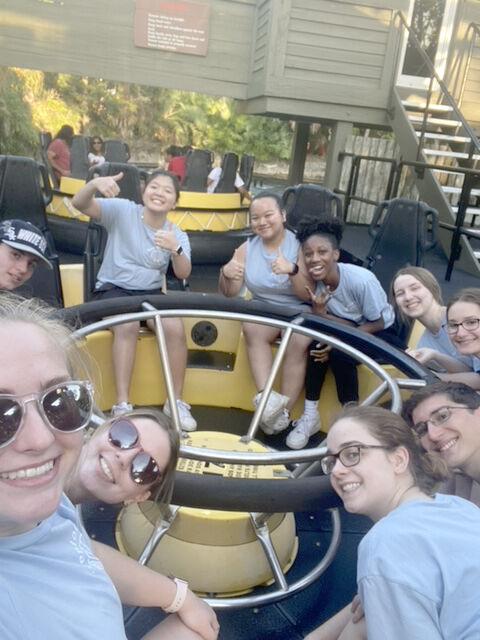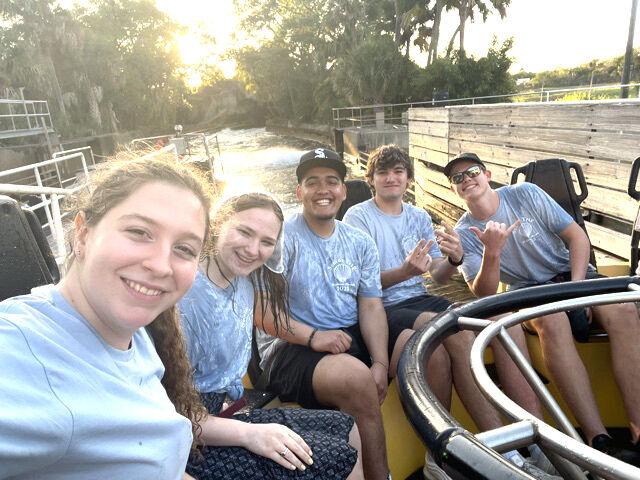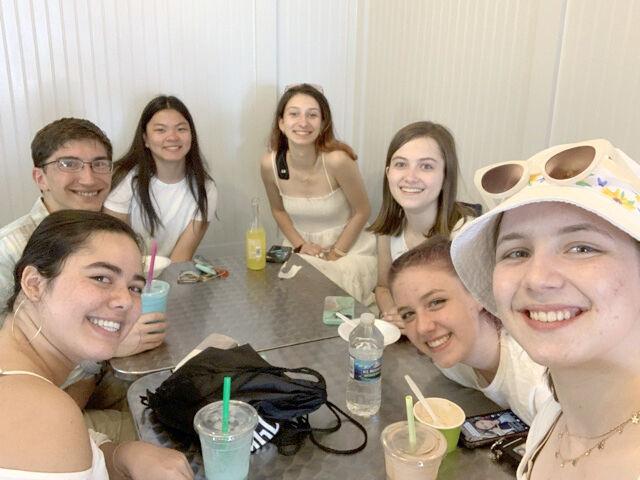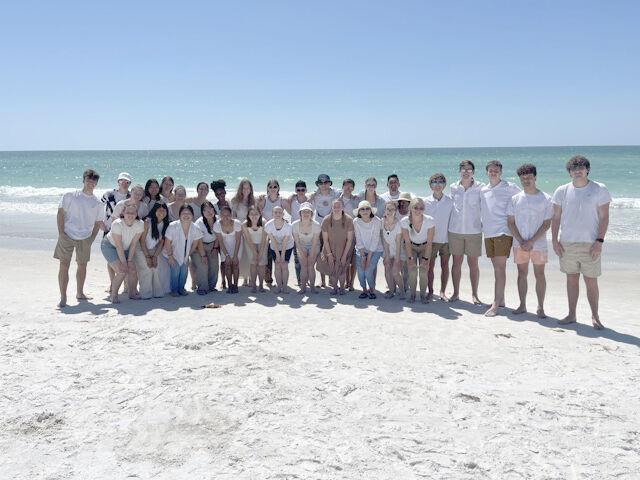 Judah Christian
Students enjoyed many activities on the annual senior trip — both planned and unplanned. They went to Busch Gardens wearing their senior trip shirts, and also made it to the beach. Other highlights: trips to Publix, a surprise birthday celebration and time in the pool — activities "seniors will remember for years to come," Lydia Lowry said. "We're so thankful that we were able to go on this trip, and we are thankful for those who had a part in planning it."
Pictured:
1 Left to right: Lydia Lowry, Ally Aardsma, Misa Rodriguez, Tyler Bretz and Garrett Kasbergen.
2 Left to right: (front) Megan Wolf, Lacey Frieden, Piper Hawk and Zane Coulter; (back) Sam Tschetter, Grace Swiney, Selah King, Jordan White, Ella Carder and Mae Thomas.
3 Left to right: (front) Selah King, Grace Swiney and Ella Carder; (back) Garrett Kasbergen, Ally Aardsma, Tyler Bretz, Jordan White, Lydia Lowry and Mae Thomas
4 Left to right: Abi Tapuaiga, Zane Coulter, Emma Schultz, Kaitlyn Januzik, Summer Hollis, Maggie Pritts and Ella Carder.
— Lydia Lowry and Abi Tapuaiga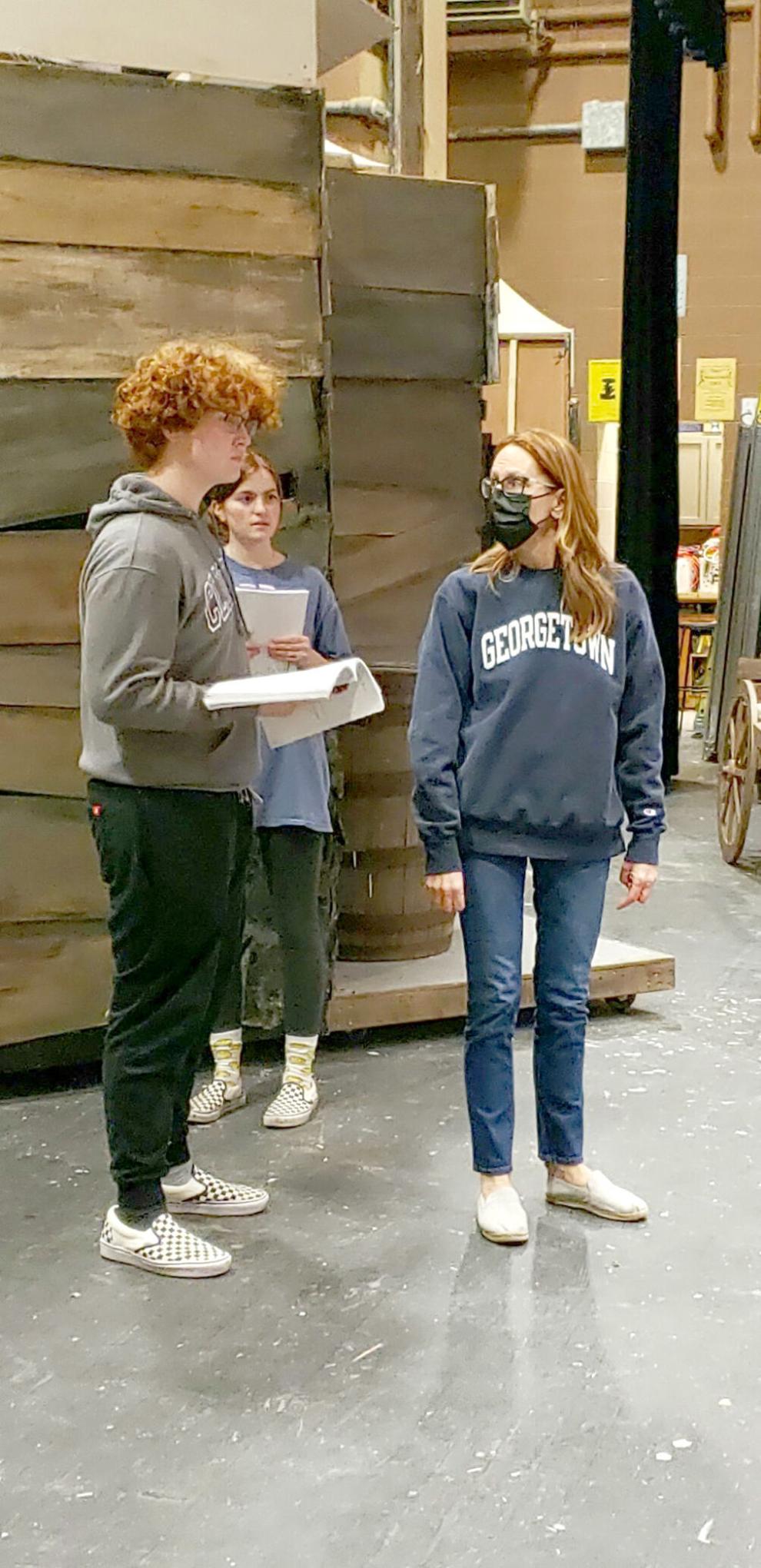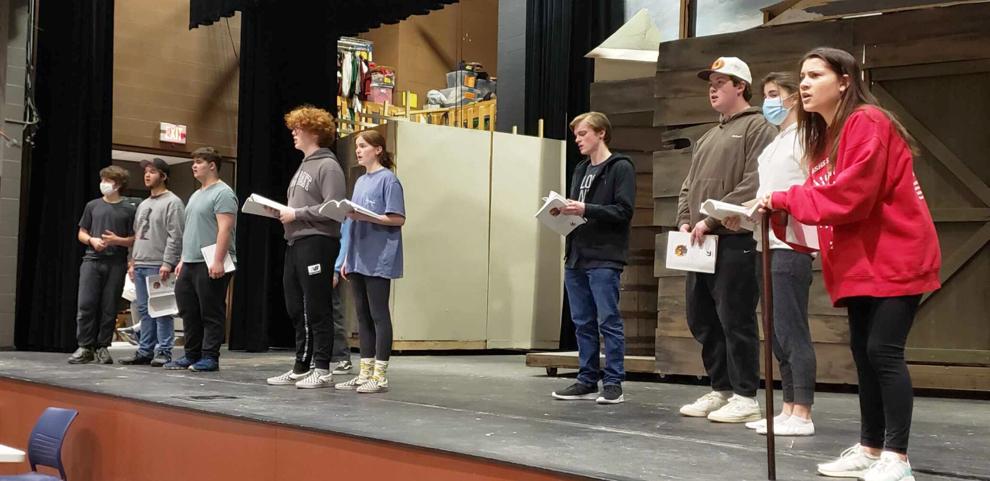 Mahomet-Seymour
As practice continues for "Fiddler on the Roof," drama club students involved are hosting a behind-the-scenes fundraiser at 3 p.m. Saturday at the school's auditorium. Tickets sales have started for the production, directed by Chris Taber, scheduled for April 22-23 and April 29-May 1.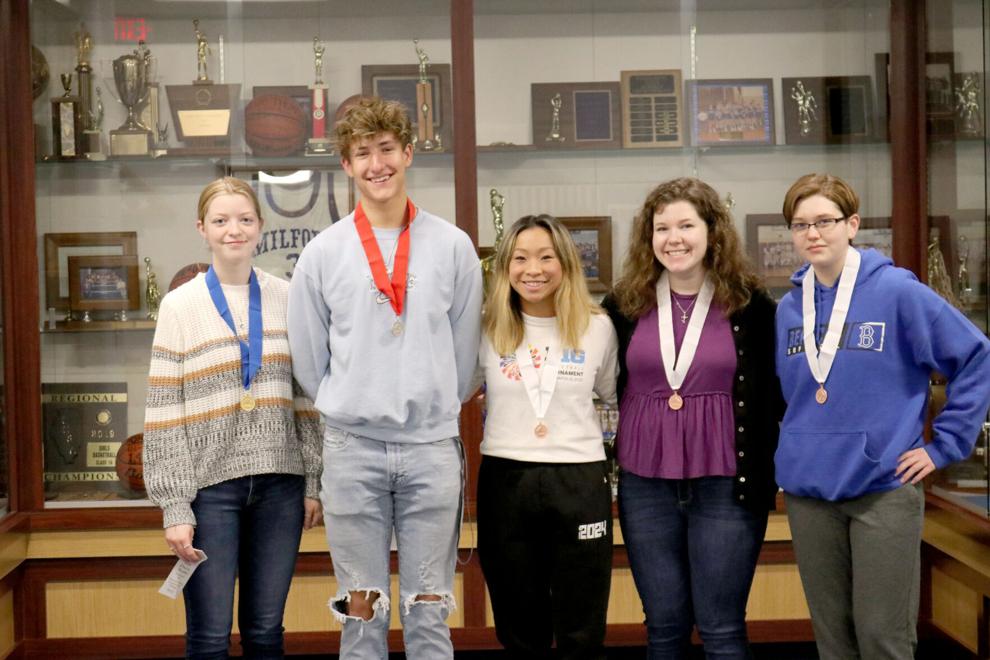 Milford
Regional results from the Academic Challenge saw several Bearcats recognized, including: Aria Leppard (first in match), Salym Estes (second in engineering graphics), Anna Hagan (third in English), Alivia Schmink (third in chemistry) and Melissa Stimson (third in engineering graphics).
— Alivia Schmink
Monticello
The track team sent a small but mighty group to compete in the Illinois Top Times Indoor Championships in Bloomington. Rose Talbert finished second in the 400 meters and Mabry Bruhn was third in the 1,600. The girls 4x8 also placed third, and Jacob Tackett was eighth in the 60 and 200. Pictured: Kyara Welter, Rachel Koon, Bruhn and Talbert.
— Clara Rudolph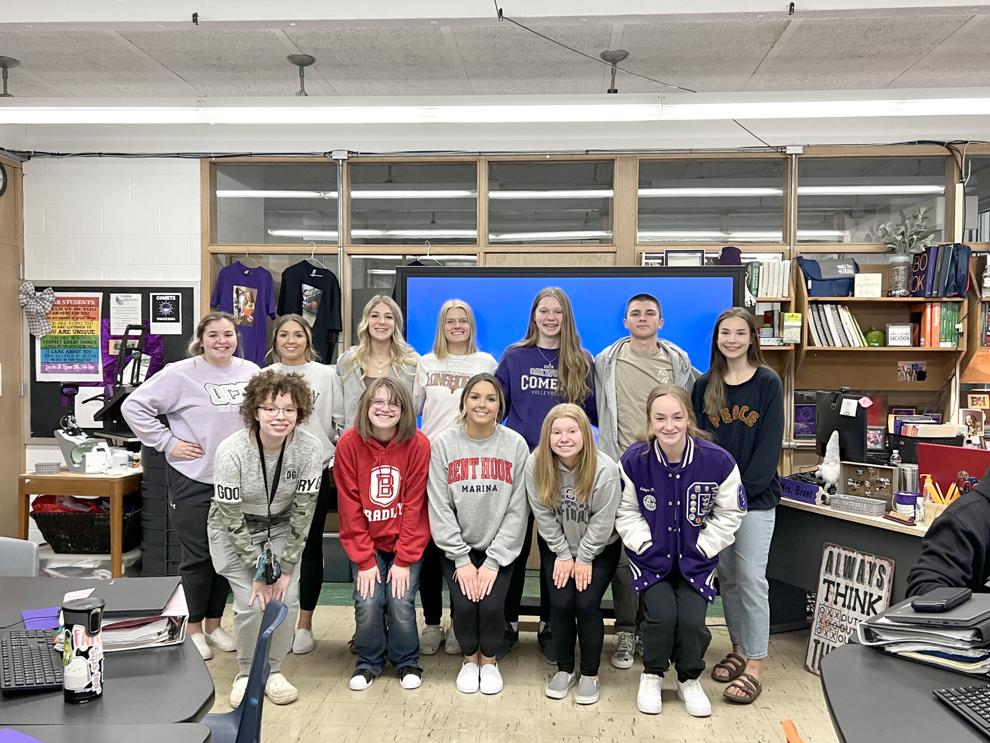 Oakwood
Over spring break, the Yearbook Crew went to work on the 2022 edition. Pictured: Audrey Acord, Makenzie Bonebright, Taylen Wait, Rylee Wright, Addie Wright, Ashton Morris, Madison Doan, Kailah Hosler, Ali Reed, Madison Bonebright, Cloe Johnson and Ashlynn Pinnick.
— Madison Doan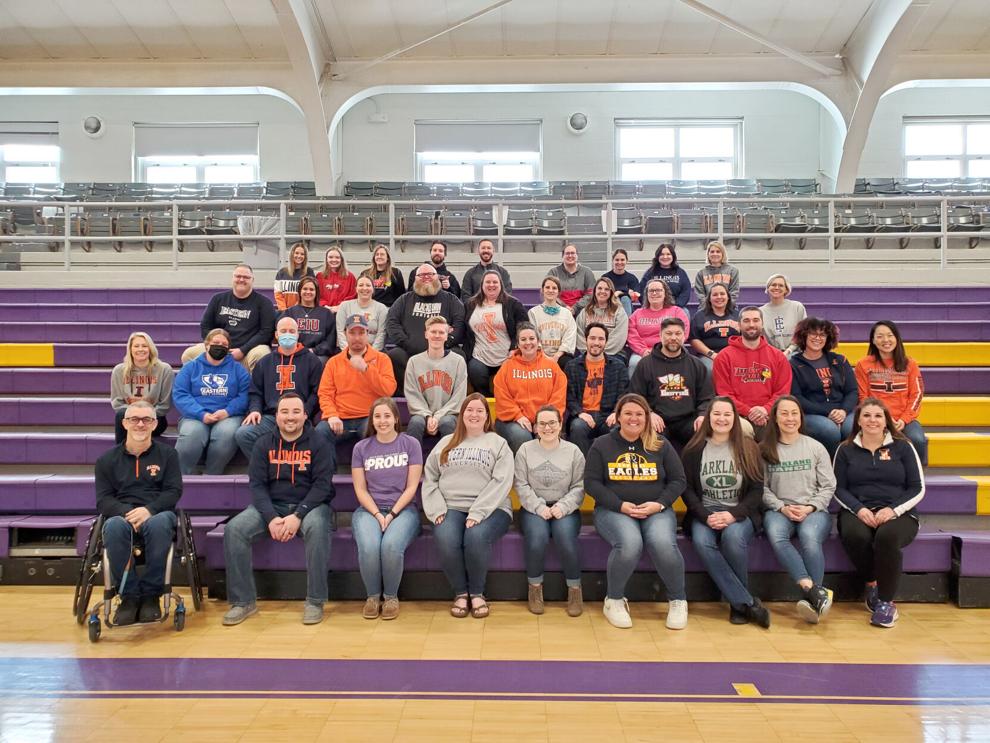 Rantoul
For this week's Alma Mater Monday, faculty and staff dressed the part. "It was a nice way to make a Monday fun," Principal Todd Wilson said.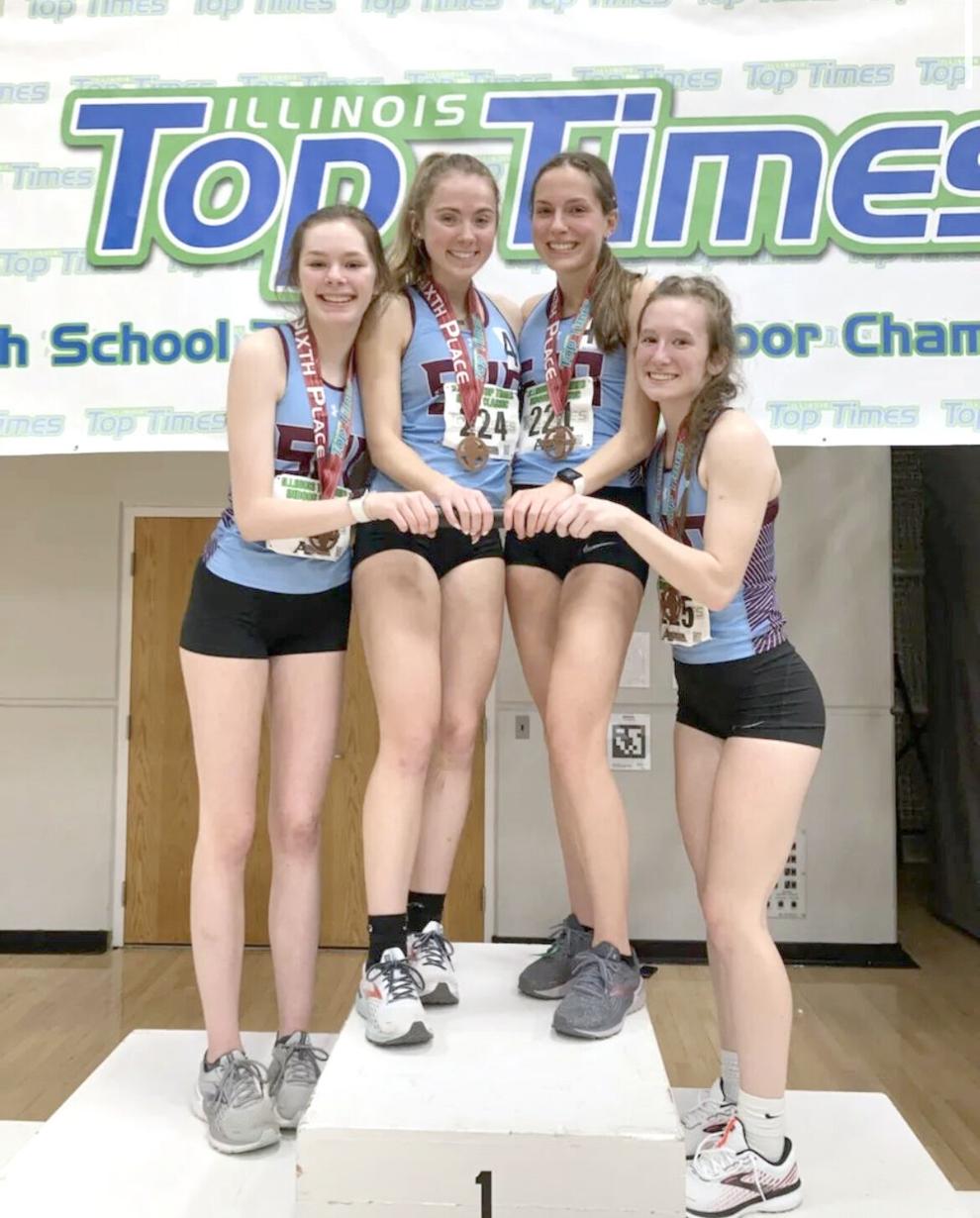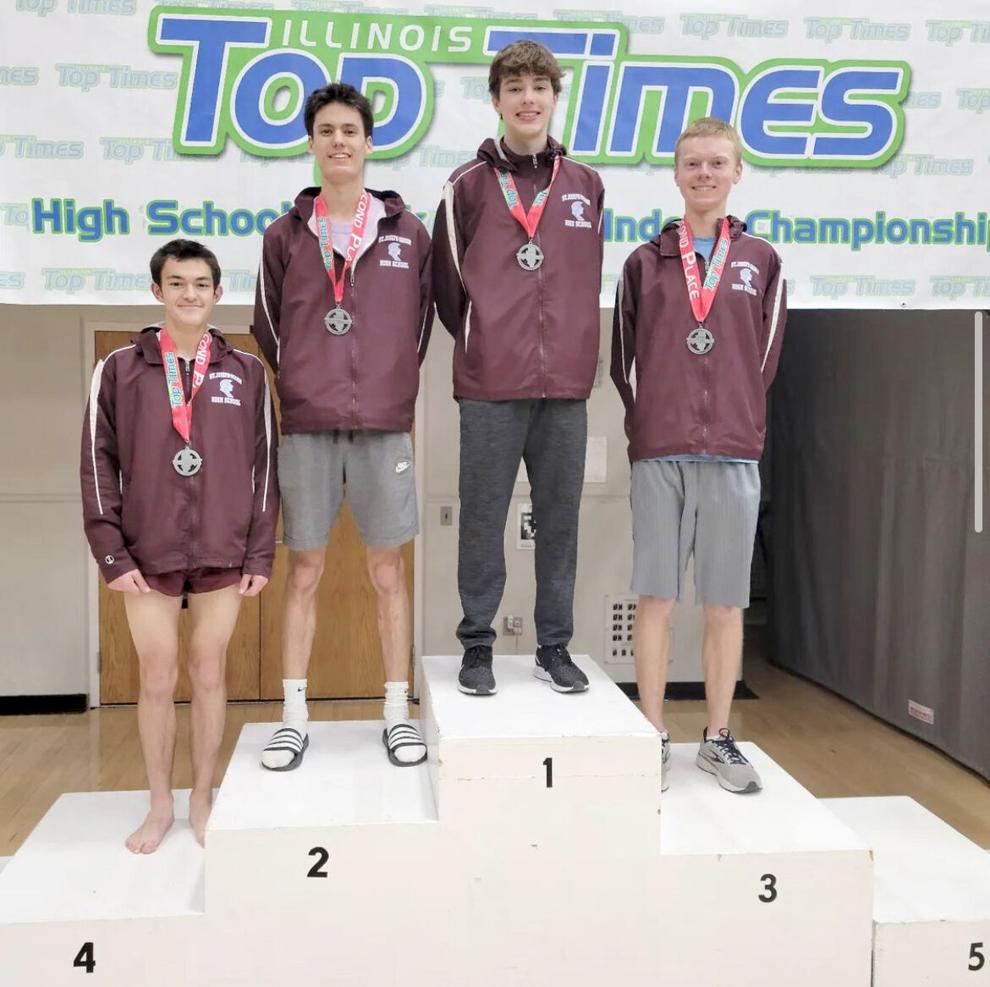 St. Joseph-Ogden
The boys' and girls' track teams competed at Illinois Top Times Indoor Championships in Bloomington, placing in nine events. Pictured: The 4x400 relay team of sophomore Helene Jones, senior Ashlyn Lannert, senior Kailyn Ingram and senior Hope Rajlich; and the 4x800 team of senior Luke Stegall, senior Charlie Mabry, sophomore Spencer Wilson and senior Elijah Mock.
— Regan Uden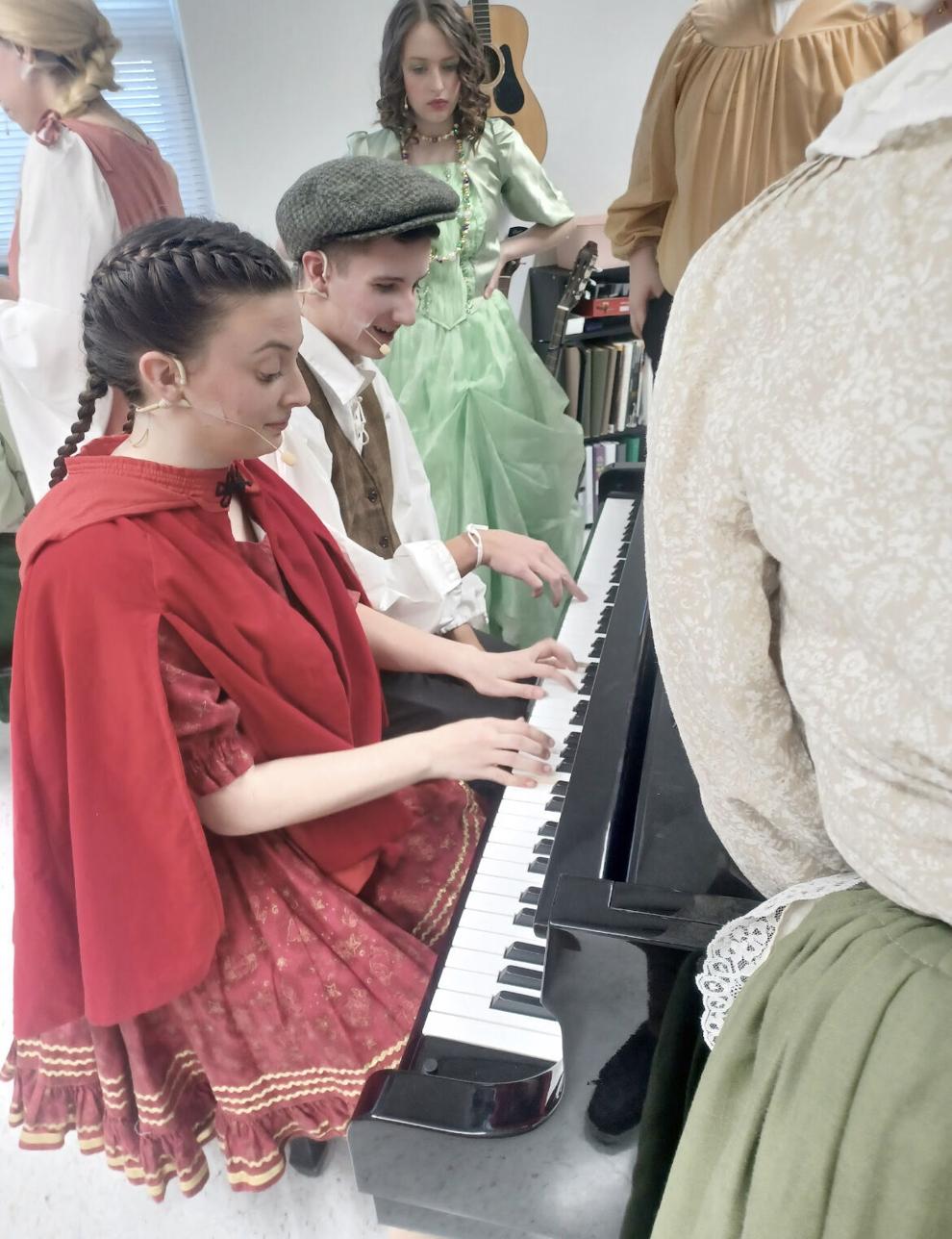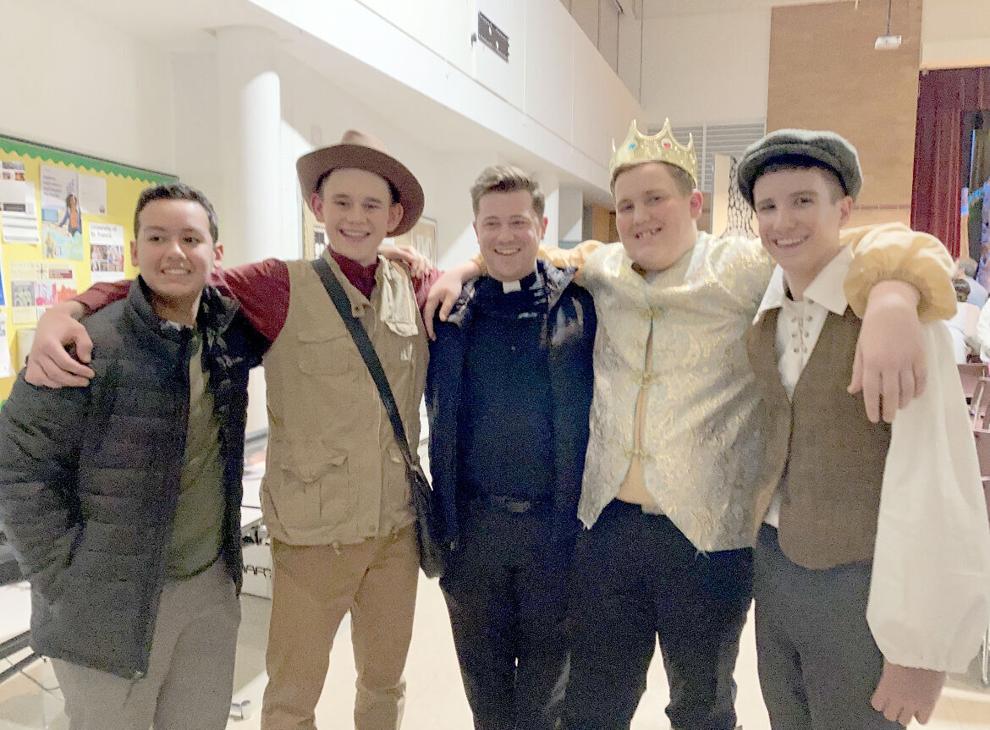 St. Thomas More
Students put on four performances of their spring production of "Into the Woods Jr." last week. It was especially memorable for the seniors who participated in what was their final high school performance, including Grace Kreps, Anna Craddock, Abby Deptula, Emily Ritter, Miia Popovics and Vigo Etshitshi.
— Bailey McMahon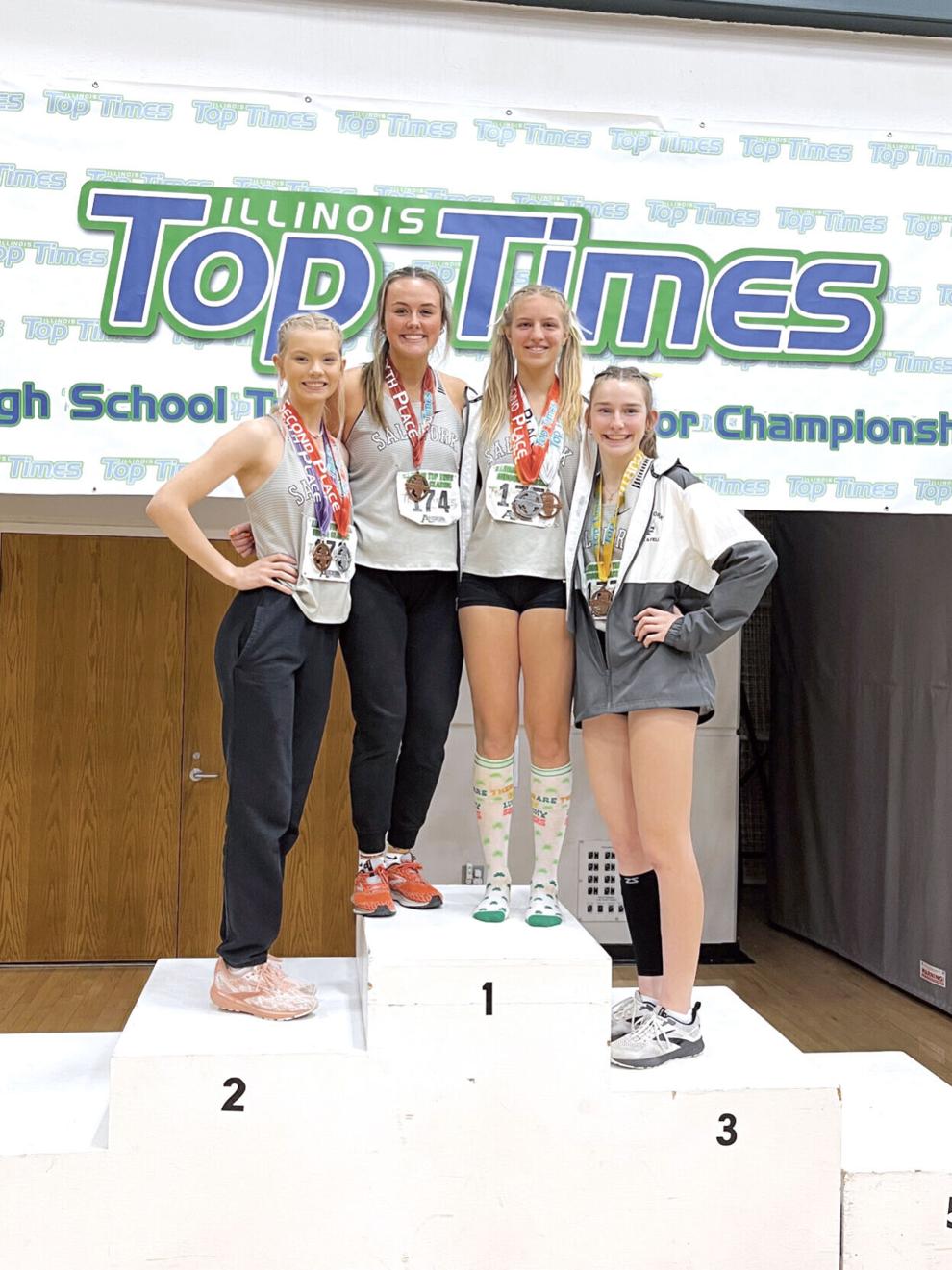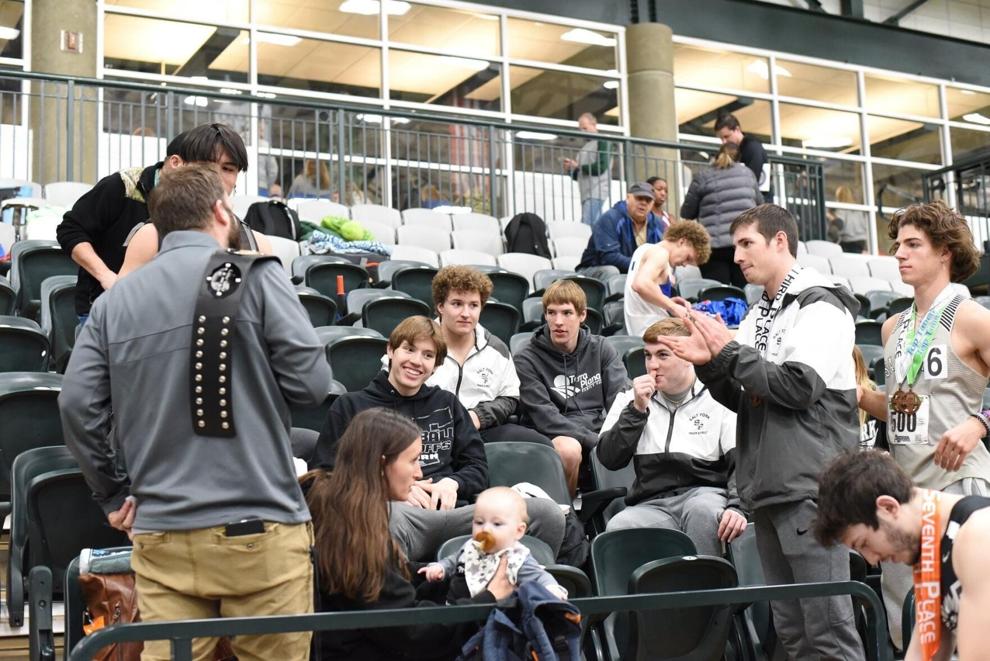 Salt Fork
At the Illinois Top Times Indoor Championships in Bloomington, the four-member girls' track team — Brynlee Keeran, Shelby McGee, Macie Russell, Olivia Birge — won seven medals and the boys' team five medals.
— Olivia Birge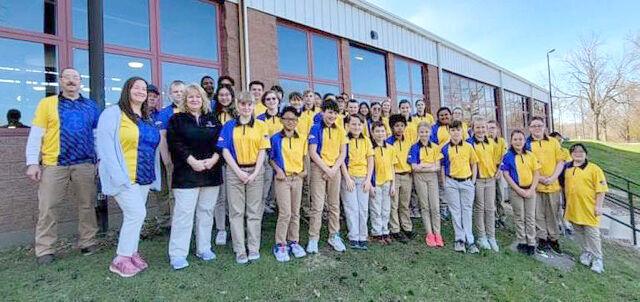 Schlarman
During spring break, the archery team prepped for a state competition in Springfield, where the Hilltoppers placed eighth in the high school division.
— Katherine Smith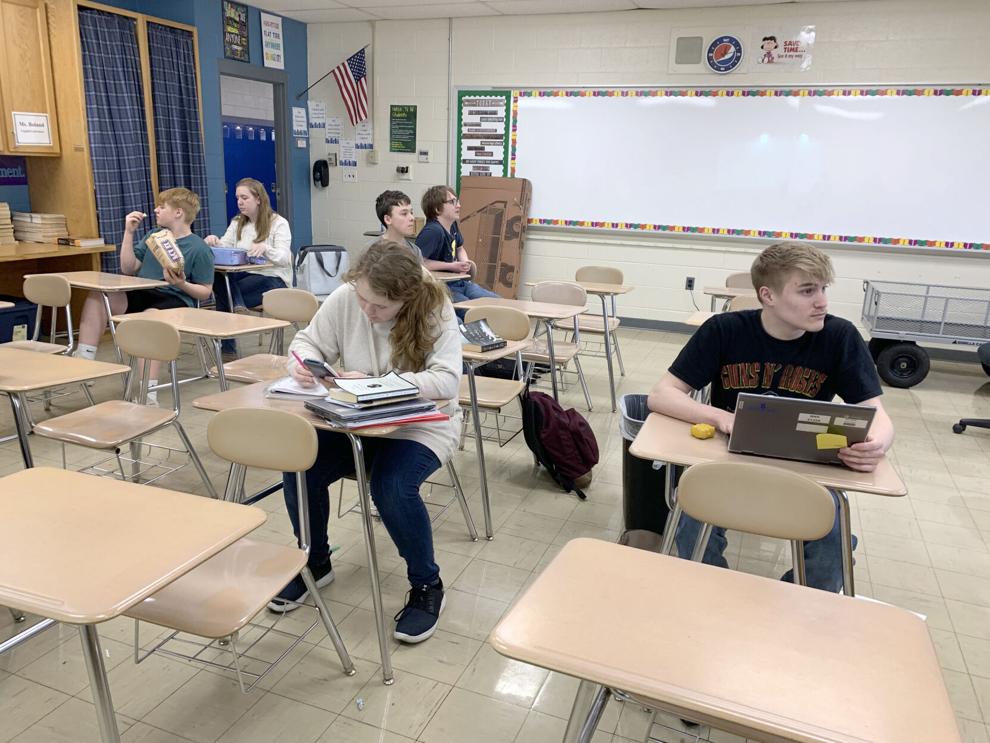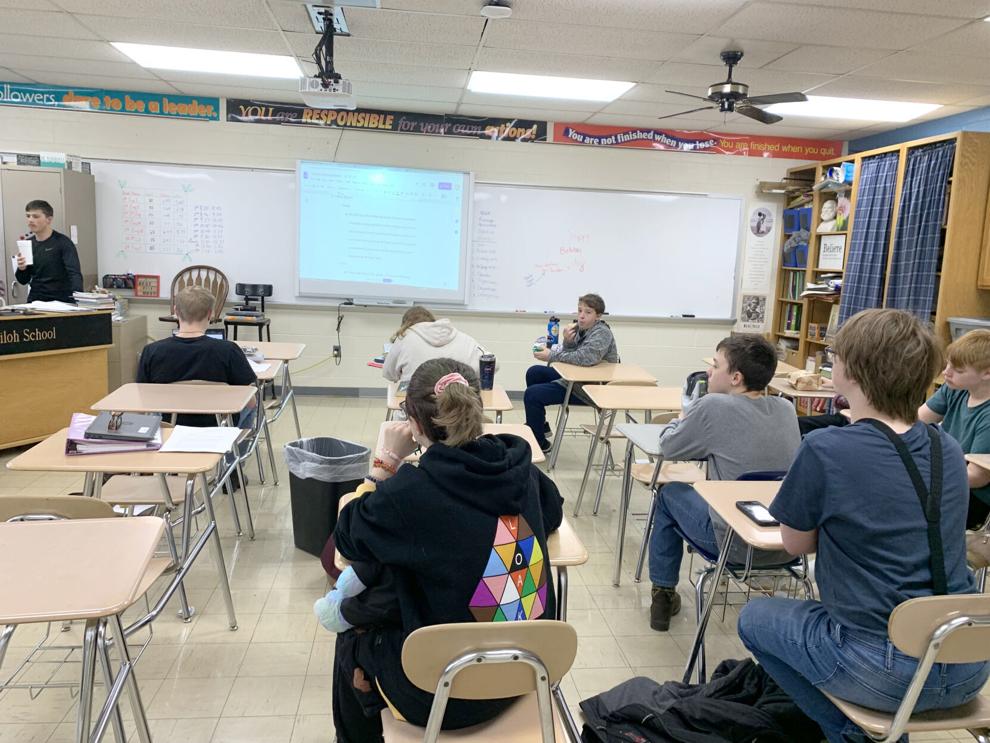 Shiloh
Student Council meets on Fridays to discuss fundraisers, community service, teachers' breakfast and state convention. Picture one, left to right: Andy Houlihan, Lydia Richardson, Emily Milburn (in front), Grant North, Will Benner, and Jacob Smith.
— Josephine Carroll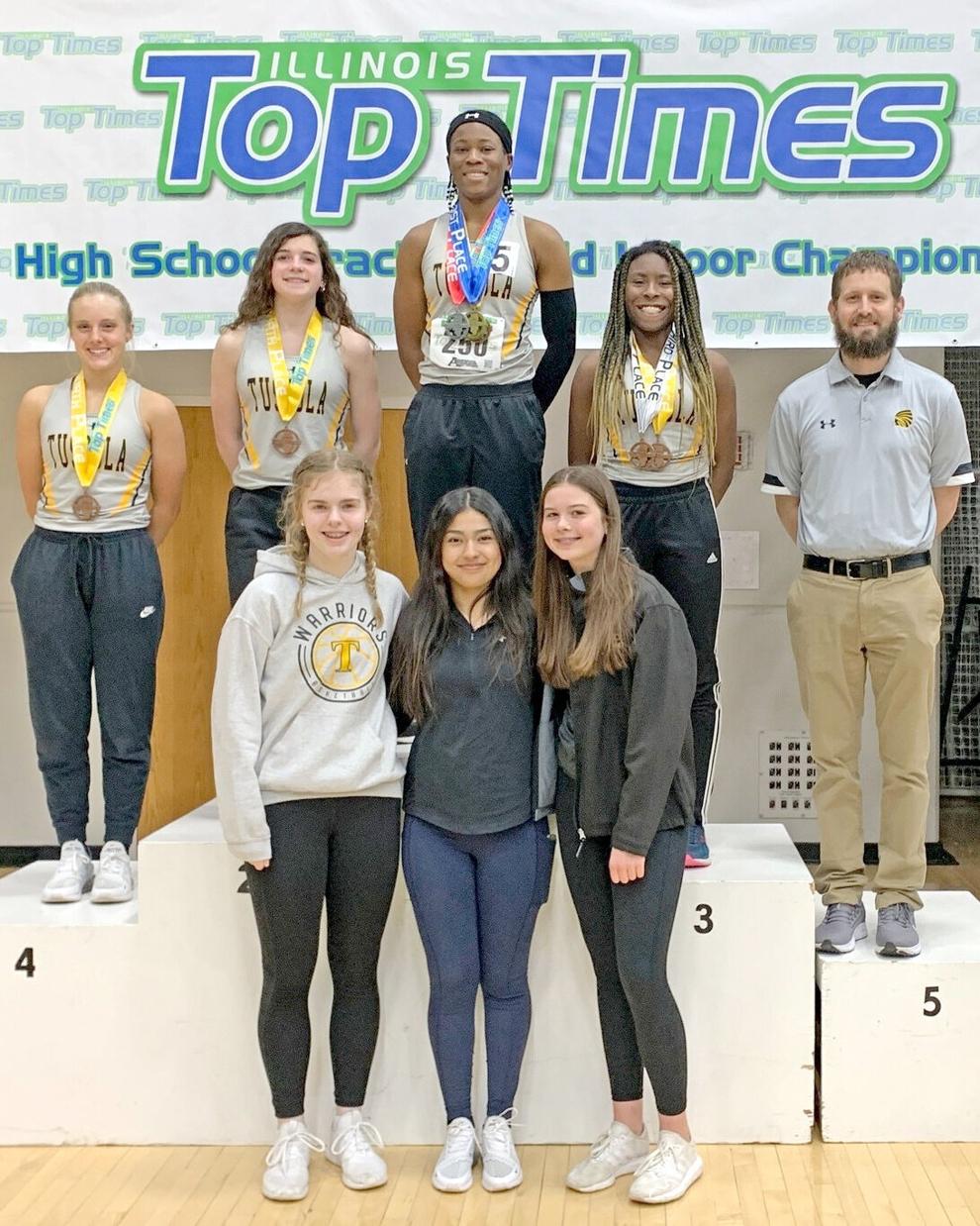 Tuscola
The girls' track and field team enjoyed a successful run at the Illinois Top Times Indoor Championships in Bloomington. Murray State commit Alyssa Williams placed first in the 60 and 200 meters and was second in long jump. Lia Patterson was third in the 400 and Kenna Clodfelder was 12th in triple jump. The 4x200 relay team (Mia Hausmann, Clodfelder, Williams, Patterson) placed fourth. Pictured, left to right: (front) Harley Woodard, Alondra Tapia and Addisyn Pettry; (bacvk) Mia Hausmann, Kenna Clodfelder, Alyssa Williams, Lia Patterson and coach Drew Sterkel.
— Amelia Bosch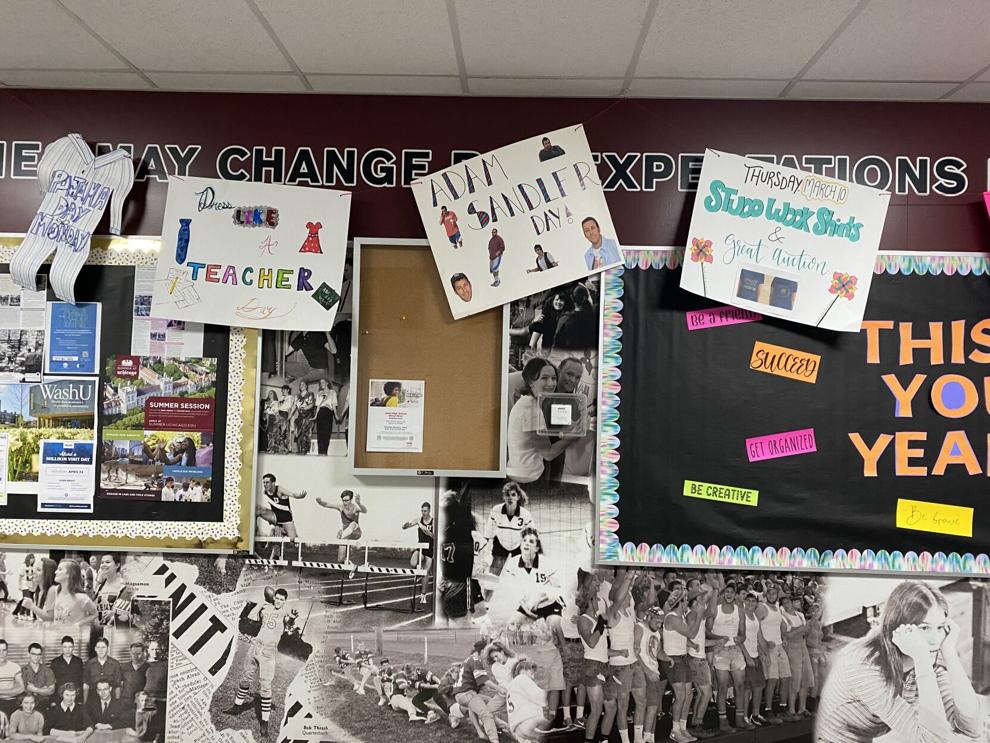 Unity
Student council members helped set up posters for dress-up themes during Student Council Week, which included Monday's pajama day, Tuesday's dress like a teacher day, Wednesday's Adam Sandler day, Thursday's student council T-shirt day and Friday's neon day.
— Maddie Reed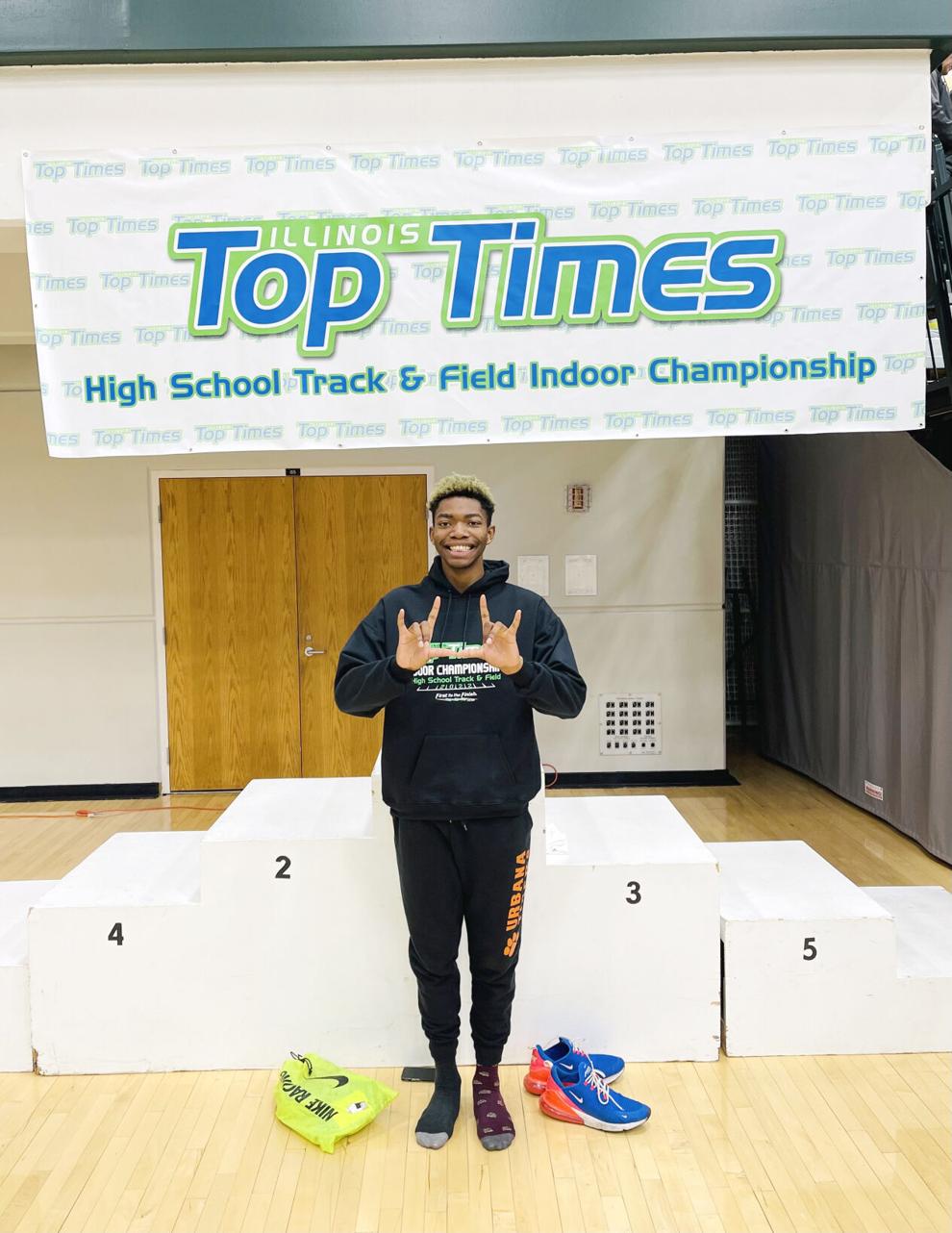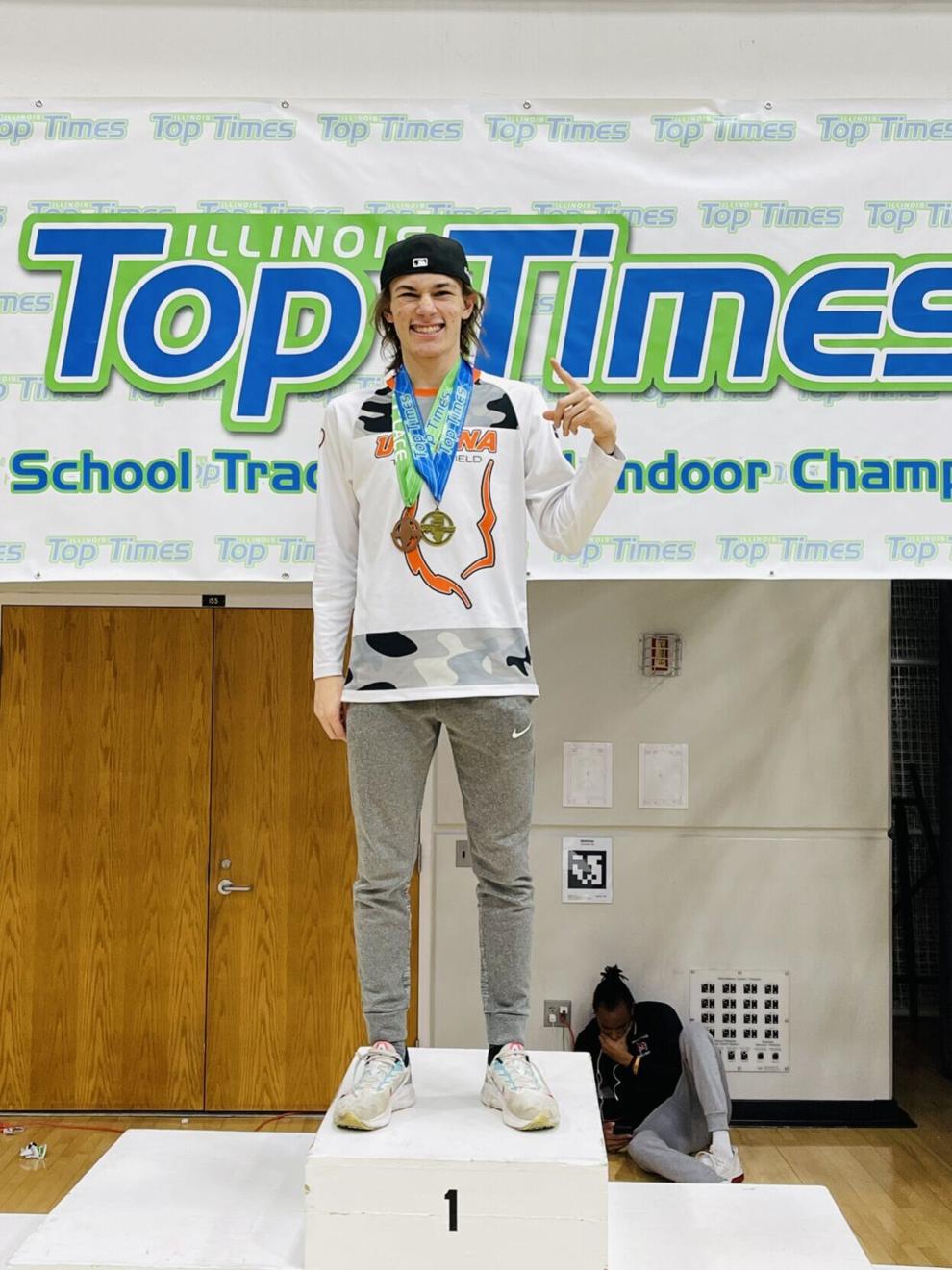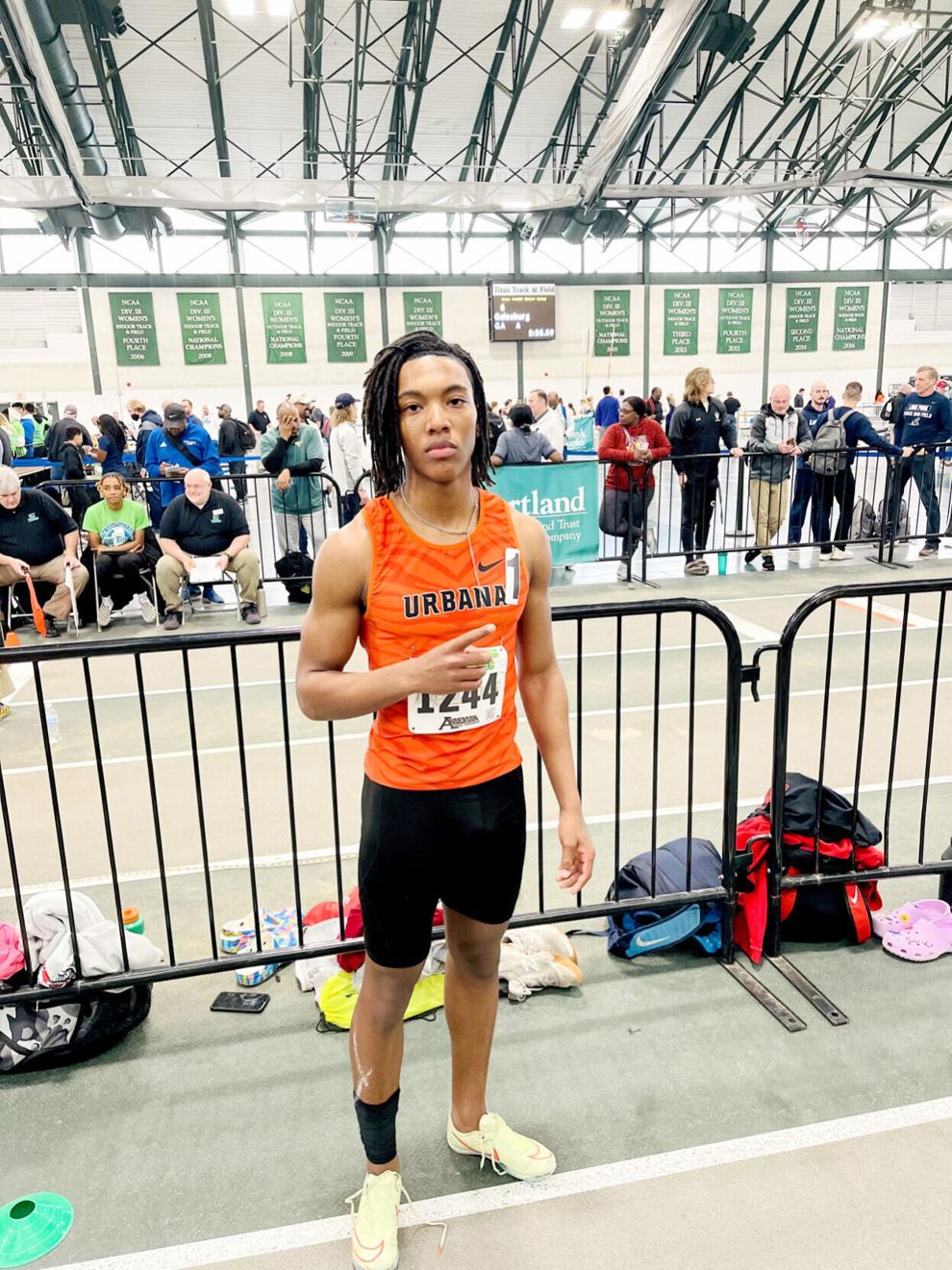 Urbana
Boys' track shined at the Illinois Top Times Indoor Championships in Bloomington. Senior Jaylin Ward had a top-20 finish in the 60-meter hurdles. Junior Jackson Gilbert won the 400 as sophomore Cedric Sabin was top 15. Finally, the 4x400 relay set an indoor school record.
— Park Mitchell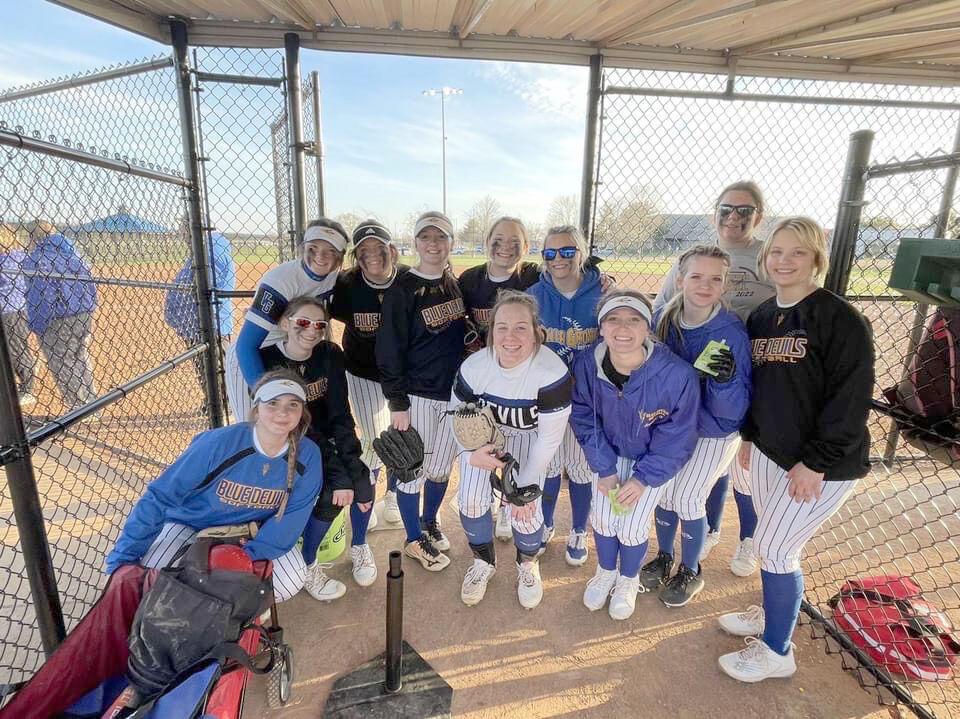 Villa Grove
The softball team took its annual spring break trip to Murfreesboro, Tenn., to play four games, winning once and enjoying the experience. Pictured, left to right: (back row) Maci Clodfelder, Addisyn Wilson, Kayln Cordes, Alison Pangburn, Emma Bratten-Noice and Madison Hinds; (front row) Kaylee Arbuckle, Logan Lillard, Alex Brown, Cadence Sanders, Lila Bessent and Chloe Reardon.
— Molly Little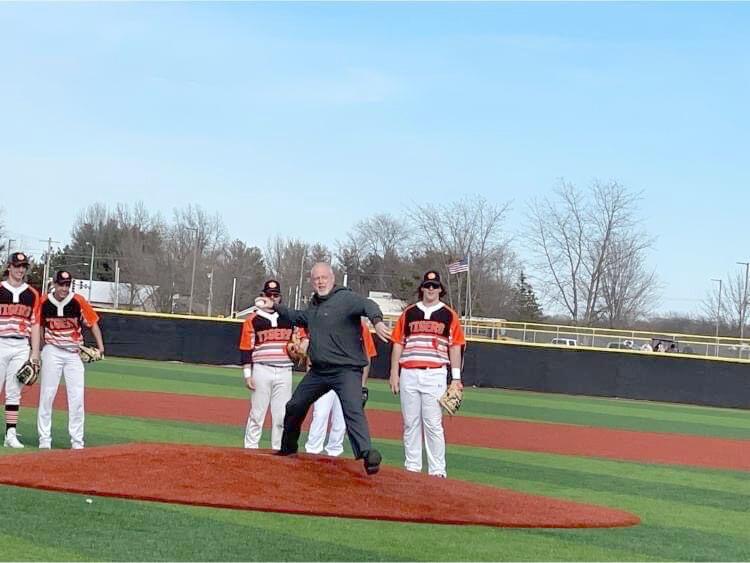 Westville
Retiring Principal Guy Goodlove threw out the honorary first pitch at the school's new baseball field to kick off the spring season.
— Bryce Burnett