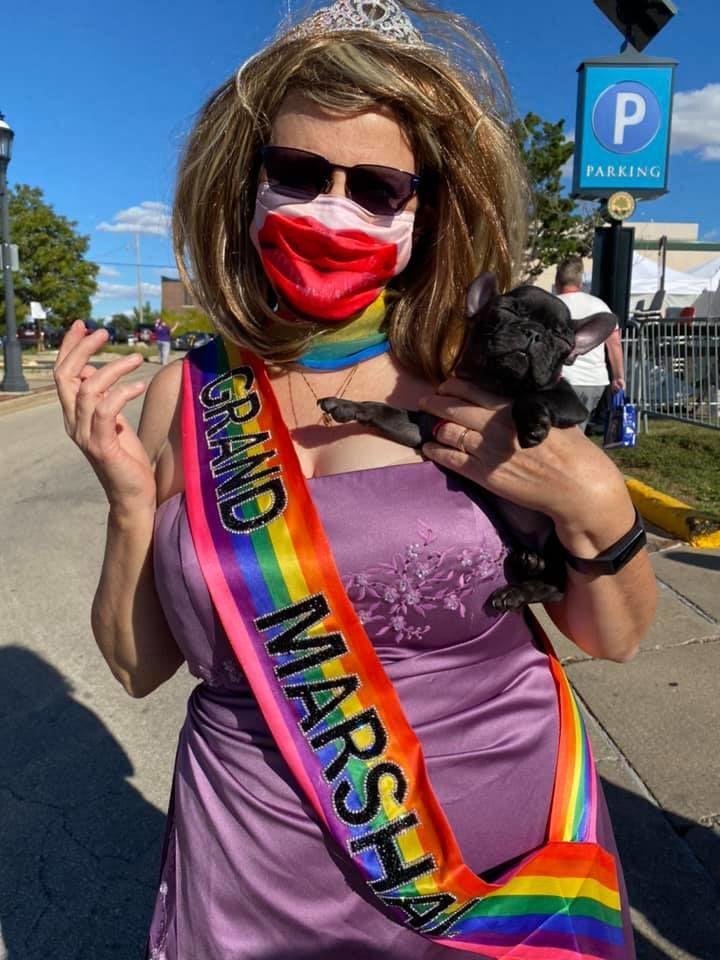 URBANA — Thousands of colorfully and some cleverly dressed people flocked to downtown Urbana on Saturday to celebrate the differences among us.
Despite the pandemic, people packed the streets for C-U Pride Fest, this year's theme being "What the Health? Fighting, Surviving, Thriving."
People came to speak for the LGBTQ people in Iran and Afghanistan who can't proclaim their sexuality, to campaign for public office, to soak up the sunshine on a perfect fall day, to hawk rainbow shirts and to collect candy thrown at them from the 50 entrants in the parade.
"I'm a mama bear. I have a daughter who is gay and many wonderful friends," said Claire Ford of Champaign.
Also a member of the First United Methodist Church of Champaign and the wife of a retired Methodist minister, Ford staked out a shady spot in front of the Bruno Law office on Green Street to cheer on her fellow church members who were marching in support of the LGBTQ community. A sore foot kept her from participating in the blocks-long parade.
"All the LGBTQ people I meet are just the most amazing people, and I can't bear for people to think they are different or shouldn't be the way they are," Ford said.
The aptly named Julie Pryde, administrator of the Champaign-Urbana Public Health District, donned a long blond wig, tiara and purple gown festooned with a rainbow sash proclaiming her honorary role as grand marshal for Saturday's parade.
The seemingly indefatigable Pryde dressed as her alter ego, "Ms. Anita Break," and rode in a cart pulled by a unicorn that looked a whole lot like a miniature pony.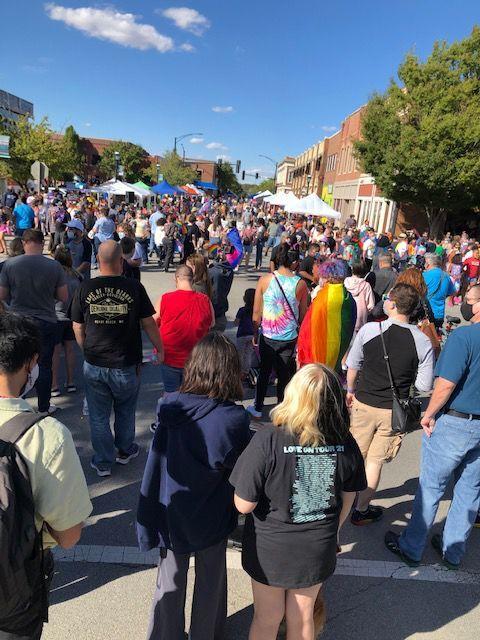 Cynthia Hoyle of Urbana was blowing bubbles in front of the Unitarian Universalist Church at 309 W. Green St.
"This is my church. These are my people," said Hoyle, who said it was "especially important to be here to support the students in Mahomet" who she believed were recently bullied at school over LGBTQ-themed attire.
Nearby, Jason Liggett, station manager for Urbana Public Television, was recording the parade, which was also being live-streamed on UPTV's Facebook page.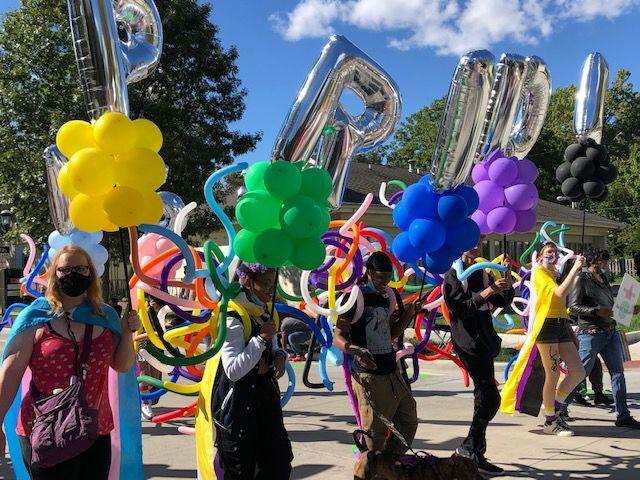 A veteran parade commentator, Liggett said Saturday's was UPTV's fourth Pride Fest parade. The public broadcast channel has telecast countless Fourth of July Freedom Celebration parades.
For those unable to join the thousands who crowded downtown for Pride Fest and the parade, Liggett said the parade will be rebroadcast at 7 p.m. Thursday on UPTV.
Riding in a "cat backpack" was Juniper, the 1-year-old cat of Lexie Vogel of Champaign.
The 22-year-old University of Illinois student majoring in media and cinema studies said this was her first Pride event since she came out as bisexual.
"Obviously, I have carried a lot of guilt from my Catholic upbringing," said the Peoria native.