URBANA — Dr. Sampson Davis was embarrassed to tout his intelligence early on in school.
"If there's one thing that a child shouldn't be ashamed about, it's their academic excellence, their intelligence. They should be braggadocious about it," the Newark, N.J., native told a crowd of hundreds Friday during his keynote speech at the 19th Annual Dr. Martin Luther King Jr. Countywide Celebration in Urbana. "I tell kids, if they call you a nerd for doing well on a test, that's fine, because they're going to be calling you, 'Boss.'"
It's a message the emergency-room physician tries to instill in youth as he travels the country for his foundation, The Three Doctors, which he runs with two other doctors he went to high school with.
Davis told stories about his journey through Seton Hall and Robert Wood Johnson Medical School to become a doctor who's written books and appeared on Oprah and other national TV shows.
"We all have dreams," he told the crowd. "But a dream without action is just sleep."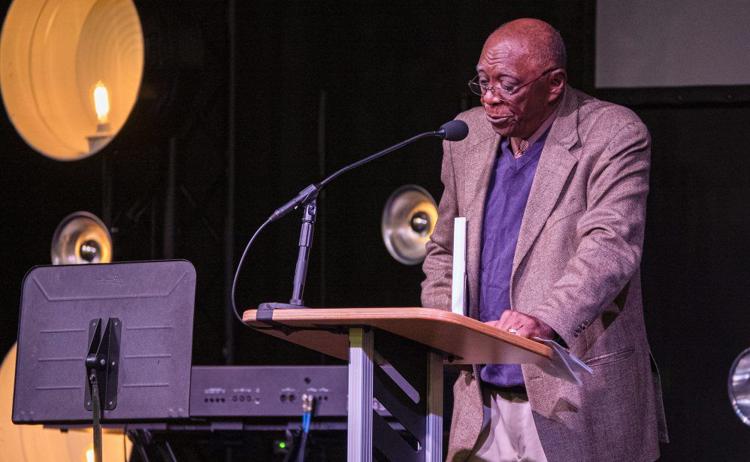 The value of education is something that Nate Dixon knows about. The former Champaign Park District employee who ran the Douglass Center, then served as director of community services, was one of 10 students escorted by National Guardsmen in 1956 as they integrated Sturgis High School in Kentucky.
Dixon accepted the Dr. Martin Luther King Jr. Outstanding Achievement Award on Friday.
"That's when I started my journey to try to make a difference, when I integrated the school in 1956," he said.
Also honored were the staff of Austin's Place, which received the James R. Burgess, Jr. — Susan Freiburg Humanitarian Award, and the Rev. Rickey Parks, who was given the Doris Hoskins Prestigious Community Service Award. Urbana Mayor Diane Marlin and Champaign Mayor Deb Feinen gave a joint proclamation along with other Champaign County officials.
When Willie Comer gave the benediction to close out the ceremony at the Vineyard Church, he addressed the fight that still exists in Champaign-Urbana.
"May we challenge one another like Dr. King challenged the men and women from a Birmingham jail," Comer said. "May we never get comfortable.
"We read about test scores and attempts of division and racism and injustices in our community. May we be reminded, like the old song that the O'Jays sang, 'We've got work to do.' But help us go forth from this place together."