Among today's activities in downtown Champaign surrounding the 19th annual Parade of Lights:
3-5:45 p.m. Visits with Santa at Big Grove Tavern
3:30-5:45 p.m. Find Frosty Scavenger Hunt at Jane Addams Book Shop
5-5:45 p.m. Carolers, musicians perform
6-7 p.m. Parade
7-7:30 p.m. Tree lighting in One Main Plaza
***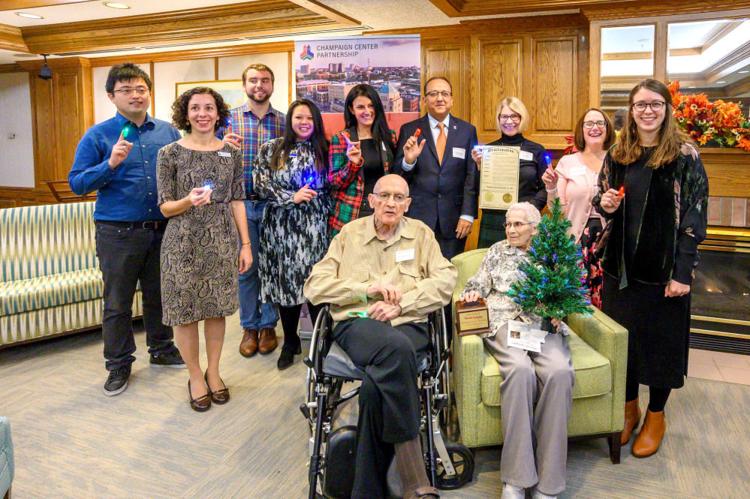 CHAMPAIGN — Every year, downtown becomes aglow on the Saturday after Thanksgiving at the end of the Parade of Lights.
A few miles away, the father of the LED lives at Clark-Lindsey retirement community in Urbana. When Nick Holonyak Jr. was recommended to be the parade's next grand marshal, Champaign Center Partnership Executive Director Genevieve Kirk thought the fit was perfect.
"He was actually suggested to me during the parade last year by one of our Champaign business partners," Kirk said. "I didn't actually know a whole lot about him until I was a judge for the 70-under-70 awards earlier this year, and when I read his nomination and learned more about his history — father of the red LED and his connection to University of Illinois and that he lives in the community at Clark-Lindsey, it seemed very fitting for an event illuminated by LEDs to honor him in this way."
Earlier this week, the Champaign Center Partnership and the Champaign County Economic Development Corporation held an event at Clark-Lindsey to honor the 90-year-old Holonyak, who won't be able to attend today's parade but will be represented by Holonyak Graduate Fellows John Carlson and Junyi Qiu.
At the event, Champaign Mayor Deb Feinen and Urbana Mayor Diane Marlin declared Nov. 30 Nick Holonyak Jr. Day and released a joint proclamation.
They also presented him a trophy with an LED-lit Christmas tree on top, the same model they'll be giving out to the top three float entries tonight.
That contest will be judged by the three lead actors from 'Frozen,' presented by The Champaign Park District Youth Theatre program.
"Those are youth who are judging the parade, so that's kind of new and exciting for us to see who they pick as our first, second, and third float entries," Kirk said. "Then they'll be going up to the tree and Elsa will be singing a song that many people know from 'Frozen,' kind of leading a little sing-along."
Another new entrant in the parade will be the Marching Illini, who will head downtown after the Illinois football team plays Northwestern. Procuring marching bands is usually difficult on Thanksgiving weekend, Kirk said, but this year, both the Marching Illini and the Rantoul band will march.
A 3 p.m. scavenger hunt, an all-day holiday market SoDo Theater, visits with Santa at Big Grove Tavern and carolers will all lead in to the main event, which begins at 6 p.m.
"I feel like you never see Champaign so animated as during this event," Kirk said, "especially with a family audience."