Tom Kacich | Taking a swing at old-time base ball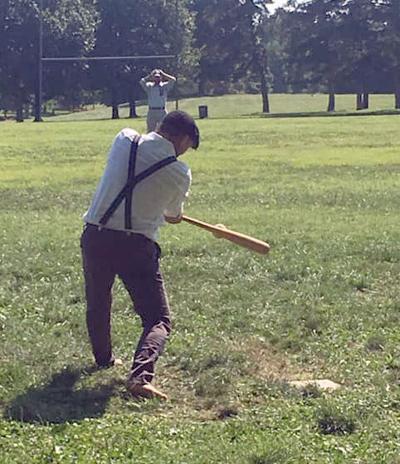 It's the most wonderful time of the year to talk about ... base ball.
It doesn't matter that it's the second day of winter or a few days before Christmas, Mike Griffin is on a mission to find local folks (women included) eager to play an 1860s version of the national pastime next summer.
The team would be called the Champaign-Urbana Twins, a nod to a minor league team that existed for a year long ago in Urbana, and would play its games on Saturdays.
If it sounds easy, it isn't. Players don't wear gloves, helmets, masks or anything else safety-related. They play in fields, pastures and parks, even if they contain stones, holes, tall grass, no grass, trees or barns. They abide by unusual rules that can change from place to place. And if they swear during a game, they're fined a week's pay, 25 cents.
Griffin, a 52-year-old "ballist" from Camargo, hopes to organize a C-U team that would start by playing five Saturday doubleheaders in the clover field behind Riggs Beer Company in Urbana, and perhaps add more games during the summer.
He's looking for men and women, 40 to 60 years old (because they're more likely to be able to meet the time commitment) who can agree to a schedule of games, including travel and costs, and a peaceful, friendly attitude.
"This is going to be more about history, reenacting it, and theater, than winning games," Griffin said. "It's a chance for people to dress up, learn about the early years of base ball and have fun doing it. The 1800s games were played strictly in a gentlemanly manner with teams congratulating each other on balls 'struck well' or a player who 'legged it' on a close play after he 'struck' a 'daisy cutter.'"
He said he doesn't want "hotheads."
"This is a noncompetitive team. I will not tolerate any hotheads getting angry on the field," he wrote in a recruitment missive. "We will play for peace, for love, forever."
There won't be uniforms — at least initially — although players will be asked to wear old-fashioned clothing.
When he began playing on vintage base ball teams last summer, Griffin said he wore dark cotton pants, a long sleeve linen shirt, a black pie cap and black suspenders. Other teams dress in period uniforms or reproductions of the uniforms of the teams of yesteryear. Griffin said he'd like to recreate the Champaign-Urbana Twins uniform. A St. Louis vintage team is known as the Perfectos because that was the name of the St. Louis Cardinals the year (1899) before they became the Cardinals.
Aside from games at Riggs, the Twins likely would play teams in Bloomington, Danville, Decatur, Springfield, Vandalia, Belleville, St. Louis and French Lick, Ind.
"You have to travel and you have to be committed to this. You can play as far away as Ohio," he said. "Last year when I played in St. Louis (in the grassy field by the Gateway Arch) there was a team from Massachusetts that flew in to play in the tournament."
Learning the rules and the language of the game of 160 years ago can be difficult, Griffin said.
Although the bases were 90 feet apart and there were nine players to a team, there were many differences from the game today. Outfielders were called "scouts," pitchers — or "hurlers" — delivered the ball to the "striker" underhand.
"Back in those days the striker could actually ask the pitcher to throw the ball in a certain spot or the pitcher would ask the striker, 'Where would you like the ball?'" Griffin said. "It wasn't about winning. Everyone just wanted to see the striker strike the ball and see how far he could get on the bases.
"There were a lot of guys who mastered the art of hitting the ball on the ground in fair territory and it would roll into foul territory and into the crowd and it would still be a live ball," he explained. "Today it's hard for some of these players to get away from the idea to hit the ball as far as they can.
Umpires were called arbiters and didn't call balls and strikes nor call runners safe or out, unless there was a difference of opinion between the runner and the fielder.
"If you're the runner and you know you were out, you just run off the field. You don't argue about it," he said.
Anyone interested in joining the Champaign-Urbana Twins should contact Griffin at 217-372-4832 or at signalman67@yahoo.com.
Finally, there's one compromise to Griffin's near-total commitment to 1860s base ball authenticity: his team will be open to all races.
"I can tell you along with competitiveness, prejudice and discrimination will absolutely not be a part of my team," he said. "I am all for authenticity right up to that point. I will turn down no player based on anything except being too young."
Tom Kacich is a columnist and the author of Tom's Mailbag at The News-Gazette. His column appears Sundays. His email is tkacich@news-gazette.com, and you can follow him on Twitter (@tkacich).