Top of the Morning, April 29, 2021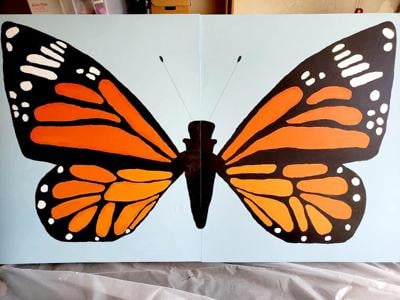 The friendly folks of Good Shepherd Lutheran Church are happy to host Twin City Garden Club's annual plant sale each spring. This year, they chipped in by creating a giant-sized monarch to serve as a colorful, meaningful backdrop of a selfie station along Prospect Avenue.
"It blew our socks off," club President Cheryl Weber said. "It was beyond fabulous."
Inspired by a painted fence near Prospect and Springfield (Tom's #Mailbag, Oct. 2), Good Shepherd's Nancy Holm, Joy Kammerling and Don Block teamed up to create the artwork that will be part of Saturday's 8 a.m.-to-noon sale. Deacon Jason Fisher said "there are a lot of people in our congregation who are passionate stewards of creation."
Adding to the butterfly theme: Nearby Faith United Methodist is lending its monarch to brighten up an already lively scene.
All plants on sale Saturday were grown by members of the club, formed in 1930.