Top of the Morning, June 25, 2021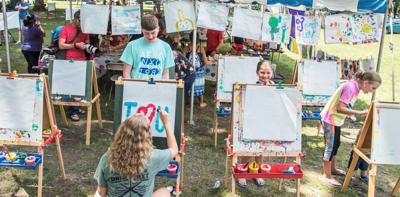 For 31 years, Arts in the Park was a staple of
Danville's summer. Then, in 2020, like most events, it got forced to the sidelines by COVID-19.
"We were pretty disappointed that we were not able to provide this for the community," said Arts in the Park board member/treasurer Greg Hilleary.
Good news: Arts in the Park is back at Lincoln Park (10 a.m. to 5 p.m. Saturday, 11 a.m. to 5 p.m. Sunday).
Arts in the Park is held every year the weekend after Father's Day.
"It's a combination of all different kinds of art," Hilleary said.
There is art on the stage, with dance, theater and music performers. There are booths of artists with 2D and 3D art, jewelry, and fine arts and crafts. The work is judged, with ribbons and prize money awarded.
The Danville Art League has a show going on as part of the event, with the work judged as well.
Danville Area Community College and Danville High School are hosting an art exhibition during the event, showcasing student work. DACC has participated in the past, but this is a first for Danville High.
A car show is Saturday from 11 a.m. to 3 p.m. with as many as 100 cars participating.
There is no admission charge to Arts in the Park.
"We anticipate a wonderful crowd," Hilleary said.
The event is fully funded by donations.
"The community is very supportive of us," Hilleary said.
For further information, check out the Arts in the Park website: danvilleilaitp.org.