Top of the Morning, Sept. 10, 2021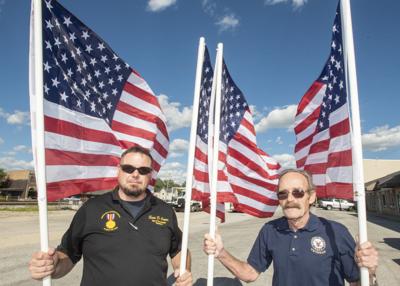 Saturday's 9/11 ceremony in Tuscola will not only commemorate the 2001 terrorist attacks but also the hundreds of Illinois service members who have died since that day 20 years ago.
The idea — five years in the making — was to honor the fallen with 263 American flags on the grounds of East Prairie Middle School. Hosted by T.K. Martin VFW Post 10009, the ceremony starts at 7:46 a.m. and should draw a Douglas County crowd.
"It will be breathtaking, for sure," Tuscola's Sean Conner said.
That it's taking place at all is a tribute to the persistence of Conner and fellow VFW member Jon Beck. They were working with Larry "The Flagman" Eckhardt to stockpile the necessary flags before Eckhardt died in March 2020.
"The organizer that took over for Larry did not know we had requested to use flags and had already promised them for another event," Conner said. "I called two other organizations to request the usage of their flags for our event, but all had promised their supplies out already."
Short on options, Conner and Beck solicited donations and spent their own money to acquire 263 flags — and then some.
"We have enough to make 500 flags, which we plan on displaying for future service members killed, remains that are returned home and law enforcement and first responders who are killed in the line of duty," said Conner, a 2001 Tuscola High alum. "We are honored and humbled to be the organizers for this event and future memorials."