Top of the Morning, Sept. 19, 2021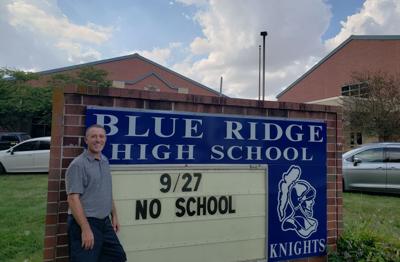 One of the early stops in this year's Gold Star 500 is in Farmer City, which should provide the 20 or so cyclists the boost they need on their five-day, 530-mile journey.
On Tuesday morning, the kids from Blue Ridge schools will line John Street — many dressed in red, white and blue — and cheer on the group, which for the fifth year is riding to raise money for and honor fallen service members and their families. The welcoming party will include Blue Ridge High's marching band.
"Seeing that, especially the little kids, will lift everyone up," Gold Star 500 director Eric Murray said.
That's the plan, said first-year Blue Ridge High Principal Brian Easter (right).
"It didn't take me long to realize this is a patriotic community," he said. "It's a neat enthusiasm."
Students in Eric Decker's civics class will then help out at the Farmer City American Legion, where the cyclists will take a pit stop before heading to Gibson City.
It's Gold Star 500's first visit to Farmer City.
"It's awesome that there's an organization fighting to keep the memories alive of those who have paid the ultimate price in fighting for our country," Easter said.
***
Area stops on the Gold Star 500, which starts in Decatur and ends Saturday in Springfield:
TUESDAY
7:49 a.m. Cerro Gordo American Legion
9:21 a.m. DeLand-Weldon schools
10:26 a.m. Farmer City American Legion
12:11 p.m. Gibson City American Legion
2 p.m. Paxton Fire Department
3:08 p.m. Lincoln's Challenge Academy, Rantoul
4:19 p.m. National Guard Armory, Urbana
WEDNESDAY
6:39 a.m. Philo R.E. Franks Center
7:38 a.m. Villa Grove VFW
8:55 a.m. Newman Square
10:21 a.m. Redmon Fire Department
11:16 a.m. Paris VFW