Called to Serve, Part 2: 'I was a successful D.A.R.E. kid, and it was because I didn't want to let Officer Taylor down'
In Part 2 of our new series 'Called to Serve,' we asked 10 local law enforcement officers: When and how did you come to realize that this was the profession for you?
Know someone you'd like us to reach out to for an upcoming edition of Called to Serve? We take requests at jdalessio@news-gazette.com.
---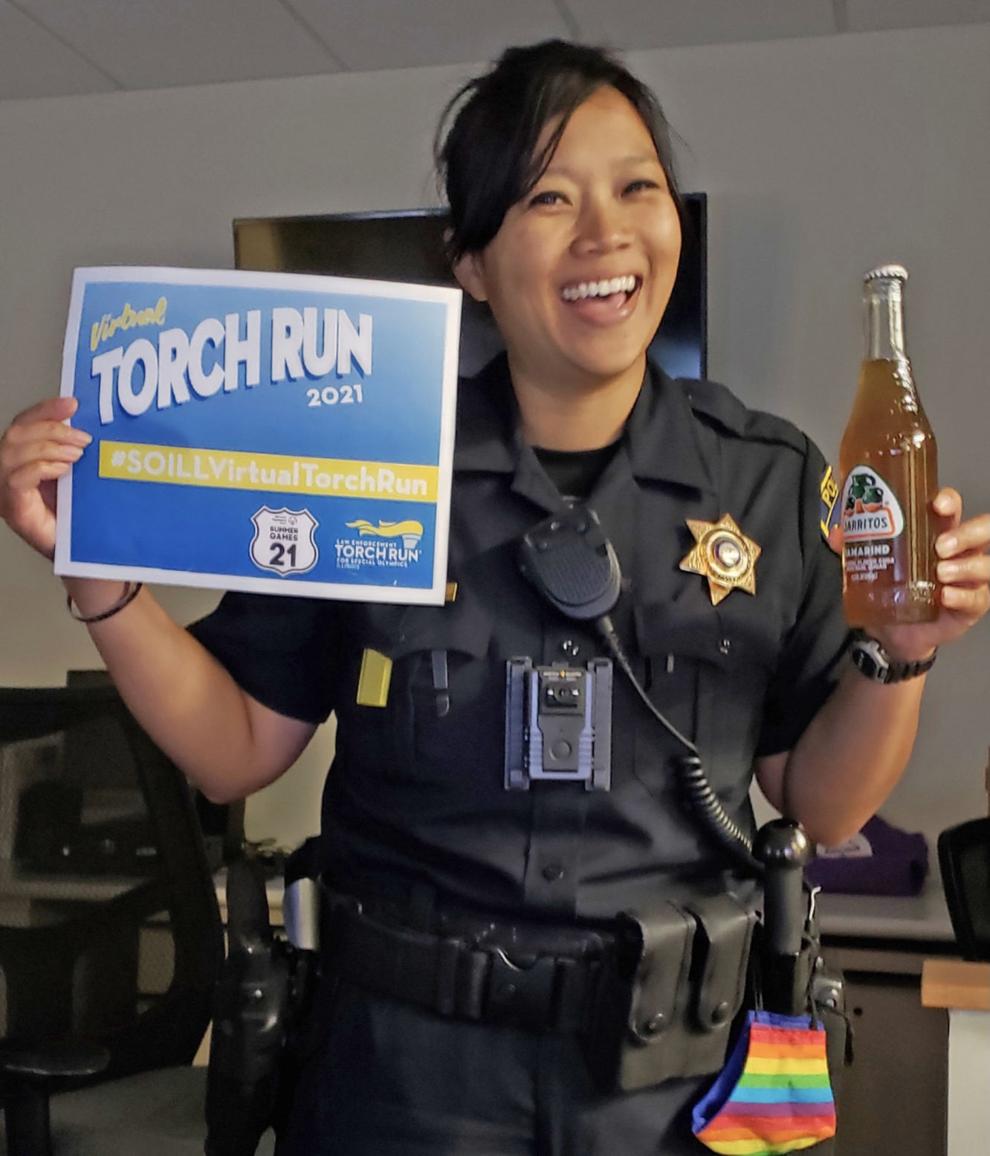 SOMPHON 'SAM' PENLAND
Parkland College Police
"My earliest memory of a positive law-enforcement sentiment came from the movie 'Beverly Hills Cop.' I was very young when that movie came out on VHS, but upon seeing it, I really connected to the main character.
"It's funny in a lot of ways, but even at that young age, I wanted to be Axel Foley. He was a person of color in a setting very unfamiliar to him. Clearly different from the officers at the Beverly Hills Police Department, they tried to make it apparent that he didn't fit in.
"I remember appreciating his janky car and his unconventional policing methods. His approach sometimes got him into a lot of trouble, but damn, he was good. He was the underdog. His success, and later his acceptance, meant so much more to me, even though I was still a young grade-schooler when I watched it.
"My mother was loving, intelligent and hard-working, but extremely strict. She was constantly hustling to be successful as a single mom with two daughters. But for me, those years were full of varying forms of abuse with different offenders.
"I grew up in Champaign and attended Kenwood Elementary School. Because I experienced a heavy amount of trauma, school was a daily escape for me.
"In fifth grade, I met Officer Randal Taylor, the Champaign Police Department's D.A.R.E. officer at our school. He truly made a positive impact on me.
"At a time in my life where very few adult men could be trusted, I had a safe mentor who was inspirational. I looked forward to his visits, his lessons and his words of encouragement.
"I learned the benefits of creating healthy habits, taking care of myself and saying no to drugs. I learned how to handle peer pressure and conflict in a positive way. I was a successful D.A.R.E. kid, and it was because I didn't want to let Officer Taylor down.
"That, and I didn't want my Mom to kill me. I wanted to keep him proud of me. Most people don't believe it, but I kept my promise to stay drug-free.
"Sidebar: This particular part of my answer prompted me to see whatever happened to Officer Taylor; that fifth-grade year, he said he was going to move away, but I never knew where. So less than two days ago, I found out he is now chief of the Indianapolis Metropolitan Police Department — still inspirational — and it's my turn to be incredibly proud of him for the work he is doing and how he is leading others. Well done, Chief Taylor; keep up the amazing work.
"Despite having an extremely rough upbringing and going through many tragic events, with the help of positive role models like Officer Taylor, my godparents and my sister, I survived it. I'm hoping to be a light to others, to guide them in the same way I had timely support.
"As challenging as those life experiences were — like the home invasion that happened when I was in eighth grade — I see them all as blessings. I'm able to use my own experiences and share with others, to show them that they, too, can overcome their obstacles.
"It's like forging a sword. There are four main components to creating something so effective. You want a sword that is strong and hardened but flexible and balanced. It's quite complex but relatable when you think of what makes a well-rounded officer.
"It's not easy yielding a powerful sword. We all have work to do — sometimes you go back in the fire and take another hammering before something magnificent emerges."
---
DET. KAITLIN FISHER
Champaign Police
"I was raised to love God and love people. I knew whatever I did with my life, I would put others first and make things a little better than they were before.
"I spent my college career studying exercise science, in hopes of becoming a physical therapist so I could help 'heal' people. I minored in criminal justice because I was always interested in the police and military personnel. I have many family members who have served in the military or had a career as a police officer. It always interested me, but I never paid it much attention.
"While working in a factory located in my hometown, trying to save money for physical therapy school, my big brother called me. My brother is a firefighter for the Champaign Fire Department, and one of my best friends. I was 22 when he told me it was time to apply to the Champaign Police Department.
"He laid the foundation of police work out for me during that phone call. He told me becoming a police officer would be the surest way for me to make a difference and satiate my need to help others. If that wasn't motivating enough, he reminded me I would get to work alongside him.
"I was sold, but I thought he was crazy. The next six months, my brother encouraged me to run, lift weights, practice my interview and prepare for the process. In September 2013, I was hired by the Champaign Police Department.
"For the past eight years, I have been afforded many opportunities, including being a member of the crime scene unit, crisis negotiation team, controlled tactics cadre, Honor Guard and use of force review board. In 2018, I was promoted to detective, where I focus on sex crimes."
---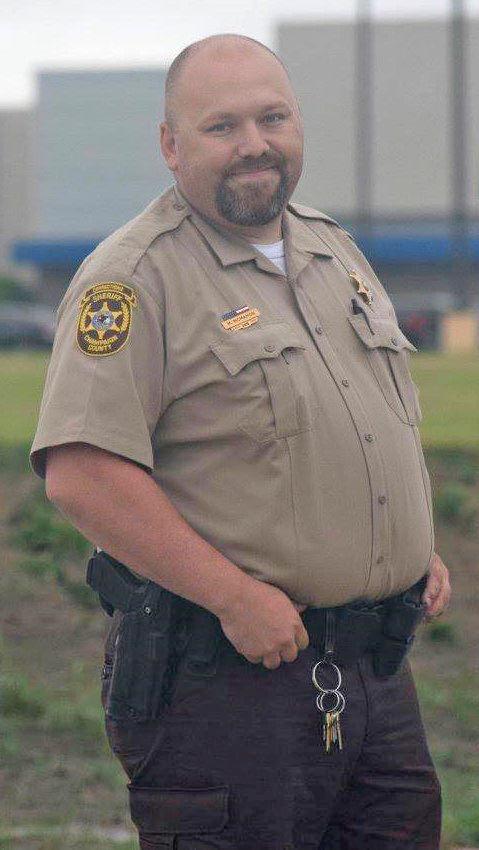 OFCR. MICAH McMAHON
Corrections, Champaign County Sheriff's Office
"My inspiration into law enforcement was after 9/11. I was a wide-eyed 18-year-old and the visuals and stories of heroes running into an extremely dangerous situation with little regard for their own lives and the subsequent pride and unity we all felt as a country drove me to join the Army in 2003 as a Military Police soldier.
"I spent many years serving various military communities, including some time in Afghanistan, and just prior to my graduation with a degree in law enforcement from Western Illinois University, I was hired as a correctional officer with the Champaign County Sheriff's Office in 2015.
"While working for CCSO, I see every day the hardships that many in our community face. I am a true believer in community support. One of the best parts of working for CCSO is the support I receive from my upper command and co-workers regarding our support of community fundraisers.
"I am a proud local organizer of the Law Enforcement Torch Run, which raises money exclusively for Special Olympics in Illinois. I also work as a board member for the local FOP Illini Lodge 17, where we raise money for multiple community outreach projects, most notably our Christmas Food Basket and Car Seat Program.
"Being a part of these organizations outside of work is an extension of the work I due with law enforcement every day. I know many who are in law enforcement who have a similar view of wanting to help in every way possible. It is the very core of our job as a public servant.
"As cliche as this sounds, nothing makes my day better than knowing I have helped someone. Many in law enforcement are humble, but I can attest that after nearly 18 years of being in law enforcement in one form or another that I am not alone in my desire to help others.
"I work with agencies all over Champaign County and I can say with confidence that there are amazing individuals who choose to serve every day and sacrifice their free time and family life to support and protect our communities both inside and outside of work."
---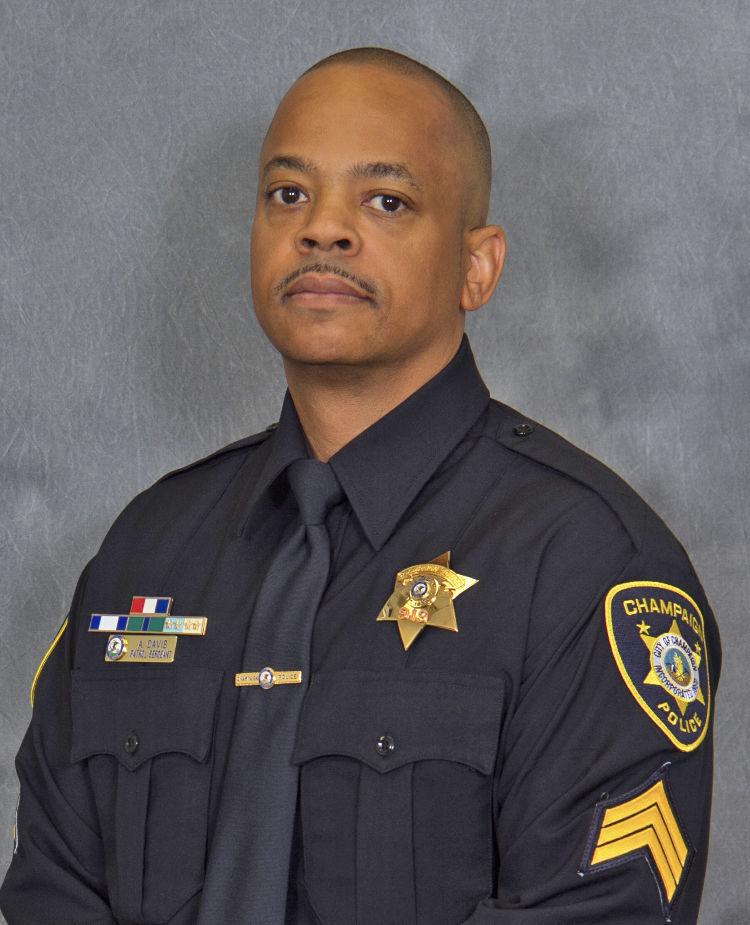 SGT. ANDRE DAVIS
Champaign Police
"I was nine years old and living in a single-parent home with my mother when a series of murders were on going in Atlanta, Georgia. Now known as the Atlanta Child Murders, 28 African-American children were murdered between 1979 and 1981.
"I remember watching the national news every night and either watching parents grieve the loss of their loved one or the police locating another victim.
"These children were the same age and of the same color as me. In 1980, if you were Black, young, a child or a parent, no matter where you lived, you were afraid.
"That is the most influential reason why I became a police officer. I wanted to help my community and be an advocate for victims."
---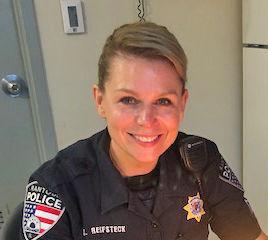 SGT. CHRISTINA REIFSTECK
Rantoul Police
"I was in high school when the idea of being a police officer became a serious thought. I did a ride-along and wasn't sure it was a right fit. Looking back, I lacked confidence to pursue the career.
"As I went through college and worked at the Juvenile Detention Center, the pull toward being a police officer was inescapable. I believe that 'pull' was God's direction.
"In addition, my parents' influence greatly persuaded my decision — my dad was in the military; my mother has been a nurse for well over 30 years and my second dad worked at Kraft Foods until his passing.
"Their work ethic was impactful. Their willingness to drop everything to help others still sticks with me to this day.
"Today, I recognize the mirroring they were displaying and try to set this example with my own children."
---

SGT. ERIC STARKEY
Iroquois County Sheriff's Office
"As silly as it sounds, I would argue that my love for 'The Hardy Boys,' 'Scooby Doo' and 'Murder She Wrote' fueled my crime-solving passion.
"Although my experience as a patrol officer on the midnight shift was enjoyable and vital to my development, my motivation was always to become a detective. It always has been and always will be the 'who done it?' that intrigues me.
"I enjoy the process, being behind the scenes, the extra hours, putting all the pieces together, so to speak. For me, it's not only about solving the crime, but also about being able to give the state's attorney as much of a 'slam dunk' as possible.
"My parents are to thank for that. My mother often apologizes to me, as she blames herself for my overwhelming need for everything to have to be just perfect, but in all honestly, if it wasn't for their inherited character, work ethic, attentiveness and organizational skills, I wouldn't be the detective I am today.
"I would be remiss if I didn't mention a few of the people that came before me, as well — retired Sheriff Eldon Sprau, current Sheriff Derek Hagen, retired Patrol Lts. Bob Flesher and Kelley Norton and retired Investigations Lt. Randy Eimen.
"Having no previous law enforcement experience or family background, these men gave me an opportunity to work for, learn under and ultimately lead after them, which has only helped to reaffirm my decision to become a police officer."
---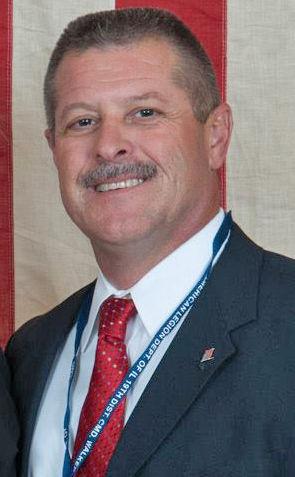 DET. SGT. DAVID GRIFFET
Champaign Police
"I was 17 when I was in my senior year at Champaign Central High School and I had heard about Jerry Schweighart, who was an active Champaign police officer who seemed to have his name shared by many in the school.
"At 17, I enlisted in the United States Marine Corps with the intention of serving my country for four years, then returning for a career in law enforcement. In 1990, I was hired as a road deputy for the Champaign County Sheriff's Office, where I worked for just under six years.
"In a week, I will be retiring from Champaign PD after serving for 25 years and five months."
---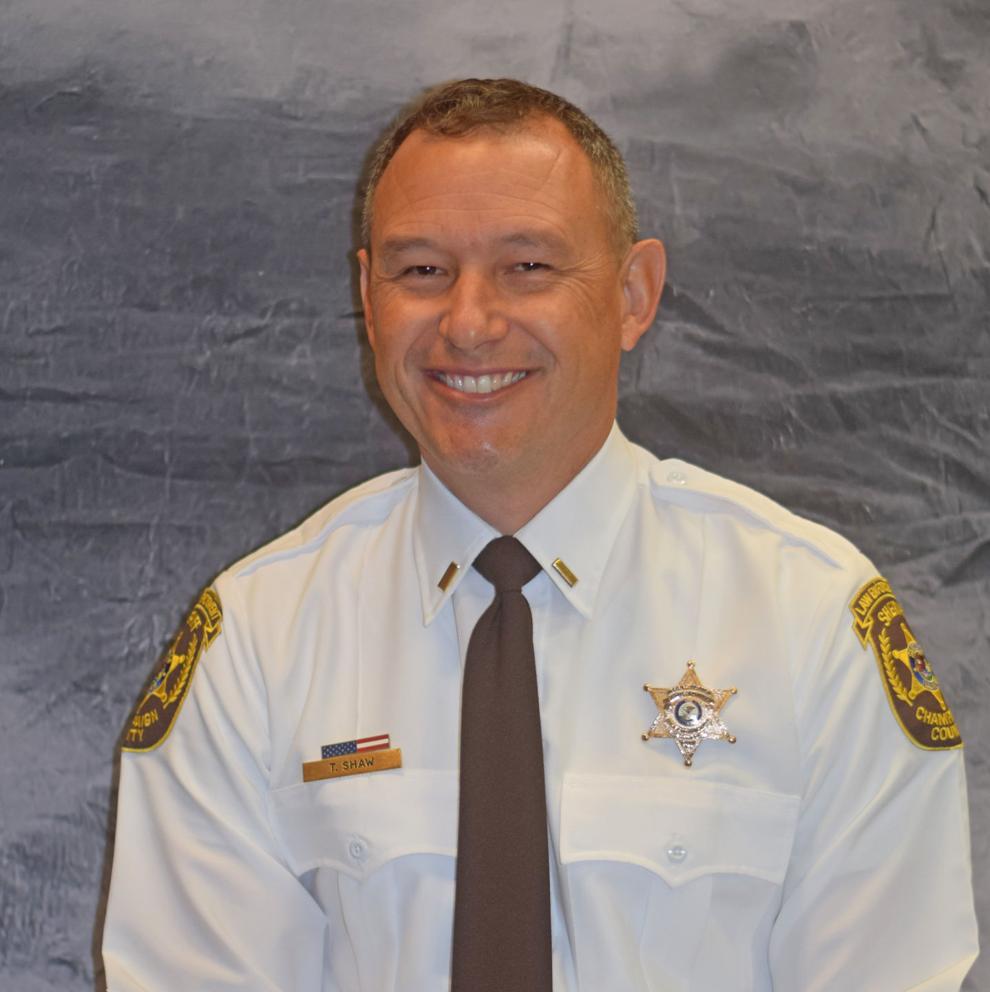 LT. TONY SHAW
Champaign County Sheriff's Office
"I grew up watching westerns and always liked the lawman in the movies. He protected the town, stood for what was right and was willing to do for others what they couldn't do for themselves.
"At Illinois State University, I took a wide variety of classes but was drawn to criminal justice, which is what I received my degree in with a minor in sociology. I was fortunate enough to intern with the Champaign County Sheriff's Office, which led to a position as a correctional officer and then to a position with the patrol division.
"I learned quickly that the job isn't like the movies, and it is much more complex than I could have ever imagined. I am happy with the path I chose, and I couldn't have seen myself doing anything different.
"When I meet someone new, and they later learn my line of work, they are surprised. They wouldn't have guessed that I was a law enforcement professional. Other co-workers have shared similar experiences.
"To me, it shows that we are not so different from everyone else and that we have more in common than not."
---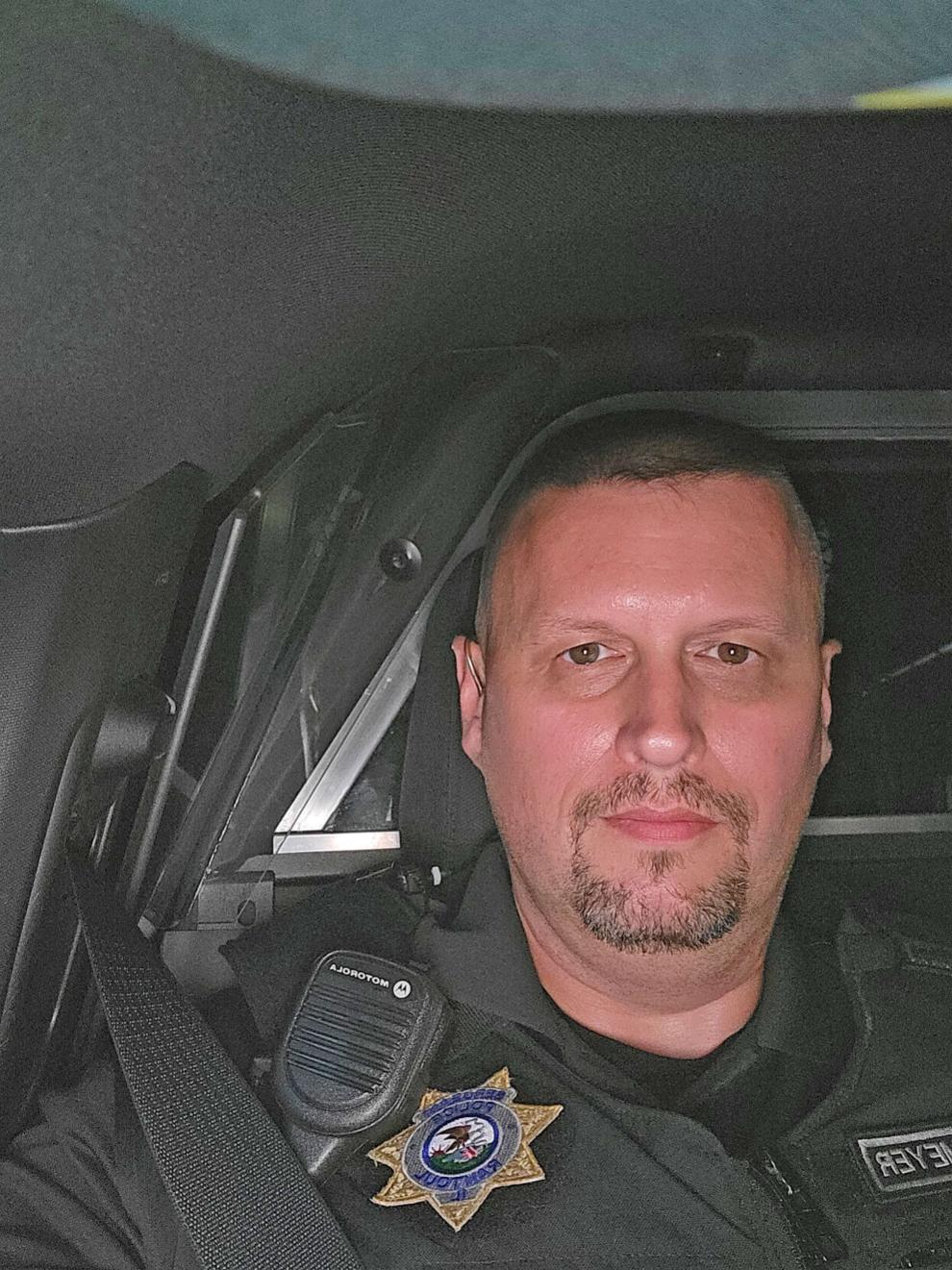 SGT. ORVAL STUCKEMEYER
Rantoul Police
"I've wanted to work in law enforcement for as long as I can remember. My father was an Illinois State Trooper and started his career before I was born. He retired in 1999 as a master sergeant.
"Growing up, I met many of the troopers he worked with. They were all very professional, were of the highest level of integrity and there was a strong sense of comradery among them. My father exhibited these same characteristics, and I learned to admire them.
"I've always wanted to be among other professionals and serve my fellow citizens. I followed my father's footsteps in more than one way — he served in the U.S. Army in Vietnam and I served in the Army in Iraq. I spent 14 months in country and retired as a sergeant first class with the Illinois Army National Guard in 2013 after 23 years of service.
"I began my career with the Rantoul Police Department in 2005 and I was promoted to sergeant in 2018. I was privileged to serve on the Champaign County Metro Swat team for 10 years.
"I feel honored to work alongside the officers of the Rantoul Police Department and the several other departments in the area. The men and women of these agencies work hard to serve their fellow citizens every day."
---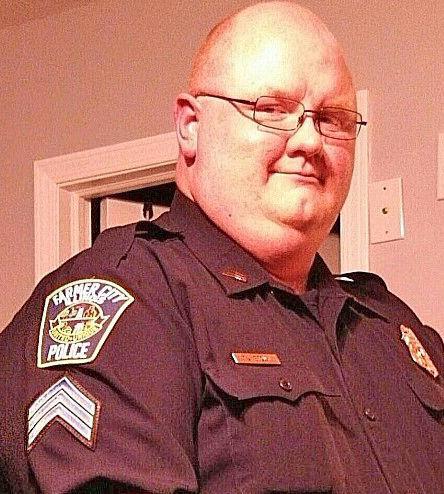 SGT. TRAVIS BROWN
Farmer City Police
"I was 22 when I decided to get my associate's degree in law enforcement. In the fall of 1994, I joined my local auxiliary police in Mattoon to see if law enforcement was truly what I wanted to do.
"After gaining experience working as an auxiliary officer, I realized this was my calling and what I wanted to pursue as my career.
"I had grown up around law enforcement as my father was a sergeant with the Mattoon Police Department. I had other relatives in law enforcement and realized it was my calling, as well. 
"I have been working in law enforcement now for a total of 27 years and still have a passion for what I do."