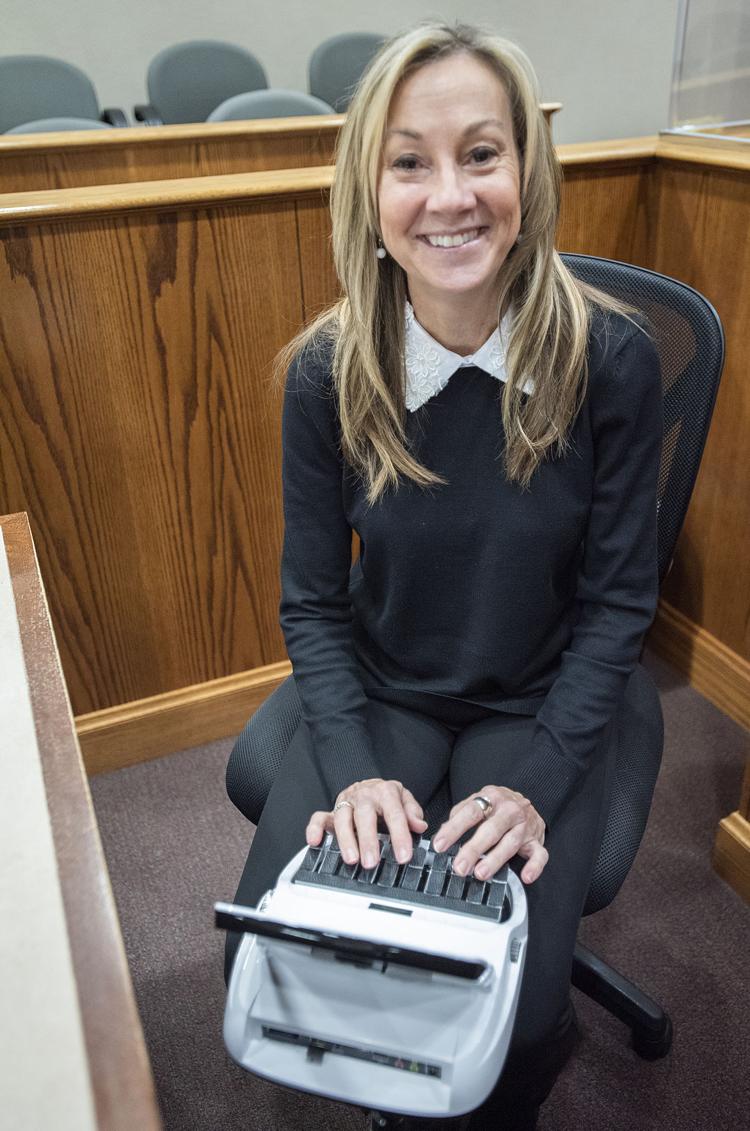 URBANA — You might not think the silent person in a court of law would be the most powerful person present.
But court stenographer Melissa Clagg, who has been keeping a verbatim record of what's said for 36 years, begs to differ.
"Our record has to go to the higher court if it's appealed, so we have to be accurate," Clagg said.
After 33 years of sitting quietly while working furiously at the Champaign County Courthouse, the 56-year-old Urbana woman is going to retire from the physically and mentally challenging daily grind. Her last day at the courthouse is Thursday.
But Clagg, who has supervised nine other stenographers for the last decade, intends to continue promoting her beloved craft to ensure there's a pool of replacements.
Clagg plans to help the statewide director of court stenographers with the "First Steps" program that introduces potential stenographers to the profession with a hands-on lesson on a stenotype machine in hopes that they might be smitten with the potentially financially rewarding trade.
She's already been doing that cheerleading in addition to her full-time job for the last few years, and it's having an impact.
"We have had an increase in enrollment," in classwork, she said.
A suggestion from a high school guidance counselor nudged her into the field.
"He told me I should be a court reporter because I was a fast typer in high school typing," she said. "I had to ask him what that was. I went home and mentioned it to my parents."
Her father knew a man whose daughter was a court stenographer and the two young women consulted.
After graduating high school in DuQuoin, Clagg enrolled at the former Sparks College in Shelbyville, a business school that concentrated on court reporting, secretarial skills and accounting.
Unlike the training that is mostly online now, Clagg attended full time and in person five days a week beginning in September 1982. She got her license from the state of Illinois in June 1984.
"It was an at-your-own-pace school," Clagg said. "When you passed a certain speed test, you passed to the next level."
After three years of working as a freelance stenographer in Charleston, she was hired in August 1987 to fill in for a stenographer on maternity leave at the Champaign County Courthouse. When another position opened about the time that woman came back, Clagg was hired permanently.
Working for then-Associate Judge Jack DeLaMar, Clagg was the stenographer who recorded the week-long evidentiary hearing on a brand-new forensic tool known as DNA analysis.
DeLaMar found the genetic fingerprinting reliable and acceptable in its field in a 1989 sex-assault case, and the case proceeded to trial. It was the first time the now commonplace evidence had been admitted in an Illinois court and was used to convict someone.
"It was so exciting. It was very difficult," Clagg said. "I learned so much. I hated science in school, but I loved that hearing."
Clagg said stenographers don't always comprehend what they are hearing because their primary focus is on typing up what is spoken using a machine that writes a combination of alphabetical letters in brief that stand for syllables.
When she first began, those brief forms were typed on a strip of paper in the machine that she then had to read and translate into English words.
"If something needed to be transcribed, we set (the paper strip) by our typewriter. I started with a Selectric and carbon paper," she said of her IBM electric typewriter and the precursor to copying machines or printers.
Today, those letter combos are recorded to a secure digital memory card in the steno machine, which can then be put in a computer and automatically translated into recognizable words.
The stenographer still has to edit the copy for spelling and punctuation. Clagg believes that means there will always be a need for a human in the process.
"Anybody can push a button on a recorder and think it's going to record," she said. "It can fail.
"The one thing court reporters have is the ability to identify speakers. We put in punctuation that is crucial. Our record is always there. If something is not working with our equipment, we know immediately and we can stop the hearing to address it. We are the silent component in the room that is catching everything."
To obtain her license in 1984, Clagg had to be able to record 225 words per minute. Stenographers also have to occasionally take proficiency tests.
"Now, we've noticed everybody is talking faster. It's the instant gratification of the world," she said. "We want it done now. We click on something, we want it now.
"The steno writers we have today … have a speedometer, if you will, that can tell you how fast people are speaking and how fast you are taking it down. We have clocked them at 360 words per minute," she said, adding it takes years of practice to hit that mark.
The 225-words-per-minute benchmark has not been increased for licensure, she said, because "the human brain cannot process things that quickly. There's been a scientific study about that."
Champaign County Presiding Judge Randy Rosenbaum, who has worked with Clagg almost 30 years, said she will be "sorely missed."
"She is the consummate professional," he said. "She does her job well, in a timely manner and with a smile on her face. She has helped modernize our (court reporting) system and train most of the staff."
Clagg said she is going to miss the judges, lawyers and support people she has worked with, and "even the witnesses that testify."
"We are supposed to be a neutral part, but you can't help but feel emotion toward a victim," she said.
She won't miss the occasional long days when a jury deliberates past the end of the work day; the sedentary nature of her job, which she battles with regular exercise; or hearing the horrible things humans can do to each other.
"I think I developed a barrier for things getting to me when I first started in (child) abuse and neglect," she said. "My first two days were horrible. I went home and cried. Then I told myself, 'I'm just a machine. Take it down.'"