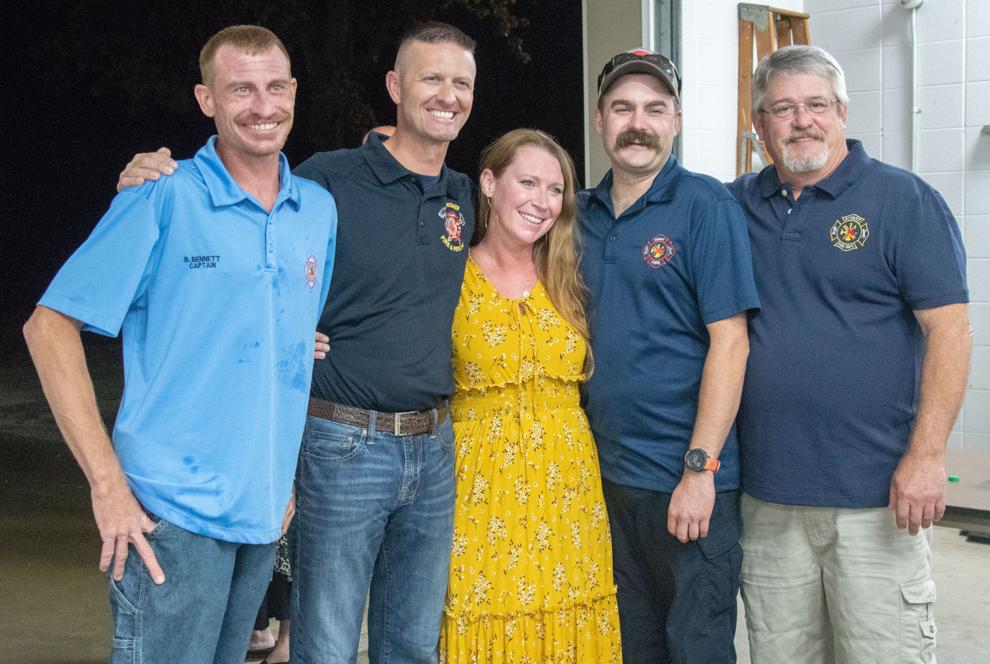 SIDNEY — Emily J. Hermes remembers little of the fire that destroyed her home last month. But she is clear about her feelings for the men who pulled her out of the acrid poisonous smoke that nearly took her life.
"How amazing and brave and selfless and just loving. The world needs more people that do things for others without a thought about themselves," she said. "They exemplify what I live to be and wish everyone was."
Hermes and the four men who worked together to get her out of her burning home Aug. 19 are all skittish over the attention.
But their fellow volunteer firefighters felt strongly that their heroic deeds needed to be publicly acknowledged and did so at the Sidney Fire Department on Tuesday night with Hermes, her family and several friends on hand for a reunion with a happy outcome.
"I'm very uncomfortable with the spotlight but those men that ran into my house weren't comfortable. It's very uncomfortable to be a firefighter and run into a burning building," she said.
'That horrible smell'
Hermes, 43, was the only human in her house in the country between Sidney and Homer on the evening of Aug. 19. But the house she bought right after college and has lived in for 23 years was full of life.
"I'm an animal-rescue person and have been for 30 years," said Hermes, a former certified veterinary technician who now works as an in-home caretaker for elderly adults. "I was sitting in the living room and smelled that horrible smell and got up and looked down the hallway, and black smoke was coming from the second bedroom door. I keep that door closed so the cats don't get in."
That night, there were 12 cats and one dog in the house with her.
"At any given time, there are usually that many in the house being rehabilitated and rehomed," she said. "All of those were my babies.
"I grabbed my phone, ran out the front door and called 911. I sat down, then a passerby stopped and a woman was screaming and pointing to the roof," she said. "I looked up and saw smoke coming out and started sobbing.
"I just yelled, 'I'm so sorry,' and I jumped up and ran back in the house and I was going to break out a window in an effort to save them," she said. "Everyone has asked me, my dad has asked me, 'In hindsight, would you have gone back in?' The answer is yes. Those are my babies.
"I don't have children. I went back in to save them, and that's the last thing I remember," Hermes said.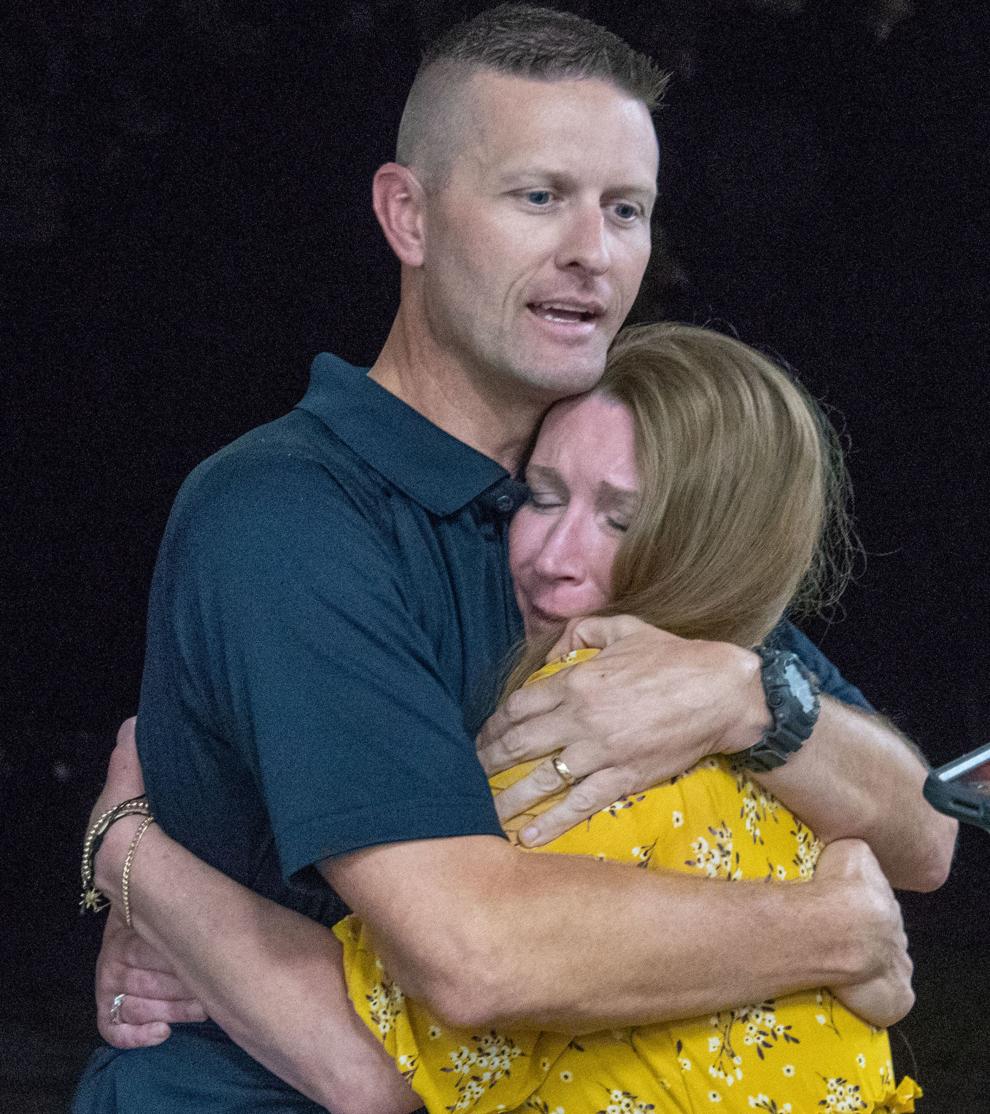 Not an uncommon response
Hermes' home being just about on the dividing line for the Sidney and Homer fire districts, men and women from both departments were rushing to their stations when the fire alarm was sounded shortly after 7 p.m.
Don Happ, who serves as fire chief for both the Sidney and Homer departments, was the first to arrive and confirmed for his colleagues that they were dealing with a fast-moving, destructive fire.
What they didn't expect was that the woman who called for help would run back into the burning house.
"She said she had to go back and get her animals. That happens a lot," said Jeremy Richards, a Homer Fire Department lieutenant who was the first to enter Hermes' burning home.
"Honestly, when we first got her out, I didn't know if she was going to make it because she had inhaled a lot of smoke. It was a bad situation inside the house," said Richards, a firefighter for 14 years.
He, along with Sidney firefighters Corey Lilly, Mike Brann, and Brett Bennett, all played a part in saving Hermes, a first for all the men who have served their departments between four and 14 years.
Although they have put out many blazes and even recovered the bodies of people who died in fires, none had ever pulled a person from a burning home who survived.
"That night, every star lined up perfectly for everybody. That's the only way you could get the outcome that we had," said Bennett.
That, good training and fearless first responders.
"And sprinkle in a little good karma," said Hermes, who added that she couldn't help but feel that God was rewarding her for caring for the elderly and animals.
Every second counts
Richards was on the truck with his wife of 24 years, Jamie, and fellow firefighter Ryan Byerly, when Chief Happ radioed that the resident had run back into the house.
"Things changed very quickly. Now I'm going to have to go in immediately and I have a rescue on my hands. Normally, I'm not all ready to run in. Normally we take our time and figure out what we're getting into before I go in," said Richards.
Richards jumped from the still rolling truck and at the front of the house met Happ, who said, "I can hear her. I can't get to her."
Happ did not have the proper protective equipment to enter a burning building.
"I clicked on my air and went in," said Richards. "It was already heavy black smoke from the floor to the ceiling. I got down low and started to crawl in."
Having been at the house a month earlier on a medical call, Richards knew where the living room was. He was feeling for Hermes when he came upon a large cat that was not alive. He kept moving.
"About three feet from the cat, I found her. She was about 10 to 15 feet inside the structure," he said.
Alone in the dark smoke, his adrenaline pumping, Richards said a quick prayer.
"I said, 'God, help me get her out of here.' I grabbed her and started moving as fast as I could toward the door," he said.
Hermes was on her belly and he rolled her to her back, grabbed her wrists and pulled as hard as he could. In addition to pulling Hermes, Richards had an extra 85 to 100 pounds worth of firefighting gear on.
"By the time I got to the door, I was almost completely exhausted. I stuck my head out and yelled, 'I need help.'"
'Pink like a lobster'
Lilly, a four-year Sidney firefighter, was about to pick up a hose line when he heard Richards and sprinted for the door. Lilly estimated Richards had dragged Hermes 20 to 30 feet.
Lilly and Brann helped Richards get her out the last few feet to the porch.
"She was pink like a lobster. That's carbon monoxide poisoning. It displaces the oxygen in the blood and the blood rushes to the surface of the skin," said Lilly. "I thought she was dead as soon as I grabbed hold of her. She had a heartbeat but was not breathing."
Brann, who had been back on the Sidney fire department only a few months after taking 17 years off for another job and to get his kids through high school, dropped a hose line and ran to the door with no air pack on.
Bennett, his captain and a 12-year firefighter, was right behind him.
"I had sucked in so much smoke that once I got away from the entryway, I just couldn't help them anymore," said Brann, adding that the heavy black smoke is nauseating.
A trained paramedic, Bennett could not find a pulse on Hermes.
"As I was trying to find a pulse, the fire was starting to intensify. I stayed with her and started CPR. She started breathing and it was getting real smoky so Jeremy (Richards) and I moved her further away from the door. I kept her airway open. I didn't have any equipment. I had to just keep it open manually by tilting her head back," Bennett said.
The son of long-time firefighter and Chief Earl Bennett who died in 2019, Bennett said he had never assisted with a rescue.
"I've been on scene where there have been fatalities," he said.
Fortunately, he said his training and adrenaline kicked in and he did what he had to do to help Hermes.
"I saw her taking her first breath and start to kind of respond a bit before the paramedics took her away. I knew she was alive. Once I found out she was going to make a full recovery — you can't put that into words," he said of what he was feeling.
Time to rebuild
Hermes said the last words she remembered hearing were the female passerby yelling to her husband, 'Don't let her go back in the house.'
The next thing she knew, the tube that was helping her breathe was being removed three days after she had been rushed to Carle Foundation Hospital. She would remain there for another four days.
"They were amazing to me," she said of her caretakers, who warned her family she might not walk or even be able to speak because of the devastating effects of carbon monoxide poisoning.
"I'm a writer and a talker. That just terrified me. How will I help people," she said.
But she is talking and walking, having graduated from a walker to a cane to no assistance. And she's coughing.
But she's recovering physically thanks to the tender loving care of her parents, with whom she's staying while her home is rebuilt, a process that will likely take a year.
"I lost everything. I spent three days last week going through the rubble, which was the most gruesome horrible thing," she said.
But she remains incredibly positive — "I'm an old hippie: peace, love and happiness. Be kind. I believe in the stars and moon and sun lining up and God is with me at every moment every day."
She is grateful to her veterinarian, Dr. Kyle Johnson of the St. Joseph Animal Hospital, and other friends who helped recover the animals that perished so they could be properly buried. They also set up an assembly line in the yard to clean items she was able to salvage from the rubble of her home.
But she's most grateful to the men who carried her out of her house.
"They didn't just save me that night. They saved my mother and my father. They would never have gotten over losing me," she said.
While each of the four men's roles in saving Hermes lasted only minutes, the positive outcome "makes it worth doing this," said Bennett.
"All four of us are not doing it for the spotlight. We're doing it for the people," he said.