Jim Dey | Cullerton charges show how polticians say one thing, do another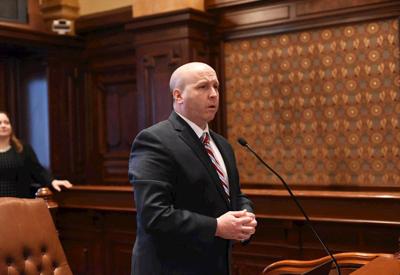 The recent federal indictment of a Chicago-area state senator demonstrates, once again, the lengths slippery elected officials will go to promote their public ambition while hiding their private character.
The target this time is state Sen. Tom Cullerton, D-Villa Park. His alleged crime is engaging in a years-long scheme to steal many thousands of dollars from the Teamsters union.
Here's one striking aspect of the indictment.
Cullerton, a former mayor and Hostess cupcakes truck driver, is among those legislators who, in an effort to demonstrate their bona fides with taxpayers, declined to enroll in the General Assembly's extremely generous retirement program. More and more legislators have been doing exactly that in recent years, and what better way to demonstrate to the public their sincere effort in looking out for Joe and Jane Sixpack.
But here's the alleged catch.
While Cullerton made a public show of denying himself a legislative pension for which he was legally qualified, he was — allegedly — stealing one from the Teamsters.
Everyone charged with a crime — no matter what their station in life — is innocent until proven guilty in the eyes of the law. That means that the government has the obligation to prove its case beyond a reasonable doubt to a judge or jury as a condition of winning a finding of guilty.
So, legally speaking, Cullerton enters the criminal trial process with a clean slate, one that requires him to prove nothing and the government to show to a jury's satisfaction that the charges against him are true.
Nonetheless, a perusal of the indictment indicates that Cullerton is in serious trouble.
The government has alleged that he conspired with a Teamsters boss, Frank Coli Jr., to obtain a no-show job for which he received generous pay. In addition to salary bonuses for the outstanding work he allegedly didn't do, Cullerton also received generous health benefits and pension contributions.
Records show that Cullerton certainly received the money — $274,066. The question is whether he did any work for it.
If he didn't — well, it's time for the defense to start negotiating the terms of a guilty plea.
The indictment has drawn considerable attention for a variety of reasons.
For starters, it's the first of a series of shoes expected to drop following corrupt former Teamsters boss Coli's decision to reach a plea bargain that requires his cooperation with other federal corruption investigations.
Coli is a big behind-the-scenes political player. He's perceived to be in a position to take down political high-flyers in the state, municipal and county governments, particularly in Cook County.
If the feds made a deal with him to serve a mere 18 months on an extortion case, it's because he has convinced them their investment in him will pay generous dividends.
Everyone will just have to wait and see.
In the meantime, pols in both parties are running to and from Cullerton.
Top Republicans have called for Cullerton to resign his state Senate seat.
That seems premature. His resignation would certainly cause no harm to the legislative process. But it seems excessive to call for a public official to fall on his sword based on an accusation.
At the same time, Senate President John Cullerton's response has been equally unseemly. He calls his cousin "a valued member of the (Democratic) caucus and a friend of mine."
The Senate president may deserve credit for candor and loyalty. But he ought to be a little more selective in his choice of friends.
That, of course, is not the biggest concern with respect to the Cullertons.
As a consequence of the indictment, the Senate president stripped his fellow senator of his chairmanship of the Senate's labor committee.
The optics there were less than impressive — the chairman of the Senate Labor Committee accused of stealing money from a prominent union. What a perfect metaphor for Illinois politics.
After taking away Tom Cullerton's chairmanship of the committee, however, John Cullerton rewarded him with the chairmanship of another committee — veterans affairs.
The move, as is the case with many moves in Illinois, is all about the money.
Committee chairmen receive $10,500 stipends in addition to their regular generous salaries.
Tom Cullerton obviously needs money to help cover his legal fees. But does its source have to be Illinois taxpayers?
John Cullerton answers that question with an emphatic yes. Taxpayers might offer a different answer. But nobody asks them.