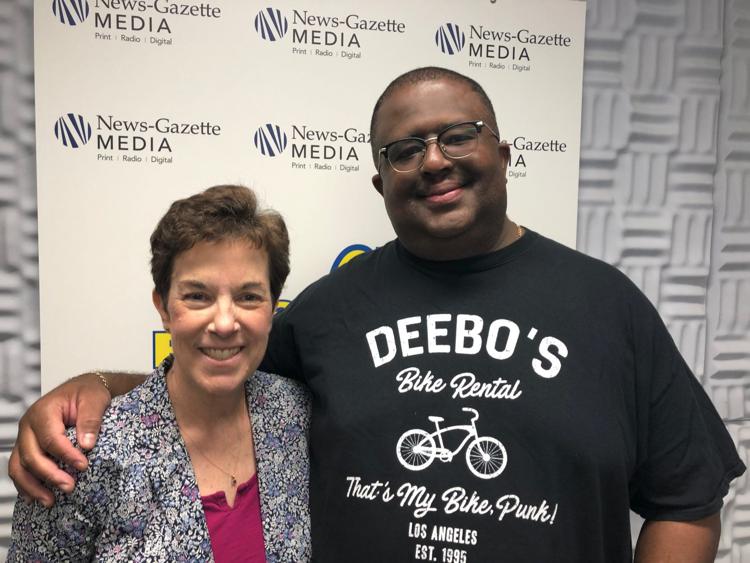 Correctional officer CHARLES GLASS parlayed an Air Force security position into a lucrative career with the Champaign County Sheriff's Office, which enabled him to retire recently at age 50 with a full pension.
The easygoing Glass talked with staff writer Mary Schenk about a career in the jail that lasted just shy of 28 years.
The full episode is above; a few excerpts follow:
When you started in 1991, Champaign County had only the jail on Main Street in downtown Urbana. What was that like?
It's old school, like a dungeon for sure. It's set up totally different from the satellite (on Lierman Avenue, which has) what we call direct supervision — where you sit in a pod, stationed there, and kept an eye on the inmates and you did your rounds right there in the pod.
The downtown jail is indirect supervision. The guys would be locked out of their cells all day — from 8 a.m. to 10:30 p.m. — and you had to physically go into the cell block and check to see if everyone is OK.
When I first started, you never went in the block by yourself. The way it is now, you have to. ... There's just not enough (employees).
There are fewer state-supported mental health facilities now than when you started. What does that mean for correctional officers?
There are more mentally ill people in the jail now than when I first started, for sure. The main focus is to get those guys separated, keep them safe.
Normal people don't understand what these guys are going through. They've probably never seen it, especially the younger population.
Their first reaction is physical harm. You don't want that.
Is it difficult not to judge the inmates?
For the most part, no, I don't judge them because any given day, a guy that's in there for murder would be one of the nicest guys you'd ever talk to.
Any interesting stories from years of dealing with inmates?
We had a guy I had to take to court and he wasn't known for taking showers. He just smelled bad. We had his hearing and I got him on the elevator and the elevator got stuck. He was getting anxious. It was me and him on this elevator.
I had to physically restrain him for about 20 minutes: my weight on him against the wall. And now that you mention it, I can smell him right now.