CHAMPAIGN — Police have no new information on a shooting Thursday afternoon in the northern part of the city that left one man with a minor injury and Champaign school district parents, staff and students concerned and upset because a school bus was hit by a single round.
But acting Deputy Chief Nate Rath said Champaign police are "100 percent certain" the shooting was among individuals involved in an "ongoing feud in a domestic relationship" who know each other and that the school bus and its occupants were unfortunate collateral victims.
He declined to say if the target, a 34-year-old man who apparently caused a three-vehicle wreck minutes after the shooting, was cooperating with police.
Rath was one of several local officials who turned out for a brief press conference Friday afternoon at the school district's administrative offices to denounce those who are diminishing the quality of life in the community with gunfire.
Mayor Deb Feinen repeated a message she's shared before.
"Gun violence in our neighborhoods, downtown, campus and anywhere else in our community is not acceptable," she said. "We cannot continue to allow a small group of individuals to define our community. It is unconscionable that someone would care so little for human life that this could happen."
But happen it did — for at least the 181st time in 2021 within the city limits.
That's the approximate number of reports where police were called and confirmed that someone fired a gun. There have been 11 deaths by gunfire, scores of injuries and significant damage to vehicles and homes, not to mention nerves.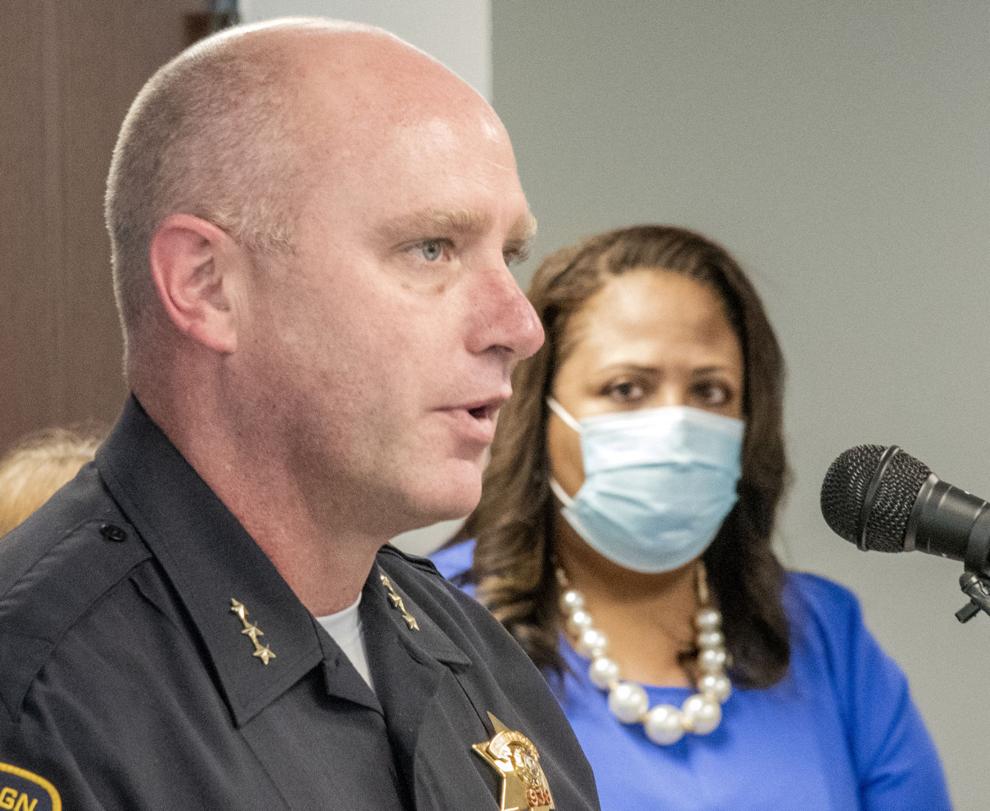 Champaign Superintendent Shelia Boozer, a recent transplant from Springfield, said she's "disheartened" and "outraged" by the violence and said even though no students or staff were physically injured on the bus that was hit by a bullet on North Neil Street near Arcadia Drive, they were "emotionally impacted."
Three children were on the bus when the shooting happened about 2:50 p.m.
"We cannot allow our children to function in chaos, division and discord. We want to focus our energy on teaching and learning," she said, adding that that is difficult if students don't feel safe.
"We need everyone in the community to come together to solve this problem," she said.
Boozer listed several security measures the district has put in place at its middle and high schools.
Those include increasing the number of security officers in those five schools, having security vehicles patrolling perimeters of the schools, the installation of about 515 security cameras, increased security at sporting events to prevent anyone from bringing in weapons, metal-detecting wands used at schools on random days to reinforce safety, the establishment of a "see something, say something" tip line and app for students, the use of a common staff and student identification badge for all middle and high schools and additional student advocates and hall monitors.
She encouraged parents to keep tabs on their children's use of social media, as it is often the seed for conflict that spills over to the schools and the community.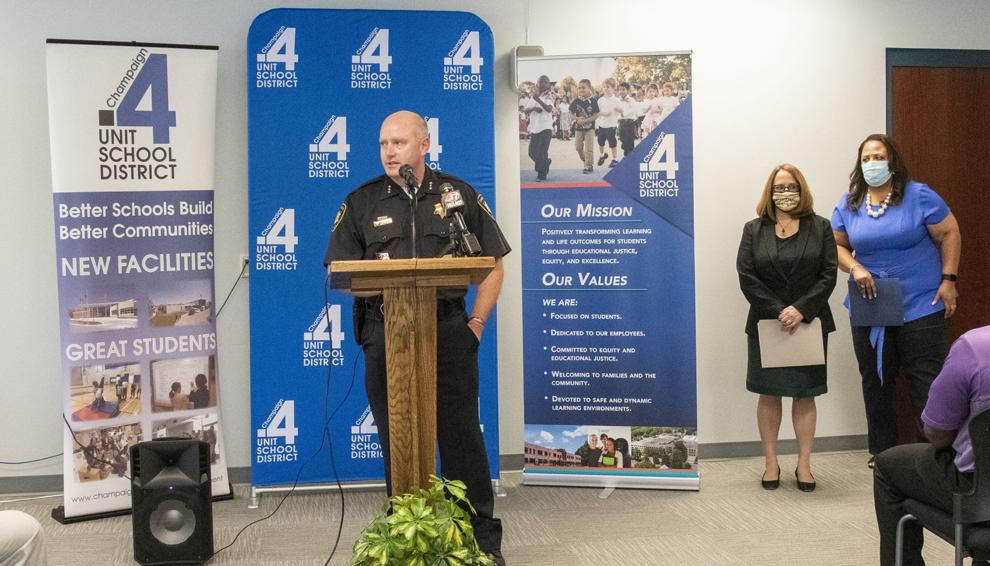 Boozer said her staff meets weekly with both Champaign police and representatives of AGB, the security firm the district hired for its schools after Champaign police had to back out of the school-resource-officer program due to a lack of staffing.
The police department is currently down about 24 officers, but the city is taking steps to try to shorten the hiring process.
Acting Chief Matt Henson said officers continue to do directed patrols before and after school.
"As calls for service allow, we are still responding to the schools when they call us," Henson said.