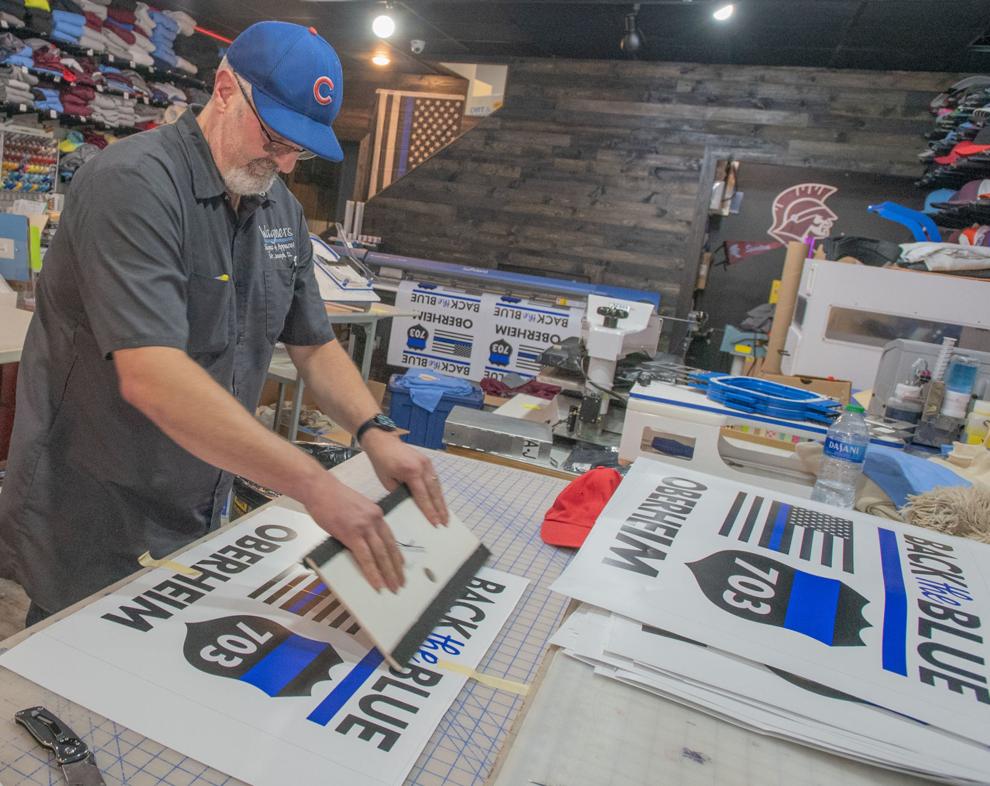 ST. JOSEPH — When you live in a town where more than 1 percent of the population has ties to law enforcement, it's difficult not to have a soft spot for the folks in that profession.
At least that's how Jim and Jen Wagner feel.
In the wake of the fatal shooting of Champaign police Officer Chris Oberheim last month at the hands of a suspect in a domestic dispute, St. Joseph residents and business owners have done what they do best to show support for the veteran police officer, his family and law enforcement in general.
The owners of Wagner Signs and Apparel are churning out yard signs, T-shirts, hats and decals in honor of the fallen officer and donating a portion of the proceeds to a foundation being launched by his widow.
"I think Amber has great intentions and will do a lot of good things to impact law enforcement and the community as a whole," Jim Wagner said of Officer Oberheim's widow. "I believe she's inspirational. She's going to be an icon in the community, setting the standards."
At a village board meeting Tuesday, Wagner, who is also a village trustee gave $1,500 to Bev Pridemore of St. Joseph, a cousin of Officer Oberheim, for the "Peacemaker Project 703" nonprofit foundation.
Representing Amber Oberheim, who was unable to attend, Pridemore read a statement from her that said, in part, "Together with the community, we are looking forward to defending our blue family and their badges in Chris's honor."
Officer Oberheim's badge number was 703.
Pridemore called what the Wagners are doing as well as the community response to her cousin's death "nothing short of amazing."
"It is what is holding this family up right now. It's so inspiring. To use Amber and the girls' words: 'It's turning their pain into purpose,' and it's something they are working on together," Pridemore said of the foundation in its infancy.
Pridemore said she and Officer Oberheim come from a "long line of police officers in our family," including a grandfather who was a sheriff in Newton for most of his adult life and "lots of uncles and cousins who are FBI agents, deputies, police officers."
"Chris has a brother and a nephew on the Decatur Police Department," Pridemore said.
A 25-year resident of St. Joseph, Pridemore attended the village board meeting to accept the Wagners' donation on behalf of Officer Oberheim's family because they have been busy attending or at least acknowledging the many events and kind deeds being done in the name of their husband and father.
"Their emotions are getting more raw now because time is passing and he's not coming home," Pridemore said. "They are letting go now of a little more of that raw emotion. But at the same time, I'm amazed at how strong they are."
The daughters have told others that their mother continues to remind them that they are not alone in their suffering, she said.
"They see how much the other police officers and their wives and their children are hurting," she said. "They want to do something. They are hoping for a more peaceful, safer community. It's inspiring to see so many people working together to make that happen."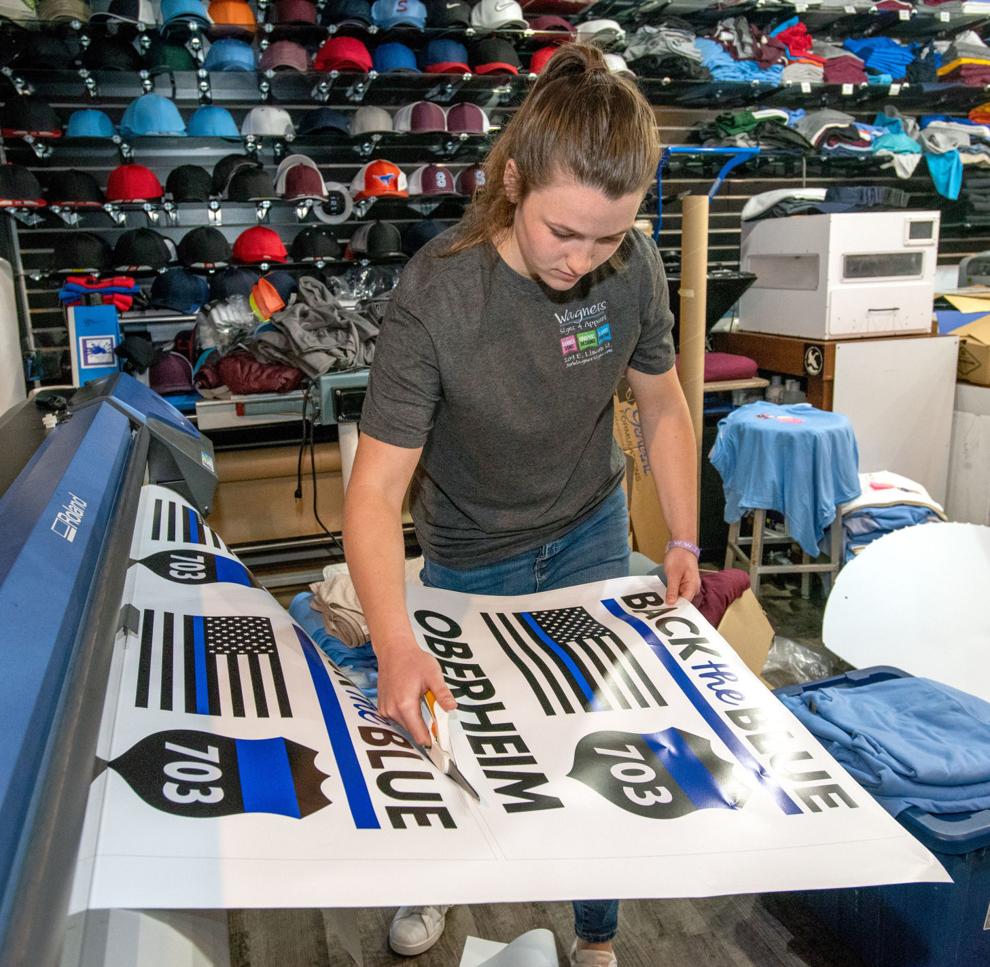 That could account for the brisk sales of the Wagners' merchandise. Jim Wagner said police officer friends and supporters have told him they plan to put up signs and blue lights in their yards declaring "We're not going to hide (law enforcement support) anymore."
To date, the Wagners have sold more than 300 yard signs, 100 T-shirts and 100 decals ranging in price from $8 to $20 on their website, backblueline.com.
"I consider us living in a law-enforcement community with about 60 officers," he said. "We have law enforcement that live on our street. They are all around.
"I didn't know Chris Oberheim, but I definitely know a lot of people who knew him. He was an upstanding officer who wanted to do things right," Jim Wagner said.
The Wagners have been in business in St. Joseph since 2018, when Jim Wagner left Farm and Fleet, where he was a manager for 25 years.
Previously operating in their home and at a smaller location, the Wagners have expanded to a building they purchased at 209 E. Lincoln St.
They do a lot of business with travel sports teams but are no stranger to doing business with and supporting law enforcement.
Jim Wagner said they take care of decals on Urbana squad cars, embroider uniforms for the Champaign County Sheriff's Office and make shirts for ILEAS and the University of Illinois Police Training Institute.
He plans to keep the website active for at least a year, then evaluate the need for continuing it.
But Wagner said their business has also helped other families with different causes.
"We've always been the first to jump in and help somebody," he said. "We do what we can."