Submit a Letter to the Editor here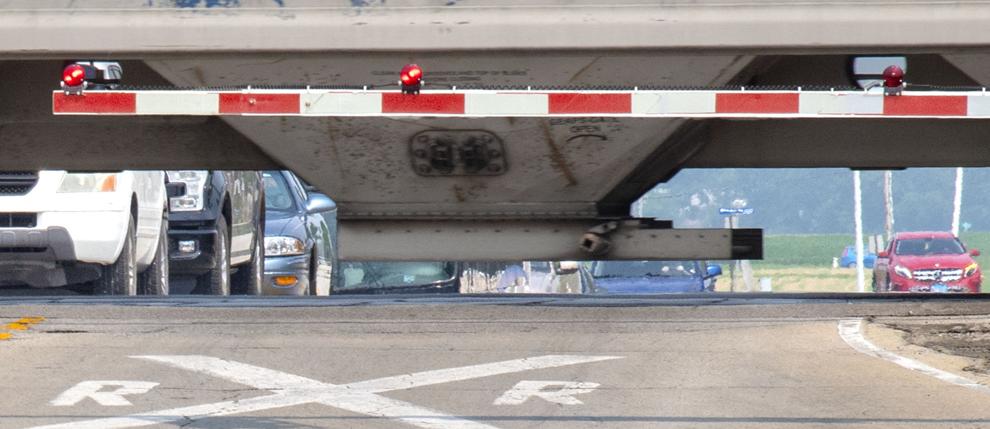 SAVOY — A firefighter who hurried from his home to respond to a house fire in his own subdivision last Sunday quickly noticed two things: heavy smoke and a train approaching on the tracks just west of his house.
"He radioed in to the responding engine that hadn't left the station yet that they were going to be potentially blocked at Airport Road, so they went to Church and came in," said Eddie Bain, spokesman for the Savoy volunteer fire department.
Although they were not stopped by a train at Old Church Road a mile north of Airport Road, the firefighters' route to the burning Winterberry Road home of Ryan Baumann in the Fieldstone subdivision was slightly less direct.
It didn't take long for Baumann, who was present when the fire started, to realize there was no saving his about-4-year-old ranch home.
Jeff Baumann was at his son's home for a cookout and called 911 at 7:05 p.m. to report that the roof was on fire, according to the METCAD dispatch log.
He later told The News-Gazette at the fire scene that flames, apparently from a grill, shot up into the roof line and that the fire spread quickly as his son tried to douse it with a garden hose.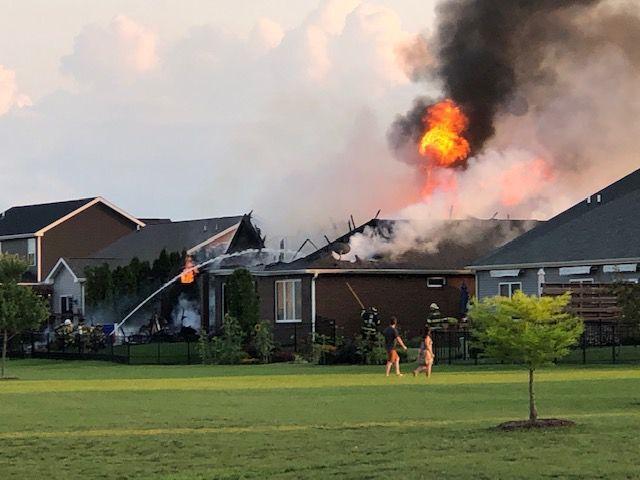 It was 10 minutes after the elder Baumann called 911 that the first Savoy fire engine arrived. Two minutes after that, about the same time a Savoy ladder truck arrived, fire officials decided to fight the fire defensively. The flames were so heavy that parts of the roof caved in about 22 minutes after the fire was reported.
Other engines from Tolono, Bondville, Eastern- Prairie, Edge-Scott, Carroll, Cornbelt and St. Joseph joined in at various times.
The fire was declared out at 7:47 p.m., but hot spots flared up about 9:40 p.m.
Given the speed and intensity of the fire, which appeared to sweep the roof from back to front, it's difficult to predict whether a faster response could have saved the Baumann home.
The home's destruction and its location on the other side of the railroad tracks from the village fire station on Tomaras Avenue could very well end up as a footnote in a report being done now by consultants guiding Savoy on the present and future fire-protection needs of the growing village.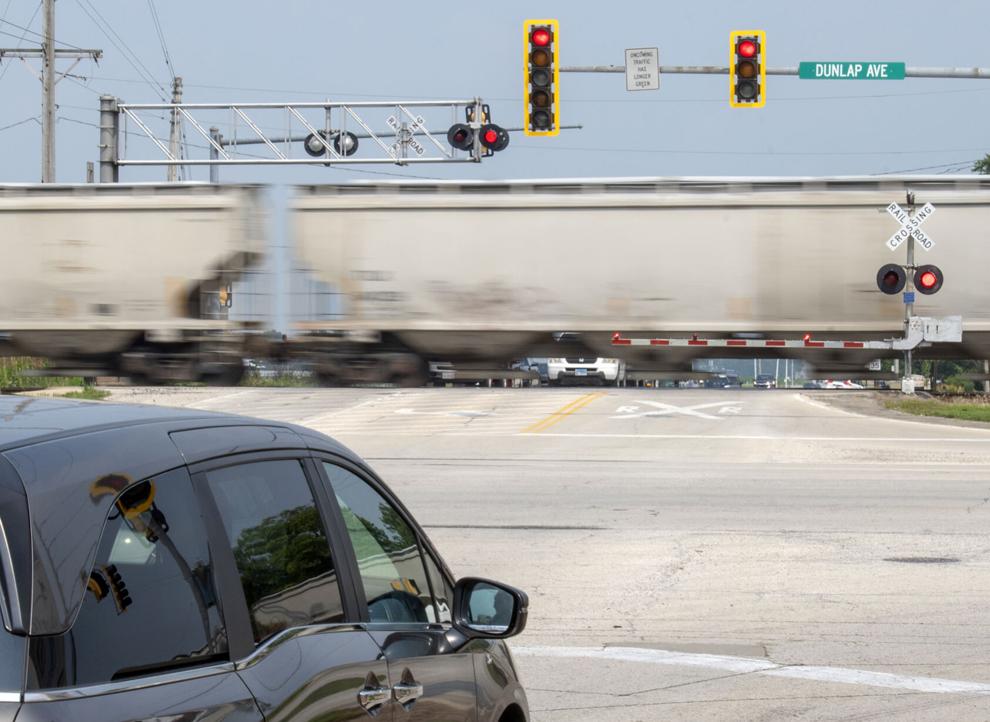 In early March, Savoy village trustees agreed to spend no more than about $73,000 on a study by the Illinois Fire Chiefs Association that will look at what fire services the village of about 9,000 people has now and what it will need in the future.
That includes looking at manpower with an eye toward determining if the department should stay volunteer or hire paid full-time firefighters; determining if a second fire station is needed; looking at apparatus and equipment; and providing recommendations for the next steps to address whatever deficiencies or weaknesses the study finds.
Given that the village's fourth application for federal funds to pay part of the $40 million cost to build a railroad underpass at Curtis Road was recently rejected, that could impact the fire study with regard to a second fire station on the east side of the tracks.
The village has wanted the grade-separation project for years and intends to pursue other ways to pay for it.
Bain, the fire department spokesman, said trains on the tracks that run parallel to U.S. 45 through the village are not a significant problem for the fire department.
"It's just a general concern," he said, as is the growth of the village to the east and south.
Several subdivisions, apartment complexes and an elementary school have been added to the village in the last two decades east of U.S. 45 and the railroad tracks.
"As we have seen in recent years, there are fewer trains but longer trains. That's just the way they ship and transport," he said. "Some of those longer trains are potentially of significant concern. I'm not aware of a situation where we have been stopped and held for any length of time on any kind of call."
Fire chiefs in Tolono, Pesotum and Villa Grove, all of whom deal with railroad tracks running through their areas, agreed.
Tolono Fire Chief Chris Humer grew up in Tolono. In the 1990s, he said, the railroads had more traffic and would stop trains to add cars from side tracks, a process that could block the three crossings in town for 10 to 15 minutes.
"If somebody is having a heart attack or their house is on fire, that can cause a significant delay," he said. "In 2021, trains don't stop as much because they have redone the tracks to where they aren't changing cars."
He said the village board in the 1990s was "forward thinking" enough to locate some fire equipment on the west side of the tracks to supplement the department's main station on the east side.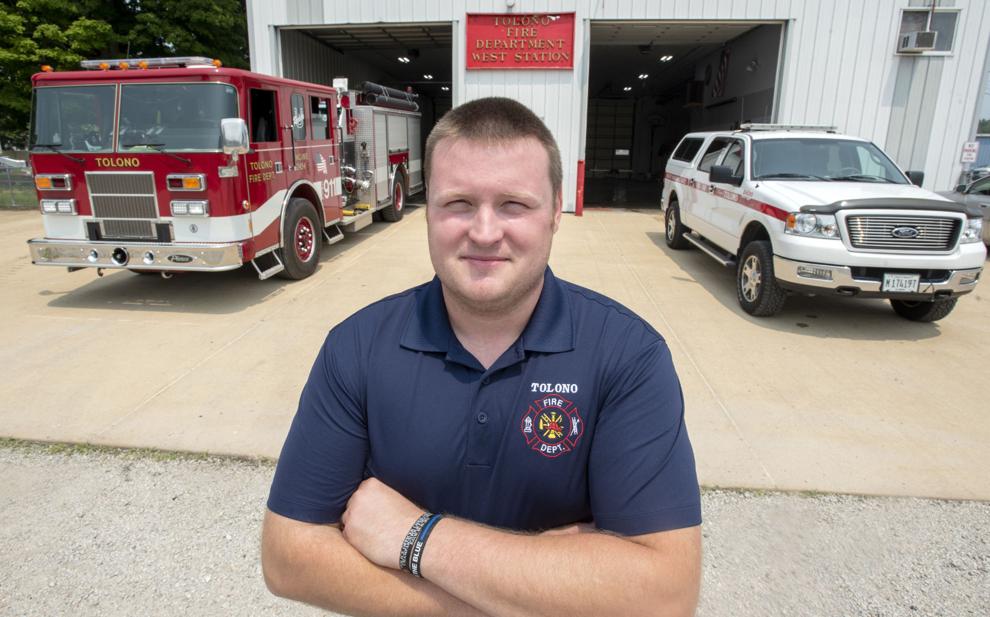 First set up in a portion of the village's maintenance shed, the west station was moved in 2012 to a pole barn on Linden Street just west of U.S. 45. It houses an engine and a pickup truck with medical equipment.
Volunteer firefighters respond to calls at the station on the side of town where they live.
"Right now, it's not super balanced," Humer said of the numbers of first responders on either side of the tracks. "We have adjusted some of our vehicles to make sure we have the right trucks for the right people who are there.
"If it's a medical call, we've got a pickup in the west station that anybody can drive," he said, referring to licensing requirements. "If there's a train, we've got somebody getting there before the guys from the other station can get there."
Pesotum Fire Chief Robert Russian said "the town is evenly split," with about equal numbers of residents on both sides of the railroad tracks. The town is fortunate, he said, in that most of the volunteer firefighters, including himself, live within four blocks of the station.
He said in his five years as chief, there have been no problems he can think of with trains causing delays.
"In Pesotum, we don't have much of an issue," he said. "The trains don't stop unless there is an emergency somewhere else down the line, and that's been very rare in the 20 years I've been on the department.
"The railroad always calls METCAD and tells them the rails are blocked, and METCAD lets us know," he said.
At worst, a detour for a stalled train would add about a half-mile to the north or south to first responders' trips.
"If we stop and wait for the train, it's never usually more than a minute or two," he said.
Russian lives east of the tracks, which he can see from his home.
"The trains can be from five cars to a mile-and-a-half long," he said. "We recently attended a meeting at the Arthur Fire Department where a (railroad) representative said trains could get up to a mile-and-a-half. That might sound really long, but sitting at home and watching them go through town, it doesn't seem that long for them to get through."
He said Canadian National, which owns the north-south tracks, has been great to work with, including during the aftermath of a May 11 derailment of 17 train cars in Pesotum that prompted about two weeks of cleanup and repair.
"I can't think of a time where there was a problem with them," Russian said.
Villa Grove Fire Chief Charles Black said train traffic "can be a challenge" for first responders in his Douglas County town, where tracks cross portions of the town from northeast to southwest and from the east to the southwest, cutting off direct access to some neighborhoods on the east and southeast side of town. But that challenge has not been that great, he said.
"The need hasn't been there to make that financial commitment to build a station on the east side," Black said.
Good communication among firefighters and the railroad has helped with that.
"In the past, we have had to radio, have (the railroad) expedite and send (fire) units other ways," said Black, who has been chief for about a year-and-a-half but has served as a volunteer firefighter for 25 years in Villa Grove and other area communities.
"You use all your resources. It's a rare occasion that we can't get across those tracks."