URBANA — A Champaign man Monday stood wide-eyed and mute as a judge asked him if he understood that he was accused of killing a teenager with an "axe or other edged tool."
When Daryl Vandyke, 55, of the 500 block of North Russell Street didn't answer any of Judge Adam Dill's questions about whether he understood his rights or the first-degree murder charge against him, Dill continued his arraignment until Tuesday.
Vandyke was arrested late Friday morning at his home on Russell Street, about four hours after bicyclists had found the body of Steven W. Butler III, 14, in a ditch on East Washington Street, east of High Cross Road in Urbana.
Steven had been reported missing to police about 7:30 p.m. Thursday by his father, who told authorities his son left their home on Harvard Street in Champaign about 5 p.m. to mow a lawn but never came back.
State's Attorney Julia Rietz said Vandyke and the elder Butler were acquainted.
Vandyke appeared via video from the satellite jail for his first court hearing since being arrested.
Because Judge Randy Rosenbaum had already heard probable cause Friday and set Vandyke's bond at $2 million, no further details of the allegations were recited.
At various times during Monday's brief hearing, Vandyke leaned over, put a finger in his mouth and rubbed the top of his head as the judge tried to talk to him, but he never responded.
Public Defender Janie Miller-Jones asked the judge to appoint outside counsel to represent Vandyke because her office is already defending nine people in attempted murder or murder cases. Dill said he needed to confer with Rosenbaum, the presiding judge, before addressing her request.
While the investigation into Steven's death is being shared by Champaign County sheriff's investigators and Champaign police detectives, it's believed the youth was killed on Vandyke's property in Champaign.
Court records show Vandyke's most serious conviction came in 1986 for aggravated criminal sexual abuse.
He had another in 2016 for possession of a controlled substance and two other convictions for possession of drug paraphernalia — one a misdemeanor and the other a city ordinance violation.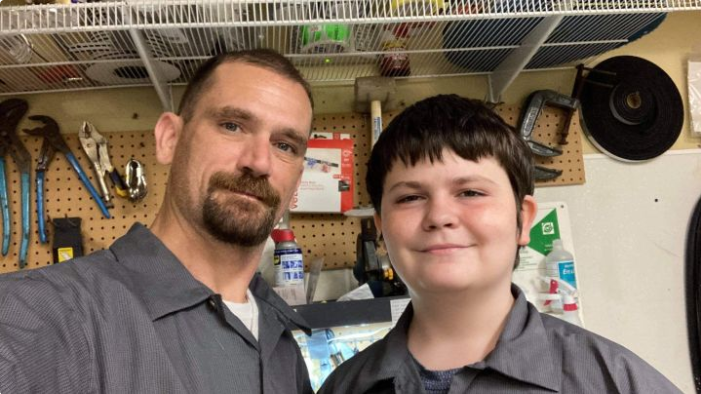 In a summary posted on a GoFundMe page account set up to pay for Steven's funeral and other family expenses, April Vish, an aunt of the slain teen, said that "Little Steven" is the oldest of three children being raised by her brother, Steven Butler Jr. He has two other children, ages 7 and 6, in the home, she wrote.
"He has worked and strives to give his kids the best, most stable life that he can. His unending commitment to solely his children and their best interest, safety and stability is something you don't always see when a father suddenly has to become the sole provider and single parent but he does it so flawlessly and without a second thought," Vish wrote.
"He is an incredible role model to his children and a testimony of strength, perseverance and determination to all who know him and love him."
As of late afternoon Monday, 764 people had pledged almost $30,000.