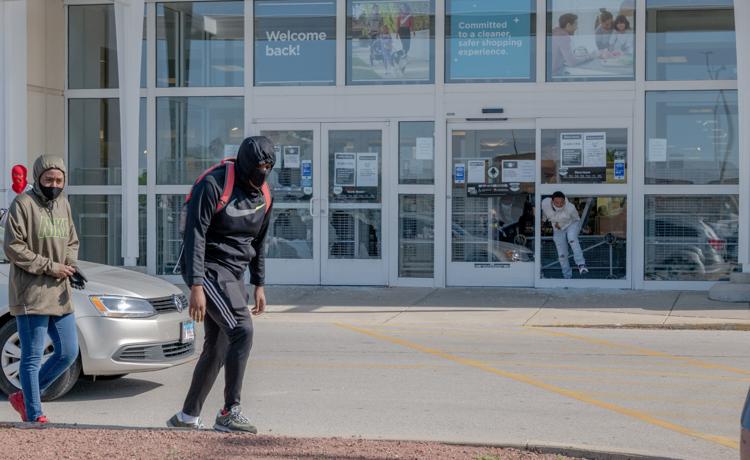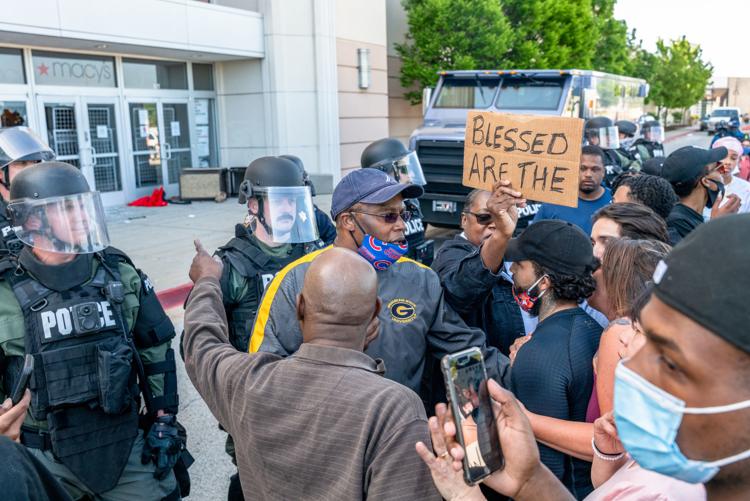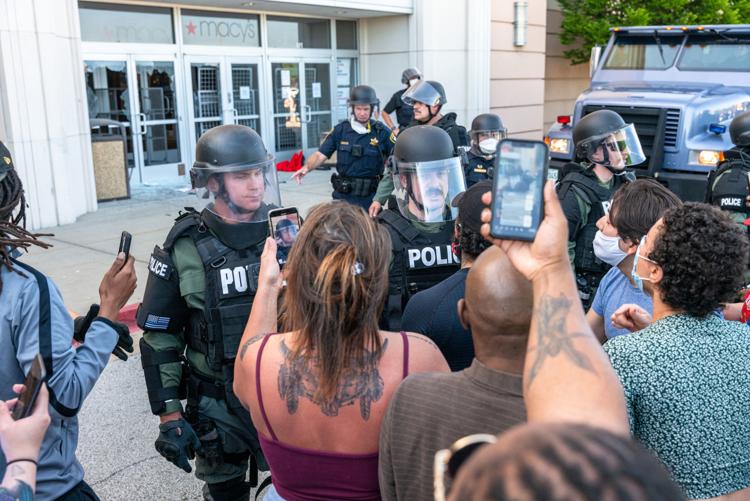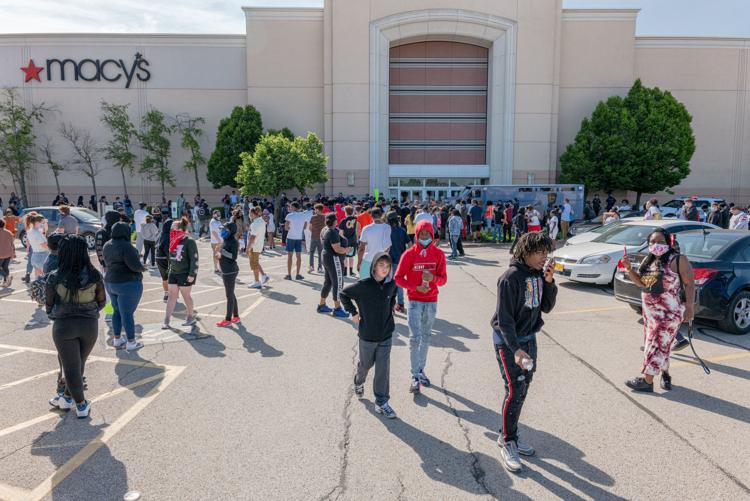 11 p.m. UPDATE
While the University of Illinois had been planning to bring some employees back to work on campus Monday, those plans have been delayed in light of the unrest Sunday.
"As you know, in many communities around the nation and in our state, the reactions to the killing of George Floyd by a Minneapolis police officer have moved beyond peaceful protest," Chancellor Robert Jones said in a mass email to the campus community. "Today, here in our local community, we are experiencing vandalism and looting."
Jones said all workers should continue working remotely unless they're instructed otherwise, "in an abundance of caution for the welfare of all members of our campus community."
"As these next uncertain days unfold, we want to do all we can to ensure that our students, faculty and staff are free and safe to choose how they want to face this difficult time," Jones wrote.
Additionally, the UI Research Park's Board of Managers meeting previously scheduled for Monday has been postponed.
"We have heavy hearts tonight, along with others, as we observe a community and nation struggling," an announcement from the Research Park stated. "After consulting with our board Chairman, Pat Daly, and University Principal Officer, Susan Martinis, we reached a decision to reschedule the June 1 UIRP LLC Board of Managers meeting."
— Ben Zigterman
9:15 p.m. UPDATE
Latest from staff writer Mary Schenk:
Even after crowds from Market Place and North Prospect Avenue dispersed, police continued to be sent to businesses all over Champaign and Urbana where break-ins or attempted break-ins were taking place at pawn shops, convenience, cellphone and drug stores.
Records from the Champaign County sheriff show that between 6:15 and 9 p.m. Sunday, seven people had been booked into the jail. Among them are a woman from Terre Haute, Ind., and a man from Marshall who were both arrested for aggravated battery to a peace officer.
The others had Champaign, Savoy, and Urbana addresses and were arrested for burglary, possession of stolen property, criminal damage to property, mob action and aggravated battery.
The Champaign County state's attorney's office will decide Monday what, if any charges, will be filed against those arrested.
8:45 p.m. UPDATE
Champaign Police Chief Anthony Cobb said his department has an "active investigation" into who planted word on social media earlier Sunday, urging looters to come to Market Place Mall at 3 p.m. for a "riot."
"We heard of the social media posting. We had officers in the area watching. It unfolded very quickly. People got out of cars and went directly to looting. There was no protest (beforehand)," Cobb said.
As the officers arrived, then protesters, who were civil, started to come. Many tried to engage the officers in conversation but Cobb had said the officers were told "not to make this about the Champaign Police Department."
Watch the video from Market Place Mall
"We recognize people have the right to protest," the chief said, but we "cannot tolerate" destruction of property.
"When you start breaking windows and go into stores and taking property, that's where we draw the line," he said, adding a few arrests have been made.
Champaign police got help from Urbana, Parkland, University of Illinois police, Champaign County Sheriff's Office, Illinois State Police, Illinois Department of Conservation police.
Cobb said the crowd moved from Market Place to North Prospect Avenue.
"We saw several groups come together along North Prospect. They were throwing things at officers and trying to engage them in physical confrontations. We are hopeful this curfew will get all our brave and wonderful people home."
Cobb asked for citizens to notify authorities if they see crimes happening.
"We need witnesses to call out license plates and videotape, capture it and share with police. Or biggest hurdle is to try to keep everyone safe," he said.
8:30 p.m. UPDATE
Champaign Mayor Deb Feinen announced a curfew from 8:30 p.m. Sunday to 6 a.m. Monday.
Urbana Mayor Diane Marlin also announced a curfew from 9 p.m. to  6 a.m. "This curfew is being instituted in order to keep the public and property safe. We know that this a time of pain and anger but we must work together to find a common ground, and we must all work toward calm. The right to protest is one of the cornerstones of our democracy. Please be respectful of our community and our friends and neighbors while exercising this right."
On Sunday night, Feinen said "earlier today peaceful community protests ... took a violent turn when groups began to destroy property at Market Place Mall.
"Emotions are raw and real but this type of behavior is harmful to all of us.
"If people continue to express anger and ambitions through ... violent actions, more people are going to get hurt. Doing damage to businesses hurts all of us. They provide jobs. They are our friends, our family, our neighors.
The curfew, Feinen said, "is not intended to punish our residents but to protect. All members of our community need to be off the street and not out in public. Please stay home while the tensions calm down and areas of unrest can be safely and peacefully secured."
8 p.m. UPDATE
All entrances and exits to Market Place Mall ]are blocked off by either police vehicles or orange and white barricades.
There are three police SUVs with officers in the parking lot of the nearby strip mall that includes TJ Maxx and Barnes & Noble.
7 p.m. UPDATE
Four hours after the first reports of looting, Champaign Police on Sunday night said on Twitter: "Right now, the recommendation is to remain in your homes if you are able to. We are still deploying resources throughout the city with our local law enforcement partners. A few arrests have been made."
Police also announced the following road closures:
Kankakee at Anthony; Prospect at Marketview; Neil at Anthony; Market at Kenyon.
Rantoul Police took to Facebook to announce: "The Rantoul Police Department is monitoring the unfolding situation happening in the Champaign area. Out of an abundance of caution, most commercial establishments in Rantoul, including Walmart and County Market, have closed for the night. The police department would encourage all residents to not venture out into the community from now through the overnight hours."
***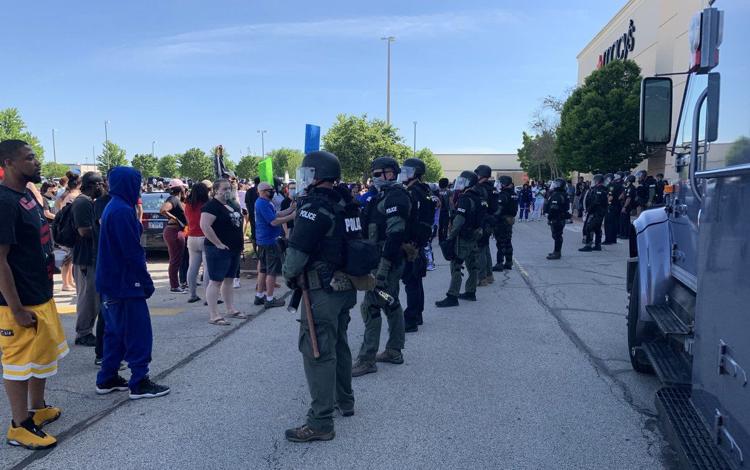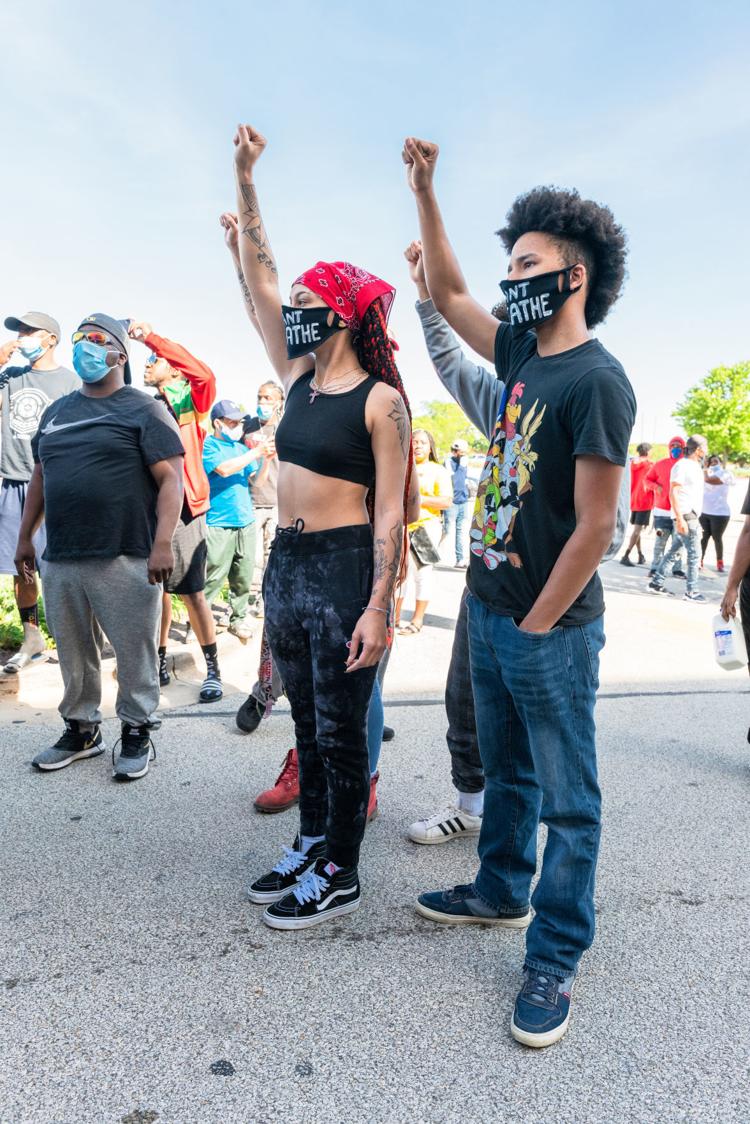 CHAMPAIGN -  A heavy police presence converged on Market Place Mall as a protest turned dangerous around 3 p.m. Sunday.
Three glass doors were broken leading into Macy's as tensions mounted. There were reports of looting at Old Navy and other stores at the mall in north Champaign.
Protesters were chanting "I Can't Breathe," in reference to the killing of George Floyd while in police custody in Minneapolis.

At 4:55 p.m., the crowd moved across the parking lot to Mosser's Shoes, broke the glass entrance and came out with boxes of shoes as well as a flat-screen television before six police officers arrived to protect the store.
The crowd then headed toward Gordmans to the east.
By 5:20 p.m., the scene outside the mall had gone from hundreds of people to a dozen police and a few onlookers. The looting has ended.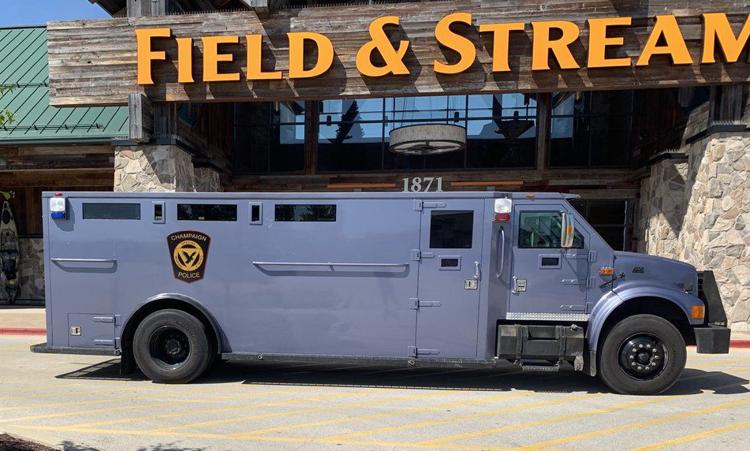 On nearby North Prospect, the Best Buy store was broken into and looted on Sunday afternoon. Also, the Active Wear store was looted before University of Illinois Police arrived to protect the building from further damage. Clothes taken from the store can be seen outside.

Later, around 5:30 p.m., protesters returned to Best Buy, 2117 N. Prospect, where they were met by a wall of police cars. Police were also stationed in front of Ross Dress For Less as a peaceful protest played out Town Center Drive.
Broadcasting on Facebook Live about 4:38 p.m., the Rev. Willie Comer said: "We gotta make sure we do it the right way or we won't get heard. Let's make sure we protest ... so we get the message out, not by going to jail. We gotta stand, we gotta stand."
Comer continually reminded the crowd that the police were there to protect property as protesters get in the faces of officers expressing their frustrations.
"I have one purpose and that's to keep this as peaceful as we can. Please keep praying."
A wall of police, including a SWAT vehicle, stood between hundreds of protesters and the Macy's entrance to the mall.
Champaign city council member Will Kyles joined Comer in physically trying to keep screaming, frustrated young men and women away from the police in front of Macy's.
Comer, pastor of Berean Covenant Church in Champaign, was in front of Macy's as the crowd had dispersed by 5 p.m. A couple of officers personally thanked Comer for trying to maintain calm.
"We had to stand and not let our young people lose it. The crowd has dispersed. Hallelujah. We were able to get past that but they've moved and I have to figure out where to keep them calm. "
Right then, sirens could be heard and Comer said: "When I hear sirens, that means young people are going to jail.
"I get it. People are angry, upset. The main purpose is that black men and women are dying on the street. But if we bust out windows at stores and try to take things out … "
He urged those listening to join black people on July 7, a scheduled day of not spending money in America to make a point.
"Let's not lose the purpose and focus of why we are here," he said.
Comer said he saw the Facebook post exhorting people to loot at the mall.
"I came straight over to Macy's because I knew there had to be somebody who looked like us, talk like us to come over and keep calm," he said.
"I want to be angry but I also represent Christ and that's bigger than what my feelings are. If I can stand and be a representative of the kingdom, then I can help these young people. Somebody's got to be the leader, calm enough to make the right decisions."
Champaign Police at 4:14 p.m. tweeted "We have responded to Marketplace Mall for incidents of looting & are working to secure area businesses.
We support everyone's right to lawful & peaceful protests. For the safety of us all, we continue to urge you to be peaceful as you advocate & allow your voice to be heard."
Earlier Sunday, reports of a planned protest circulated on social media. Stores throughout C-U closed early Sunday.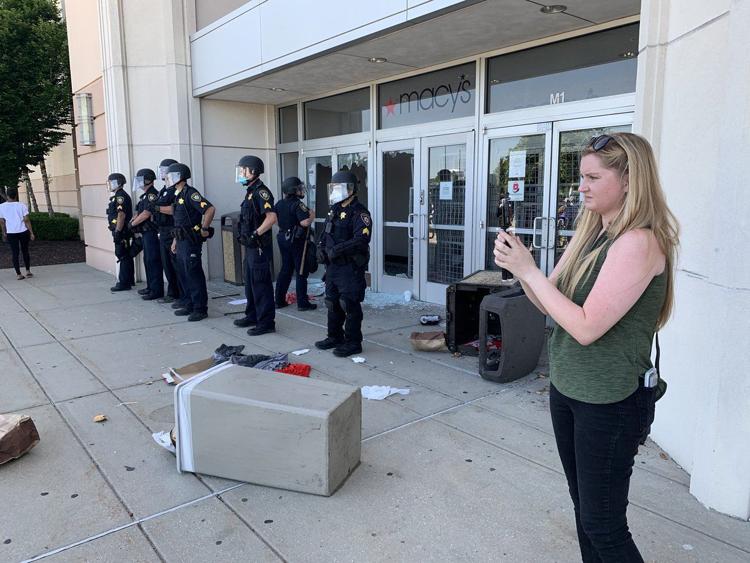 News-Gazette Editor Jeff D'Alessio is at Market Place Mall. Follow along by following him @jeffdalessio on Twitter.