CHAMPAIGN — Public-works employees were called early Friday morning to remove graffiti — some of it obscene, much of it political commentary — from the Champaign Police Department headquarters.
The city issued a statement late Friday afternoon calling it "vandalism ... that will not be tolerated."
But there was no word from the city on whether it had identified those involved or would seek criminal charges against them.
Late Thursday night, chalk, glue, glitter, paint and other materials were applied to not only the sidewalks on the south and east sides of police headquarters but also to the building and the sign on the corner of First Street and University Avenue.
"Public works didn't get it all last night," said police spokesman Tom Yelich. "They came out this morning with special chemicals. It took a concerted effort" to remove it.
Among the commentary was "It is not okay to kill Black boys," "My kids fear cops," "Am I next" and "Cops are America's hired killers."
But some of the phrases were obscene and certainly offensive to the about 113 members of the department. There was even a racially offensive phrase directed at Chief Anthony Cobb, who is Black.
The "Champaign Police" sign at the corner of First and University was covered with red handprints and the words: "Blood on their hands."
Yelich said he was unable to comment on whether the city would seek criminal charges against the people involved in the Thursday night incident. The same group announced on Facebook, where videos of the message were posted, that it would convene at the Alma Mater on Friday night.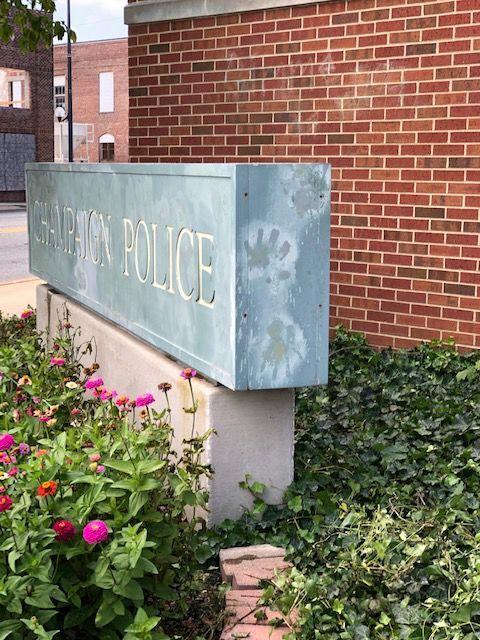 Said Champaign City Council member Clarissa Nickerson Fourman: "As I've told the group, every dollar the city spends on cleaning up the graffiti and vandalism isn't money going toward the community they say we need to help. At some point, we gotta put our foot down: Protesting and vandalism are not the same things."
In a release issued two weeks ago, the city reminded that while graffiti as a form of self-expression is generally acceptable, it can also present a blight.
"Among the concerns of graffiti use is the deterioration of property values, business opportunities, negative environmental impacts and affecting the enjoyment of life for persons using adjacent and surrounding properties," the release said. "Furthermore, by allowing any and all graffiti use, the City may open itself up to allow expression that does not align with our community values of equal opportunity for all.
"Generally speaking, it is unlawful for an individual to deface public or private property with graffiti. Exceptions to the ordinance include the use of water-soluble chalk on public sidewalks by a child under the age of thirteen (13) or by the child's parents or guardians."
Asked if the work might constitute the grounds for a charge of criminal damage to state-supported property, State's Attorney Julia Rietz had a different response:
"I am more concerned with wondering what those who are chalking at the courthouse, Champaign Police Department and the Urbana Police Department think they are accomplishing," she said. "There is work to be done, and we would be better off doing it cooperatively rather than by sneaking around government buildings in the dark leaving ugly and hateful messages for the public and those who work on their behalf to find."
The statement said the city had been working "in good faith" with event organizers on what they believed would be a "peaceful protest."
What resulted, the statement said, was "vandalism ... that will not be tolerated."
Mayor Deb Feinen said "peaceful momentum for positive change has turned ugly."
"Our police officers who work for our safety each day while putting themselves at risk have been disrespected in a hateful way," Feinen said. "These actions are not a peaceful protest. This is hate speech leveled at our public servants and it is unacceptable. I call on our community and our police officers to peacefully and thoughtfully work together to make meaningful change.
"We cannot move forward as a community unless we learn to listen to one another, respect one another and rebuild trust."