2019-20 High School Confidential: Week 13
Welcome to Year 4 of High School Confidential, an award-winning project made possible by aspiring student journalists from every corner of our circulation area. Each Wednesday through May, they'll tell us what's happening in their hallways at news-gazette.com.
Once a week, we'll hand over our Snapchat account (News-Gazette) to our correspondents for behind-the-scenes tours.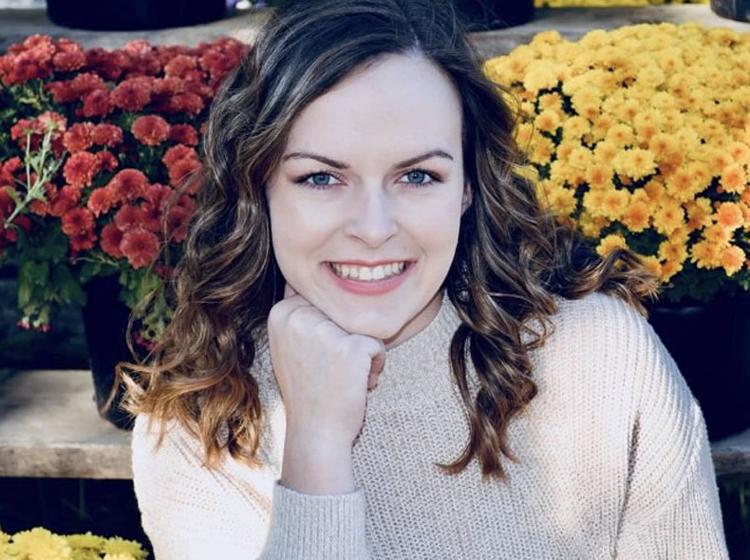 On Wednesday, ALAH's Kaylee Yeakel will be in charge to show us around during the last week of school before Christmas break. Better yet: It's Ugly Sweater Day at the high school.
This year's crew:
Academy - Megan Wiarda
ALAH - Kaylee Yeakel
Arcola - Patty Rodriguez
Armstrong-Potomac - Emily Rogers
Bement - Braden Fogerson
BHRA - Gabe Martinez 
Blue Ridge - Kalyn Warner
Centennial - Hailey Choi
Central - Julia Wilson
Chrisman - Lindsey Franz
Cissna Park - Abbi Kaeb
Danville - Leilani Islam
DeLand-Weldon - Tori Billingsley
Fisher - Sidney Sievers
G-RF - Chelby Hall
GCMS - Sierra Hileman
Heritage - Lynnae Struck
Hoopeston - Erin Anderson
Judah Christian - Brayden Riesberg
Mahomet-Seymour  - Rachel Myers
Milford - Jordin Lucht
Monticello - Addison Wichus
Monticello - Mary Grace Ross
Oakwood - Maecii Barabas
PBL - Emma Schuler
Rantoul - Veronica Duddleston
St. Joseph-Ogden - Mallory Ames
St. Thomas More - Noelle Schacht
Salt Fork - Autumn Lange
Schlarman - Farrah Anderson
Tuscola - Emma Zimmer
Uni High - Samaia Jones 
Uni High - Erin Minor 
Unity - Kimberly Pruetting
Urbana - Molly Sweeney 
Villa Grove - Grace Hutchison
Westville - Emma Myers
On to this week's report: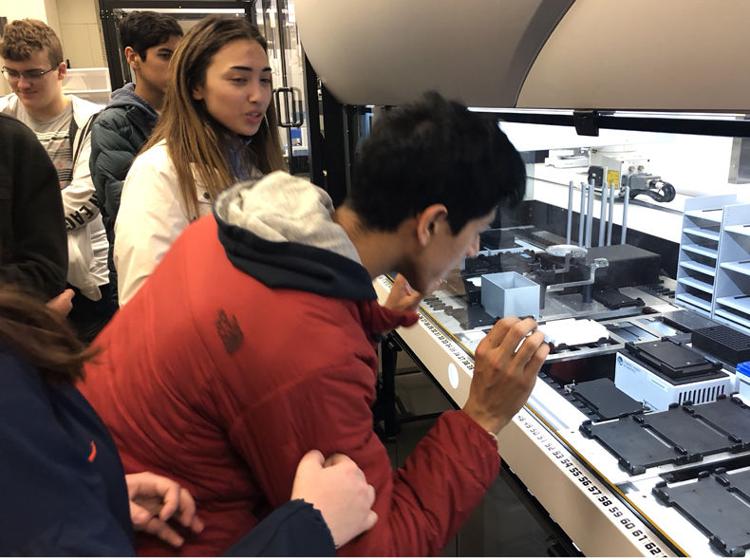 Academy High
Students visited the University of Illinois and its biotechnology buildings, where they were shown technology that professors and students use to sequence genomes. Pictured front to back: Shashank Hirani, Cassie Colmenares, Mayank Hirani and Nik Gritten. — Megan Wiarda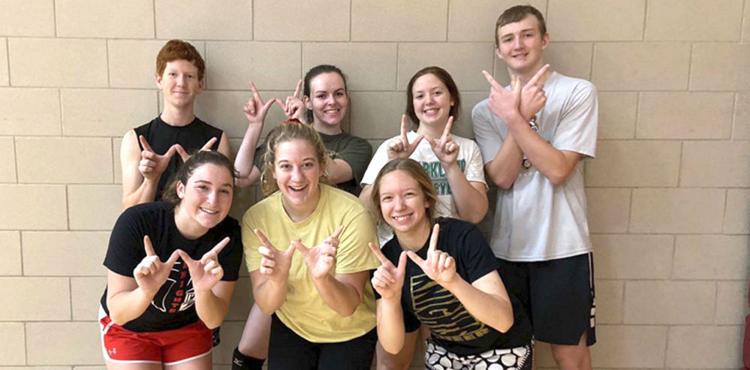 ALAH
Student council's fifth annual Co-Ed Volleyball tournament featured five teams from all grade levels. The Snowflakes, who went undefeated and won T-shirts, consisted of sophomore Cheyenne Chupp, junior Nik Miller, and seniors Brenda Chupp, Scott McClain, Emma Lee, Addi Tinkle and Kaylee Yeakel. Student council sponsor Marylisa Renfro was pleased with the turnout. — Kaylee Yeakel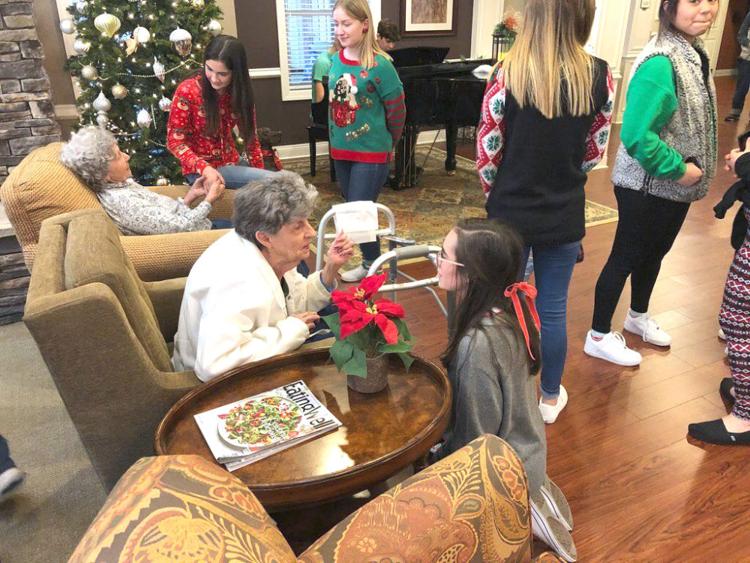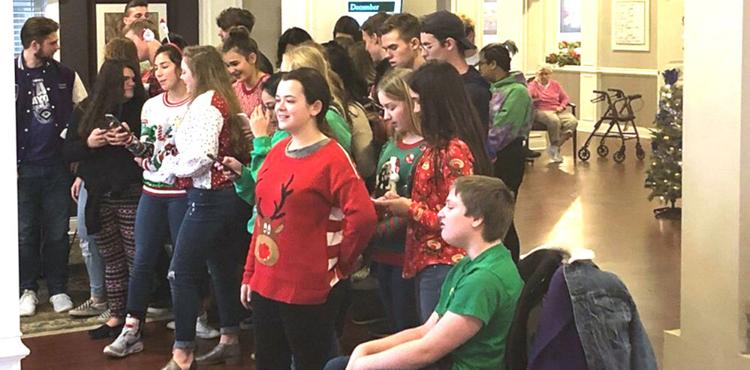 Arcola
Student council members went caroling during their annual visit with the residents at Carriage Crossing Senior Living in Arcola. About 40 students — freshman through seniors — made the trip to bring Christmas cheer. — Patty Rodriguez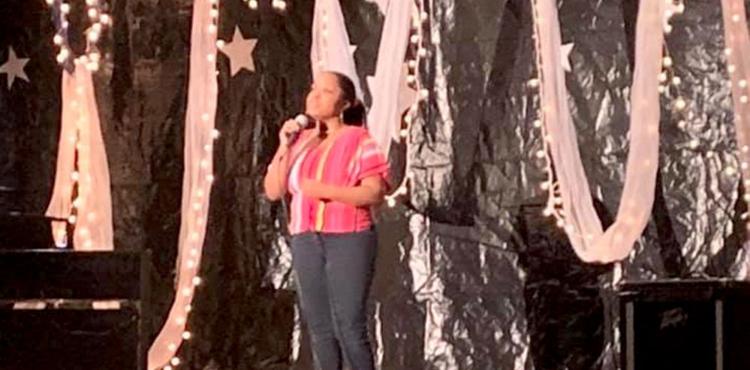 Armstrong
The group STAND (Students Taking A New Direction) hosted its first talent show. Pictured: winner Dasha Turner, who sang "All of Me" by John Legend. — Emily Rogers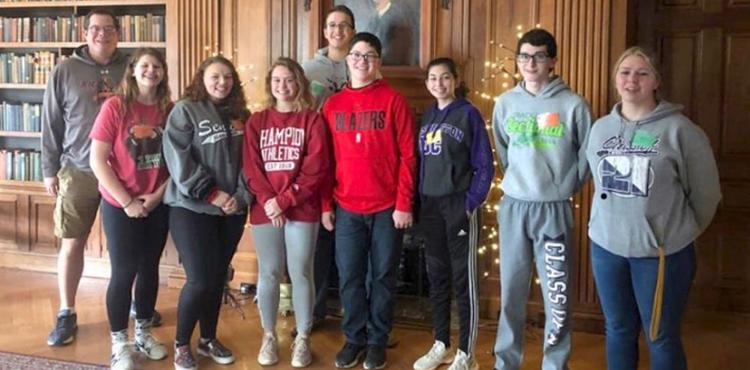 Bement
Bement attended the Allerton Park Lifesaver Retreat. From left, David Elder, Ellie Shonkwiler, Alexis Jones, Hailey Gadbury, John Watzlawick, Braden Fogerson, Trinity Stroisch, Jacob Stoerger and Alexis Parrish. — Braden Fogerson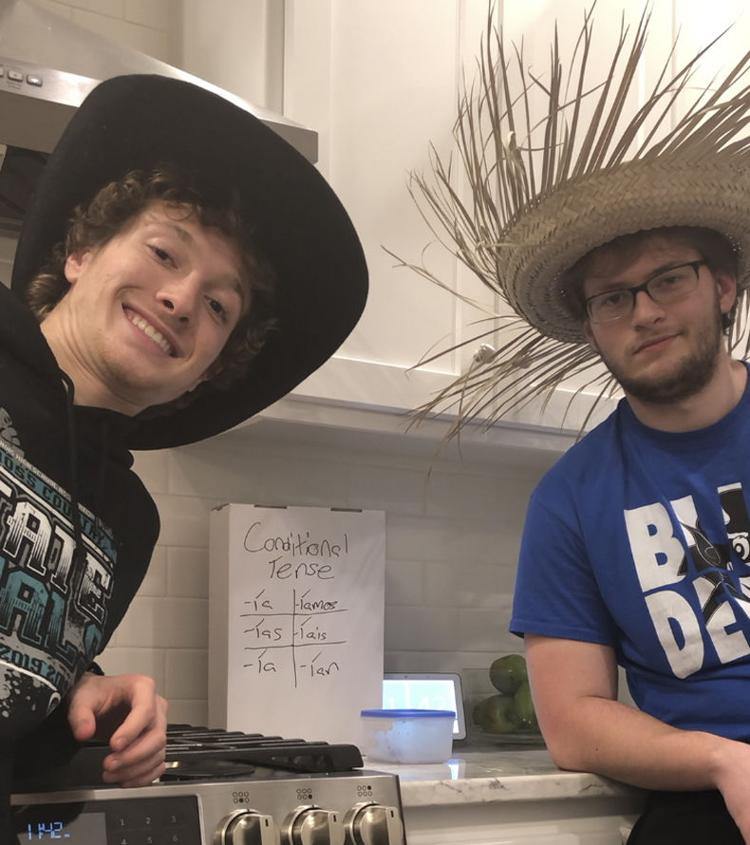 BHRA
The Spanish 4 group of Cameron Douglass, Jack Silver, Gabe Martinez (left) and Jeremiah Ault (right) finished a project due at midnight with 15 minutes to spare. — Gabe Martinez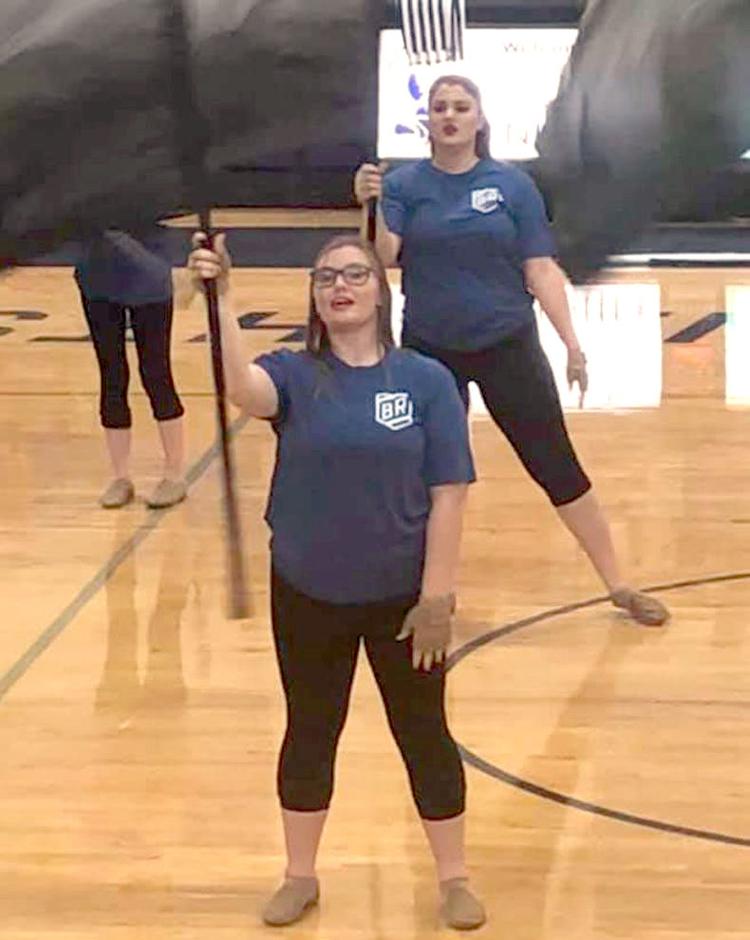 Blue Ridge
Color Guard put on a great show at the Friday night home basketball games. During student council's Christmas Spirit week, classes competed for best Christmas apparel. Key Club sponsored Christmas in the Library (hot cocoa and crafts). Varsity Scholastic Bowl went 3-0 against Cerro Gordo, Tri-Point and Shiloh, improving to 10-3 this season. — Kalyn Warner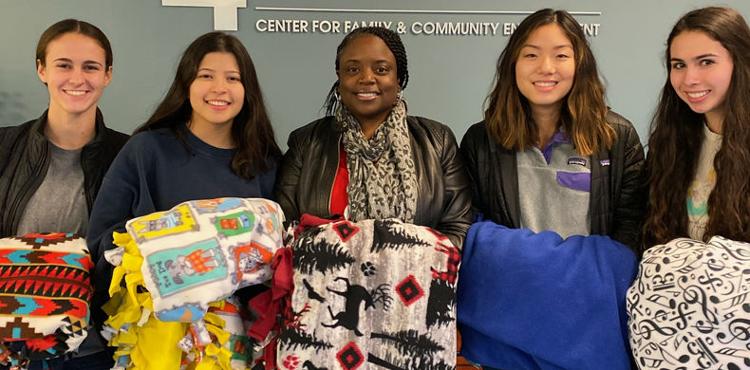 Centennial
Student council's executive board delivered handmade blankets for the Warm-A-Kid program. Pictured left to right: Cassidy Strode, Dennielle Monge-Vargas, Director of Student, Family and Community Engagement Katina Wilcher, Hailey Choi and Brooke Beaty. — Hailey Choi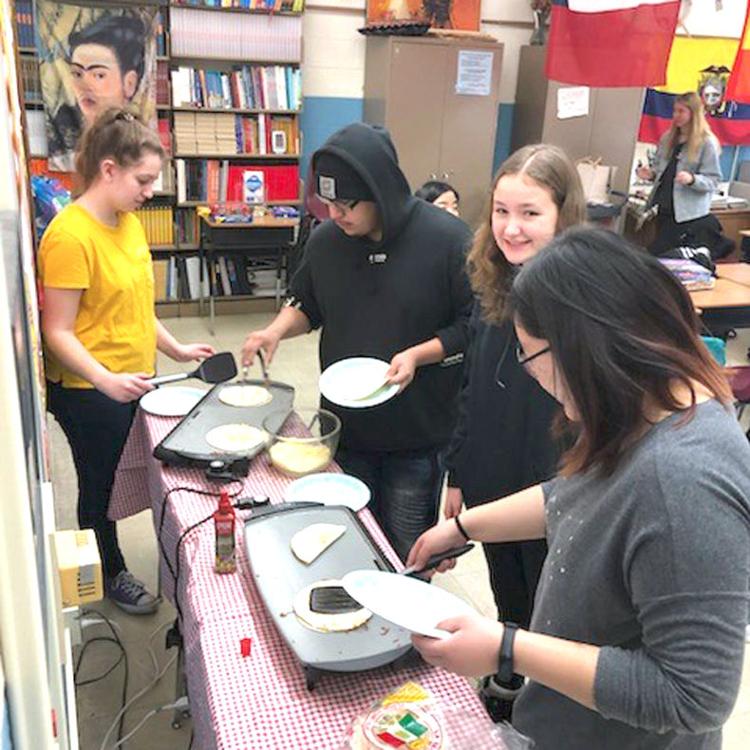 Champaign Central
Seniors in Veronica Thompson's AP Spanish class celebrated the annual Quesadilla Day on Friday. Pictured left to right: Tessa McManus-Mendelewitz, Brian Santiago, Anya Shannon and Connie Yun. — Julia Wilson
Cissna Park
On Friday, the office staff dressed up to bring Christmas cheer. Pictured: Mrs. Clauss (Barb Rust) and her elf friend (Abby Petry). — Abbi Kaeb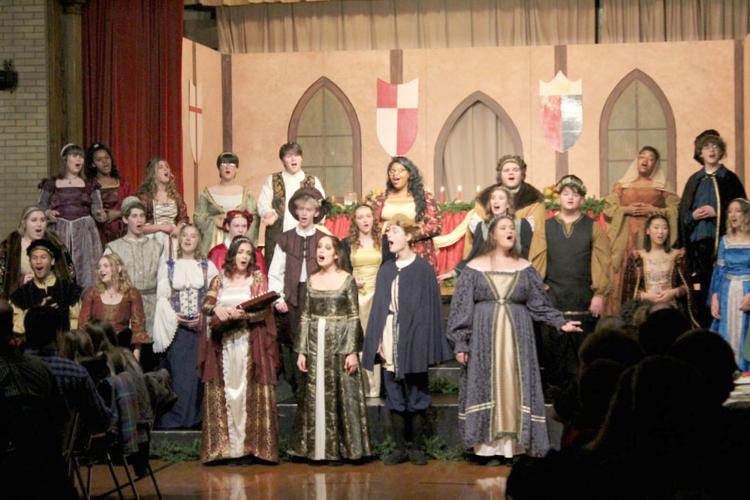 Danville
Madrigals held their annual dinner for the community, which showed up in droves and enjoyed the show. — Leilani Islam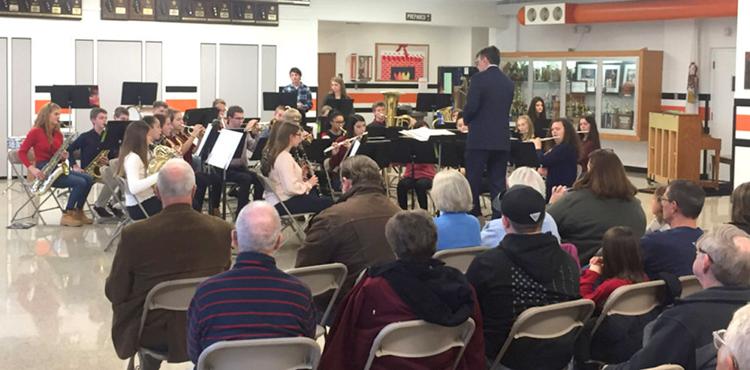 Fisher
Band and chorus students performed at their annual Christmas concert, getting the audience in the spirit. — Sidney Sievers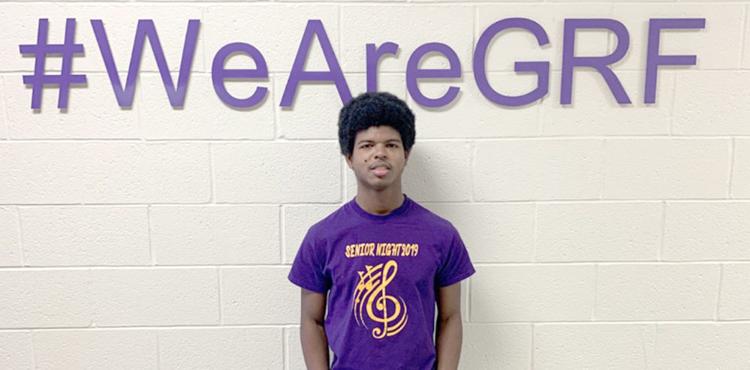 Georgetown-Ridge Farm
Marrico Jackson earned All-Vermilion Valley Conference and All- Vermilion County in soccer. — Chelby Hall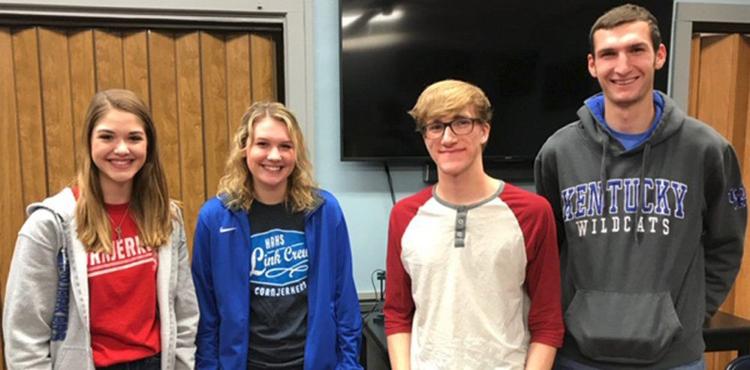 Hoopeston Area
Erin Anderson, Sadie Drayer, Sam Hudson and Lucas Hofer were chosen as DARE Role Models, participating in a question-and-answer quorum with fifth-graders about high school and the consequences of using drugs. — Erin Anderson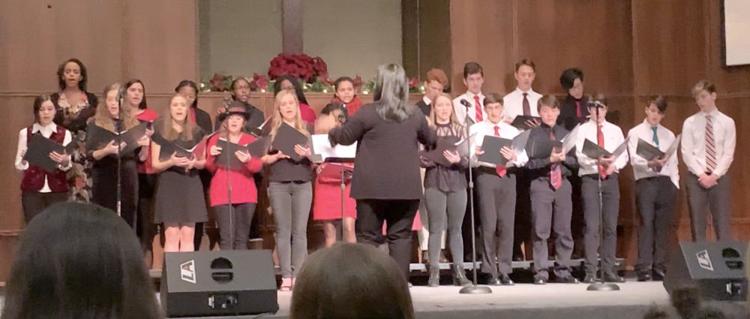 Judah Christian
Concert and jazz band, led by Ralph Whitsitt, and choir, led by Naro Anderson, performed Christmas music throughout the week after a semester of rehearsal. — Brayden Riesberg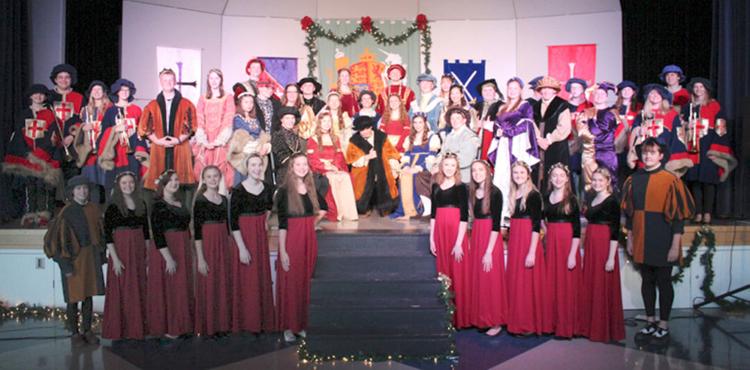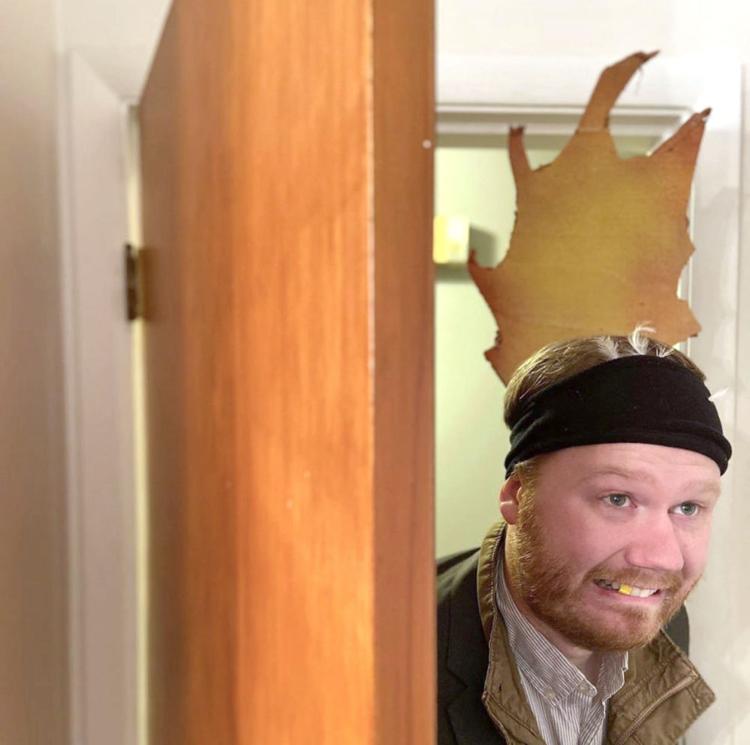 Monticello
The annual Madrigal dinners, made possible by hard-working students and staff, added to school spirit before Christmas break. Also, for Christmas Spirit Week, English teacher Casey Crowhurst dressed as Marv from "Home Alone" during Christmas character day. — Addison Wichus and Mary Ross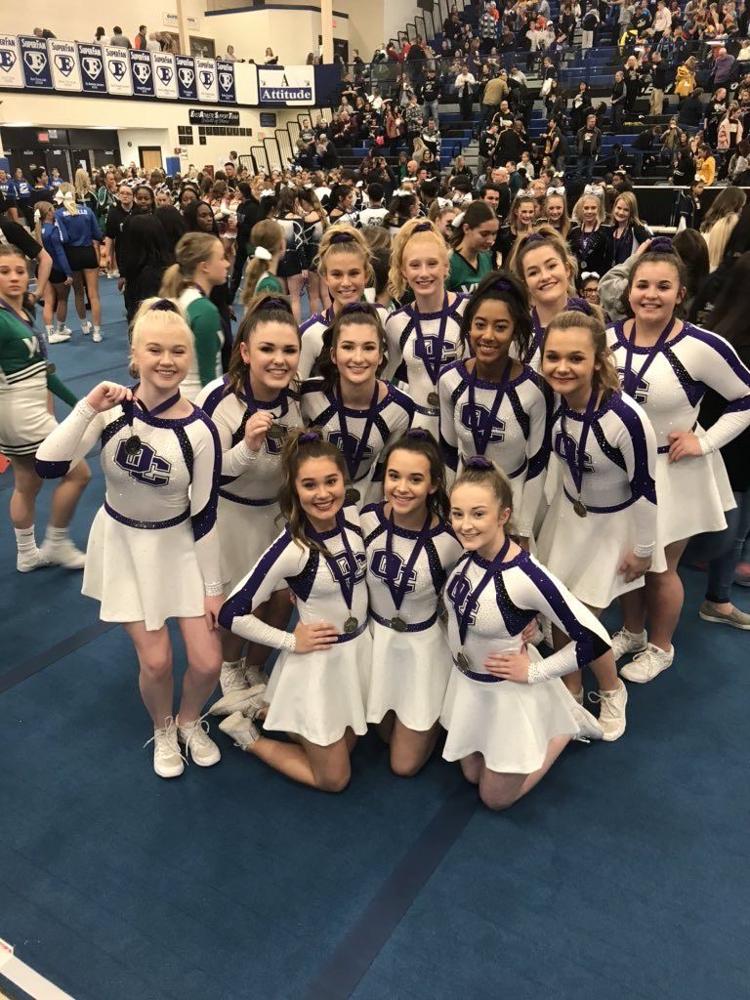 Oakwood
Comet Cheer placed first in Lincoln Way East's North Pole Invite on Saturday. — Maecii Barabas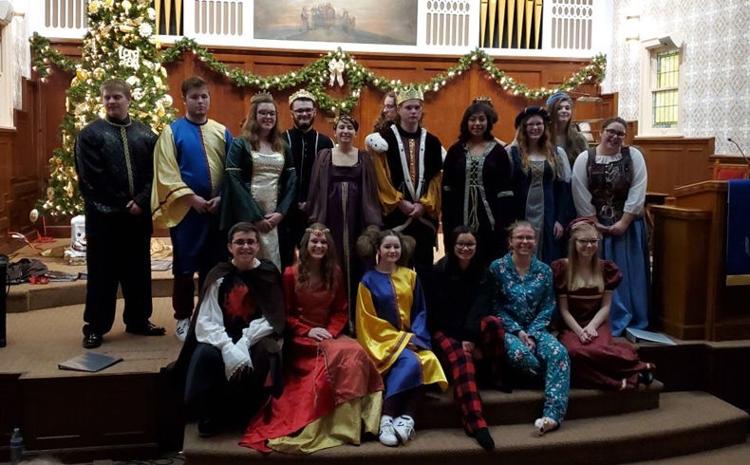 Paxton-Buckley-Loda
Madrigals held two performances, with scripts written by seniors Anna Wolken and Savanna Davis. The group was directed by Christina Mauck and featured a brass choir that included both teachers and students. — Emma Schuler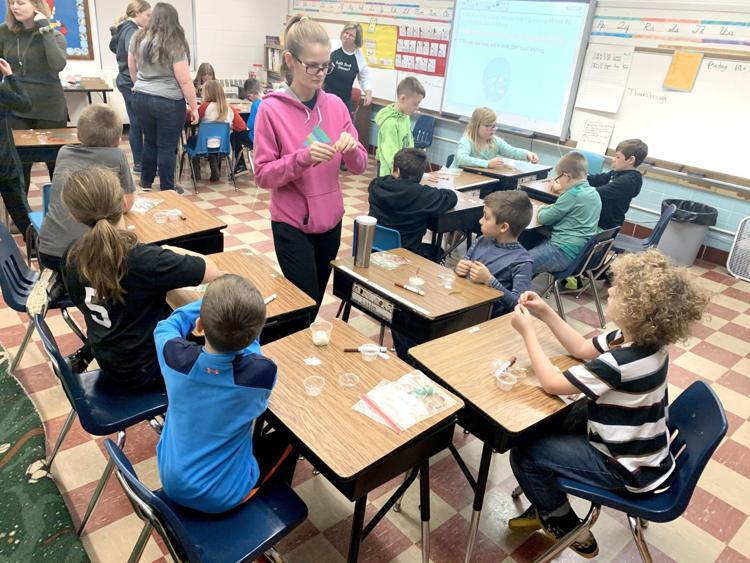 Salt Fork
Craft Club visited Salt Fork North Elementary and presented crafts to third-grade classrooms. — Autumn Lange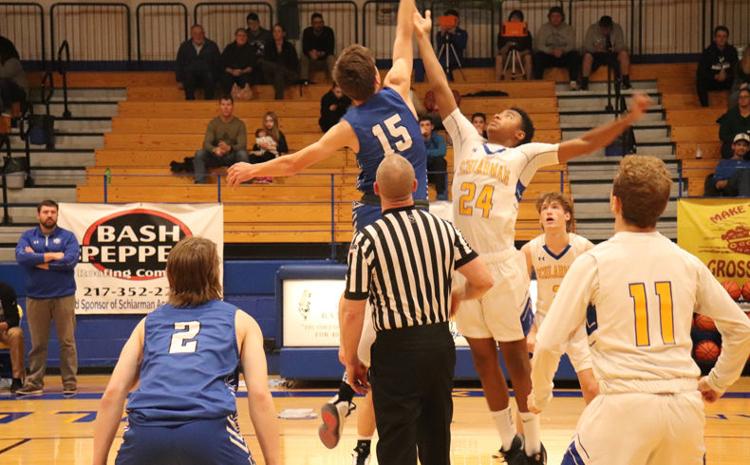 Schlarman
The boys' basketball team has been generating excitement. Said senior Cole Carnahan: "It's been a learning experience. With a new coach, we had to pick up on a new concept and new style of play, which I think we are finally starting to get comfortable with. Our team is starting to play for each other rather than for themselves which is going to help us in the future." — Farrah Anderson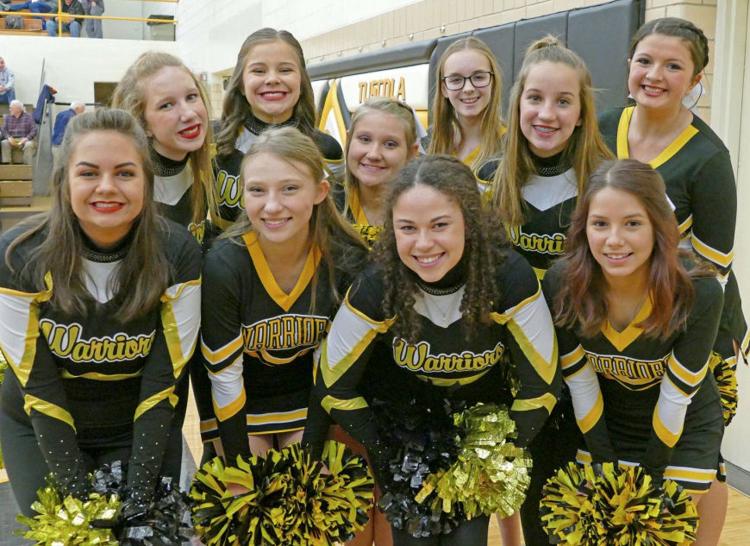 Tuscola
The Warriorettes and basketball cheerleaders posed for a picture before the boys' basketball game against Uni High: (back row from left) Skylar Wilkins, Addi Fowler, Chloe Lee, Makenna Long, Reggan Smith and Kali Pierce; (front row) Lauren Farley, Bryona Lee, Carli Stone and Alana Simms. — Emma Zimmer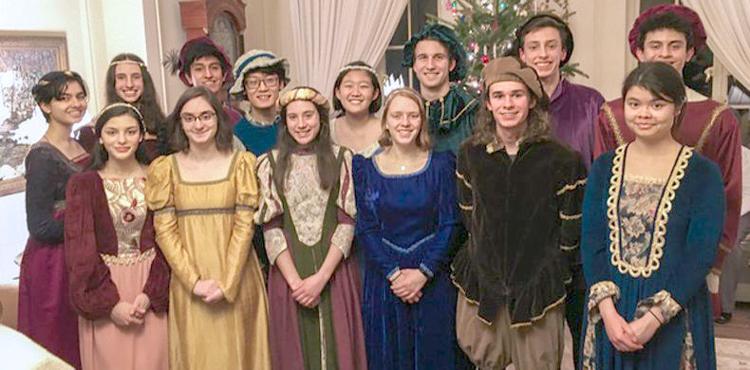 Uni High
On Saturday night, Uni's Spring Initiative club held a fundraising dinner at the MAS Community center in Urbana. Spring Initiative is based in Clarksdale, Miss., and helps underprivileged families in the community by providing after-school care and homework help. "An Evening with Spring Initiative" included dinner, musical performances from Uni students and Uni's Madrigals, a presentation from leaders of the club, and the opportunity to hear from some of the students from the program itself. Pictured: Uni High Madrigals (back row left to right) Roshan Perry, Charlotte Ebel, Mariano Herrera, Zhaohan Sun, Elisha Ham, Sam Atkinson, Henry Laufenberg, Ivan Favila (front row left to right) Eliza Terziev, Nika Cooper, Anya Kaplan-Hartnett, Elizabeth Rienstra, Ethan Ashbrook and Emi Loucks. — Erin Minor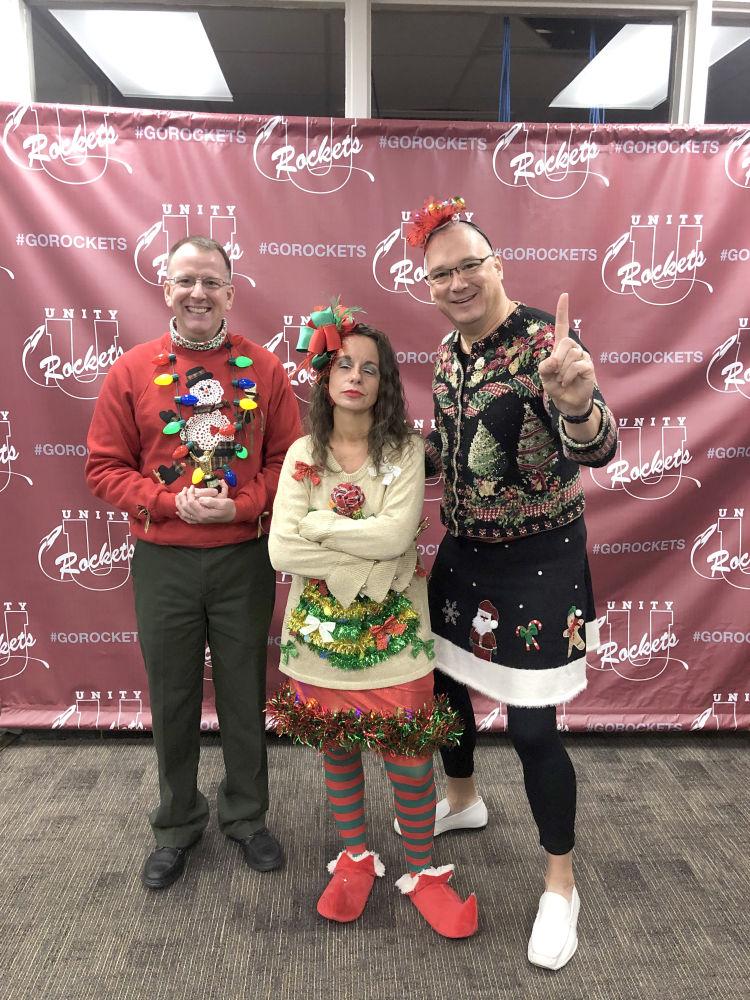 Unity
On Dec. 13, teachers wore the most outgoing and crazy Christmas gear for student class officers to vote on. Dave Fink placed first with Jennifer Meyer and Michel Stringer following close behind. Pictured: Stringer, Meyer and Fink. — Kim Pruetting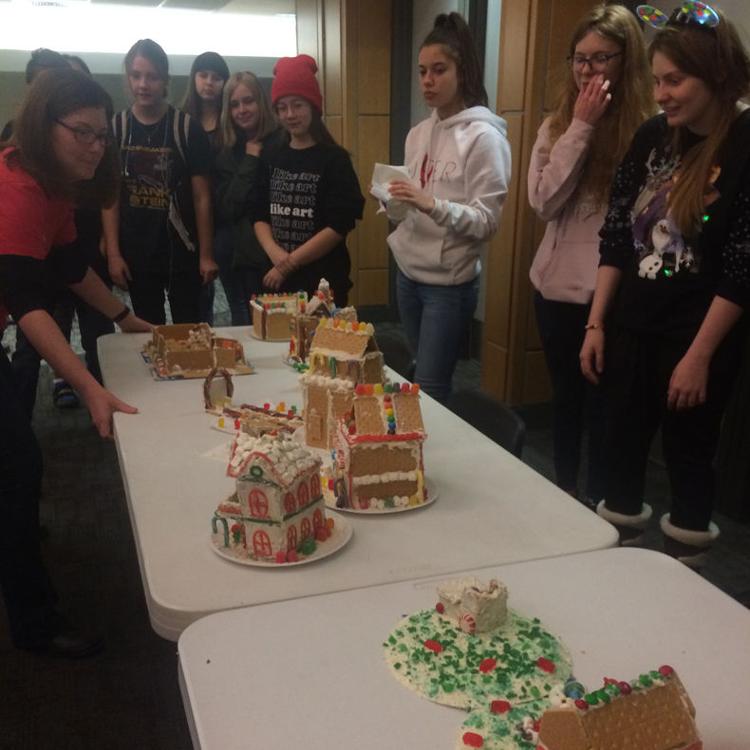 Urbana
Students in German classes participated in their yearly gingerbread house building competition on Friday after school. There were over 40 students on 11 different teams, each with their own creative design. — Molly Sweeney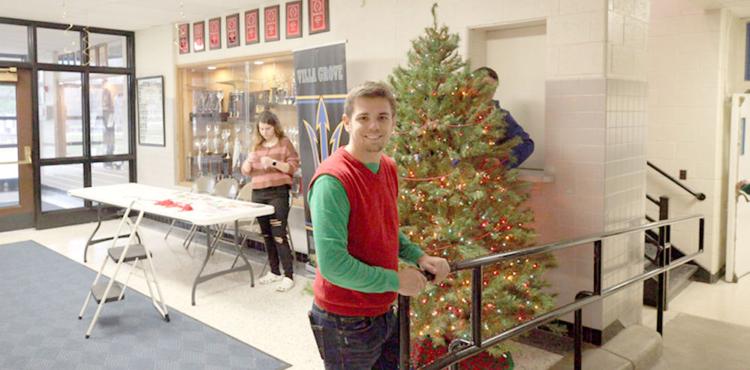 Villa Grove
Blake Swan, with help from students, has been spreading Christmas spirit by decorating the halls. There are more than a dozen Christmas trees in the building. — Grace Hutchison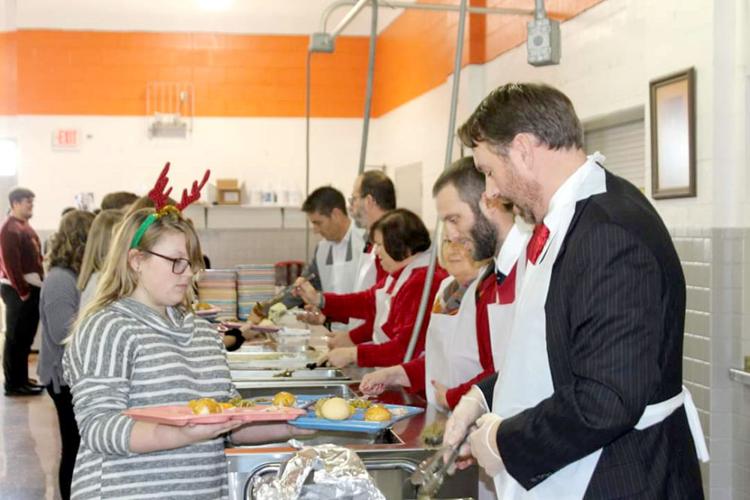 Westville
The school's annual Senior Citizens Dinner was put on by members of student council and Art Club, who brought food, drinks and presents to the table while school board members served food cooked by lunch staff. Art Club handed out awards for oldest male and female, too. — Emma Myers