2019-20 High School Confidential: Week 22
Welcome to Year 4 of High School Confidential, an award-winning project made possible by aspiring student journalists from every corner of our circulation area. Each Wednesday through May, they'll tell us what's happening in their hallways at news-gazette.com.
Once a week, we'll hand over our Snapchat account (News-Gazette) to our correspondents for behind-the-scenes tours.
This year's crew:
Academy - Megan Wiarda
ALAH - Kaylee Yeakel
Arcola - Patty Rodriguez
Armstrong-Potomac - Emily Rogers
Bement - Braden Fogerson
BHRA - Gabe Martinez 
Blue Ridge - Kalyn Warner
Centennial - Hailey Choi
Central - Julia Wilson
Chrisman - Lindsey Franz
Cissna Park - Abbi Kaeb
Danville - Leilani Islam
DeLand-Weldon - Tori Billingsley
Fisher - Sidney Sievers
G-RF - Chelby Hall
GCMS - Sierra Hileman
Heritage - Lynnae Struck
Hoopeston - Erin Anderson
Judah Christian - Brayden Riesberg
Mahomet-Seymour  - Kate Cramer
Milford - Tiffany Schroeder
Monticello - Addison Wichus
Monticello - Mary Grace Ross
Oakwood - Maecii Barabas
PBL - Emma Schuler
Rantoul - Veronica Duddleston
St. Joseph-Ogden - Mallory Ames
St. Thomas More - Noelle Schacht
Salt Fork - Autumn Lange
Schlarman - Farrah Anderson
Tuscola - Emma Zimmer
Uni High - Erin Minor 
Unity - Kimberly Pruetting
Urbana - Molly Sweeney 
Villa Grove - Grace Hutchison
Westville - Emma Myers
On to this week's report: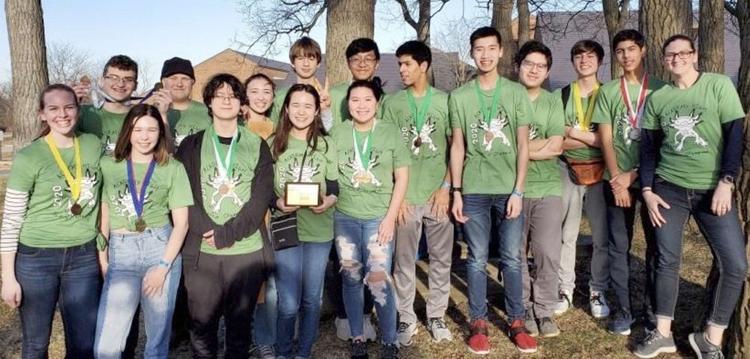 Academy
At last weekend's regional Science Olympiad competition, Academy placed fourth and advanced to state at the UI. Pictured (left to right); Briana Ballard, Nik Gritten, Colette Tichenor, Evan Hill, Elliott Emswiler, Cassie Colmenares, Grace Kahler, Caden Green, Megan Wiarda, William Ding, Shashank Hirani, Jack Wiarda, Joey Kim, Joey Giuliani, Mayank Hirani and Natasha Capell. Natasha Capell coaches of the team. — Megan Wiarda

ALAH
Drama Club was to present "The Incomplete Life and Random Death of Molly Denholtz" on March 14-15. — Kaylee Yeakel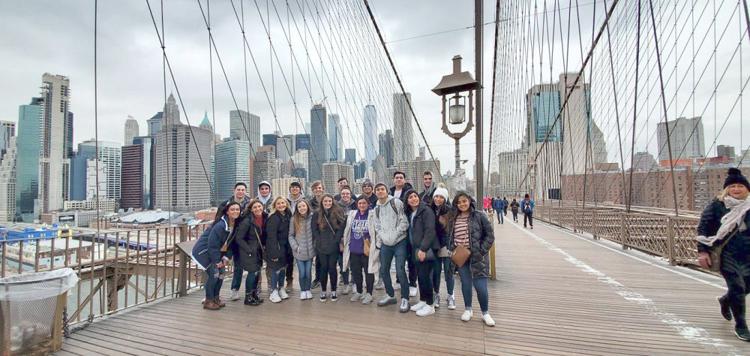 Arcola
Backed by funds raised at January's Rock-O-Thon at Arcola High School, America Field Service Club seniors last weekend visited New York City. Accompanied by Principal Lisa Sigrist and teacher/organizer Emily Coombe, the Purple Riders walked more than 35 miles seeing the sites, including Grand Central Station, St. Patrick's Cathedral, Radio City Music Hall, Wall Street, the Statue of Liberty, the Brooklyn Bridge (above) and the 9/11 Memorial Museum. Pictured: (back row) Austin Hopkins, Ben Crane, Pedro Gauna, Braedyn Edwards, Jordan Melton, Ivan Franco, Hugo Garza and Jacob Butler; (front row) Cynthia Galvan, Taylor Spelman, Aileen Acosta, Lyssa Madlem, Chloe Ingram, Jersey Rodriguez, Erika Vandeveer, Diego Perez, Astrid Obregon and Patty Rodriguez. — Patty Rodriguez
Armstrong
Future Farmers of American club held its third annual auction. Vice president Katelyn Luecke said: "It was a good turnout, we had a lot of good items that we were auctioned off and we had a lot of help to make it run smoothly." — Emily Rogers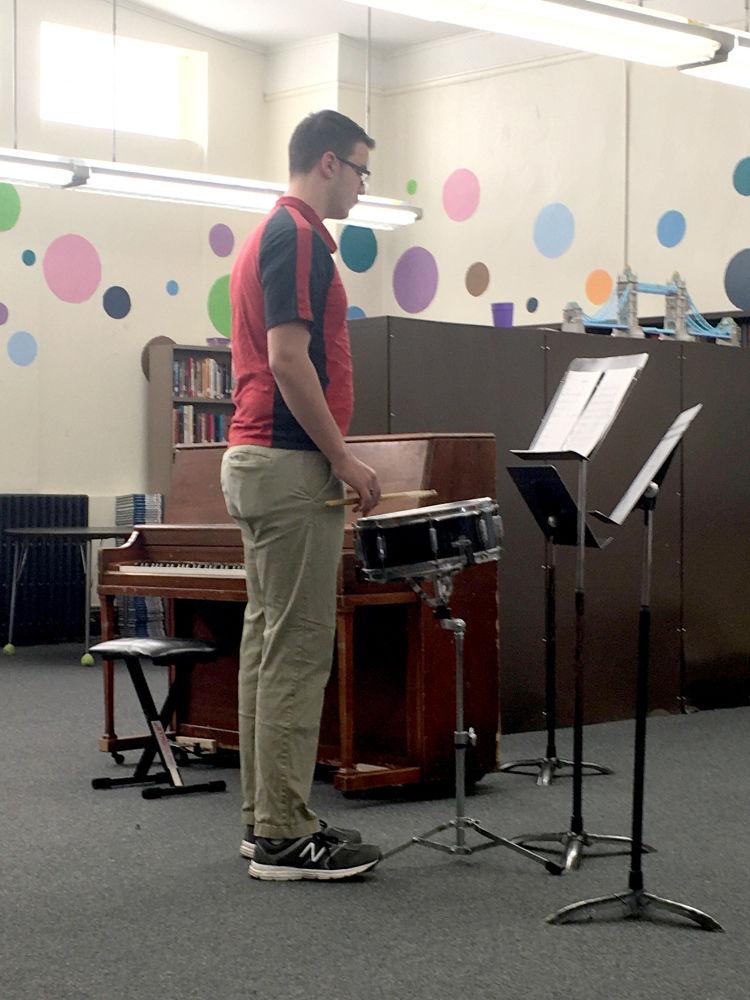 Bement
John Watzlawick reads his music while performing at Bement's Solo & Ensemble. — Braden Fogerson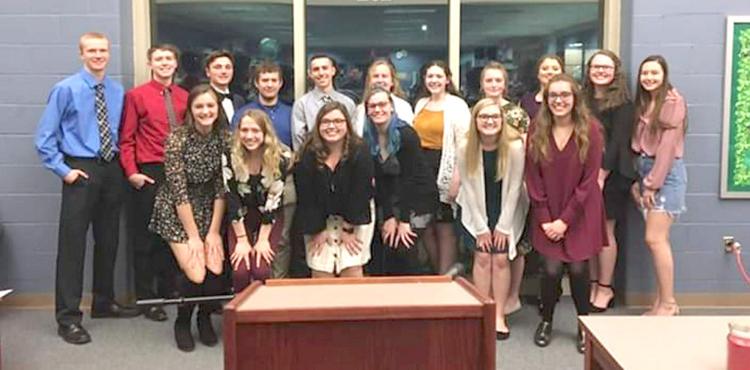 Blue Ridge
New members of the National Honor Society were inducted. Pictured left to right: (bottom row) Meah Carter, Madi Houser, Katie Cole, Brittney Meier, Kalyn Warner and Josephine Aldrich; (top row) Jaton Shaffer, Zach Stephens, Brenden Flannell, Ben Potter, Cole Stephens, Abby Bolen, Lindsey Quinn, Katie Bowns, Jensen Eliason, Paige Bolen and Kaitlyn Bradford. — Kalyn Warner

Centennial
Choir hosted a concert to celebrate Black History Month. Pictured: participating students closing by singing "Lift Every Voice and Sing." — Hailey Choi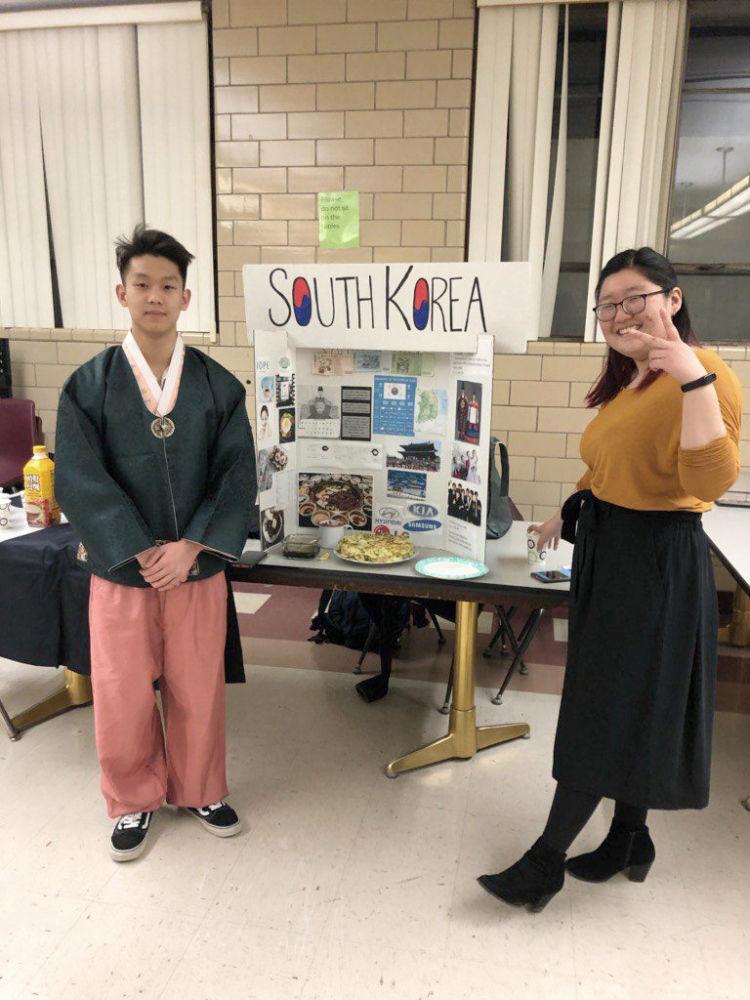 Champaign Central
Interact Club held its annual International Night. Pictured: Davin Yoo and Connie Yun representing their South Korean heritage. — Julia Wilson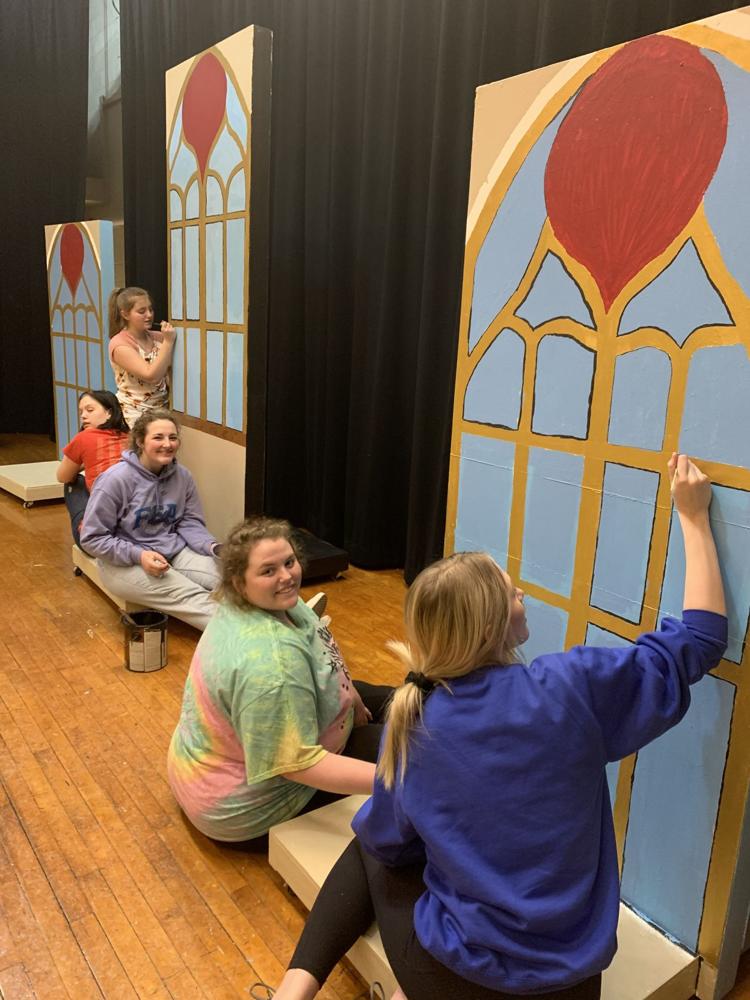 Chrisman
Theatre members (Autumn Baker, Emma Nelson) and students (Alexis Lewsader, Abbey Mattingly, Ashley Francis) paint the scenes for the upcoming show "The Little Mermaid" on March 20-22. — Lindsey Franz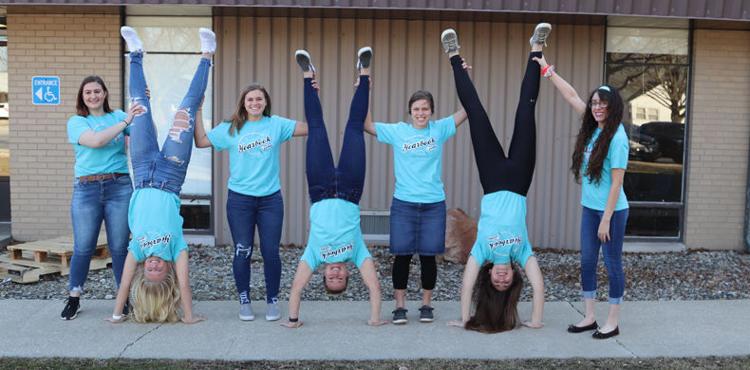 Cissna Park
The yearbook class got creative with its annual group picture: Allison Wessels, Kristen Walder, Audrey Kaeb, Gail Lober, Abbi Kaeb, Emma Morrical and Bridgette Beltran. — Abbi Kaeb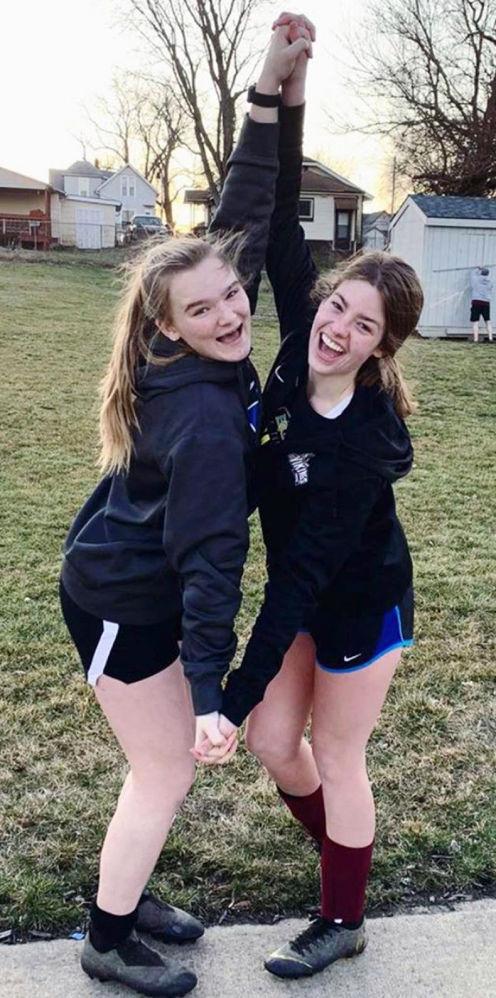 Danville
The girs' soccer team, including Emma Towne and Kedzie Griffin, kicked off practice last week. — Leilani Islam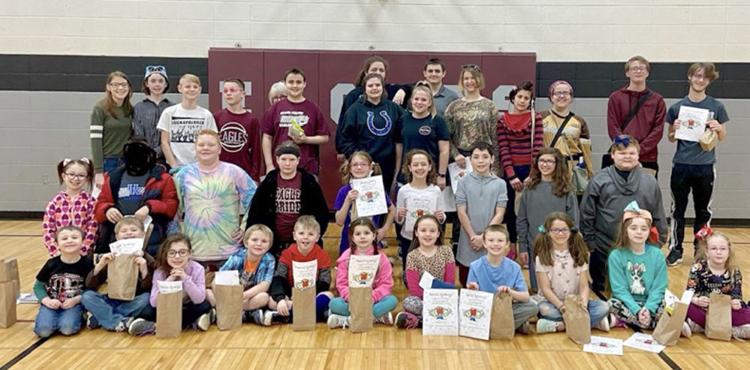 DeLand-Weldon
The school's annual read-a-thon competition (pre-K through 12th grade) saw students rewarded prizes for minutes and pages read. — Tori Billingsley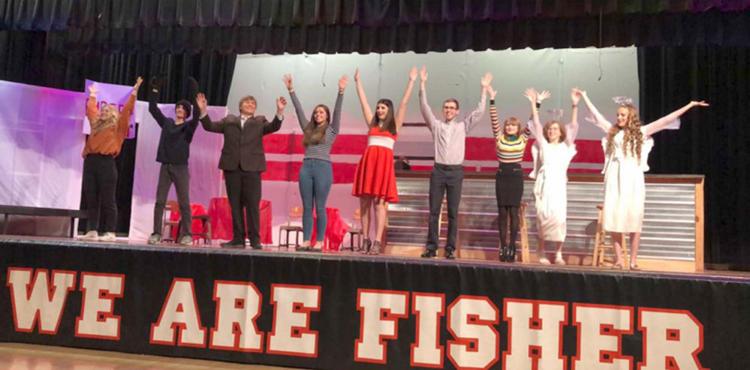 Fisher
The annual high school play, "Burgertown," was directed by Kathy Brake, her last after 38 years. Pictured: Katie Landers, Bradon Eby, Jacob Reynolds, Isabella Smith-Fawver, Lauren Jackson, Bradley Grieser, Britney Shafer, Ashlyn Powell and Jenna Clemmons. — Sidney Sievers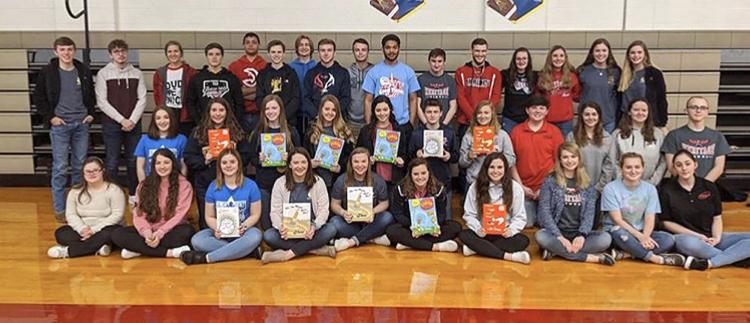 Heritage
Students visited elementary students to celebrate Read Across America for Dr. Seuss' birthday. They prepared lessons, brought snacks and read books. — Lynnae Struck

Hoopeston Area
The Varsity Scholastic Bowl team won the Vermilion County tournament. Pictured: Emily Ray, Josephine Vines, Brianna Burton, Linnea Chase, Kolin Dugle and Skyler Morgan. — Erin Anderson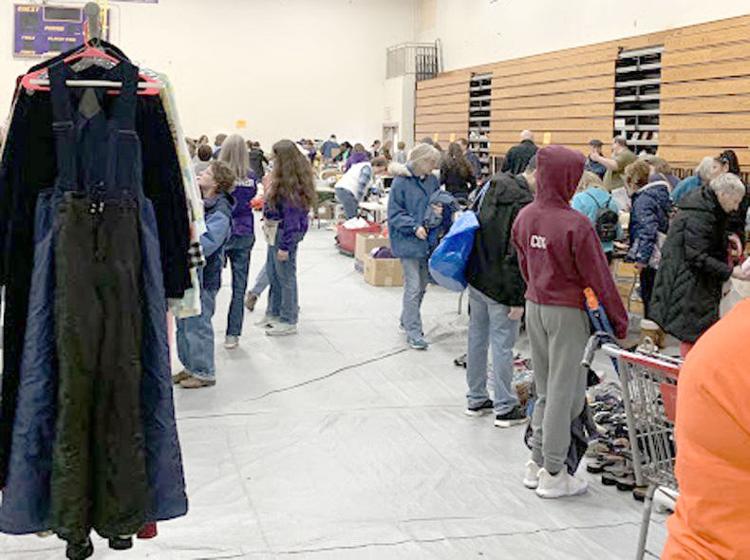 Judah Christian
The senior sale, led by Magaly Rogers, helped raise money for the senior class trip to Puerto Rico, which begins March 25. — Brayden Riesberg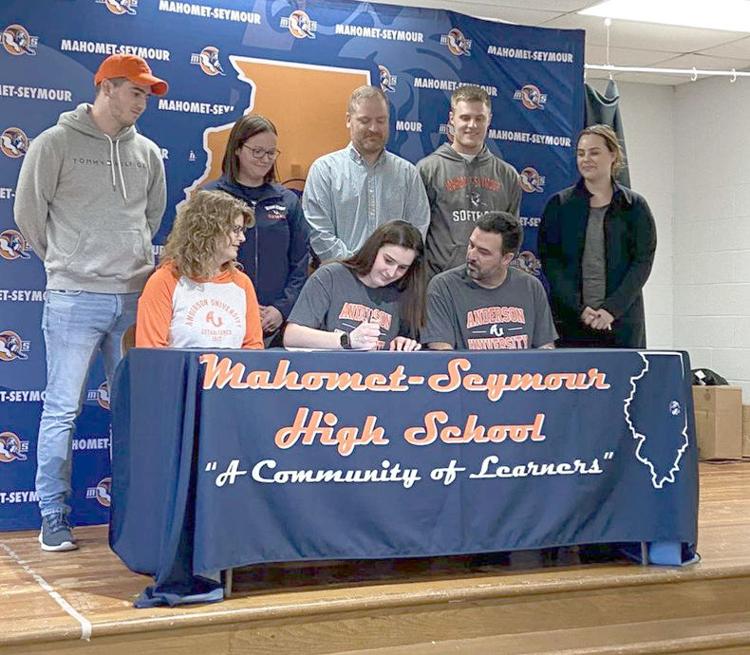 Mahomet-Seymour
Senior Ashley Wheeler had a signing ceremony where she committed to Anderson University to play softball. — Kate Cramer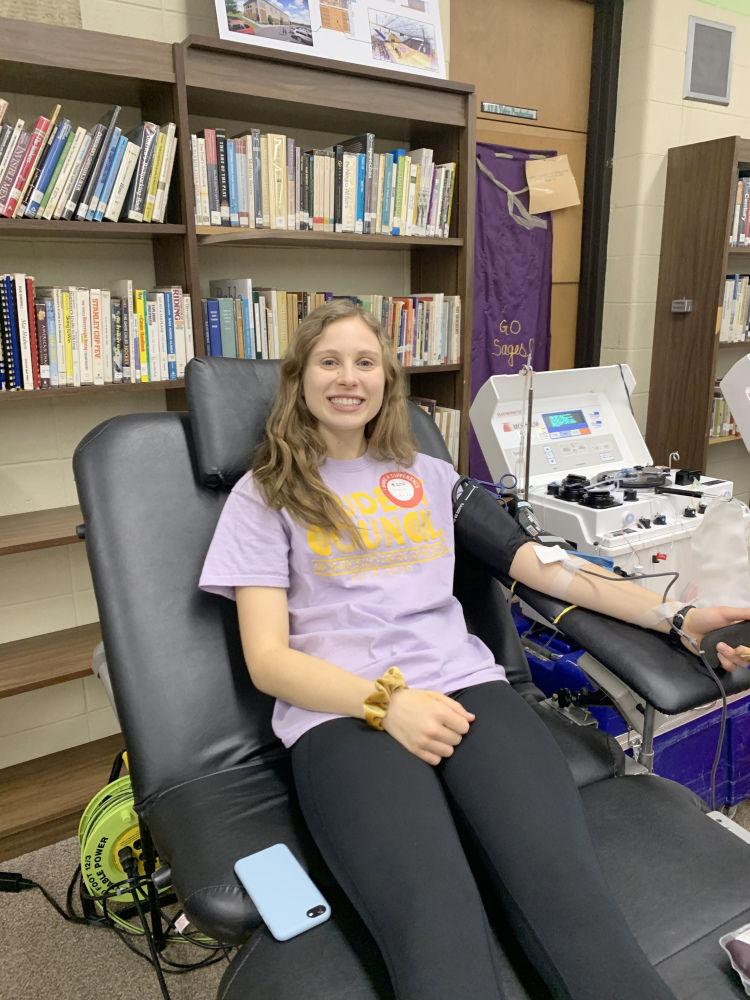 Monticello
Monticello held its annual blood drive for students, many volunteering to help save lives. Pictured: senior Grace O'Brien. — Addison Wichus
Paxton-Buckley-Loda
The unbeaten varsity Scholastic Bowl team won the Sangamon Valley Conference tournament. The junior varsity team also is unbeaten in conference play. Pictured: (front row) Kirsten Jensen, Landon Wilson, Christina White, Zoe Butzow and Reese SanDiego; (second row) coach Amanda Dunlavey, Benjamin Busby, Paul Cleary, Tate Graham and coach David Shellhamer. — Emma Schuler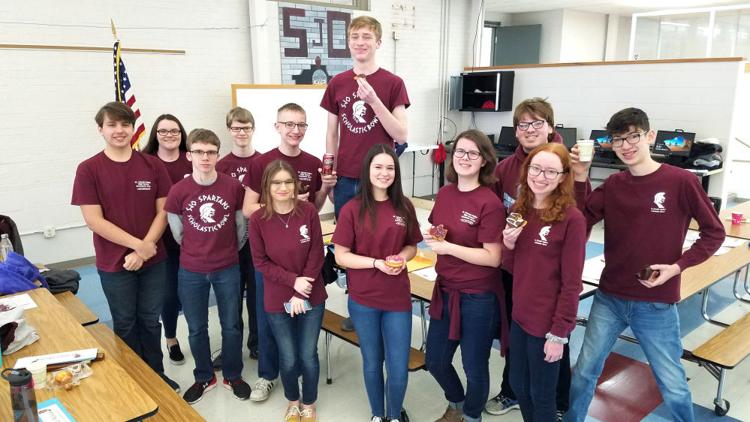 St. Joseph-Ogden
The varsity Scholastic Bowl team finished third in the Masonic Tournament and fourth at conference. The team is coached by Marshall Schacht and Jeff Kieffer. Pictured: (front row) Kyle Meccoli, Nick Bensyl, Mariska Harshbarger, Vania Kaenzig, Erica Guelfi, Jenna Schaefer and Bradley Harrison; (back row) Rachel Wilson, Kendall Ayers, Ben Cunningham, Ethan Hinrichs and Gunnar Olson. — Mallory Ames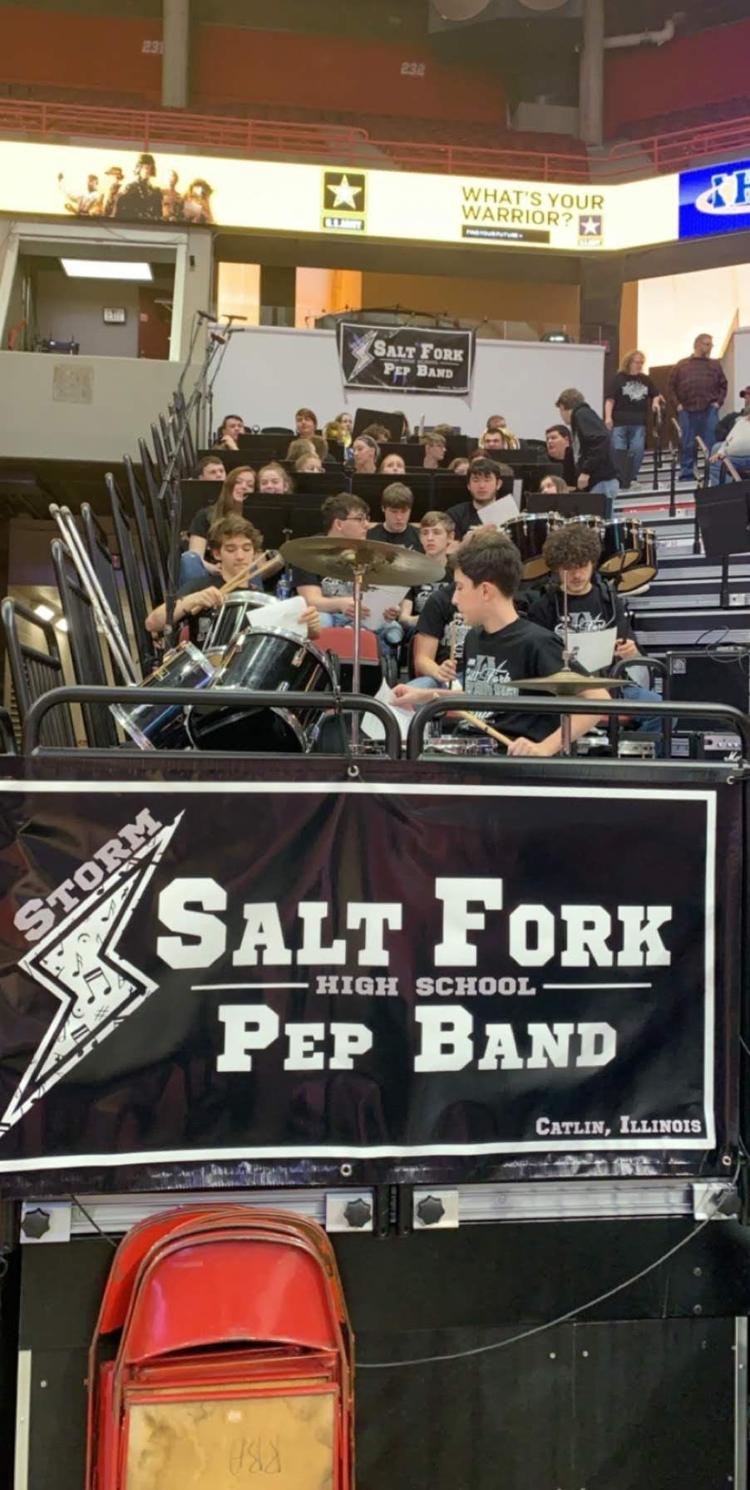 Salt Fork
The pep band performed at the IHSA girls' Class 3A/4A state finals on Friday. The Storm was selected after sending in a video. — Autumn Lange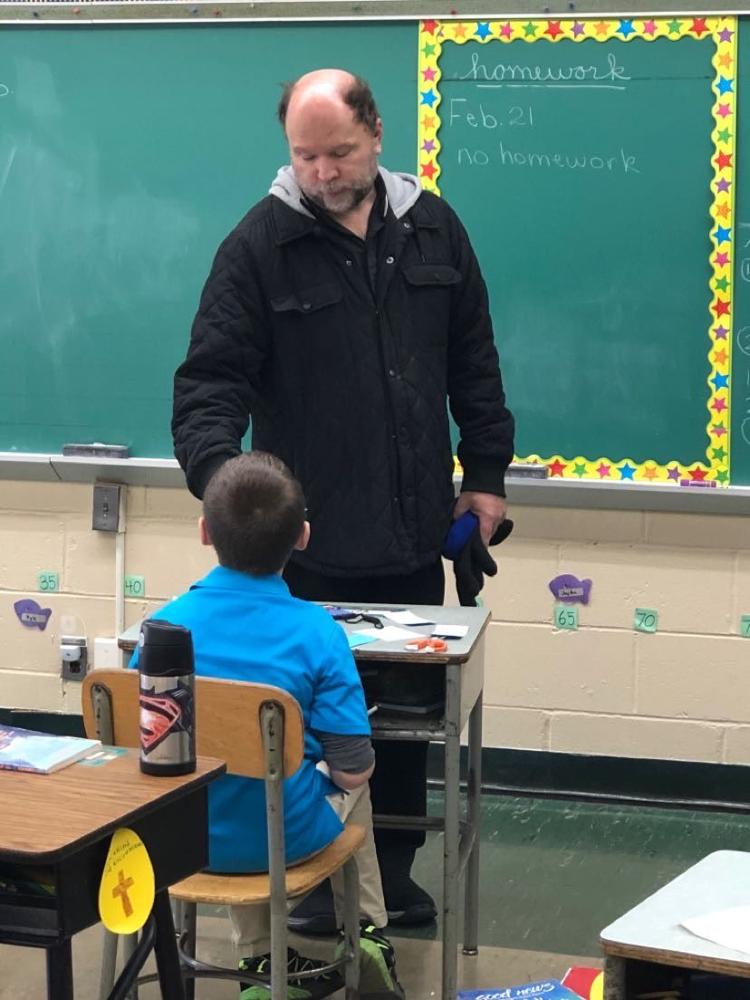 Schlarman
Chaplain Father Bowan Schmitt has been present in classes throughout the year, leading lecture and all-school masses and recently holding Stations of the Cross during Lent with North Campus classes. — Farrah Anderson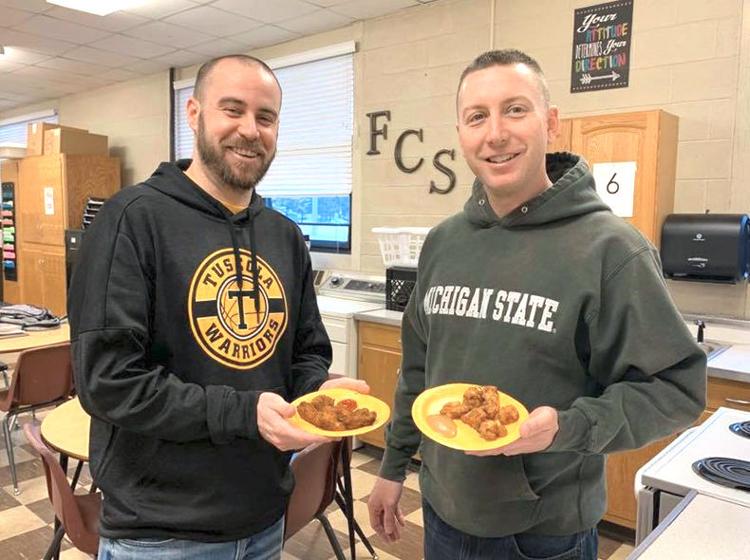 Tuscola
Foods & Nutrition II class had a competition: who could make the best chicken nuggets. Athletic director Ryan Hornaday (right) and guidance counselor Justin Bozarth (left) were celebrity judges. — Emma Zimmer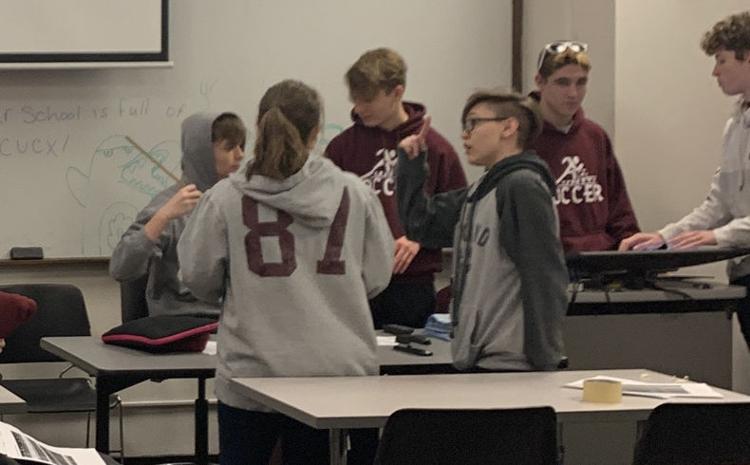 Unity
On March 7, the Science Olympiad team — led by chemistry teacher Stacie Cler — competed at the regional competition at Parkland College. Pictured left to right: Paul Wilson, Isabel Bryant, Andrew Miller, Shay Clem, Korie Novak and Skylar Young. — Kim Pruetting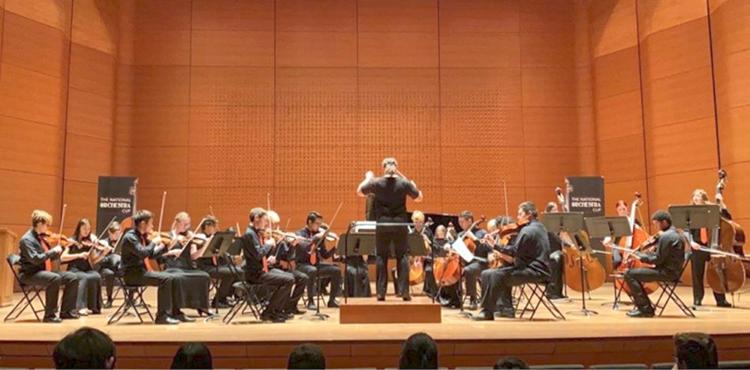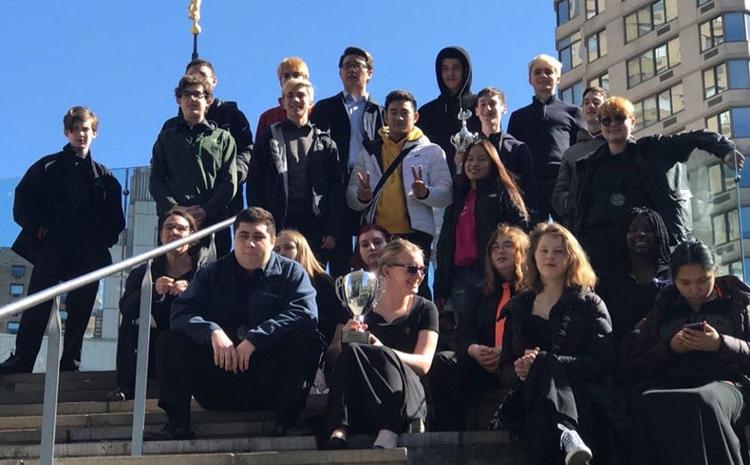 Urbana
Orchestra traveled to New York to perform in the National Orchestra Championship. Pianist Jacob Hankin won a trophy for best solo performance. During the trip, students visited the Metropolitan Museum of Art and took in a concert at Carnegie Hall among other culturally enriching experiences. — Molly Sweeney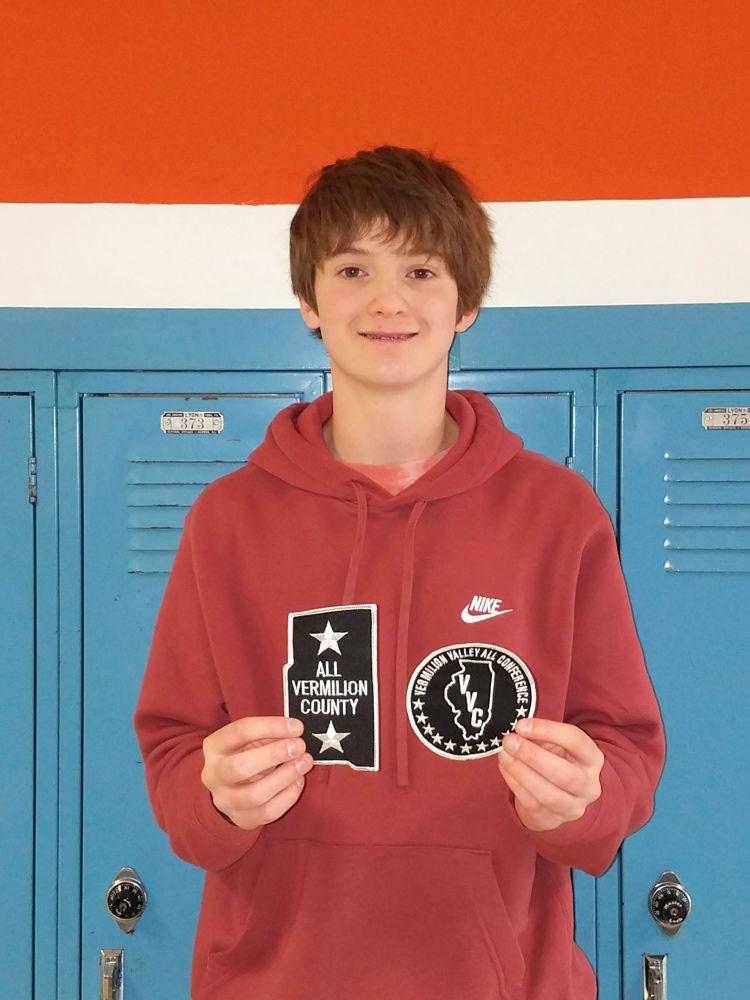 Westville
Deserving of more recognition: Jack Duensing, who plays baseball and golf and excels in academics. This Scholastic Bowl season, he was named all-county and all-conference. — Emma Myers