2019-20 High School Confidential: Week 4
Welcome to Year 4 of High School Confidential, an award-winning project made possible by aspiring student journalists from every corner of our circulation area. Each Wednesday through May, they'll tell us what's happening in their hallways at news-gazette.com.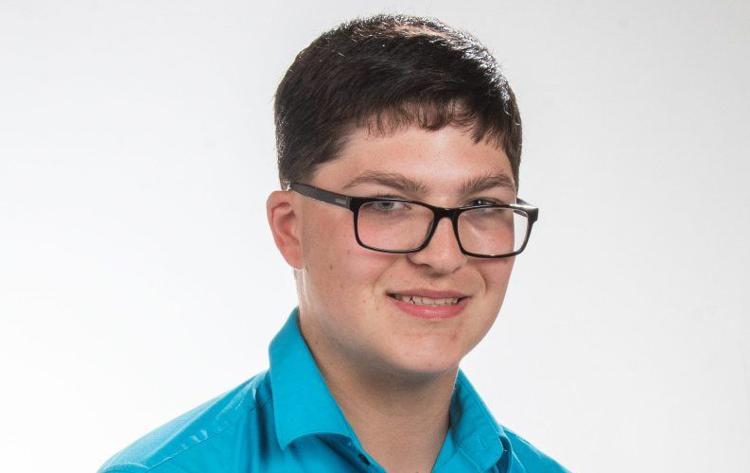 Once a week, we'll hand over our Snapchat account (News-Gazette) to our correspondents for behind-the-scenes tours.
On Thursday, Bement senior Braden Fogerson (Snapchat: bfogerson32; Twitter: @bfogerson32; Instagram: @bfogerson32) will take us behind the scenes at the tiny Piatt County school. Fogerson is involved in football, baseball, marching band, Math Club, Scholastic Bowl, student council and Family, Career and Community Leaders of America.
On to this year's panelists:
Academy - Megan Wiarda
ALAH - Kenli Nettles
Arcola - Patty Rodriguez
Armstrong-Potomac - Emily Rogers
Bement - Braden Fogerson
BHRA - Gabe Martinez 
Blue Ridge - Kalyn Warner
Centennial - Hailey Choi
Central - Julia Wilson
Chrisman - Addison Pickett
Cissna Park - Abbi Kaeb
Danville - Leilani Islam
DeLand-Weldon - Peyton Lappin
Fisher - Sidney Sievers
G-RF - Chelby Hall
GCMS - Sierra Hileman
Heritage - Lynnae Struck
Hoopeston - Erin Anderson
Judah Christian - Brayden Riesberg
Mahomet-Seymour  - Rachel Myers
Monticello - Addison Wichus
Monticello - Mary Grace Ross
Oakwood - Maecii Barabas
PBL - Emma Schuler
Rantoul - Veronica Duddleston
St. Joseph-Ogden - Mallory Ames
St. Thomas More - Noelle Schacht
Salt Fork - Autumn Lange
Schlarman - Farrah Anderson
Tuscola - Emma Zimmer
Uni High - Samaia Jones 
Uni High - Erin Minor 
Unity - Kimberly Pruetting
Urbana - Molly Sweeney 
Villa Grove - Grace Hutchison
Westville - Emma Myers
On to this week's report: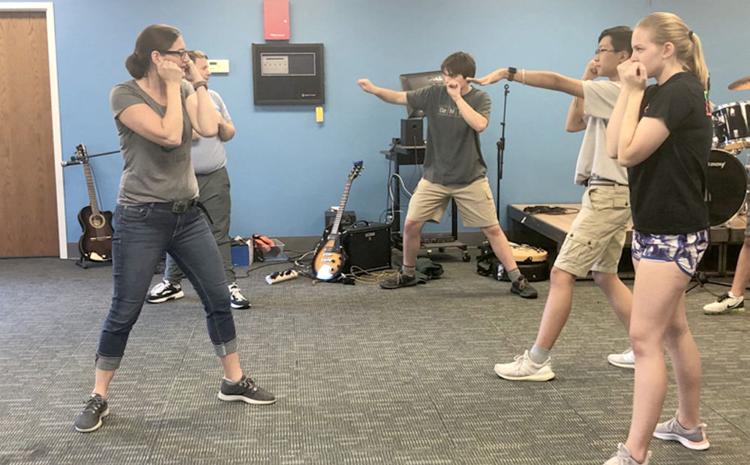 ACADEMY HIGH
Science teacher Natasha Capell displayed a variety of boxing moves recently as part of the school's physical education program. Pictured, from left, are Capell, Evan Hill, Max Harman, William Ding and Briana Ballard. — Megan Wiarda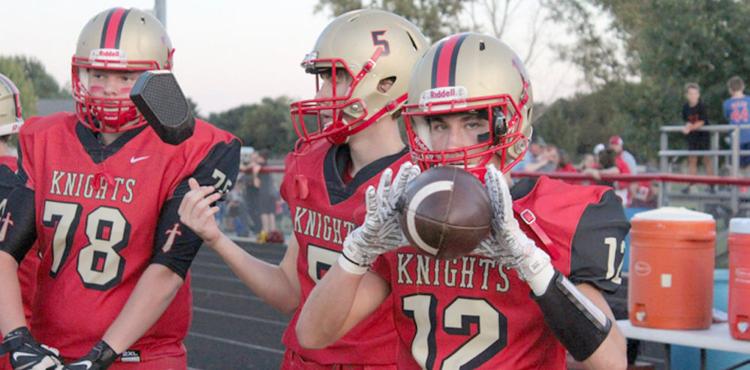 ALAH
The football team — 5-2 after beating Sangamon Valley — became playoff eligible for the first time since 2014. —Kenli Nettles

ARCOLA
The marching band received Best Percussion and second place overall at a competition at Eastern Illinois University. — Patty Rodriguez
BEMENT
Emma Fuqua was the recipient of September's Student of the Month. The award was presented by Ken Wright, president of the State Bank of Bement. — Braden Fogerson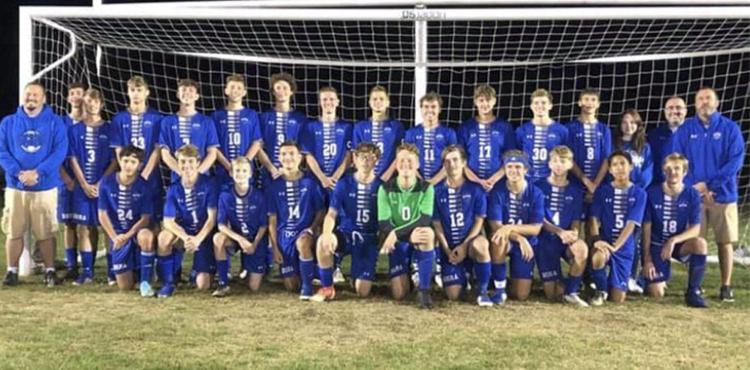 BHRA
Boys' soccer went undefeated in the regular season for the first time in school history. — Gabe Martinez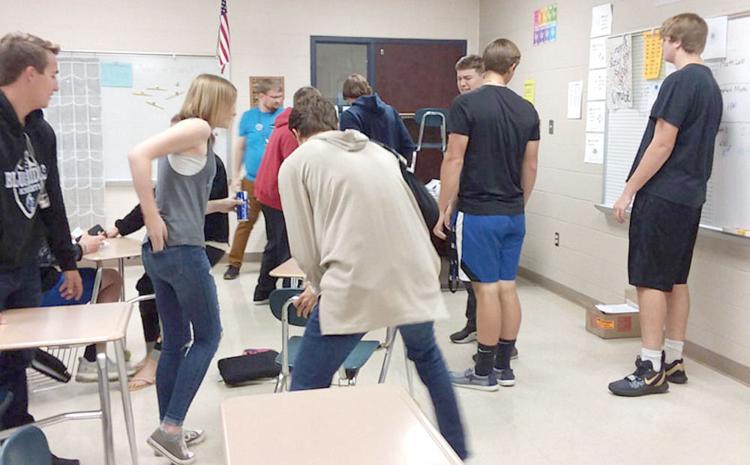 BLUE RIDGE
Marcus Minteer's math class barricaded the door as part of a districtwide lockdown drill. Also, the soccer team advanced to regionals, and the junior varsity volleyball team won a tournament in Rantoul. — Kalyn Warner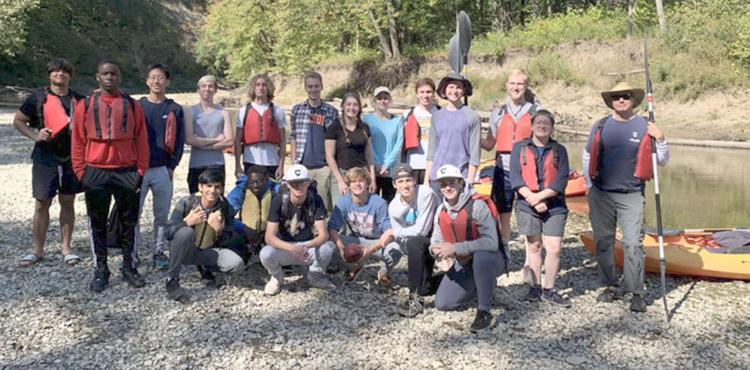 CENTENNIAL
Students in Roberta Pruski's Dynamic Earth Science class visited Kickapoo State Recreation Area, kayaking and learning about the nature in the park. — Hailey Choi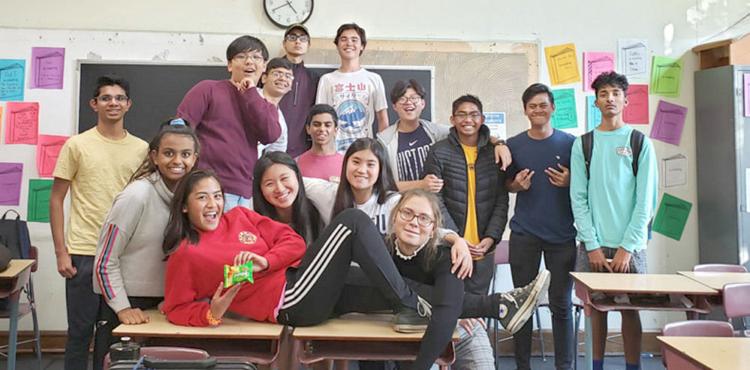 CHAMPAIGN CENTRAL
Last Wednesday, the Asian American Association held its annual trivia night for students and staff. — Julia Wilson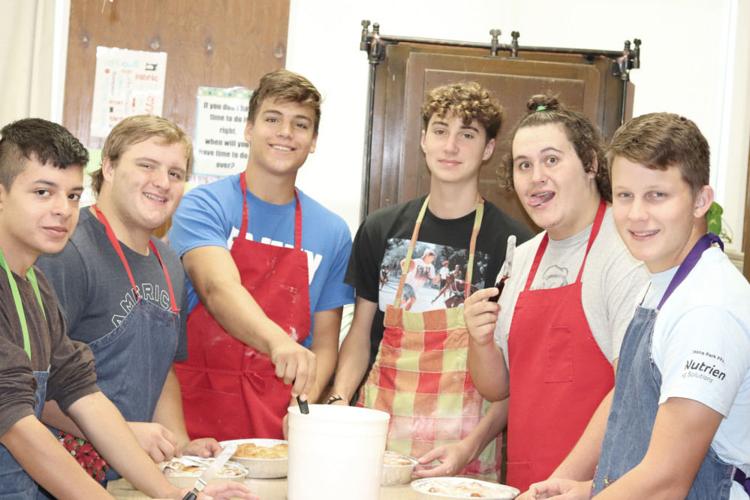 CISSNA PARK
On Thursday, students pitched in to help the FCCLA make 1,500 cinnamon rolls. Pictured are Mark Christensen, Theran Blanck, Penn Stoller, Gavin Speirs, Rudy King and Will Petry. — Abbi Kaeb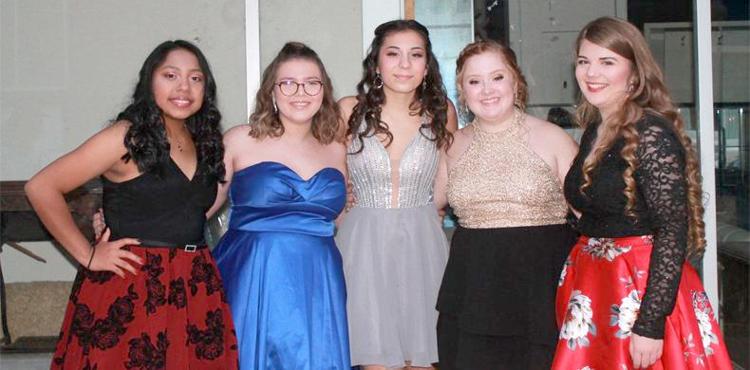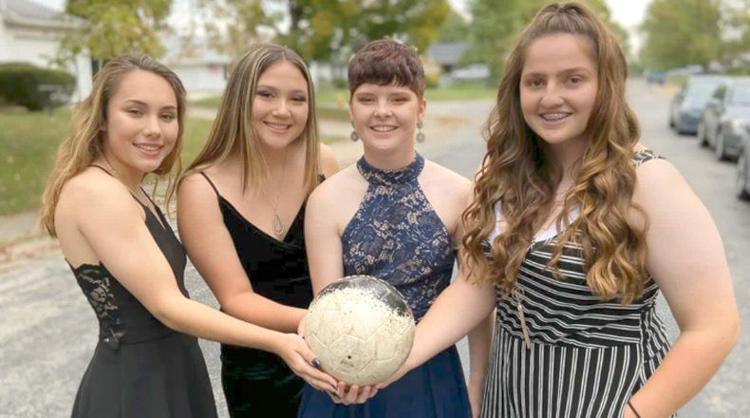 DANVILLE
The homecoming's theme was Traveling Through Time. Pictured, from left, are Roselyn Ramos, Kinslee Beaular, Kenzie Wells, Ellie Bergeron and Madison McMasters. Also pictured, from left, are Brooklyn Kinozechi, Leilani Islam, Kenzie Heeren and Makenna Champion. — Leilani Islam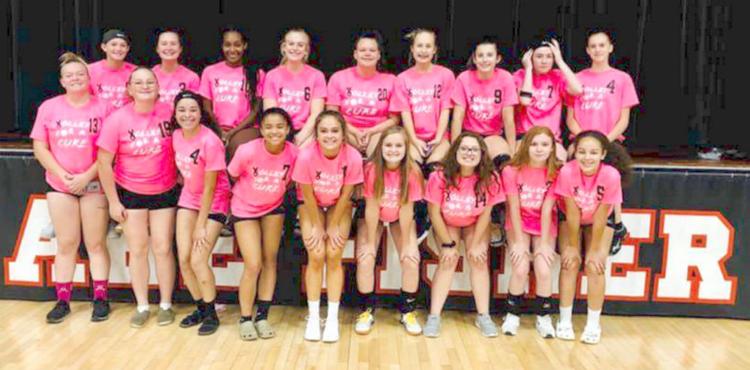 FISHER
The volleyball team raised more than $400 for the Mills Breast Cancer Institute at its annual pink night. Pictured, at top, from left, are Kallie Evans, Riley Parks, Zoey Thompson, Katie Landers, Ashley Smith, Ella Harseim, Lauren Jackson, Cassandra Marry and Abby Jokisch; and front, from left, Leah McCoy, Latea Kottusch, Jaedyn Fitzgerald, Makynzee Theis, Kylee Bishop, Kloe Bishop, Lily Theis, Katrina Phelps and Jordan Fitzgerald. — Sidney Sievers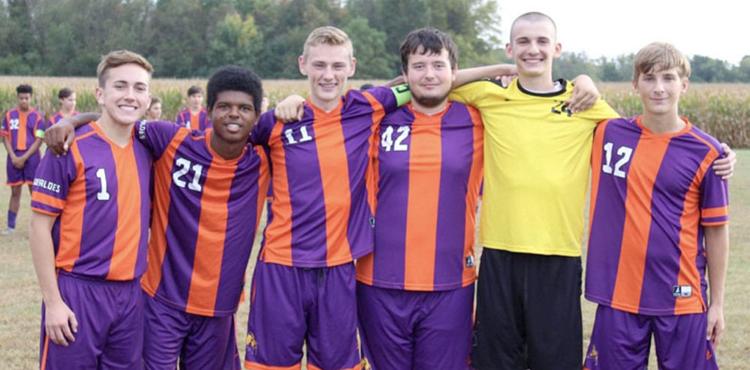 GEORGETOWN-RIDGE FARM
The co-op soccer team (with Westville) celebrated Senior Night. Pictured, from left, are Braeden Woods, Marrico Jackson, Hudson Lenhart, James Mattingly, Isaac Hughes and Garrett Ellis. — Chelby Hall

GCMS
The football game was a Pink Out to support Breast Cancer Awareness Month. The cheerleaders also held a camp for girls in the community to cheer at halftime. Pictured, from left, are Lauren Leonard, Peyton Leonard, Karleigh Kietzman, Karah Jones, Ashlyn Allemand, Bella Amburgey, Keegan Brucker, Sarah Koss, Karson Davis, Emma Reynolds, Olivia Johnson, Anneliese Kerchenfaut, Sarah Zeigler and Bailey Halcomb. — Sierra Hileman
HERITAGE
The senior civics class participated in a Service Learning Project, working together to make improvements in the community and at the school. The projects included landscaping and painting at the park, as well as parking lot striping and marking at the school. — Lynnae Struck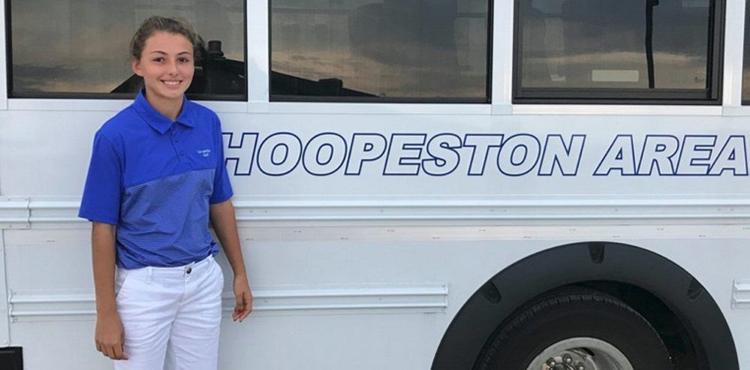 HOOPESTON AREA
Payton Armstrong advanced to sectionals in golf. — Erin Anderson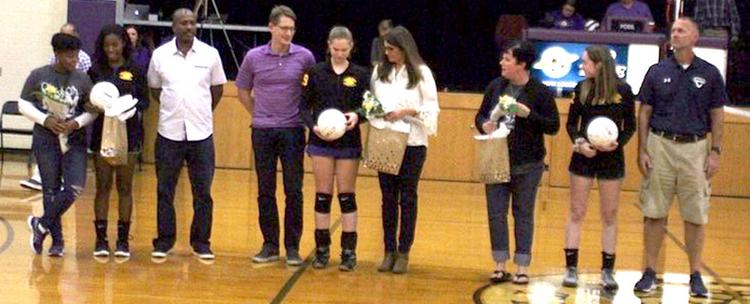 JUDAH CHRISTIAN
Volleyball players were acknowledged on Senior Night, from left, with parents: Lyndon Pelmore, Amelia Nelson and Jenna Barnhart. — Brayden Riesberg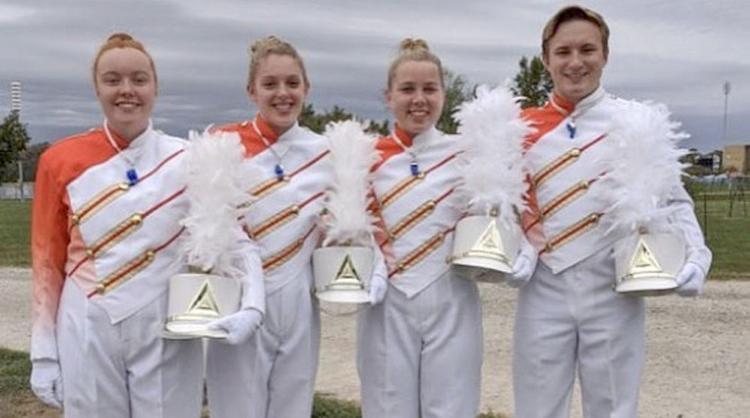 MAHOMET-SEYMOUR
Gwen Tee, Annie Hendricks, Alexis Young and William Larson led the marching band to second place at last weekend's band competition at Illinois Wesleyan. The color guard was also awarded first place on their performance. — Rachel Myers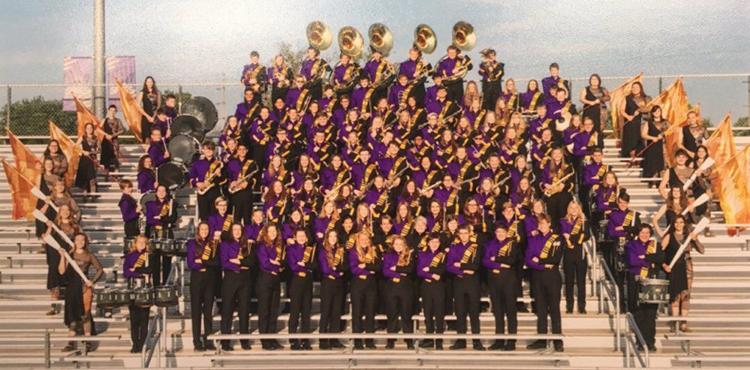 MONTICELLO
Marching band was second (5A) at the Normal Marching Band Invitational, also receiving best percussion and best color guard in its class. — Mary Ross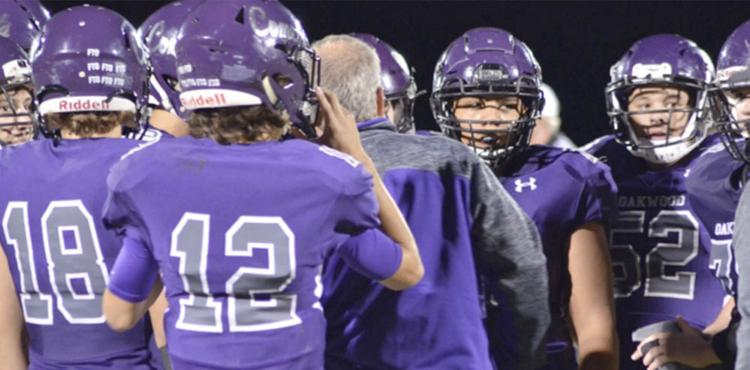 OAKWOOD
Junior Logen Hoshauer advanced to Monday's golf sectionals, as did senior Joie Sollers (the first girl to do so since the 1980s). Also, the football team lost to BRHA on Friday night, 35-6. — Maecii Barabas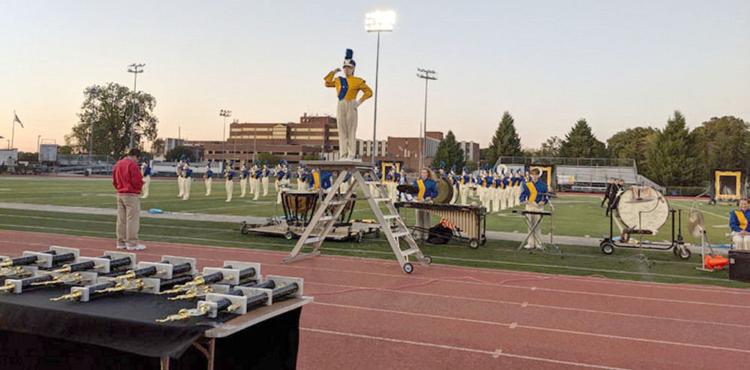 PBL
The school's marching regiment performed "Pictures at an Exhibition" at Metamora High School and Illinois Wesleyan University, placing fourth and second, respectively. The band is led by drum major Mallory Johnson, director Timothy Hess and visual instructor Jeremy Loui. — Emma Schuler
RANTOUL
The Madrigals cast was chosen for December's performance. Those landing spots after tense auditions included Veronica Duddleston (queen, left), Victor Bradley (king), Bria Connelly (wench), Matthew Corell (jester), Alysha Kessler (head of the Loyal Court), Evan Bock (chamberlain role as part of the Loyal Court) and Hunter Grant (head of the Rebel Court). — Veronica Duddleston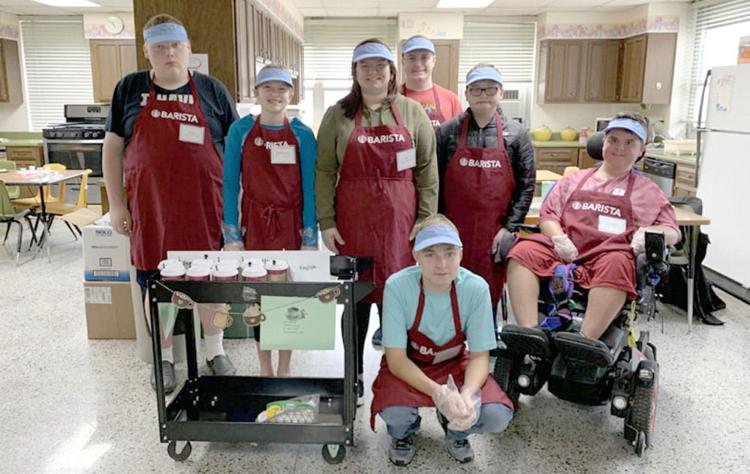 ST. JOSEPH-OGDEN
At the weekly Coffee Club, students of the Life Skills class learn about money management, customer service and time management alongside many others. Students deliver coffee to teachers within the building on Thursday morning. Pictured, front row, Ethan Landreth; second row, from left, Nate Marshky, Madeline Osterbur, Tia Pruitt, Matt Lilly and Jordan Stiverson; and back row, Ethan McKee. — Mallory Ames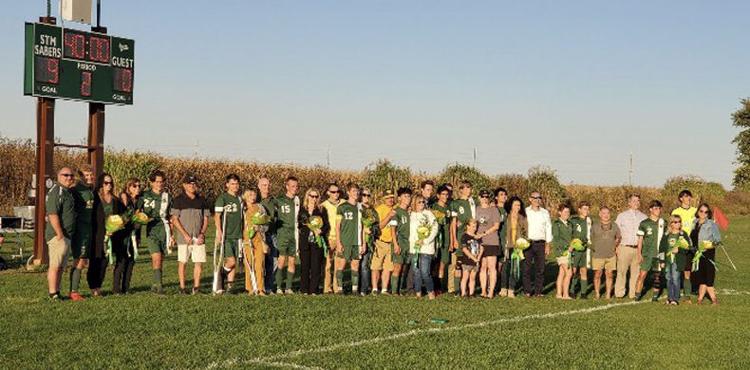 ST. THOMAS MORE
The boys' soccer team beat Oakwood 9-0 on Senior Night, celebrating 12 fourth-year players, including Joe Sellett, JP Hoffman and Taylor Crawford. In the process, the team set a school record for most goals in a season (101). — Noelle Schacht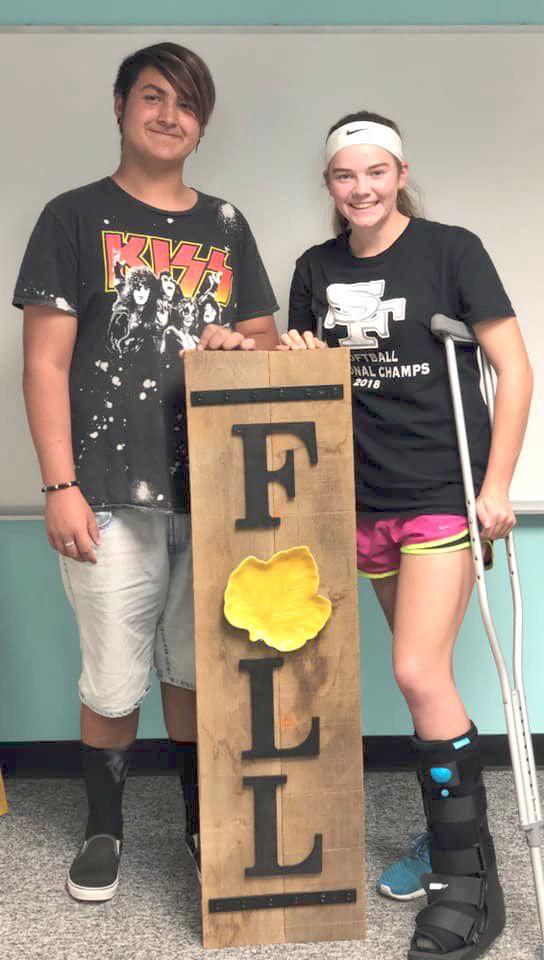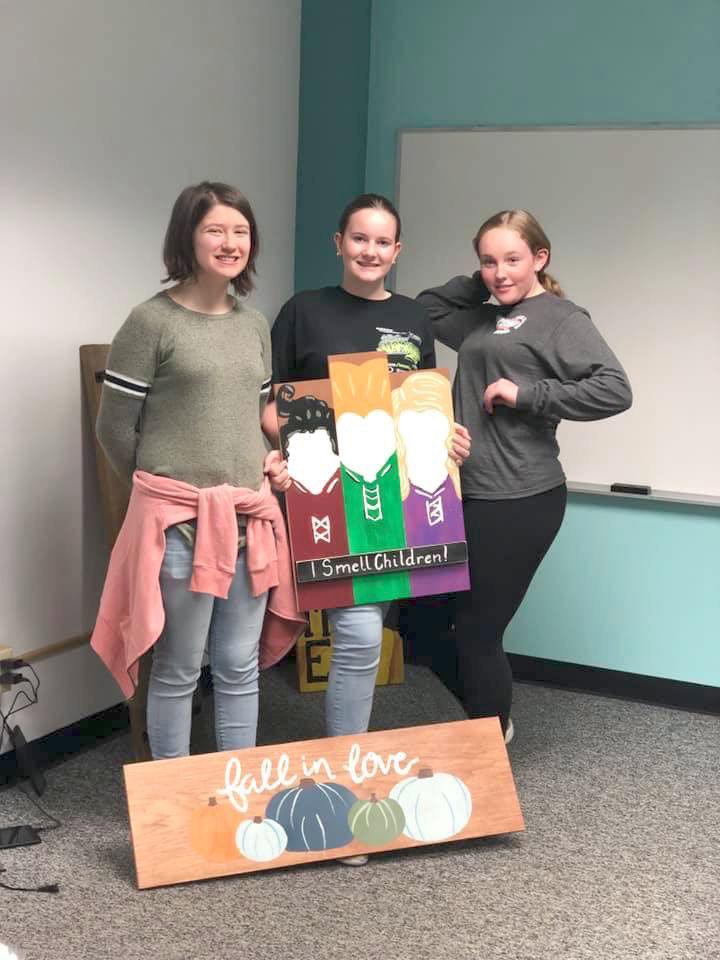 SALT FORK
The Craft Club kicked off the year with a fall raffle. In the first photo, from left, are Dakota Gritten and Mackenzie Russell; and the second photo, from left, Shea Cobbler, Jacey Van Leer and Rozlynn Maring. — Autumn Lange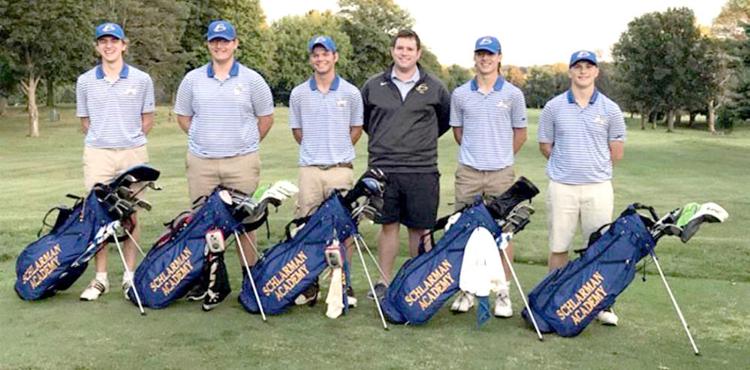 SCHLARMAN
Led by junior Gabe Huddleston (89) and senior Mark Lukas (89), the golf team placed second at regionals in Danville. Pictured, from left, are junior Jack Girouard, Lukas, senior Jeff Christison, coach Lucas Seilhymer, junior Rance Bryant and Huddleston. — Farrah Anderson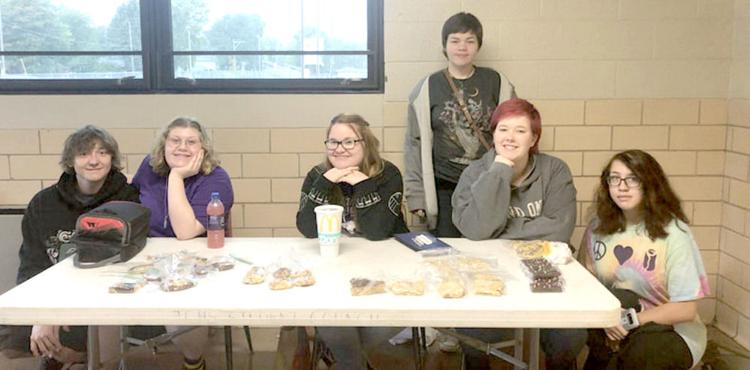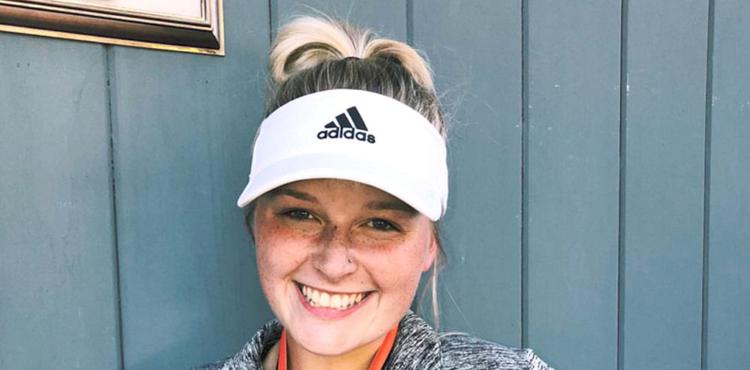 TUSCOLA
The school's GSA Club (Gay Straight Alliance) had a bake sale during lunch last week, with proceeds benefitting kids throughout the community. Pictured, from left, are Clayton Postlewait, Maddy Boyd, Haley Skinner (sponsor), Grace Belcher, Hannah Dellorso and Izzy Gooch. Also, senior golf star Lainey Banta won a conference title at Moweaqua. — Emma Zimmer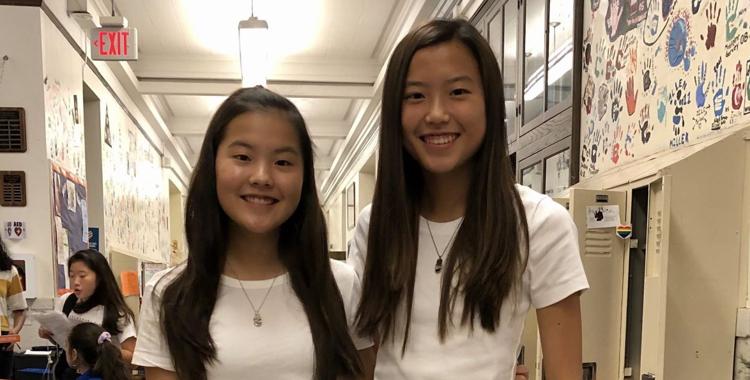 UNI HIGH
Uni celebrated spirit week with pajama day, school color day, jersey day, twin day (pictured: sisters Allie Kim and Madeline Kim) and hat day. The homecoming dance took place on Saturday night at the Champaign Country Club. — Erin Minor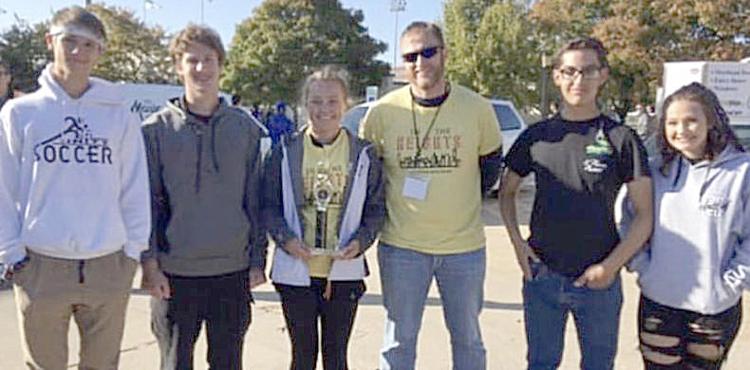 UNITY
Unity's marching band, under direction of Jerry Cardiff and Kyle Ayers, finished third (2A) at the Normal Marching Invite at Illinois Wesleyan University on Saturday. On Tuesday, the band played at "Volleyball for a Cure." — Kim Pruetting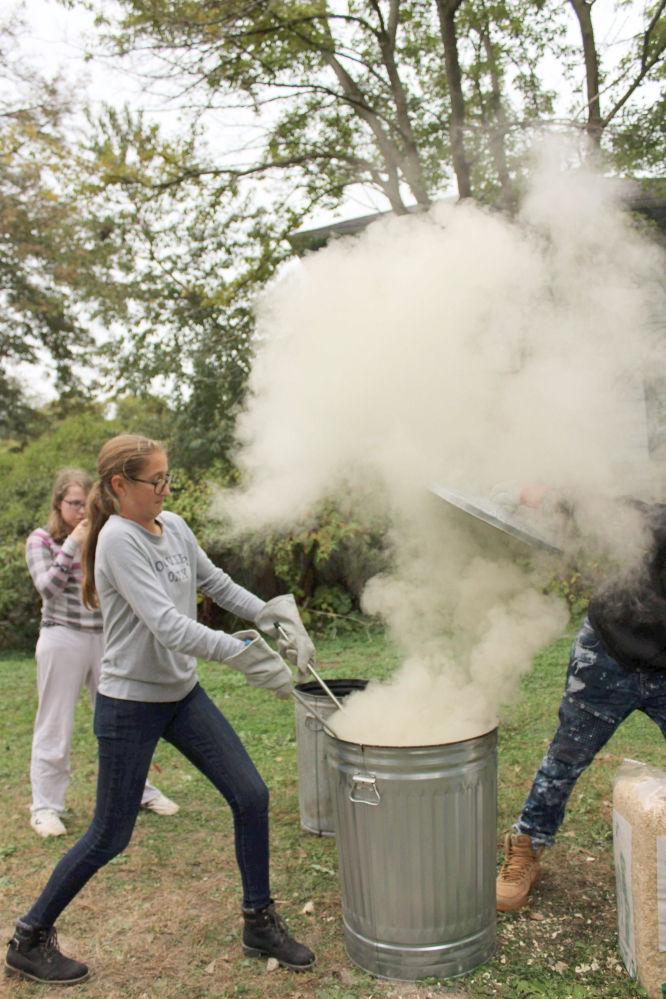 URBANA
Art students, including Celia Barbieri (pictured), had a field trip on Thursday for their third annual raku firing, a low-firing process that involves taking pottery from the kiln while hot and placing it into containers with materials that combust. Once ignited and with the container closed, it changes the color glazes, clay bodies and produces crackling. Photo by Allie Janae. — Molly Sweeney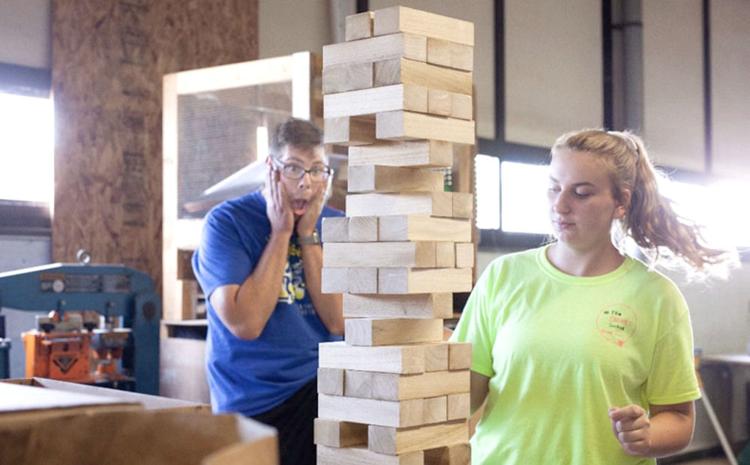 VILLA GROVE
The nationally recognized yearbook program celebrated National Yearbook Week, celebrating by playing Jenga. Pictured are Molly Mixell playing against adviser Brian Cordes. — Grace Hutchison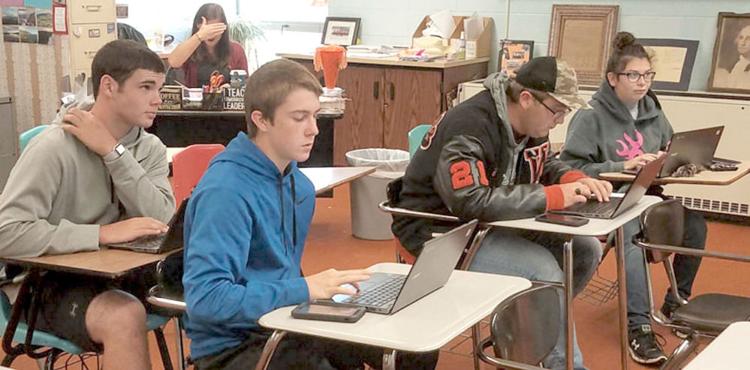 WESTVILLE
Juniors came in early (7 a.m.) Tuesday and Wednesday to study for a history test worth one-third of the quarter grade. — Emma Myers