2019-20 High School Confidential: Week 5
Welcome to Year 4 of High School Confidential, an award-winning project made possible by aspiring student journalists from every corner of our circulation area. Each Wednesday through May, they'll tell us what's happening in their hallways at news-gazette.com.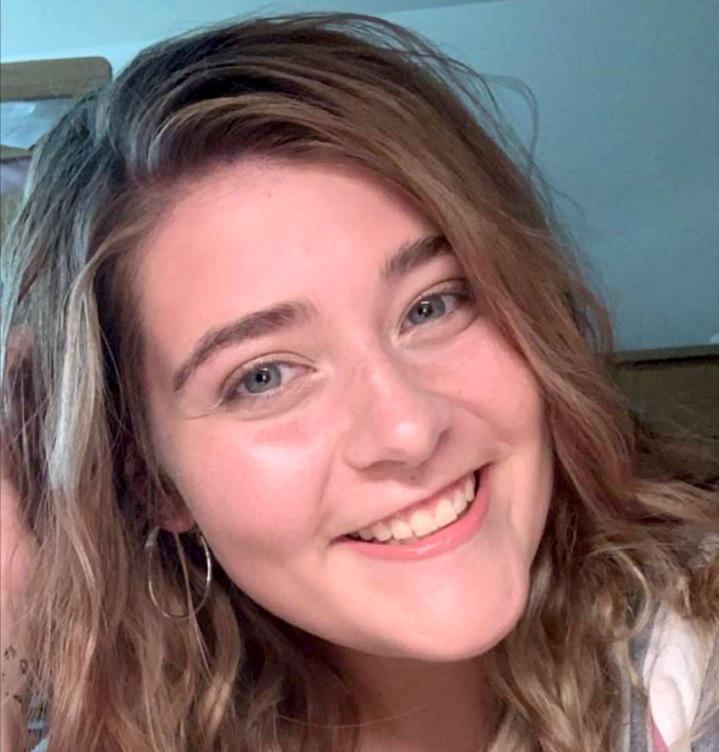 Once a week, we'll hand over our Snapchat account (News-Gazette) to our correspondents for behind-the-scenes tours.
On Friday, Salt Fork junior Autumn Lange (Snapchat: autumnvlange) will take us behind the scenes at the tiny Vermilion County school as football season comes to a close. The political sciene junkie loves attending school in Catlin - her hometown - because "it is filled with so many great people who have the potential to change the world."
On to this year's panelists:
Academy - Megan Wiarda
ALAH - Kenli Nettles
Arcola - Patty Rodriguez
Armstrong-Potomac - Emily Rogers
Bement - Braden Fogerson
BHRA - Gabe Martinez 
Blue Ridge - Kalyn Warner
Centennial - Hailey Choi
Central - Julia Wilson
Chrisman - Lindsey Franz
Cissna Park - Abbi Kaeb
Danville - Leilani Islam
DeLand-Weldon - Tori Billingsley
Fisher - Sidney Sievers
G-RF - Chelby Hall
GCMS - Sierra Hileman
Heritage - Lynnae Struck
Hoopeston - Erin Anderson
Judah Christian - Brayden Riesberg
Mahomet-Seymour  - Rachel Myers
Monticello - Addison Wichus
Monticello - Mary Grace Ross
Oakwood - Maecii Barabas
PBL - Emma Schuler
Rantoul - Veronica Duddleston
St. Joseph-Ogden - Mallory Ames
St. Thomas More - Noelle Schacht
Salt Fork - Autumn Lange
Schlarman - Farrah Anderson
Tuscola - Emma Zimmer
Uni High - Samaia Jones 
Uni High - Erin Minor 
Unity - Kimberly Pruetting
Urbana - Molly Sweeney 
Villa Grove - Grace Hutchison
Westville - Emma Myers
On to this week's report: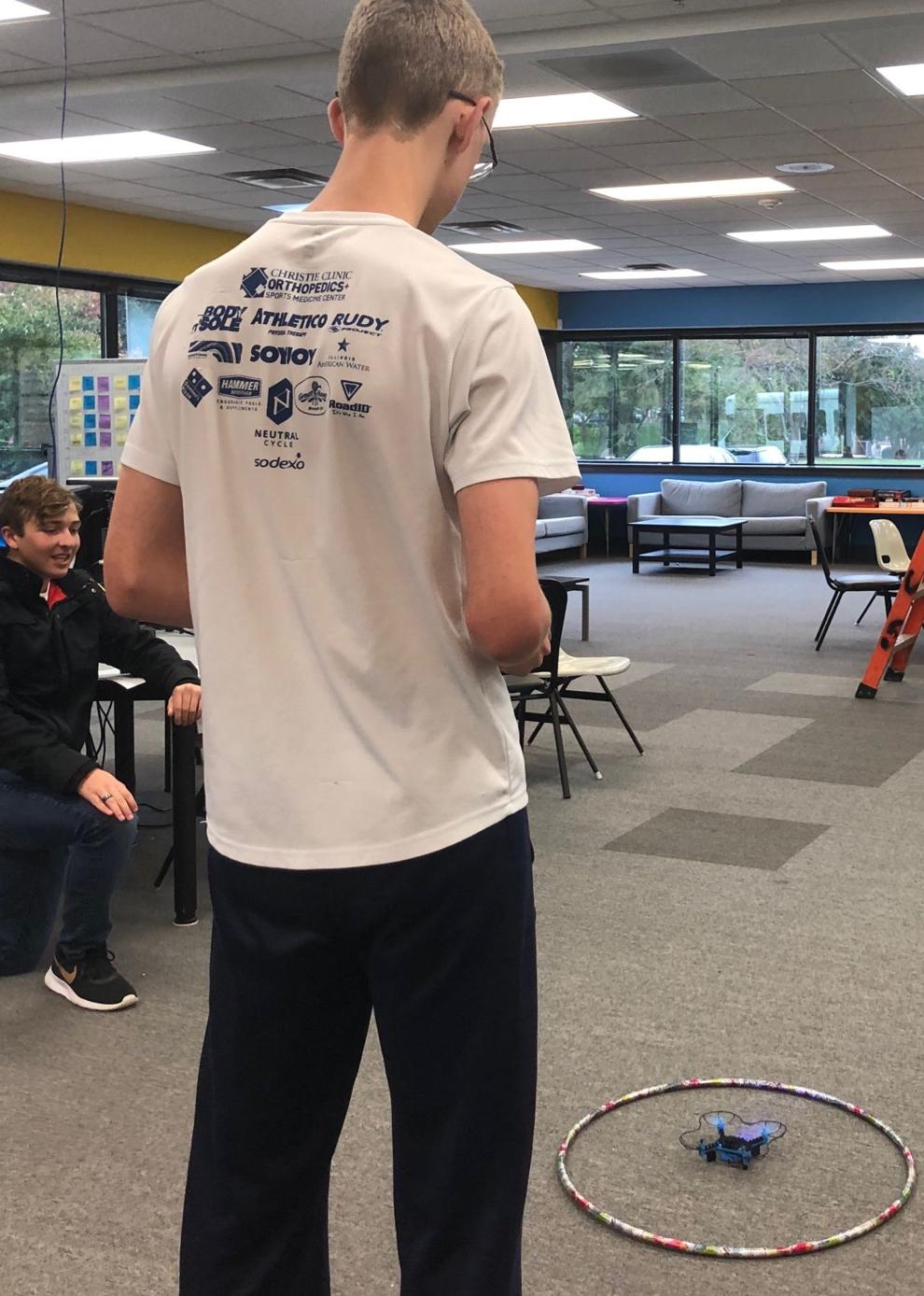 ACADEMY HIGH
For drone engineering class, sophomores built their own drones. The class is taught by Benjamin Khachaturian. Pictured are Dominyq Gritten and Sam Laufenberg. — Megan Wiarda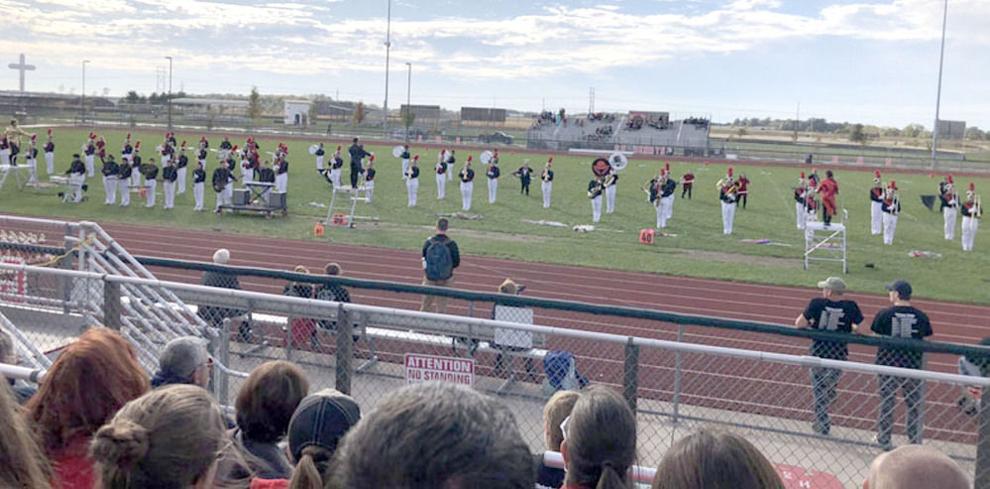 ALAH
At the Effingham Marching Invitational, the Marching Knights won outstanding music, outstanding general effect, first place in Class 3A and Class 1A-3A grand champions. — Kenli Nettles

ARCOLA
The volleyball team raised $1,600 to donate to the Mills Breast Cancer Institute. The school's annual Pink Out match was against Blue Ridge and included a raffle made possible by community members and players. — Patty Rodriguez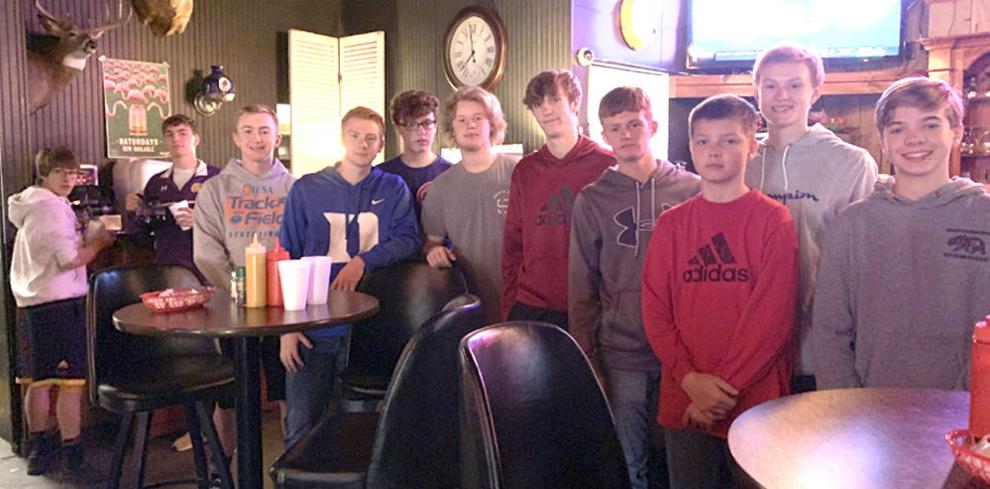 ARMSTRONG
Members of the boys' basketball team — including Brody Howard, Jayce Townsend, Johnny Hudson, Gavin Parkerson, Rylee Showalter, Seth Johnson, Luke Gordon, Dylan Knight, Lane Morgan, Evan Schluter and Gaven Lomax — were servers at Lola's in Potomac, working from 6-10 a.m. Coaches Wade Rogers and Deon Mennenga organized the community service event. — Emily Rogers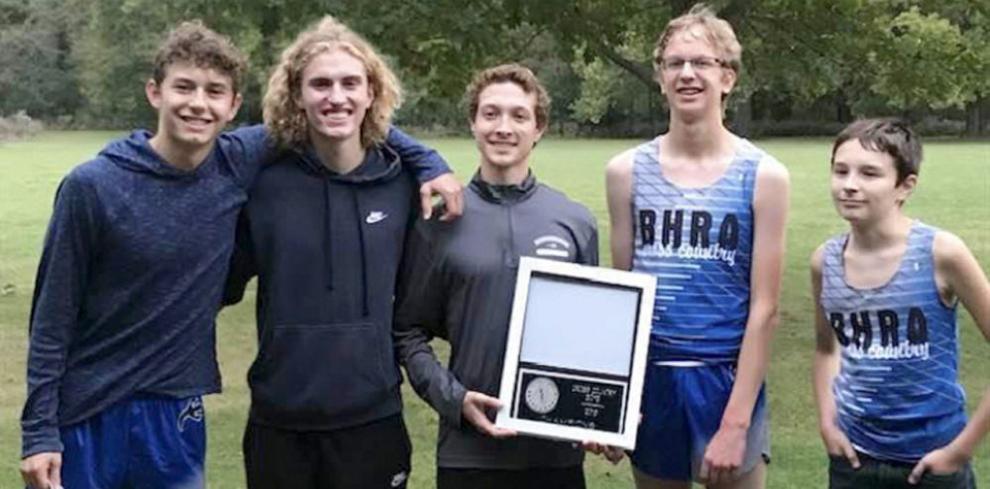 BHRA
The boys' cross-country team, including Michael Moreman, Eli Mojonnier, Gabe Martinez, Josh Grenand and Brody Boyer, won the Vermilion Valley Conference title. Amber Mojonnier took the picture. — Gabe Martinez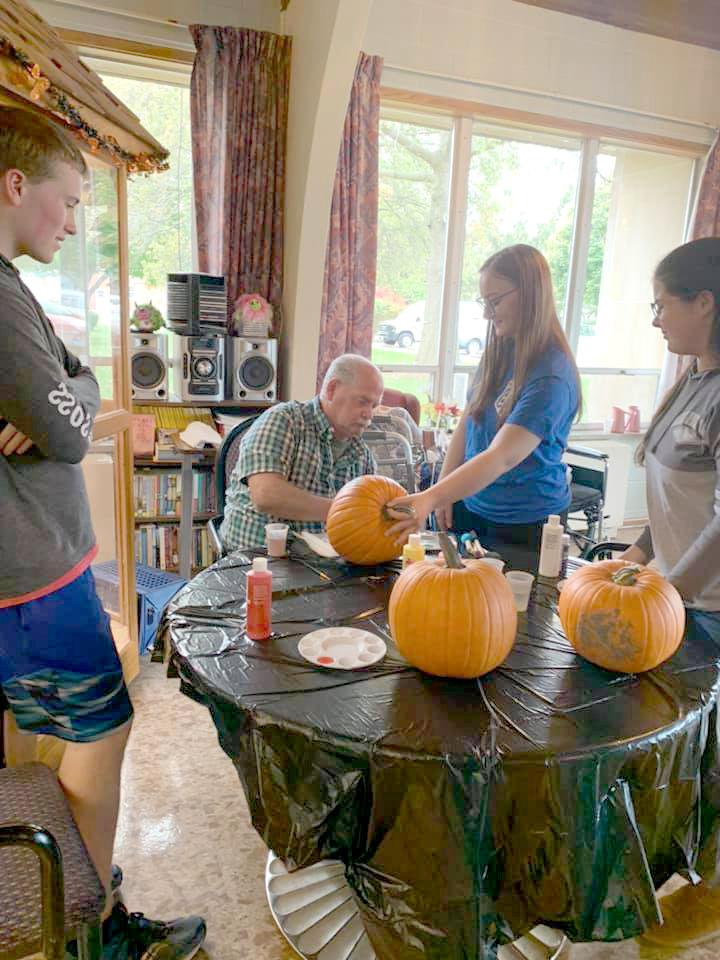 BLUE RIDGE
Key Club visited the Farmer City Rehab and Health Center to assist residents in decorating pumpkins for Halloween. Also, the color guard took first place at the Effingham Marching Festival. — Kalyn Warner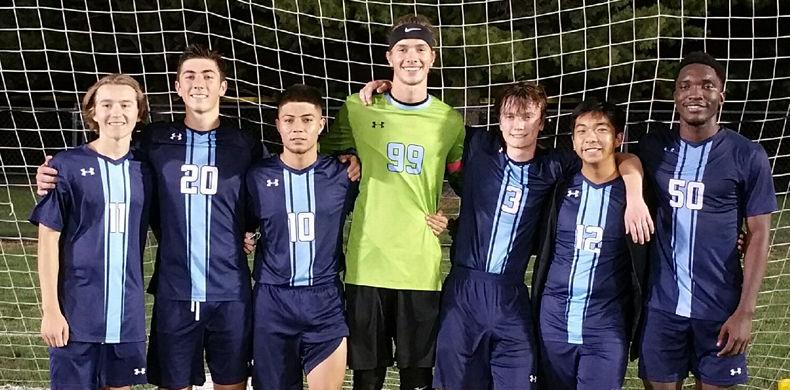 CENTENNIAL
The boys' soccer team beat Bloomington 2-1 on Senior Night. Pictured, from left, are Thomas Scaggs, Matthew Pianfetti, Omar Sandoval, Maxwell Wallace, Joshua Witte, Andrew Diep and Nathan Samu. — Hailey Choi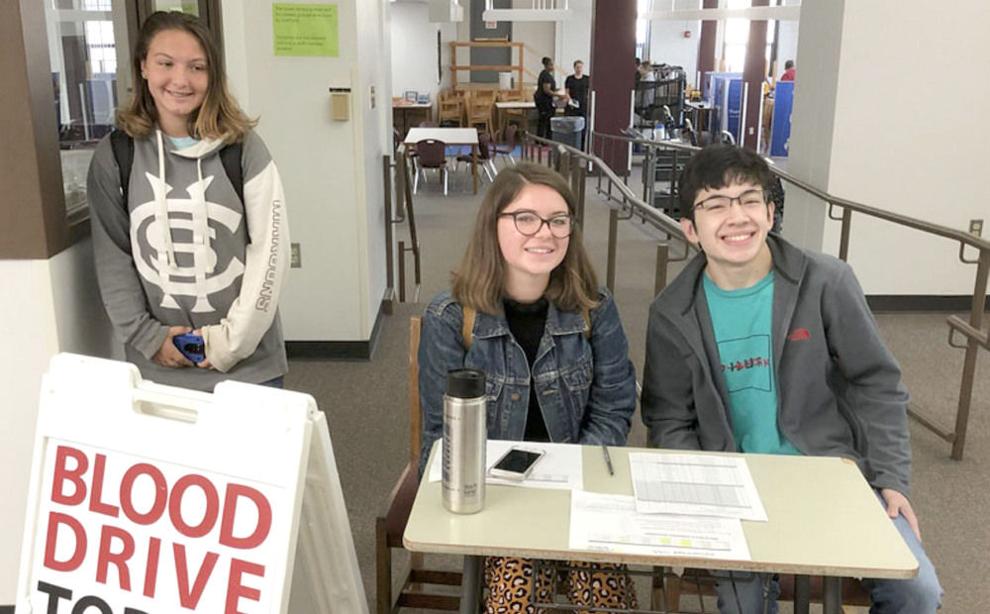 CHAMPAIGN CENTRAL
The student council's annual blood drive saw students and staff donate. Pictured are Diana Maggi, student council president Frances Anderson and treasurer Austin Douglas. — Julia Wilson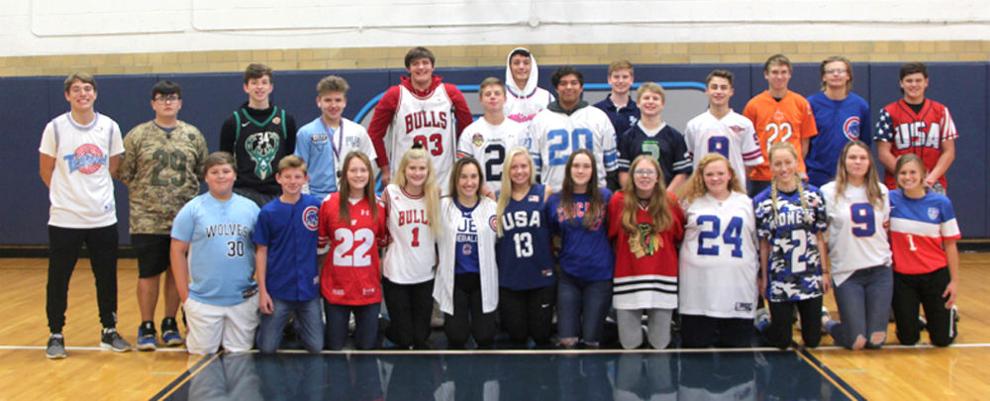 CISSNA PARK
Students had a lot of fun dressing up for homecoming week. The week ended with a teacher getting a pie in the face on Friday afternoon during gomecoming games. Pictured are students on Jersey Day. — Abbi Kaeb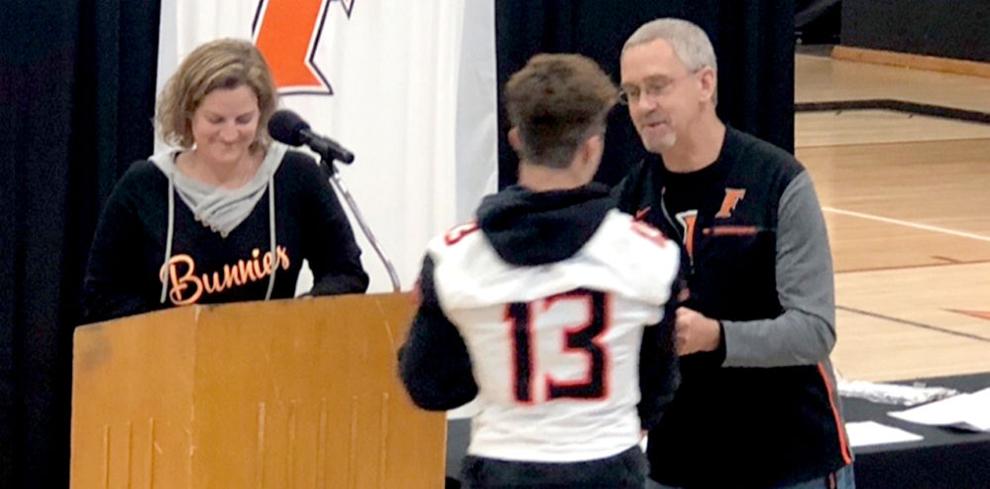 FISHER
Students with a grade point average of 3.5 or higher received an academic letter for their accomplishments at the school's annual assembly, where seniors were also inducted into National Honors Society. — Sidney Sievers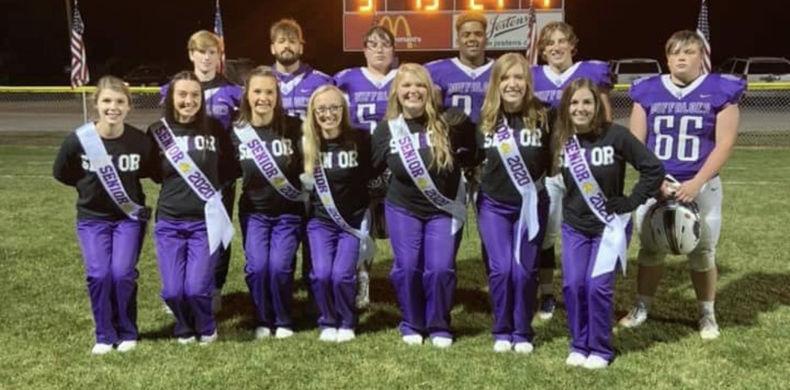 GEORGETOWN-RIDGE FARM
The Buffaloes celebrated Senior Night with a win on Friday. Pictured, top row, from left, are Damian Miles, Ethan Blacketer, Noah Gordon, Chaze Rowell- Caruthers, Gavan Shelton and Austin Riza; and bottom row, from left, Shelby Siddens, Aubrie Hinchman, Olivia McDaniel, Madison Cordes, Chelby Hall, Mackenzie Cavanaugh and Sydnie Spires. — Chelby Hall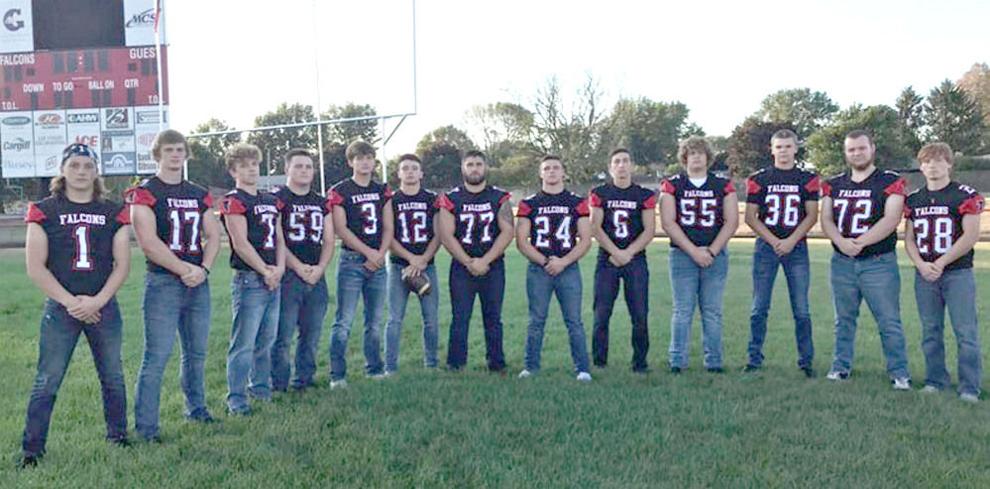 GCMS
The football team celebrated Senior Night with a win. Pictured, from left, are Ethan Duke, Nick Culler, Hunter Wahl, Keegan Kutemeier, Cade Elliott, Colby Taylor, Jordan Lee, Payton Kean, Darin Bauer, Jordan Blake, Spencer Meenen, Alex Meece and Daniel Jones. — Sierra Hileman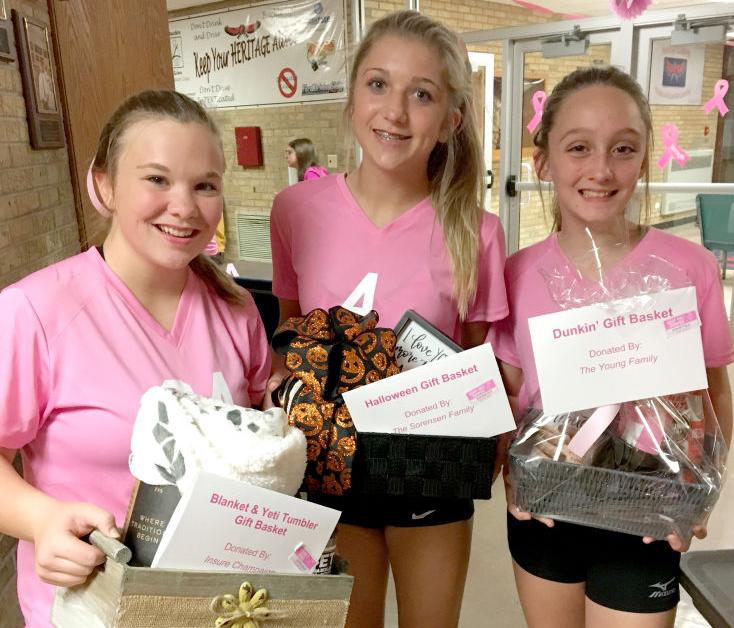 HERITAGE
The volleyball team and Family, Career and Community Leaders of America worked together to raise $1,300 for the Mills Breast Cancer Institute at the annual Dig for a Cure match. Pictured are freshmen volleyball players Paige George, Bryn Wyant and Emma Young with raffle gift baskets donated by local businesses and volleyball players. — Lynnae Struck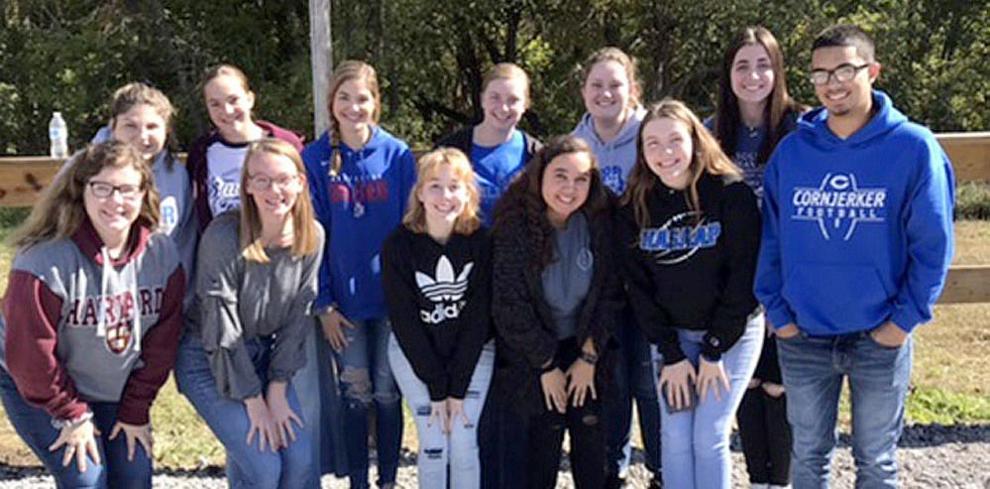 HOOPESTON AREA
Student council attended the IASC Fall Drive-In Workshop hosted by Oakwood High School. Pictured, back row, are Emma Rayls, Abby Walder, Erin Anderson, Joanna Walder, Sydney Long and Emily Fier; and front row, Alivia Schmink, Tobi West, Baylee Glass, Angel Wynn, Danielle Simpson and Elijah Venencia. — Erin Anderson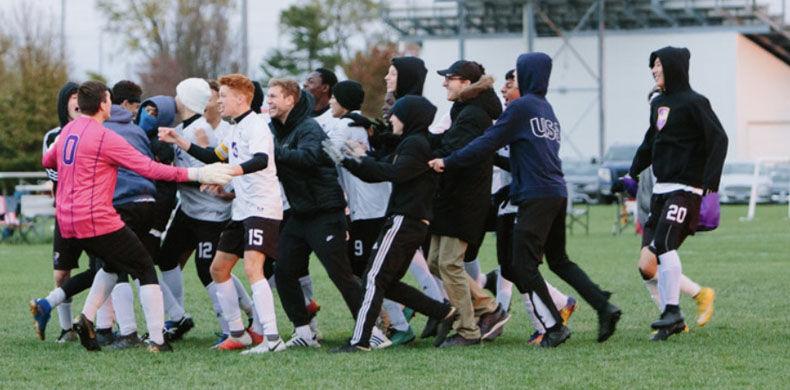 JUDAH CHRISTIAN
The boys' soccer team beat Uni High in penalty kicks by players Joe Linsner, Caleb Aldridge, Tyler Grenda and and Bobby Rodriquez. — Brayden Riesberg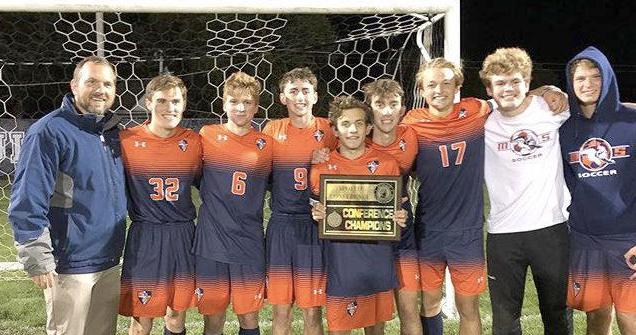 MAHOMET-SEYMOUR
Soccer celebrated Senior Night against Effingham. The seniors — Caleb Benedict, Luke Creel, Charles Moore, Jacob Janda, Kaydn Jones, Sam Knight, Evan Coleman, Colten Brunner and Austin Brummel — led the Bulldogs to victory, 5-2. — Rachel Myers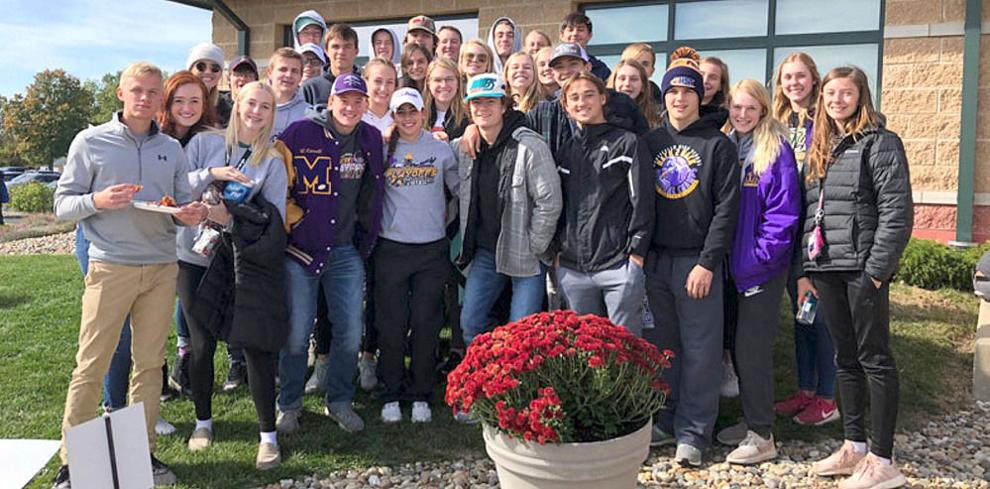 MONTICELLO
A crowd of supporters cheered on Molly Stringer at state golf. Stringer shares the nine-hole average school record with Evelyn Brand at 41.3. — Addison Wichus

OAKWOOD
As the volleyball team beat Armstrong and Westville in the Vermillion County Tournament, the football team won its sixth game to secure a playoff spot. — Maecii Barabas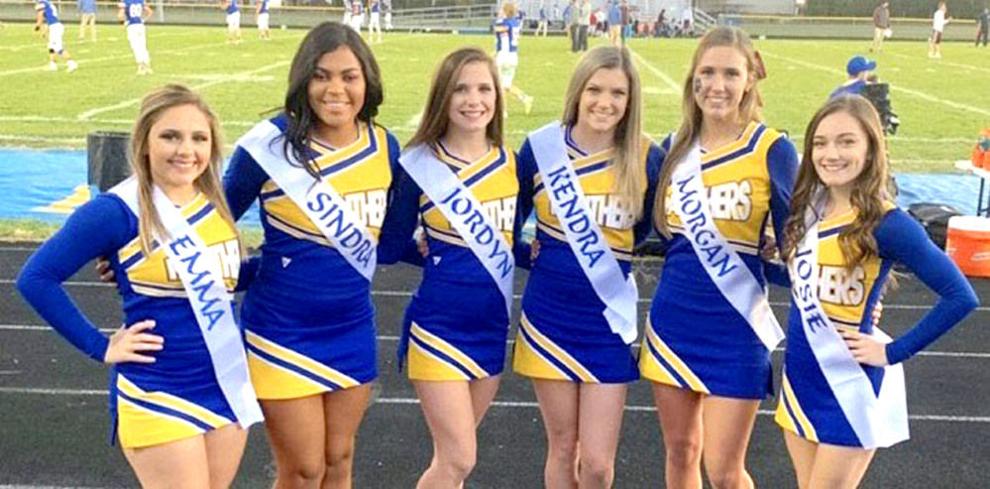 PBL
At Friday's Senior Night, seniors in fall activities (football, marching band, cross-country, cheerleading, golf) were announced with their parents, submitting a favorite memory and plans for the future. Pictured are senior cheerleaders Emma Yates, Sindra Gerdes, Jordyn Scott, Kendra Snelling, Morgan Schroeder and Josie Warren. — Emma Schuler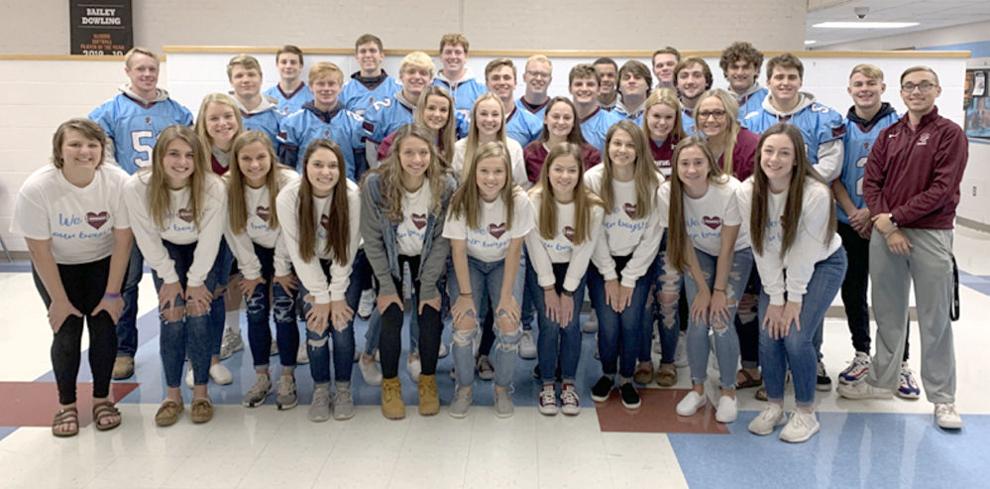 ST. JOSEPH-OGDEN
Senior football players, stat girls, managers and supporters wore We Love Our Boys T-shirts and jerseys to support the graduating class on Friday. Back row, from left, are Brendan Cooperider, Conner Hodge, Blake Dable, Max Chatterton, Trevon Carr, Drew Coursey, Luke Renfrew; third row, Ross Booker, Jarrett Stevenson, Blake Primmer, Payton Cain, Chance Izard, Brayden Weaver, Jaden Miller, Sam Wesley, Brodie Sullivan, Jordan Kelly and Brodie Landreth; second row, Eliza Lewis, Emily Bigger, Jenna Albrecht, Kristen Costa, Anna Snyder and Lindsey Aden; and front row, Anna Wentzloff, Anna Tranel, Katie Cramer, Kenly Taylor, Taylor Barnes, Mallory Ames, Emily Hardimon, Lacey Kaiser, Hannah Rajilich and Katelyn Berry. — Mallory Ames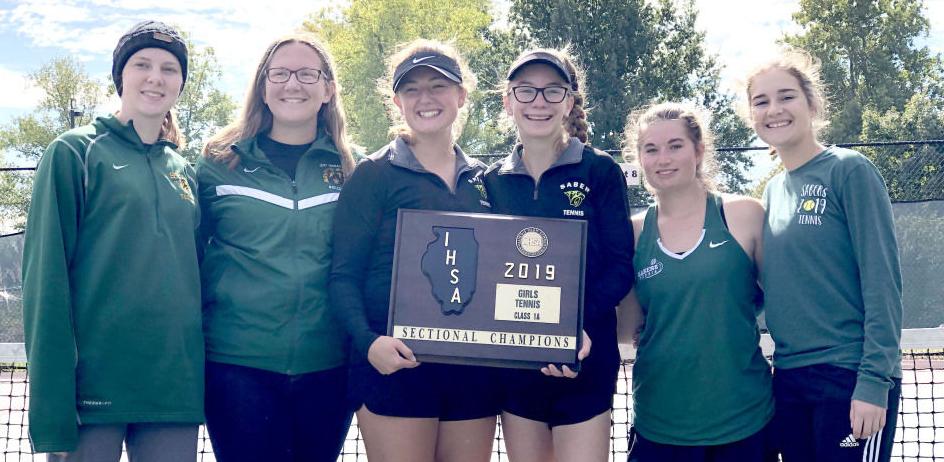 ST. THOMAS MORE
The girls' tennis team won its second sectional championship. Ashley Mills (singles) and Maddy Swisher and Noelle Schacht (doubles) advanced to state. Pictured, from left, are Becca Hege, Maggie Vavrik, Schacht, Swisher, Mills and Nora Kelley. — Noelle Schacht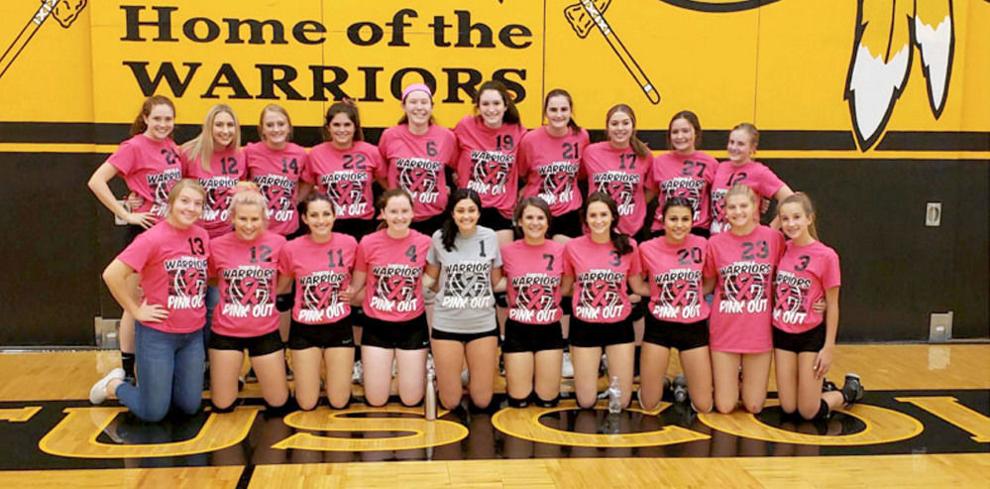 TUSCOLA
Volleyball players wore pink in support of Breast Cancer Awareness Month, raising funds by selling T-shirts to community members. Back row from left: Maddie Stahler, Kendal Morgan, Laney Cummings, Maddie Green, Karli Dean, Kate Dean, Amelia Bosch, Marissa Russo, Anna Rauguth, and Mia Hausmann; front row from left: Molly Macaulay, Louise Rosendahl, Kerri Pierce, Grace Voyles, Hope Dietrich, Jessie Martin, Kendyl Ring, Reagan Wyrich, Izzy Wilcox and Reggan Smith. — Emma Zimmer
UNI HIGH
Boys' soccer lost to Judah Christian in a regional semifinal, with senior Henry D'Angelo scoring two goals in the shootout defeat. — Erin Minor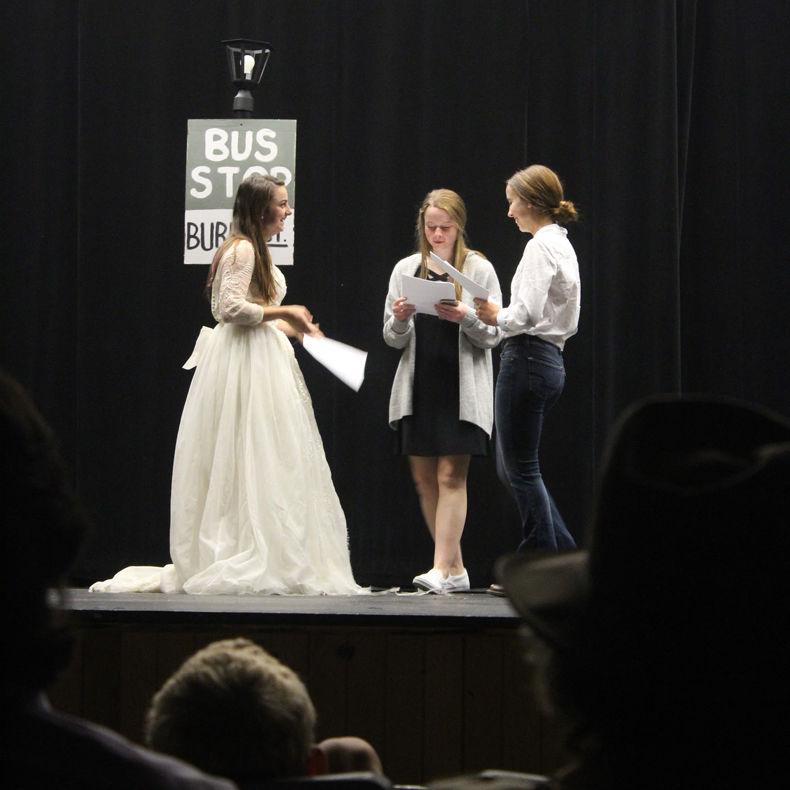 UNITY
The sophomore English class, taught by Mrs. Ingold, performed creative endings to "Of Mice and Men." Students were put into groups, which were expected to re-enact a scene or write their own ending to the book and perform it on stage for the class. — Kim Pruetting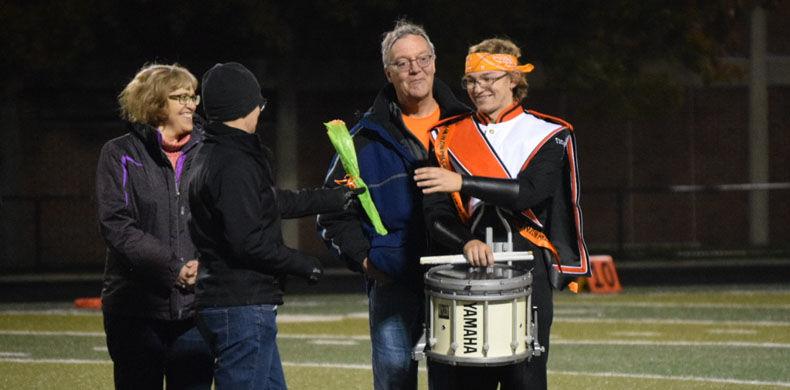 URBANA
Football, color guard, cheerleading and marching band celebrated Senior Night on Friday. During the halftime show, color guard and marching band seniors such as Michael Tessene (pictured) walked out with family or friends to wrap up their season. — Molly Sweeney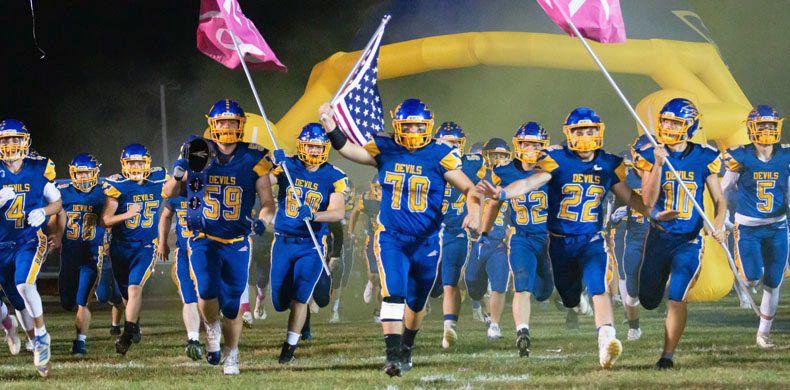 VILLA GROVE
A blowout against LSA made the Blue Devils officially playoff bound, with Carson Howard and Ierik Sorenson combining for four touchdowns on Senior Night. — Grace Hutchison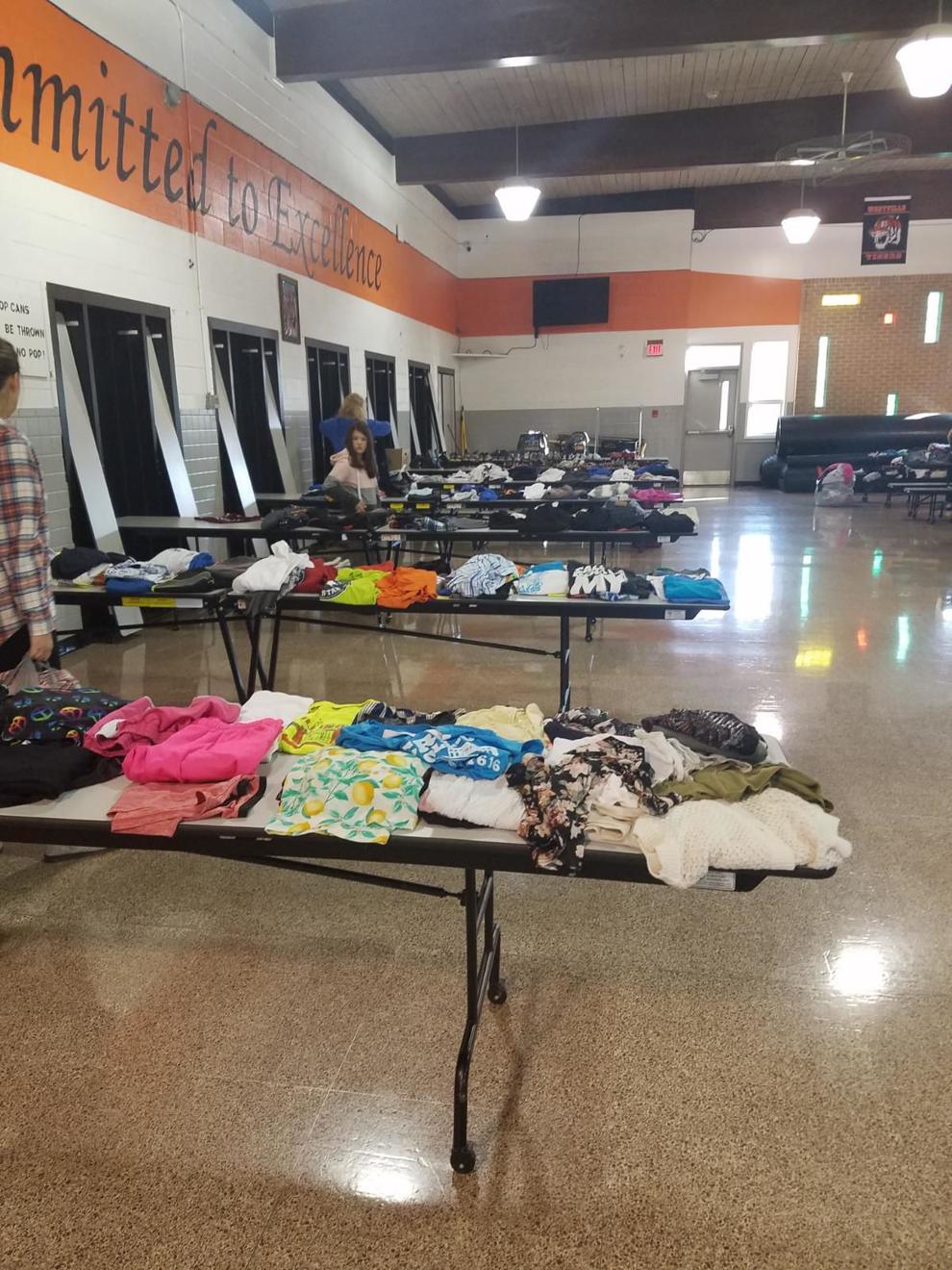 WESTVILLE
Free rummage took place during parent-teacher conferences. Mostly adult clothes are donated to the school and made available to students and families in need. — Emma Myers