2020-21 High School Confidential: Week 29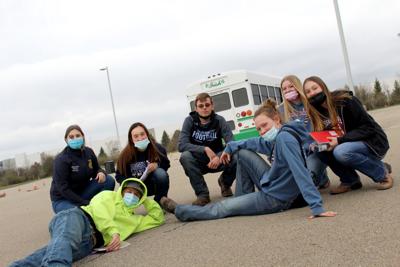 Welcome to Year 5 of High School Confidential, an award-winning project made possible by aspiring student journalists from every corner of our circulation area. Each Friday through May, they'll tell us what's happening in their hallways at news-gazette.com.
Once a week, we'll also hand over our Snapchat account (News-Gazette) to our correspondents for behind-the-scenes tours.
Feeback? Email N-G/VP Jim Rossow at jrossow@news-gazette.com.
This year's panel:
— Reese Anderson, Chrisman
— Jose Alvarez, Urbana
— Briana Ballard, Academy
— Chloe Becker, DeLand-Weldon
— Jada Bonam, Centennial
— Lillian Bouton, Georgetown-Ridge Farm
— Lexi Breymeyer, Hoopeston Area
— Bryce Burnett, Westville
— Raegan Cheek, ALAH
— Olivia Chew, Salt Fork
— Cassandra Colmenares, Academy High
— Clara Rudolph, Monticello
— Ava Cothron, Tuscola
— Kate Cramer, Mahomet-Seymour
— Aaliyah Denius, Oakwood
— Kylie Duckett, St. Joseph-Ogden
— Charlotte Ebel, Uni High
— Malia Fairbanks, Unity
— Hailey Gadbury, Bement
— Haven Hathaway, Gibson City-Melvin-Sibley
— Leilani Islam, Danville
— Fabiola Jaramillo, Arcola
— Audrey Kaeb, Cissna Park
— Jordin Lucht, Milford
— Mason McMasters, Armstrong-Potomac
— Taylor Mennenga, Paxton-Buckley-Loda
— Morgan Miller, BHRA
— Addison Musick, Fisher
— Daniel Olson, Villa Grove
— Kitty Rossow, Central
— Anna Sanders, Heritage
— Courtney Shane, Blue Ridge
— Emerson Tarr, LeRoy
— Felicity Tuan, Judah Christian
— Maci Walters, St. Thomas More
On to this week's report: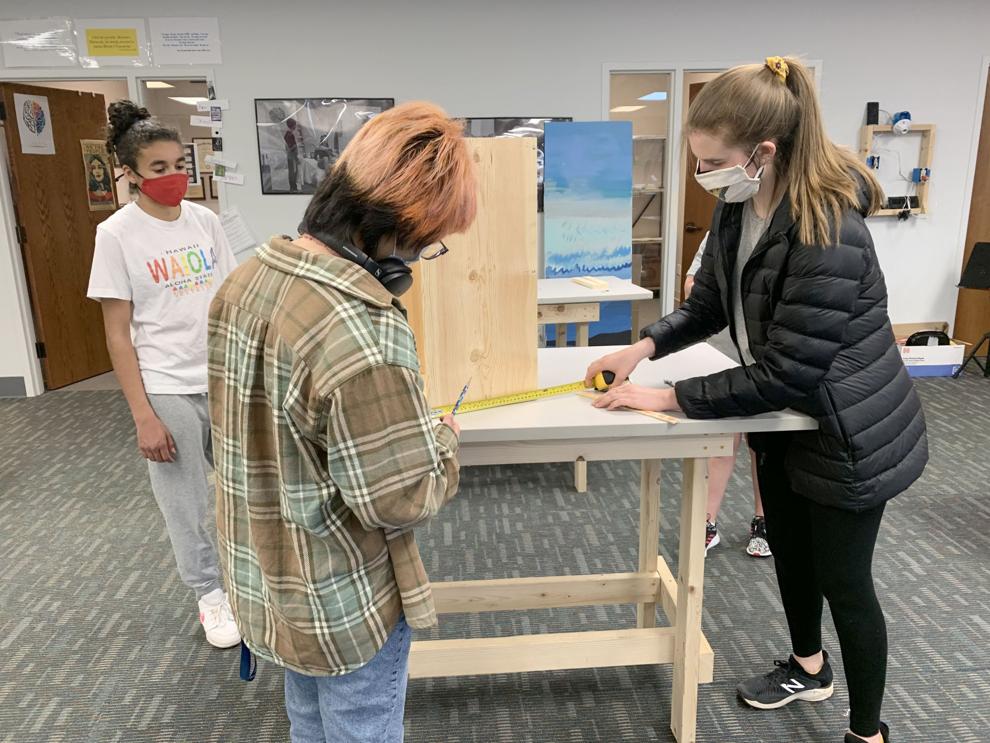 Academy High
Members of the Caring Crew, the school's community outreach club, began building the frame for its Little Free Library soon to be located at Mattis Park. Pictured left to right: Shayla Brown, Yoon Freund and Hadley Siena.
— Briana Ballard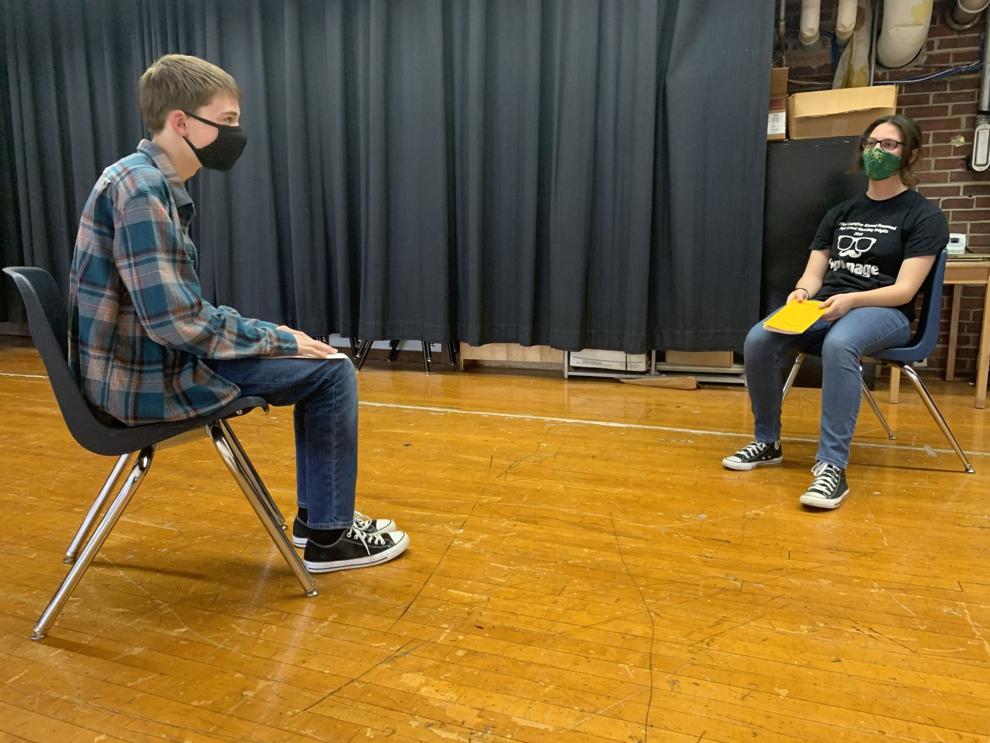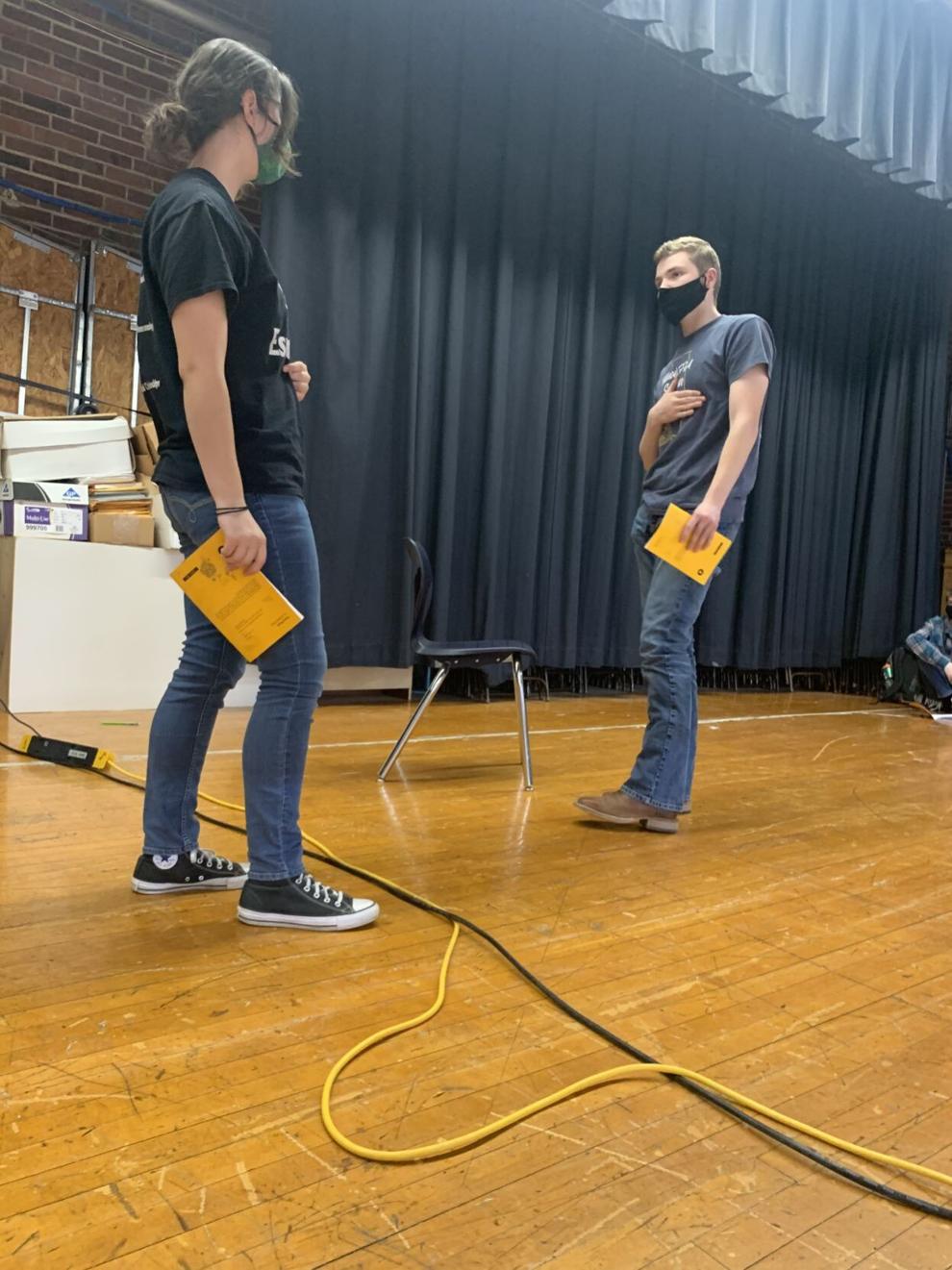 ALAH
Drama club is rehearsing for its play this year, "Check, Please" which will be May 6-8. Pictured working on scenes: Jacob Adcock and Piper Johnson; and Johnson and Payton Rawlins.
— Raegan Cheek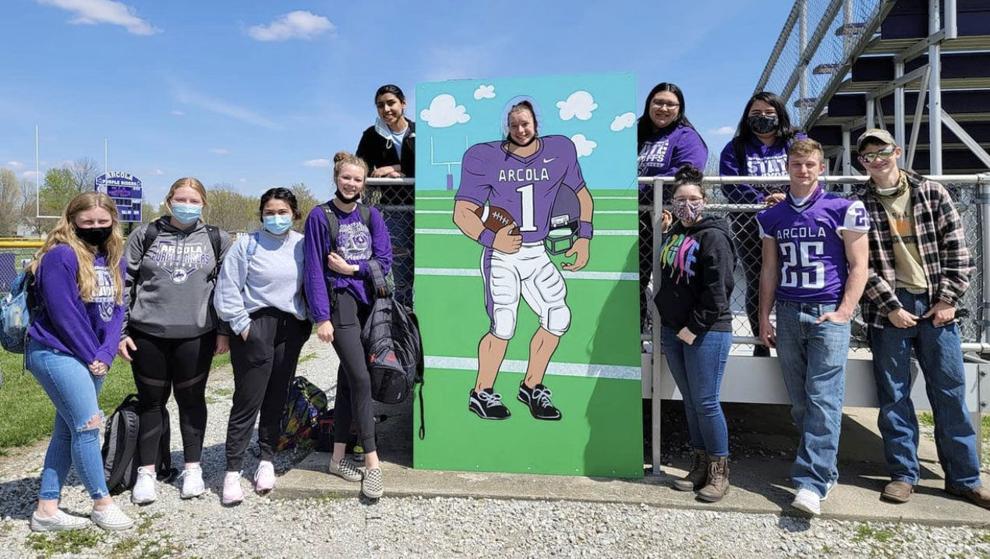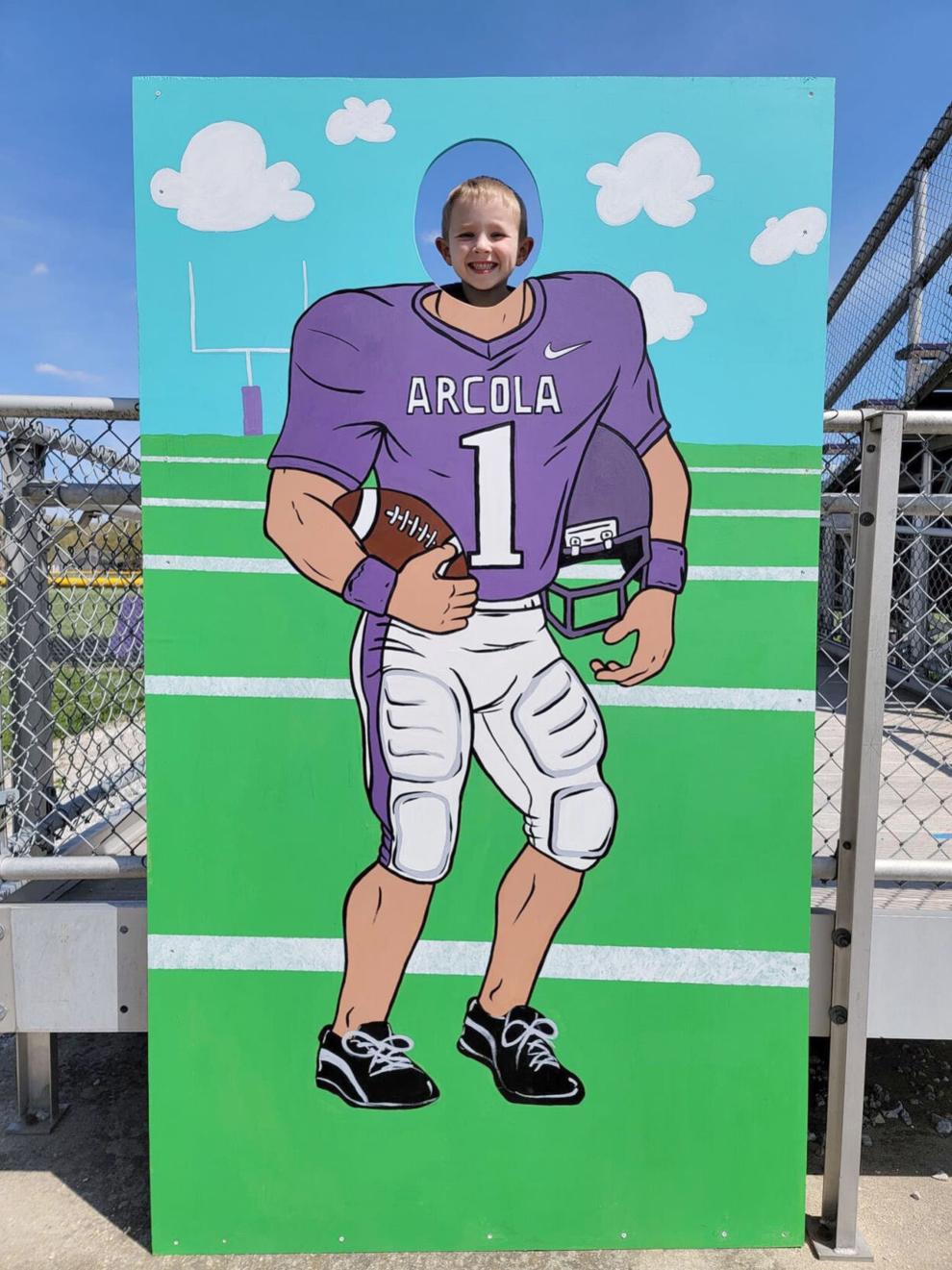 Arcola
Art teacher Alex Lugo and his students prepared a backdrop for fans to take pictures throughout the last home football game of the season. PicturedL: Kendon Lindsey; and Avery Kessler, Olivia Gingrich, Melissa Marcos, Makenzie Thomas, Graciela Leal, Elizabeth Humphrey, Kendra De La Garza, Cecilia Carmona, Avery Pollon, Caleb McMillan and Colton Kepley.
— Fabiola Jaramillo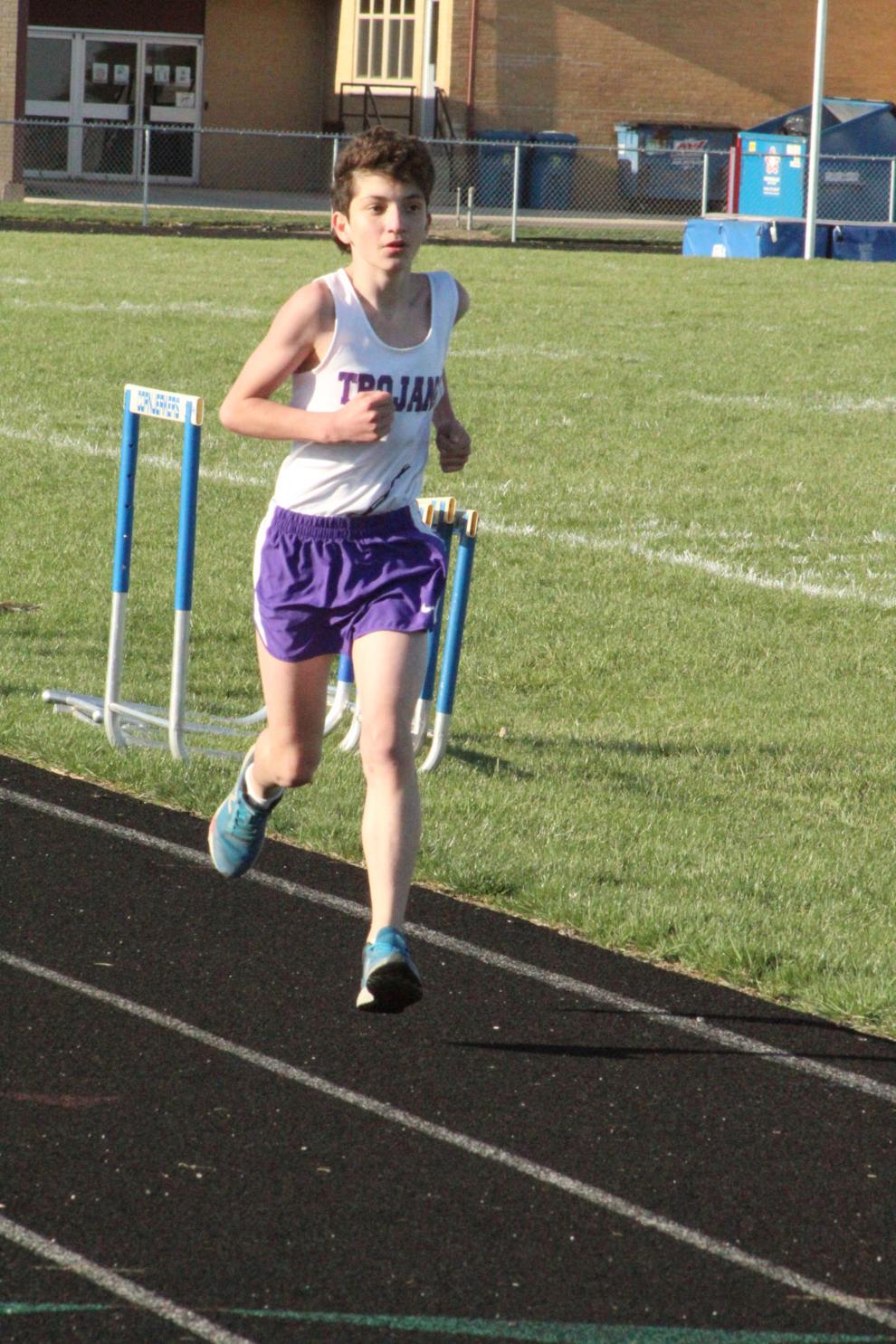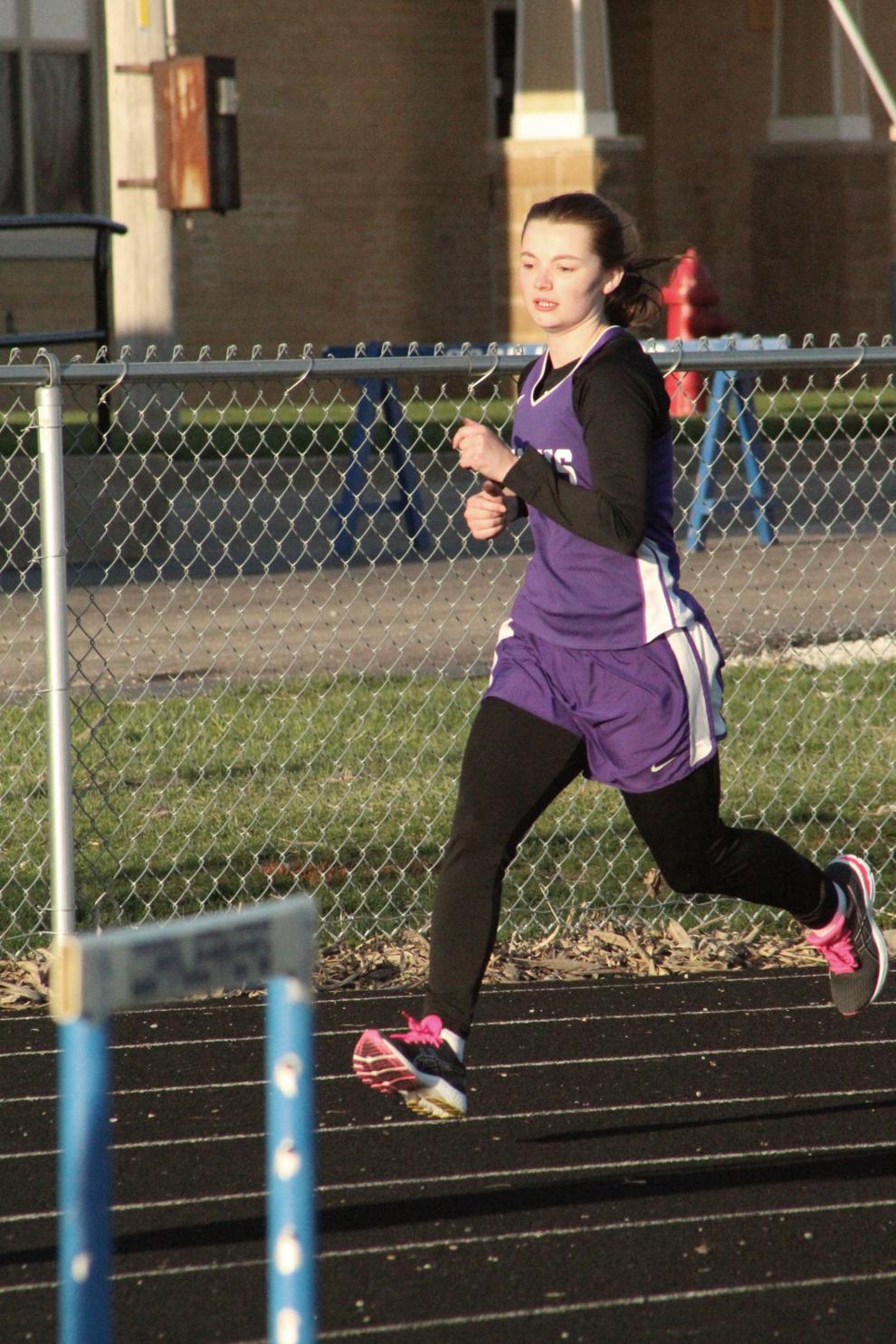 Armstrong-Potomac
At a recent track meet at Hoopeston, Adrian Flores placed first in the 3,200 and Olivia Logue was second in the 400.
— Mason McMasters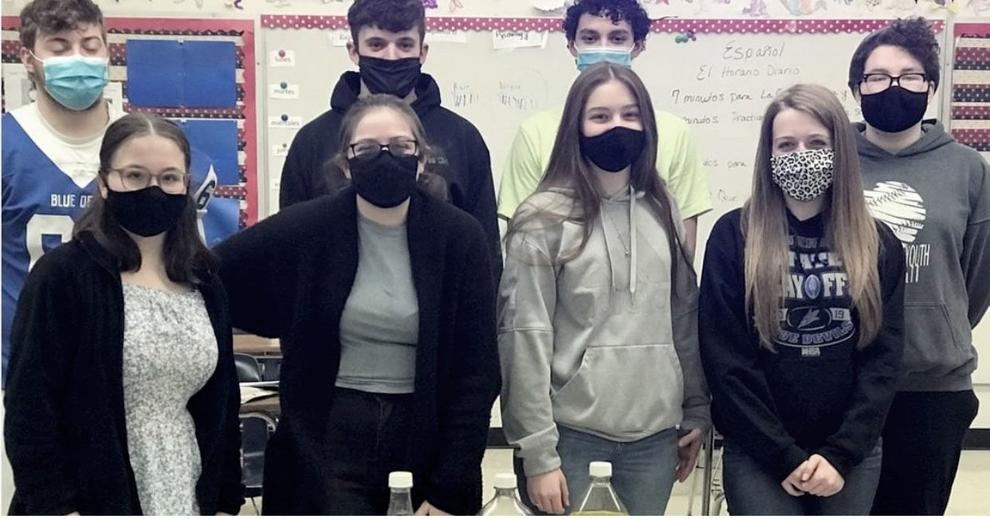 BHRA
Spanish students have been learning about food and cultures in class, including a Latin American soda taste-testing day! Pictured: Lori Frerich's Spanish IV class includiung (top row) Trenton Spicer, Cade Howie, Noah Gomez and Dyani Boyer; (bottom row) Grace Omundson, Mersadeez Barrett, Elena Harris and Haley Hill.
— Morgan Miller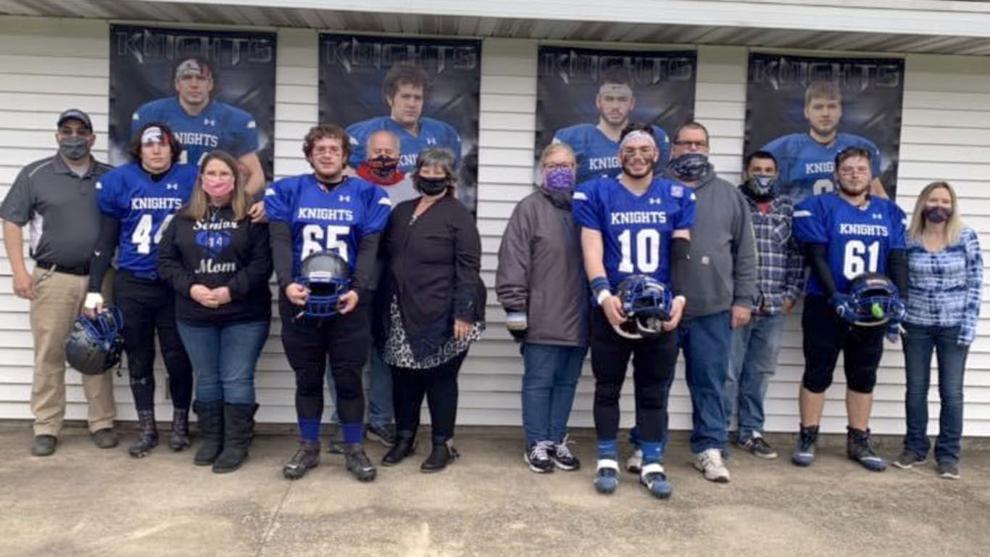 Blue Ridge
Last Friday, football celebrated its first – and last – home game of the shortened season. Pictured: seniors Kobly Kramer and his parents; Ben Potter and his mother; Tyler Nichols and his parents; and Mason Partlow and his parents.
— Courtney Shane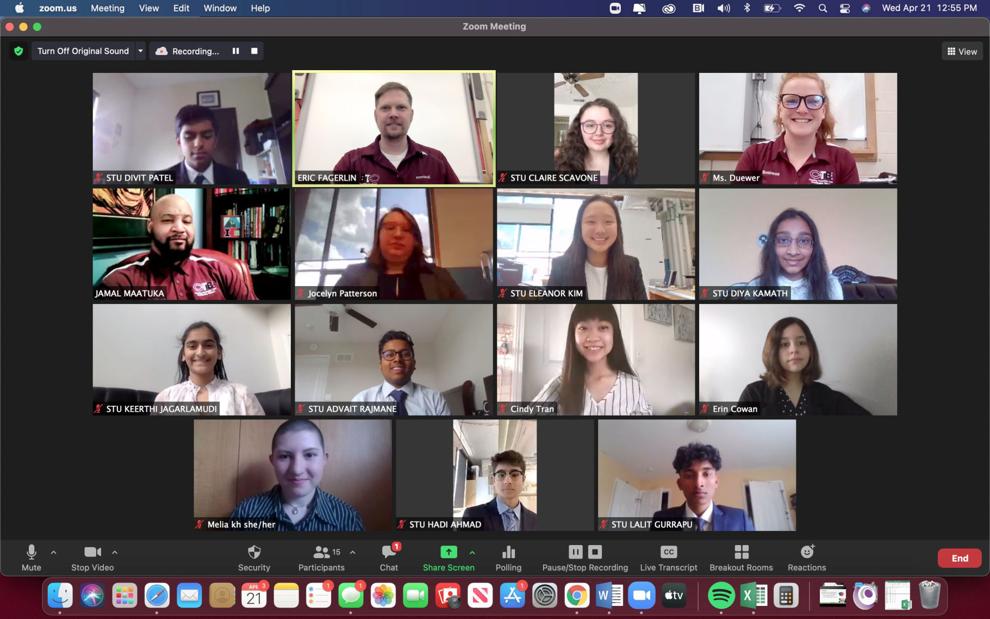 Champaign Central
In 2016, Eric Fagerlin reactivated the school's chapter of Future Business Leaders of America. What started with less than 10 members has grown to over 50. "I just wanted to create an opportunity for students to experience diverse aspects of the business world," said Fagerlin, who with the help of fellow teachers Claire Duewer and Jamal Maatuka have recruited students to compete in regional, state and national competitions.
This year's team might be the program's best. For the first time in its history, Central FBLA will have seven students competing at nationals. Erin Cowan (second place in introduction to parliamentary procedures), Cindy Tran (second place in organizational leadership), Shreya Sachdev (second place in business ethics), Sony Jain (third place in computer applications) and Hadi Ahmad, Divit Patel and Lalit Gurrapu (third place, public service announcement) qualified at the FBLA state leadership conference. Also placing in the Top 10 at state: Advait Rajmane, Jocelyn Patterson, Melia Kaplan-Hartnett, Keerthi Jagarlamudi, Diya Kamath, Eleanor Kim and Claire Scavone.
Said Maatuka: "We are in the business of competition, and at Champaign Central, business is good!"
— Kitty Rossow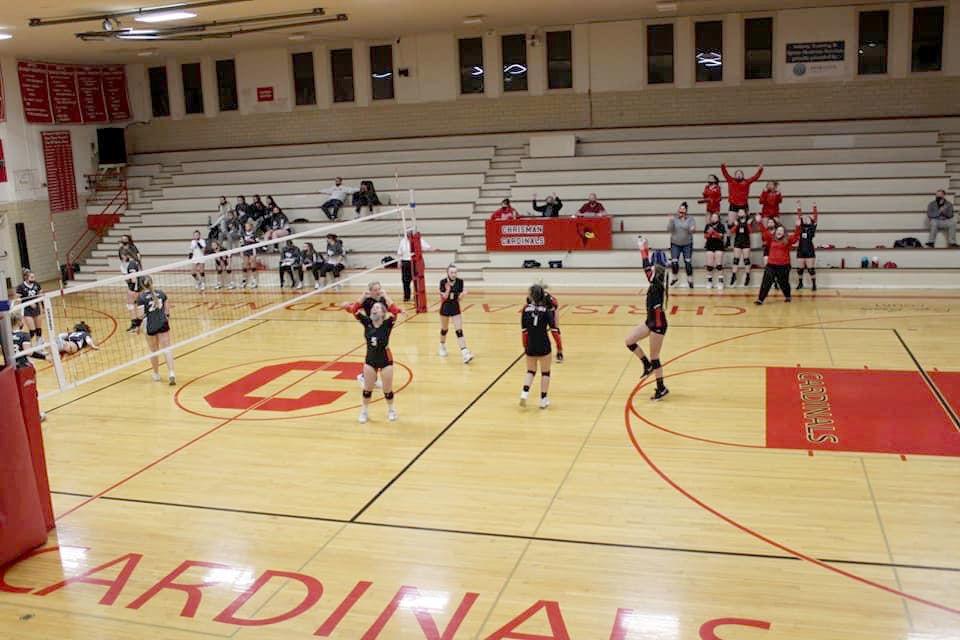 Chrisman
The volleyball team's strong finish included a win against Vermilion Valley Conference champion Salt Fork.
— Reese Anderson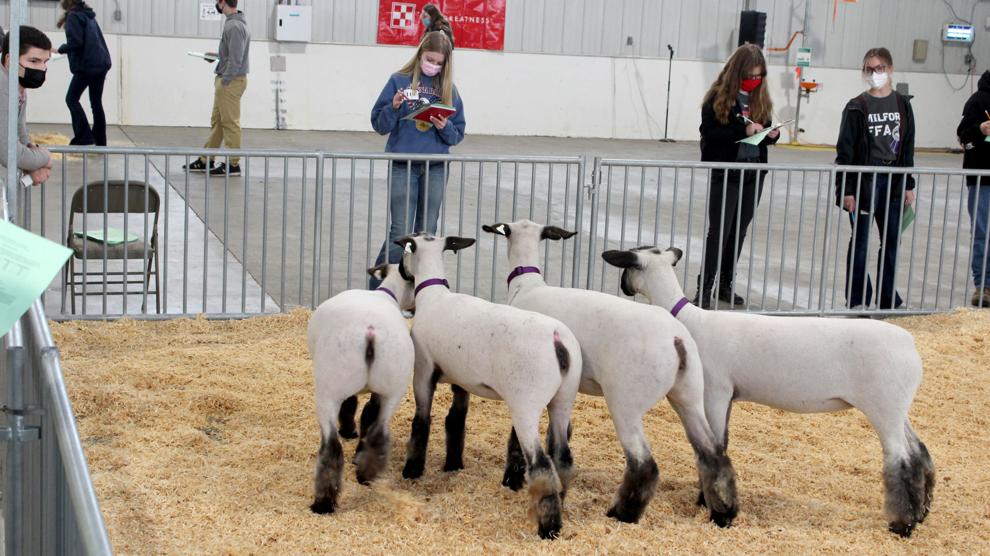 Cissna Park
FFA participated in livestock judging last week. Pictured: Kaylee Clark judging goats and, left to right, Allison Wessels, Bryce Sluis, Kaylee Clark, Breyden Sinn, Riley Maul, Kaylee Clark and Morgan Sinn.
— Audrey Kaeb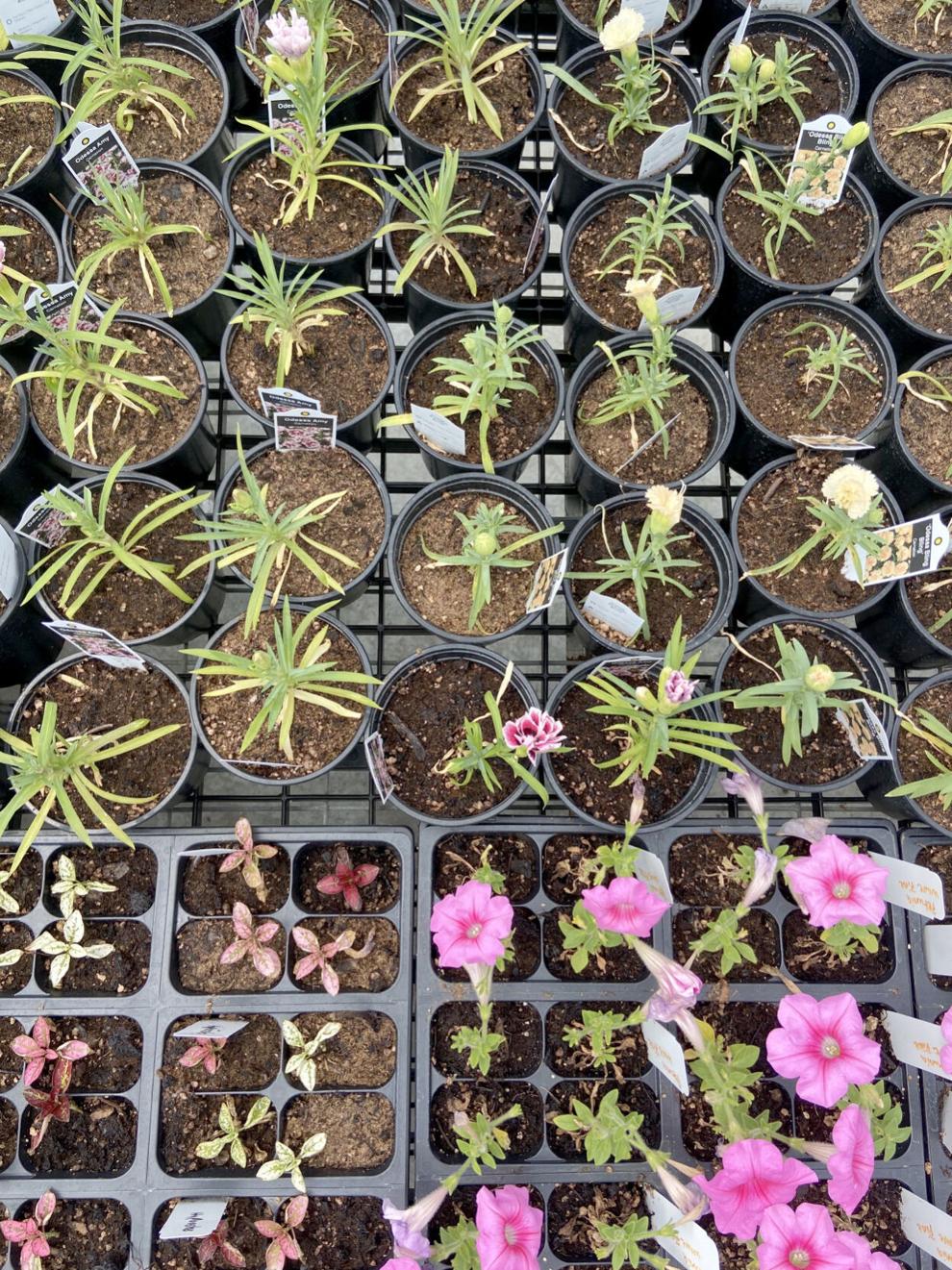 Fisher
FFA has been planting and preparing a wide variety of offerings for its annual plant sale on May 8 (9 a.m. to 2 p.m. in the school parking lot). Proceeds help fund the chapter's various endeavors.
— Addison Musick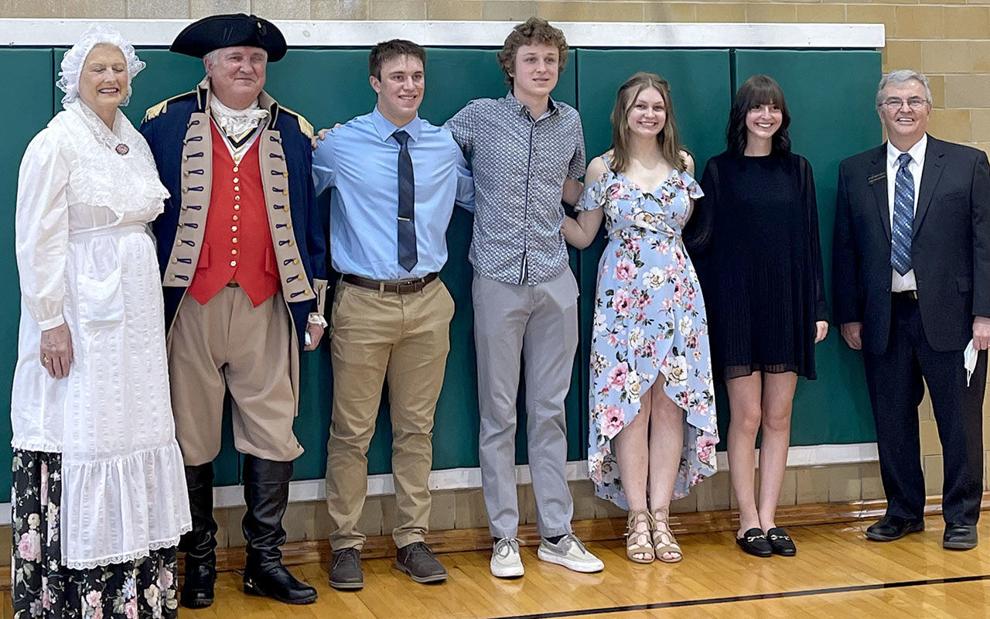 Gibson City-Melvin-Sibley
Ford County winners were recognized at a Daughters of the American Revolution and Sons of the American Revolution ceremony at the gym in Roberts. The ceremony included Paxton-Buckley-Loda and GCMS seniors (Haven Hathaway, Nathan Kallai) and State Rep. Tom Bennett.
— Haven Hathaway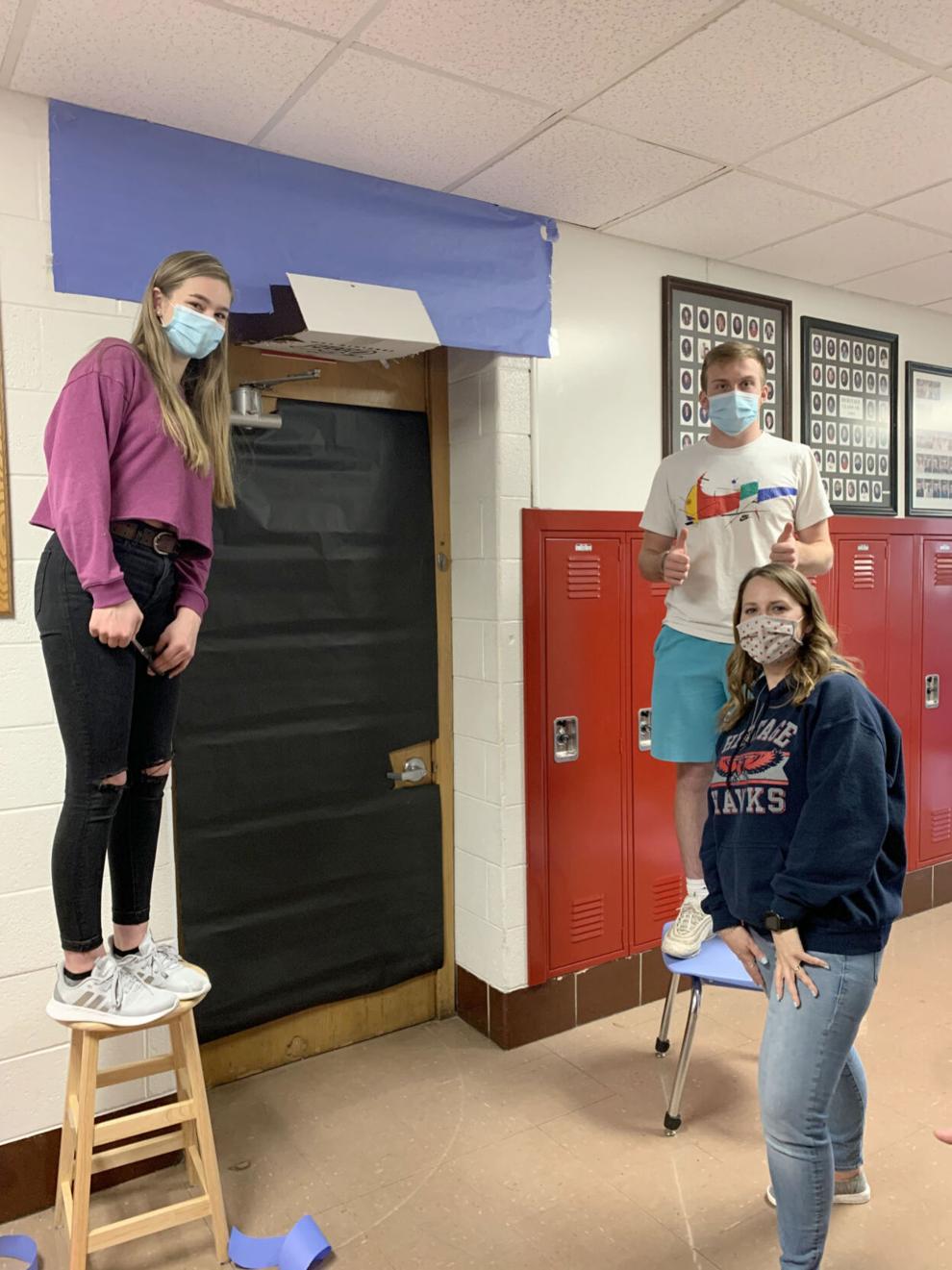 Heritage
Science teacher and senior class sponsor, Lauren Hopper, joins students Ezra Ely and Audrey Hancock (top) as classes work together to design doors for prom week. Each class and their corresponding sponsors were challenged to make the best designed door for upcoming prom week festivities.
— Anna Sanders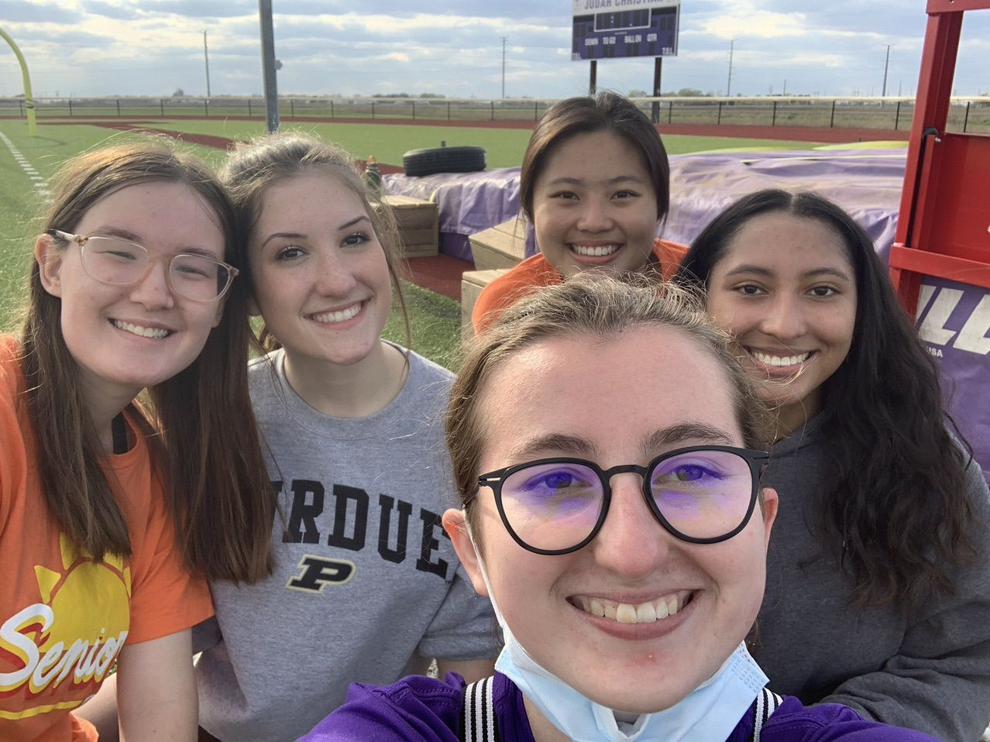 Judah Christian
The girls' varsity soccer team began practices at The Field of Dreams ahead of Tuesday's opener against Arthur Christian. Pictured: Emily Maxwell (front) and (left to right) Lily Berry, Anna Black, Felicity Tuan and Claudia Bautista.
— Felicity Tuan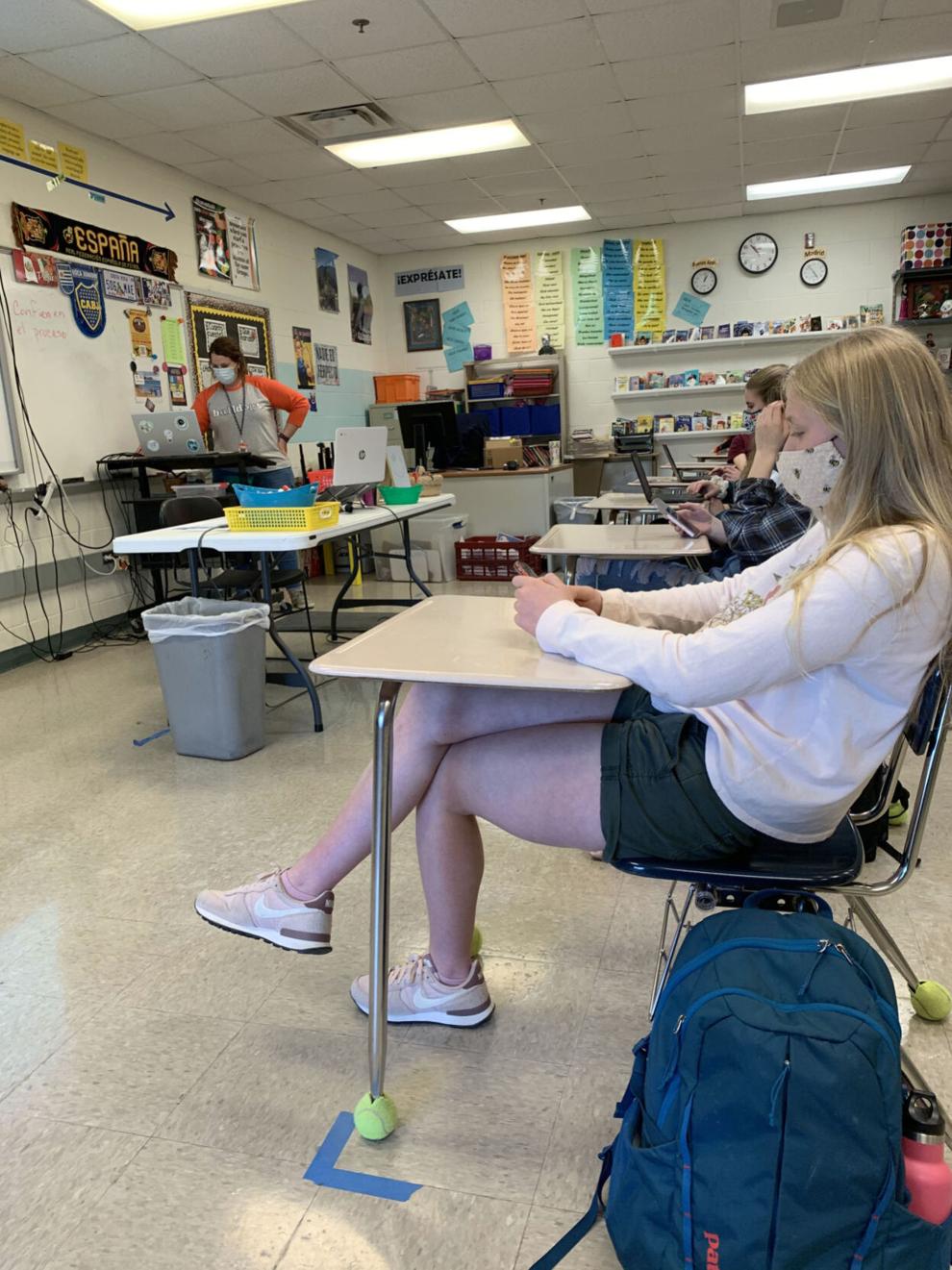 Mahomet-Seymour
Each year, Spanish students participate in Locura de Marzo, a music competition between different Spanish artists. Students vote on which is the best and create a bracket to find out the winner.
— Kate Cramer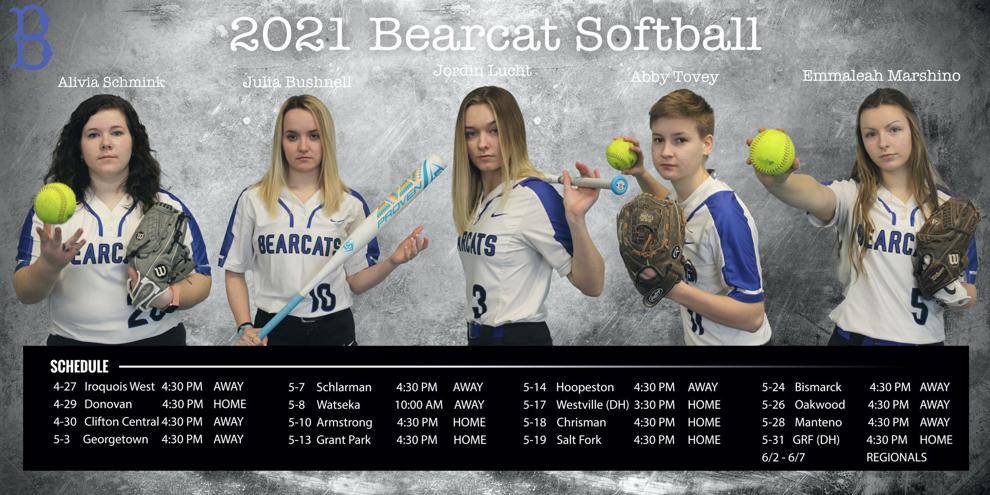 Milford
Entrepreneurship students designed custom banners for the baseball and softball teams.
— Jordin Lucht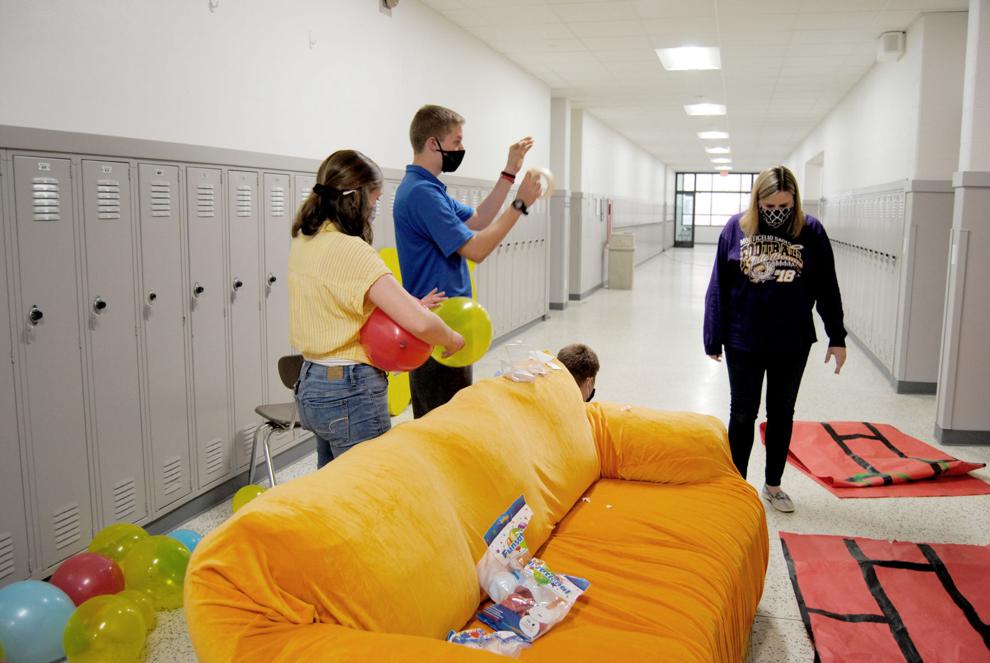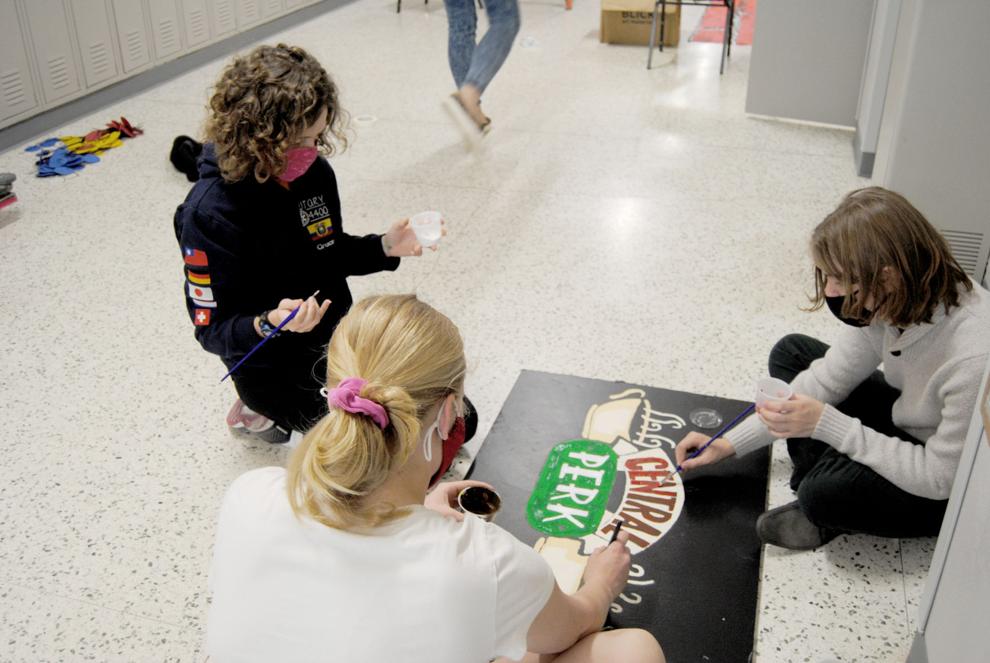 Monticello
The class officers were tasked with decorating hallways for the Spring Fling Spirit Week in place of Homecoming. Following a "Back to the '90s" theme, seniors chose Friends, juniors went with Clueless, sophomores picked hip hop music and freshmen chose to honor Will Smith. Pictured: Painting a sign for their hallway are seniors Grace Talbert, Kayla Wilson, and Jackson Fischel; bringing in balloons and a couch for the Friends theme are Sarah Hissong and Andrew Rudolph.
— Clara Rudolph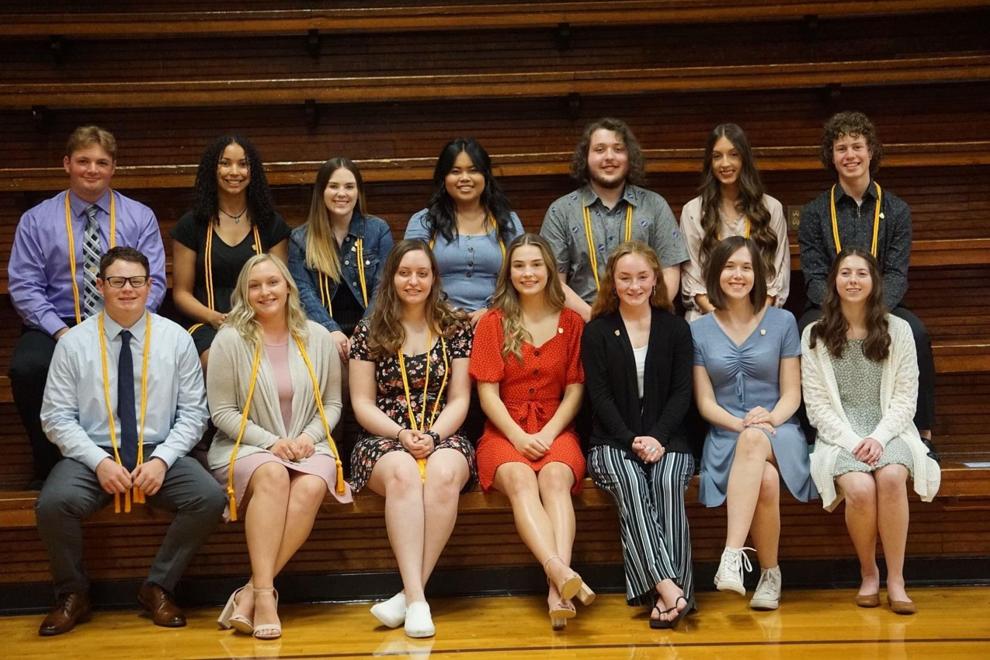 Oakwood
Last week, new National Honor Society members were inducted as senior members received their cords. Pictured: (back row) Isaiah Ruch, Aaliyah Denius, Madelyn Miller, Ricci Arcay, Titus Berner, Jalynn Bugaj and Brevin Wells; (front row) Reed Sperry, Olivia MCarty, Brooke Fultz, Madison Doan, Ashlynn Pinnick, Natalie Garrison and Katie Reffett.
— Aaliyah Denius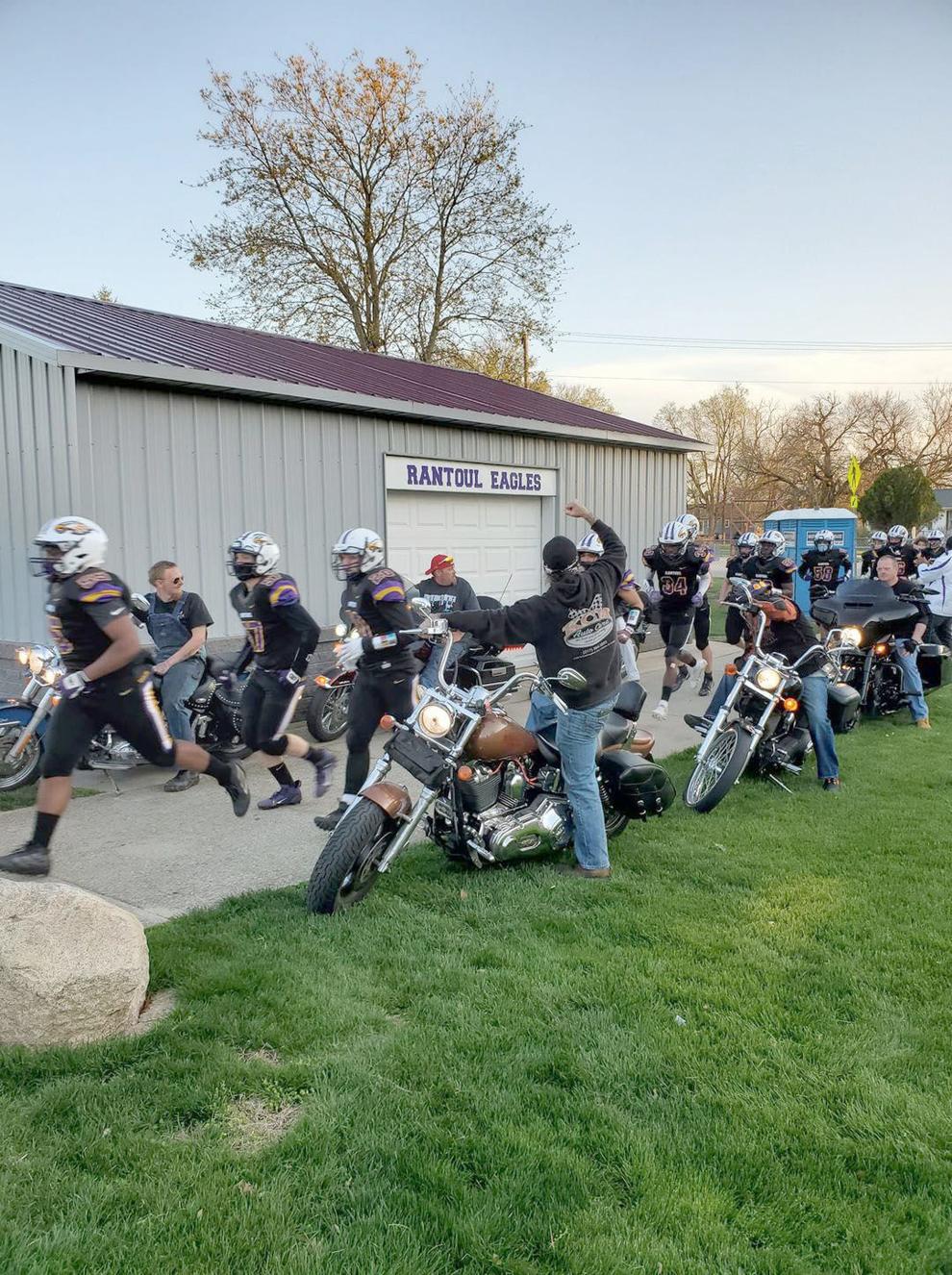 Rantoul
Before they took the field for their first home game of the spring season, the Eagles were greeted by the loud roar of several Harley-Davidson motorcycles and some really faithful fans.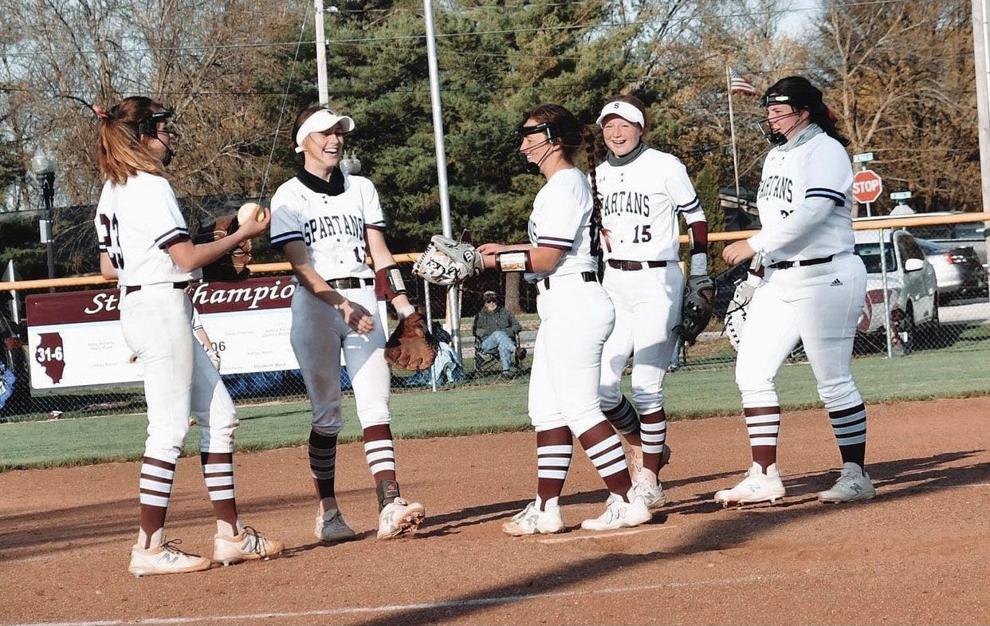 St. Joseph-Ogden
Spring sports kicked off last week with baseball, softball and track teams in action. Pictured, left to right: softball players Addy Martinie, Shayne Immke, Maggie Ward, Peyton Jones and Halle Brazelton.
— Kylie Duckett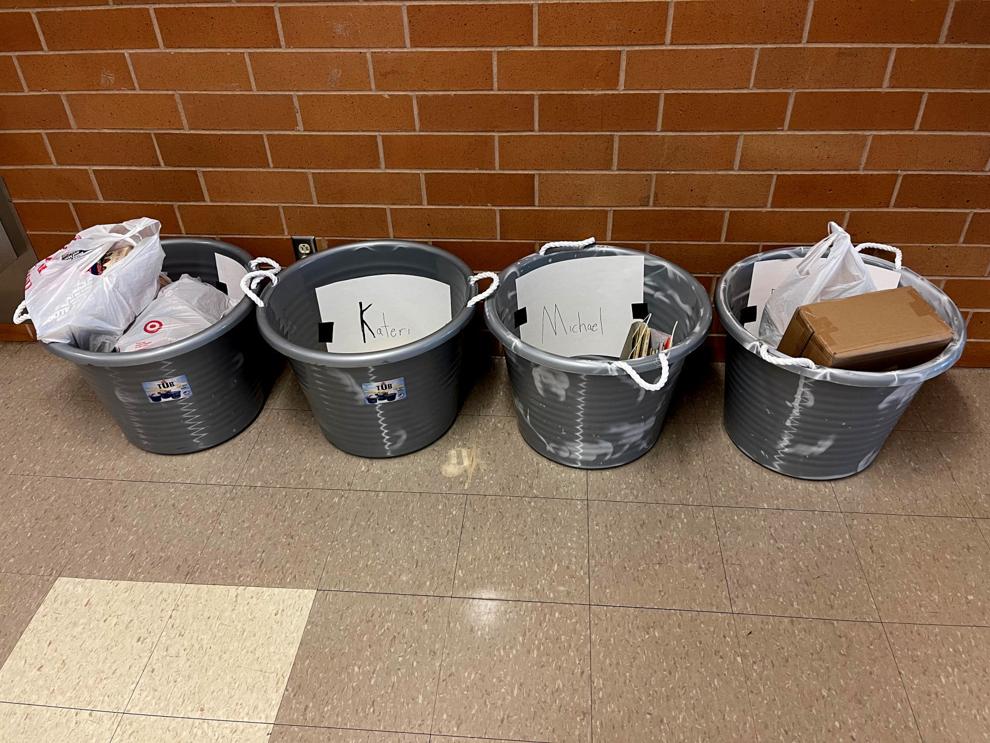 St. Thomas More
National Honor Society's book drive encourages students to donate books to Orphans Treasure Box Bookstore. NHS president Maris Green and secretary Paige Halcomb placed signs and bins around the school to remind the students of a collection that ends Friday.
— Maci Walters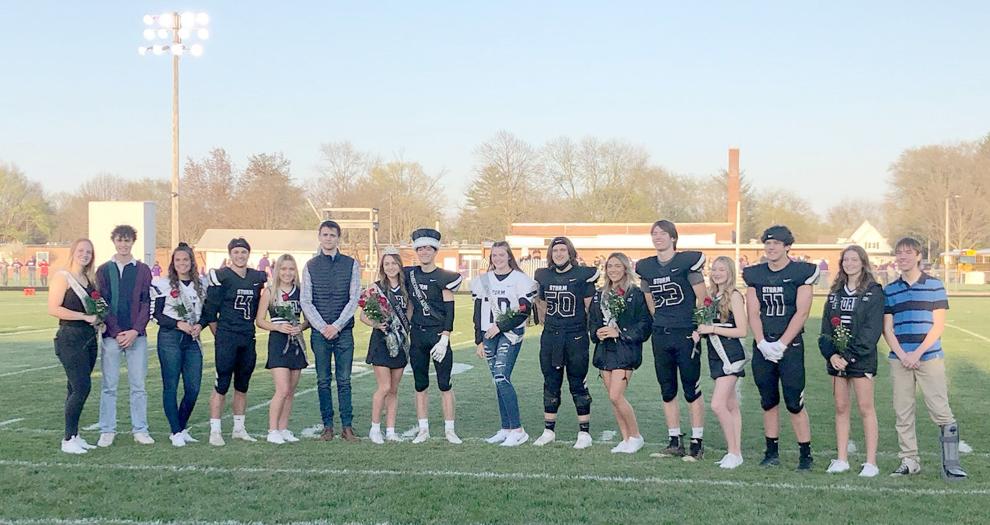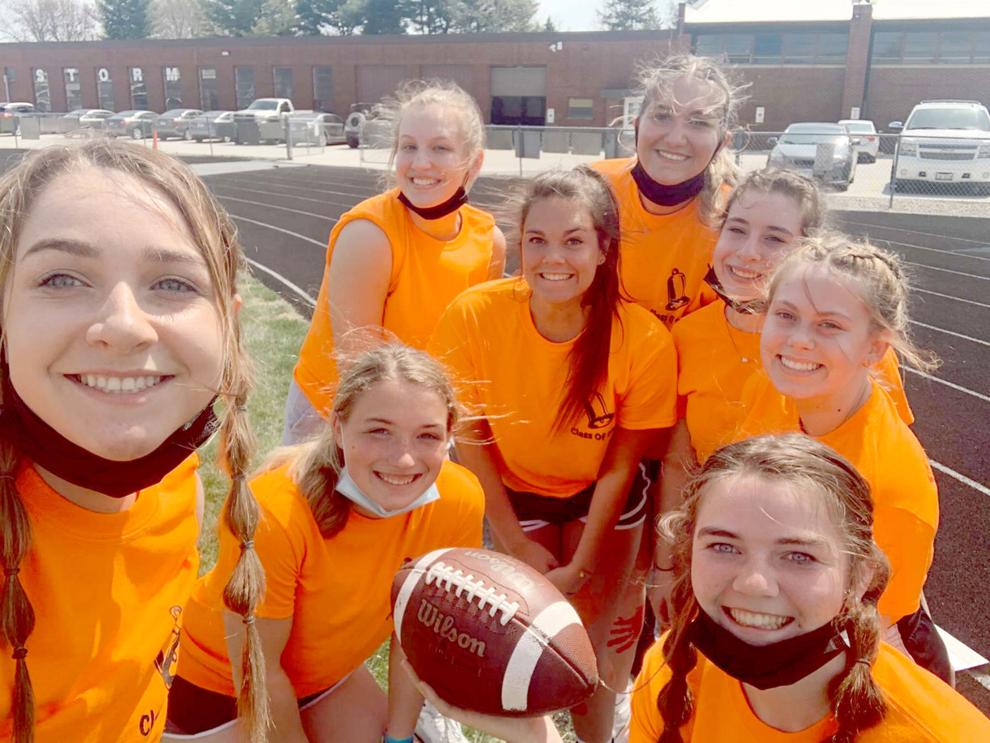 Salt Fork
During Homecoming Spirit Week, student council offered up a variety of activities leading up to game day. Pictured: The senior girls and powderpuff champions: (front) Gracie Jessup, Katelyn Lang and Mackenzie Russell; (back) Zoe Washkowiak, Lexi Hettmansberger, Olivia Chew, Lexi Buffington and Sadie Toppe. Also pictured: The Homecoming court, from left: seniors Zoe Washkowiak, Preston Webb, Lexi Hettmansberger, Brady Tevebaugh, Cassidy Chandler, Cullen Boyd, Gracie Jessup (queen), Jake Trosper (king), Mackenzie Russell and Levi Youhas; juniors Carlie Thompson and Camden Smoot; sophomores Riley McCrae and Derrek Richards; and freshmen Bricelynn Keeran and Ty Smoot.
— Olivia Chew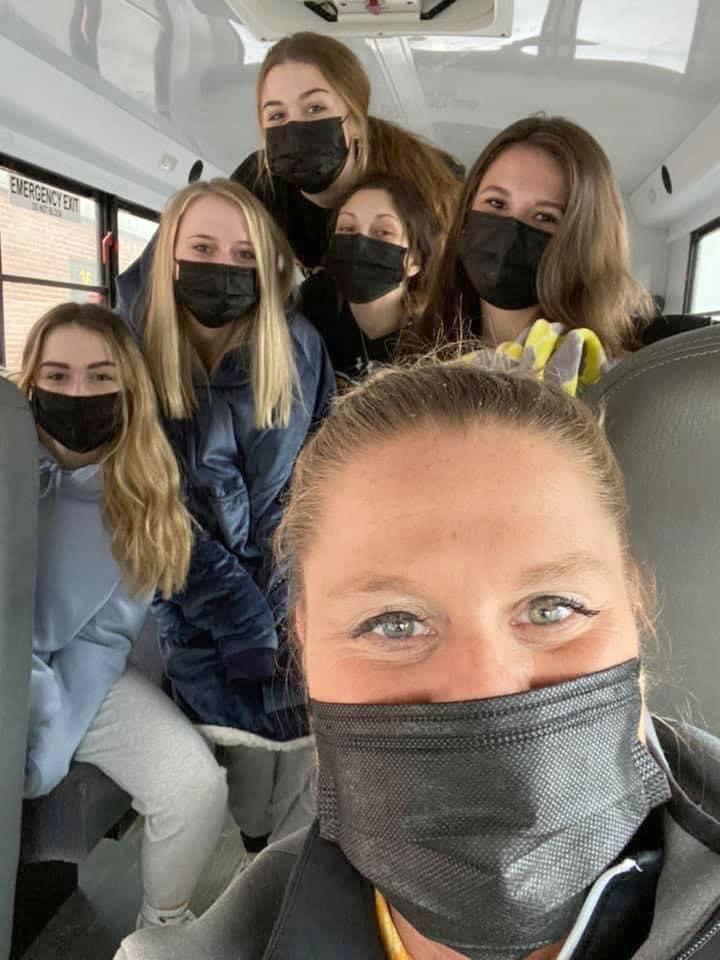 Tuscola
Volleyball coach Lydia Miller took a selfie with the team's seniors on their last bus ride together. Pictured, left to right: Kendyl Ring, Laney Cummings, Marissa Russo, Hope Dietrich and Jessie Martin.
— Ava Cothron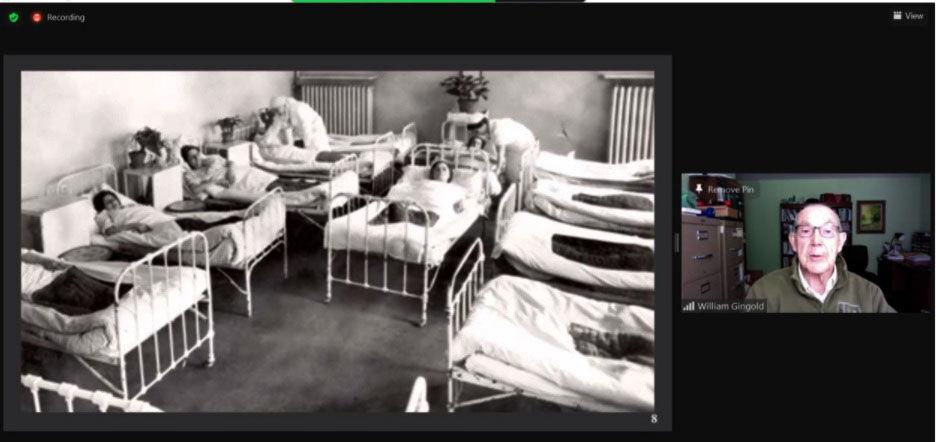 Uni High
Last Thursday, Holocaust survivor Dr. William Gingold spoke with students and faculty about his experiences. Gingold told the story of his family's escape from the Warsaw Ghetto and their eventual immigration to the United States. The presentation was arranged by German teacher Jenny Robins, and attended by nearly forty members of the Uni community. Pictured is Gingold sharing an image of the hospital he was born in.
— Charlotte Ebel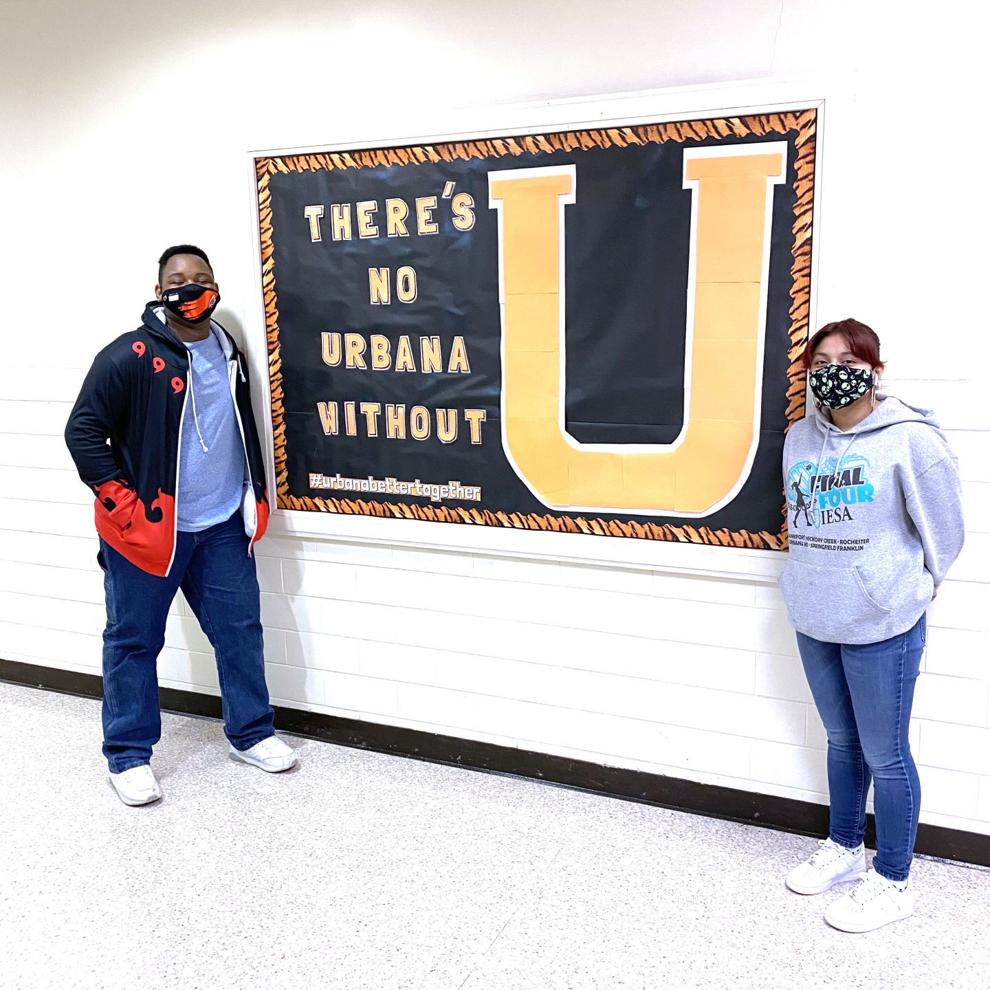 Urbana
As more students and staff returned to the building, students Natalie Pedro and Mifrael Nkwadi helped their Career and Technical Education teacher, Emily Warner, create a bulletin board to welcome them back. "The intention is for students, faculty, and staff to sign their name within the U portion, since we are part of what makes up Urbana," Warner said.
— Jose Alvarez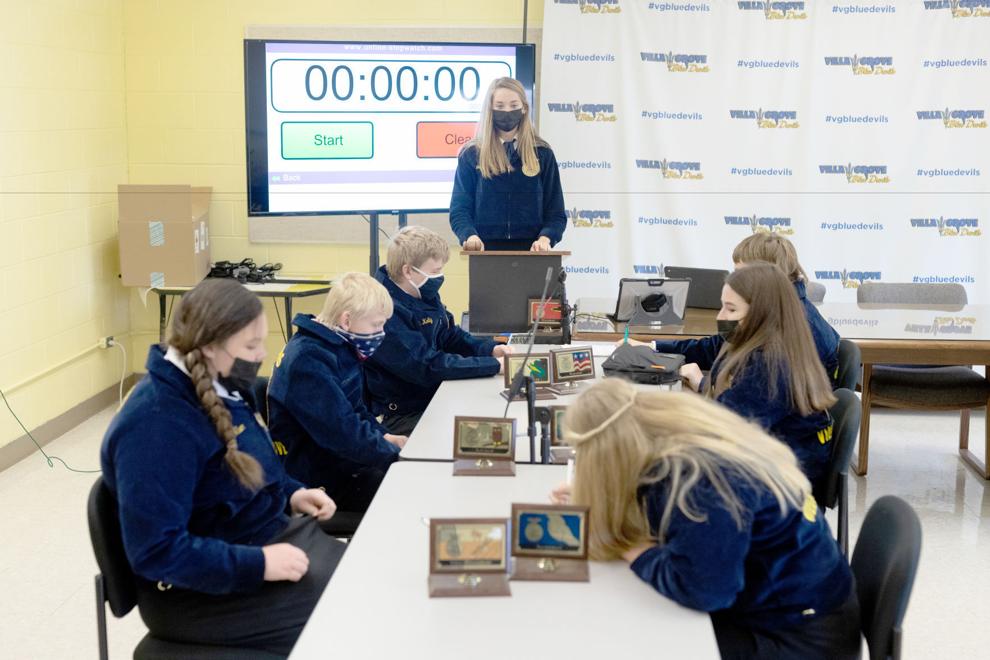 Villa Grove
High school freshmen helped junior high students practice parliamentary procedure for an upcoming FFA competition.
— Daniel Olson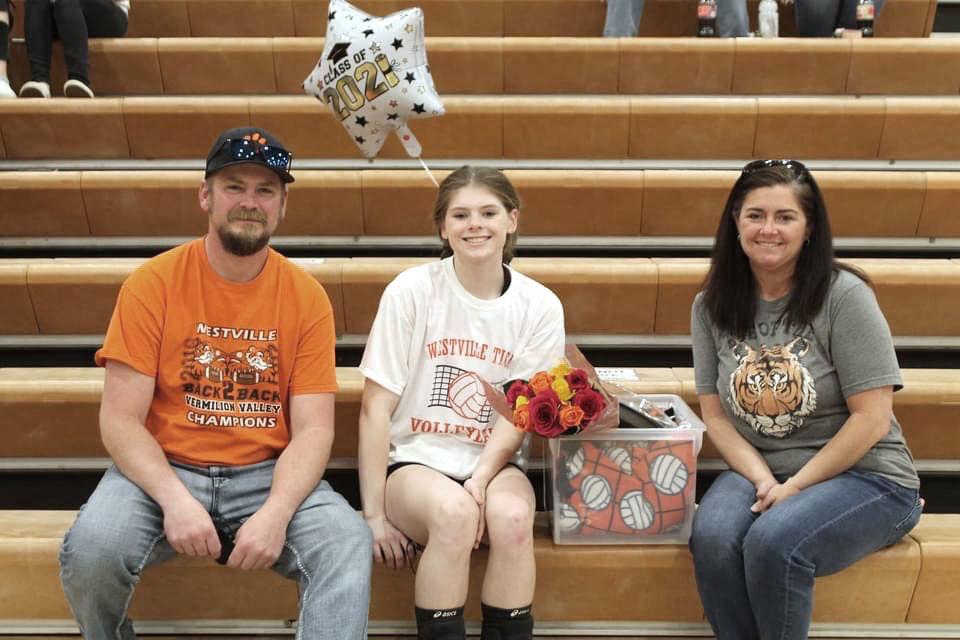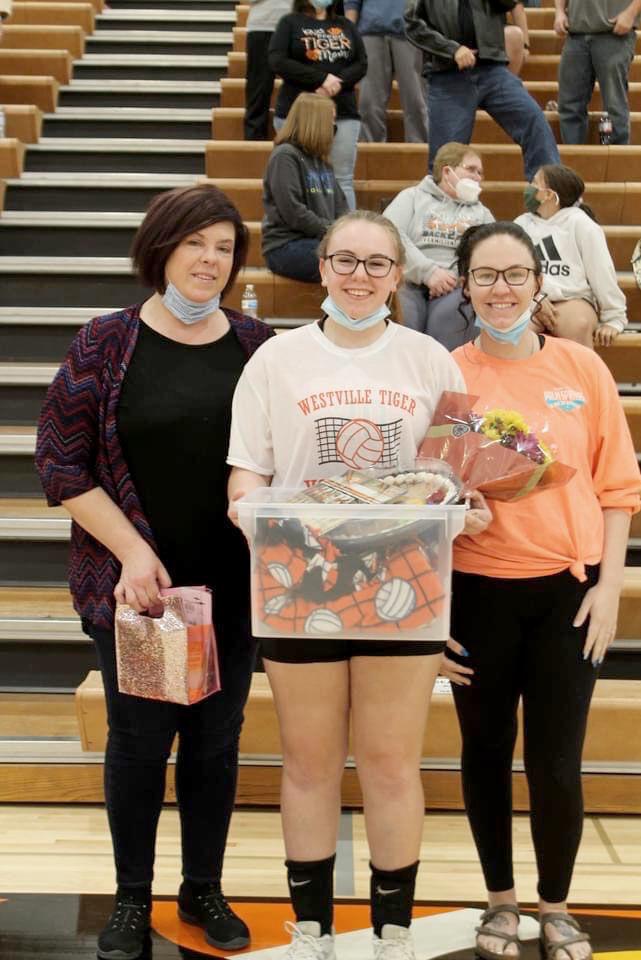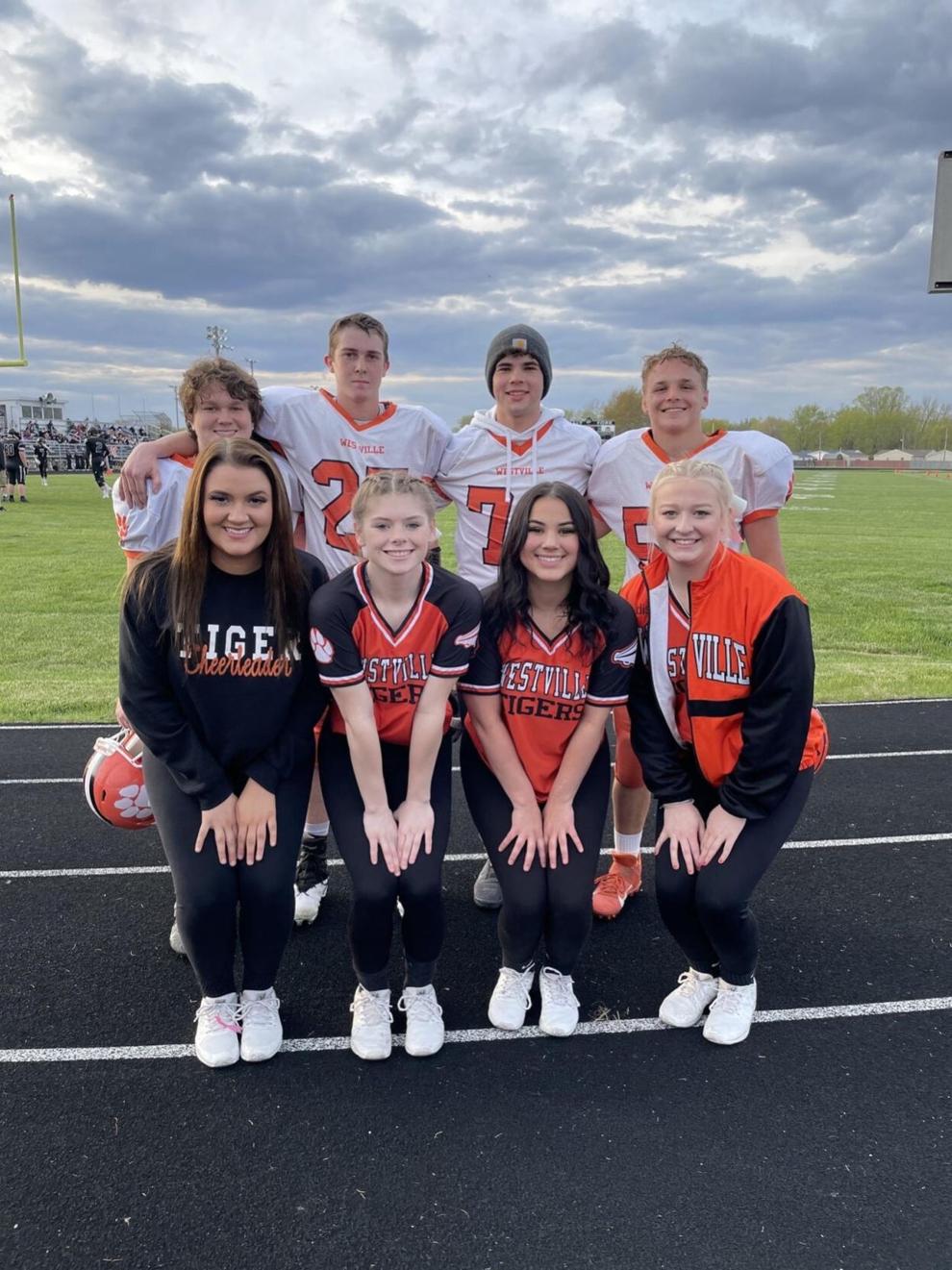 Westville
Senior athletes in volleyball, football and cheer took a bow as their seasons wrapped up. Pictured: volleyball players Halle Douglas and Makenzie Kantout with their parents; cheerleaders (left to right) Ciarra Ritter, Halle Douglas, Sydney Vargas and Adison Kinney, and football players Logan Koontz, Dalton High, Devin Richards and Hunter Mahaffey.
— Bryce Burnett