Welcome to Year 5 of High School Confidential, an award-winning project made possible by aspiring student journalists from every corner of our circulation area. Each Friday through May, they'll tell us what's happening in their hallways at news-gazette.com.
Once a week, we'll hand over our Snapchat account (News-Gazette) to our correspondents for behind-the-scenes tours.
On Friday, Arcola senior Fabi Jaramillo will take us behind-the-scenes at the school during Spirit Week, including today's homecoming parade.
Feeback? Email N-G/VP Jim Rossow at jrossow@news-gazette.com.
This year's panel:
— Reese Anderson, Chrisman
— Jose Alvarez, Urbana
— Briana Ballard, Academy
— Tori Billingsley, DeLand-Weldon
— Jada Bonam, Centennial
— Lexi Breymeyer, Hoopeston Area
— Bryce Burnett, Westville
— Raegan Cheek, ALAH
— Olivia Chew, Salt Fork
— Cassandra Colmenares, Academy
— Riley Combes, Monticello
— Hayden Copass, Georgetown-Ridge Farm
— Ava Cothron, Tuscola
— Kate Cramer, Mahomet-Seymour
— Aaliyah Denius, Oakwood
— Kylie Duckett, St. Joseph-Ogden
— Charlotte Ebel, Uni High
— Malia Fairbanks, Unity
— Andrew Ferguson, Fisher
— Hailey Gadbury, Bement
— Haven Hathaway, Gibson City-Melvin-Sibley
— Leilani Islam, Danville
— Fabiola Jaramillo, Arcola
— Kitt Johnson, Schlarman
— Audrey Kaeb, Cissna Park
— Perry Lee, Champaign Central
— Jordin Lucht, Milford
— Mason McMasters, Armstrong-Potomac
— Taylor Mennenga, Paxton-Buckley-Loda
— Morgan Miller, BHRA
— Daniel Olson, Villa Grove
— Tony Owen, Rantoul
— Anna Sanders, Heritage
— Emerson Tarr, LeRoy
— Felicity Tuan, Judah Christian
— Kristen Rose Walder, Cissna Park
— Maci Walters, St. Thomas More
On to this week's report: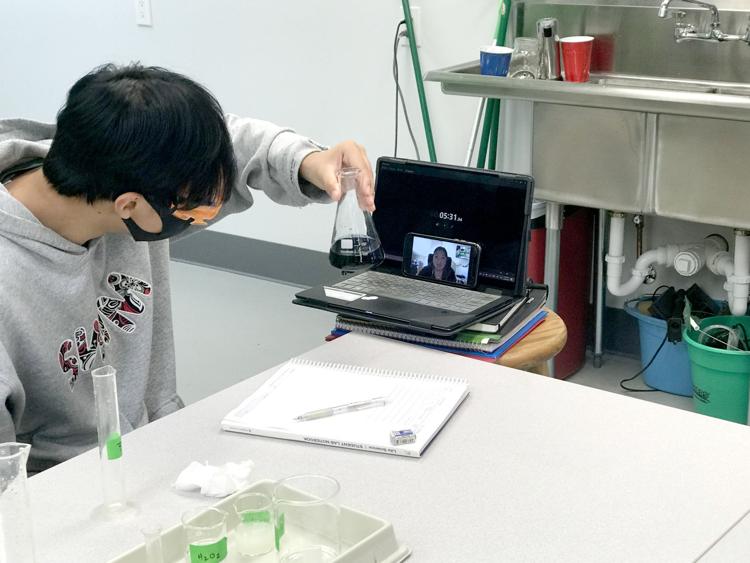 ACADEMY HIGH
Students in advanced chemistry conducted a Vitamin C reaction lab with virtual lab partners. Pictured: William Ding and Megan Wiarda.
— Briana Ballard
ALAH
Golfers competing at regionals included Aaron Seegmiller, Kade Hershberger and Braden Kauffman.
— Raegan Cheek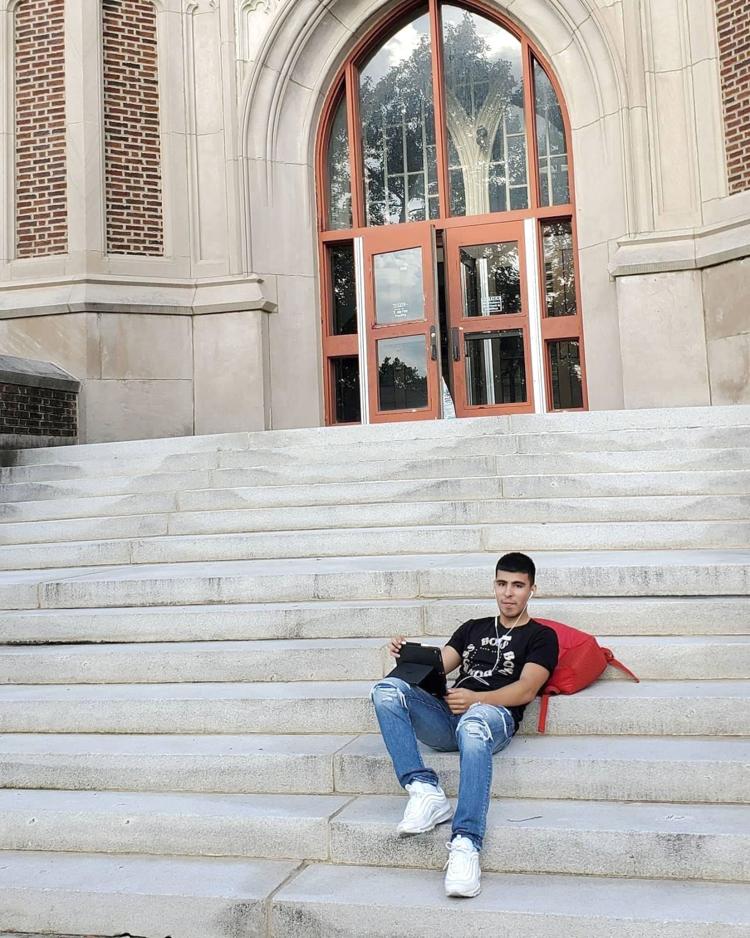 ARCOLA
Like many students during a warm stretch of weather, sophomore Adrian Llanes enjoyed a mask break outside for schoolwork.
— Fabiola Jaramillo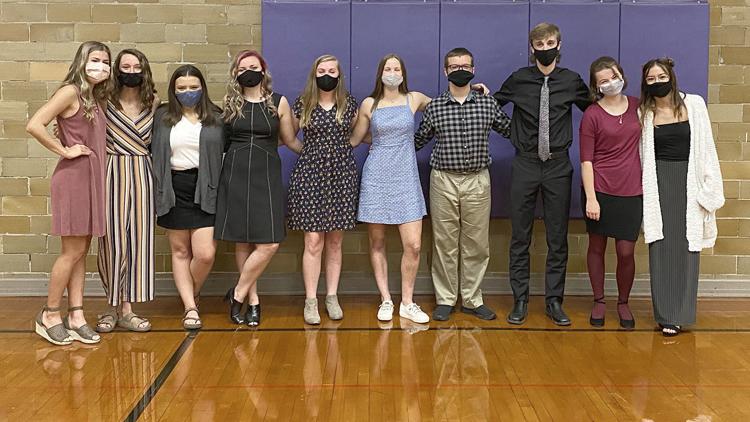 ARMSTRONG-POTOMAC
National Honor Society hosted its new members induction ceremony Oct. 8. Among those introduced after the lighting of candles and speeches: Alexis Huston (not pictured), Mattie Kennel, Carlyn Crozier, Casey Grant, Ersie Cooper, Madelyn Hudson, Seth Pollitt, Luke Gordon, Olivia Logue and Akira Hagley.
— Mason McMasters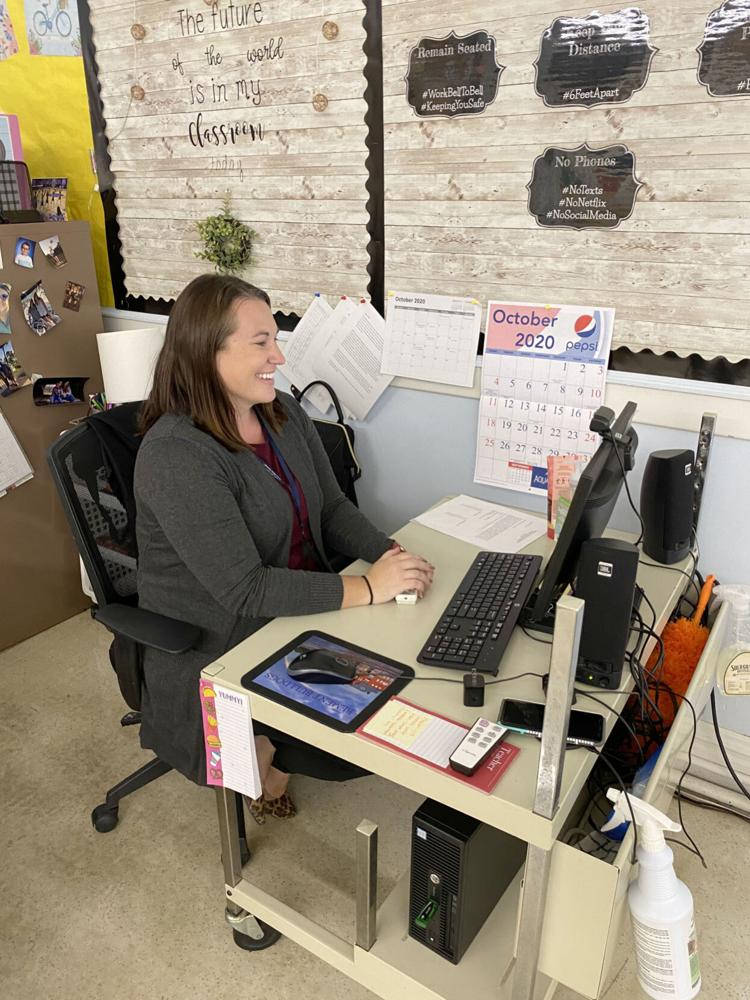 BEMENT
Parent/teacher conferences looked different than in the past. Due to COVID-19, the meetings took place online, time slots assigned through Google Meet. Pictured: Family and consumer sciences teacher Angie Corum.
— Hailey Gadbury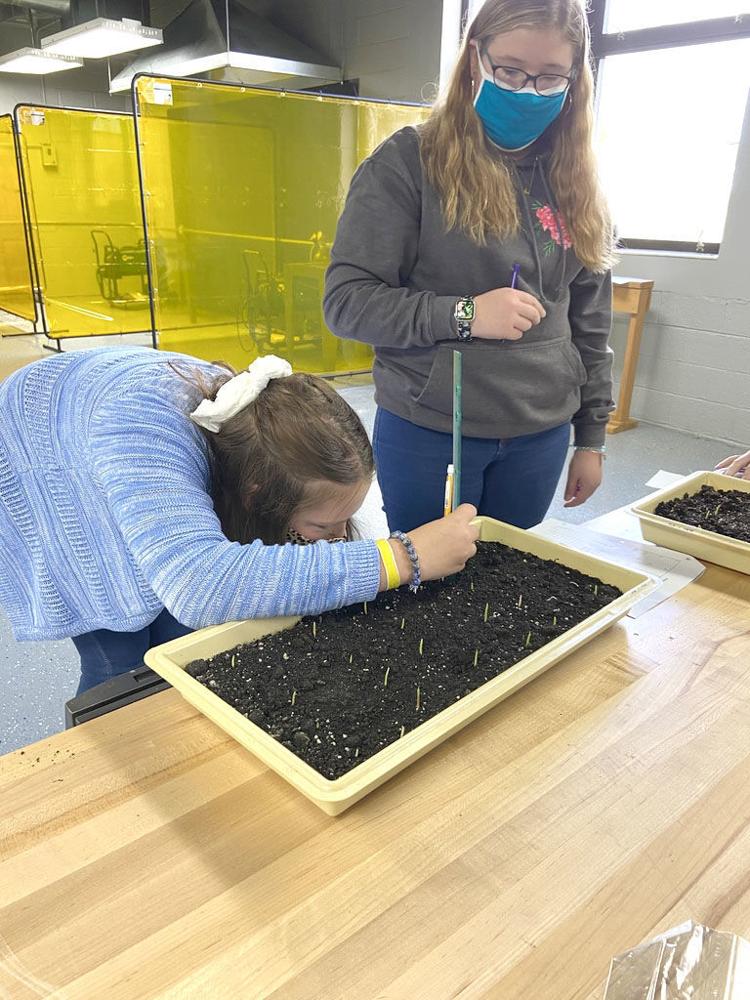 BHRA
Amy DeGoyler's Biological Sciene Applications in Agricultre (BSAA) class studied genetics and lethal genes by planting and observing corn plants. Students will be monitoring the plants for the next few weeks. Pictured: Eliza Knipe and Brooklynne Klett measuring the height of their plants.
— Morgan Miller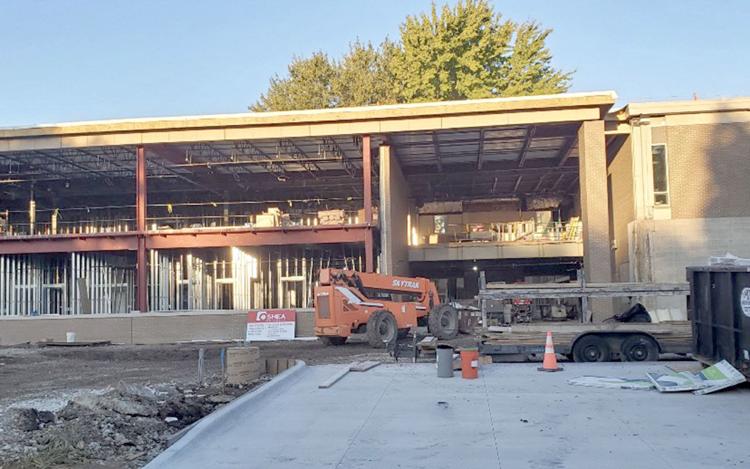 CENTENNIAL
With students still attending classes remotely, construction continues at school. It is scheduled to be completed by fall 2021.
— Jada Bonam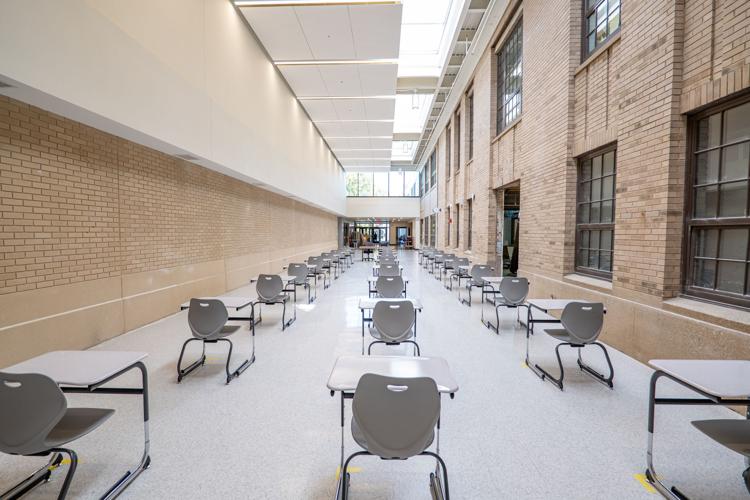 CHAMPAIGN CENTRAL
Parent-teacher conferences are scheduled to take place over Zoom on Oct. 22-23. Seniors returned to the renovated building on Wednesday to take the SAT, which was canceled in the spring due to the pandemic. For many students, it was their first time back at Central since school was dismissed in March.
— Kitty Rossow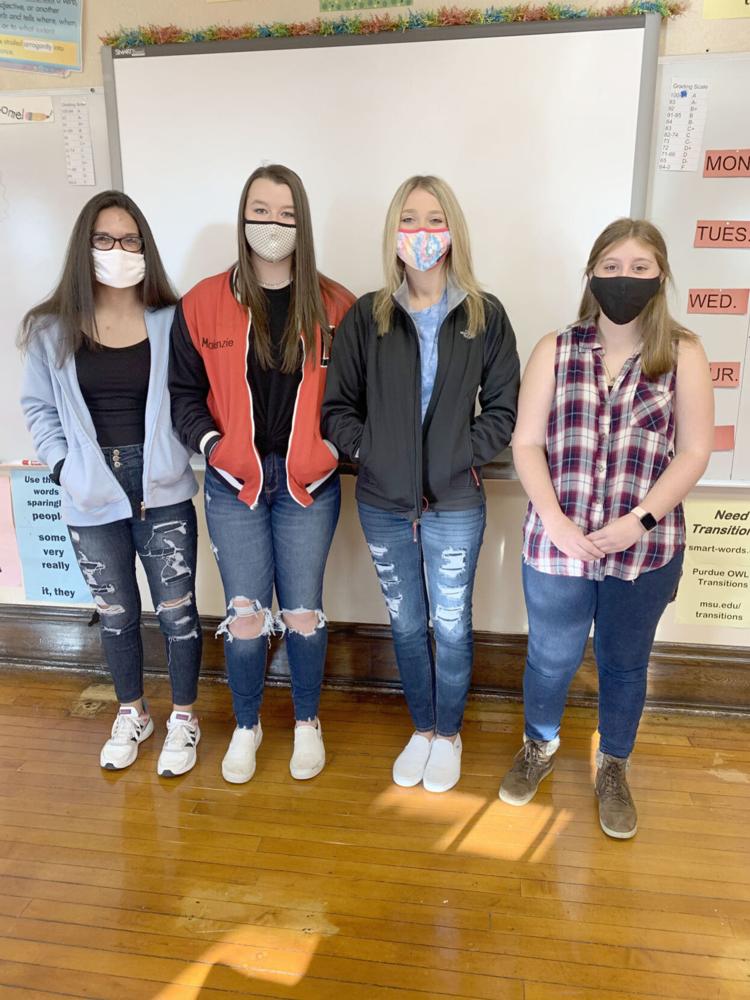 CHRISMAN
Sophomore class officers are, left to right: Sequoyah Cook (president), Makenzie Mitchell (vice president), Alivia Brinkley (treasurer) and Autumn Baker (secretary).
— Reese Anderson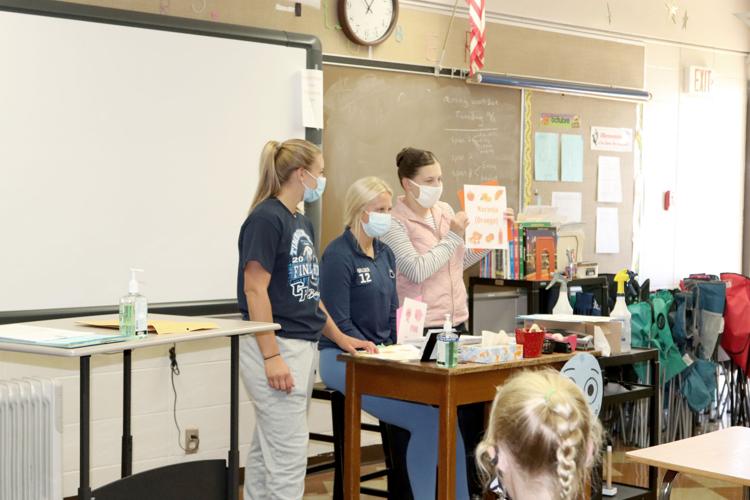 CISSNA PARK
For Hispanic Heritage Month, Spanish 4 students taught fourth-graders why it is celebrated as well as Spanish words. Pictured: Audrey Kaeb, Kristen Walder and Hannah Waldbeser.
— Audrey Kaeb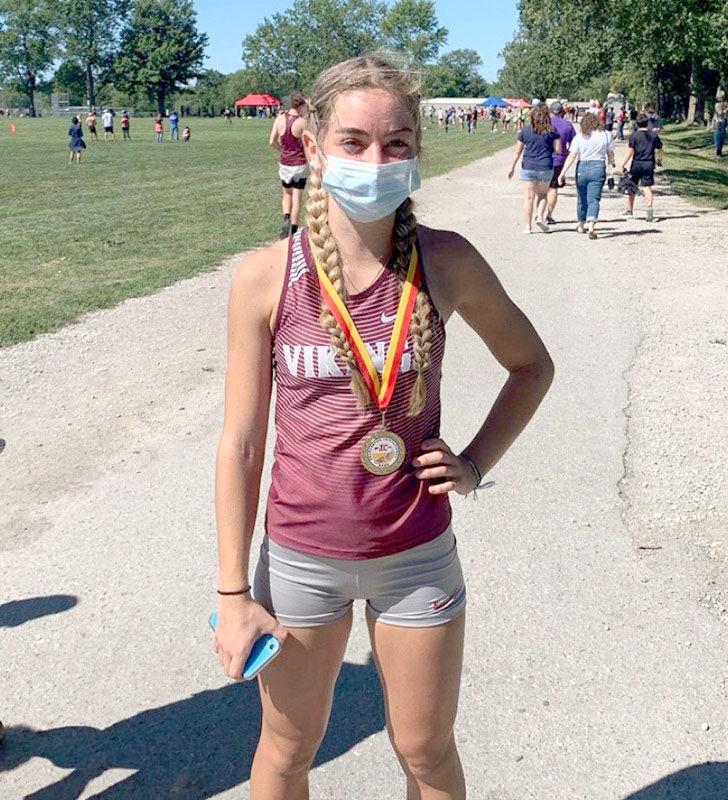 DANVILLE
One of the girls' cross-county leaders this season has been newcomer Erin Houpt, the school's all-time leading scorer and All-Area first-teamer in girls' basketball.
— Lani Islam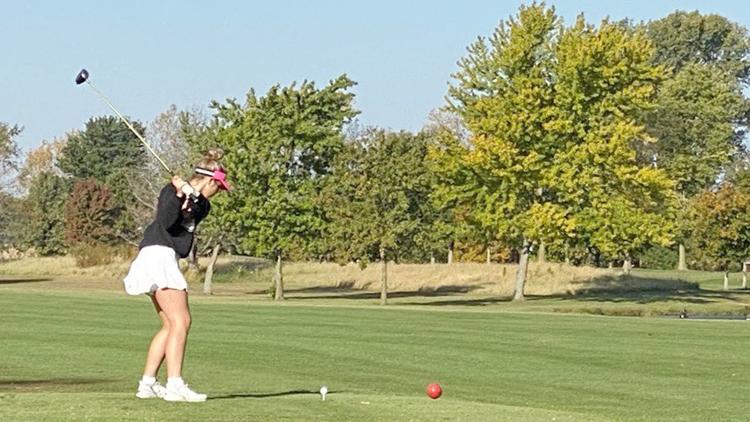 FISHER
Senior Isabella Smith shot a personal-best 100 at golf regionals on Oct. 7.
— Andrew Ferguson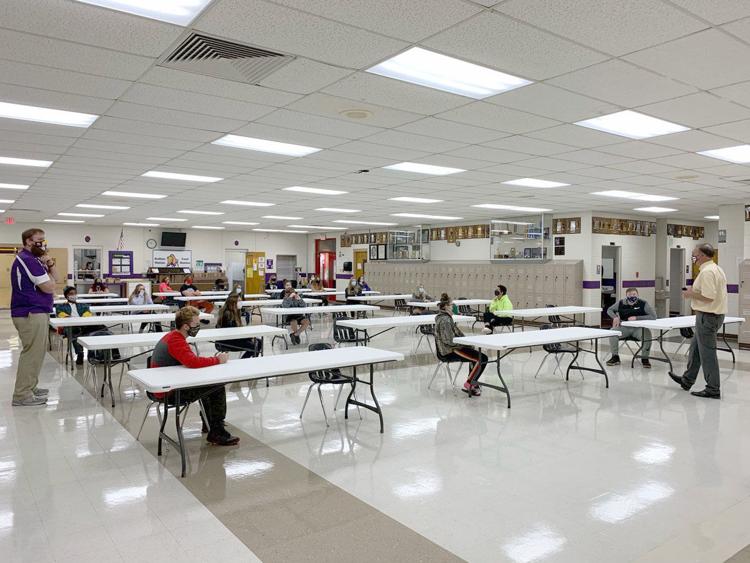 GEORGETOWN-RIDGE FARM
With students set to return to in-school learning Oct, 19, freshman orientation took place last week. The school also put together a seven-minute "Return to School Procedures" video available on YouTube starring students Bailee Whittaker, Robert Toney, Chloe Winslow, Jeremy Stark, Logan Dawson and Trinity Collins.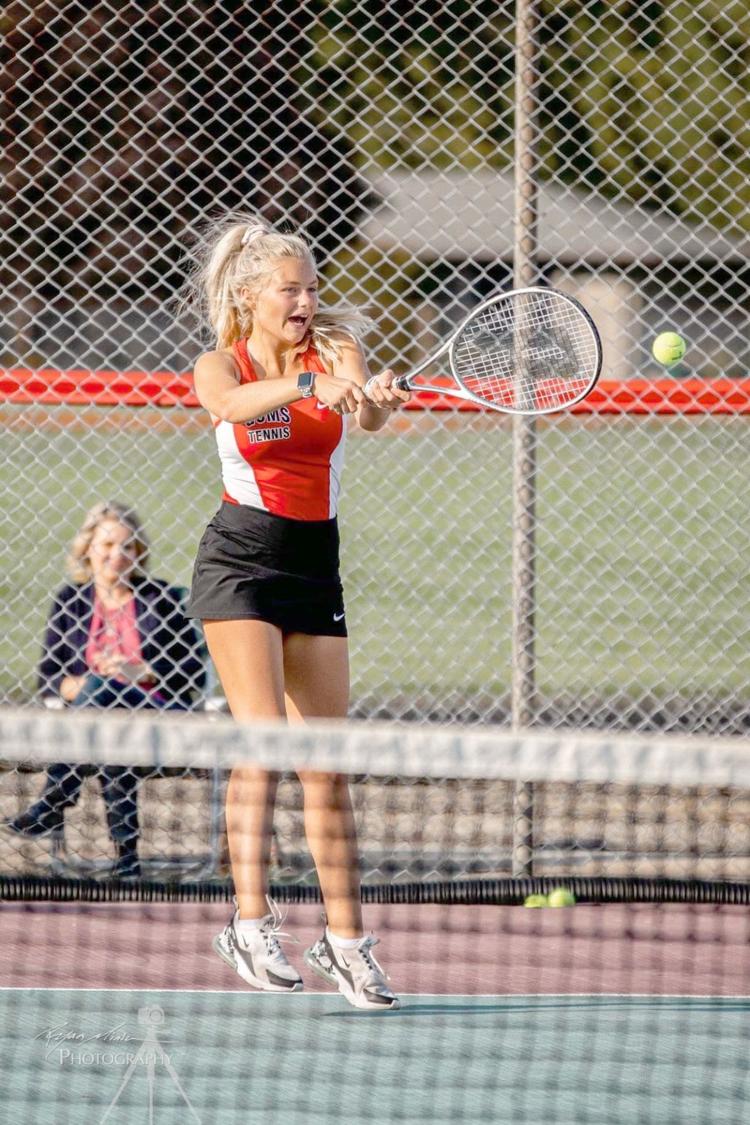 GIBSON CITY-MELVIN-SIBLEY
The tennis team celebrated Senior Night on Oct. 6. The lone senior, Grace Christensen, said her favorite memory was as a freshman when she played with her older sister, Haley, then a senior. Photo by Ryan Minion.
— Haven Hathaway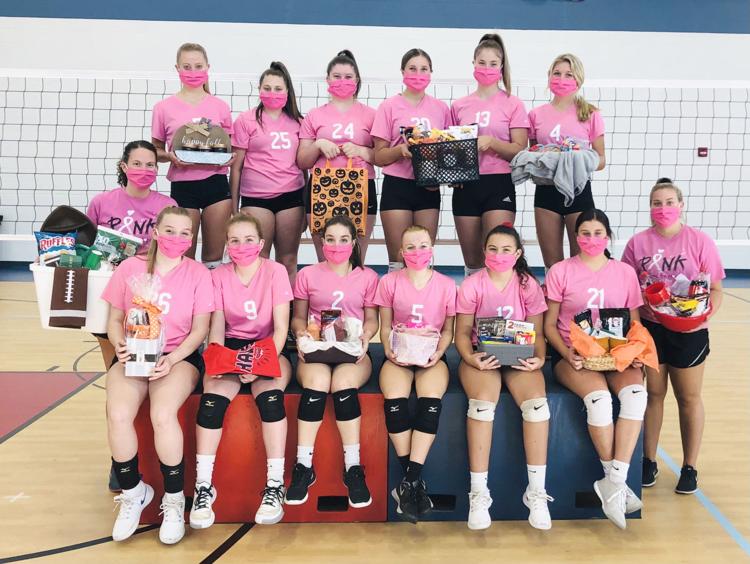 HERITAGE
The volleyball team is raising money for Breast Cancer Awareness month differently this year. Instead of preparing and decorating for the Volley for a Cure match at a sold-out (and pink) gym, players and coaches have donated gift baskets to be raffled. The deadline to purchase tickets is Oct. 26 with winners announced Oct. 27. Pictured, left to right: (top) Kiley Knoll, Destanee Morgan, Adena Paul, Torie Rothermel, Bri Struck and Brynna Wyant; (bottom) Kourtney Bradd, Riley Miller, Trinity Tatman, Savannah Gilliland, Mary Roland, Anna Sanders and Alex Hudson.
— Anna Sanders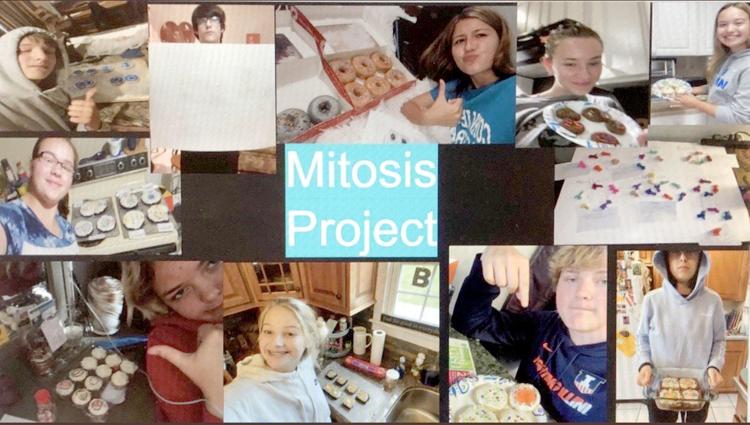 HOOPESTON AREA
Biology 1 students were asked to bake something at home that represents cell division for a mitosis project. Pictured, right to left: (top) Will Lind, Christian Kirts, Giani Haton, Riley Stevens, Alexa Bailey; (middle) Alexa Burke; and (bottom) Kaydence Bailey, Lacie Breymeyer, Waylon Lee and Brea Boyer.
— Lexie Breymeyer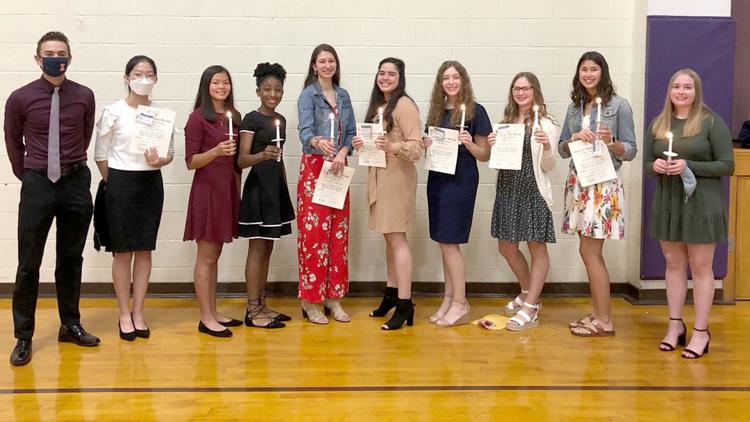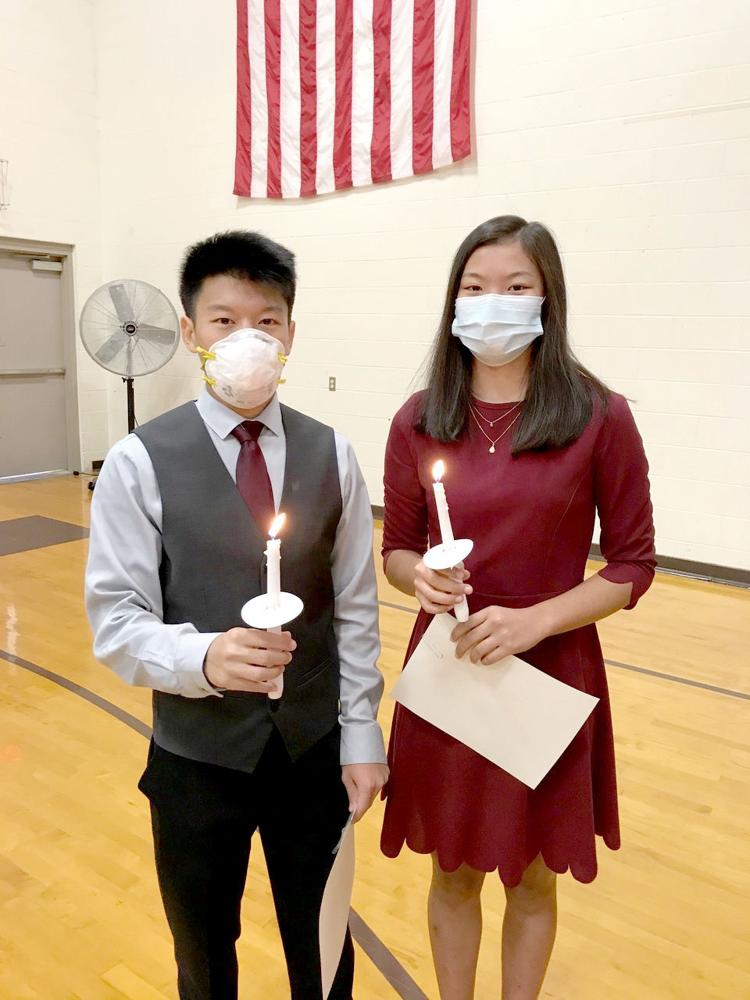 JUDAH CHRISTIAN
Eleven students — eight juniors, three seniors — were inducted into National Honor Society. Marlene Behrends, NHS adviser, discussed the NHS principles: scholarship, service, leadership and character. Pictured, left to right: Cade Hettmansberger, Yoonyoung Choi, Emma Schultz, Jordan White, Kaitlyn Januzik, Abi Tapuaiga, Lydia Lowry, Ally Aardsma, Natalie Pait and Megan Wolf. Also: Josh Schultz and Emma Schultz.
— Felicity Tuan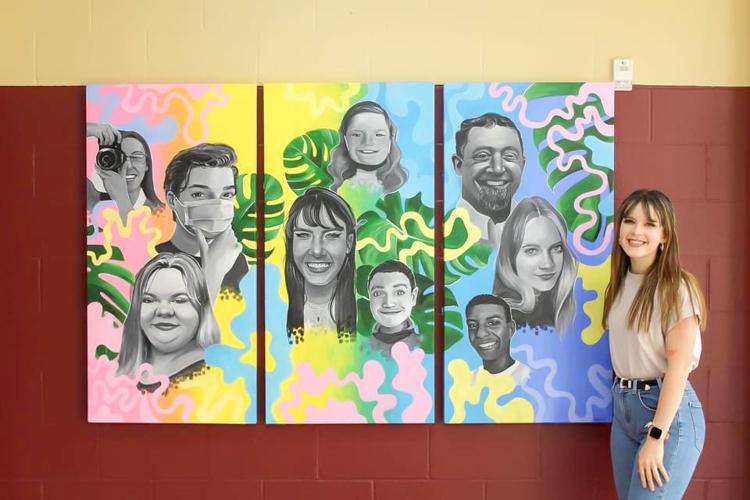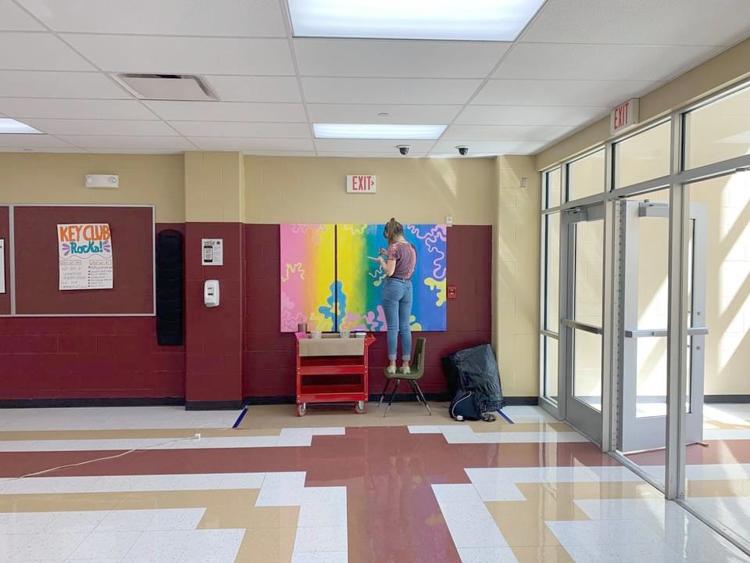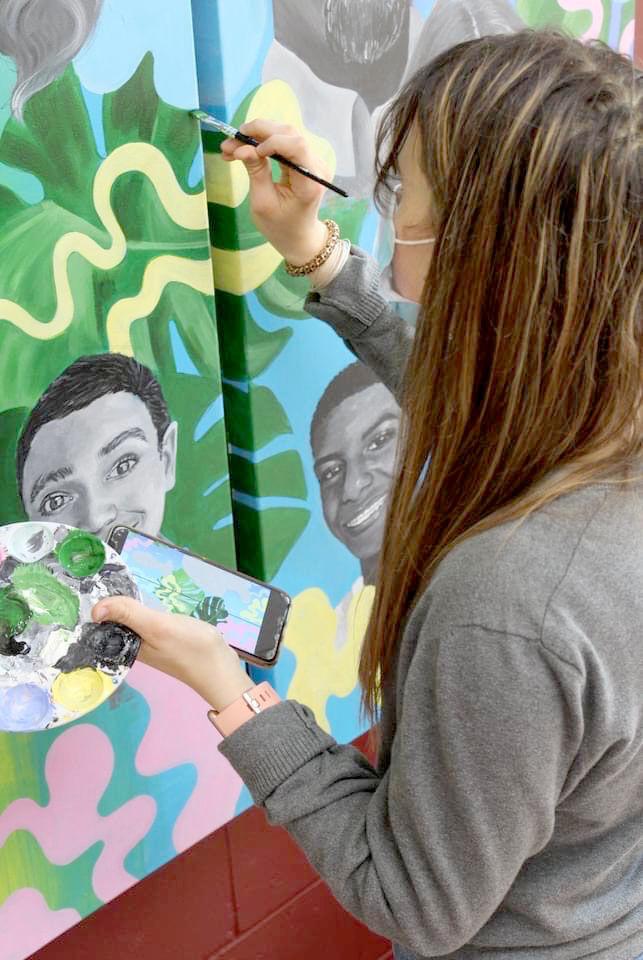 LeROY
Senior Brooke Raven left her mark on the community with her colorful piece and beautiful meaning. Said Raven: "Contributing to hateful rhetoric and discrimination does nothing to help anyone. I want to put emphasis on the importance of actively getting to know people that are different than you. Treat everyone with respect and kindness whether you understand them or not."
Her painting also has personal aspects to it: "Four years ago, outside opinions meant everything to me. Today, I am in the middle of the main hallway of my high school, standing on a chair, and painting my friend's faces on the wall. I am grateful for who I have become, and I leave this piece here feeling optimistic about what is to come for all of us."
Raven's future plans are to attend an art school, majoring in studio art.
— Emerson Tarr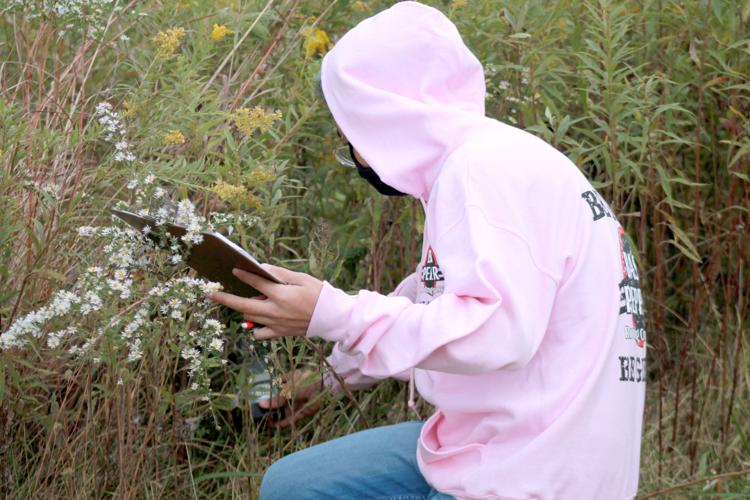 MAHOMET-SEYMOUR
Freshmen go outside every year for Biology I — a mandatory class for the ninth-graders — and look at different plants and record the details of each one. The project has to do biodiversity and prairie restoration.
— Kate Cramer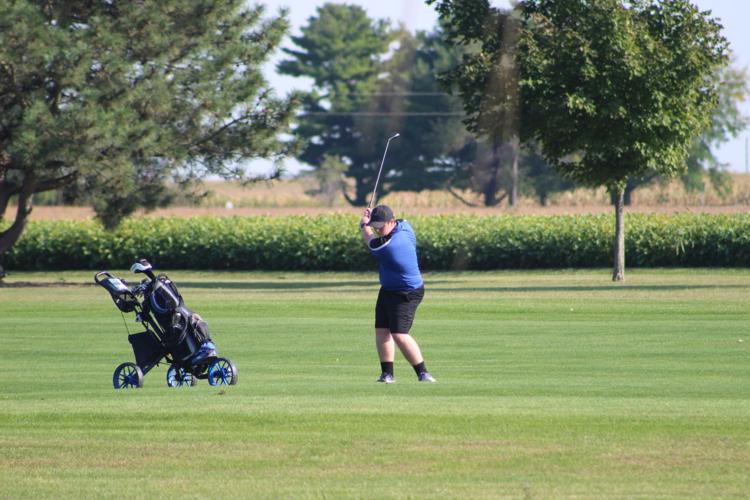 MILFORD
Senior Cooper Frerichs, competing at Shewami Country Club, advanced to golf sectionals,.
— Jordin Lucht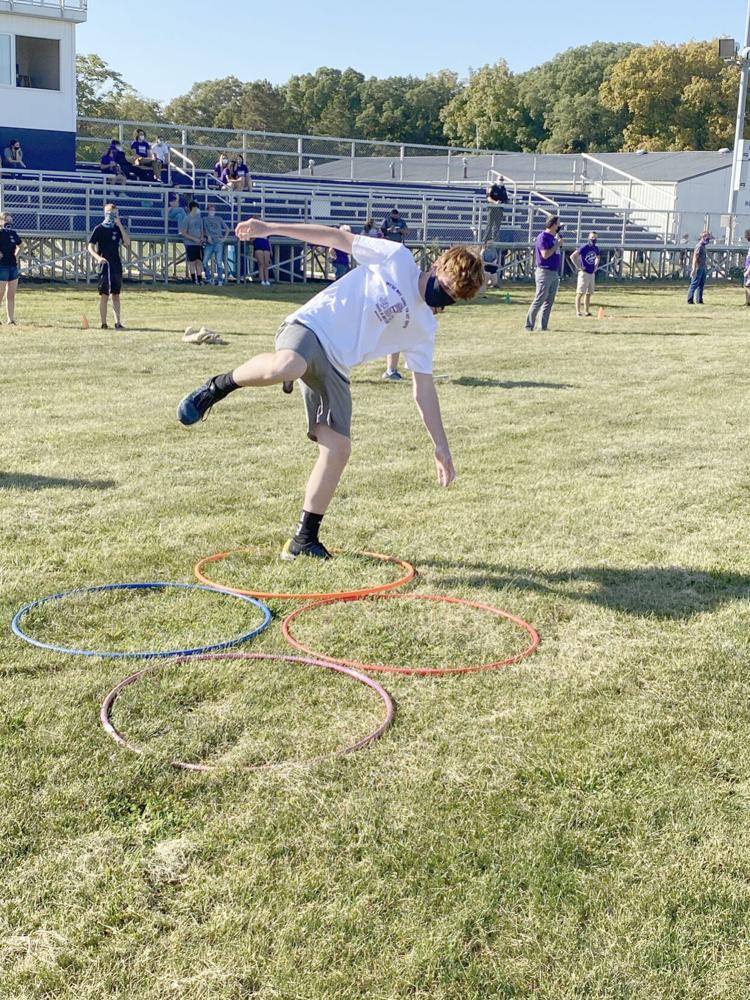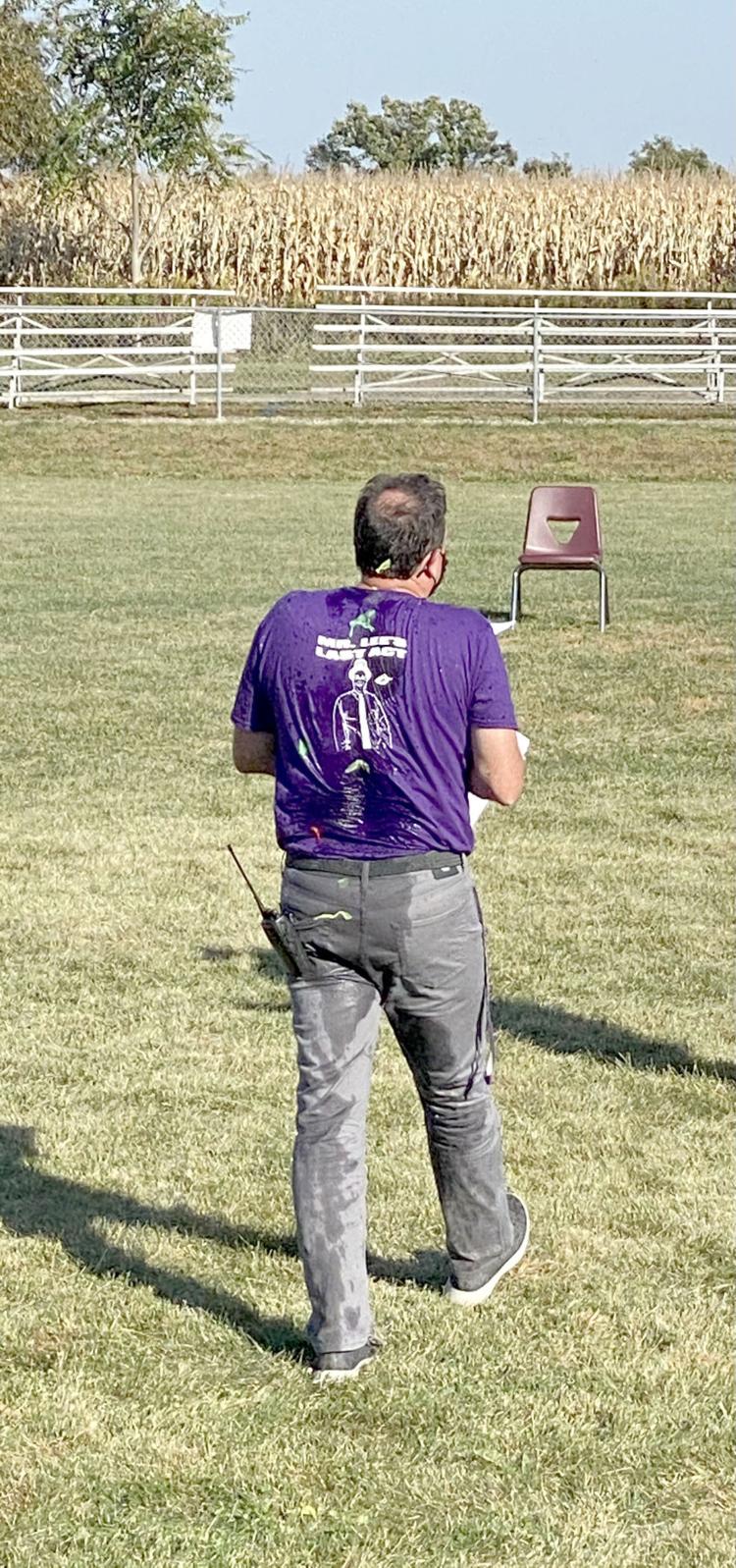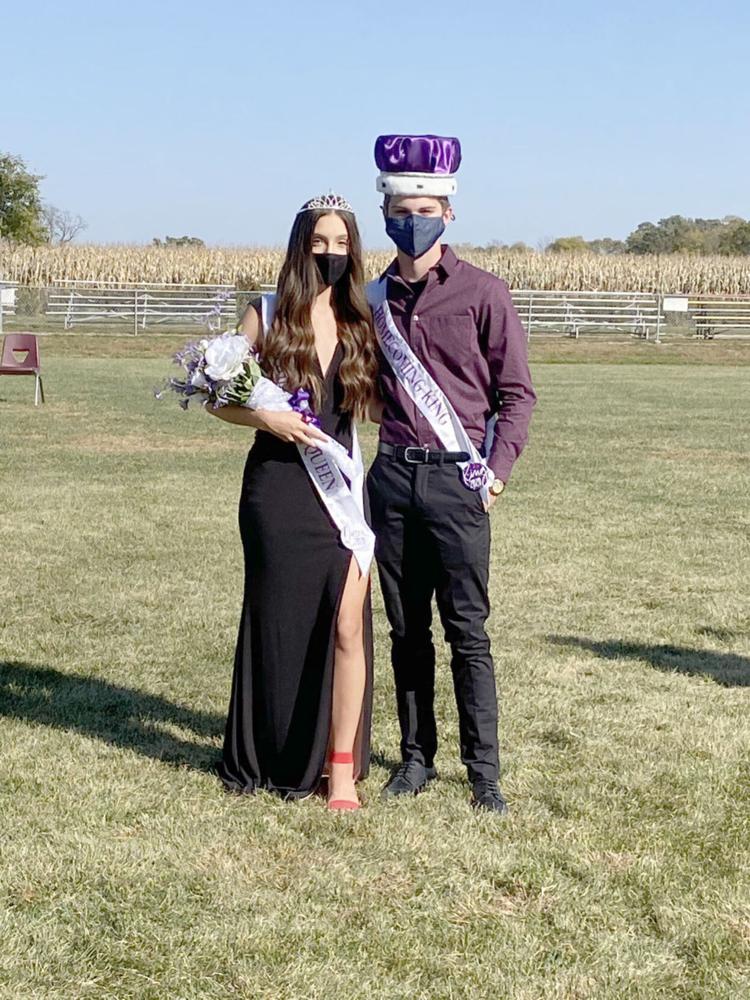 OAKWOOD
During last week's COco (COVID Homecoming), students gathered for Comet Fest, a series of games where classes competed against each other while remaining socially distant. Pictured: Jacob Taflinger making his way through the Dizzy Obstacle Course; Principal Tim Lee after being attacked with water balloons; and Homecoming queen Jalynn Bugaj and king Dylan Bensyl.
— Aaliyah Denius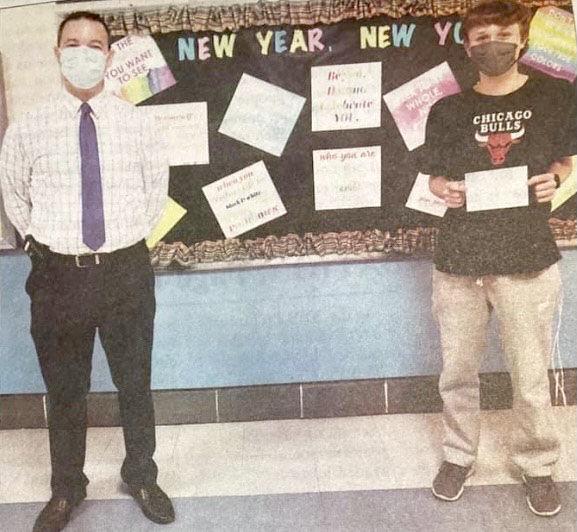 PAXTON-BUCKLEY-LODA
Senior Liam Mcmullin was named a Commended Student for the 2021 National Merit Scholarship program and was recognized by principal Travis Duley (pictured). At regionals on Oct. 6, Mason Auden recorded a personal-best 88.
— Taylor Mennenga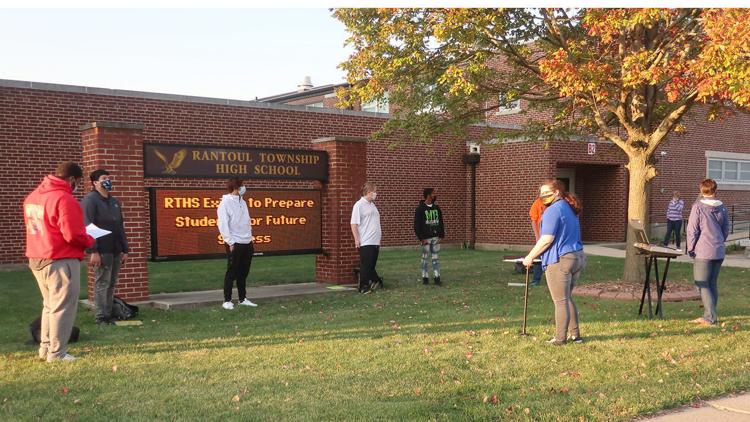 RANTOUL
The men's choir — nicknamed Da Boiz — performed outside the high school under the direction of Andrea Welty Peachy (on piano) and student-teacher Cami Philgreen. Da Boiz performed "Seize The Day" from the musical "Newsies."
— Tony Owen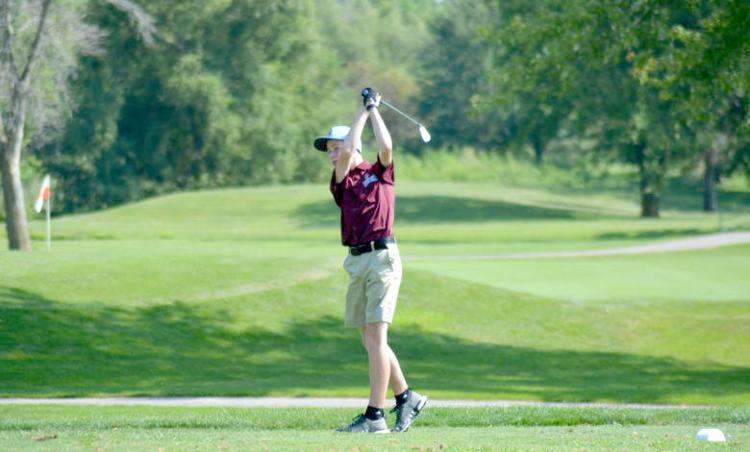 ST. JOSEPH-OGDEN
The boys' golf team placed fourth at the Class 1A Schlarman Regional, Jacob Kern (pictured) advancing to the sectional at Tuscola with a fourth-place finish.
— Kylie Duckett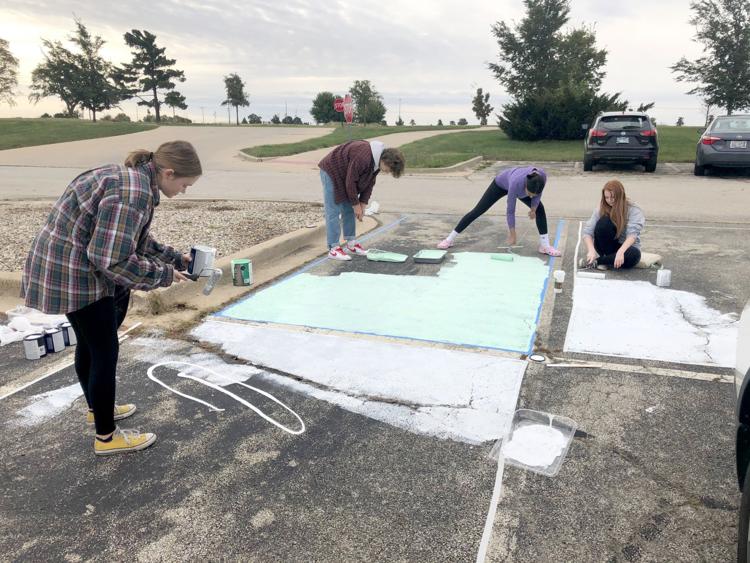 ST. THOMAS MORE
To finish off Spirit Week, seniors got to paint their designated parking spots. Pictured: Flynn Marquart, Will Moore, Rhea Pinto and Abby Ewing meeting at 9 a.m. to start painting their spots.
— Maci Walters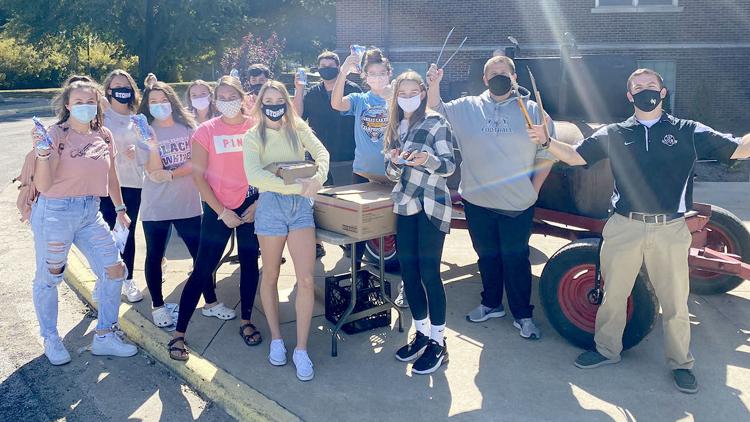 SALT FORK
Last Thursday, Principal Darin Chambliss and assistant Principal Dustin Dees — with the help of student council — grilled for a grab-and-go lunch, providing hot dogs for students and staff (leftovers went to Salt Fork North Elementary). Pictured: Olivia Birge, Ameila Birge, Paxton Fisher, Ava Marrow, Lexi Hettmansberger, Franklin Richardson, Gracie Jessup, Davis Canady, Mackenzie Russell, Macie Russell, Chambliss and Dees.
— Olivia Chew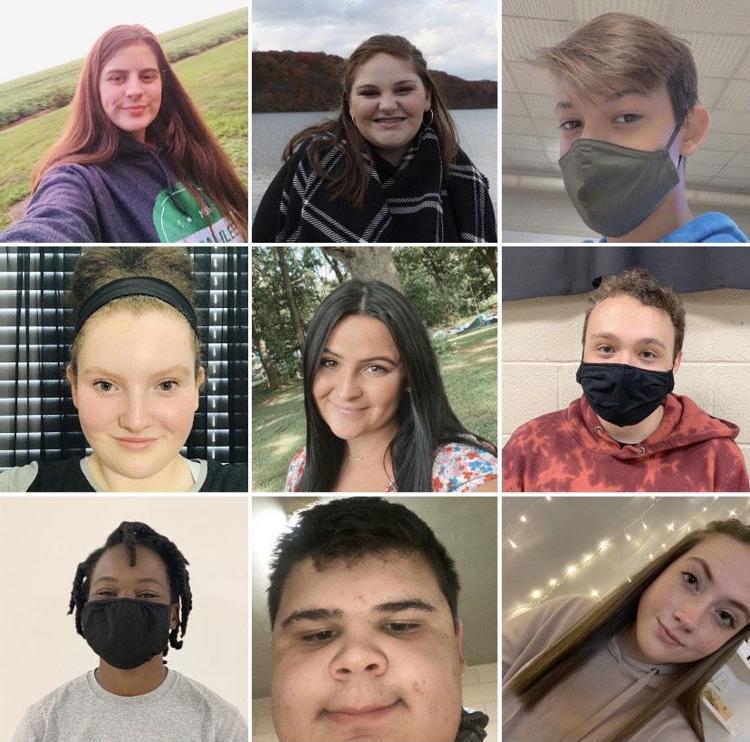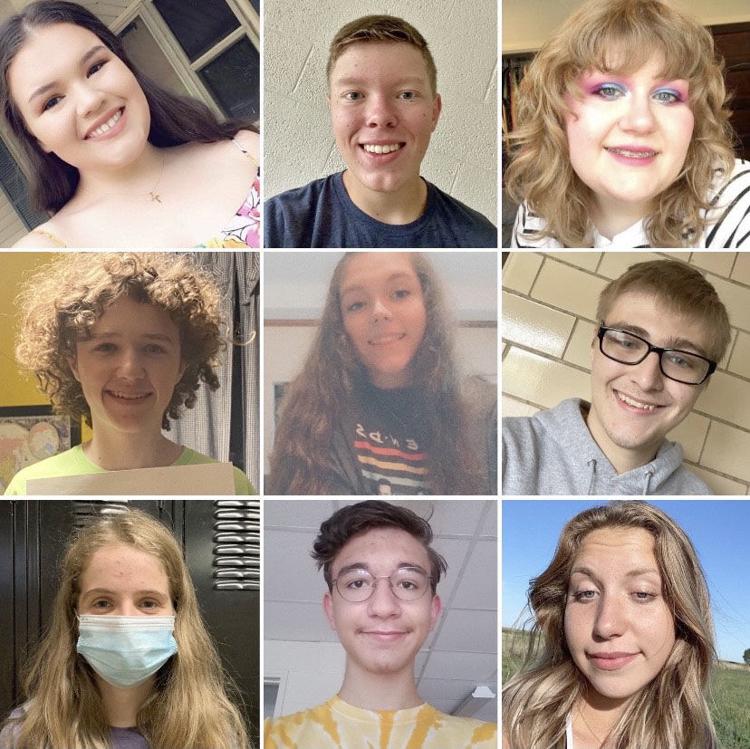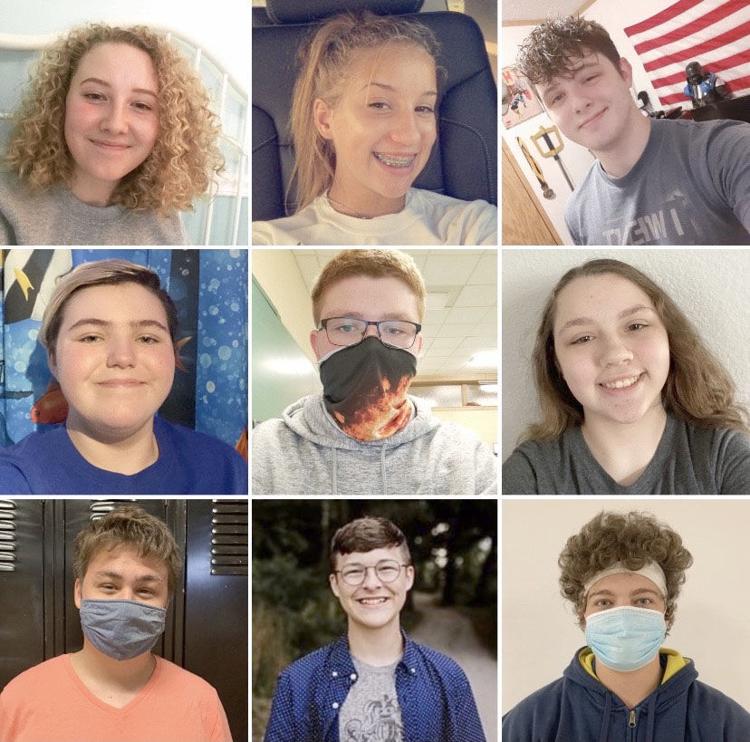 TUSCOLA
With its fall play postponed, Drama Club is working hard on fun and safe ways to perform for the community. Next up: Spooktacular Story Week where drama members visit the grade school in costume the week of Halloween to read stories to elementary students.
— Ava Cothron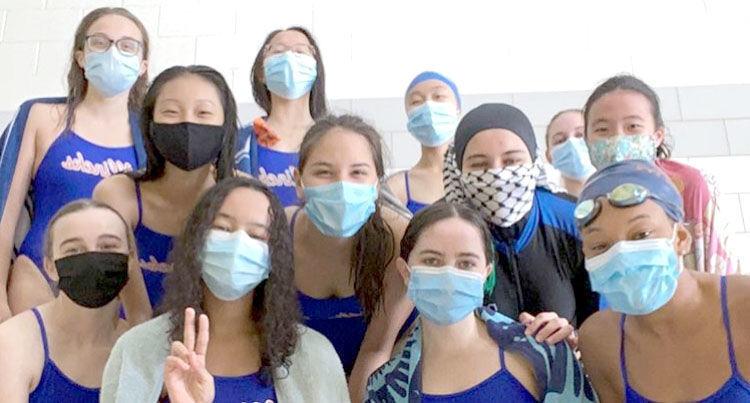 UNI HIGH
The girls' swim team competed for the first time last week. After initially being prohibited from holding meets, the Illineks worked out a safe plan with administration that included separate entrances and exits for each team and wearing masks up until the start of each race. Each meet is a head-to-head matchup to avoid overcrowding. Pictured left to right: Zoey Muller-Hinnant, Alice Gao, Firmiana Wang, Bronwyn Garrett, Emily Chen, Jenna Purnell, Raneem Saadah, Ioanna Lee, Anya Troyer, Andrea Torelli, Amalia Bollero and Reed Broaders.
— Charlotte Ebel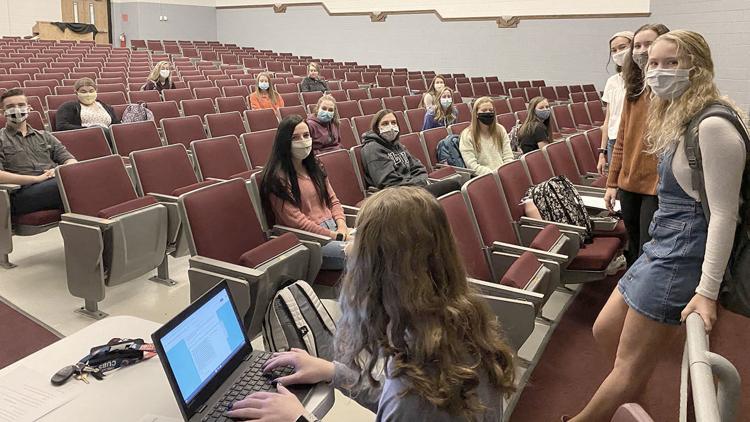 UNITY
Student council met to plan for Spirit Week. To be safe, the council was split into sophomores and seniors one week, freshmen and juniors the next week. Pictured: student council officers Erika Stienman, Harper Hancock, Rachel Branson and Elizabeth Hulick leading the sophomore/senior meeting.
— Malia Fairbanks
URBANA
Administration sent a survey to parents and staff for input on how the school year will continue. Seniors returned to school Wednesday to take the SAT.
— Jose Alvarez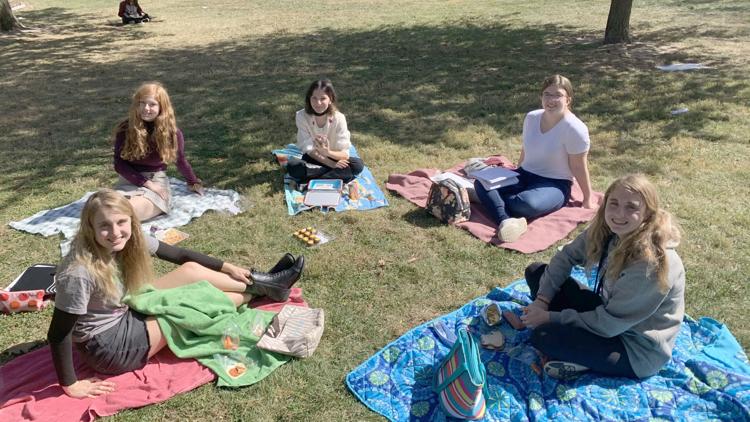 VILLA GROVE
Students are encouraged to sit outside for lunch due to COVID-19. Pictured: Seniors Alexa Howard, Ginger Erl Soper, Kaitlynn Gray, Erin Shunk and Lydia Howard.
— Daniel Olson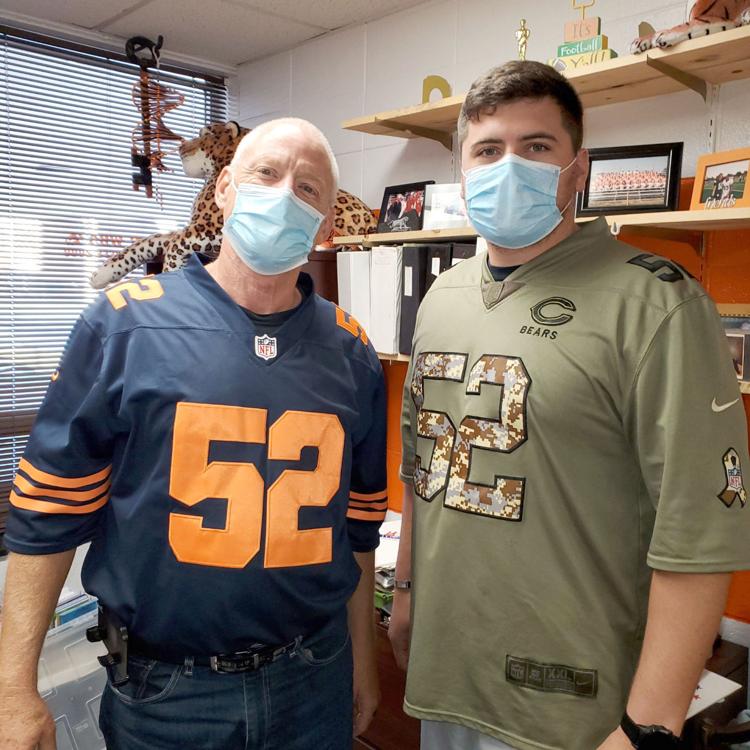 WESTVILLE
For Jersey Day, two coaches who have helped students not only in athletics but academics came through: Guy Goodlove and Drew Arteaga.
— Bryce Burnett