2020-21 High School Confidential: Week 8
Welcome to Year 5 of High School Confidential, an award-winning project made possible by aspiring student journalists from every corner of our circulation area. Each Friday through May, they'll tell us what's happening in their hallways at news-gazette.com.
Once a week, we'll hand over our Snapchat account (News-Gazette) to our correspondents for behind-the-scenes tours.
Feeback? Email N-G/VP Jim Rossow at jrossow@news-gazette.com.
This year's panel:
— Reese Anderson, Chrisman
— Jose Alvarez, Urbana
— Briana Ballard, Academy
— Chloe Becker, DeLand-Weldon
— Jada Bonam, Centennial
— Lexi Breymeyer, Hoopeston Area
— Bryce Burnett, Westville
— Raegan Cheek, ALAH
— Olivia Chew, Salt Fork
— Cassandra Colmenares, Academy
— Riley Combes, Monticello
— Hayden Copass, Georgetown-Ridge Farm
— Ava Cothron, Tuscola
— Kate Cramer, Mahomet-Seymour
— Aaliyah Denius, Oakwood
— Kylie Duckett, St. Joseph-Ogden
— Charlotte Ebel, Uni High
— Malia Fairbanks, Unity
— Andrew Ferguson, Fisher
— Hailey Gadbury, Bement
— Haven Hathaway, Gibson City-Melvin-Sibley
— Leilani Islam, Danville
— Fabiola Jaramillo, Arcola
— Audrey Kaeb, Cissna Park
— Jordin Lucht, Milford
— Mason McMasters, Armstrong-Potomac
— Taylor Mennenga, Paxton-Buckley-Loda
— Morgan Miller, BHRA
— Daniel Olson, Villa Grove
— Tony Owen, Rantoul
— Kitty Rossow, Central
— Anna Sanders, Heritage
— Emerson Tarr, LeRoy
— Felicity Tuan, Judah Christian
— Maci Walters, St. Thomas More
On to this week's report: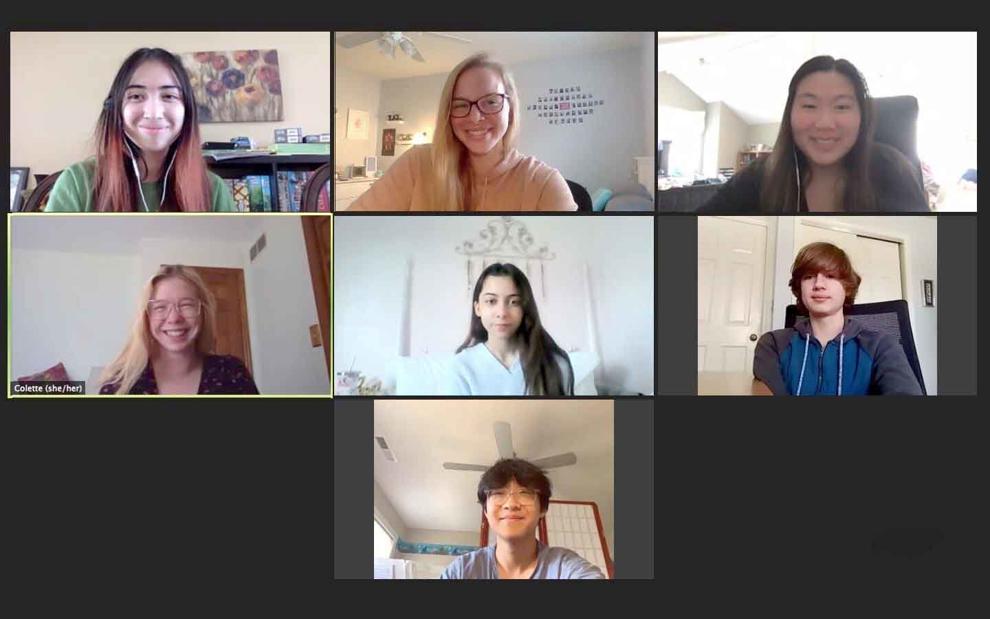 Academy High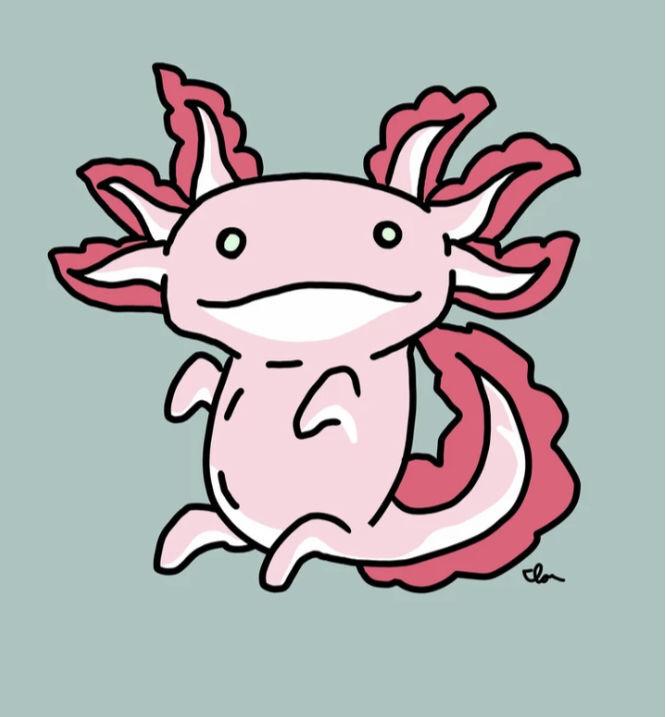 On Nov. 3, the school's first student-led newspaper, The Axolotl Insider, was published. Founders Cassandra Colmenares and Colette Tichenor have been hard at work to make their dream a reality, giving students a voice among their peers and an opportunity to share their interests with the community. The Axolotl was drawn by Ian Weible. Pictured: top to bottom, left to right: Cassandra Colmenares, Briana Ballard, Megan Wiarda, Colette Tichenor, Paula Sardela, Caden Green and William Ding.
— Briana Ballard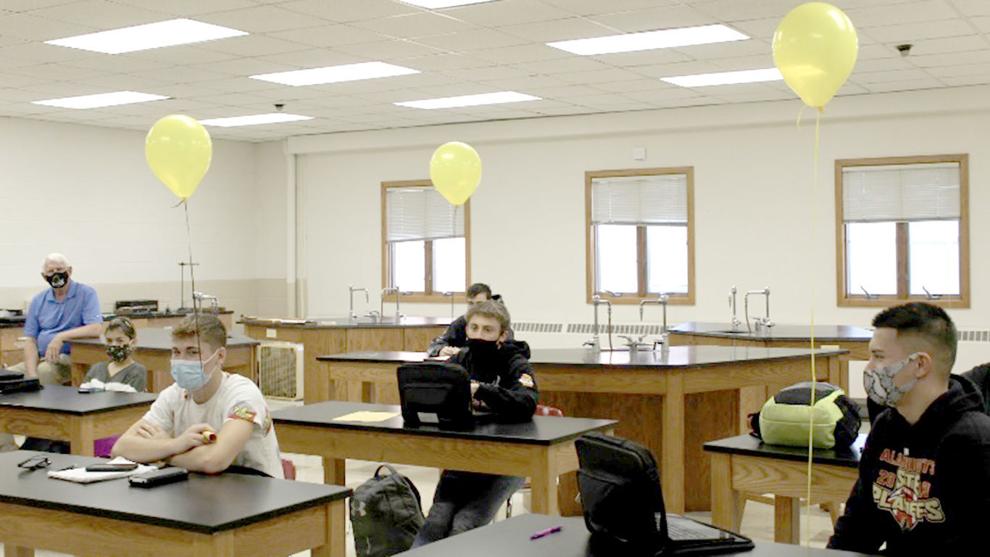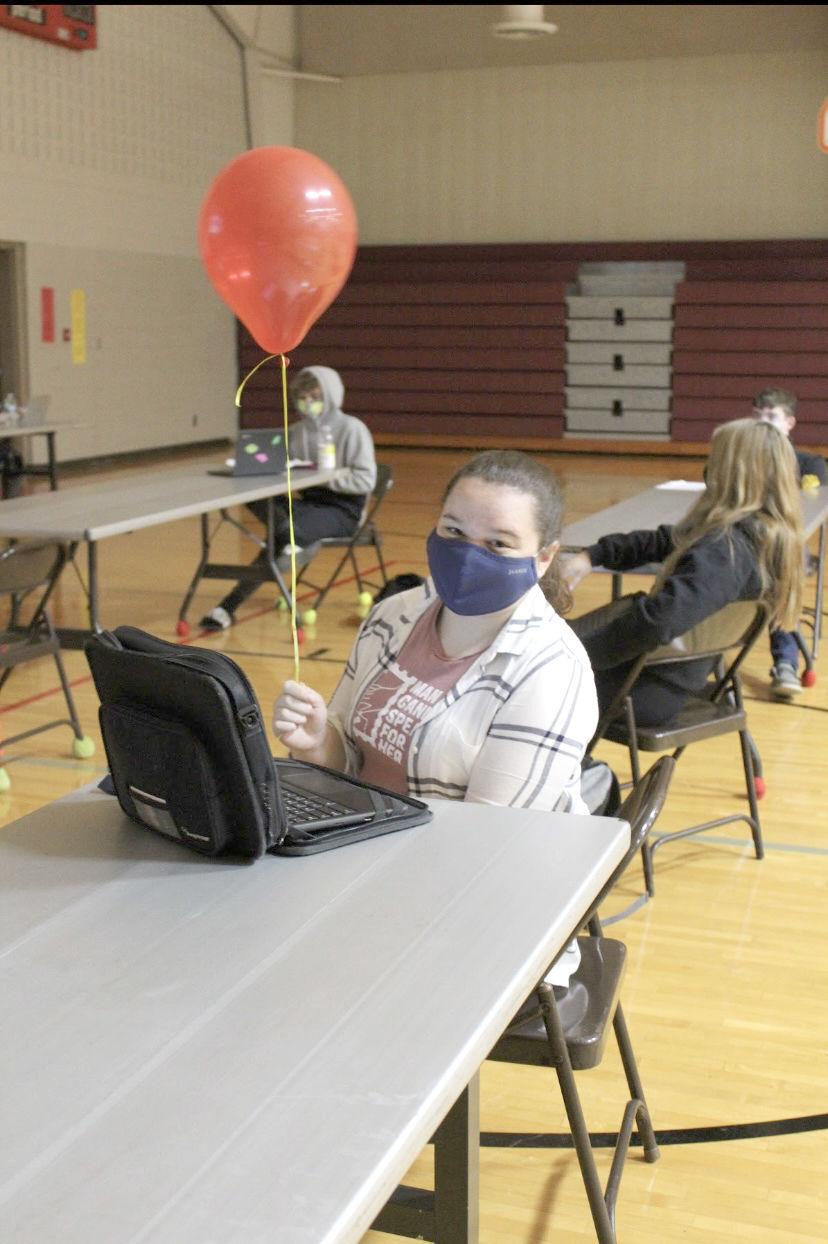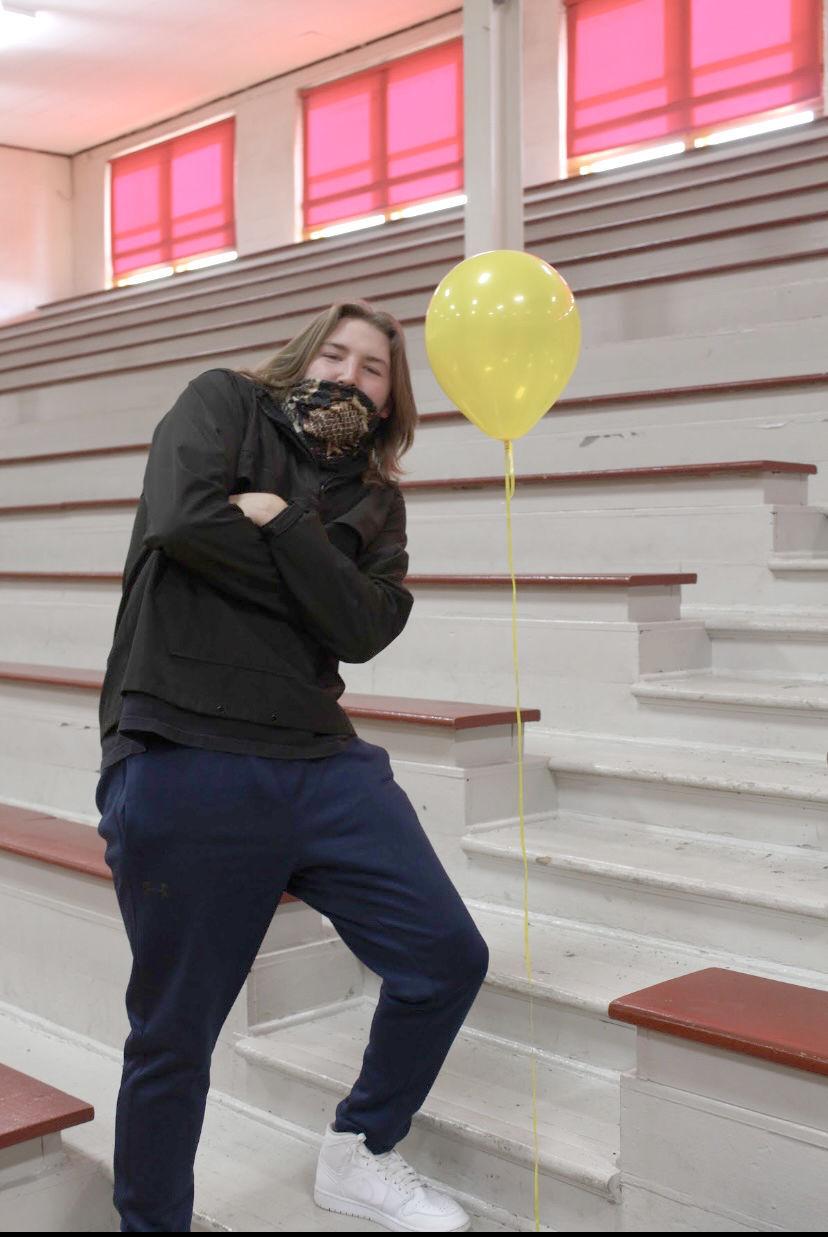 ALAH
Senior superlatives were broadcast to the entire school via Google Meet. Seniors who won a superlative were awarded a certificate and a balloon. Pictured: Ben Carroll, Layton Hall and Jack Martin; Erin Schrock; and Trinton Allen.
— Raegan Cheek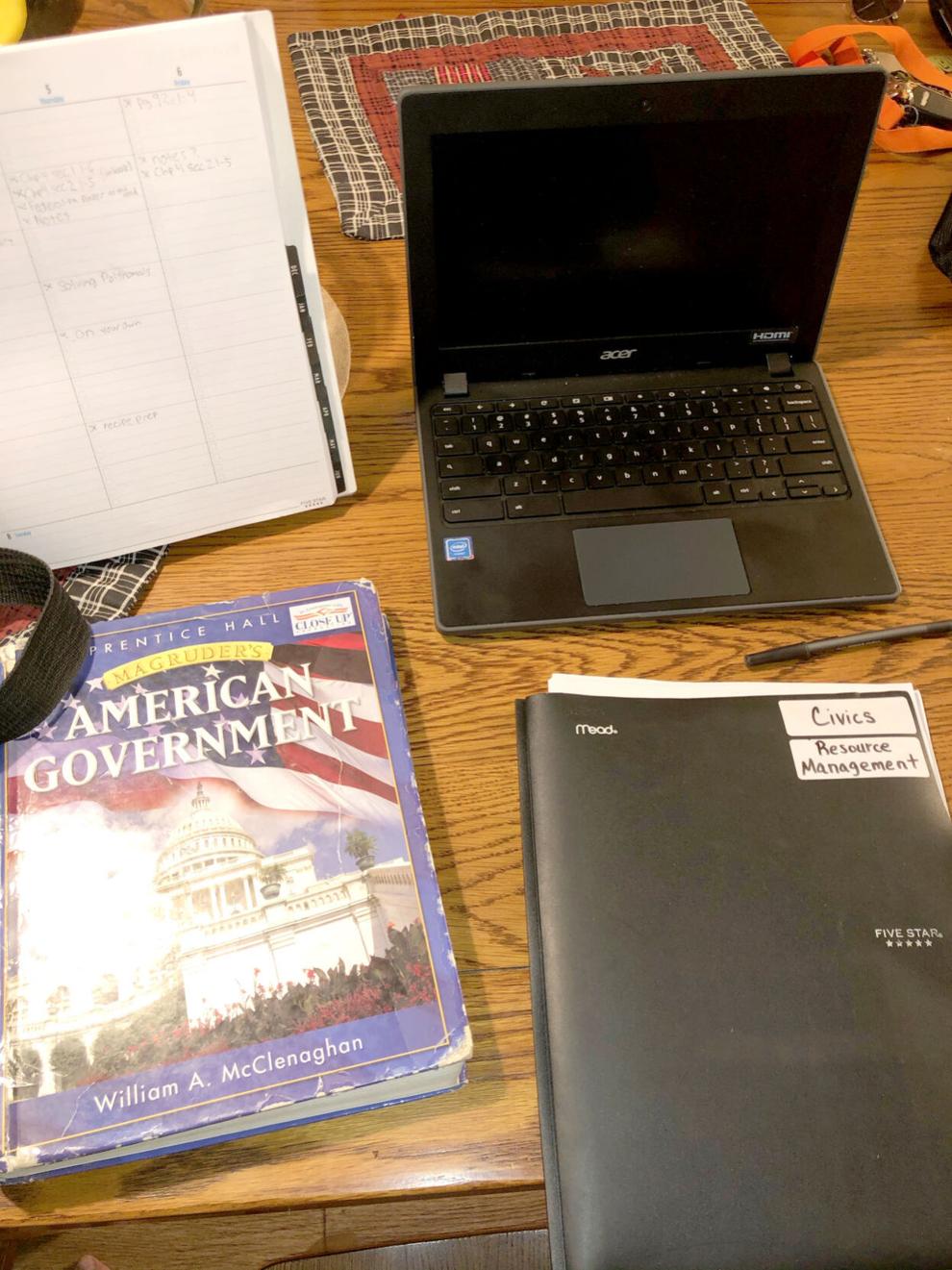 Armstrong-Potomac
Students were off Nov. 2, so teachers could have a remote learning planning day and Nov. 3 for Election Day. The rest of the week they attended school remotely due to a COVID-19 case.
— Mason McMasters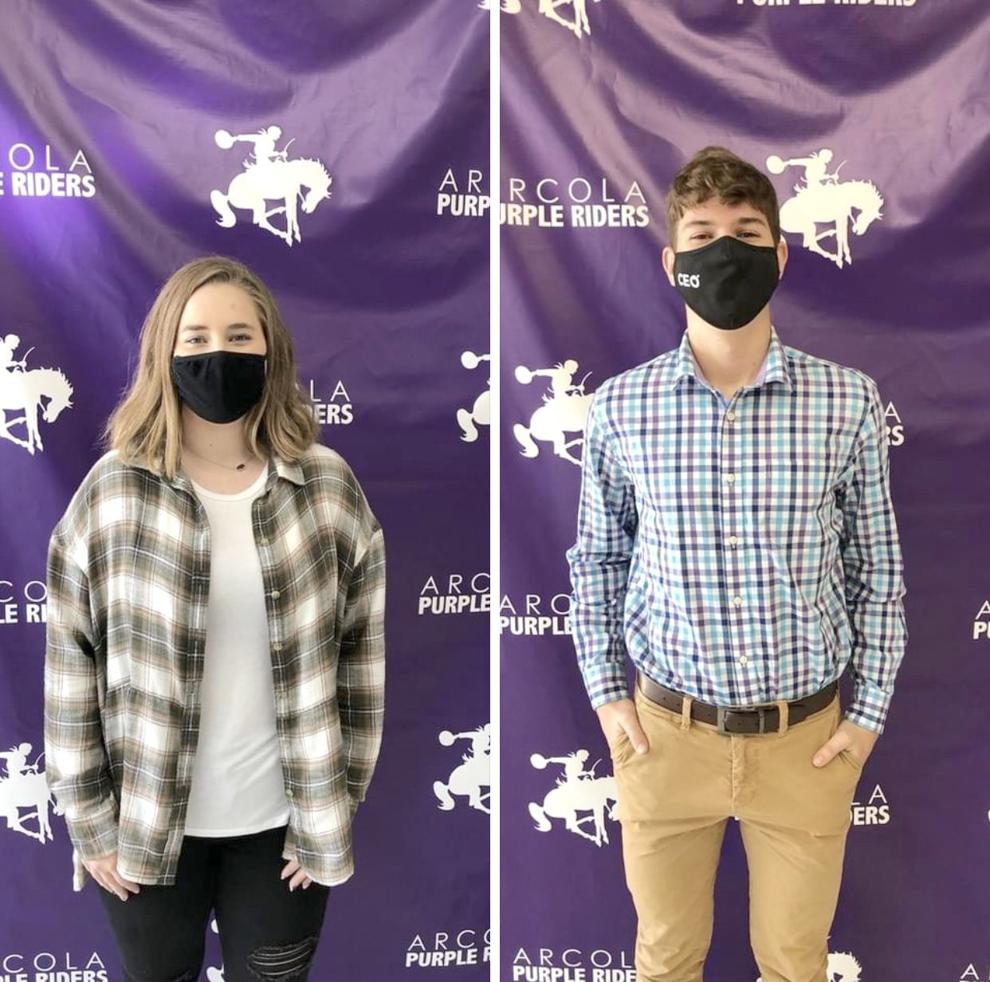 Arcola
Ella Hopkins and Ilusha Budd were named Arcola's October seniors of the month.
— Fabiola Jaramillo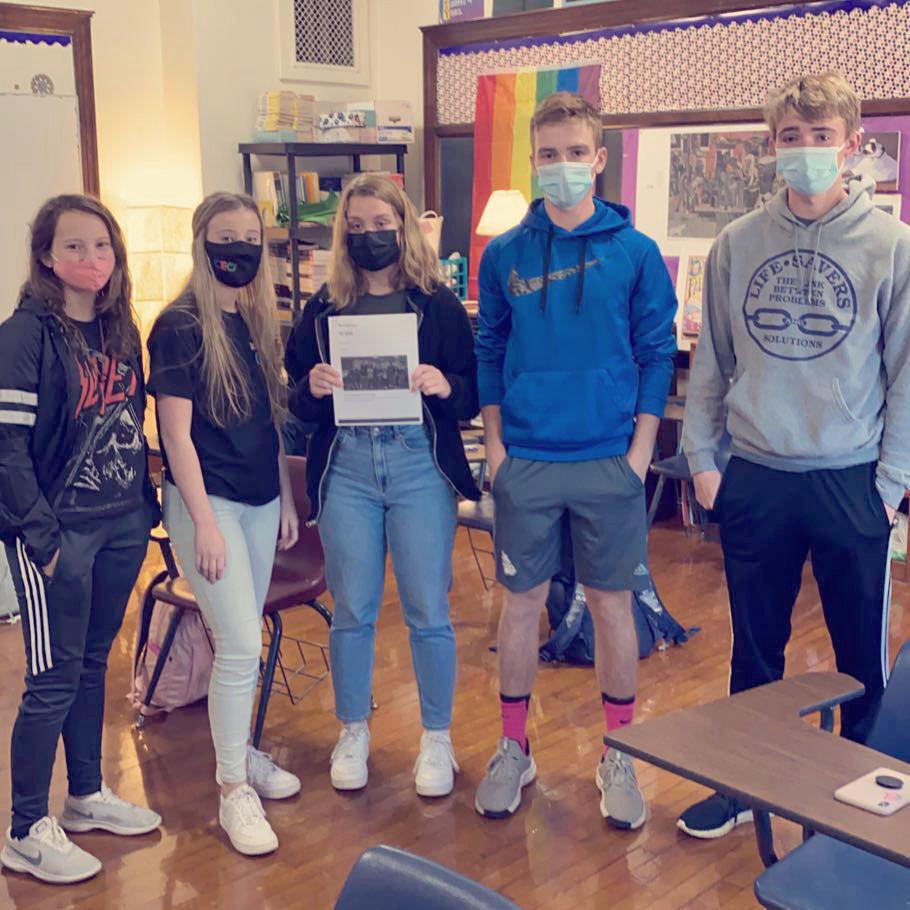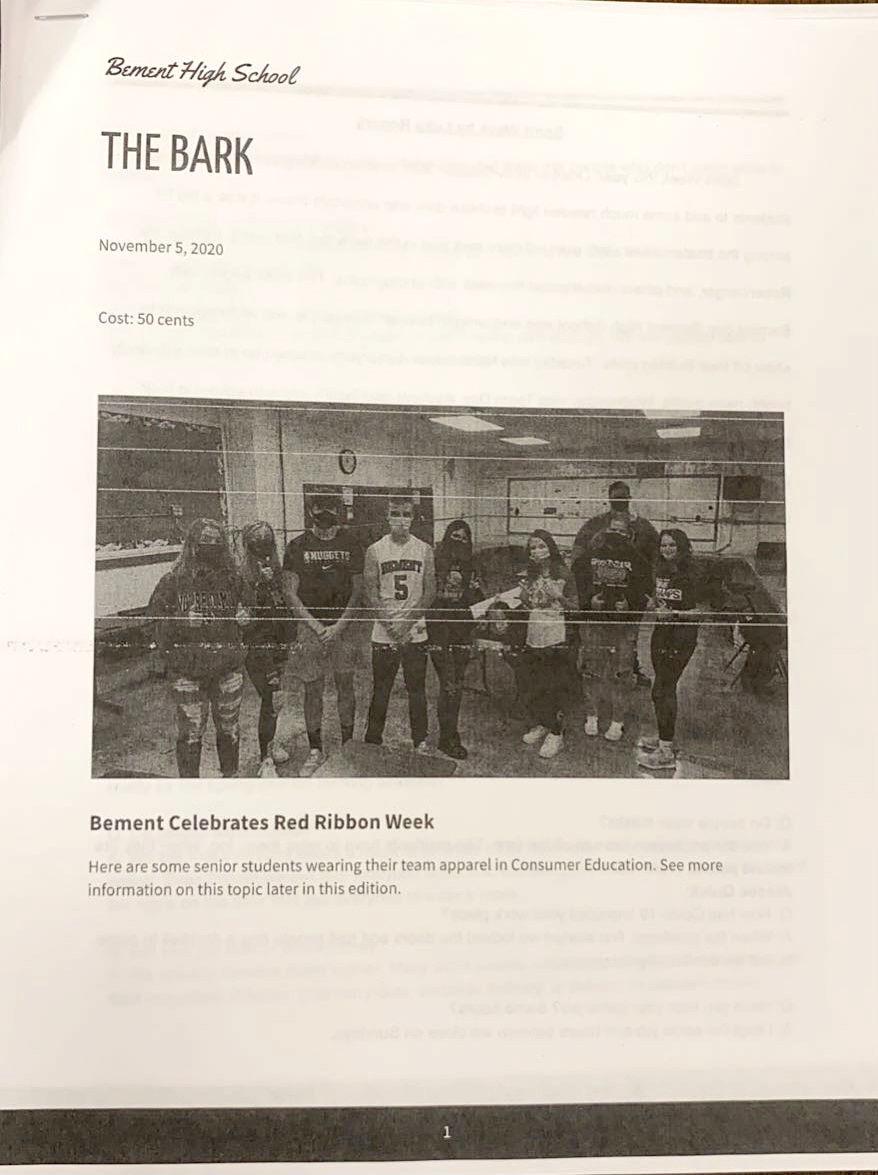 Bement
Students in the advanced English 4 class finished editing and publishing the first edition of this year's school newspaper, "The Bark." UTopics included the effects of COVID-19 on sports, clubs and the workplace, as well as interviews with new teachers. Another topic: Spirit Week that took place of Red Ribbon Week. Pictured: Tori Vandivier, Faith Bailey, Hailey Gadbury, Luke Rogers and Zach Rogers.
— Hailey Gadbury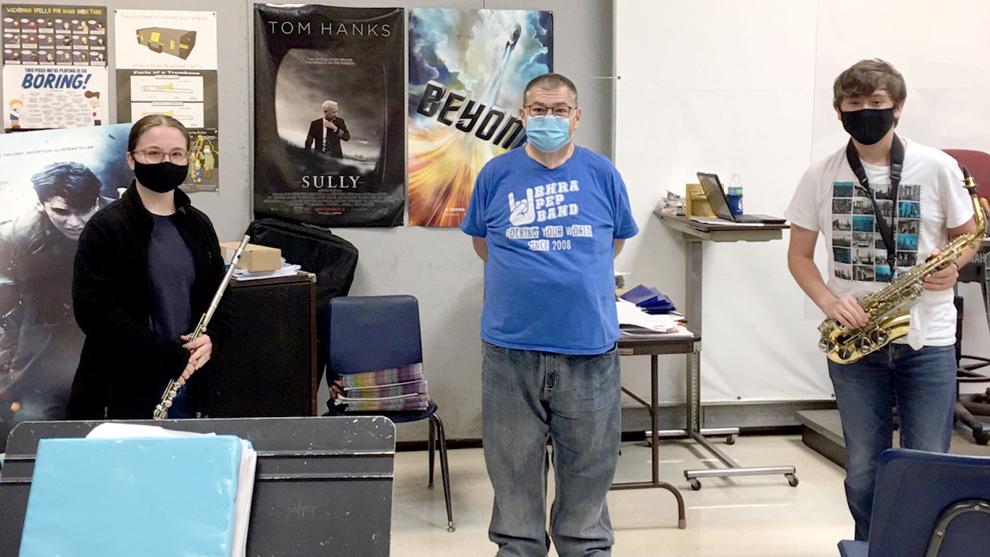 BHRA
Dave Schroeder and his band are getting ready for their upcoming virtual Christmas concert. Students like Grace Omundson (left) and Cody Drake (right) have put in hard work — in and out of the classroom — in preparation of the Dec. 10 event.
— Morgan Miller
Centennial
Students from Unit 4's two high schools — Centennial and Central — are speaking with principals about how to make remote learning easier for teachers and students.
— Jada Bonam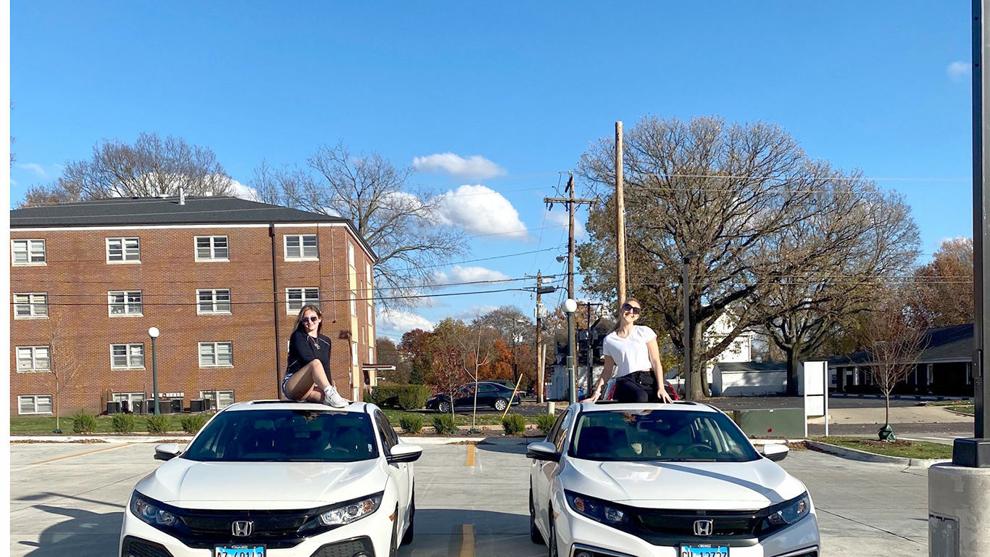 Champaign Central
Yearbook photos have a different look with students still studying remotely. Pictured dsrivig similar cars at Central's new parking lot: Seniors Abby Barger and Olivia King.
– Kitty Rossow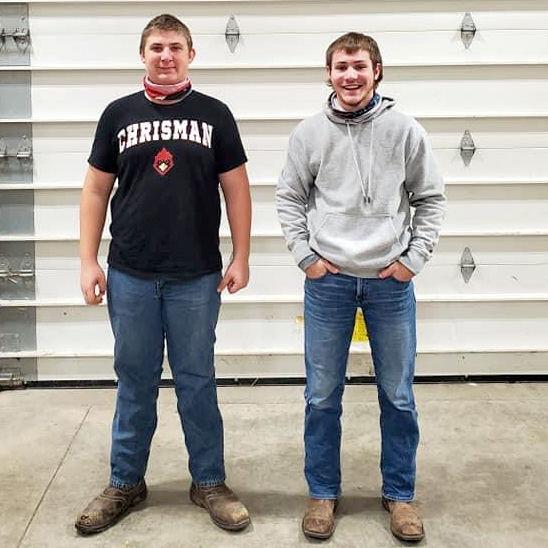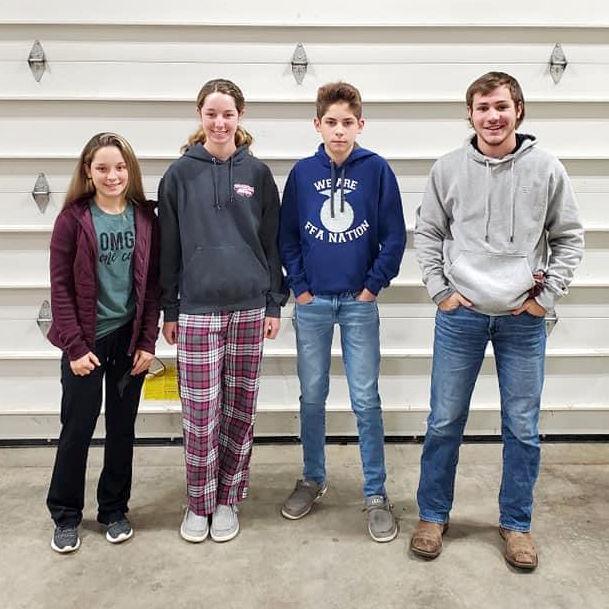 Chrisman
FFA members competed in contests in October, doing particularly well in Land Use. Together, Michael Mueller (left) and Parker Brown (right) placed fourth overall, and Brown was third individually. In State Horse Judging, left to right: Hana Gillaspie, Hope Gillaspie, Jake Gillaspie and Brown finished fourth overall. Hope Gillaspie was fifth individually.
— Reese Anderson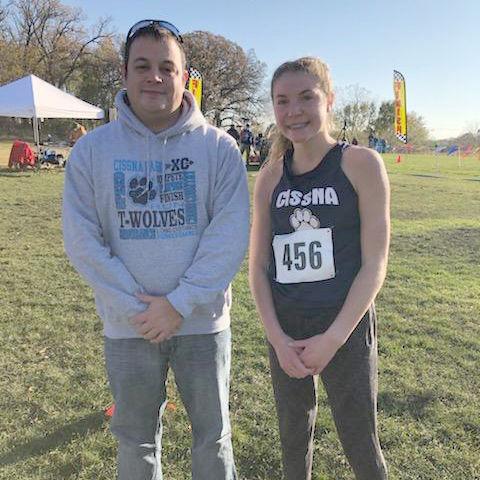 Cissna Park
On Oct. 31, freshman Addi Seggebruch — the school's first girl to compete in cross-country — ran at the sectional meet. She is coached by Dan Prieto.
— Audrey Kaeb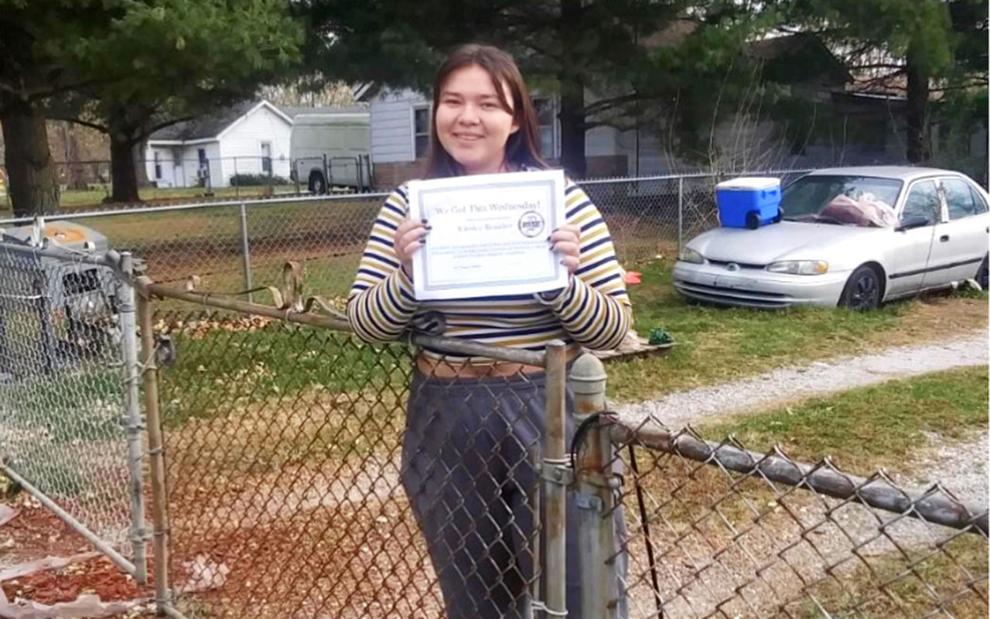 Danville
In the school's new "We Got This Wednesday" initiative, students who meet expectations of RISE (Respect, Integrity, Safety, Engagement) are rewarded with a certificate and a cookie. Pictured: Kinslee Beaulier.
— Lani Islam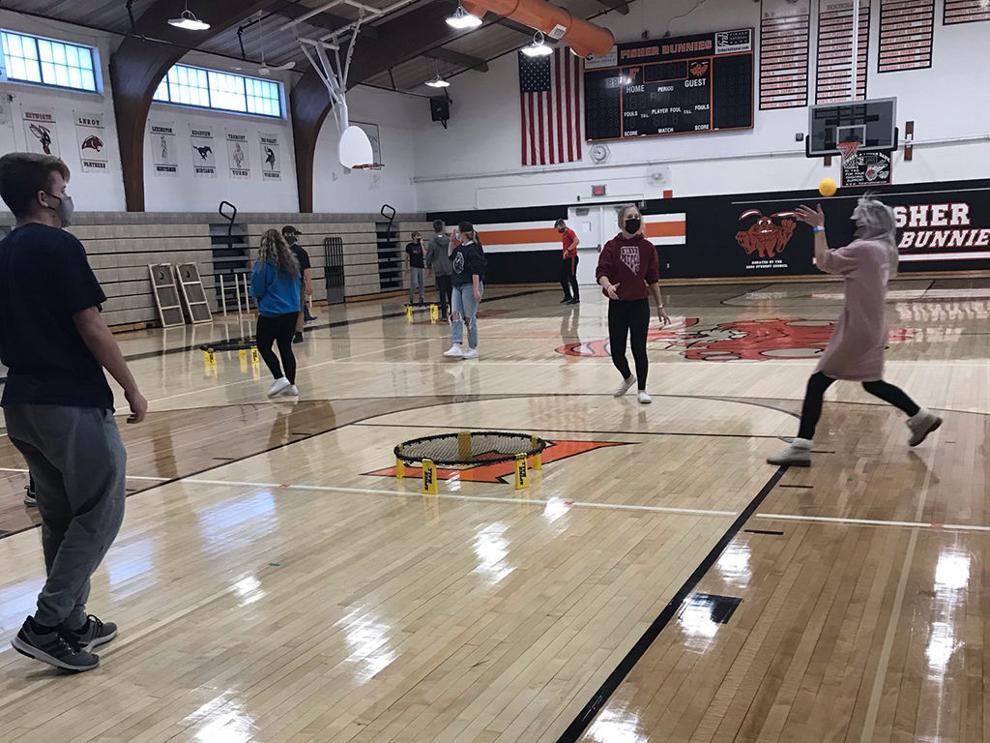 Fisher

Following COVID-19 guidelines, students are having a ball playing spikeball in physical education classes.
— Andrew Ferguson
Georgetown-Ridge Farm
For the first time, Chromebooks were made available to every student in the district. At the high school, in-person learning students received theirs on Nov. 2.
— Hayden Copass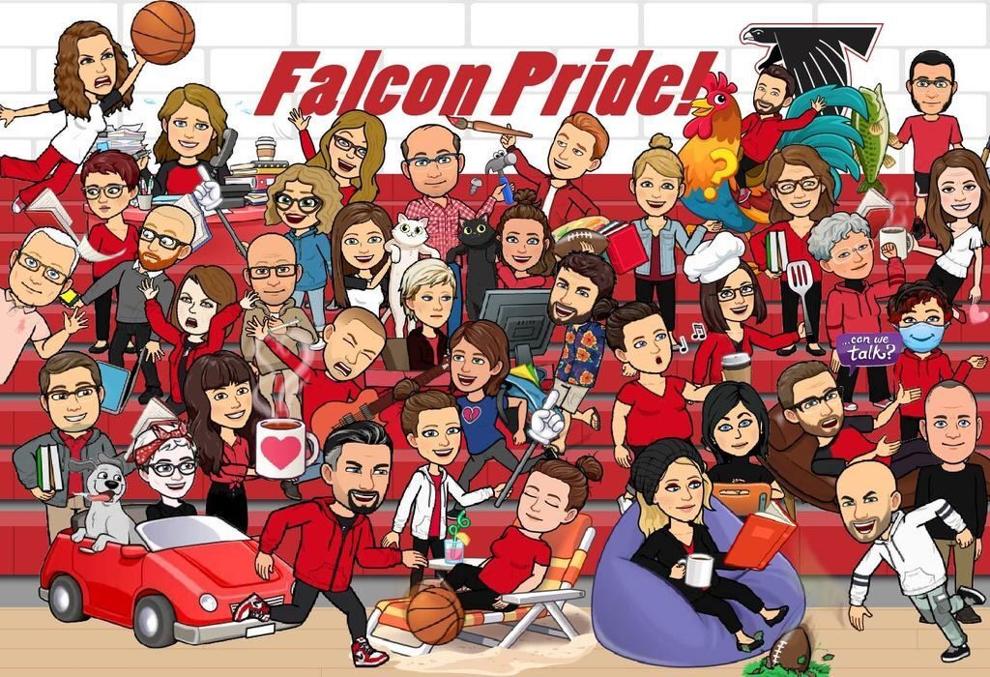 Gibson City-Melvin-Sibley
Art teacher Tom Stone photoshopped this year's high school staff picture, which was used on social media pages and will be included in the yearbook. Staff submitted bitmojis that truly highlighted their personalities and field of teaching. Stone combined those bitmojis for the entertaining picture.
— Haven Hathaway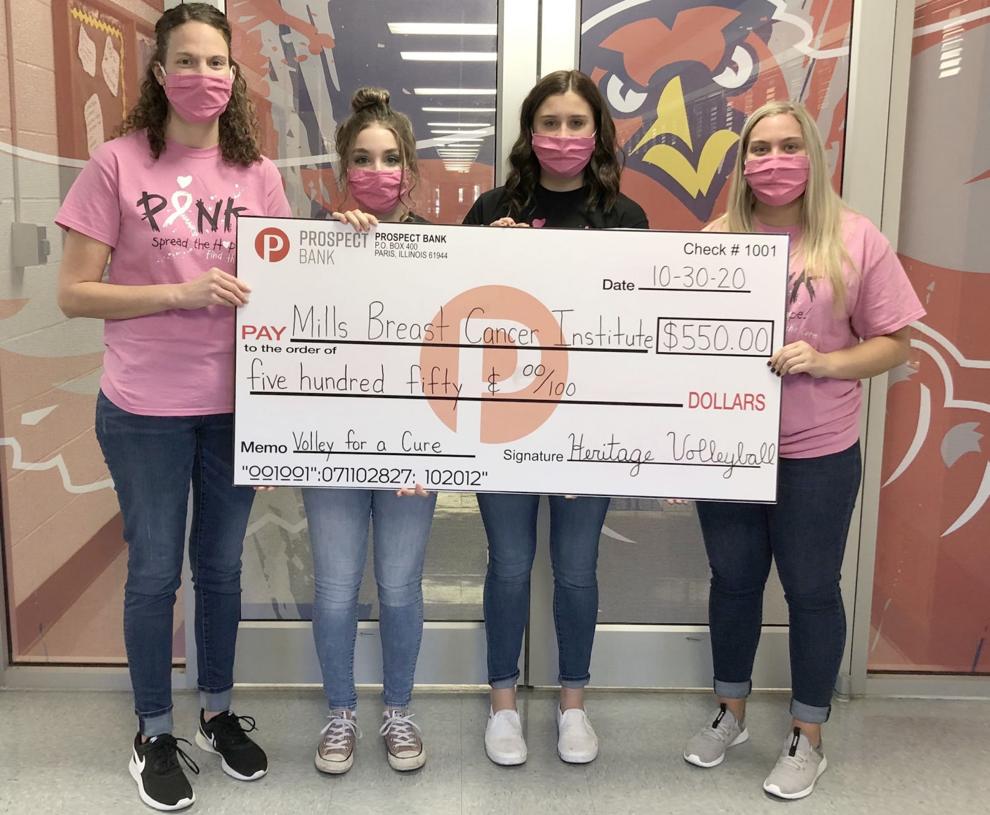 Heritage
The volleyball team ended two months of open gyms with a large donation to the Mills Breast Cancer Institute in honor of Breast Cancer Awareness Month. The total ($550) was raised thanks to bids on raffle baskets donated by team members. Pictured: coaches Kourtney Bradd and Alex Hudson along with senior players Anna Sanders and Trinity Tatman.
— Anna Sanders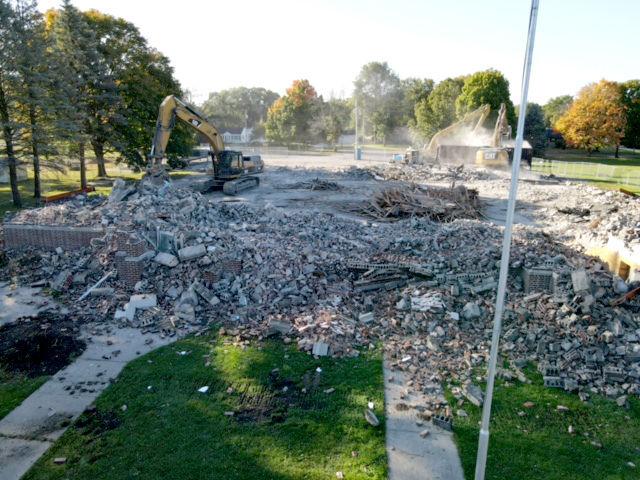 Hoopeston Area
The demolition of the old elementary building, Honeywell School, is complete, making space for new and improved projects.
— Lexie Breymeyer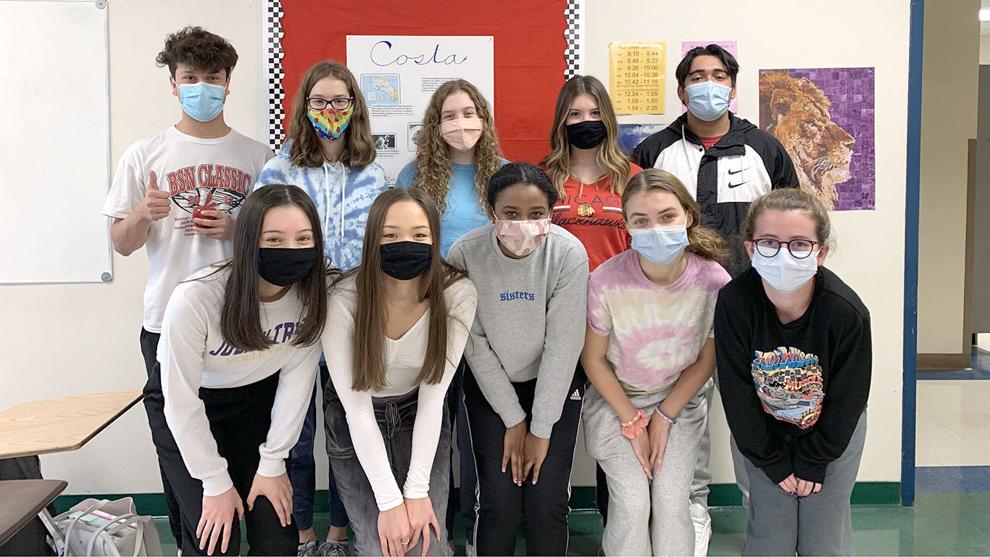 Judah Christian
On Fridays, juniors and seniors can pay $3 to wear sweatpants to school. The money raised goes toward the annual senior trip to Florida that is planned for the spring. Pictured, left to right: (first row) Abby Fredrick, Katie Bryant, Feven Eisenmenger, Sue Sofranko and Emily Maxwell; (second row) Evan Payan, Mae Thomas, Lydia Lowry, Anna Black and Misa Rodriguez
— Felicity Tuan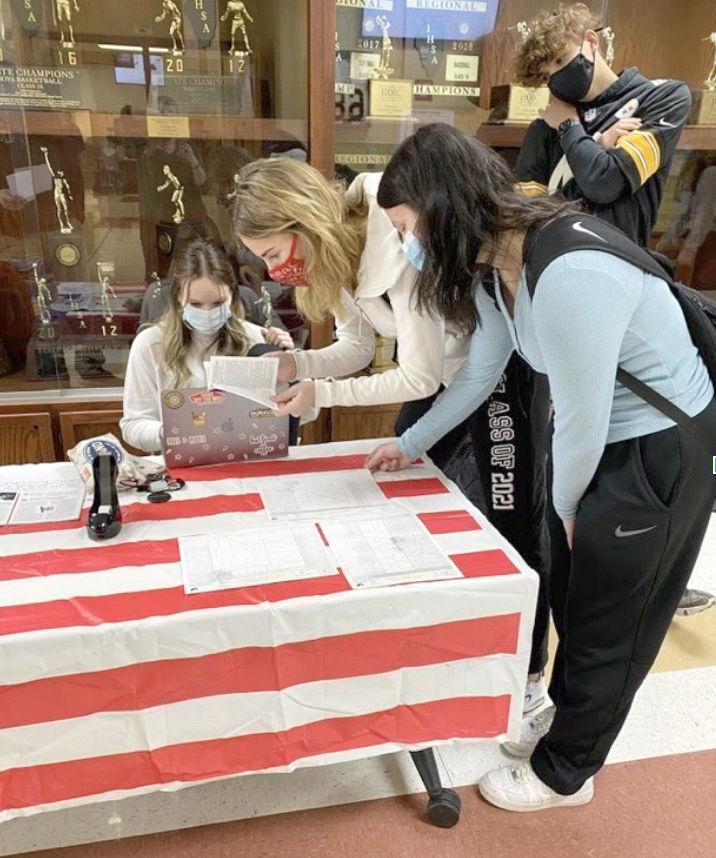 LeRoy
High school librarian and teacher Ashlie Marcy allowed her civics class to hold a ballot reading activity that allowed students to learn how to fill out a ballot, what the exact roles of senators and representatives are, what your rights are as a voter, and what you can and can't do at the polls. Pictured: Hannah Pelphrey, Maddie Gordon, Abby Richardson and Aiden Ross.
— Emerson Tarr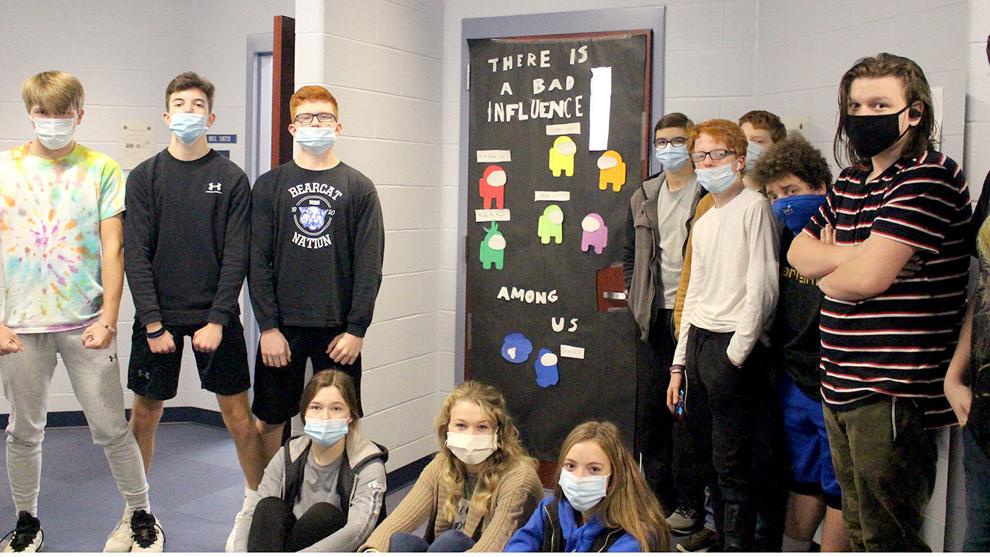 Milford
During Red Ribbon Week, students decorated their study hall room doors to go along with the theme. "Be happy, be brave, be drug free." The winners — with an "Among Us" theme — were (left to right) Payton Harwood, Ryan Birch, Chase Clutteur, Kirstyn Lucht, Brynlee Wright, Jahni Lavicka, Cole Podis, Ian Wheeler, Keaton Schmidt Davenport, Connor Newman and Randy Deaton.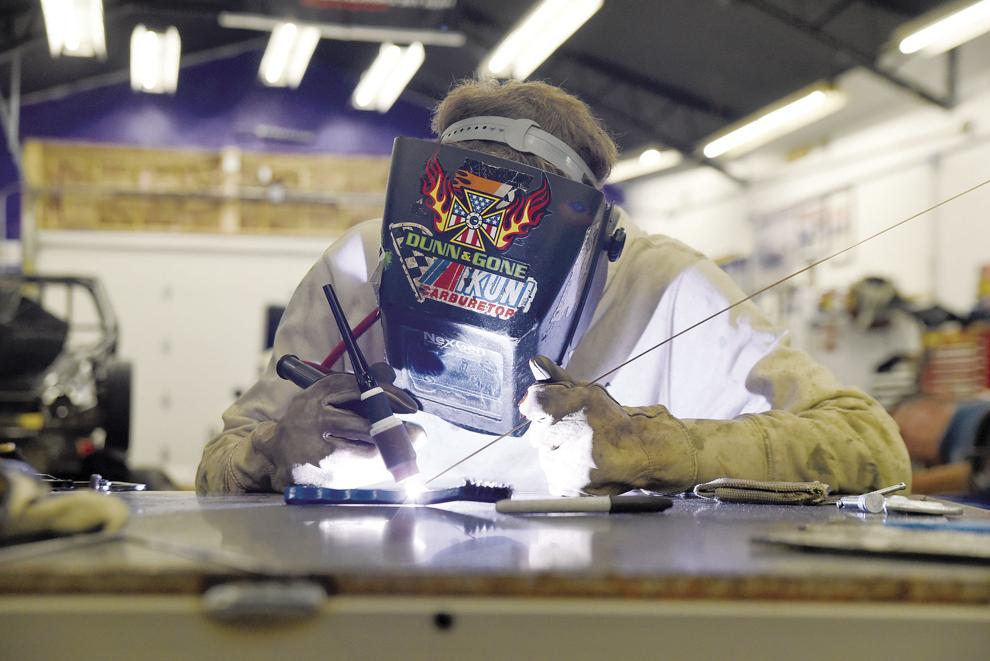 Monticello
Junior Ethan Waller is adding 29 hours of work outside of school as an intern at Dunn and Gone Racing and Over Dunn Services in Monticello, where he is learning welding and other auto-related work. Dunn and Gone builds and repairs race cars, and is owned by former racer John Dunn, who said he wants to pass on some of his craft to the next generation.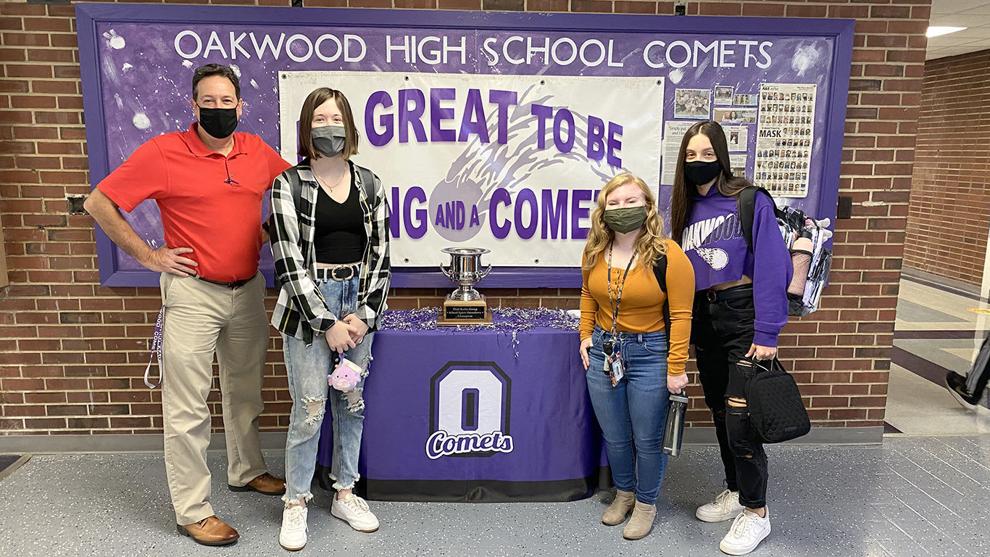 Oakwood
The Comets received a trophy and $1,000 after being declared the winners of the WIXY School Spirit Showdown. Pictured, left to right: Principal Tim Lee, Natalie Garrison, Cloe Johnson and Jalynn Bugaj.
— Aaliyah Denius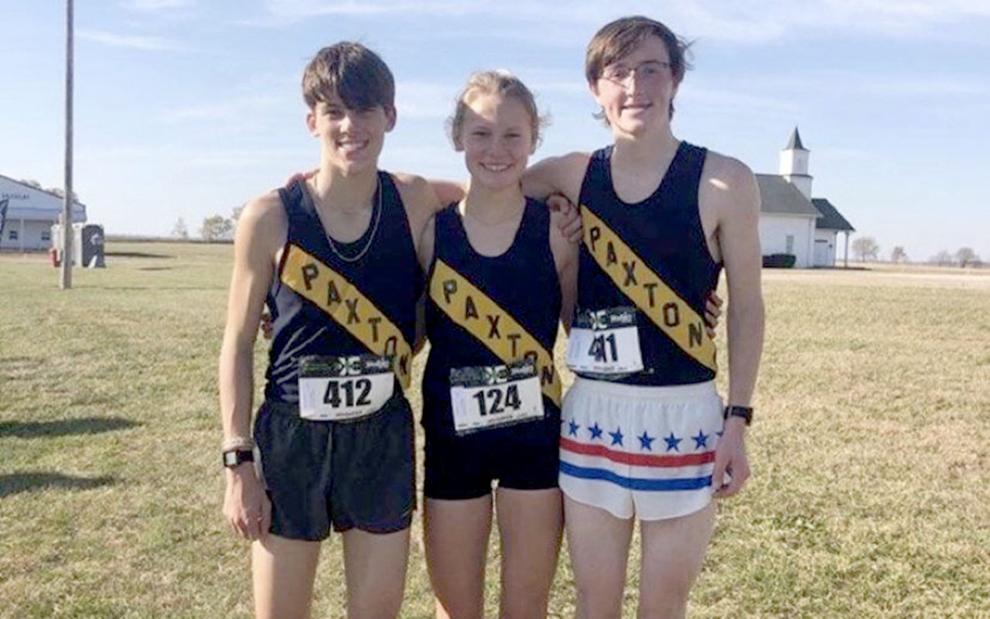 Paxton-Buckley-Loda
Ashton Goss, Ryder James and Trixie Johnson competed at last Friday's state cross-country meet, put on by ShaZam Racing and MileSplit Illinois after the IHSA canceled its state series in response to the COVID-19 pandemic. James and Johnson placed in the top 25.
— Taylor Mennenga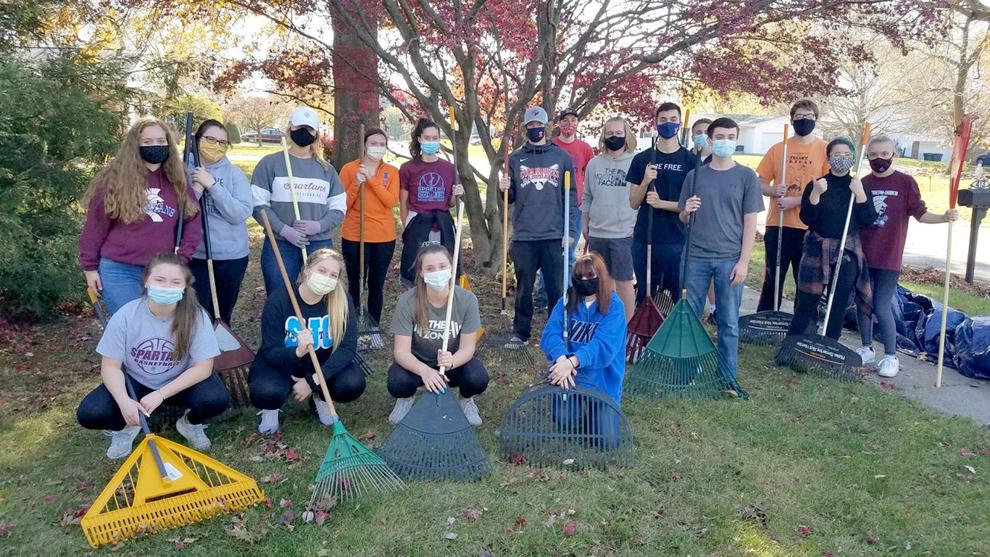 St. Joseph-Ogden
On a day off for parent-teacher conferences, Marshall Schacht took his civics and advanced civics classes around town to rake yards for others last Friday. The group met in the north parking lot of the high school and raked for two hours. Schacht's purpose was to teach students to practice civic virtues.
— Kylie Duckett
St. Thomas More
Psychology and civics classes put on their own election — with their own candidates: Spanish teacher Gary Gebauer (Mr. G), Travis Scott and Jim Green. Pictured: Mia Kirby, campaign manager for Mr. G, who won the election.
— Maci Walters
Tuscola
Student council met to make poppies for the Tuscola VFW Post 10009.
— Ava Cothron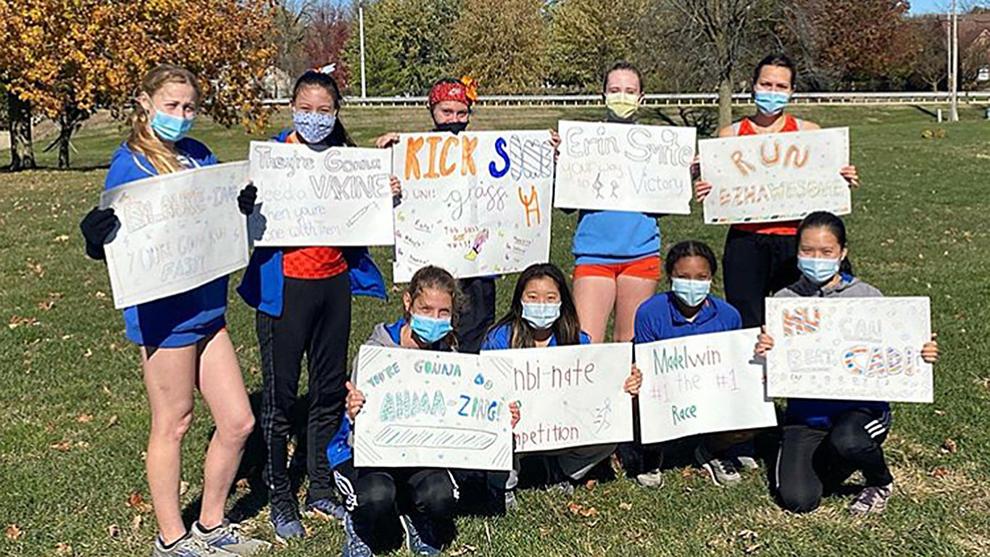 Uni High
The girls' cross-country team wrapped up its season at last Friday. Because IHSA canceled its state meet due to COVID-19, ShaZam Racing and MileSplit Illinois collaborated to hold an unofficial state meet with similar levels of competition. Uni runners were grateful for the final racing opportunity and the chance to spend time with teammates. Pictured: Mikayla Blanke, Maxine van der Donk, Kara Mathias, Erin Smith, Stefania Dzhaman, Cadi Hu, Madeleine Keenan, Danbi Choi and Kate Ahmari.
— Charlotte Ebel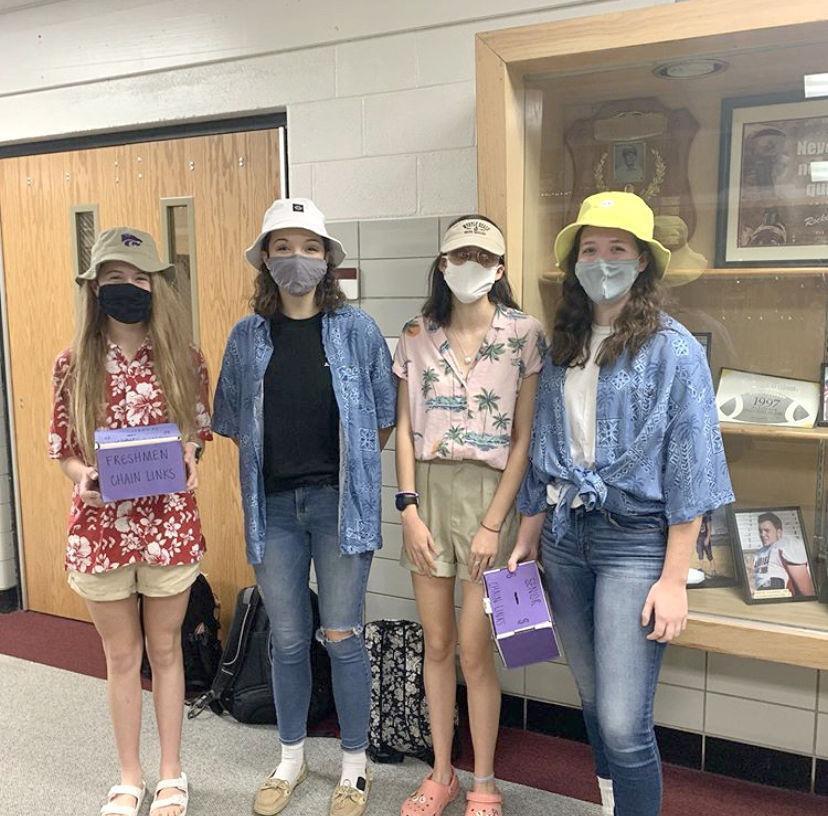 Unity
Students dressed up in their best Tourist Tuesday outfits to mark the return of in-person learning and to continue fundraising for the Thanksgiving food drive. Pictured: student council members Olivia Shike, Emily Lopez, Elizabeth Hulik and Rachel Branson.
— Malia Fairbanks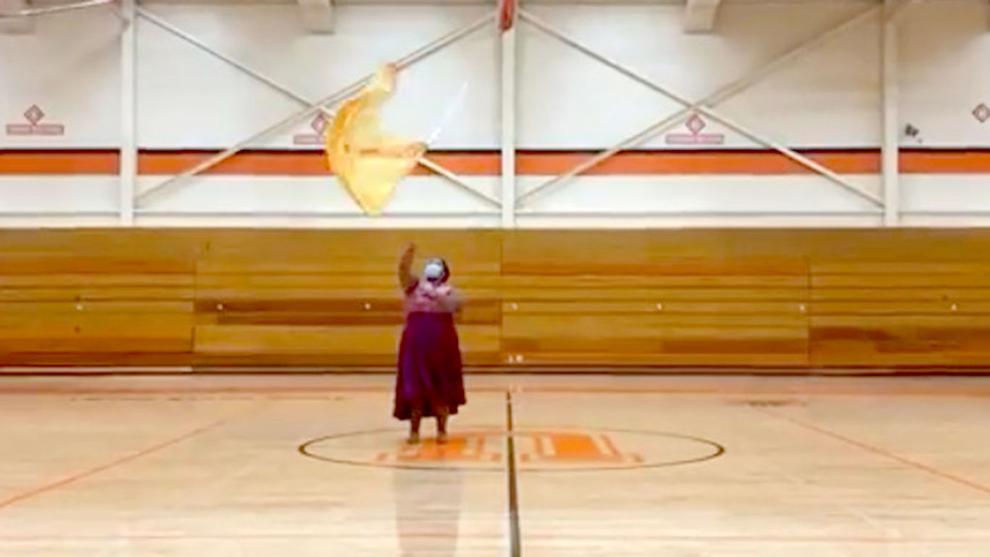 Urbana
Winter Guard co-captain A'shya Johnson placed third at the Virtual IDTA Start the Beat competition on Nov. 7. Her solo routine in the Senior Flag category was to the song "Nuvole Bianche" by Ludovico Einaudi.
— Jose Alvarez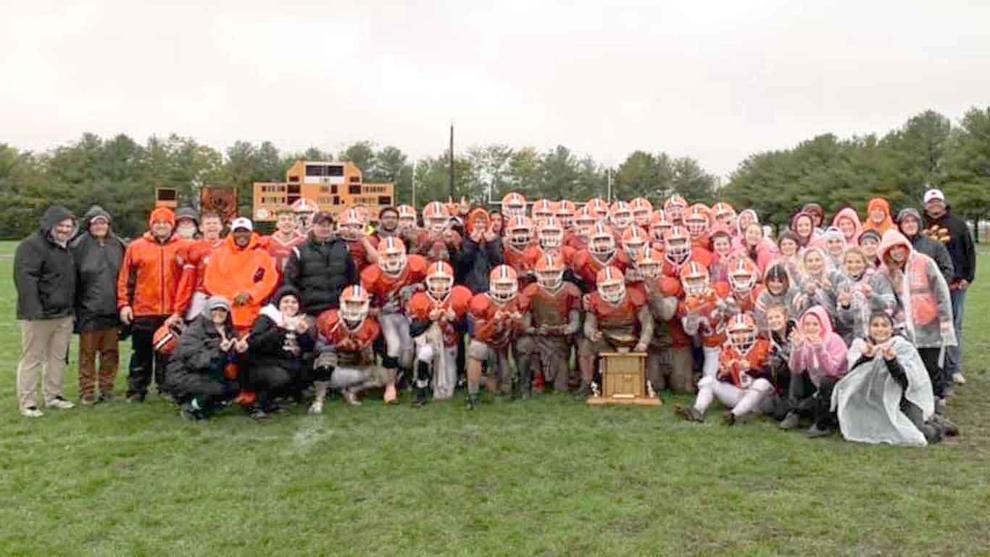 Westville
With football season still up in the air, students and staff remain hopeful the sport will play out in the spring. Also, a shoutout to history teacher Alex Summers for his commitment to helping students.
— Bryce Burnett