2020-21 High School Confidential: Week 9
Welcome to Year 5 of High School Confidential, an award-winning project made possible by aspiring student journalists from every corner of our circulation area. Each Friday through May, they'll tell us what's happening in their hallways at news-gazette.com.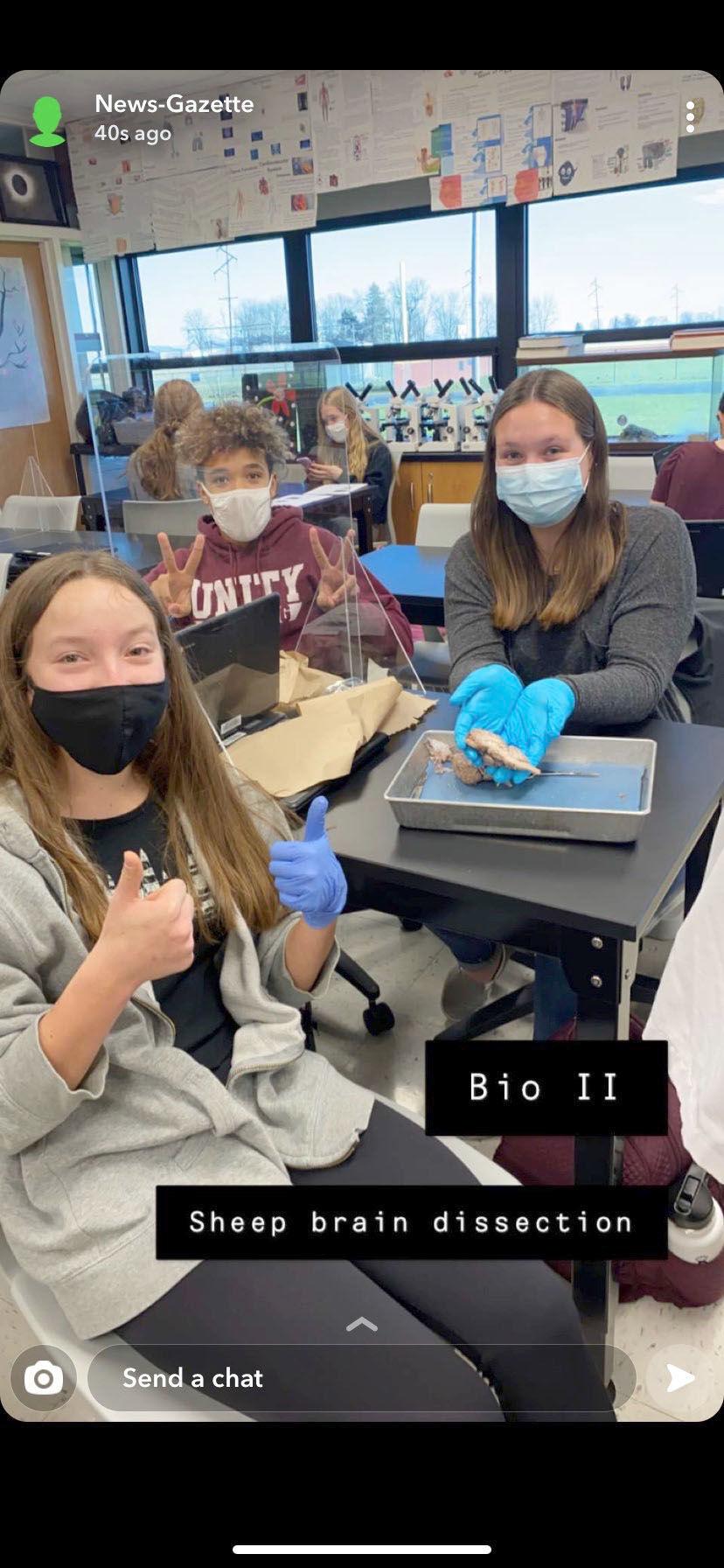 Once a week, we'll hand over our Snapchat account (News-Gazette) to our correspondents for behind-the-scenes tours. This week, Unity's Malia Fairbanks showed us around school in Tolono (above).
Feeback? Email N-G/VP Jim Rossow at jrossow@news-gazette.com.
This year's panel:
— Reese Anderson, Chrisman
— Jose Alvarez, Urbana
— Briana Ballard, Academy
— Chloe Becker, DeLand-Weldon
— Jada Bonam, Centennial
— Lexi Breymeyer, Hoopeston Area
— Bryce Burnett, Westville
— Raegan Cheek, ALAH
— Olivia Chew, Salt Fork
— Cassandra Colmenares, Academy
— Clara Rudolph, Monticello
— Hayden Copass, Georgetown-Ridge Farm
— Ava Cothron, Tuscola
— Kate Cramer, Mahomet-Seymour
— Aaliyah Denius, Oakwood
— Kylie Duckett, St. Joseph-Ogden
— Charlotte Ebel, Uni High
— Malia Fairbanks, Unity
— Andrew Ferguson, Fisher
— Hailey Gadbury, Bement
— Haven Hathaway, Gibson City-Melvin-Sibley
— Leilani Islam, Danville
— Fabiola Jaramillo, Arcola
— Audrey Kaeb, Cissna Park
— Jordin Lucht, Milford
— Mason McMasters, Armstrong-Potomac
— Taylor Mennenga, Paxton-Buckley-Loda
— Morgan Miller, BHRA
— Daniel Olson, Villa Grove
— Tony Owen, Rantoul
— Kitty Rossow, Central
— Anna Sanders, Heritage
— Courtney Shane, Blue Ridge
— Emerson Tarr, LeRoy
— Felicity Tuan, Judah Christian
— Maci Walters, St. Thomas More
On to this week's report: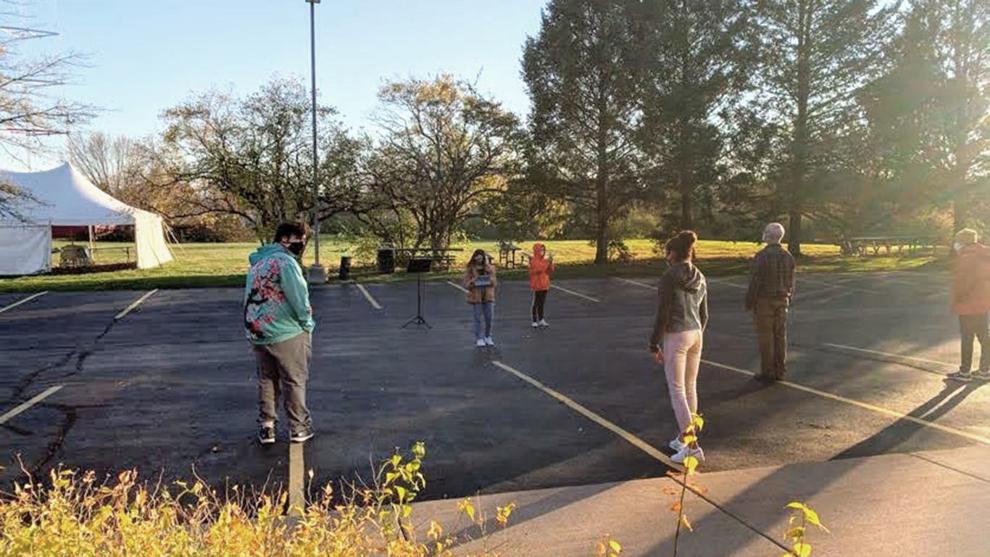 Academy High
Sophomore Paula Sardela, second from left, asks students to "take a step forward" in a social experiment conducted for the humanities module. Also pictured, left to right: Miles Magee, Yoon Freund, Shayla Brown, humanities instructor Gordon Brown, and Jamaree Francois.
— Cassandra Colmenares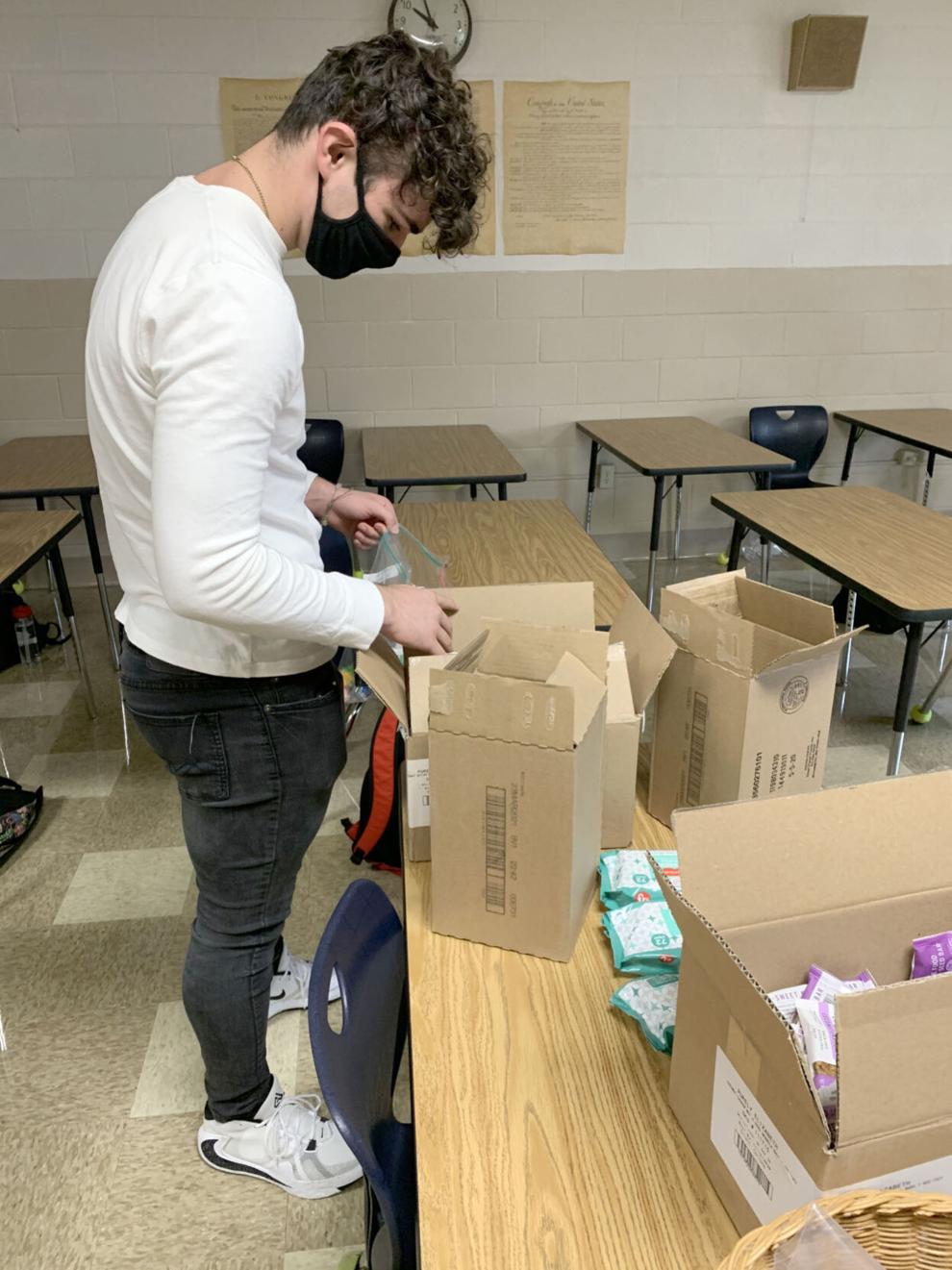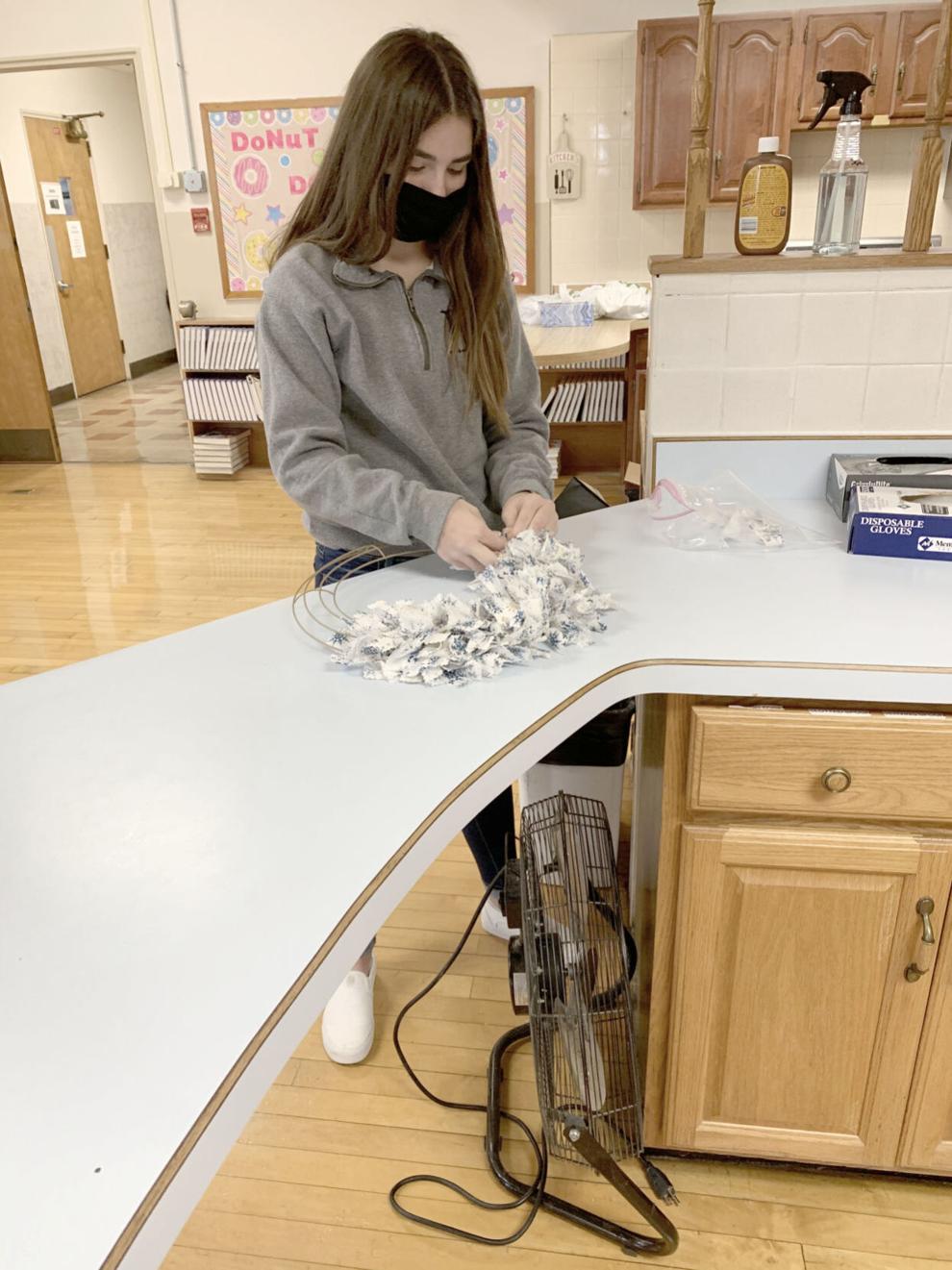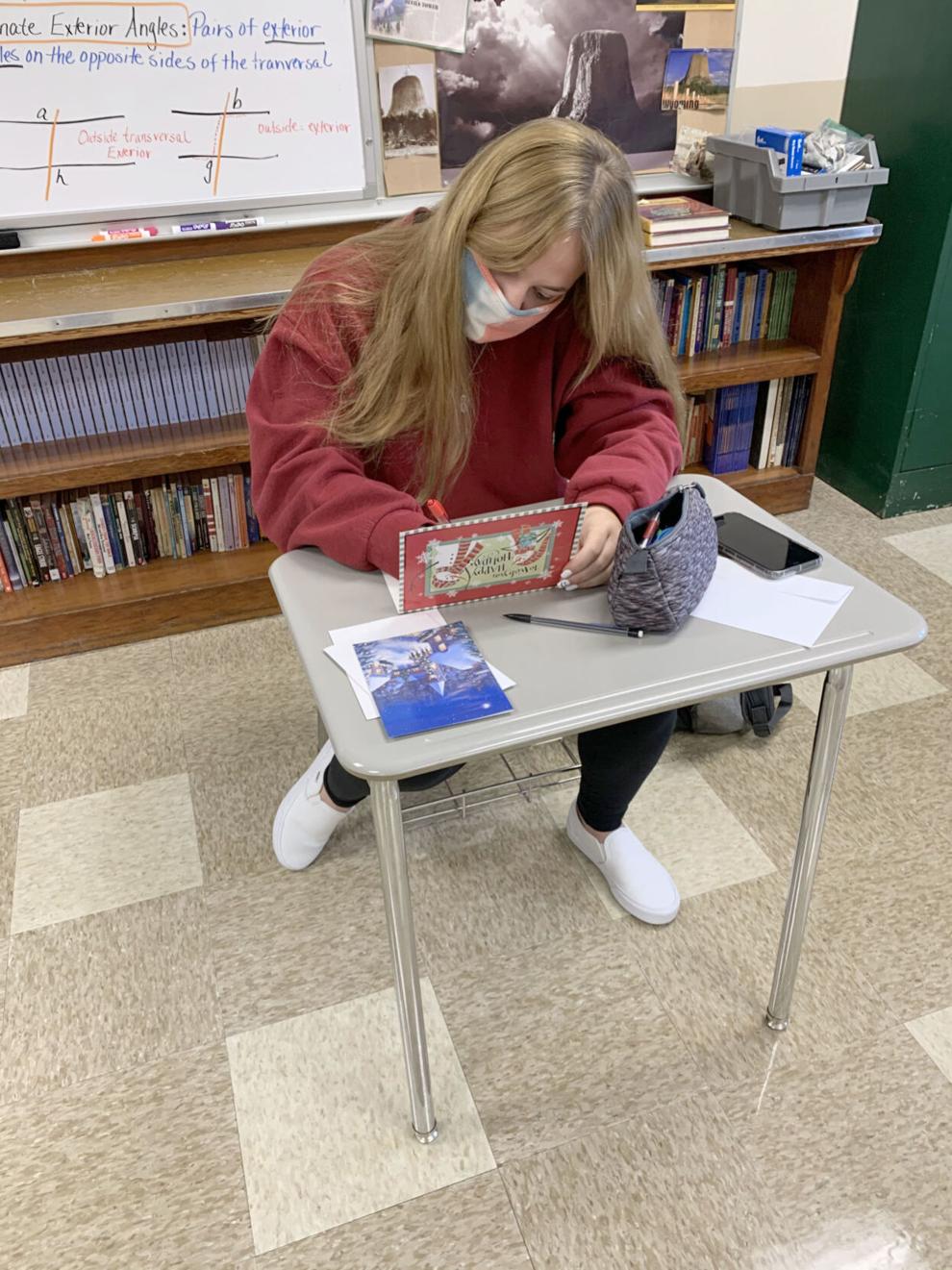 ALAH
Students and staff at ALAH put together a series of projects to show appreciation on and around Veterans Day. Pictured: Austin Abercrombie helps with care packages; Hunter Carson makes wreaths; and Kaitlyn Zander makes holiday cards.
— Raegan Cheek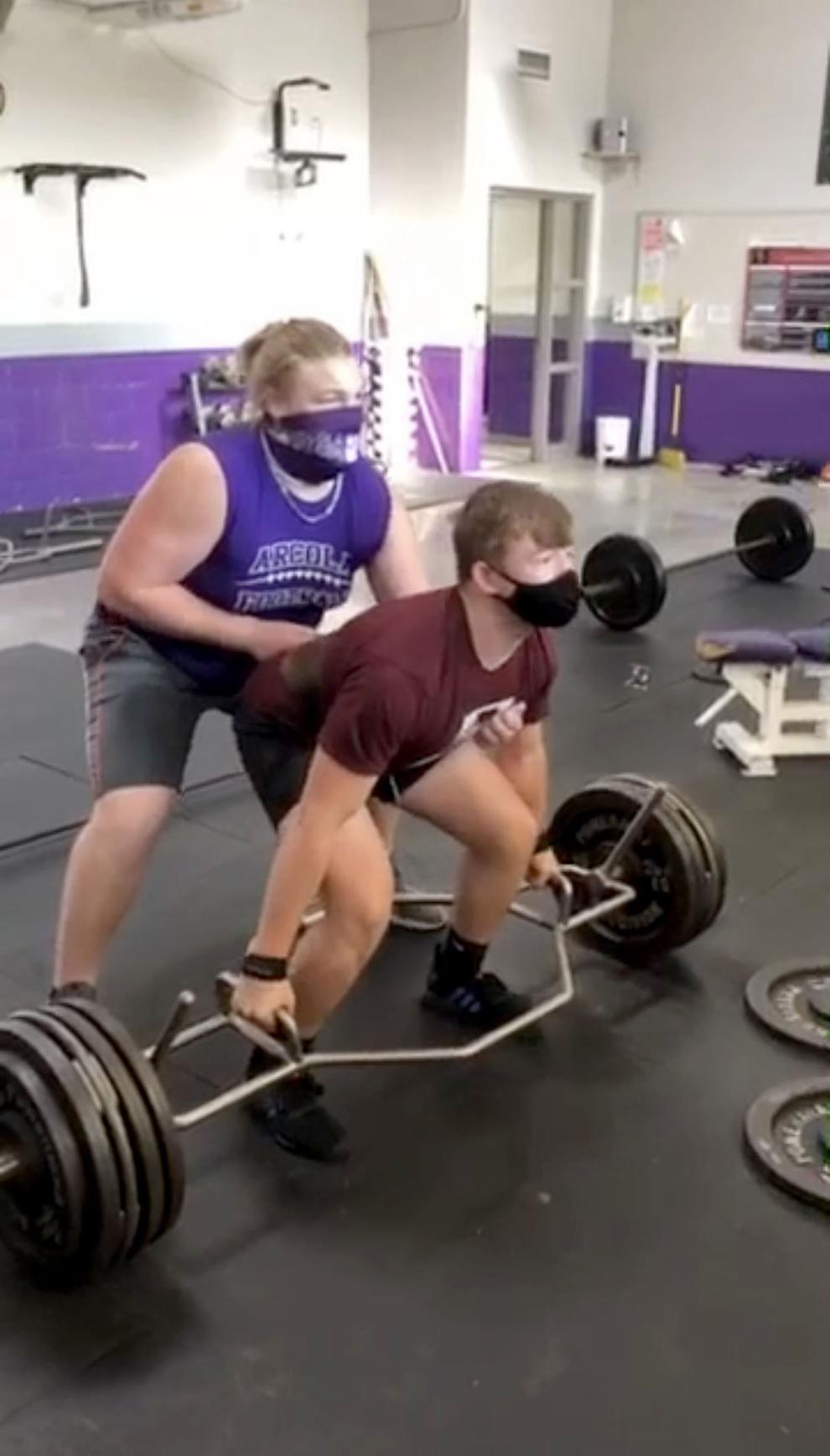 Arcola
Football player Will Klopfleisch, spotted by Caiden Miller in the weight room, deadlifted 510 pounds during a recent workout.
— Fabiola Jaramillo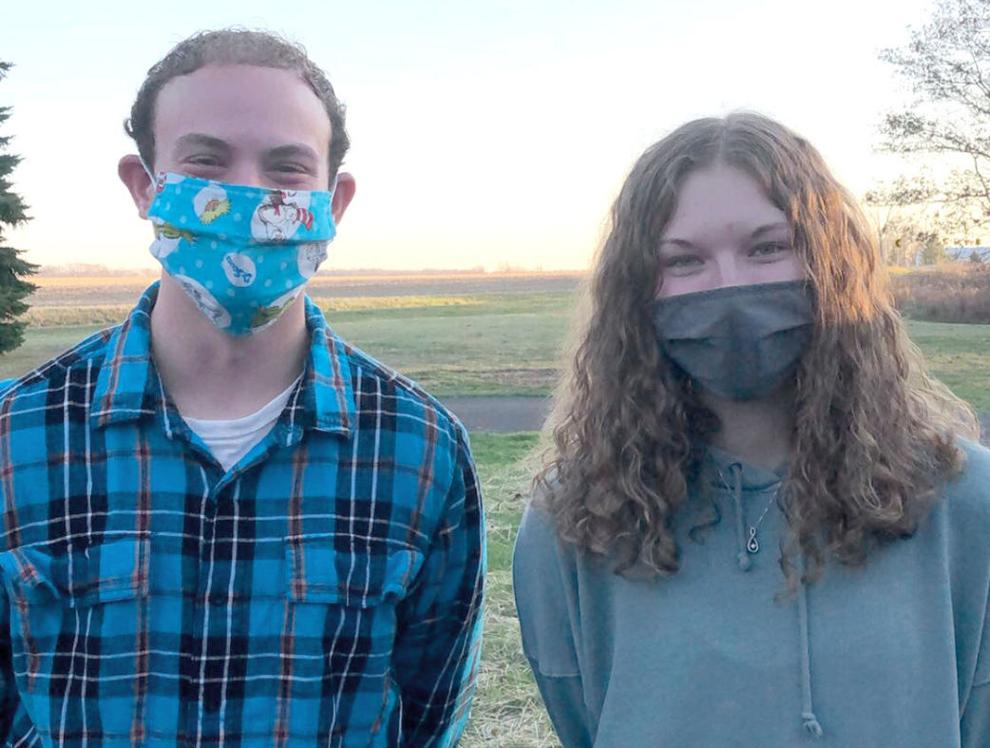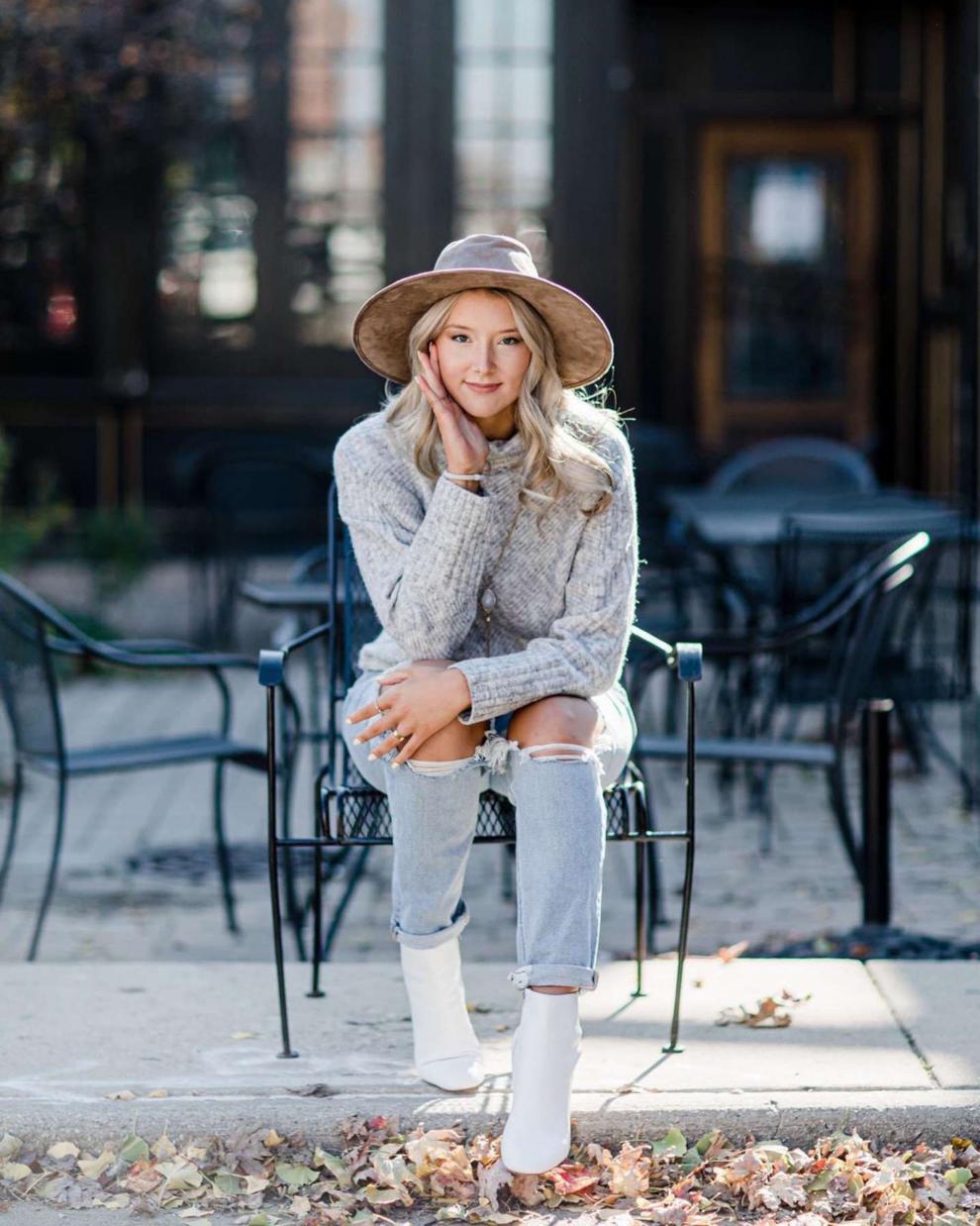 Armstrong-Potomac
Seniors found out who their class officers were after a meeting last week. They included: Mason McMasters (president) and Emma Jameson (treasurer); and Emma Franzen (VP).
— Mason McMasters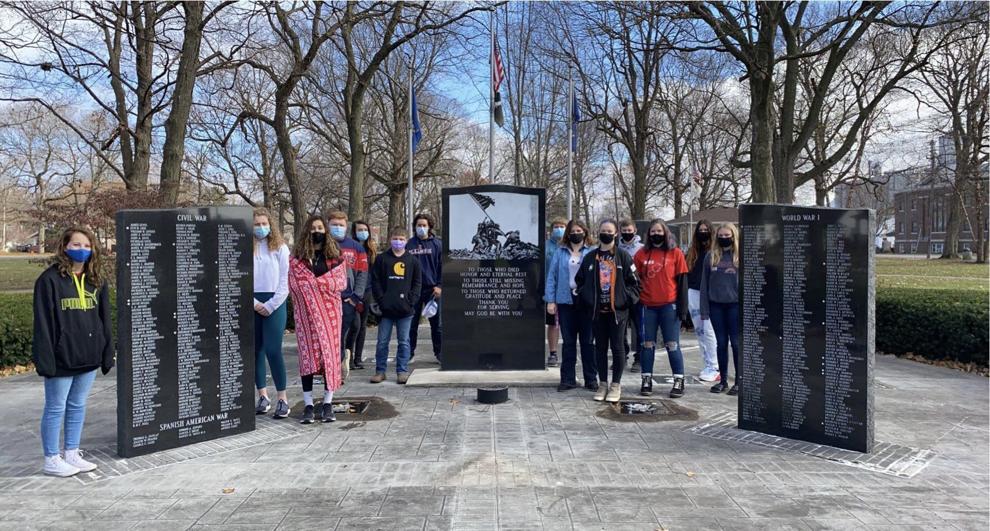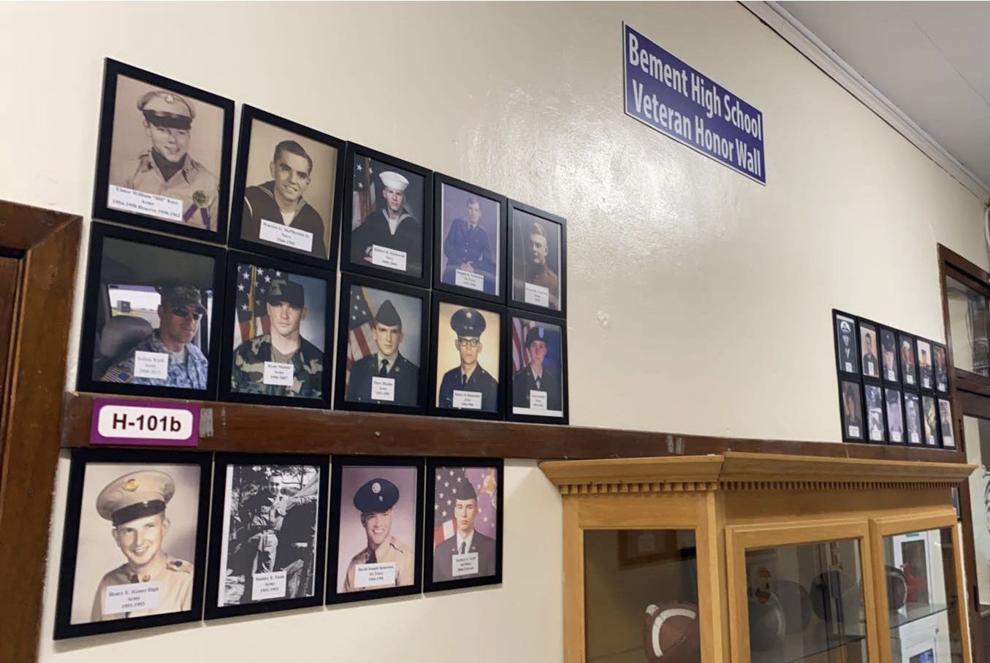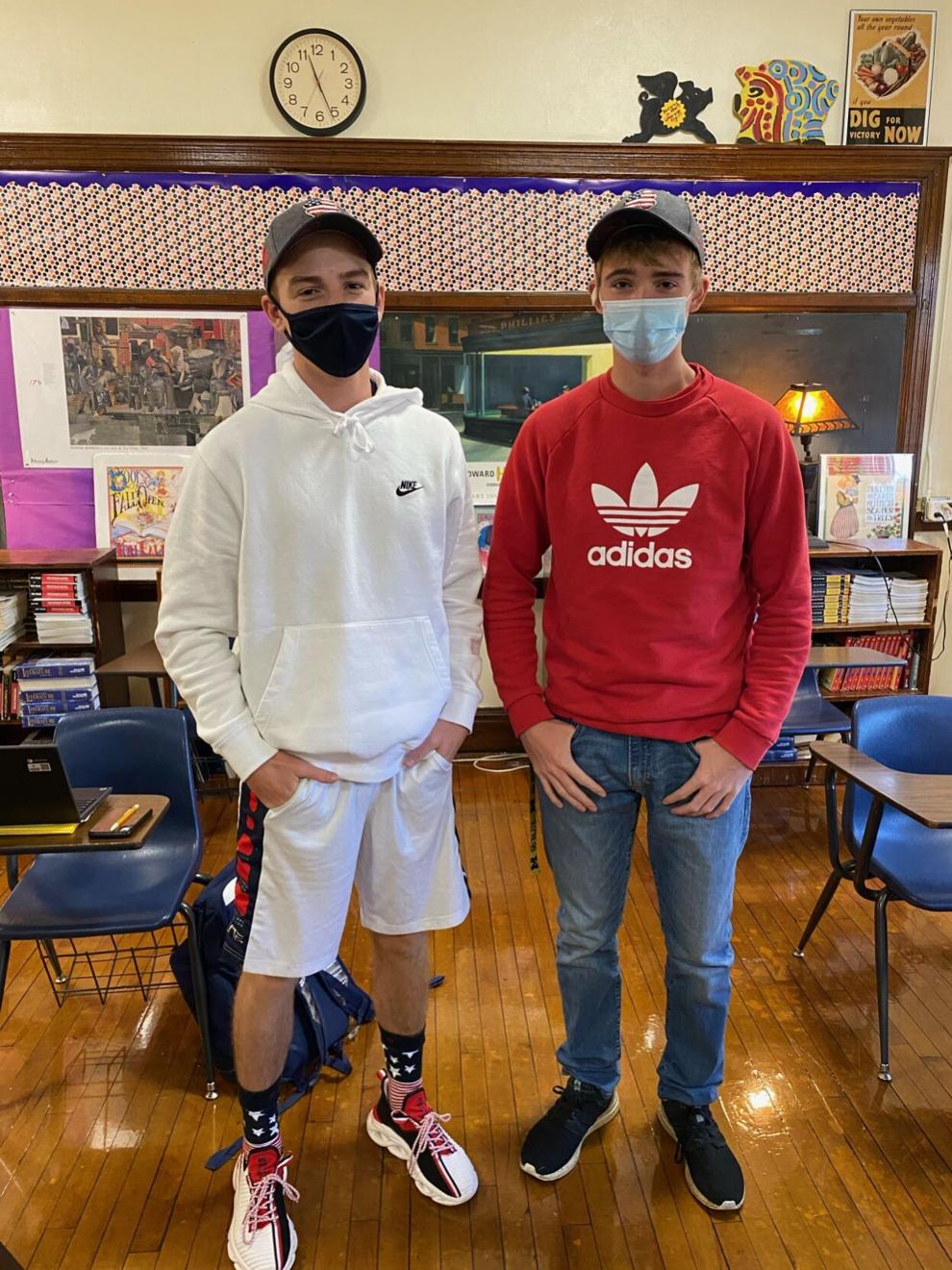 Bement
For Veterans Day, students were encouraged to wear red, white and blue. Social science teacher David Elder took his class to Bement Park to visit the Veterans Memorial (top). Inside the school, a Veterans Honor Wall was added with names of past and present military who attended Bement. Pictured: Luke and Zach Rogers.
— Hailey Gadbury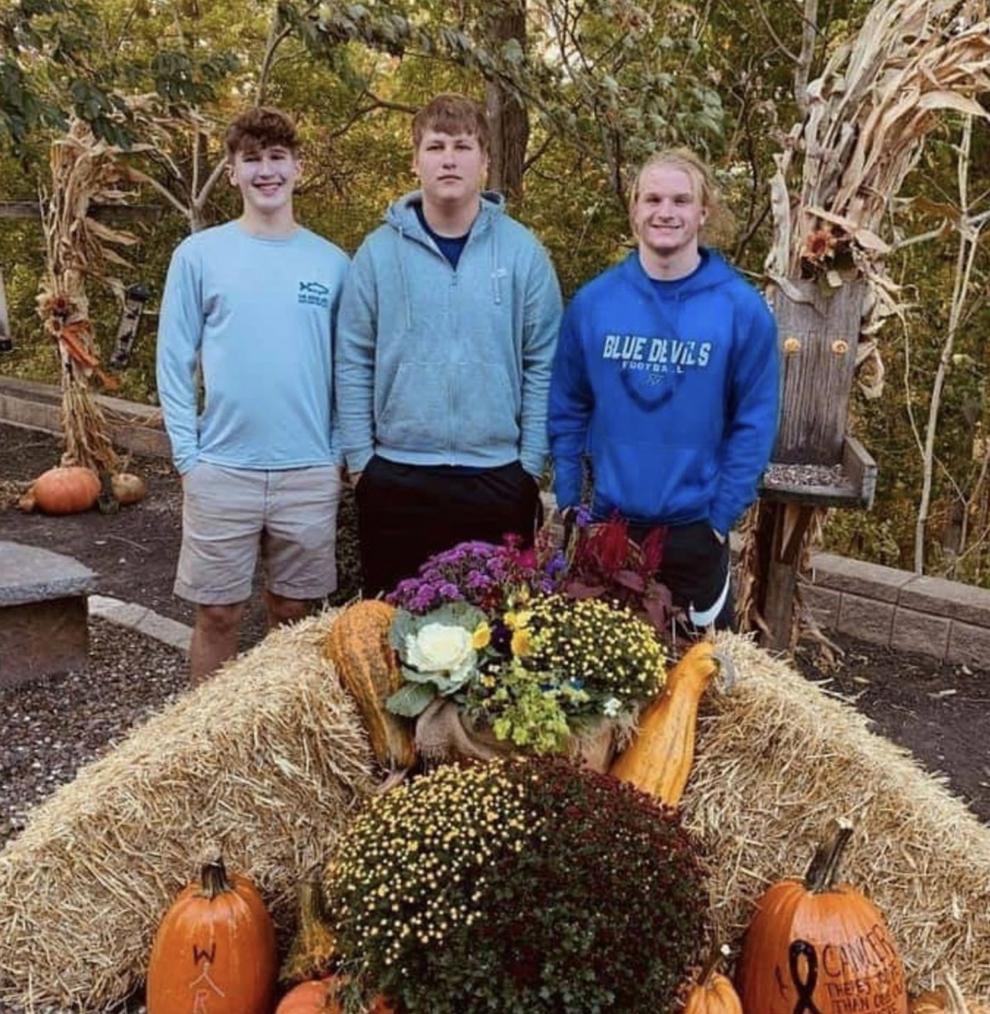 BHRA
Senior Aiden Tauer (left) wanted to do a service project for October's Breast Cancer Awareness, but with high COVID-19 rates denying many volunteer opportunities, he had to get creative. Tauer decided to decorate the garden of the OSF Cancer Center that patients can see from the infusion room. With the help of Jace Waterman (center) and Eric Watson (right), Tauer was able to accomplish his goal of helping out the community.
— Morgan Miller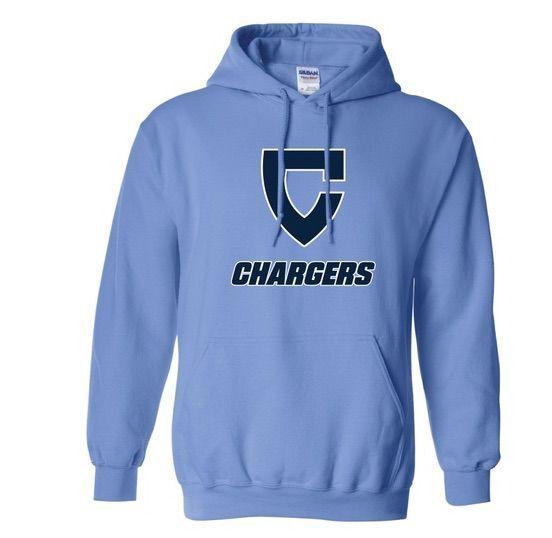 Centennial
Chargers gear is available for purchase through Campus Ink until Nov. 29. Organized by teacher Stacy Arie, the fundraiser benefits a number of school initiatives. 
— Jada Bonam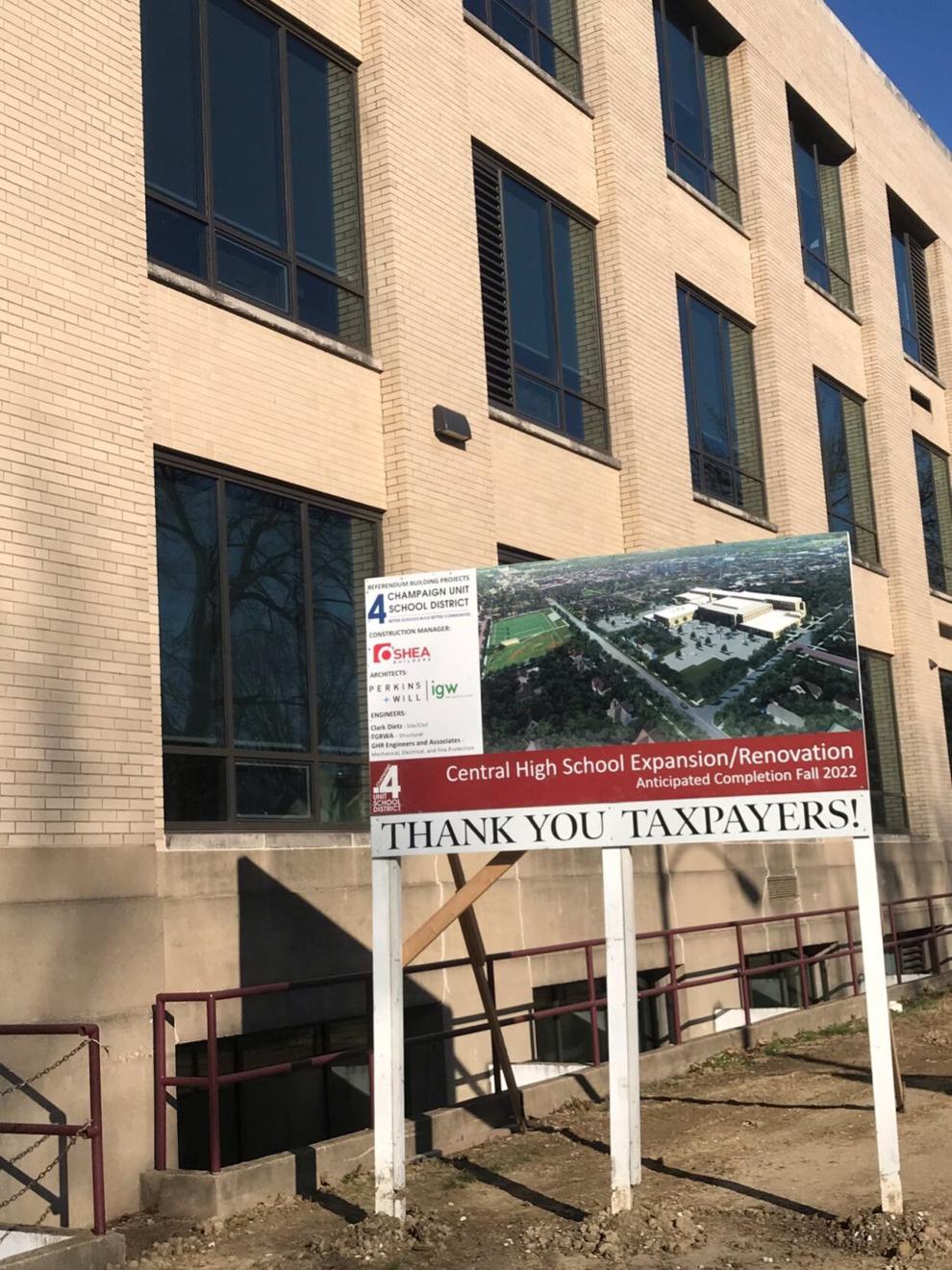 Champaign Central
As construction continues and the pandemic rages on, some teachers continue to conduct remote classes from inside the renovated high school.
— Kitty Rossow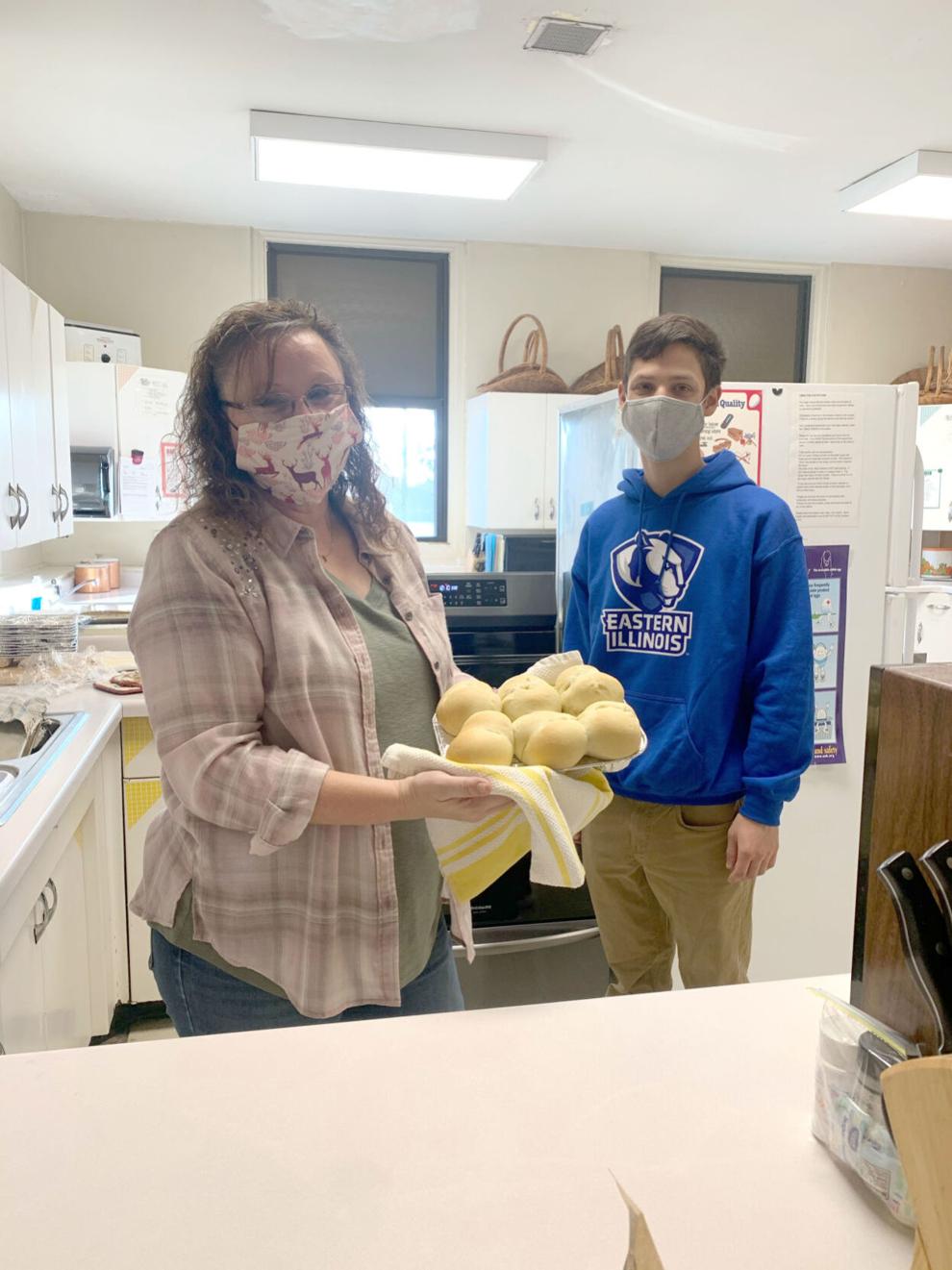 Chrisman
Teacher Mary Phipps and student Robbie Rollins sold Beef House rolls this week to students. These are enjoyed throughout the school by everyone and sell out very quickly each day that they are served.
— Reese Anderson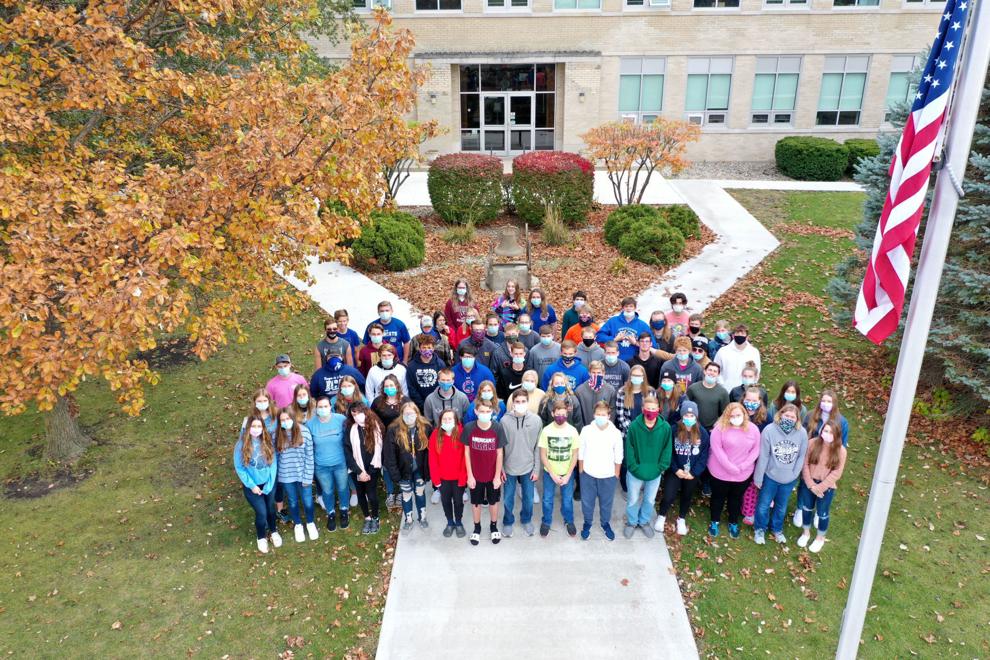 Cissna Park
Students from all grades gathered in front of the school for a drone picture that will be used for the yearbook.
— Audrey Kaeb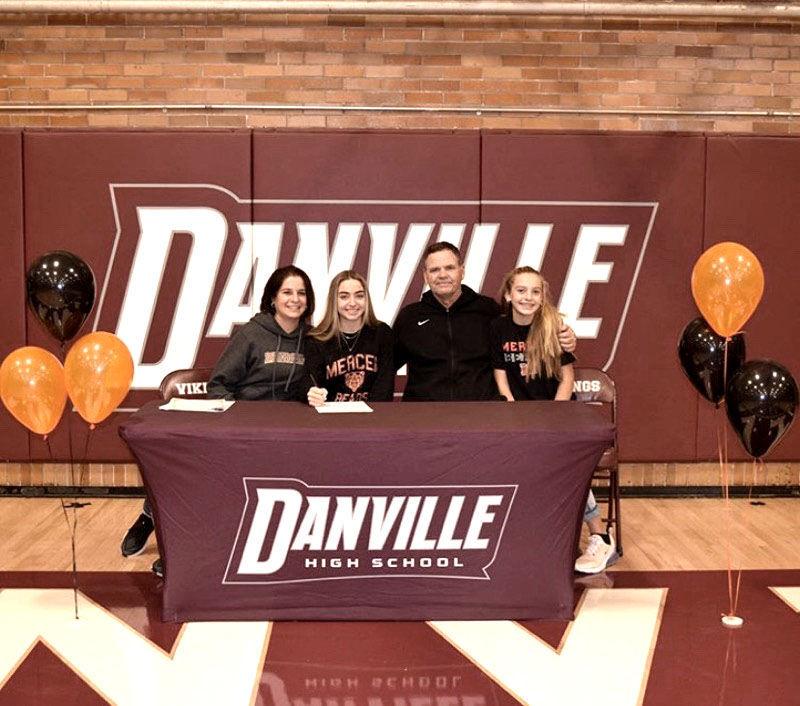 Danville
All-Area girls' basketball star Erin Houpt officially signed with Mercer College. The senior standout was joined by her mom, dad and younger sister at the ceremony.
— Lani Islam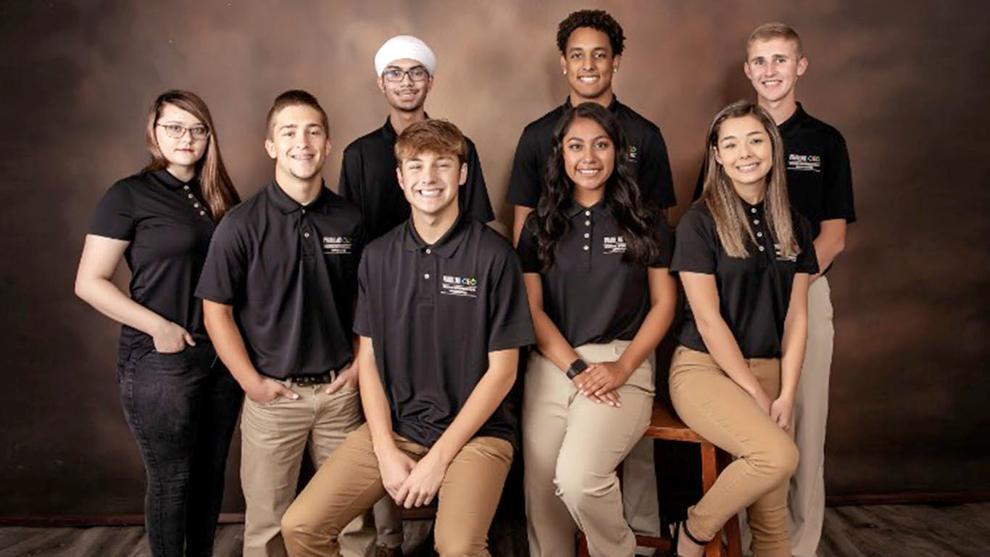 Fisher
Andrew Ferguson (front left) and Will Shook (back right) are participating in the Prairieland CEO program, a class offered at Fisher, Paxton-Buckley-Loda and Gibson City-Melvin-Sibley that teaches the basics of entrepreneurship and the ins and outs of running a business. Photo courtesy Vivid Studios Inc.
— Andrew Ferguson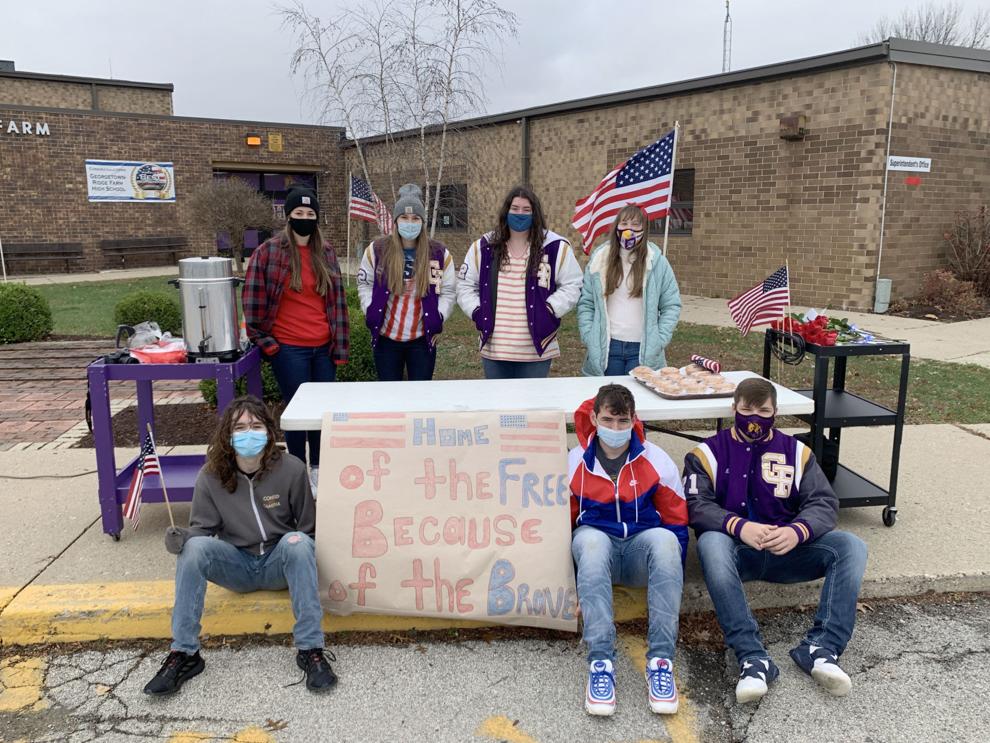 Georgetown-Ridge Farm
On Veterans Day, students manned a drive-thru to hand out donuts and coffee to those who served.
— Hayden Copass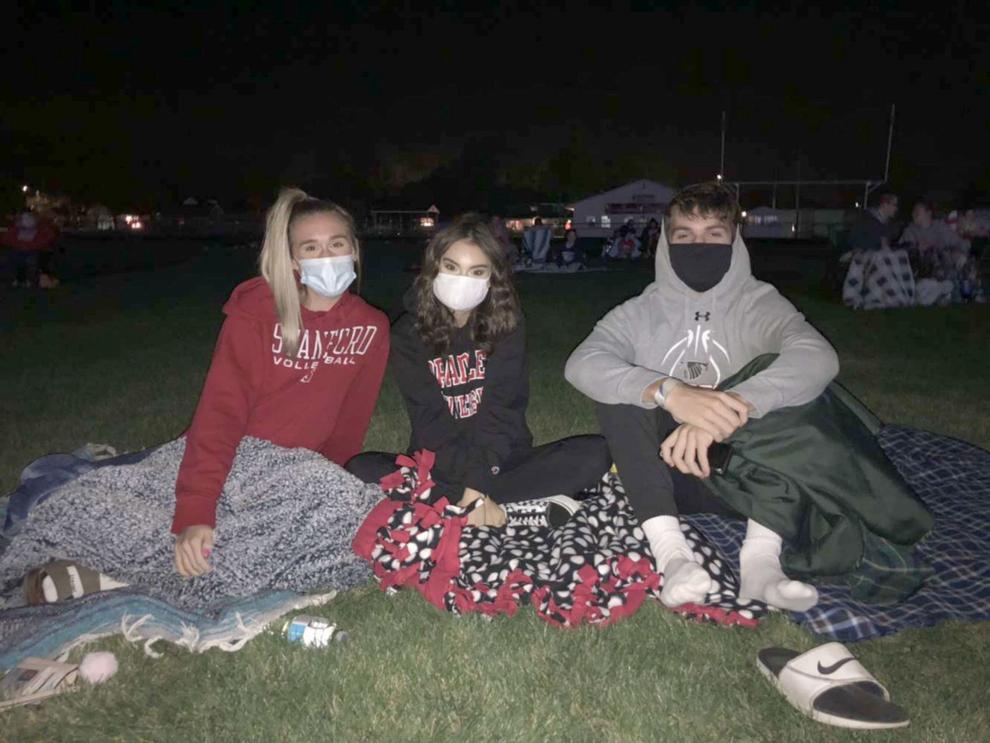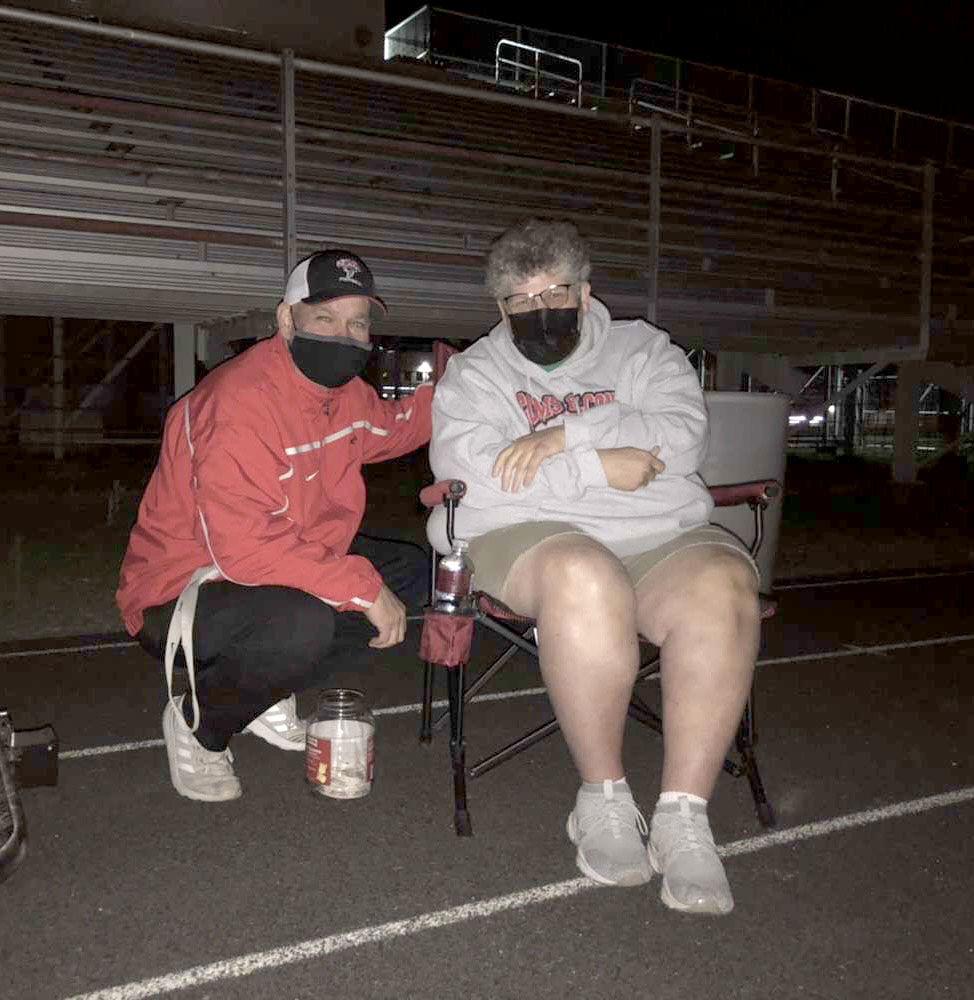 Gibson City-Melvin-Sibley
Sudents enjoyed Movie Night at the football field for a movie night, taking advantage of great weather and enjoying the production of Peanut Butter Falcon. Students pictured: Jessica Freehill, Ashlyn Allemand and Ethan Garard. Teachers pictured: Mike Allen and Susan Riley.
— Haven Hathaway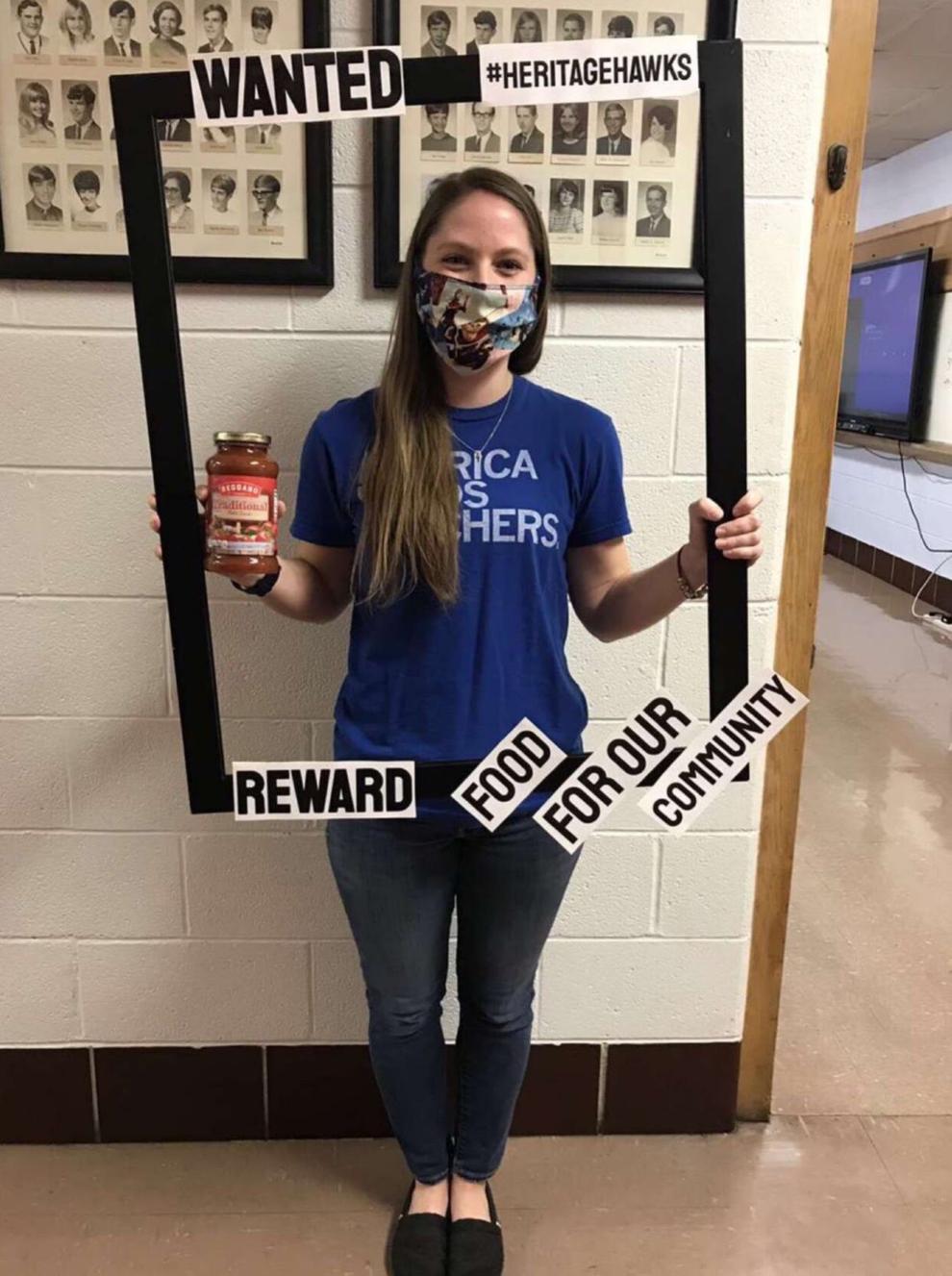 Heritage
In November and December, student council, National Honor Society, Future Farmers of American and Family, Career and Community Leaders of America joined together to create a schoolwide food, toy and change drive. Last week, students were asked to bring in change to add to their class totals and spaghetti noodles and pasta sauce to donate. A picture frame is provided for students for a photo opp after they donate. Pictured: math teacher Caitlin Kozelichki with a jar of pasta sauce.
— Anna Sanders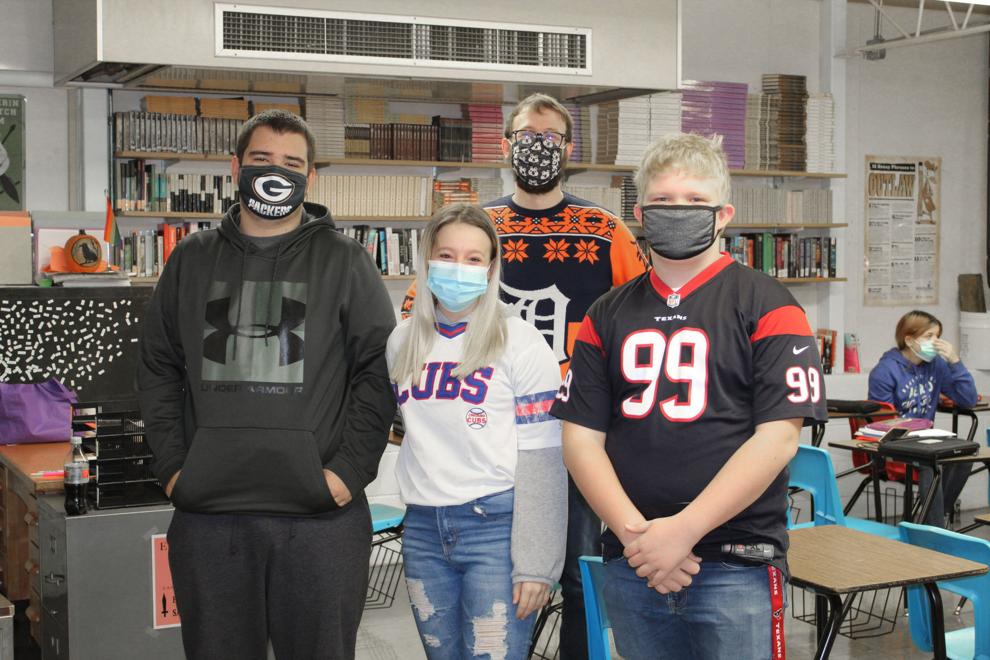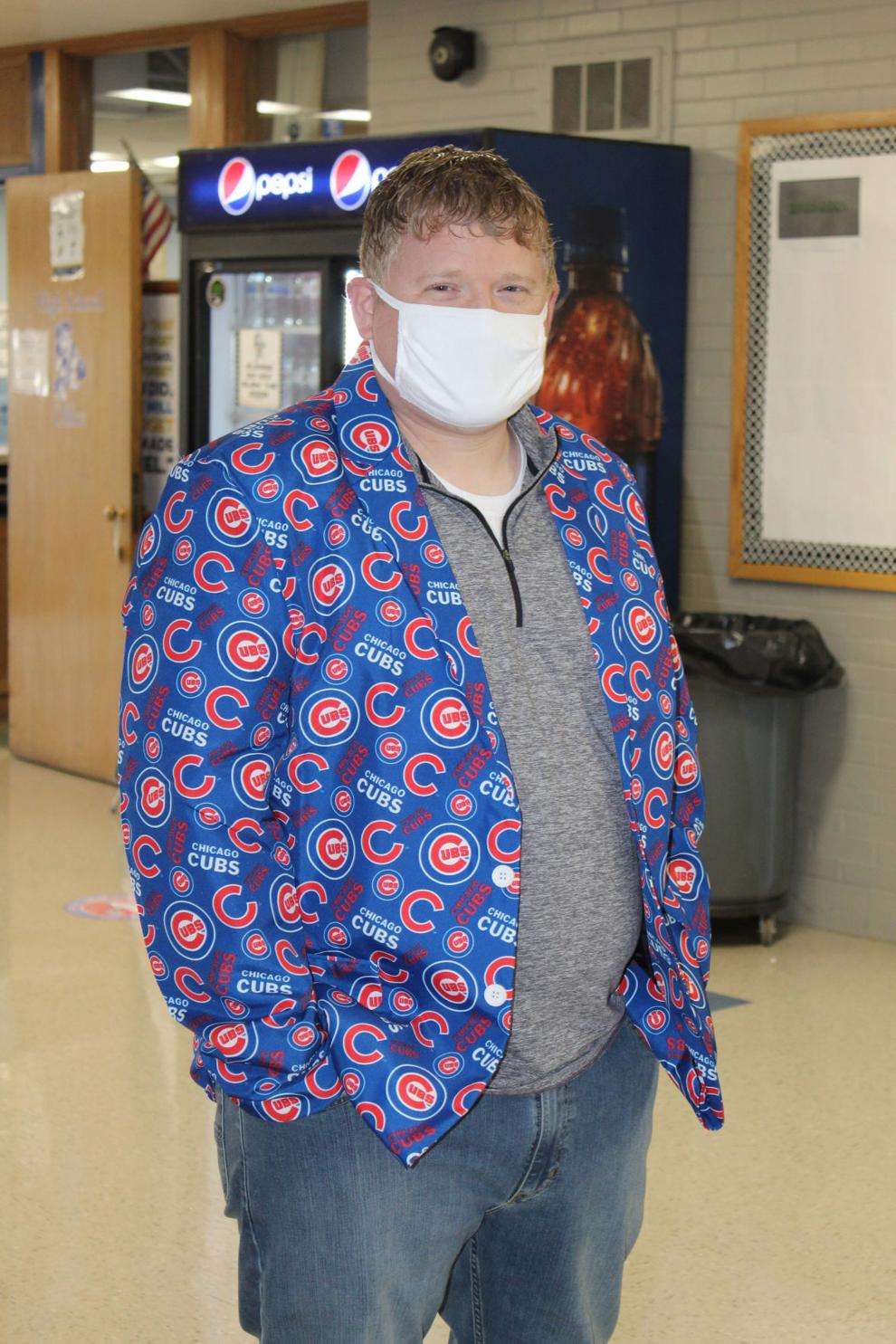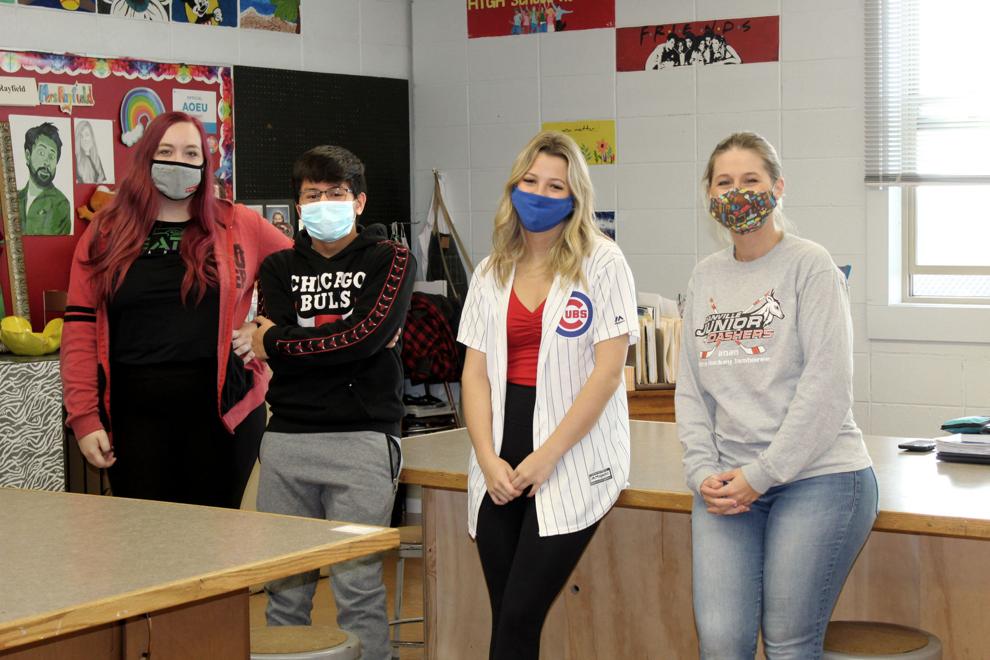 Hoopeston Area
Student council decided to bring fun to school. Each Friday, students are given a theme. This week's: sports teams as students were encouraged to wear jerseys of their favorite team to be entered in a gift card drawing in December. Pictured: Ashton Birch, Raven Armstrong, teacher Nic Dziadosz and Bryson Brewer; principal John Klaber; and Mary Jane Watson, Ricky Avita, Lexie Breymeyer and teacher Natalie Rayfield.
— Lexie Breymeyer
Judah Christian
During Veterans Day chapel, veterans were commemorated and honored for their service. Principal Jim Moxley spoke on the importance of sacrifice, and junior Lydia Lowry explained the meaning of the 13 folds of the American flag (pictured left to right: Phillip Durst, Lowry and Emily Maxwell), The band and choir also performed songs. Pictured: The choir, which performed "The Star Spangled Banner," included left to right Aleigha Garrison, Elise Coulter, Hunter Webb, Connor Cox, Ella Carder, Grace Garrison, Alivia Rozier, Sofia Tapuaiga, Summer Hollis and Abi Tapuaiga. Not pictured: Liza Carder, Zane Coulter and Leila Kennedy.
— Felicity Tuan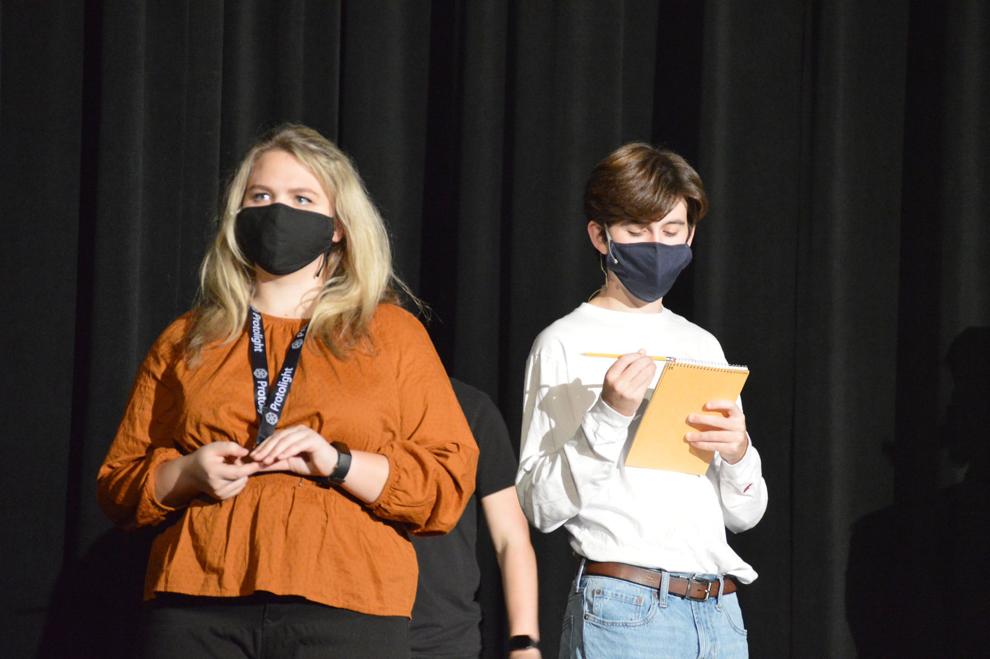 Mahomet-Seymour
Drama department hosted its annual fall play, "Cauldron Bubble." Due to COVID- 19, the students live-streamed the performance throughout the week. Pictured: seniors Emma Beddow and Kyle Widner.
— Kate Cramer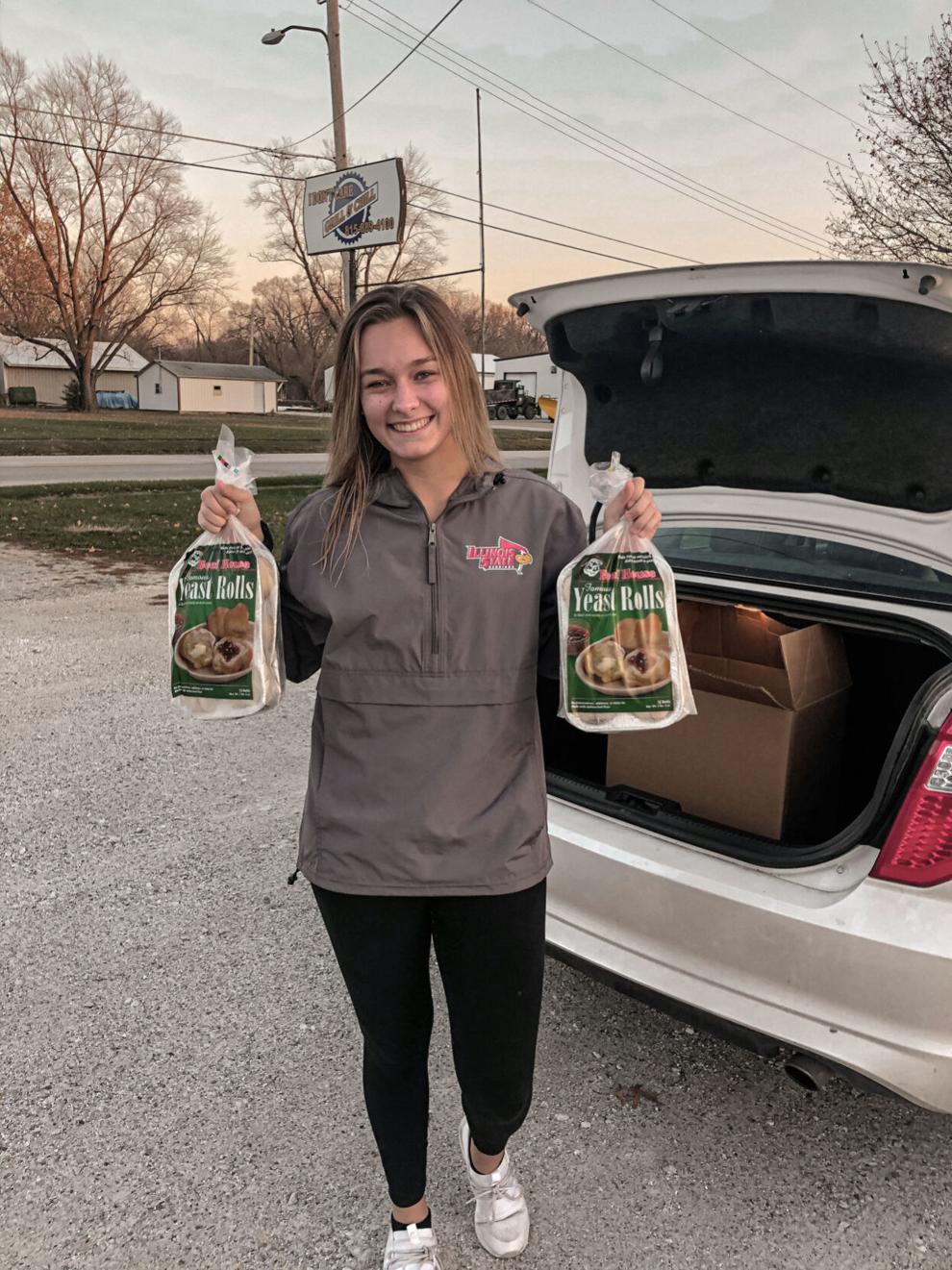 Milford
Cheerleaders wrapped up their annual Beef House fundraiser, delivering rolls, jellies and jams just in time for Thanksgiving. They raised over $1,000 for their squad. Pictured: Senior Jordin Lucht.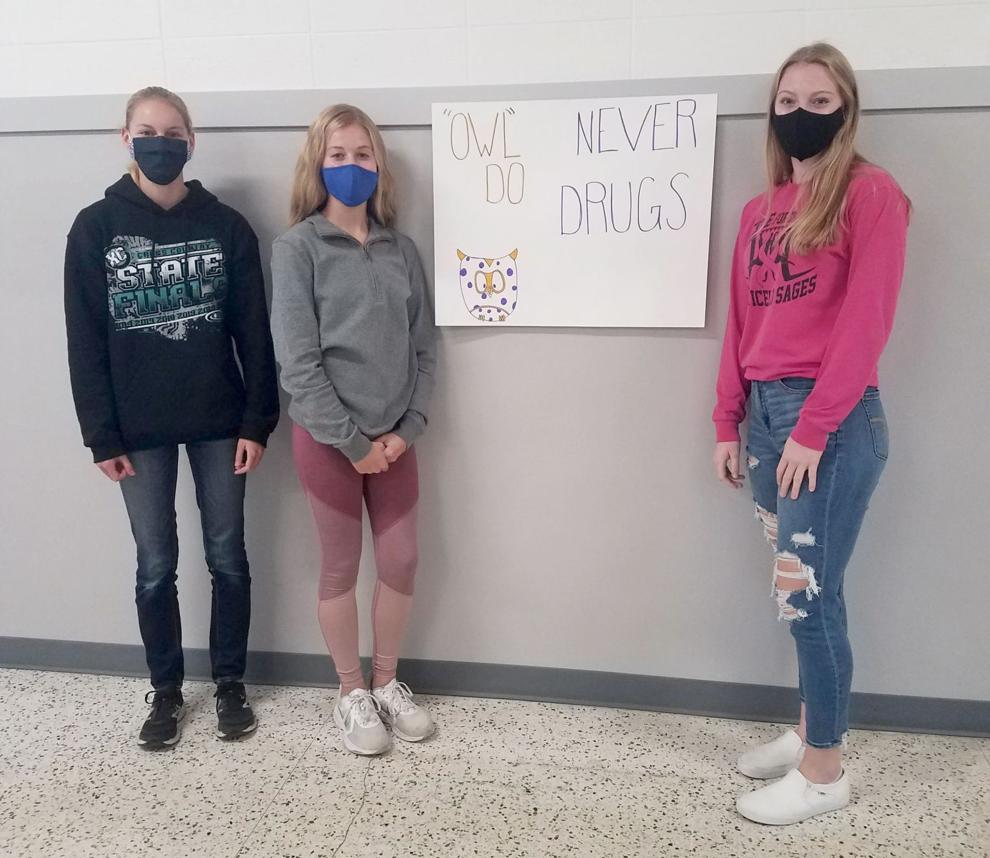 Monticello
The Monticello LifeSavers put on Red Ribbon Week, dedicated to raising awareness about the effects of drugs and alcohol. Red ribbons were sent to the middle school and elementary schools along with a packet of information for the teachers to share with the youth. The LifeSavers designed posters and decorated the school with red ribbons and balloons. Pictured: Rachel Koon, Emma Kallembach and Renni Fultz.
— Clara Rudolph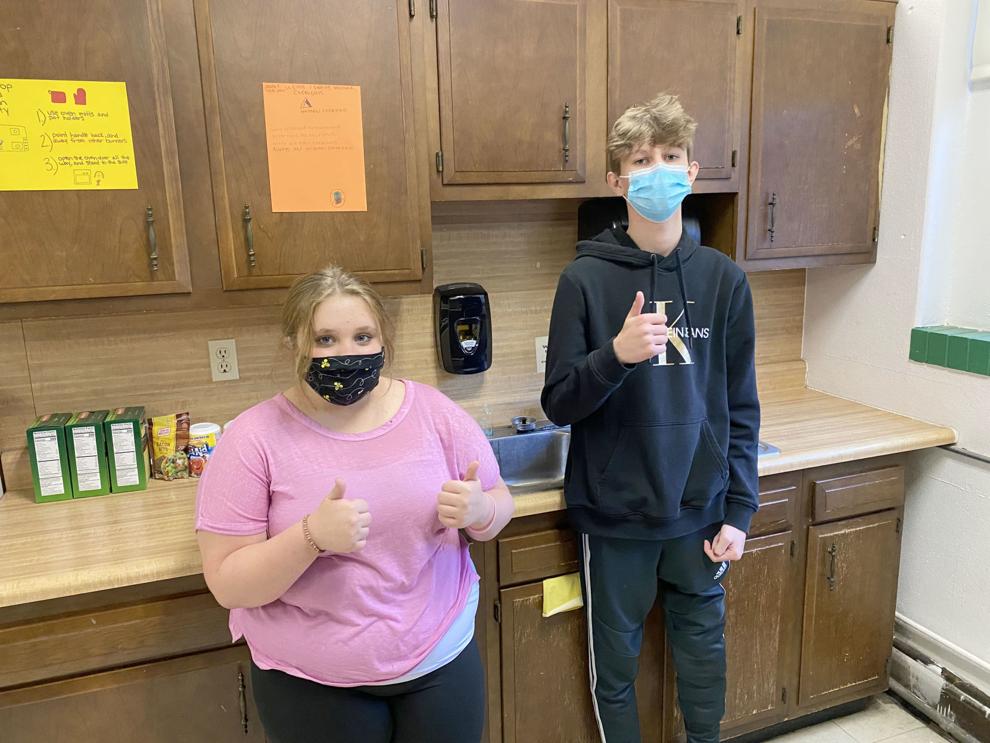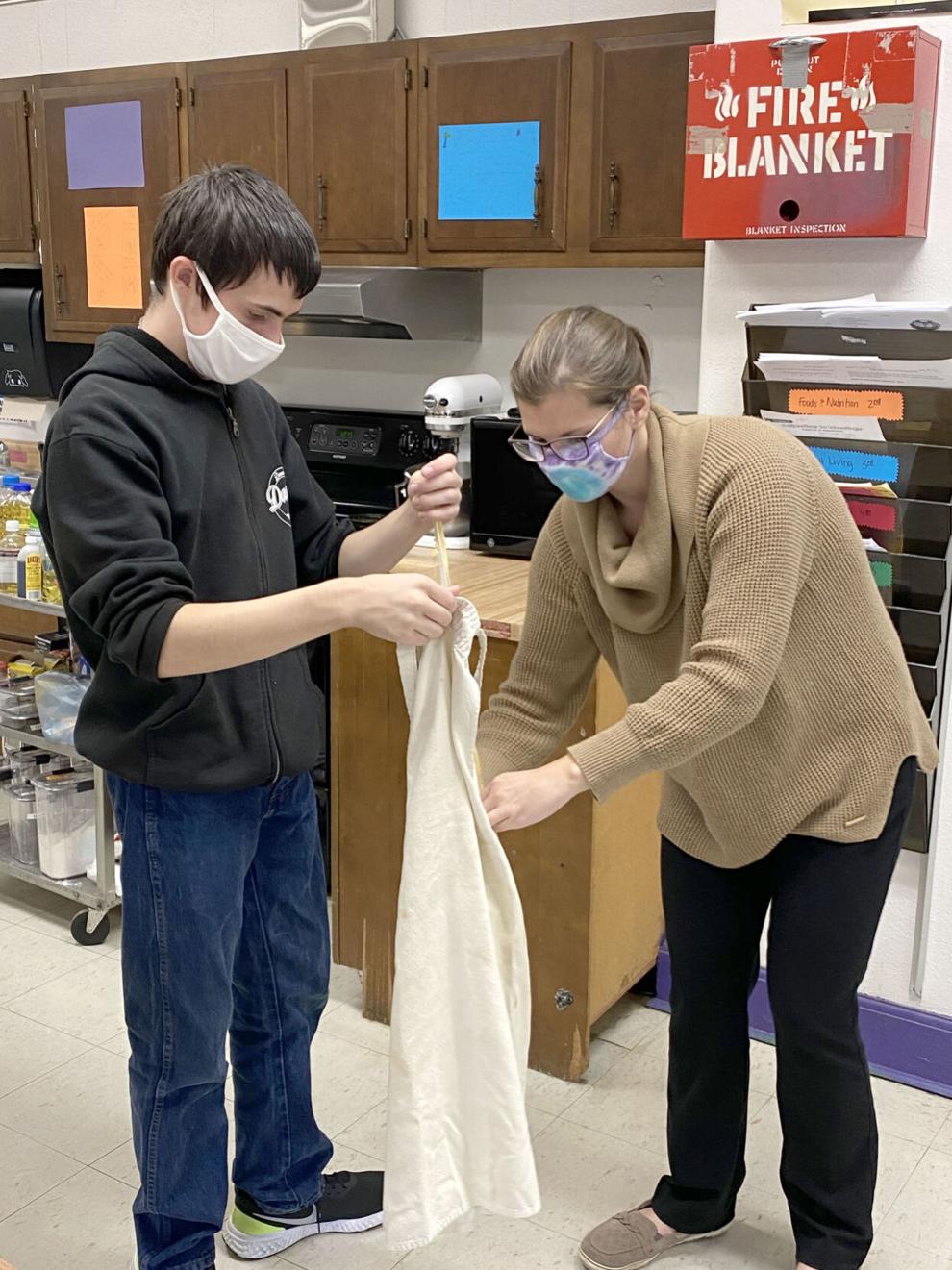 Oakwood
In Molly Ham's Foods and Nutrition class, students learned how to formally fold aprons after completing their first meal — maccoroni and cheese. Pictured, left to right: Rhylie Beauvois and Brayden Flannagin; Michel Boys and Ham.
— Aaliyah Denius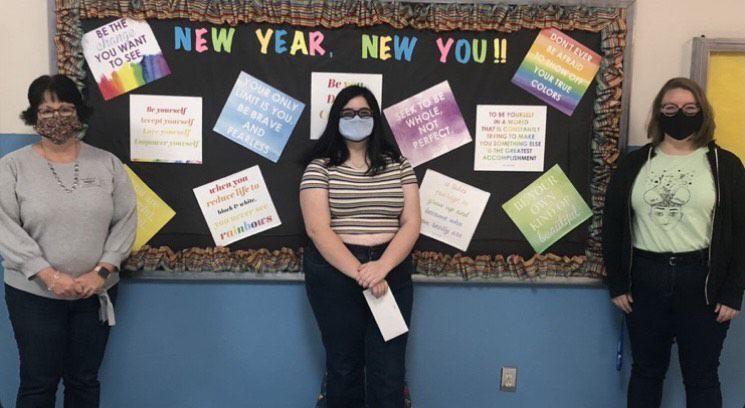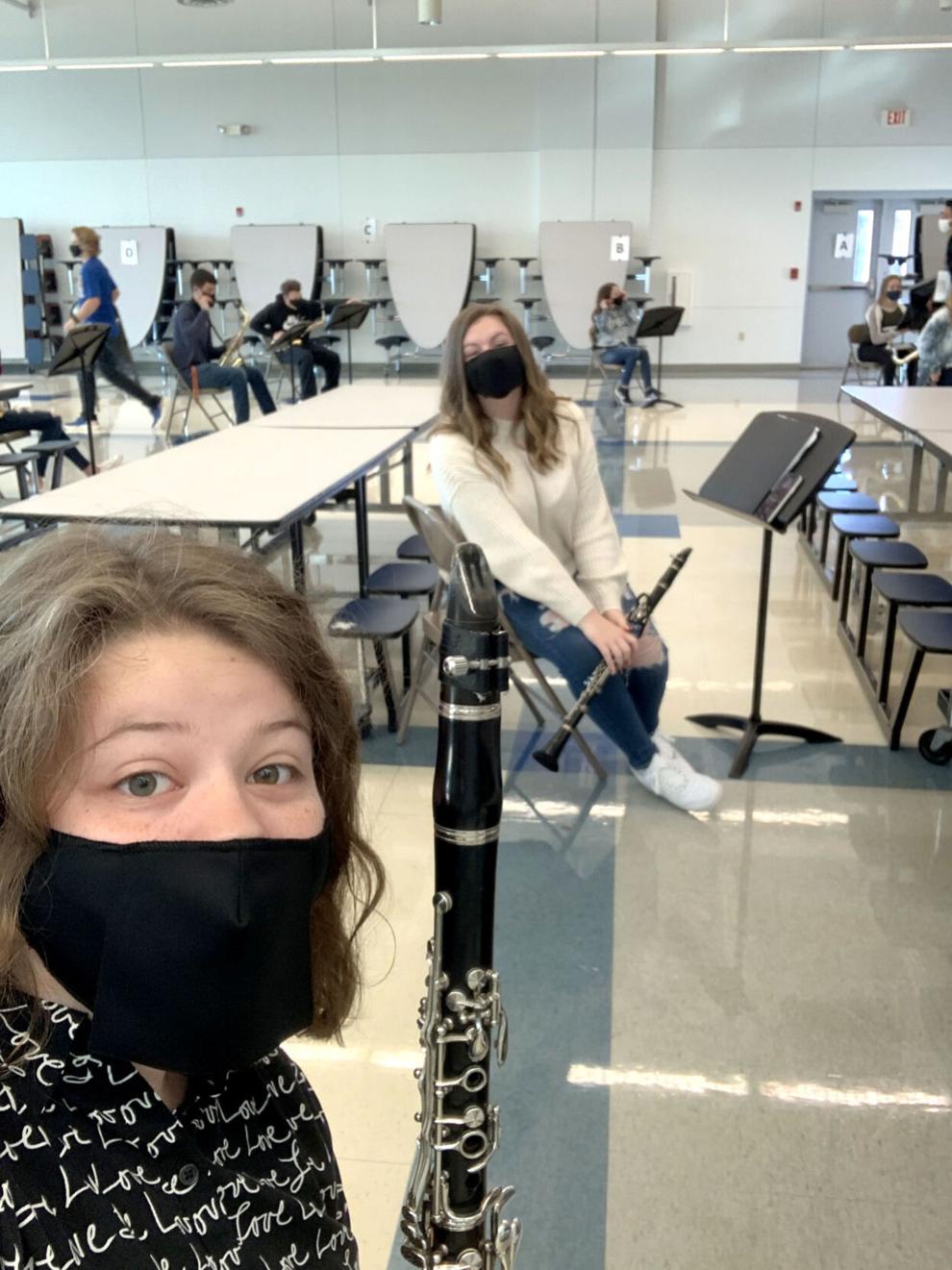 Paxton-Buckley-Loda
Sasha Jeffries (joined by Nancy Hofer and Emily Wood) was honored as Student of the Month for October. Student council's executive board consists of Liam Mcmullin (president), Mallory Johnson (VP), Makenna Klann (secretary) and Yami Domingo treasurer). The band's PPE arrived, allowing them to practice safely inside the commons (pictured: Taylor Mennenga and Reagan Vaughn).
— Taylor Mennenga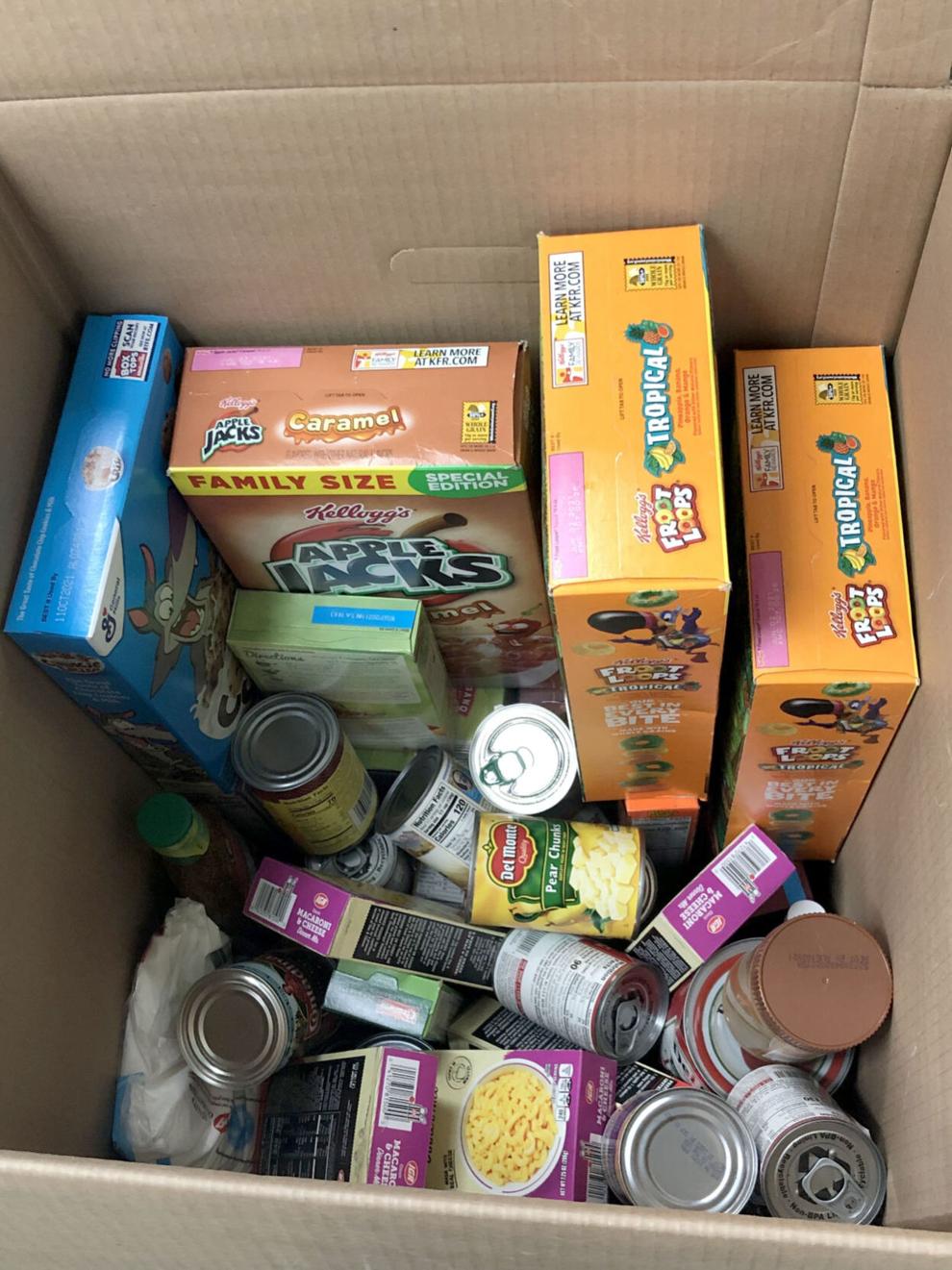 St. Joseph-Ogden
Illini Prairie Conference typically hosts a food drive in conjunction with football, but because of COVID-19 the Eastern Illinois Food Bank made it a conference-wide competition. Senior Shelby Kofoot was in charge of organizing SJ-O's donations. Items were collected in a box near the school's entrance. In-person learning taking place every other day made it a challenge. "While we always hope to raise more — given unideal conditions— I think we did better than what was expected," Kofoot said.
— Kylie Duckett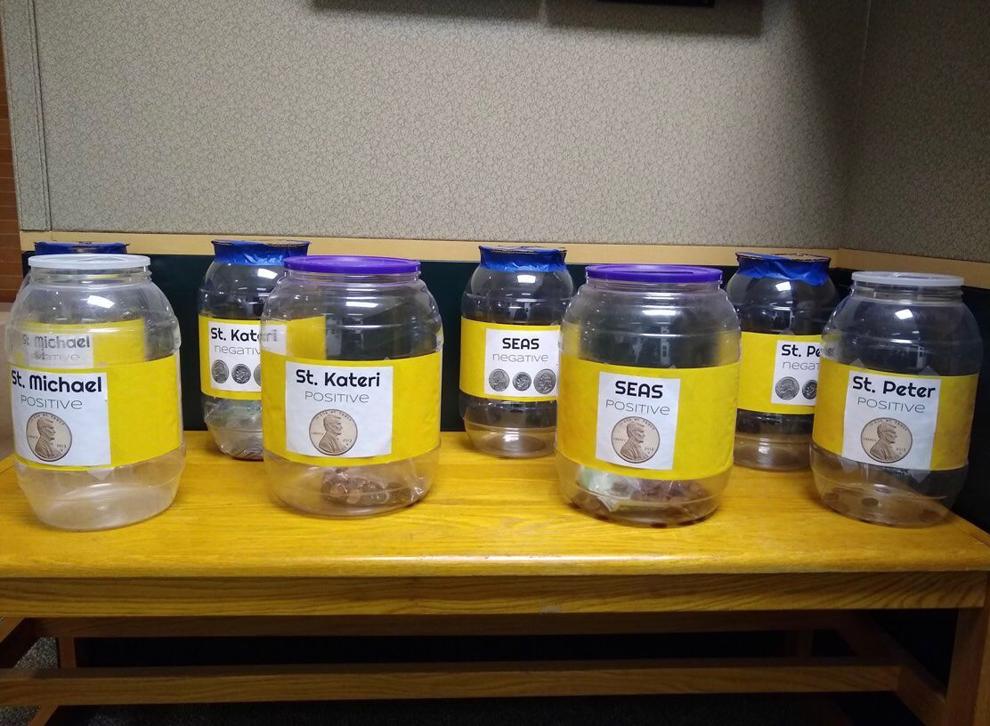 St. Thomas More
School captains Rhea Pinto and Noah Eyman as well as teacher Carlos Villanueva put on the annual Penny Wars. The school is split into four families — the family that collects the most gets to wear their choice of shoes for a week. Money raised is donated to Crisis Nursery.
— Maci Walters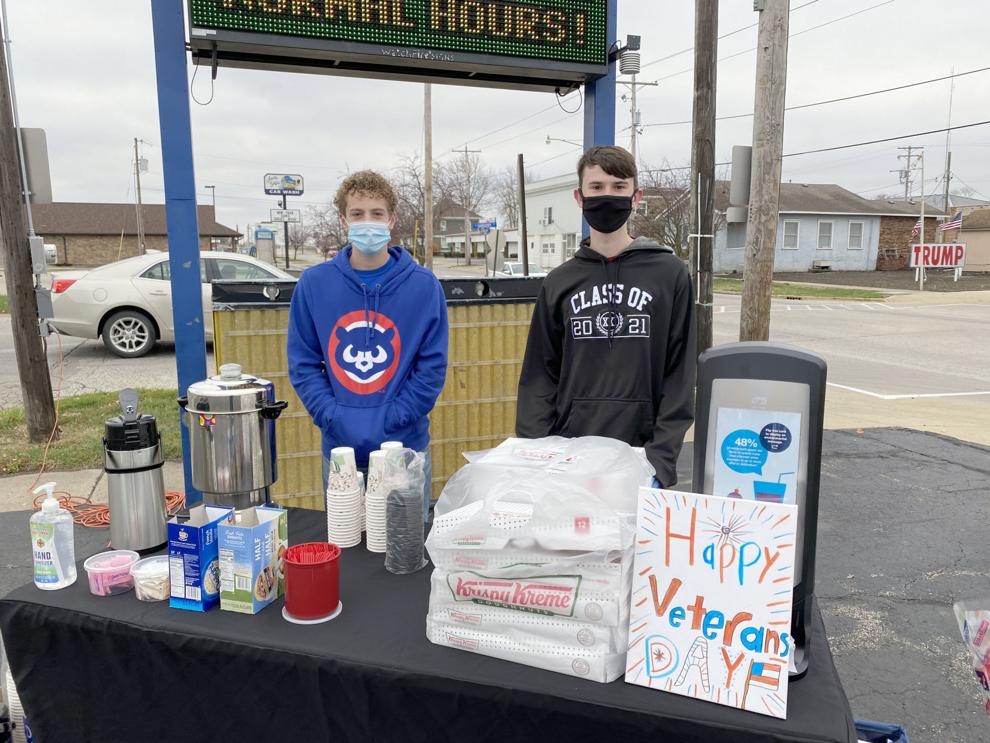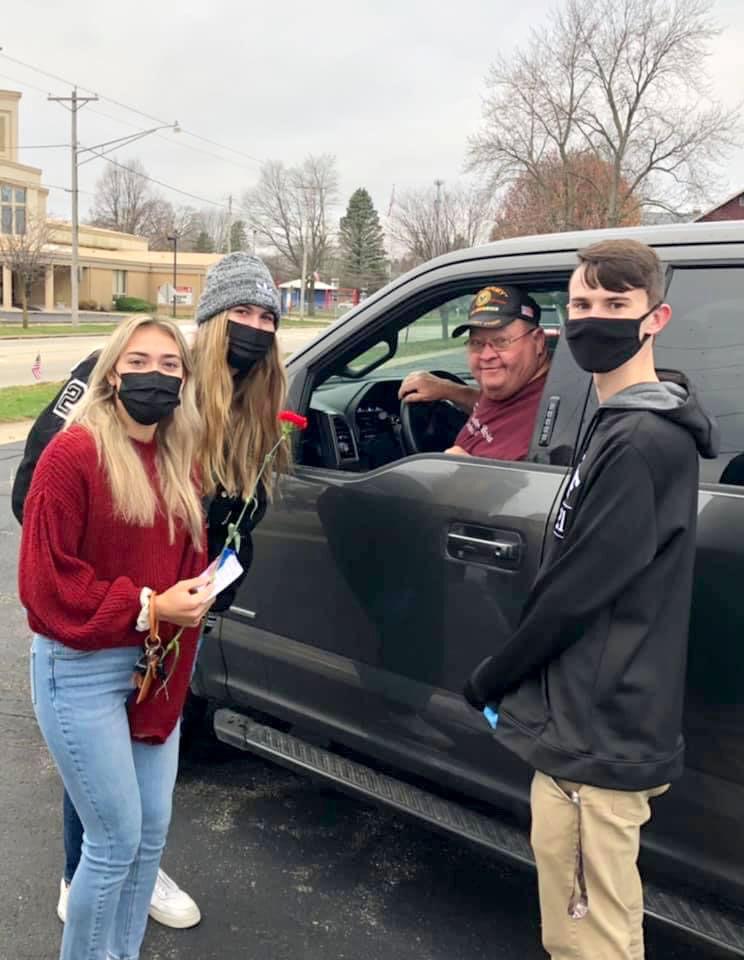 Salt Fork
On Veterans Day, National Honor Society members held a coffee and donuts drive-thru to honor those who served. Pictured: Blake Hettmansburger and Aaron Dean; Carlie Thompson, Olivia Chew, Aaron Dean and U.S. Army veteran Wayne Hammer.
— Olivia Chew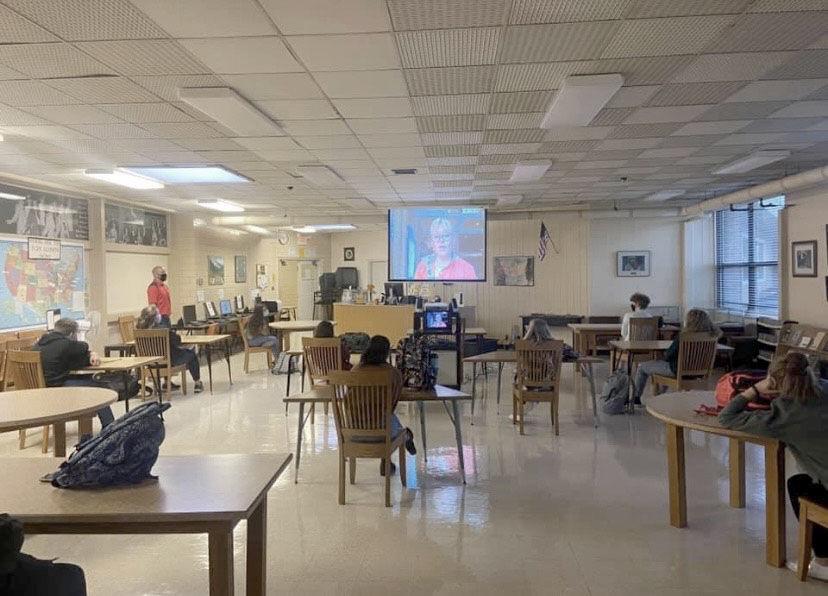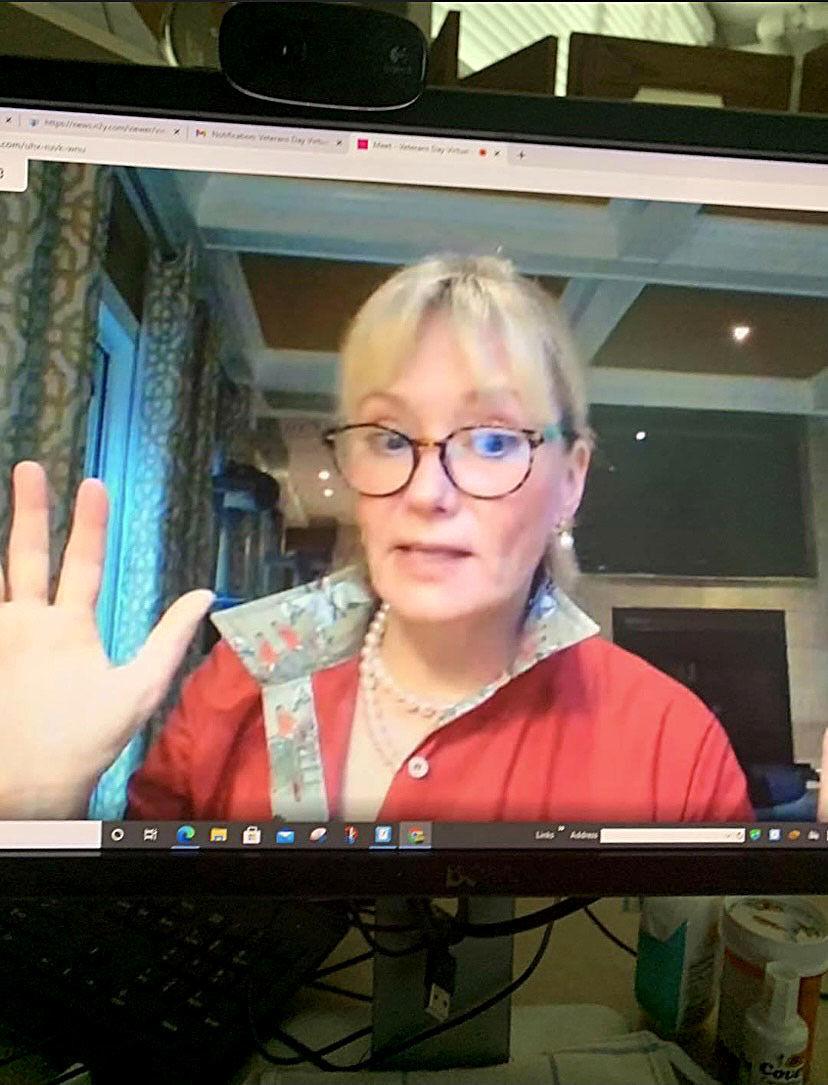 Tuscola
On Veterans Day, Col (Ret.) Laurie Buckhout delivered an inspirational speech to students and staff about her experience serving our country.
— Ava Cothron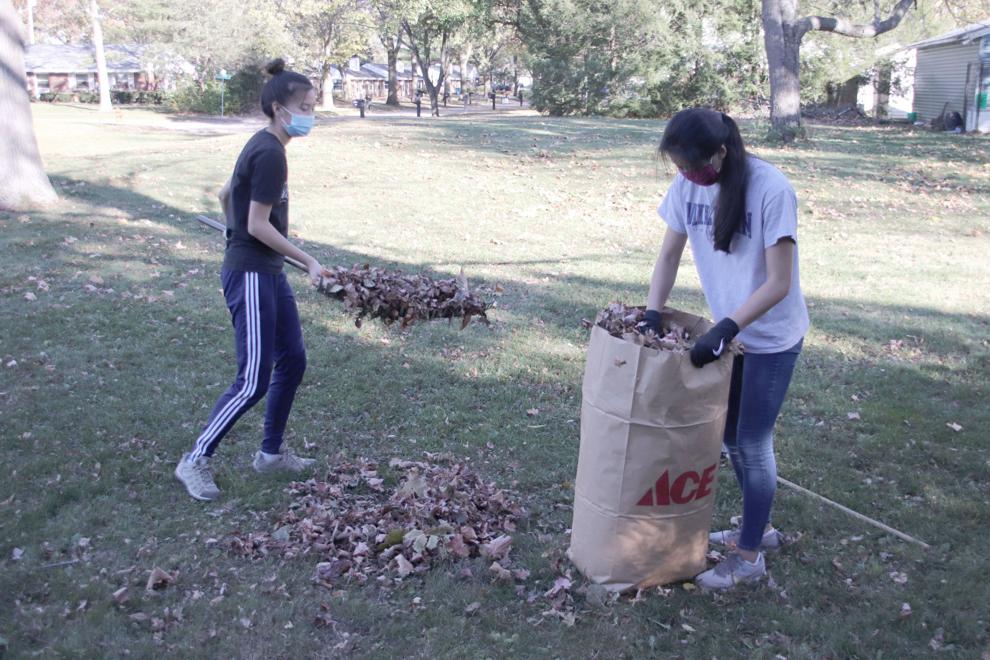 Uni High
The school's combined Spring Initiative/Habitat for Humanity club started its annual Chores for Clarksdale fundraiser. Each weekend, students volunteer to rake leaves to garner donations for the Habitat for Humanity chapter in Clarksdale, Miss. Chores for Clarksdale is consistently the club's most successful event. To stay safe, volunteers must get tested before each chore and wear masks at all times. Pictured: students Allie Kim and Sally Ma volunteering on Saturday.
— Charlotte Ebel
Urbana
District 116 hosted a Virtual Teach Open House on Nov. 11 that included helpful tips, mock interviews and resume reviews from teachers and administrators.
— Jose Alvarez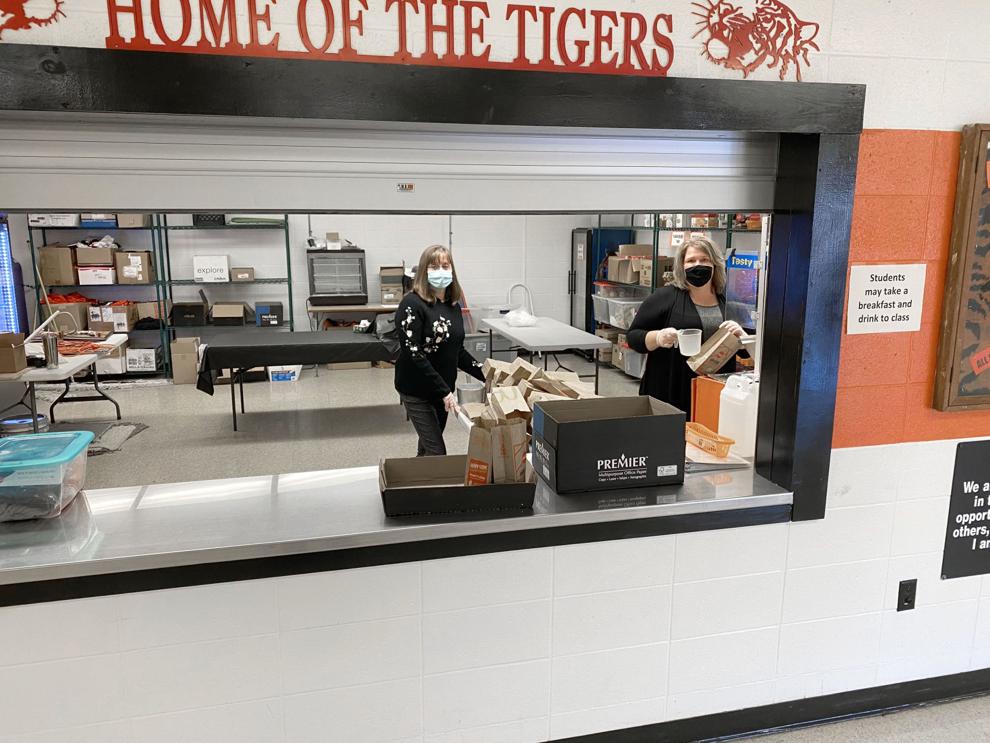 Westvllle
A spotlight on two staff members who give pieces of encouragement, be it candy or popcorn: vice principal Julie Balgeman (left) and librarian Michelle Schaumburg.
— Bryce Burnett