2021-22 High School Confidential: Week 13
Welcome to Year 6 of High School Confidential, an award-winning project made possible by aspiring student journalists from every corner of our circulation area. Each Friday through May, they'll tell us what's happening in their hallways at news-gazette.com.
Once a week, we'll also hand over our Snapchat account (News-Gazette) to our correspondents for behind-the-scenes tours.
Feedback? Email N-G/VP Jim Rossow at jrossow@news-gazette.com.
This year's panel:
Academy High: William Ding
ALAH: Sarah Rafferty
Arcola: Ariana Carmona
Armstrong: Mattie Kennel
Bement: Addie Fritz
BHRA: Paili Davis
Blue Ridge: Sarah Whitehouse
Centennial: Blake Burr, Montez Dubose
Champaign Central: Lucy Moss
Chrisman: Reese Anderson
Cissna Park: Emma Morrical
Danville: Kedzie Griffin
DeLand-Weldon: Kaitlyn Sayers
Fisher: Krista Martin
Georgetown-Ridge Farm: Chloe Brock
Gibson City-Melvin-Sibley: Emily Hood
Heritage: Torie Rothermel
Hoopeston Area: Emily Ray
Judah Christian: Lydia Lowry, Abi Tapuaiga
LeRoy: Kelsey Graves
Mahomet-Seymour: Tinley Peters
Milford: Alivia Schmink
Monticello: Clara Rudolph
Oakwood: Madison Doan
Paxton-Buckley-Loda: Sydney Murphy
Rantoul: Mary Cuppernell
St. Joseph-Ogden: Regan Uden
St. Thomas More: Bailey McMahon
Salt Fork: Olivia Birge
Scharlman: Evan Sherer
Shiloh: Josephine Carroll
Tuscola: Amelia Bosch
Uni High: Aakash Vasireddy
Unity: Maddie Reed
Urbana: Park Mitchell
Villa Grove: Molly Little
Westville: Bryce Burnett
On to this week's report: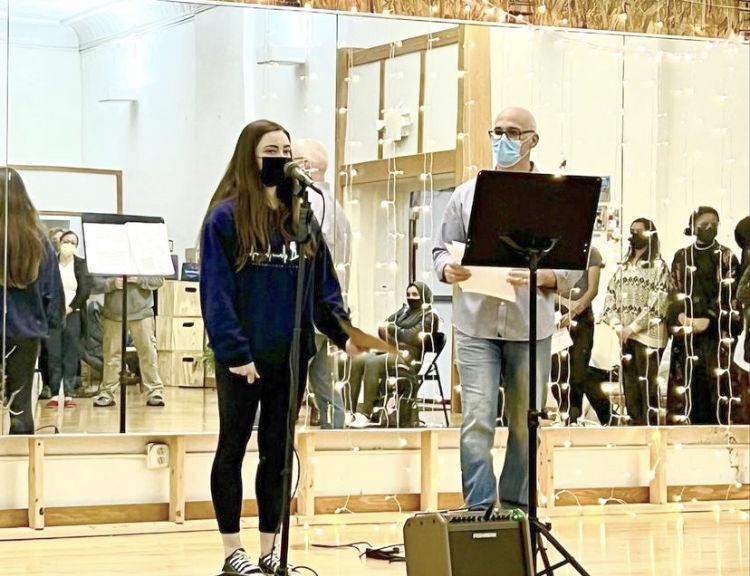 Academy High
To finish the first semester, the school's Humanities Studio held an exhibit where student-artists tackled a range of issues including climate change, racial injustice, mental health, social media and beauty standards. The night was filled with various art forms, music performances, poetry, literature and videography. Pictured: Victoria Bagby and Dr. Gordon Brown.
— William Ding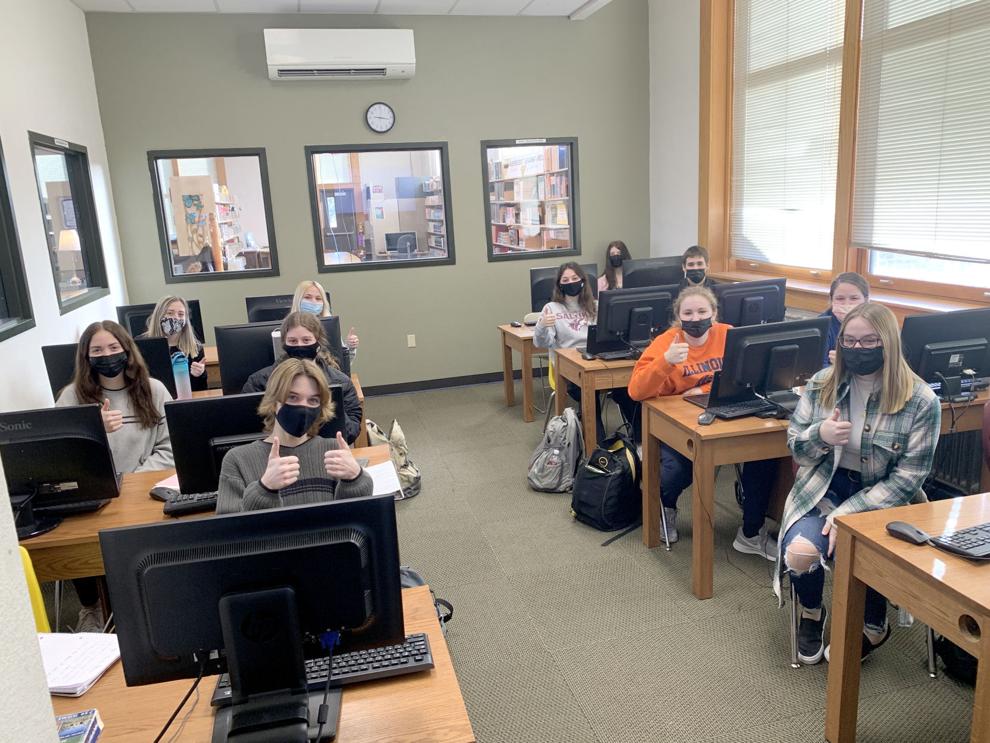 ALAH
Journalism students are working on developing story ideas for the school's newspaper, including "Valentine's Day Horror Stories," a review of the new Spider-Man movie and reviews of the girls' and boys' basketball holiday tournaments. Thanks to the Sullivan News Progress, the school is able to get printed copies of the Knightly News.
— Sarah Rafferty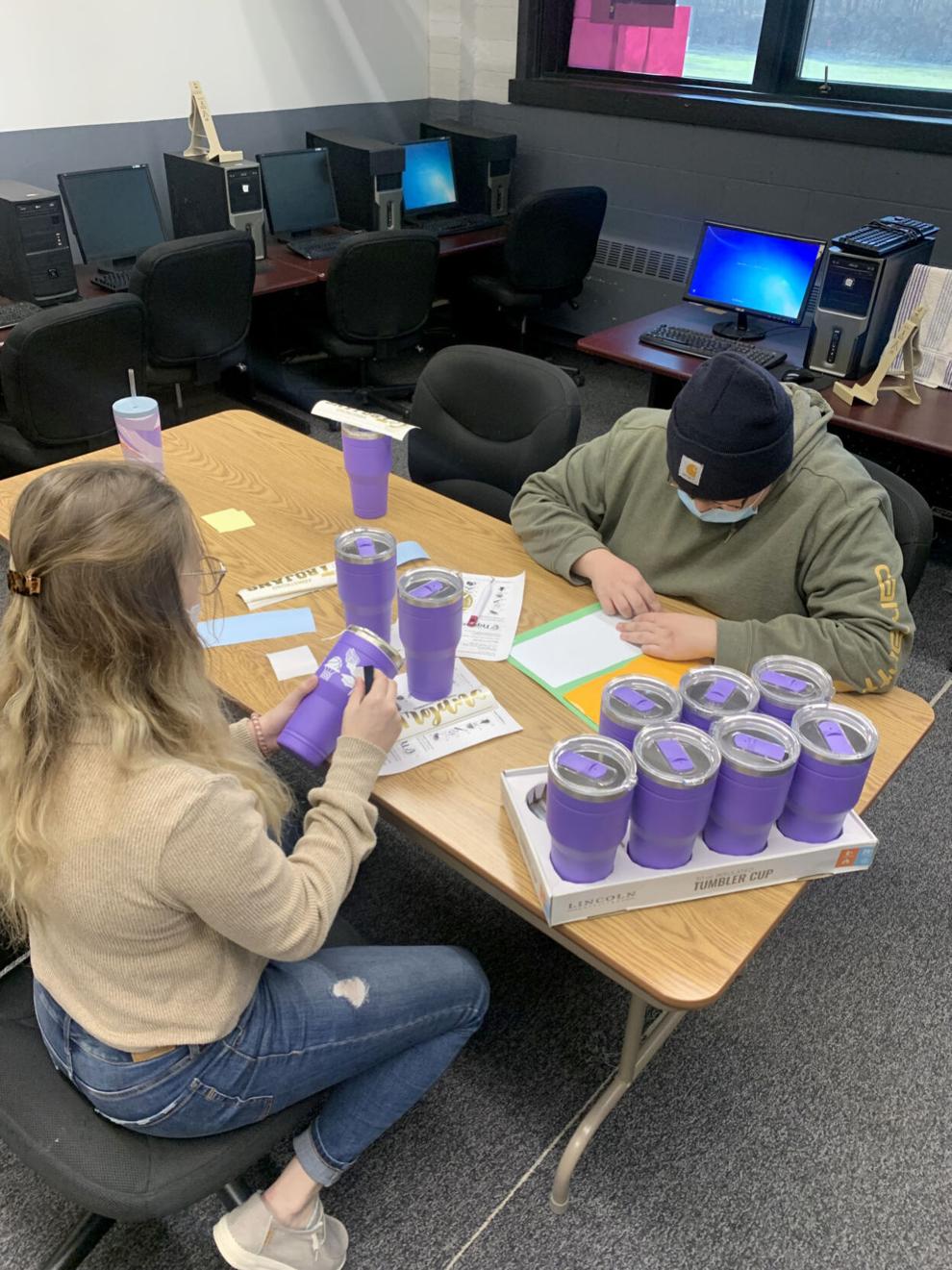 Armstrong
Entrepreneurship class worked on designing cups for a school business, Trojan Legacy Supply. Pictured, left to right: Alexis Rhoades and Dalton Moore.
— Mattie Kennel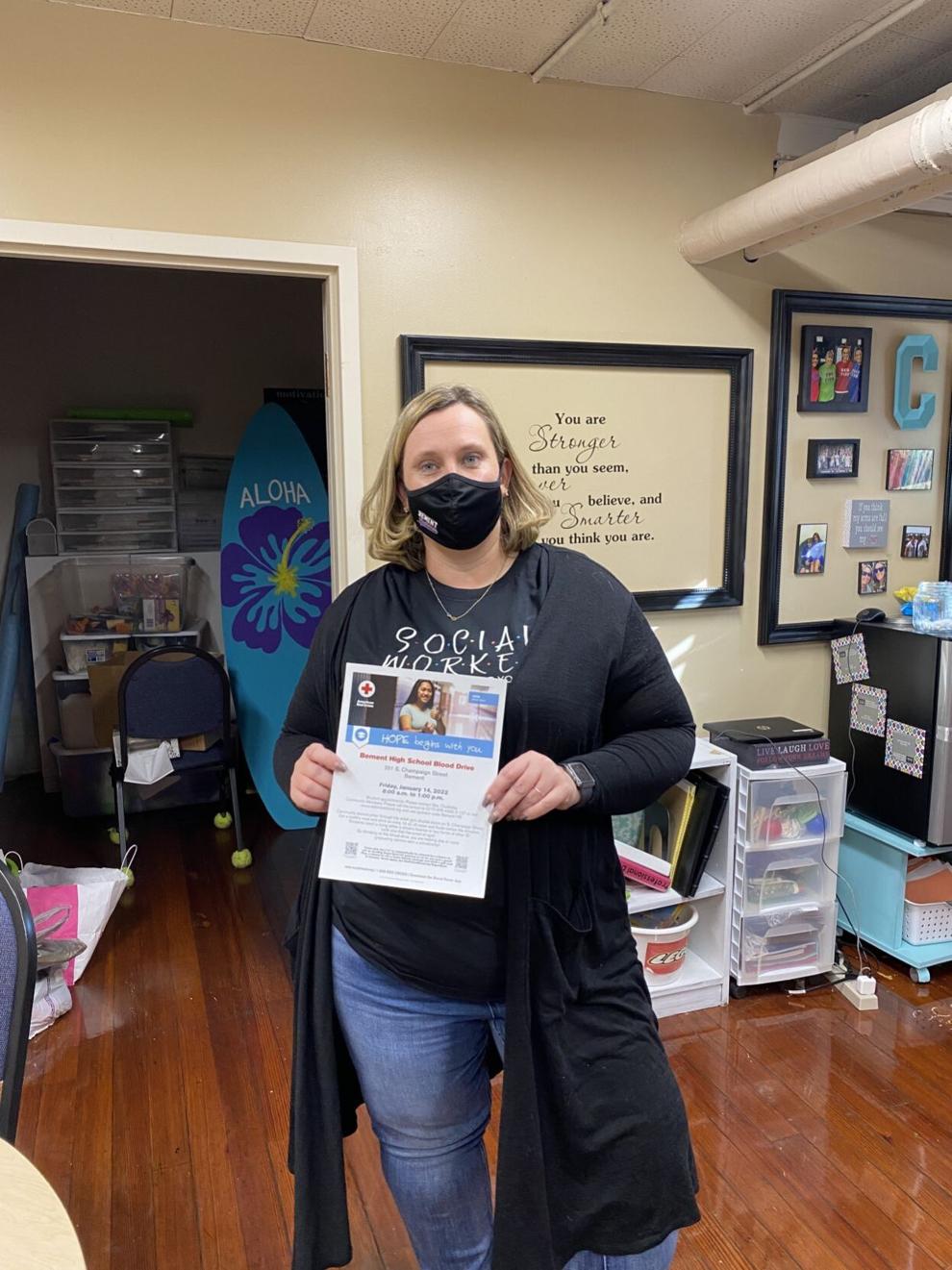 Bement
The school's annual blood drive is Friday. Put on by student council, members take turns working shifts throughout the day. Pictured: student council sponsor Jill Clodfelter.
— Addie Fritz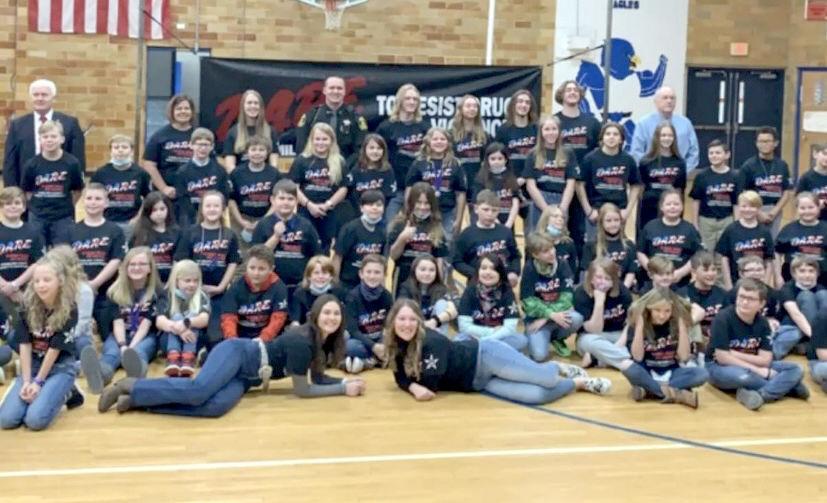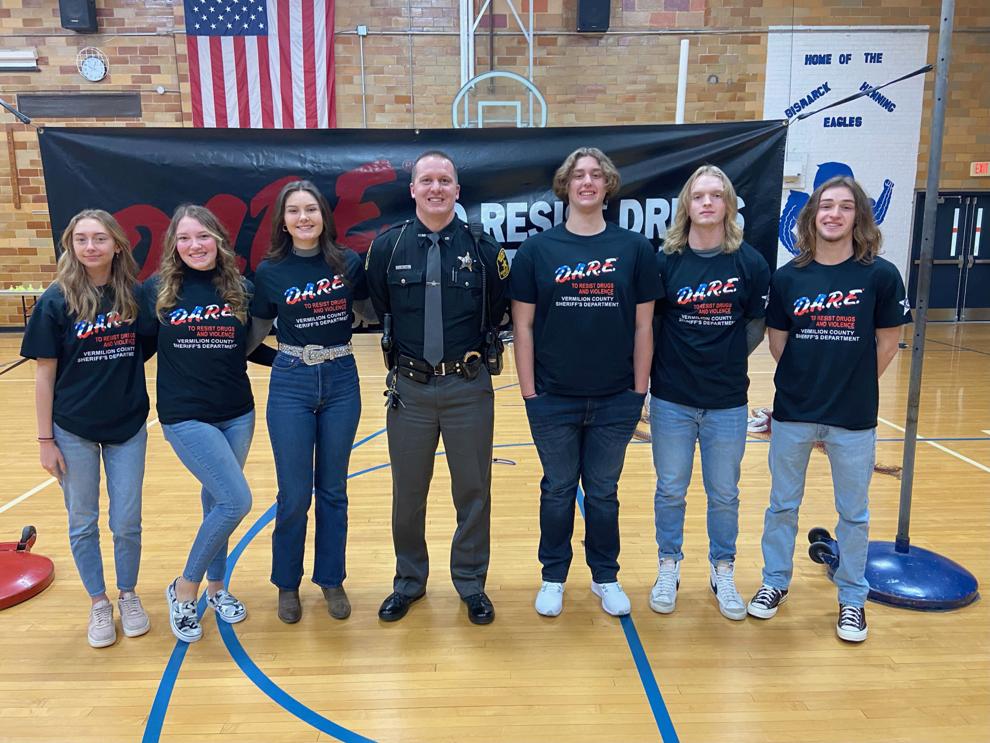 BHRA
Six students were selected by staff to be role models for the school's DARE program, visiting classrooms and answering questions about drugs, alcohol and peer pressure. Pictured: Maddie Chacola, Eliza Knipe, Paili Davis, DARE Officer Jay Miller, Ethan Tutweiler, Nick Garmon and Emerson Thorlton.
— Paili Davis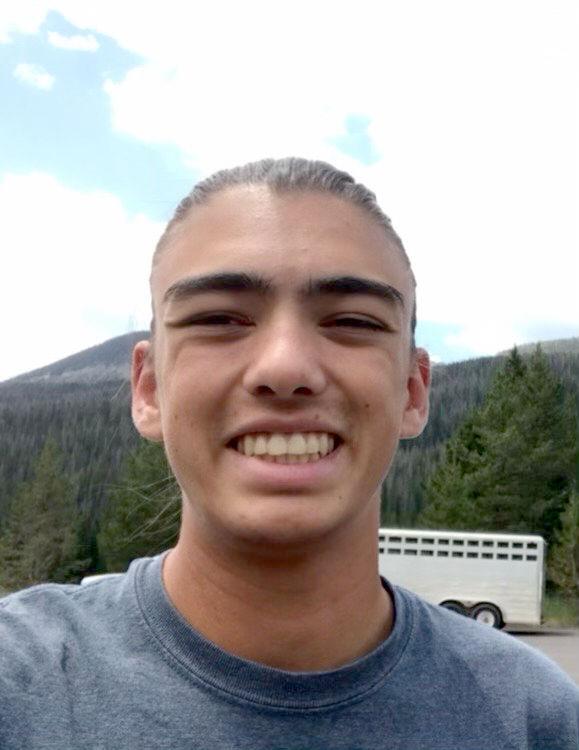 Centennial
Student Ethan Anderson will continue his journey toward studying abroad in Paraguay in late February. He'll be staying with a host family near Asunción, where he'll attend high school and master his Spanish-speaking skills. In college — he has been accepted to Butler, Knox and Illinois College — Anderson plans to major in psychology or social work. He'll return home in late August.
— Blake Burr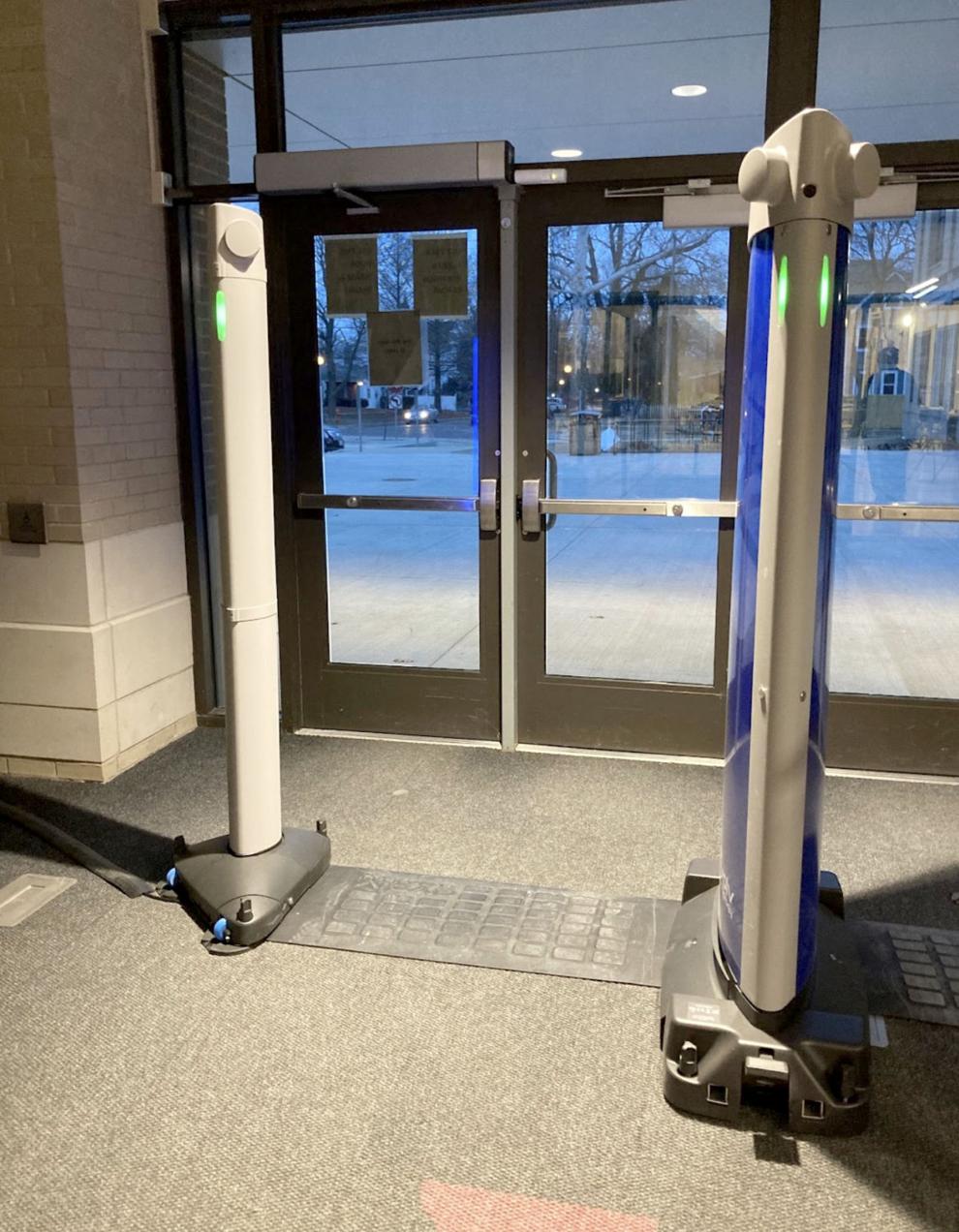 Champaign Central
Coming back from break, students were met by metal detectors at three different entrances to the school. Students must go through them every time they enter the building. They must also remove their chrome book from their bag before walking through the metal detectors.
— Lucy Moss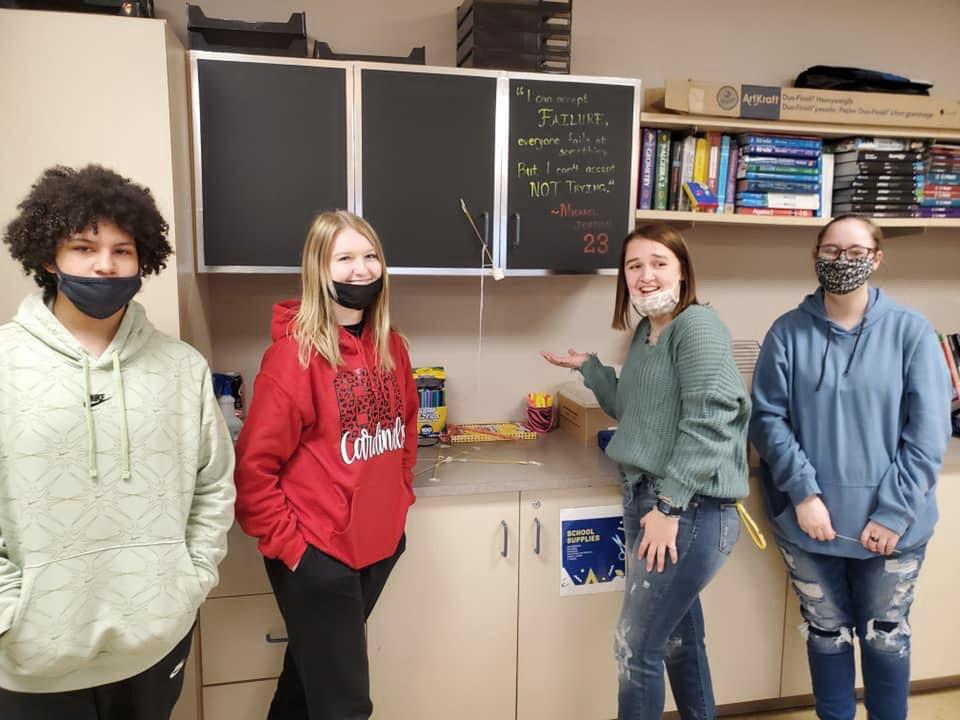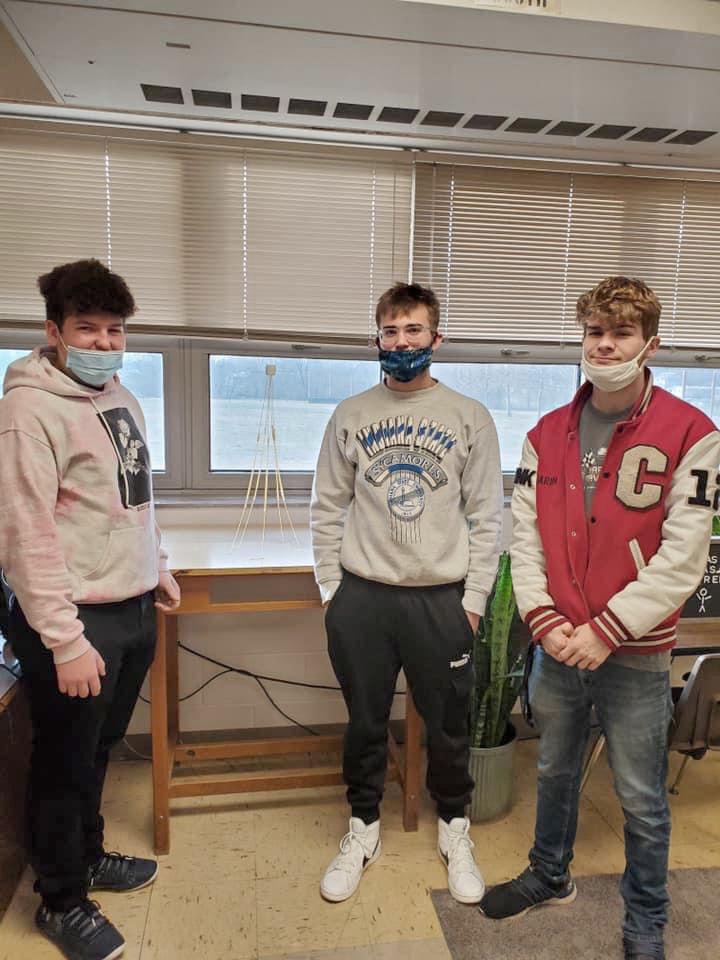 Chrisman
Shannon Ellis' math students started off the new semester with a STEM challenge: Who could build the tallest structure with spaghetti, tape, string and a marshmallow. Students competed in teams and had to complete their structure within an 18-minute time limit. First place went to Checotah Cook, Ty Woodyard and Marion Cronkhite. Also pictured: Dominic Cusson, Olivia Radke, Victoria Labaume and Ivy Sayer.
— Reese Anderson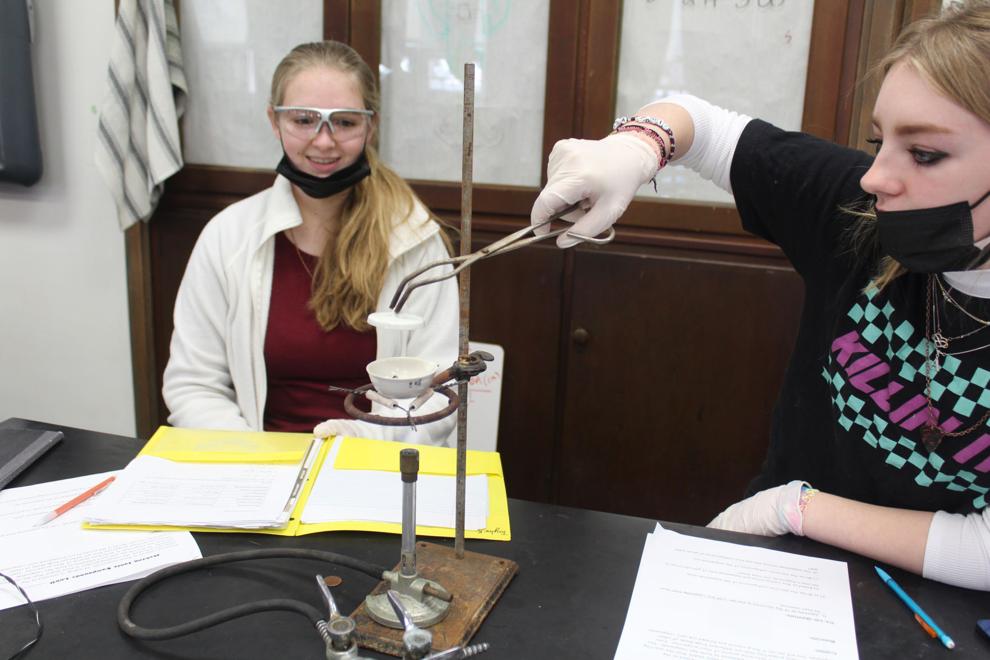 Cissna Park
In chemistry class, students are learning about elements and their properties. One experiment: using different elements to try and make them into another element. Pictured: Taylor Kaeb and Aubrey Richards.
— Emma Morrical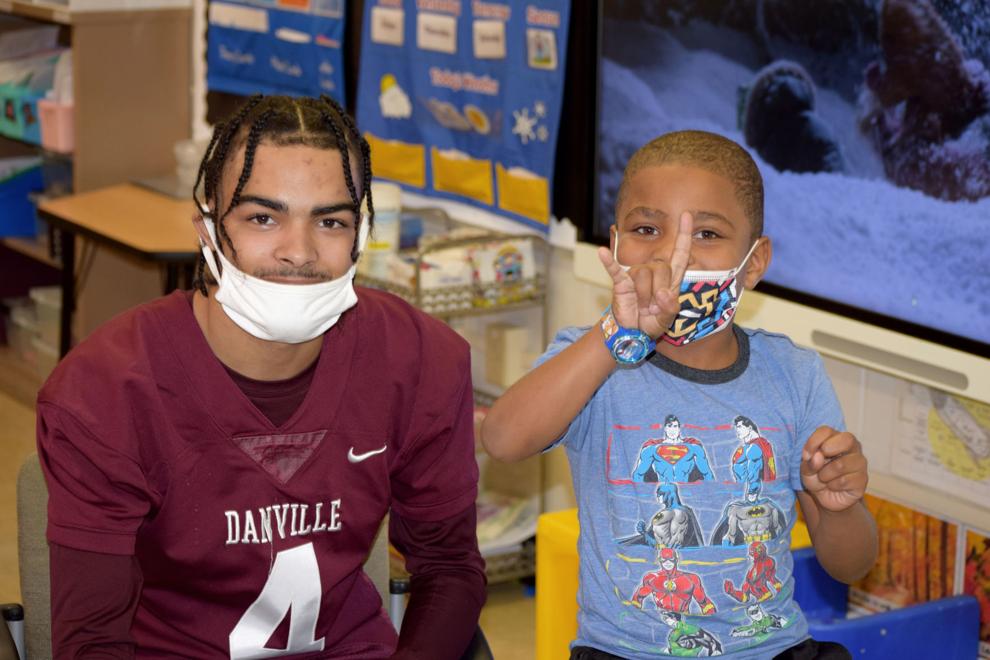 Danville
During the last week before break, the football team went to Mark Denman Elementary to visit the students. Players read books, helped tutor and participated in physical-education classes. The children were excited to meet the players and make connections with older kids who they look up to. Pictured: Jayvin Miles and a student from Mark Denman.
— Kedzie Griffin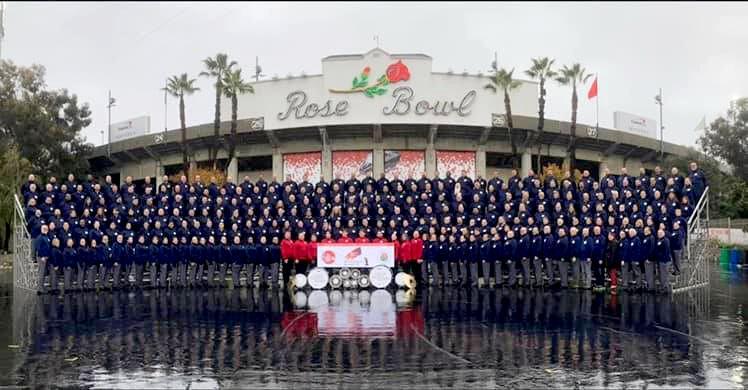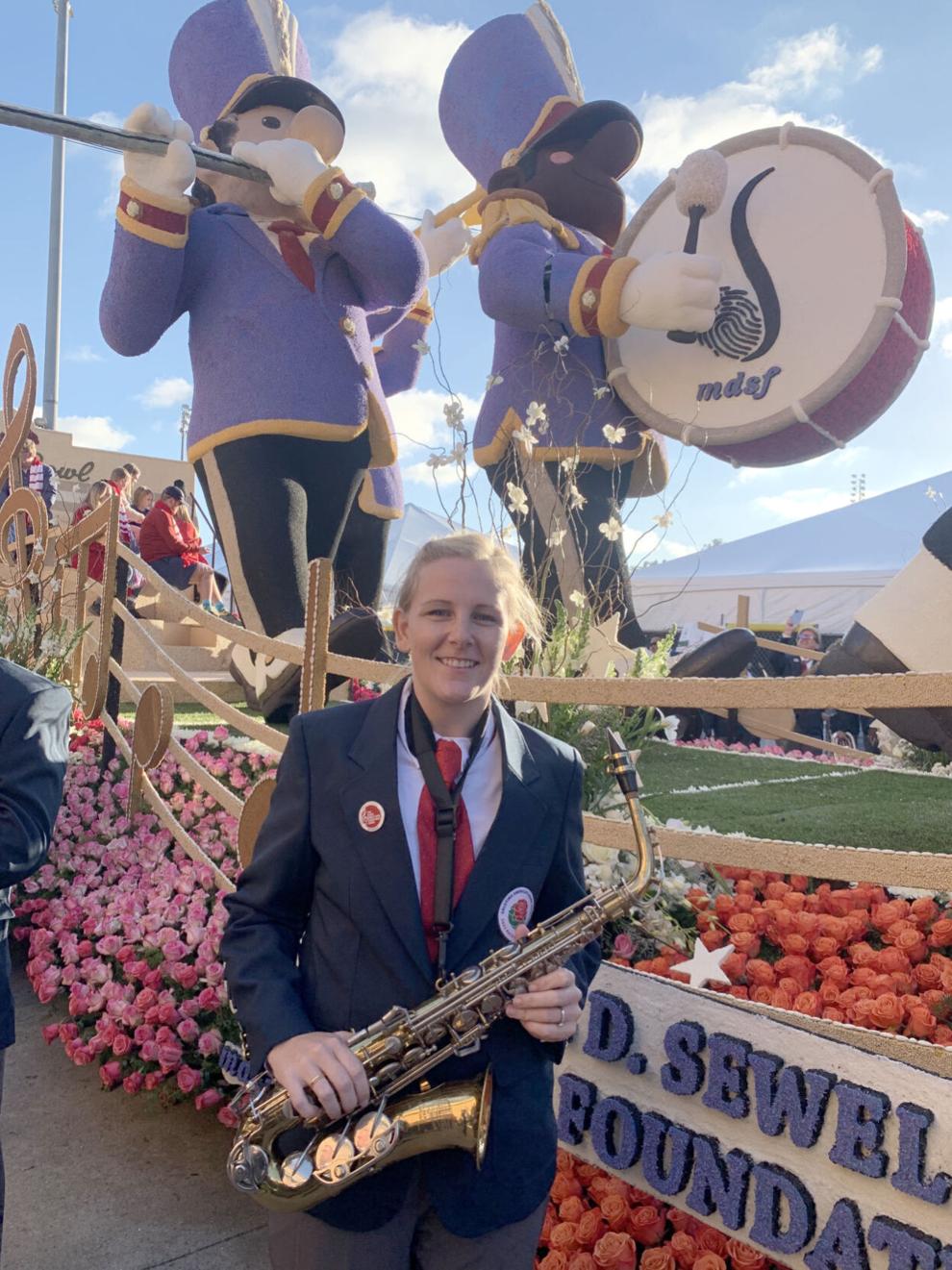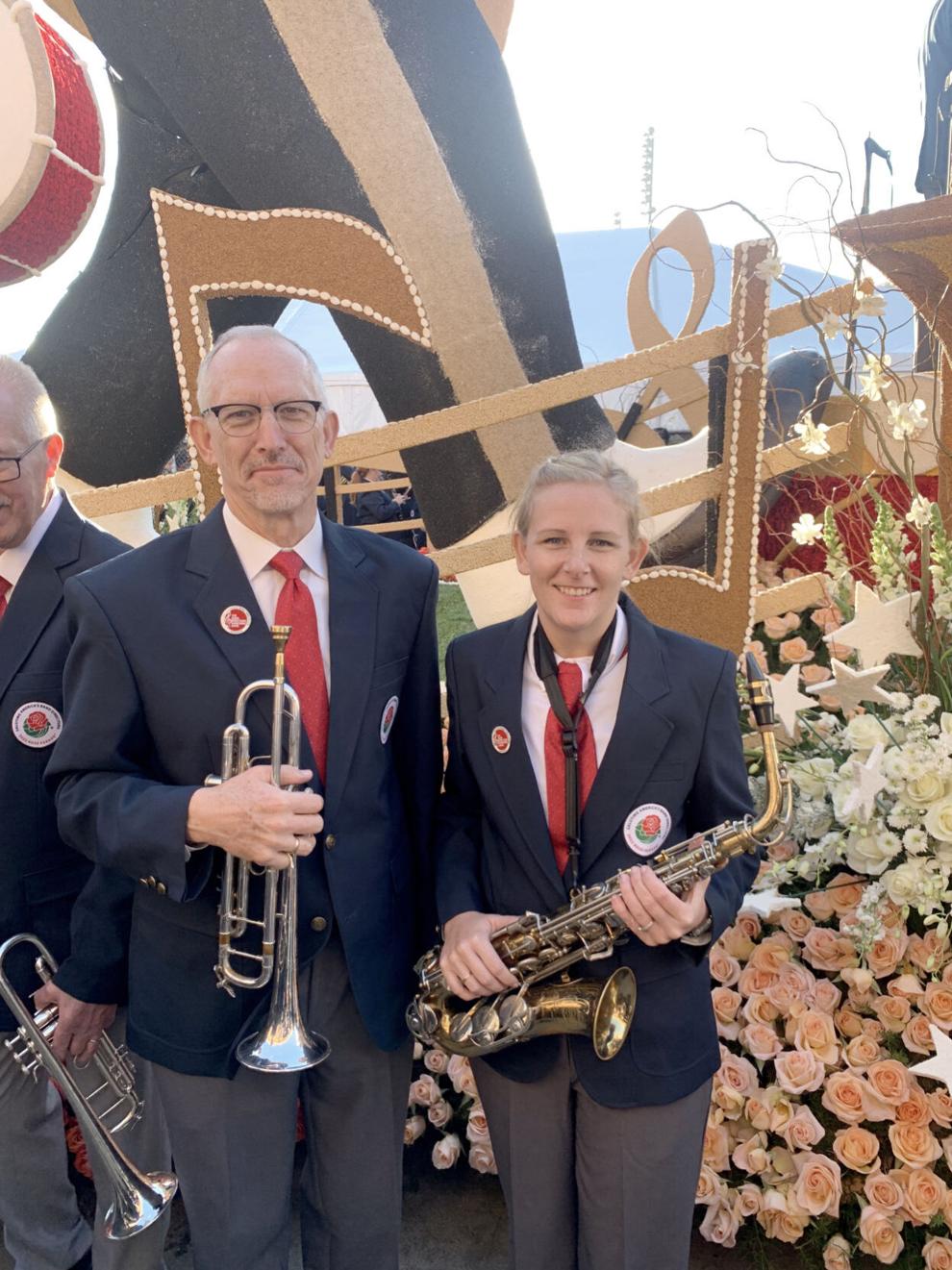 Georgetown-Ridge Farm
Students and staff paid particular attention to the Rose Bowl Parade, where first-year G-RF band director Paige Smith performed as a part of the Band Director's Marching Band.
She was supposed to march in the 2021 parade, but it was canceled due to the pandemic.
"I waited two years to be able to march in the parade, so there was a lot of anticipation leading up to it," she said.
Best part? Marching with her father, a retired band director.
The band was made up of current, retired and music education students still in college from all 50 states and Mexico. The age ranges ranged from 19 to 73.
"Our slogan for our 'Saluting America's Band Directors' float was 'We teach music, we teach life,' and I think the Rose Parade was a great platform to advocate for our profession and love for music," she said. "I watch the Rose Parade on New Year's Day every year. I love watching the bands and the beautiful floats. I never thought that one day I would get to perform in the parade."
Back in Georgetown, folks were excited, too.
"It's been exciting for us," Principal Kevin Thomas said, "to have one of our own get that opportunity."
— Chloe Brock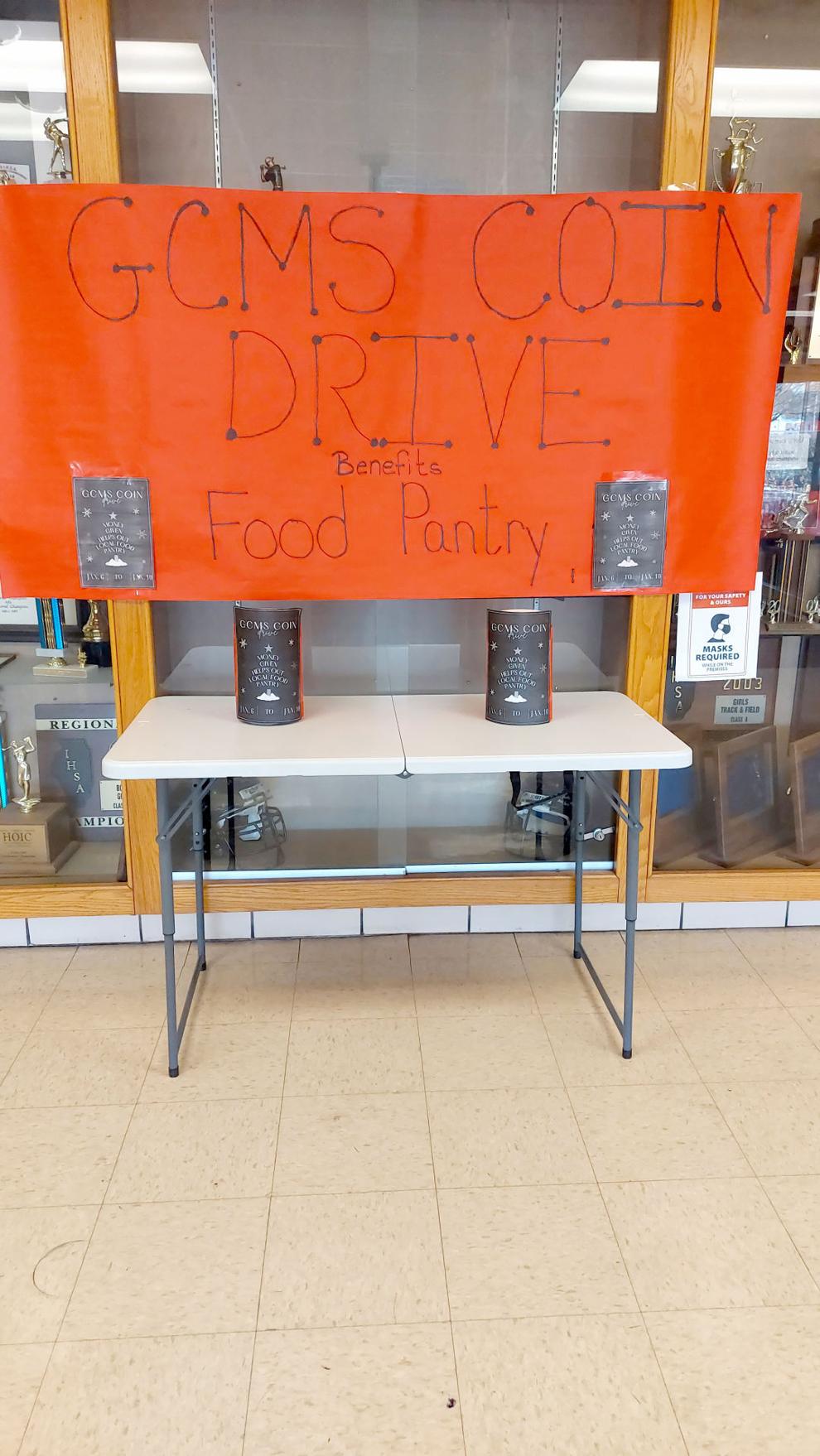 Gibson City-Melvin-Sibley
The school held a coin drive, organized by the school's social worker, Shelly Curry, to benefit a local food pantry.
— Emily Hood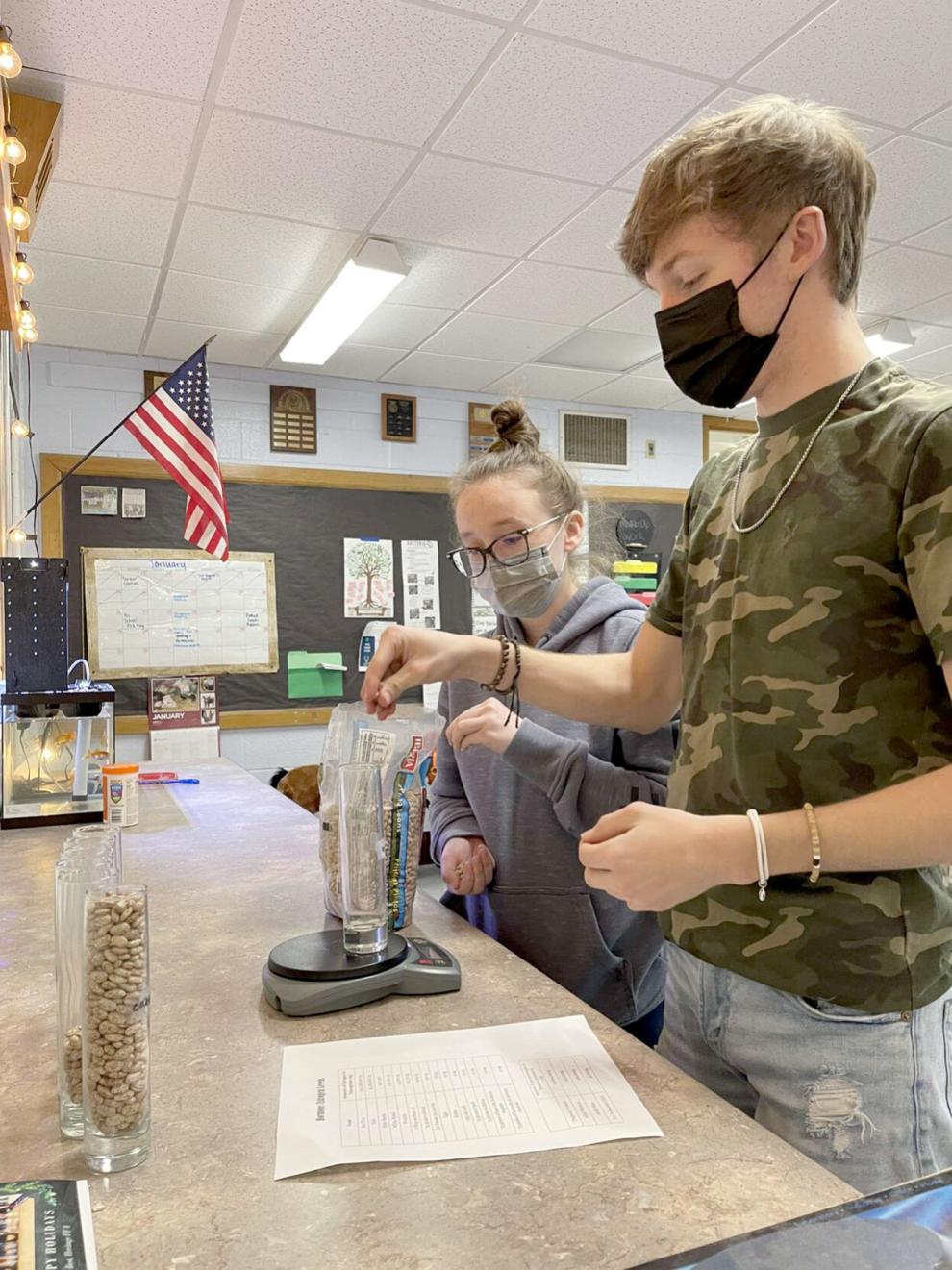 Heritage
The animals science class has been learning about the different amounts of estrogen found in foods. Pictured: Maddy Mahaffey and Konner Pearman using beans to calculate and demonstrate estrogen levels in everyday foods.
— Torie Rothermel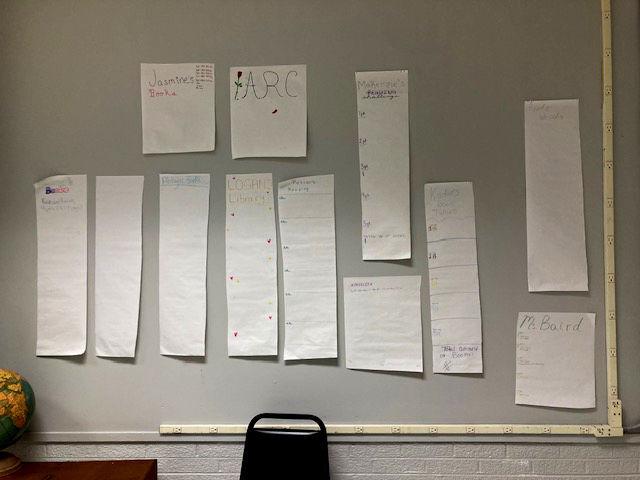 Hoopeston Area
The senior class has opened a reading competition in their English classes, seeing who can read the most by graduation.
— Emily Ray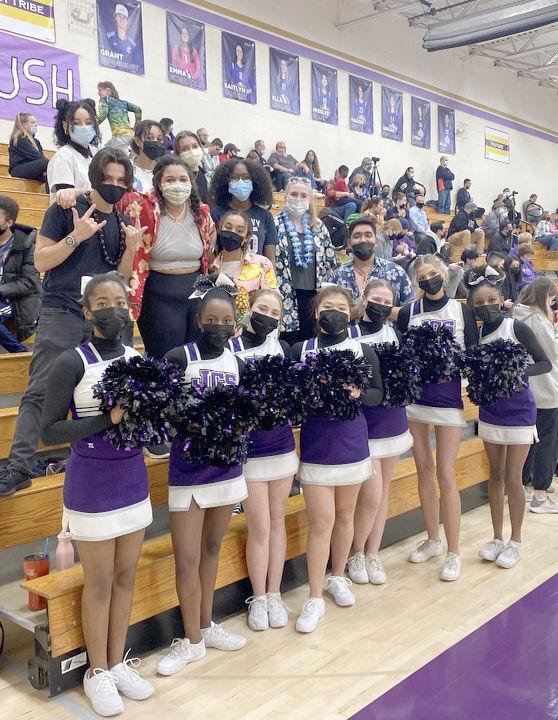 Judah Christian
Cheerleaders and the student section enjoyed a junior varsity and varsity boys' basketball sweep of Uni High. Pictured, left to right: (back row) Zoey Ruhlig, Hannah Jackson and Grace Maxwell; (middle row) Davant Hubner, EssievBrown, Bethany Jackson, Ayrial Miller, Megan Wolf and Misa Rodriguez; (front row) Nala vGallaher, Grace Garrison, Keira Aardsma, Grace Swiney, Ally Aardsma, Lacey Frieden and Jordan White.
— Lydia Lowry and Abi Tapuaiga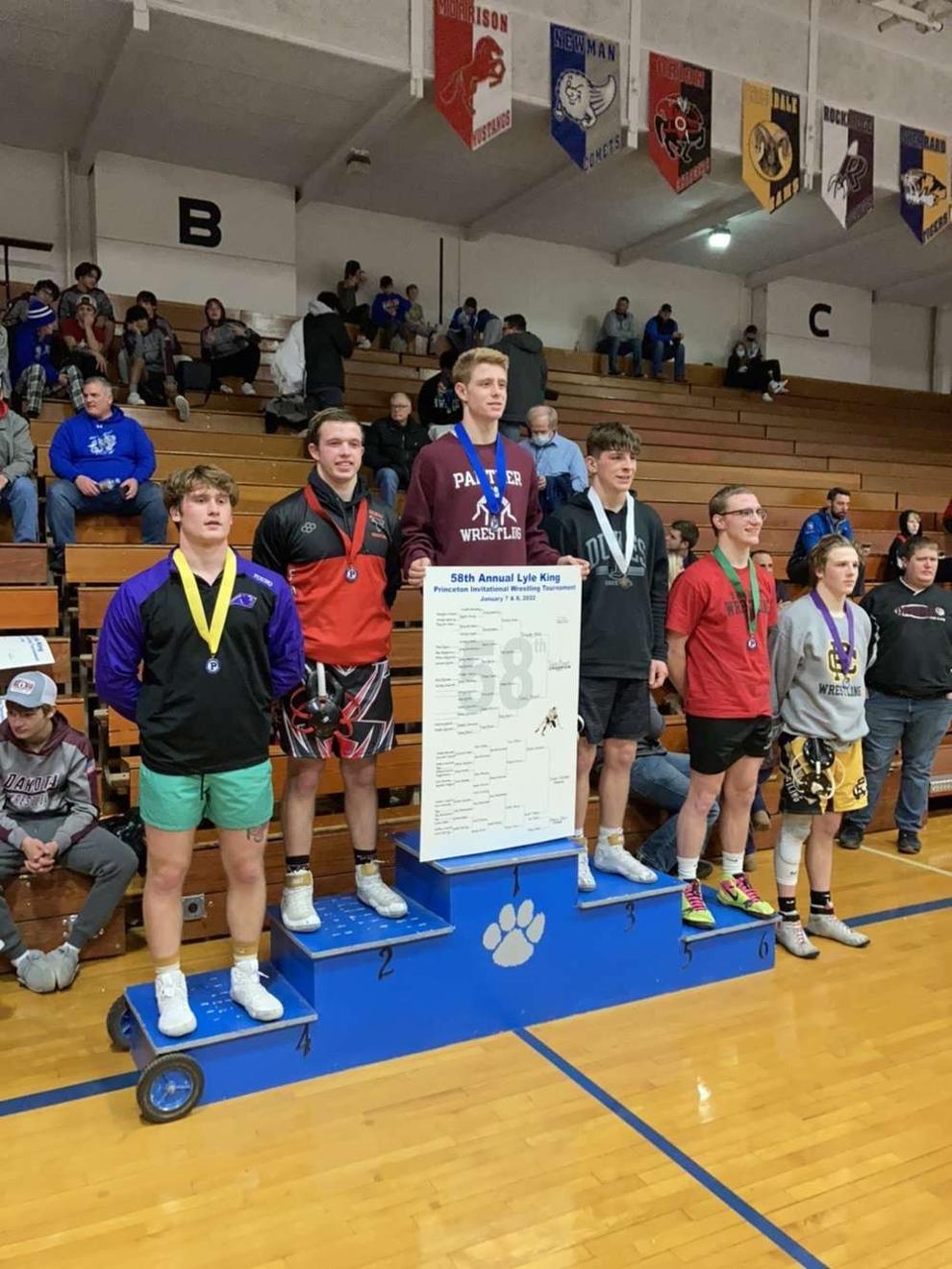 LeRoy
Junior Tyson Brent won the 170-pound division at Saturday's wrestling tournament in Princeton.
— Kelsey Graves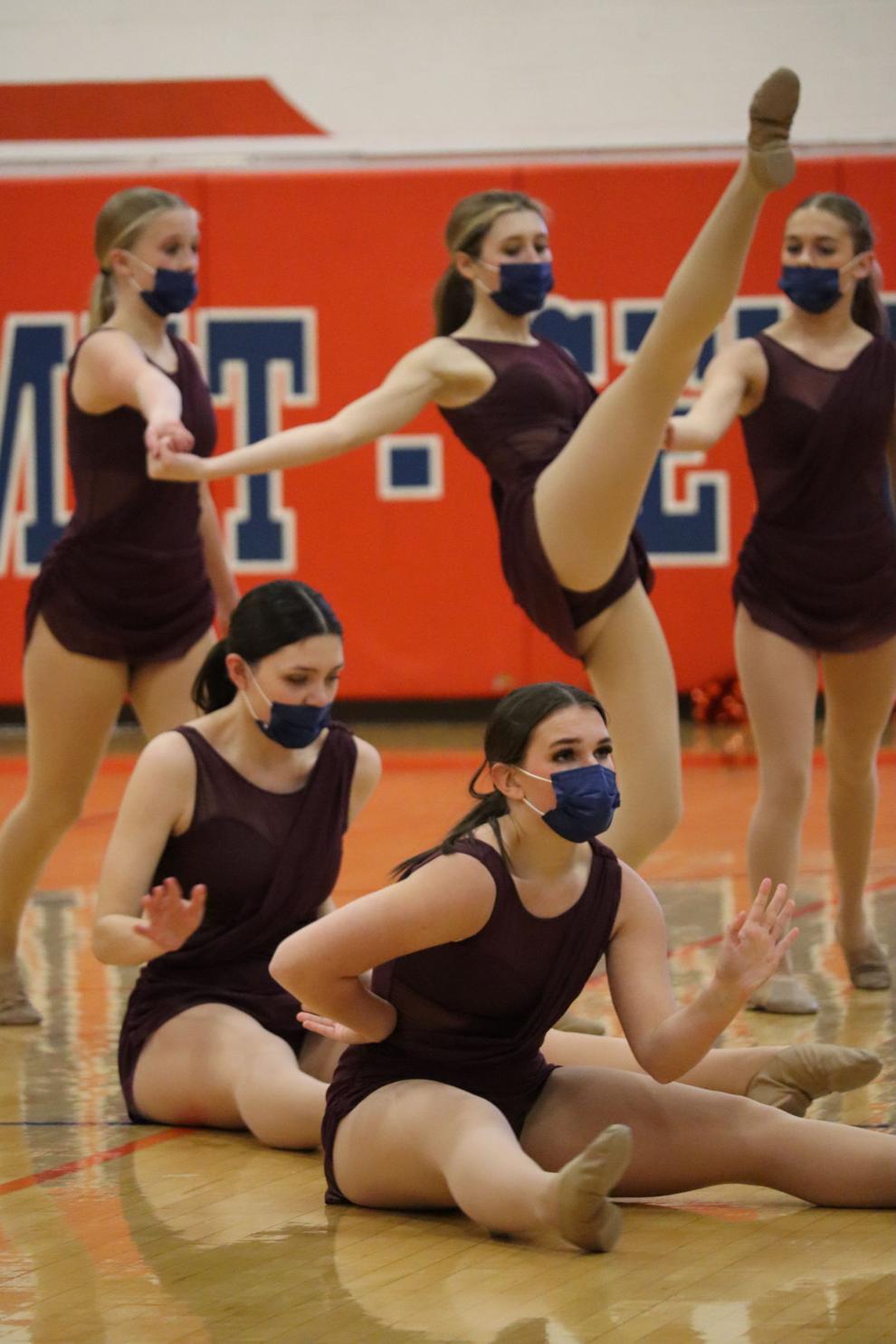 Mahomet-Seymour
Senior Catie Coleman and teammates perform at halftime of a boys' basketball game. The cheer team won first place at its annual home competition last Saturday morning.
— Tinley Peters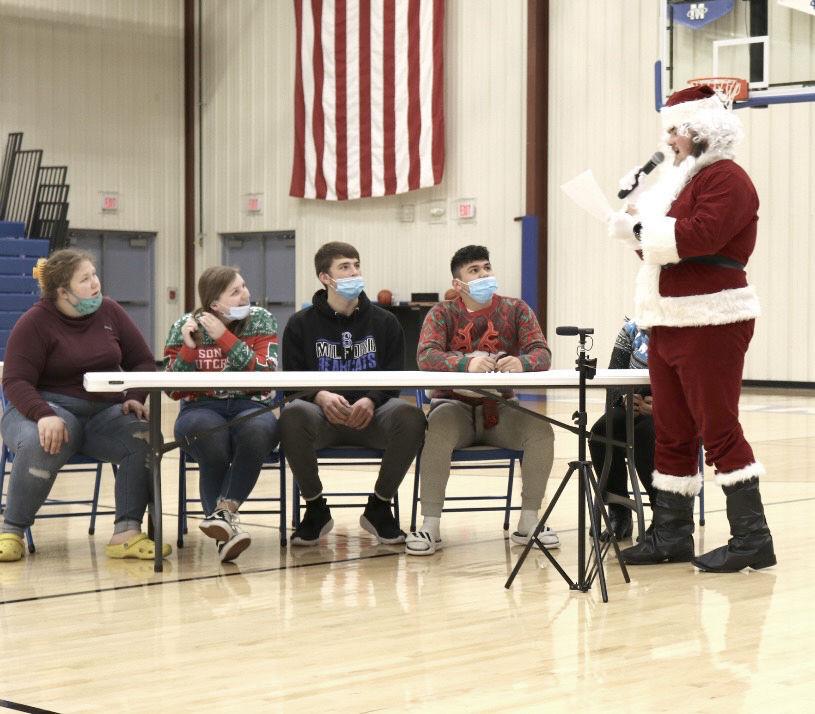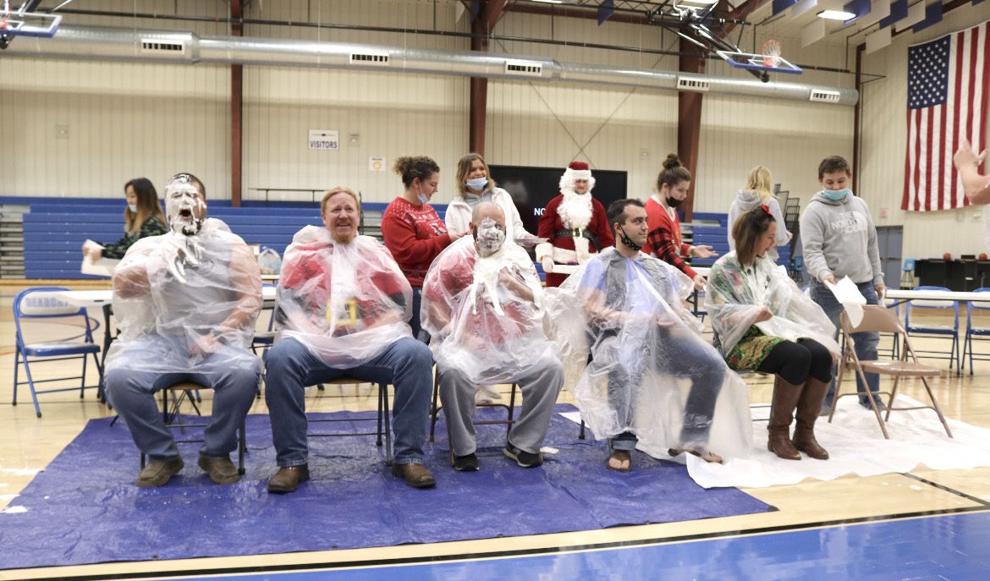 Milford
At the school's annual St. Jude Children's Research Hospital fundraiser, money was collected to be entered into drawings for prizes that were donated by teachers. Students could also pay to place a vote for teachers to get a pie in the face (among those to get messy: John Lamp, Benjamin Bushnell, Amanda German and J.D. Jennings). The school raised almost $900.
— Alivia Schmink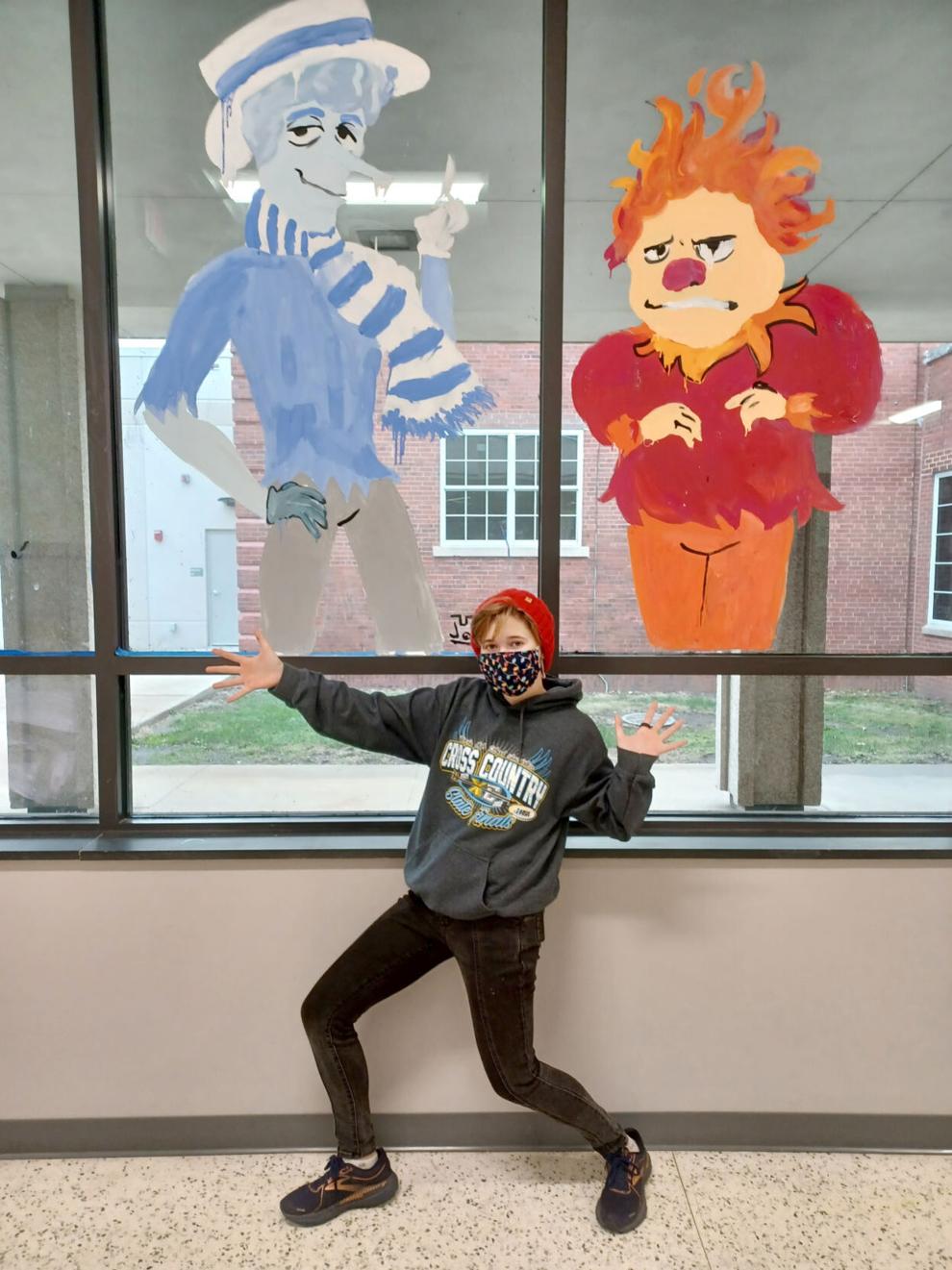 Monticello
Art Club painted the windows and glass doorways throughout the school with scenes from "A Charlie Brown Christmas," "The Grinch" and "Rudolph the Red-Nosed Reindeer." Posing next to her painting of the Snow Miser and the Heat Miser: sophomore Jo Walker.
— Clara Rudolph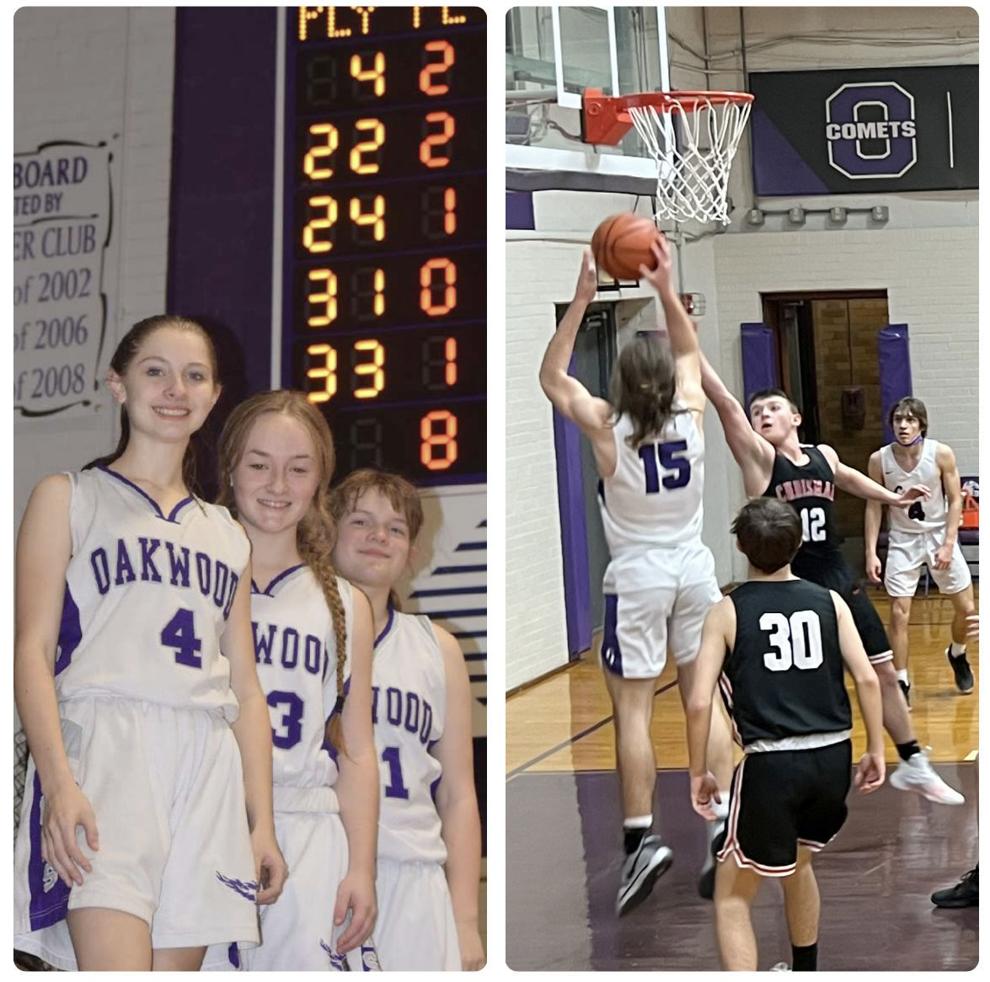 Oakwood
The wins keep coming for the girls' and boys' basketball teams. The girls' team celebrated Senior Night with a win against Chrisman (pictured, left to right: Karsen Rupp, Ashlynn Pinnick and Ali Reed), and the boys' beat Hoopeston Area and Chrisman to improve to 15-4.
— Madison Doan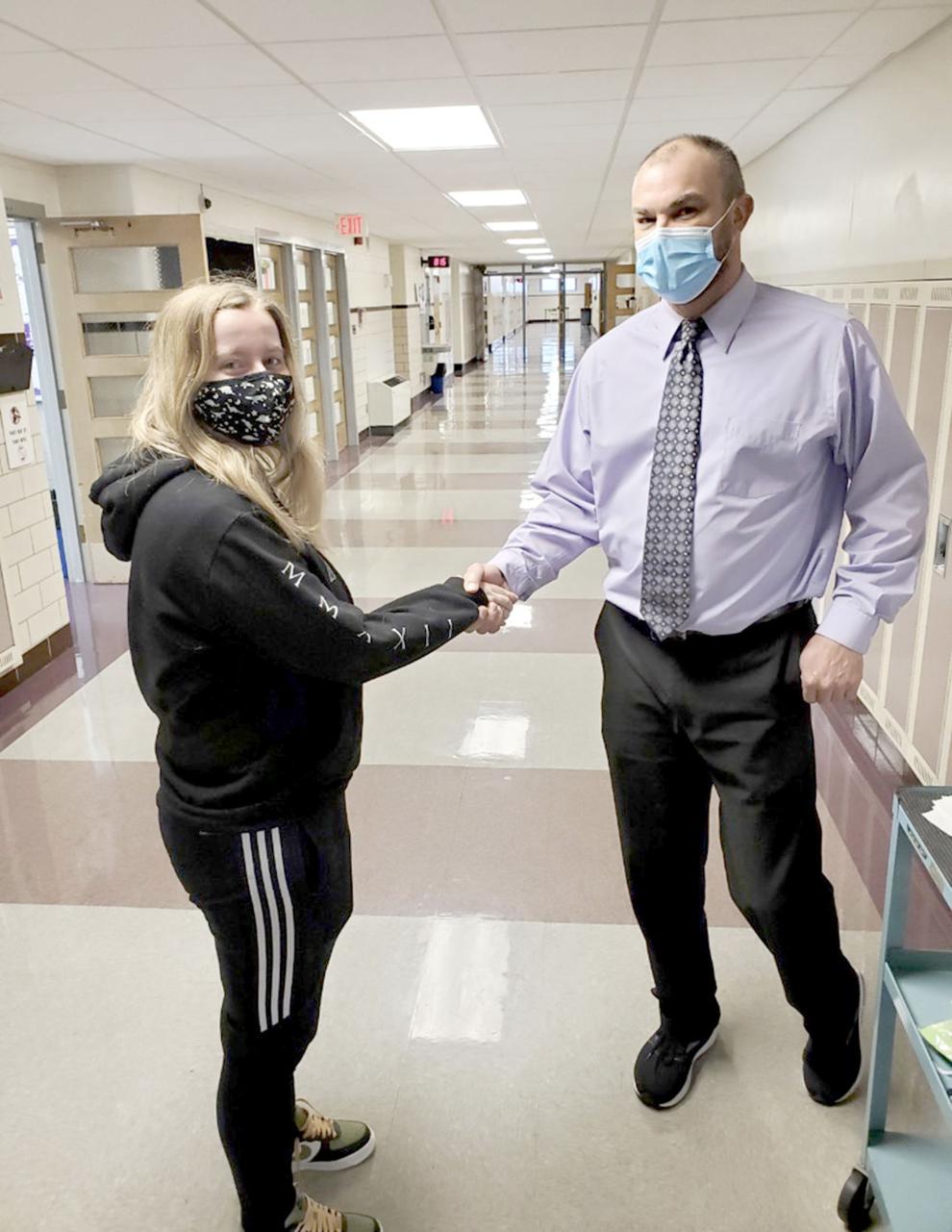 Rantoul
Danielle Wheeler, shaking hands with Superintendent Scott Amerio, was recognized for her kindness and engagement skills when she was honored as January's student of the month.
— Mary Cuppernell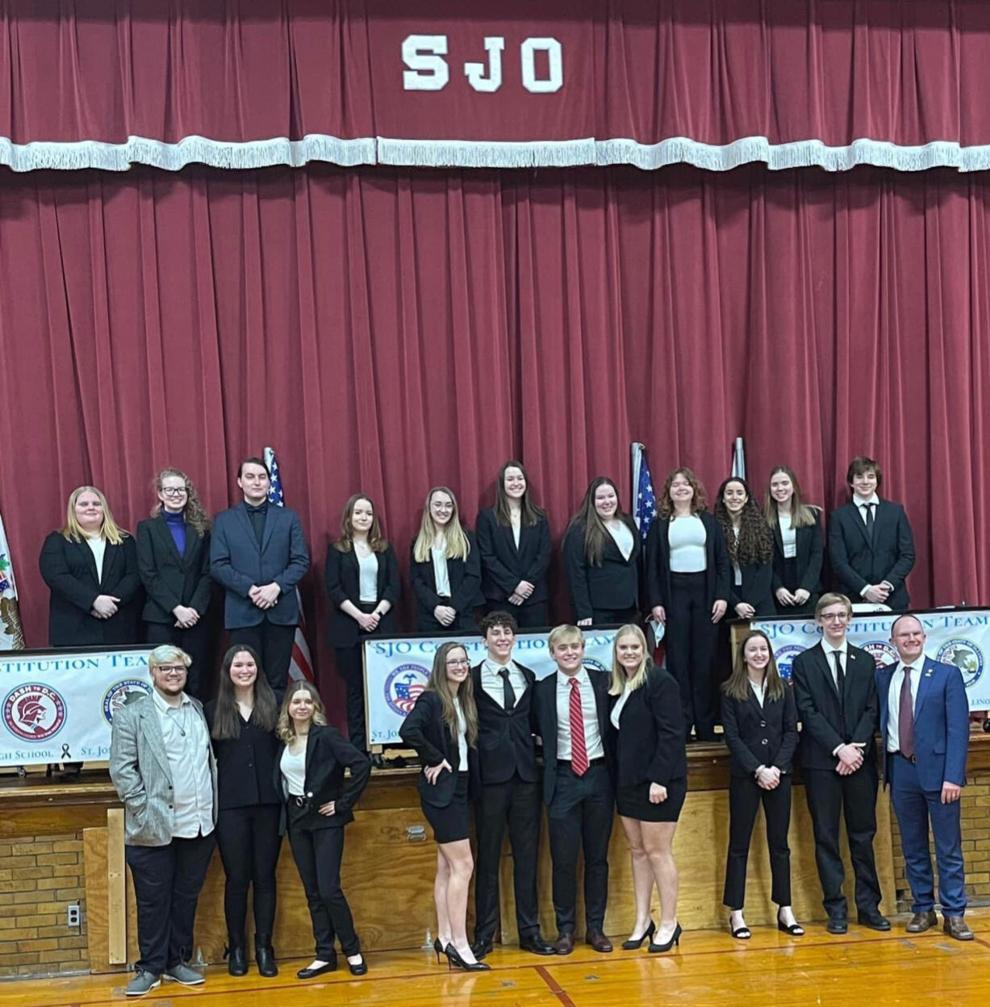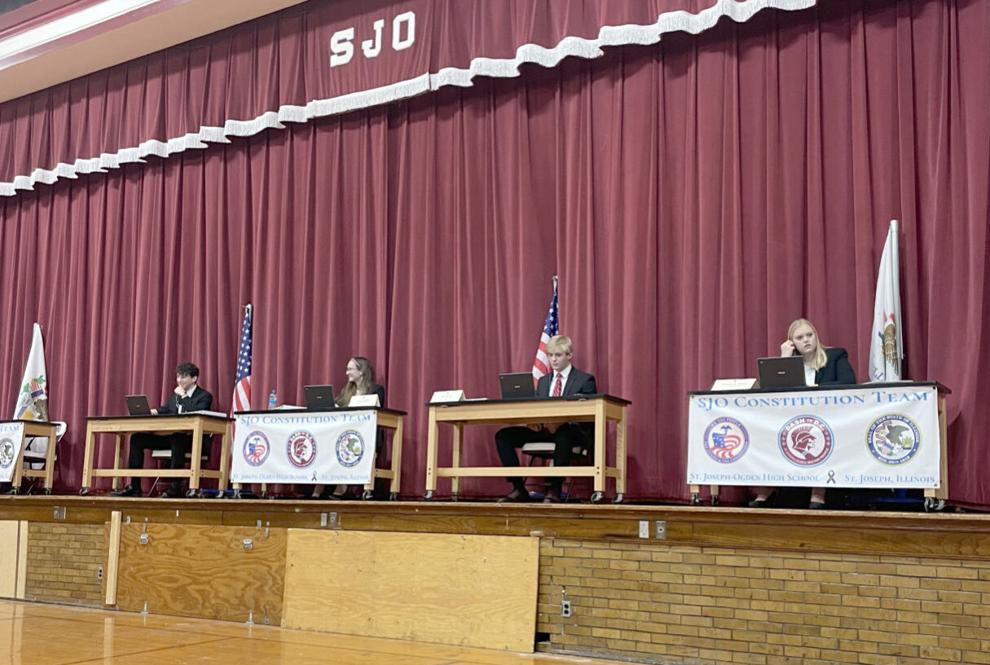 St. Joseph-Ogden
The school's We The People team, coached by Marshall Schacht, finished second in last week's state congressional competition, doing so virtually rather than in person in Springfield. Pictured: (top row) Jessica Palmer, Mara Burkhalter, Wyatt Loughry, Sophia McDade, Lauren Harper, Payton Jacob, Deanna Cummins, Anastasia Conerty, Angie Chanine, Ashlyn Lannert and Johnny Poulter; (bottom row) Z Dressen, Ashley Eldridge, Alyssa Shoviak, Hope Rajlich, Conrad Miller, Jett Morris, Mackenzie Trame, Taryn Sexton and Ben Cunningham.
— Regan Uden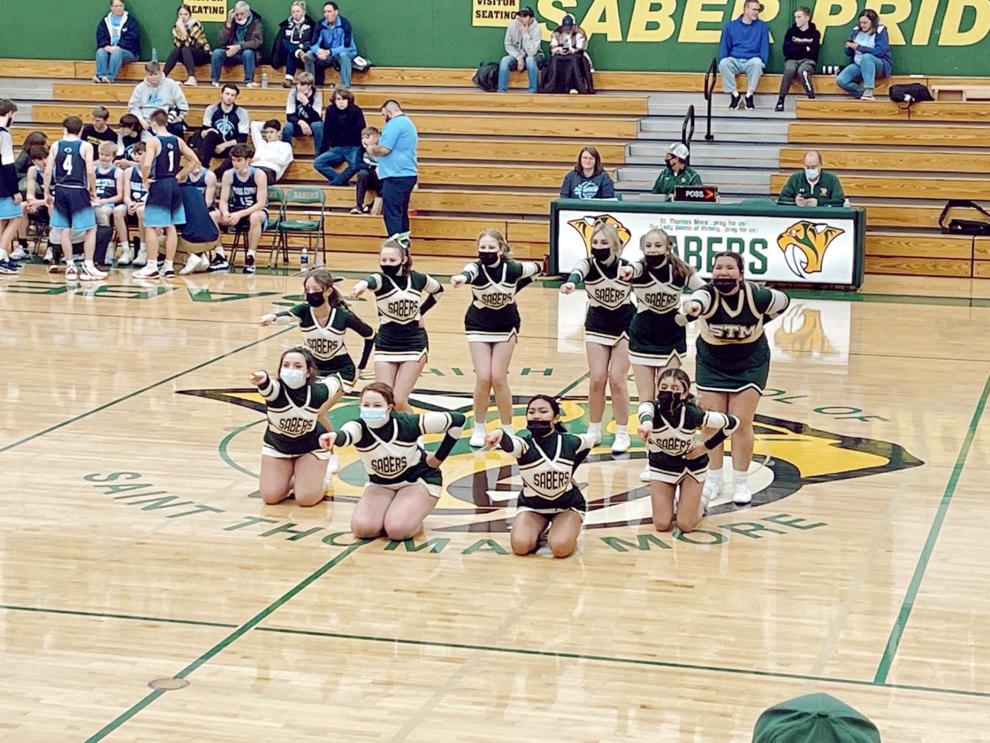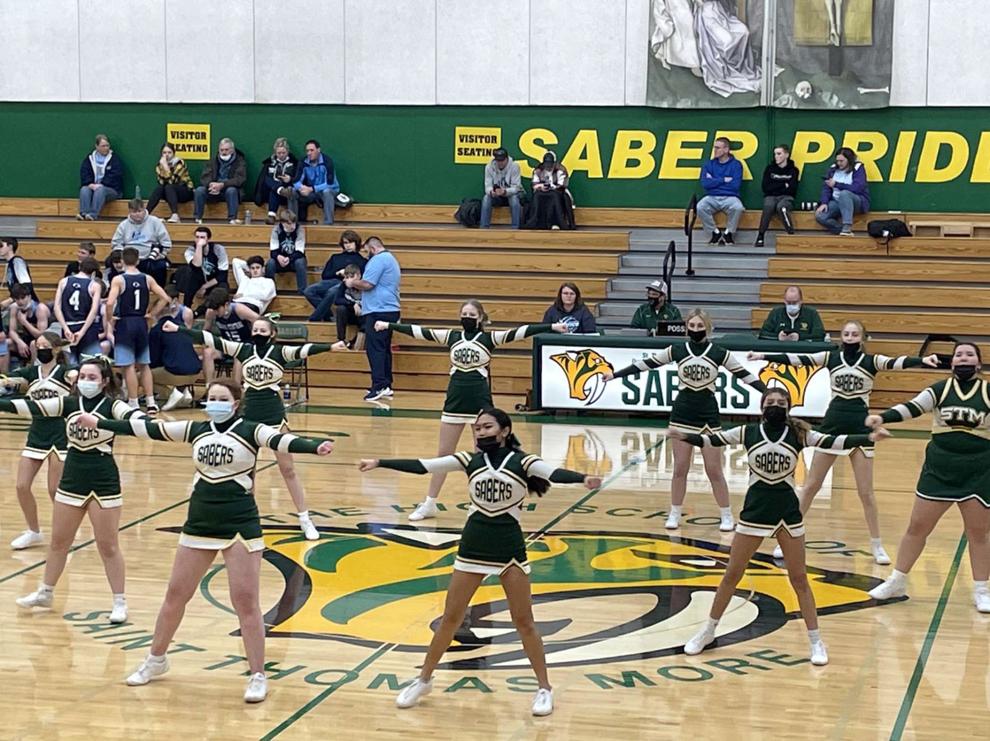 St. Thomas More
Varsity and junior varsity cheer squads have been preparing new dances and routines to premier at the Senior Night game. Pictured: Kate McMillan, Julianna Monterroyo, Norah LaMontange, Cristina Mills, Skyler Anderson, Abbie Vavrik, Bekah Goebel, Scarlett Rentschler, Rebekah Taylor and Bryce Ritter.
— Bailey McMahon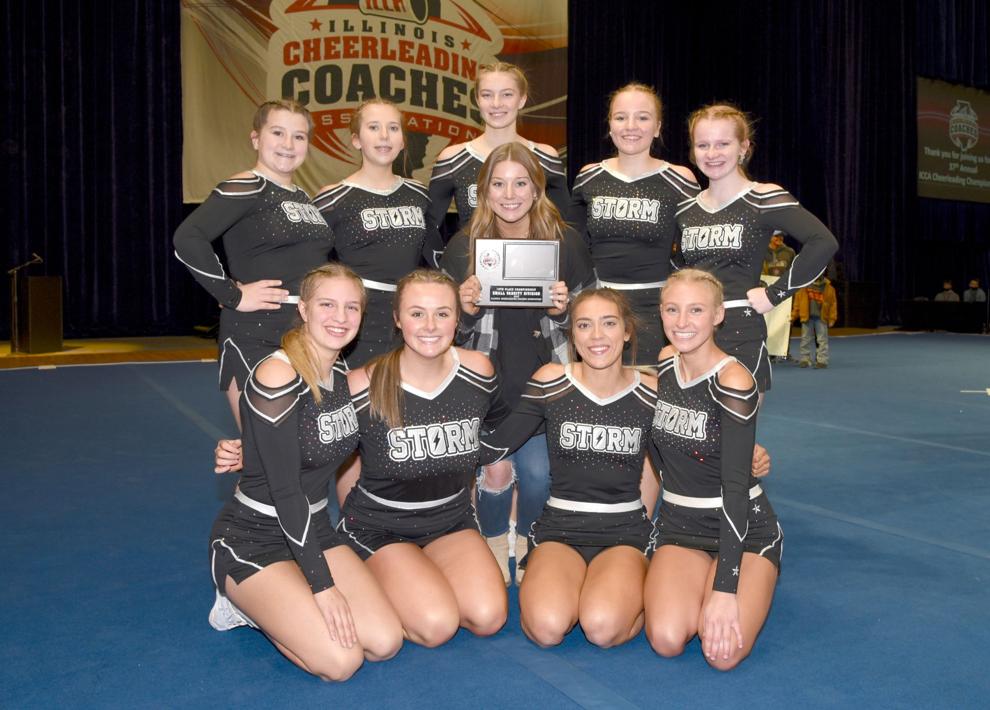 Salt Fork
The girls' cheer team made school history with a 10th-place finish at the Illinois Cheerleading Coaches Association state competition. Pictured: (back row) Lilly Rickgauer, Ava Benjamin, Bricie Keeran, Brenna Boyd and Callaway Cox; (front row) Brynlee Keeran, Olivia Birge, Carlie Thompson and Grace Church.
— Olivia Birge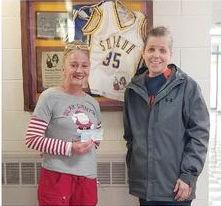 Shiloh
Former student and basketball star Courtney Porter started "Gail's Wish," a fundraiser in honor of her mother, Gail Porter, who passed away from cancer in 2015. She raised money for local families in need during the holidays and recently donated $1,000 to the school district. Pictured, left to right: nurse Kara Bosch and Courtney Porter.
— Josephine Carroll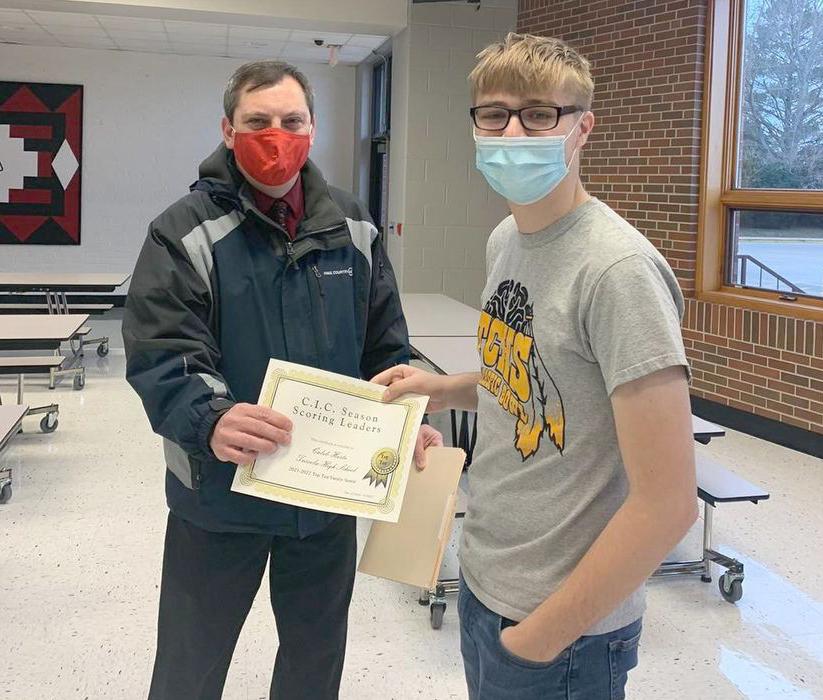 Tuscola
On Saturday, senior, Caleb Haste was recognized as a Top 10 Scholastic Bowl Player in the Central Illinois Conference.
— Amelia Bosch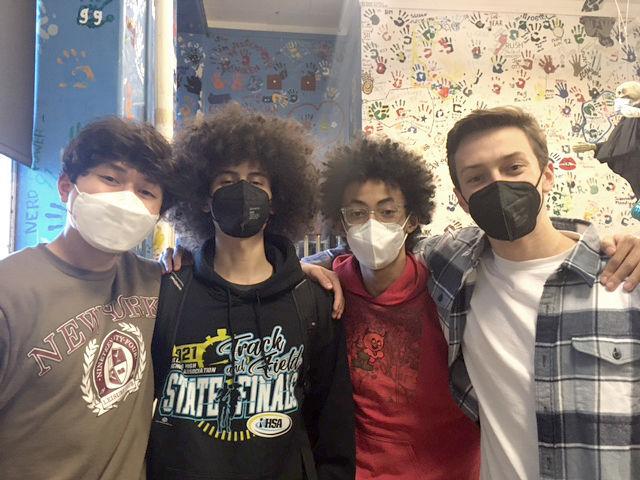 Uni High
With an uptick of COVID-19 cases following the emergence of the omicron variant, students encountered new mask policies on their first day of second semester — as well as stricter testing requirements (three to five times per week). Director Elizabeth Majerus, in accordance with Uni's Health and Safety Committee, said students must wear KN95, N95 or KF94 masks moving forward. On Jan. 10, the school received a shipment of KN95 masks which were distributed during lunch period to students. Pictured, left to right: seniors Ian Evensen, Ivan Favila, Elias Finkelman and Henry Laufenberg in their new KN95 masks after school on Monday.
— Aakash Vasireddy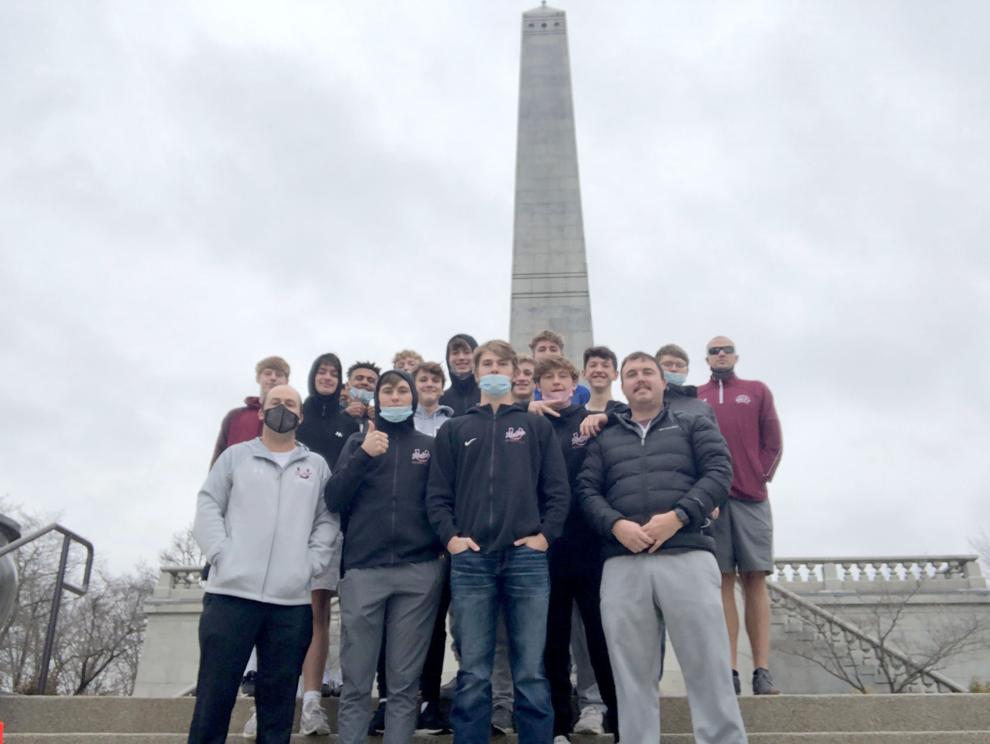 Unity
Over break, the boys' basketball team played in a tournament at Williamsville. While in the area, coaches and players visited Lincoln's Tomb in Springfield.
— Maddy Reed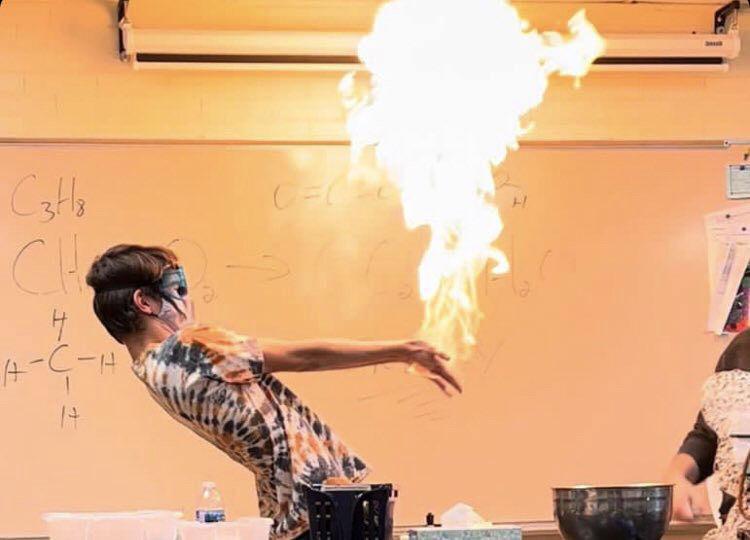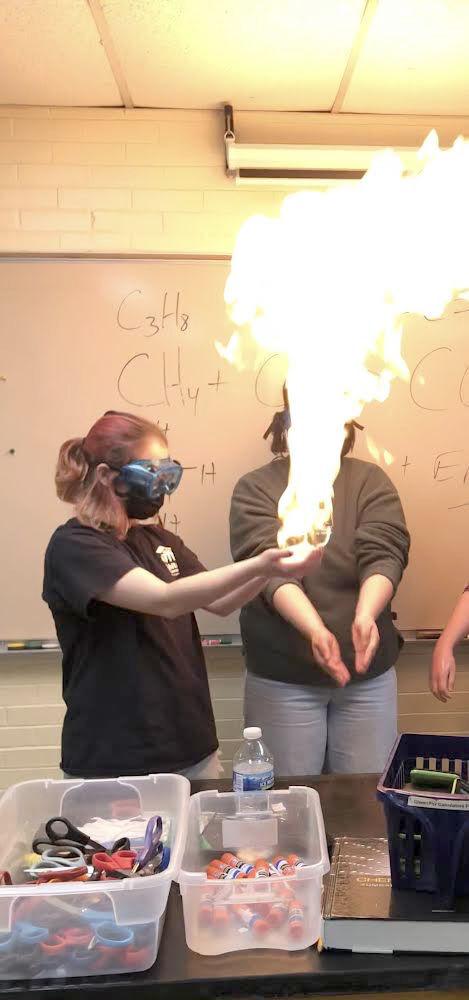 Urbana
Coming off break, science teacher Dennis Migut decided to have some chemistry fun as students set their hands on fire. Migut created a soapy concoction that students would dip their hands in before being lit to flames. First photo: Zach Menard. Second photo: Maddy McKinney
— Park Mitchell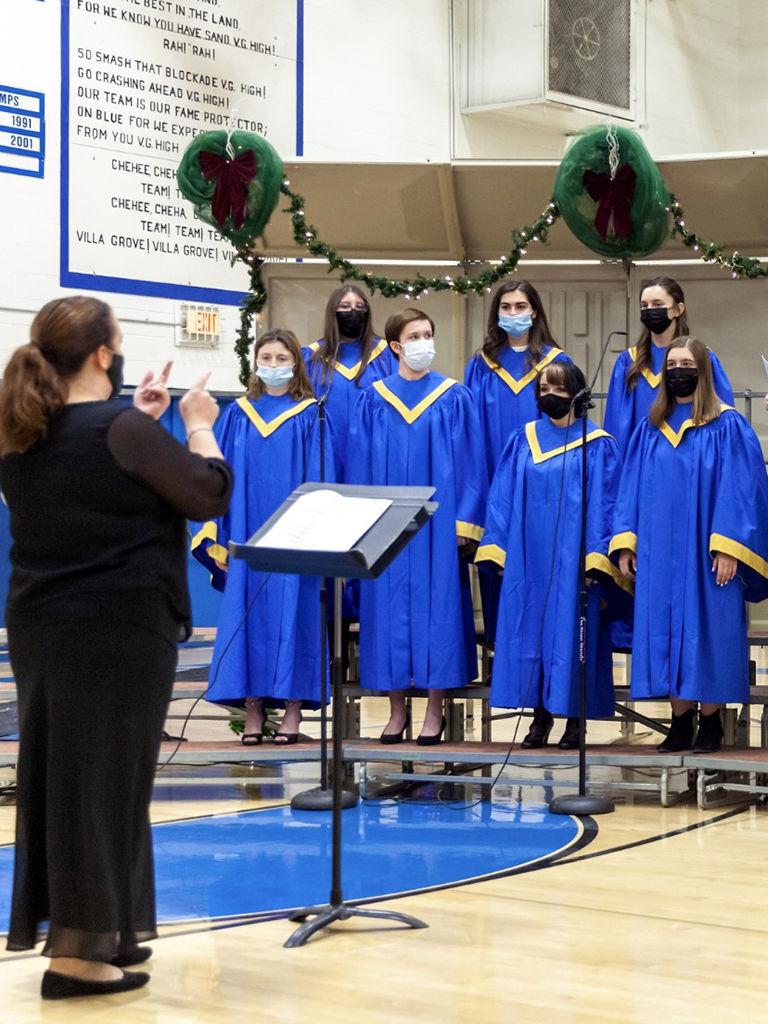 Villa Grove
Due to COVID-19, many students were unable to make it to the winter concert in December, which was postponed. Students used break to practice on their music and delivered a performance on Jan. 5. Pictured with director Jeri Cardiff, left to right: (front row) Andrea Hall, Kenzie Cardiff, Delcia Gent and Amelia Williams; (back row) Jessica Richey, Jobeth Crafton and Molly Little.
— Molly Little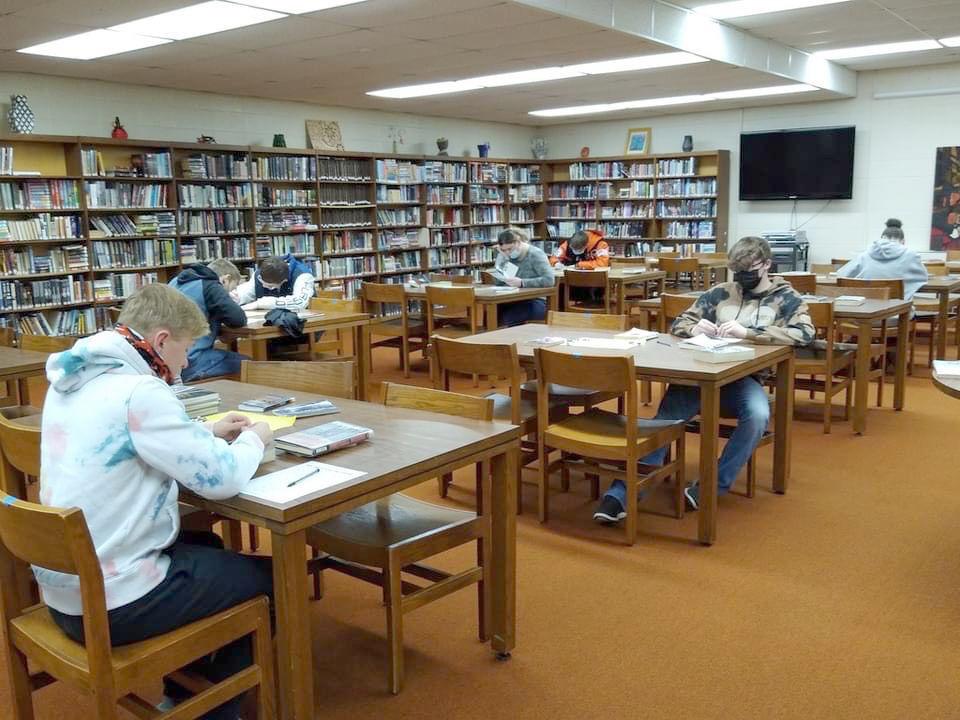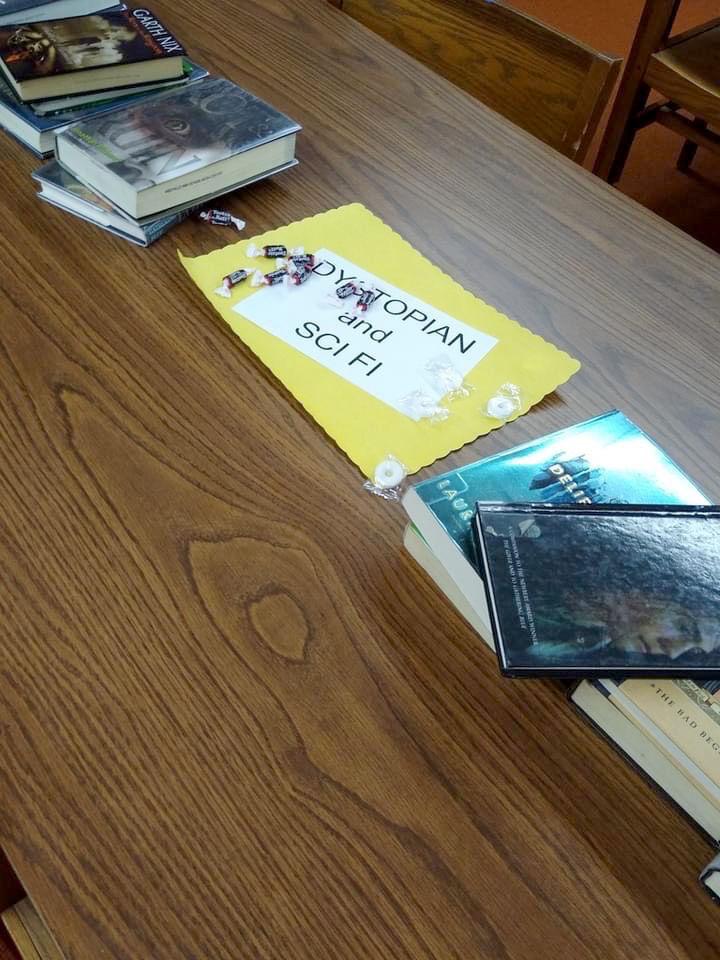 Westville
English teachers Jenna Wilson (English Teacher) and Rebecca Spires guided trips to the library for new books and to research different topics — and were surprised with candy and a quiet place to work. Special thanks to the media center's Julie Balgeman for helping students out.
— Bryce Burnett