2021-22 High School Confidential: Week 19
Welcome to Year 6 of High School Confidential, an award-winning project made possible by aspiring student journalists from every corner of our circulation area. Each Friday through May, they'll tell us what's happening in their hallways at news-gazette.com.
Once a week, we'll also hand over our Snapchat account (News-Gazette) to our correspondents for behind-the-scenes tours.
Feedback? Email N-G/VP Jim Rossow at jrossow@news-gazette.com.
This year's panel:
Academy High: William Ding
ALAH: Sarah Rafferty
Arcola: Ariana Carmona
Armstrong: Mattie Kennel
Bement: Addie Fritz
BHRA: Paili Davis
Blue Ridge: Sarah Whitehouse
Centennial: Blake Burr, Montez Dubose
Champaign Central: Lucy Moss
Chrisman: Reese Anderson
Cissna Park: Emma Morrical
Danville: Kedzie Griffin
DeLand-Weldon: Kaitlyn Sayers
Fisher: Krista Martin
Georgetown-Ridge Farm: Chloe Brock
Gibson City-Melvin-Sibley: Emily Hood
Heritage: Torie Rothermel
Hoopeston Area: Emily Ray
Judah Christian: Lydia Lowry, Abi Tapuaiga
LeRoy: Kelsey Graves
Mahomet-Seymour: Tinley Peters
Milford: Alivia Schmink
Monticello: Clara Rudolph
Oakwood: Madison Doan
Paxton-Buckley-Loda: Sydney Murphy
Rantoul: Mary Cuppernell
St. Joseph-Ogden: Regan Uden
St. Thomas More: Bailey McMahon
Salt Fork: Olivia Birge
Scharlman: Evan Sherer
Shiloh: Josephine Carroll
Tuscola: Amelia Bosch
Uni High: Aakash Vasireddy
Unity: Maddie Reed
Urbana: Park Mitchell
Villa Grove: Molly Little
Westville: Bryce Burnett
On to this week's report: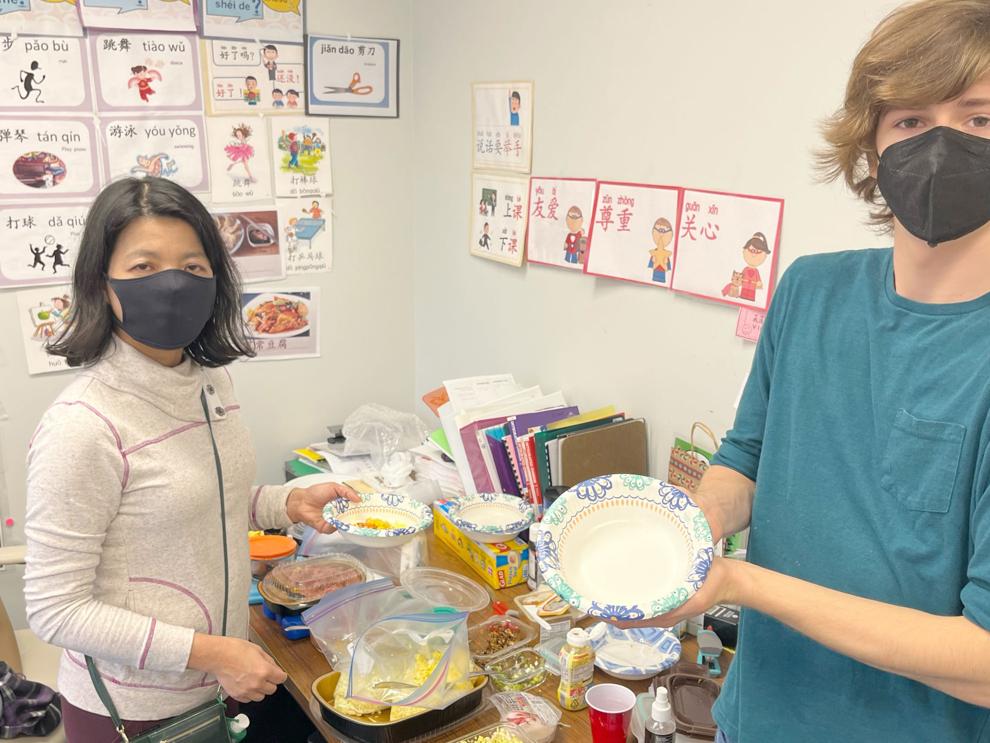 Academy High
Students taking Mandarin spent class time learning how to make different types of dumplings from a variety of origins, adding into fillings a secret ingredient courtesy teacher Eileen Chen (pictured with Caden Green).
— William Ding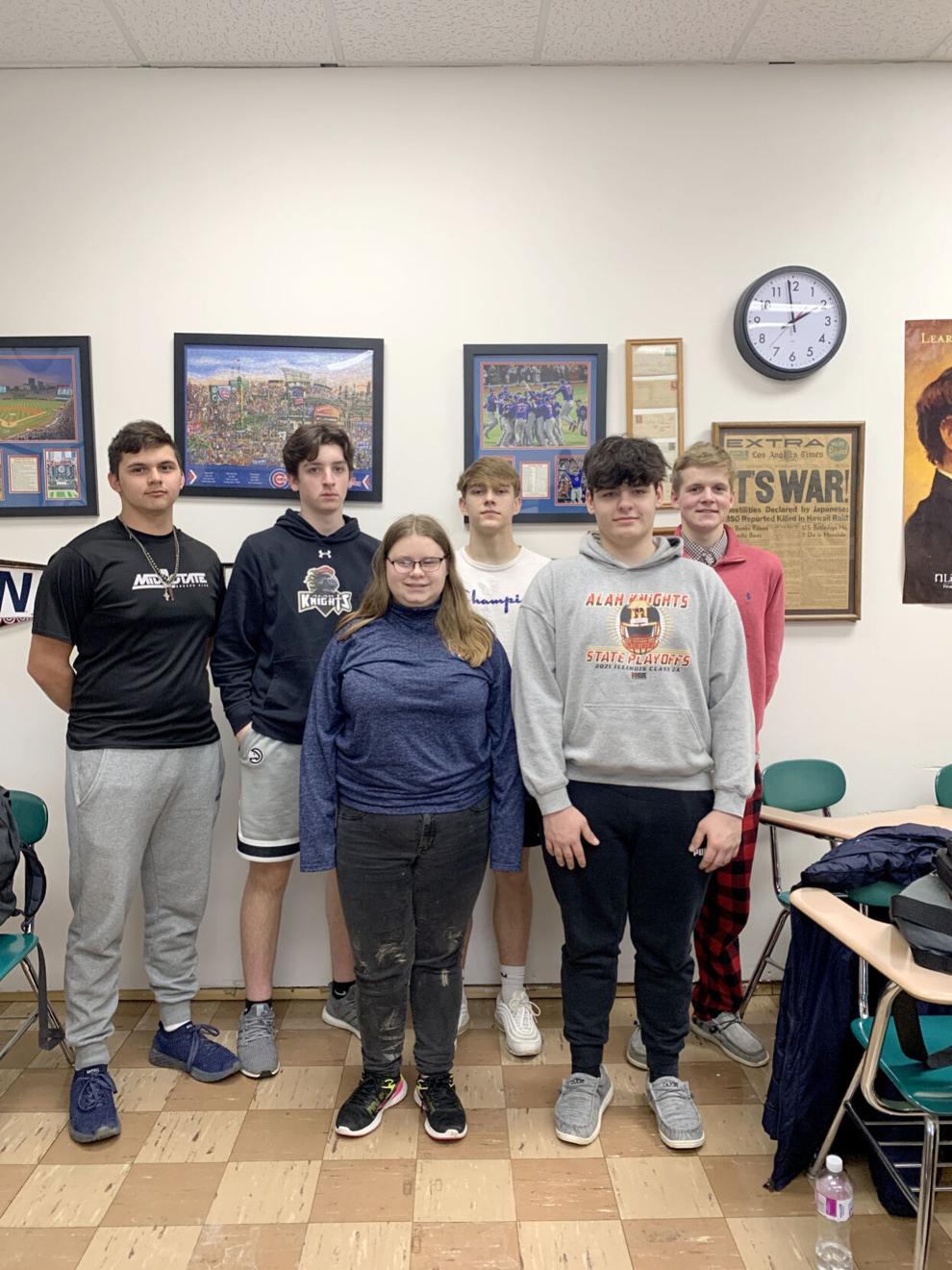 ALAH
Students in broadcasting class have been putting together documentaries on different topics of their choosing, from the rise of the school's cross-country program to the "Ultimate Guide About Police Officers," based on an extended interview with Arthur Police Chief Michael Goodman. The video stories are posted to the school's YouTube channel. Pictured: Chance Lindstrom, Clay Seal, Abigail Lily, Noah Garrett, Caleb Corum and Jace Green.
— Sarah Rafferty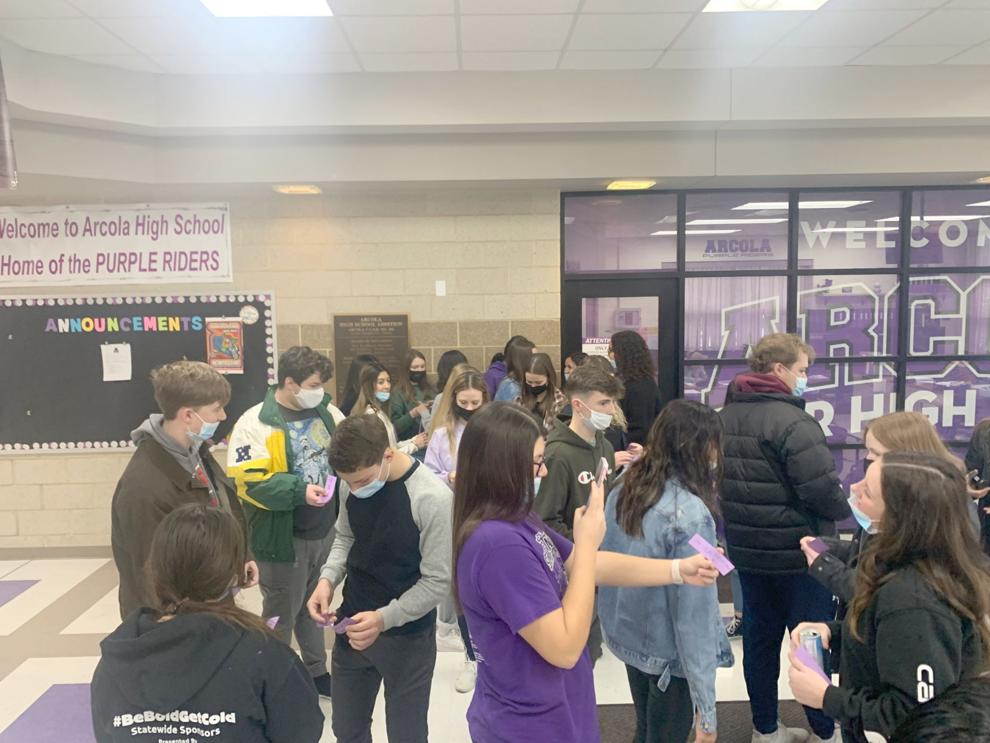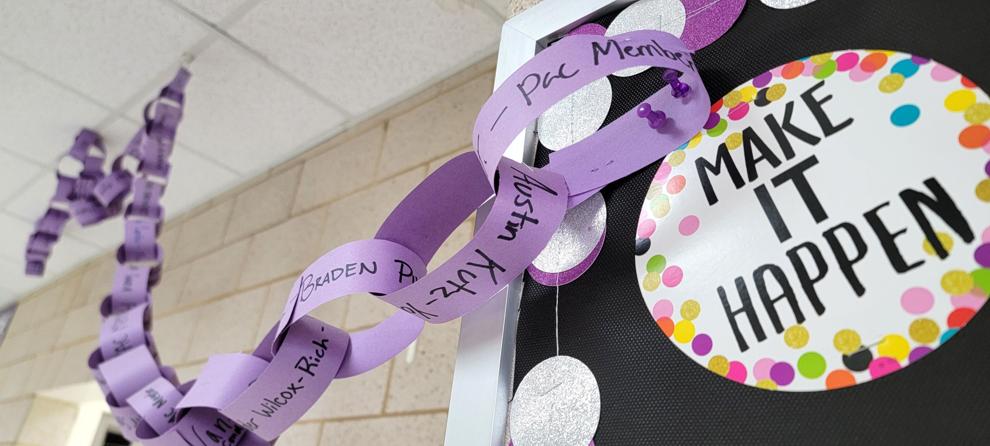 Arcola
The Principal Advisory Committee, comprised of students who serve as a bridge between students and administration, is promoting positive behavior with its chain of positivity. PAC members nominate students who deserve recognition, and their name is added to the chain.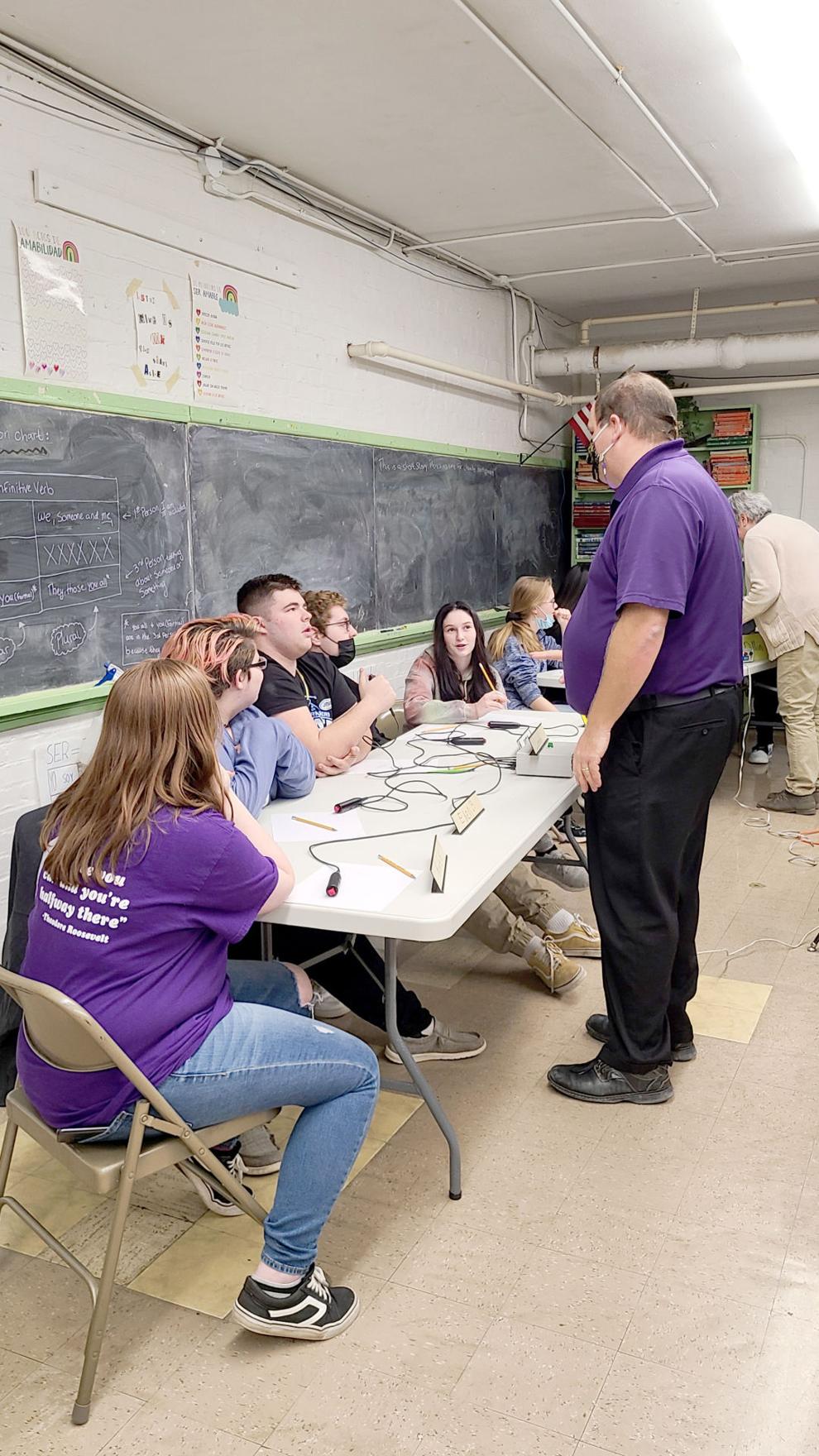 Armstrong
The Scholastic Bowl team enjoyed a double win against Hoopeston Area and previously undefeated Schlarman.
— Mattie Kennel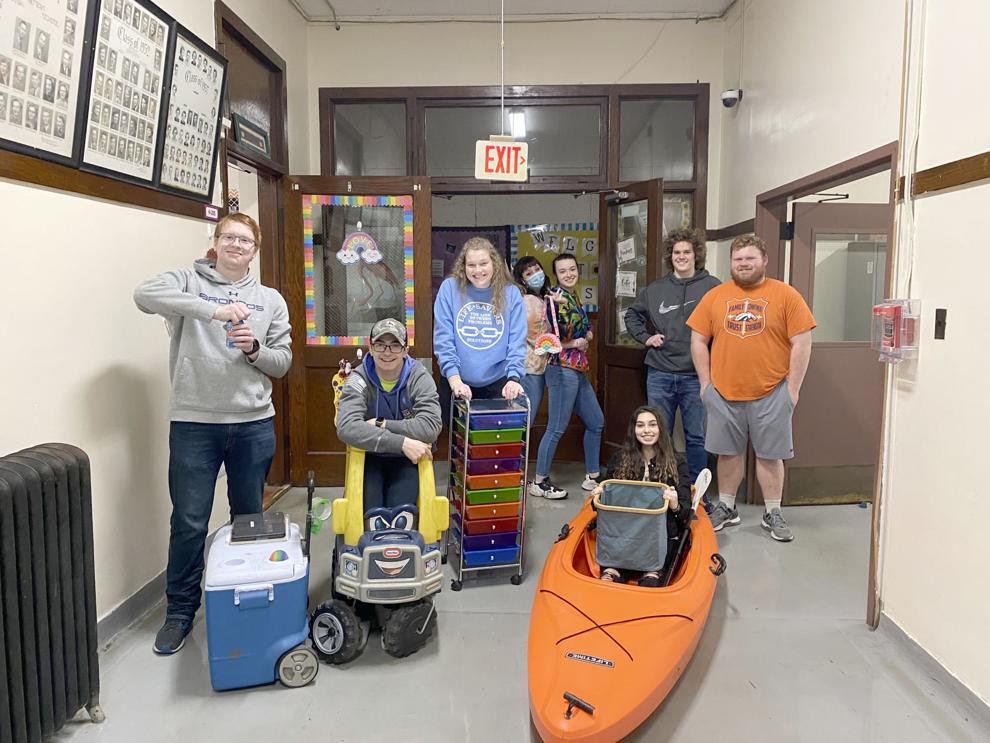 Bement
For Family, Career and Community Leaders of America week, students participated in dress-up days before a winter storm canceled classes last Thursday and Friday. Wednesday was "Bring Anything But A Backpack To School" (pictured) with a kayak, shopping cart and a cooler filled with drinks among the showcased items.
— Addie Fritz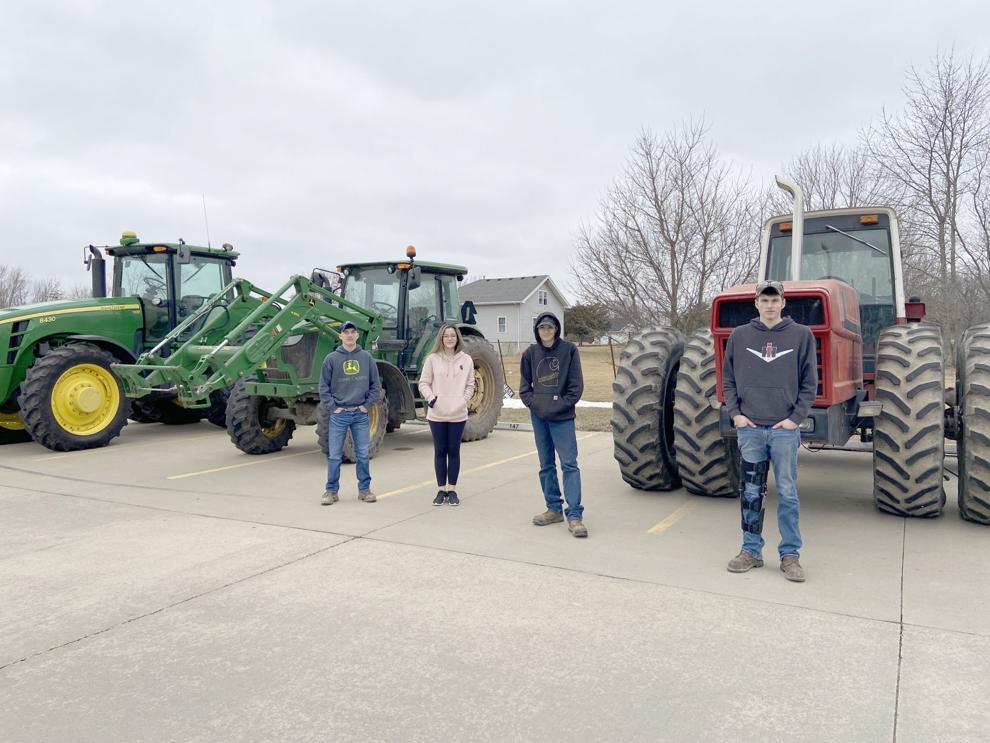 BHRA
Tuesday's "America Day" kicked off FFA week as students dressed in red, white and blue to show their patriotism. On Wednesday, it was truck and tractor day.
— Paili Davis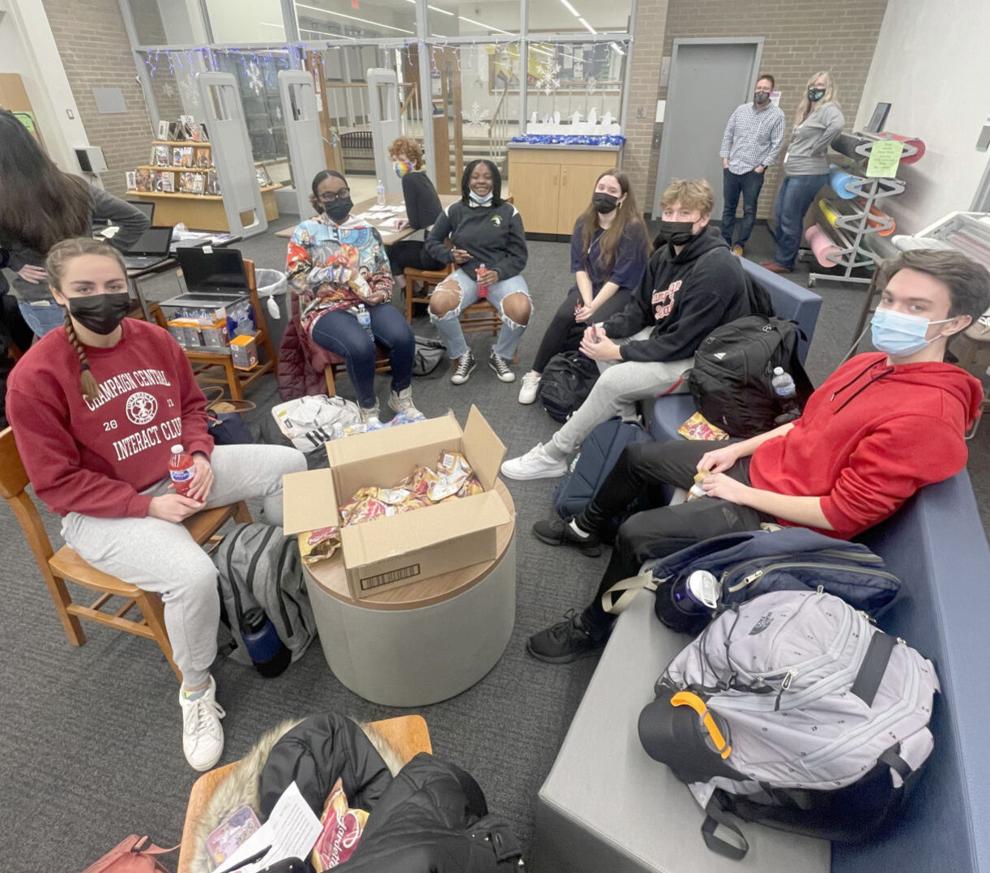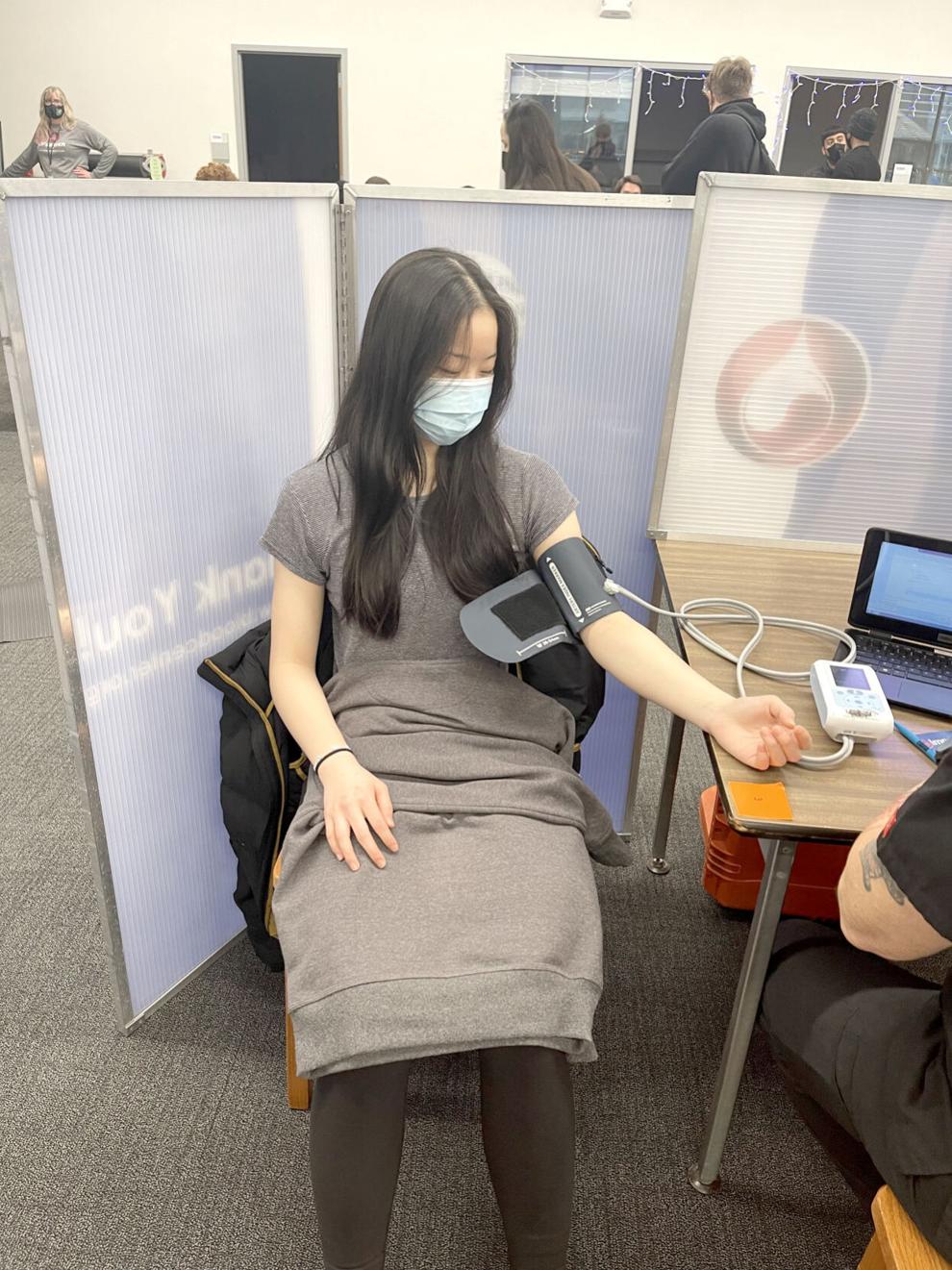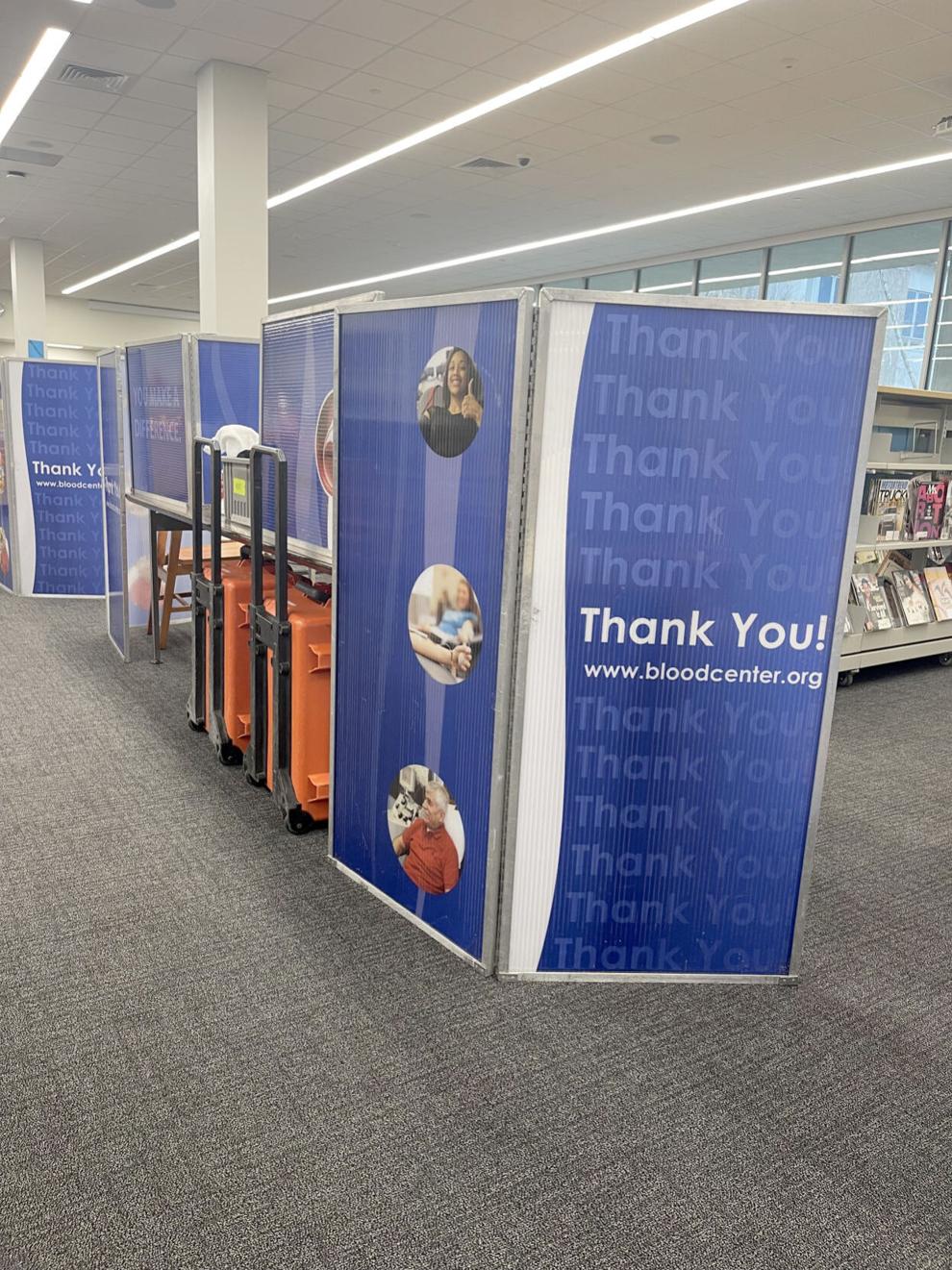 Centennial
The school hosted its annual blood drive. Science teacher Beth Sudlow sponsors and partners with Impact Life, a blood donation center. Senior donator and Science National Honor Society president Lexie Seten said: "Science National Honor Society provides the volunteers to work the event. We do things like checking people in and out as well as monitoring them after they give blood." Pictured: Students waiting to donate, left to right: Anneliese Schideman, Chloe Dillard, Eliza Champion, Hope Omoniyi, Maisie Wixon, Brady Boatright and Jonah Witte; and teachers Geoffrey Freymuth and Elizabeth Sudlow. Also, Amanda Hahn giving blood.
— Blake Burr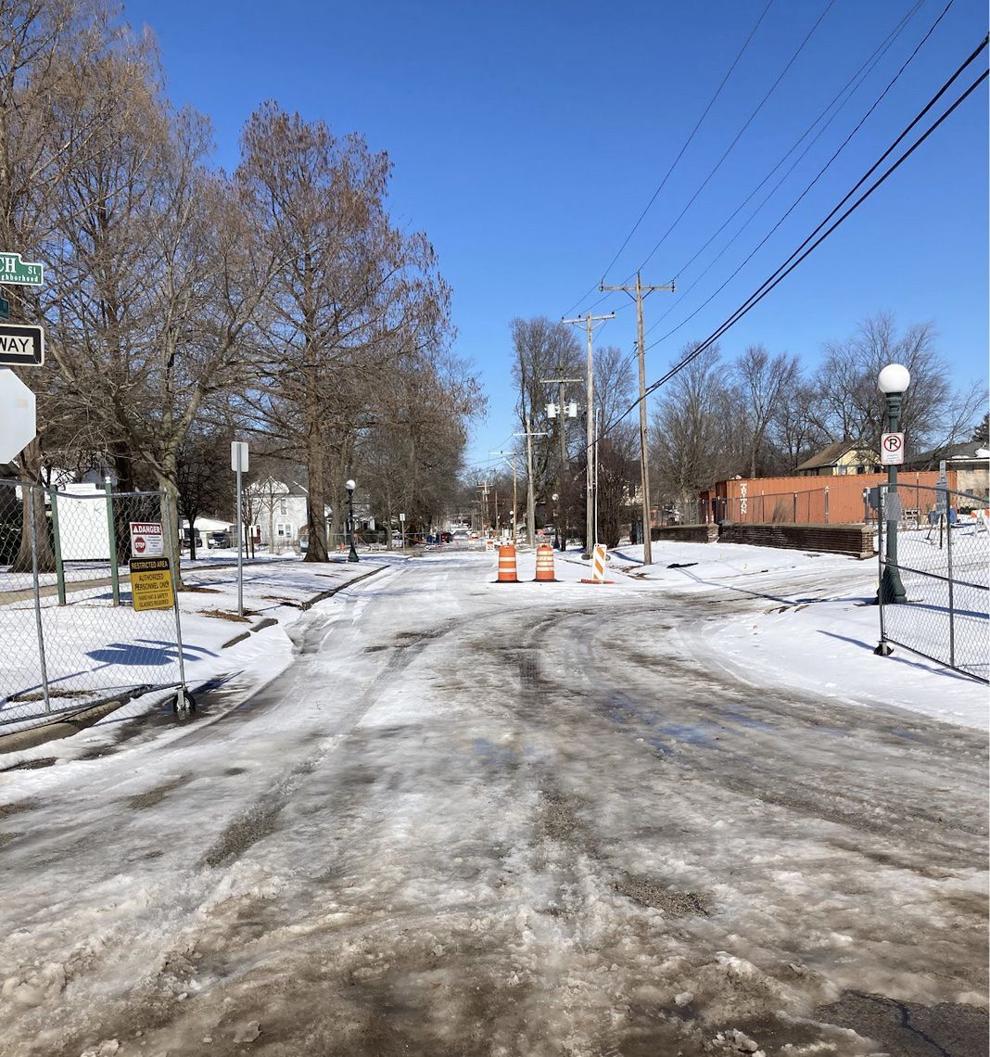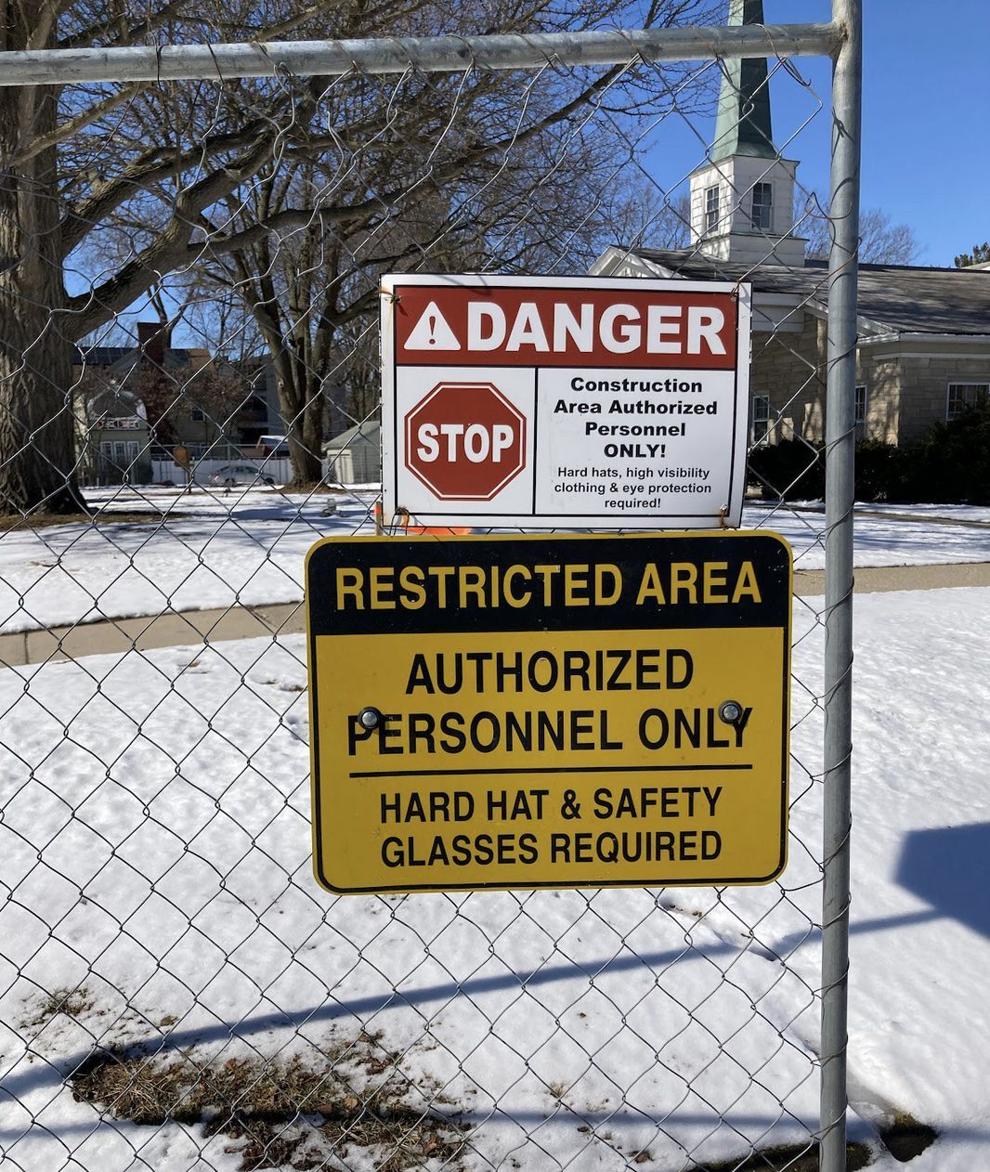 Champaign Central
With ongoing renovations, students and teachers have had to adjust to ever-changing challenges a school under construction brings. Being located in a residential area with limited parking space and lack of a student parking lot already causes strain on those who drive to school. Now, with the closing of the old YMCA parking lot and Lynn Street between Church and Hill, teachers and students are left with more parking limitations.
— Lucy Moss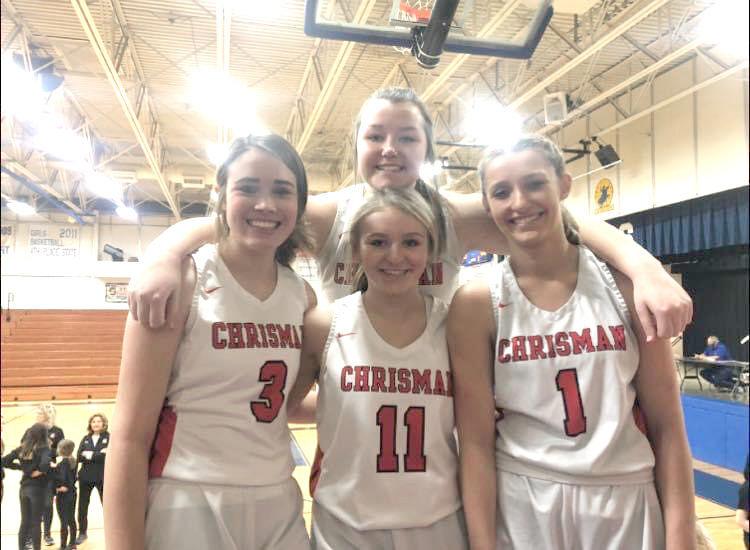 Chrisman
Four members of the girls' basketball team participted in the three-point contest at the regional level. Congratulations to Kendl Lemmon (11) for advancing to sectionals.
— Reese Anderson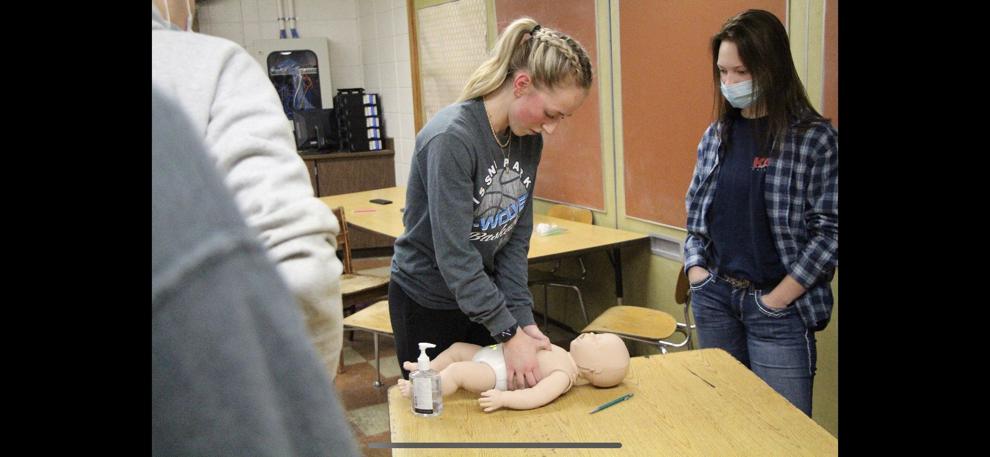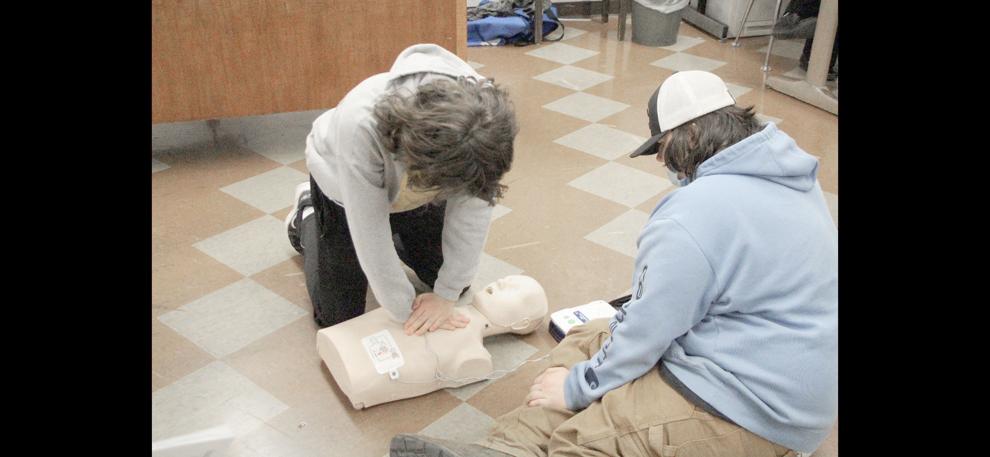 Cissna Park
Senior and junior classes were trained in CPR and first aid last week. The course contained hands-on activities as well as informational slides. Pictured: Mikayla Knake and Riley Maul; and Anthony Tomaske and Ryan King.
— Emma Morrical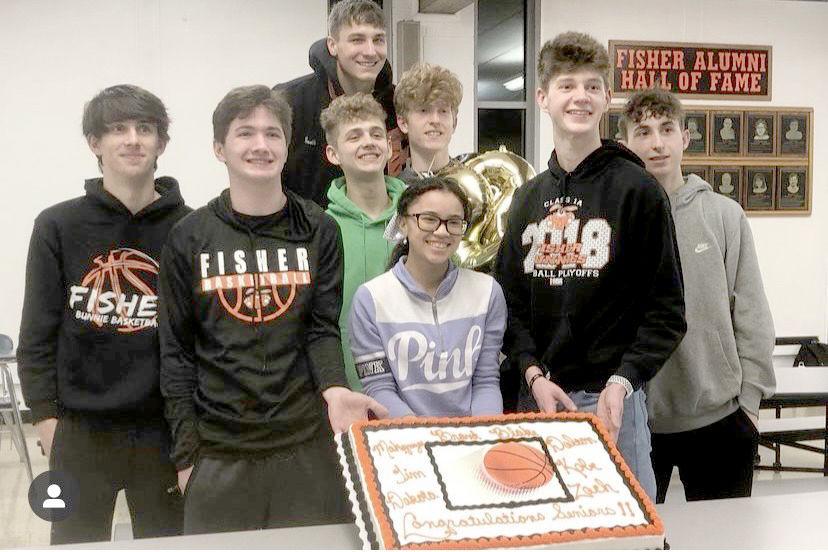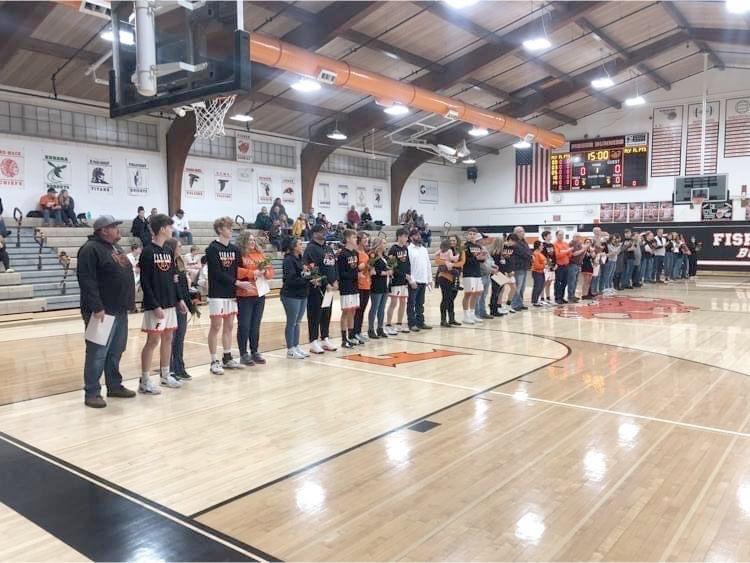 Fisher
Senior Night celebrations played out for boys' basketball, cheerleading, band and Scholastic Bowl. After the basketball game, students shared memories, pizza and cake. Pictured: Dakota Pinare, Brant Leistman, Kobe Bishop, Tim Booth, Dalton Smith, Makynzee Theis, Blake Terven and Zach Wiley.
— Krista Martin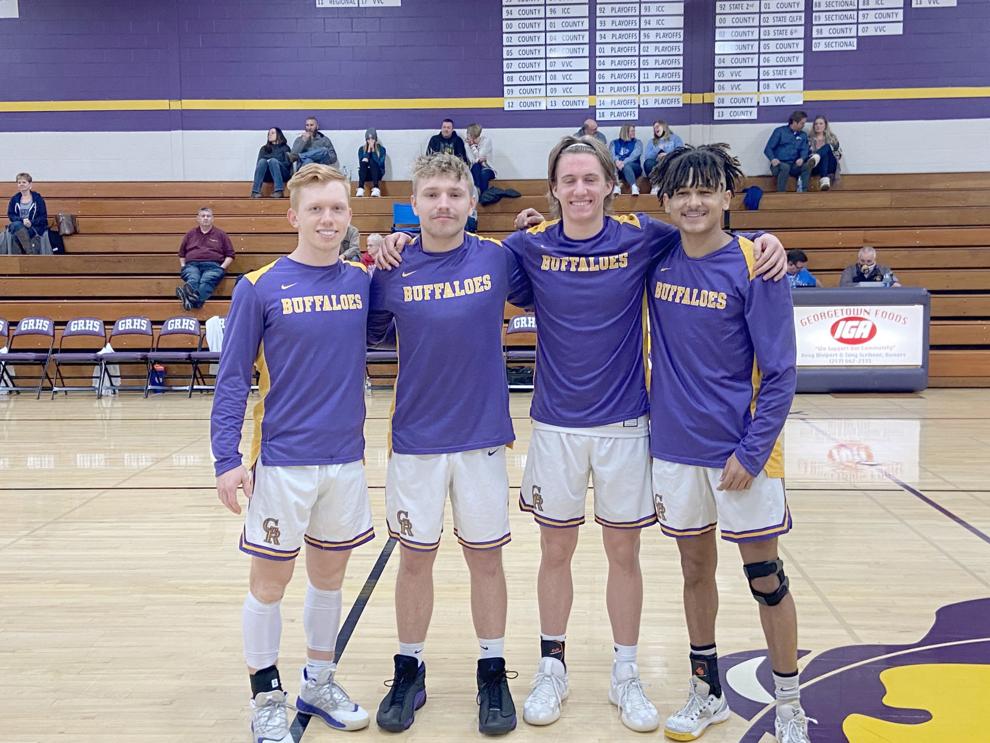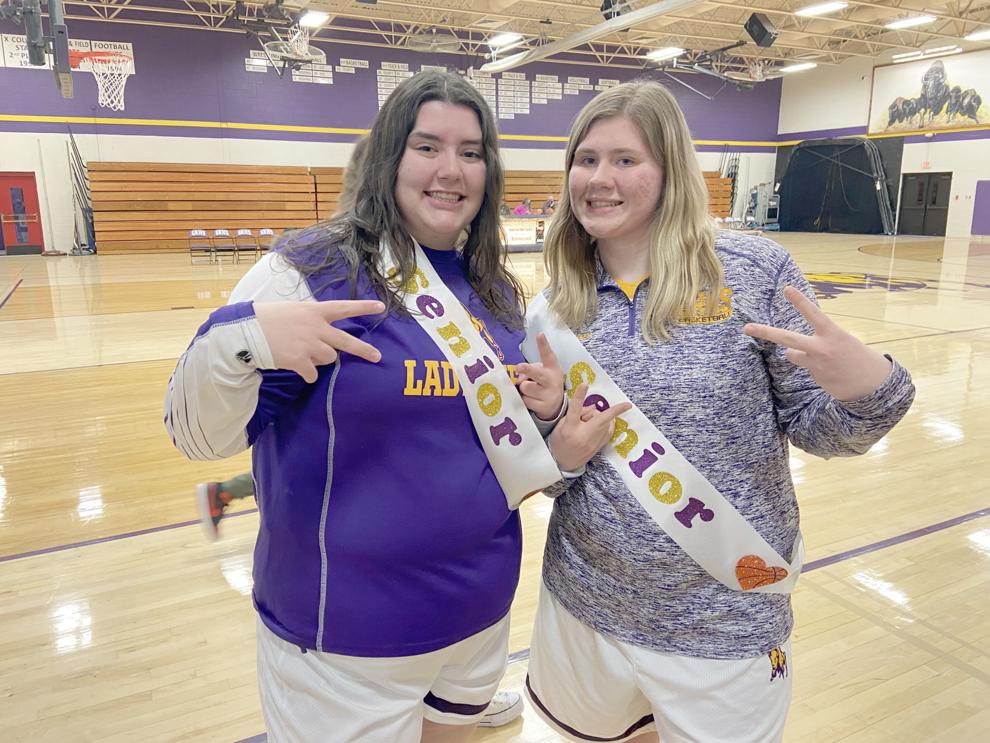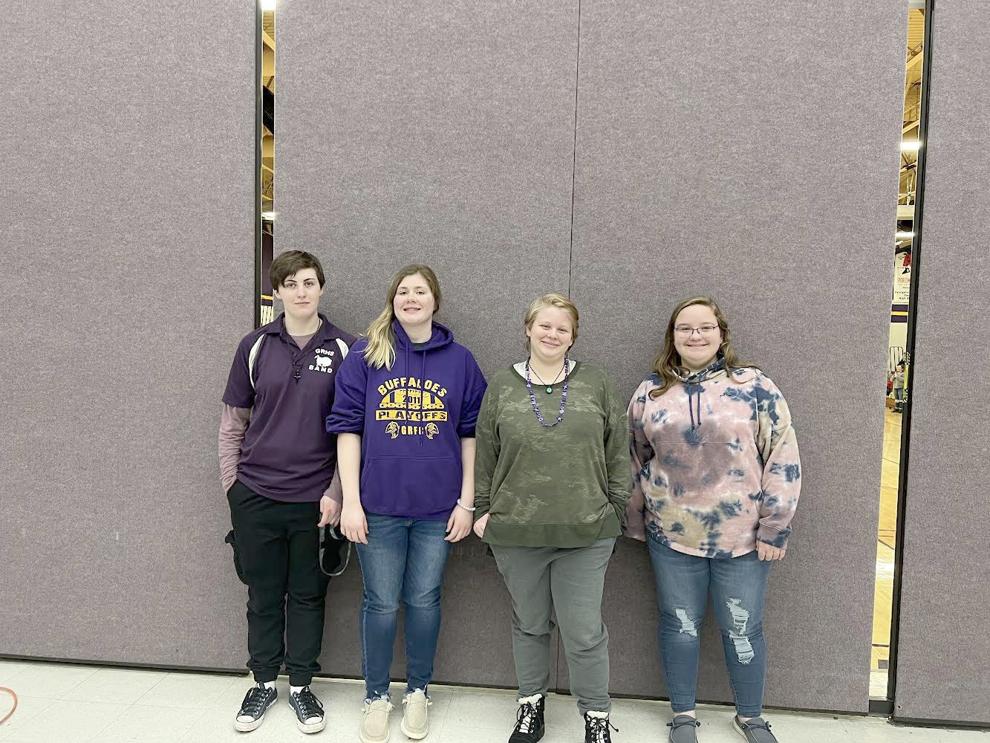 Georgetown-Ridge Farm
It was a Senior Night celebration for boys' basketball (left to right: Cale Steinbaugh, Bryson Pigg, Kaden Mingee and Jace Bina), girls' basketball (Bailee Whittaker and Ally Cobble); and band Anna Martin, Ally Cobble, Paige White and Hannah Ceader).
— Chloe Brock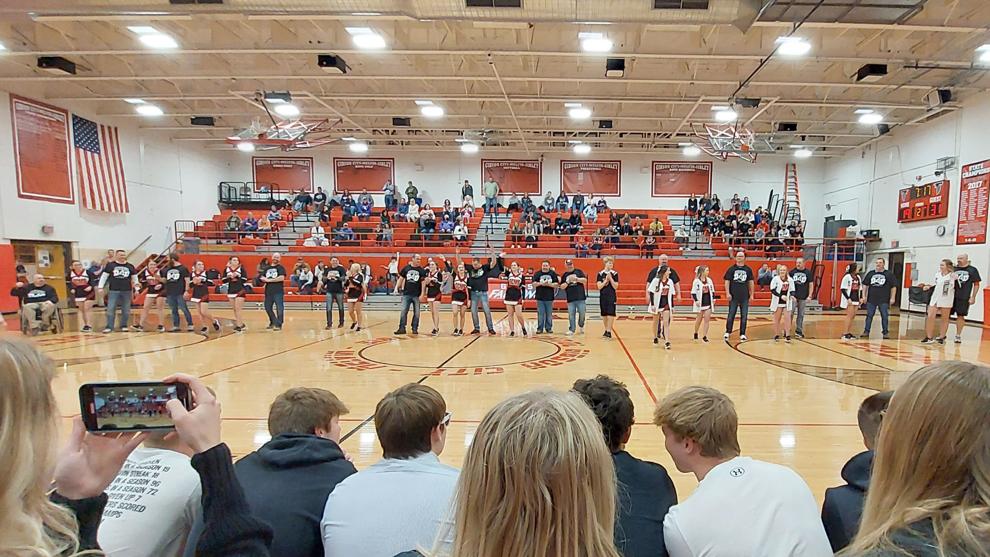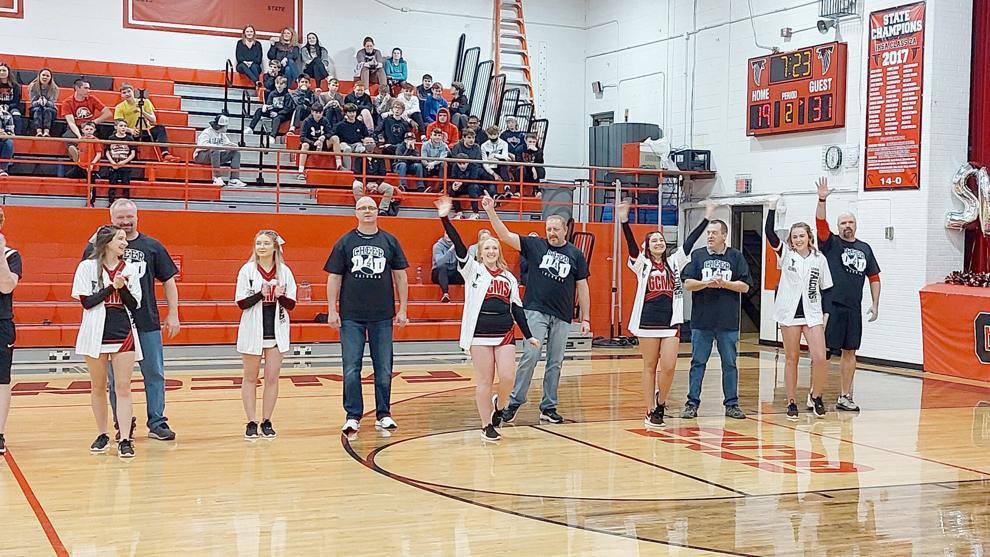 Gibson City-Melvin-Sibley
On boys' basketball Senior Night, members of the cheer team had their dads join them for a dance at halftime. Senior cheerleaders include Carmen Pondel, Kenley Andreae, Olivia Johnson, Anneliese Kerchenfaut and Peyton Leonard. Also honored: Connor Main, our mascot, and senior players Awstace Grauer, Austin Elliott and Zander Wier.
— Emily Hood
Heritage
Drew Williams used a CNC Router in shop class to create a wooden Major League Fishing logo.
— Torie Rothermel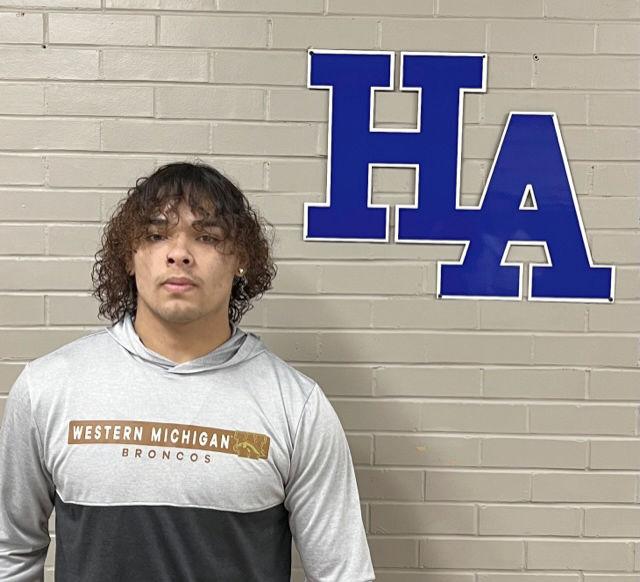 Hoopeston Area
Congratulations to Abel Colunga, who finished sixth at last weekend's IHSA state wrestling tournament at State Farm Center.
— Emily Ray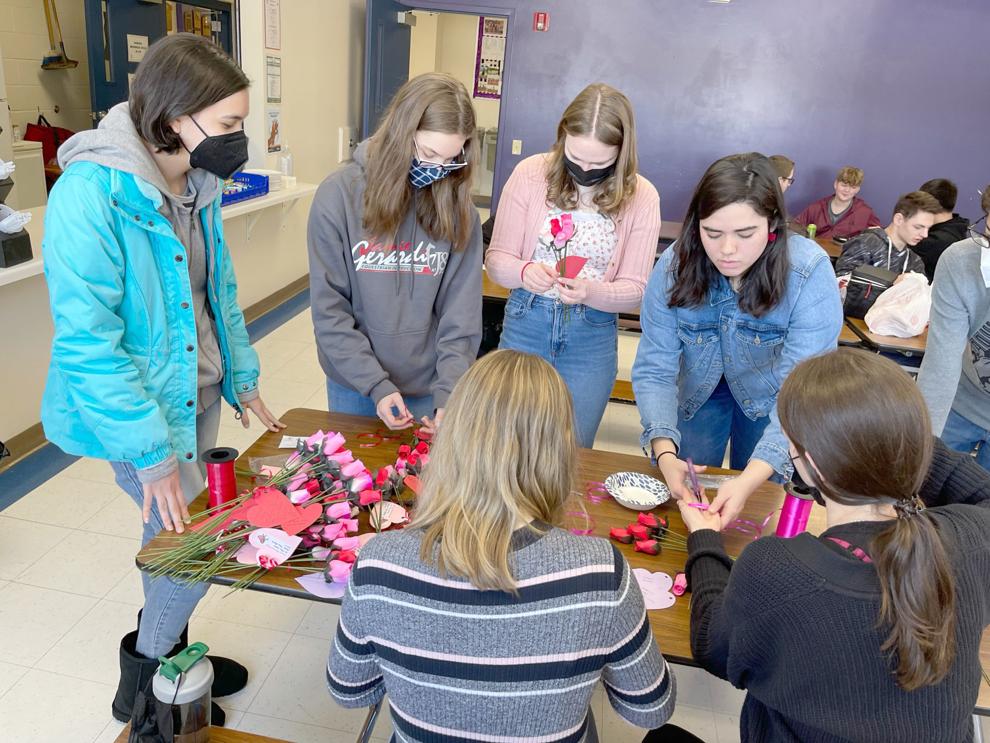 Judah Christian
Student council sold candy grams for Valentine's Day, which included wooden roses, Hershey's kisses and Starbursts. Pictured making the bouquets of wooden roses (left to right): (back) Lara Terpetschnig, Mae Thomas, Ally Aardsma and Abi Tapuaiga; (front) Ella Carder and Kaitlyn Januzik.
— Lydia Lowry and Abi Tapuaiga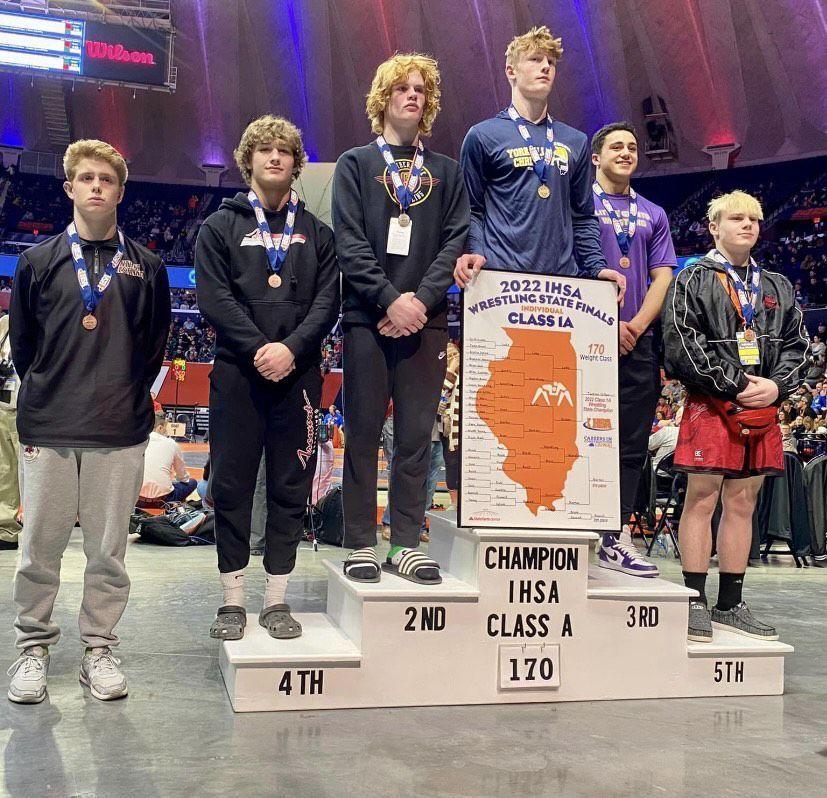 LeRoy
Congratulations to Tyson Brent for his fifth-place finish at IHSA state last weekend in Champaign.
— Kelsey Graves
Mahomet-Seymour
Intramural basketball is a big thing, students gathering friends to create their own teams. Games were held mostly on Wednesday nights, although this week's championship game took place on Tuesday.
— Tinley Peters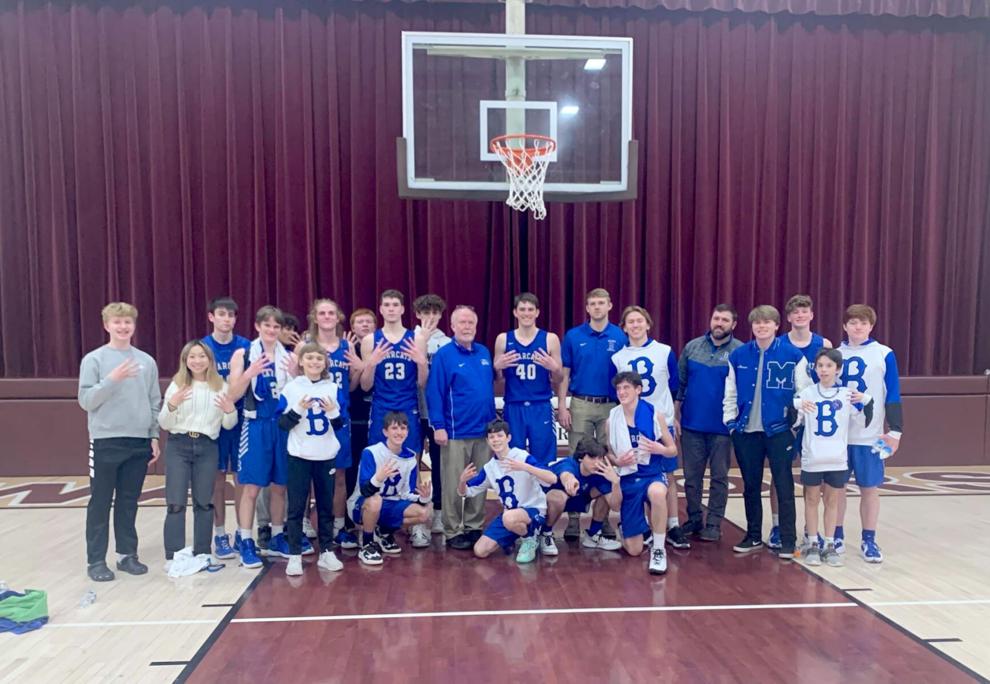 Milford
The school helped boys' basketball coach Dave Caldwell celebrate his 400th career win after the Bearcats beat Watseka.
— Alivia Schmink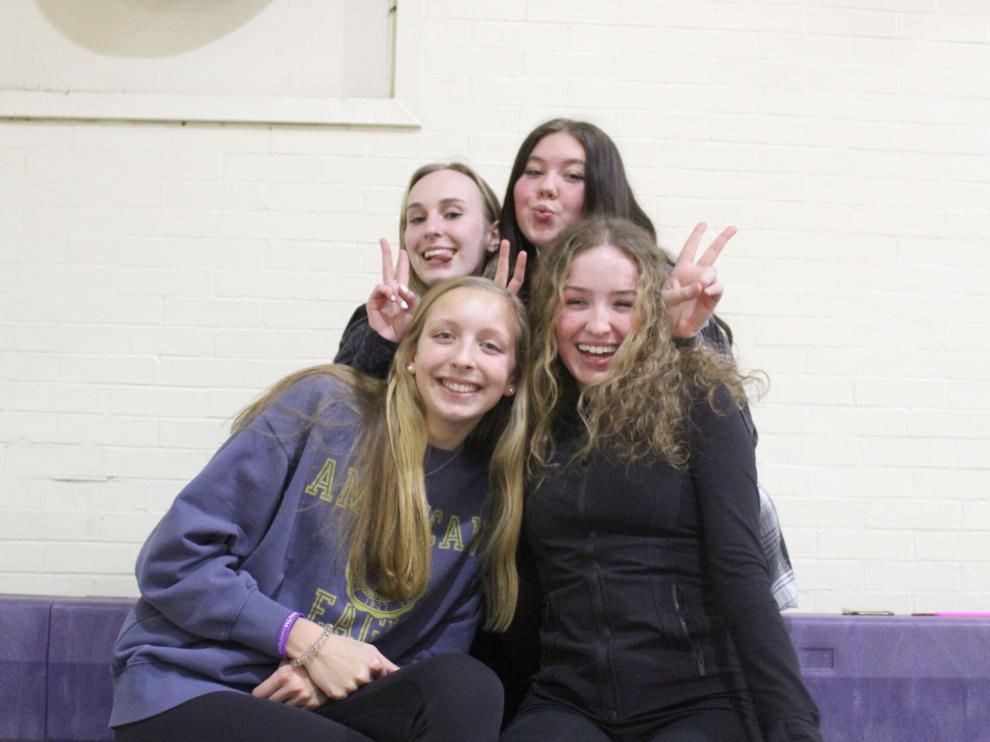 Monticello
LifeSavers had their annual lock-in last weekend. The six-hour event was filled with pizza, board games, blind-folded dodgeball and activities designed to build trust and camaraderie within the group. Enjoying the night above are (back row) Cora Sowinski and Laci Husinga; (front row) Mabry Bruhn and Eliza Bailey.
— Clara Rudolph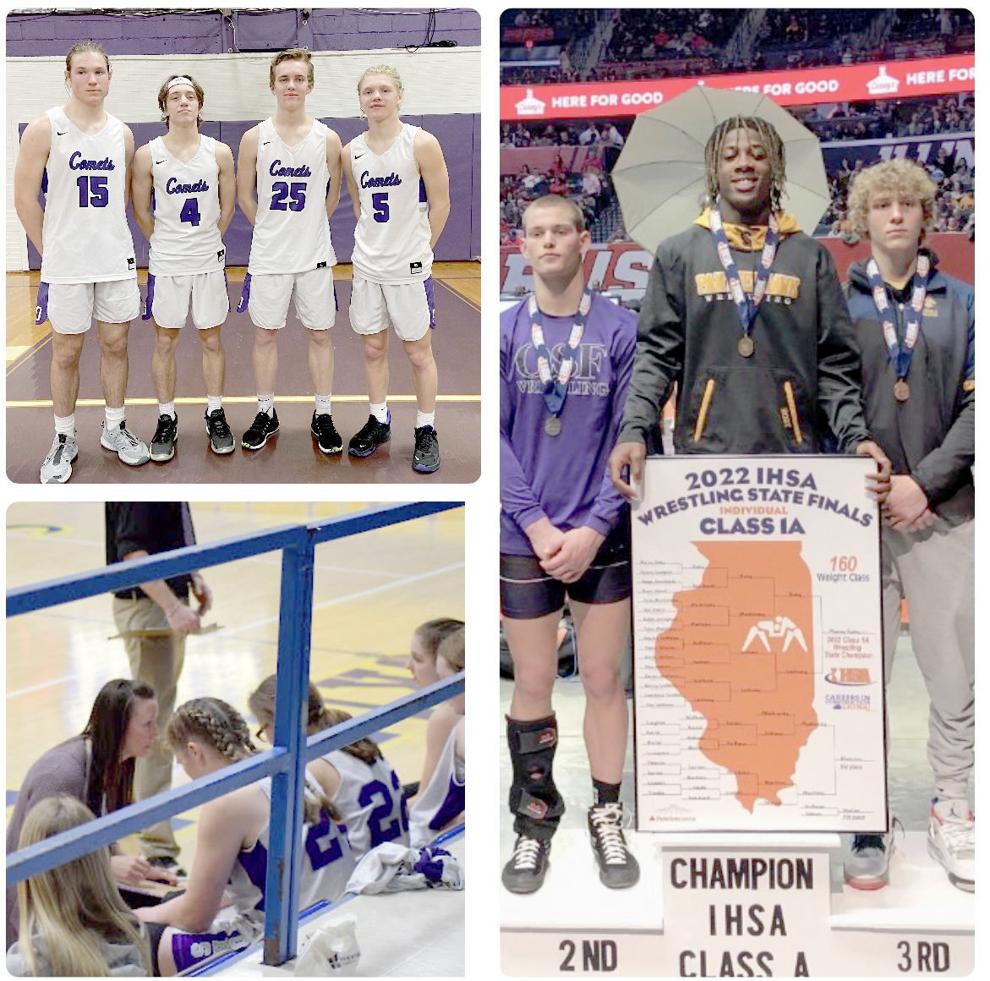 Oakwood
As boys' basketball celebrated Senior Night (left to right: Josh Young, Gaven Clouse, Austin McDaniel and Griffin Trees), girls' basketball reached the regional championship and Joe Lashuay advanced to the state championship match at IHSA wrestling.
— Madison Doan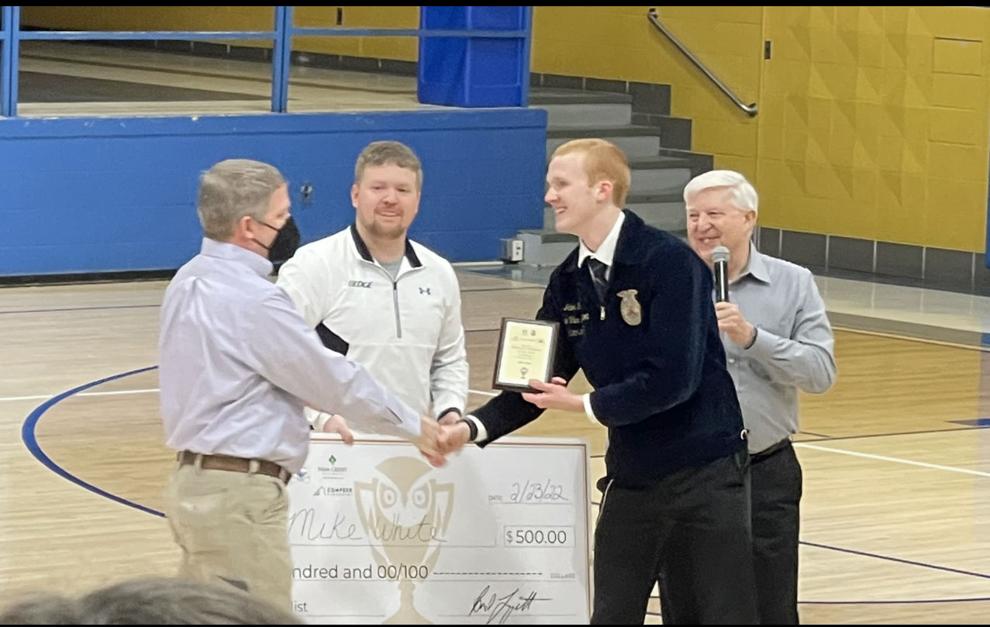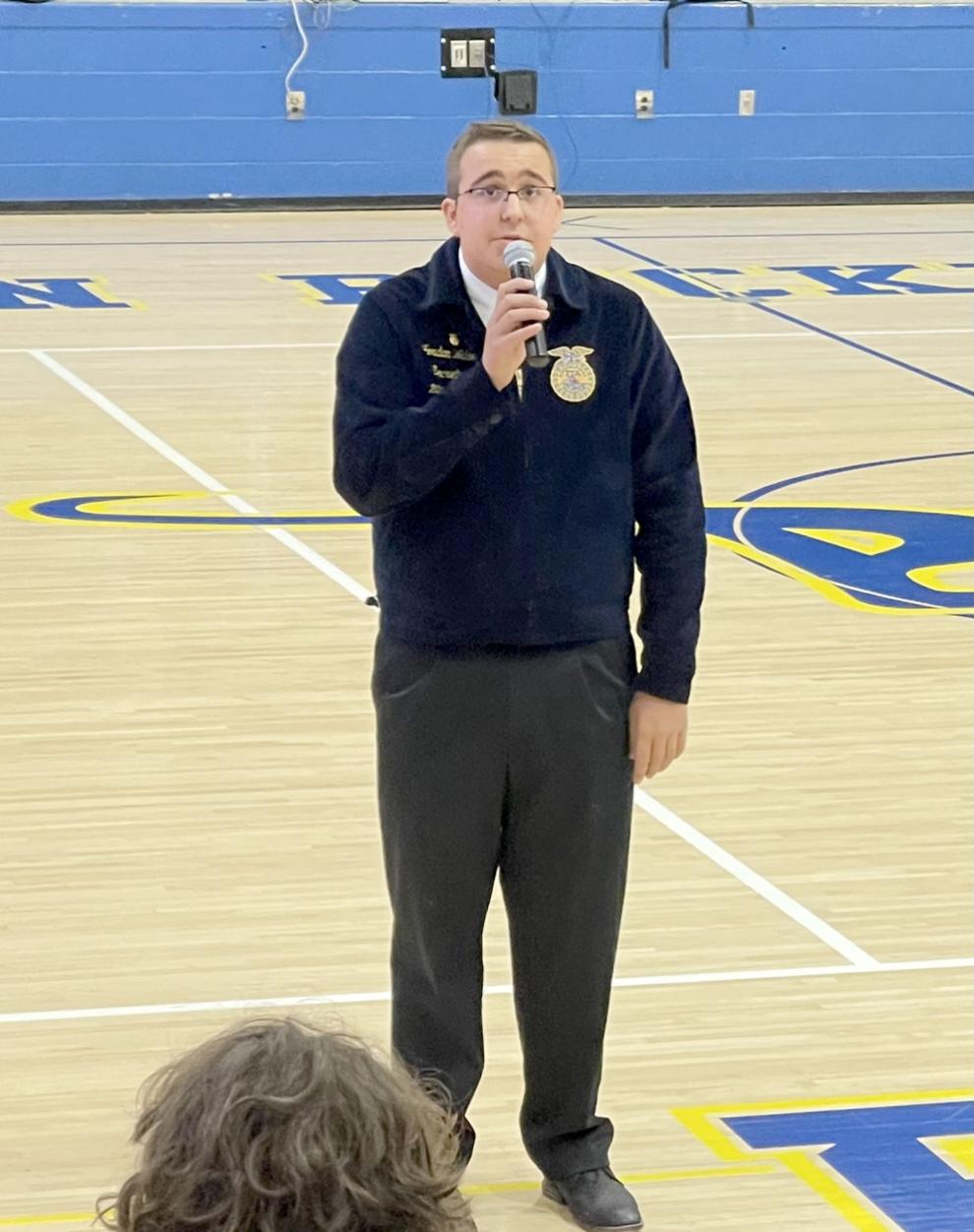 Paxton-Buckley-Loda
For National FFA Week, an assembly was held on Wednesday to celebrate the success of PBL's chapter (pictured: student Jordan Walder). Agriculture teacher Mike White was awarded the Golden Owl Award. As one of four winners in the state, he is eligible for the overall award in June.
— Sydney Murphy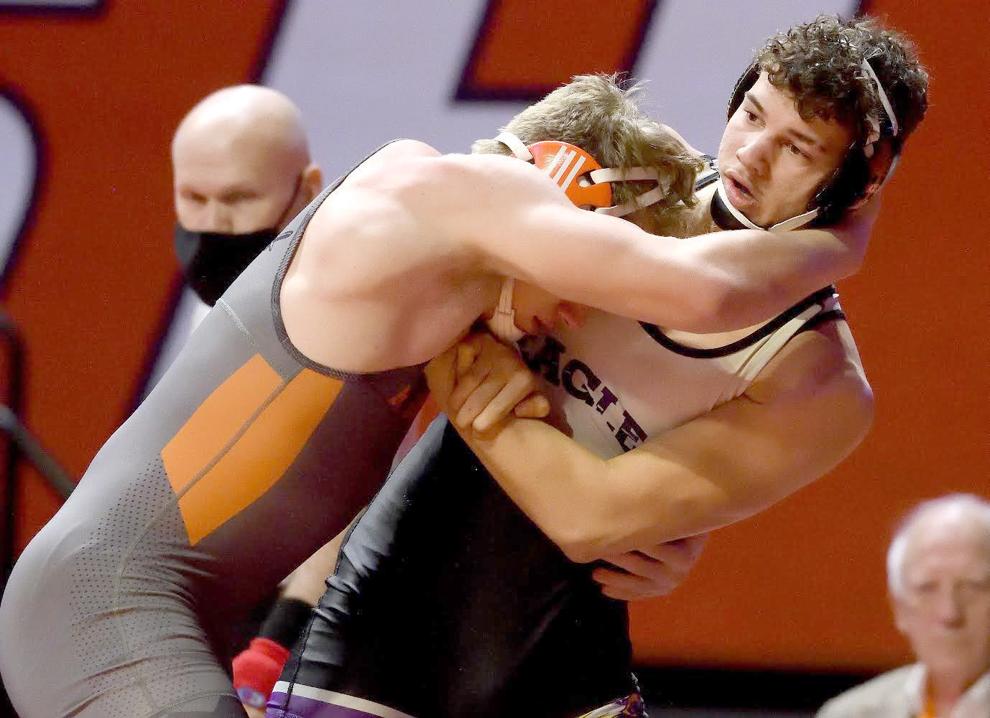 Rantoul
Keddrick Terhune showed off his talents at the IHSA state wrestling tournament in Champaign. Pictured: Terhune wrestling Macomb's Max Ryner in the Class 1A 182-pound consolation bracket last Friday. Photo courtesy Chet Piotrowski Jr. of Piotrowski Studios.
— Mary Cuppernell
St. Joseph-Ogden
Senior Kelsey Martlage signed a letter of intent to play softball Danville Area Community College. The ceremony took place in front of a backdrop set up in the commons area. Martlage brought her travel softball and high school jerseys for display.
— Regan Uden
St. Thomas More
Senior cheerleader Grace Kreps performed the national anthem at each of the boys' basketball playoff games. The Sabers are hosting regionals, winning Saturday's first-round game as well as Wednesday's semifinal.
— Bailey McMahon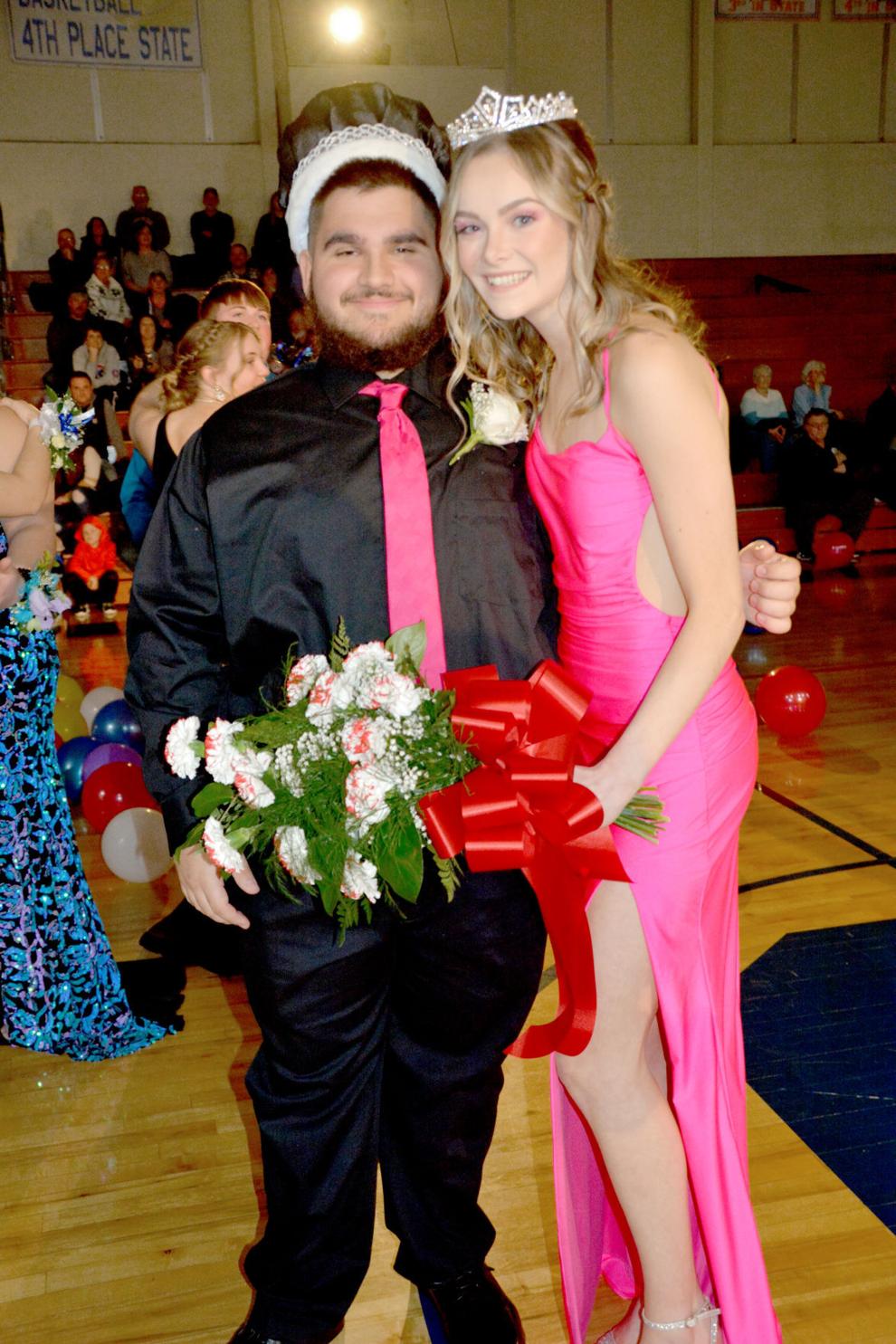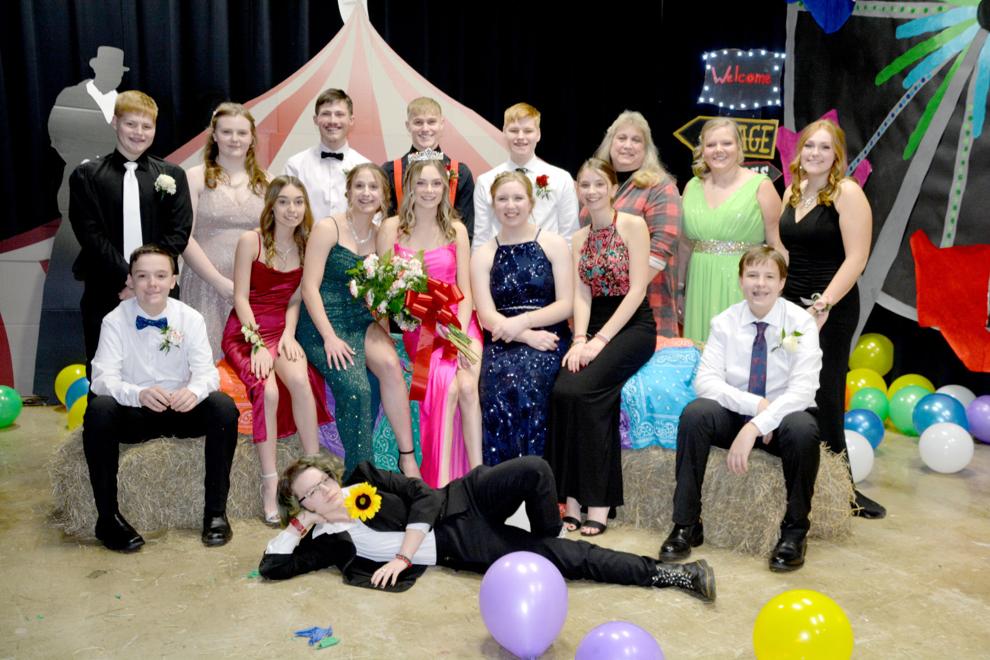 Shiloh
The king and queen for Winterfest 2022 were Caroline Smith and Timmy Keske. Student council decorated and set up the dance/coronation. Pictured, left to right: (ground) Izzy Hoth; (first row) Grant North, Kennedy Brown, Briana Reese, Caroline Smith, Lydia Richardson, Josephine Carroll and Charlie North; (second row) Jack Houlihan, Emily Milburn, Levi Eads, Jacob Smith, Andy Houlihan, Dorene Boland (student council adviser), Maddy Cary and Megan Houlihan.
— Josephine Carroll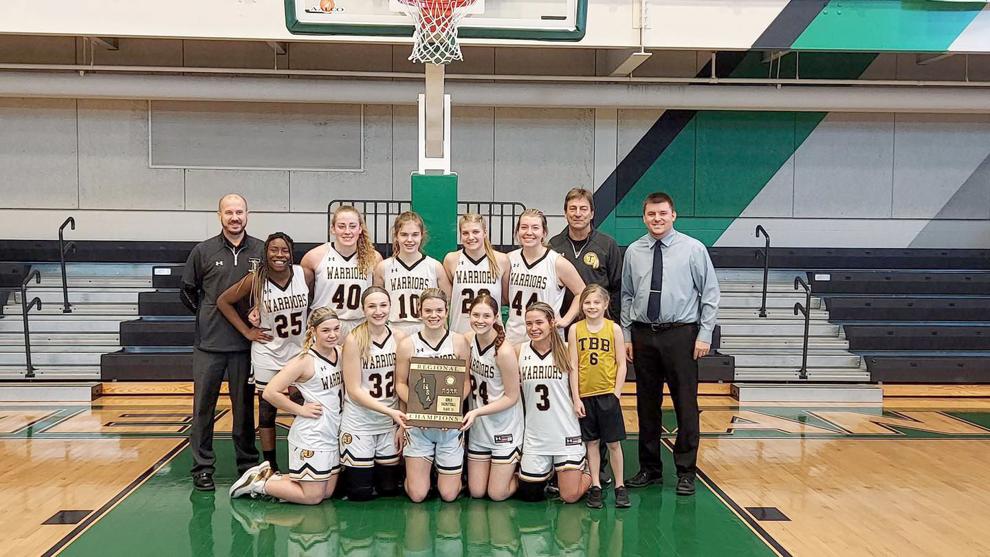 Tuscola
The girls' basketball team beat Moweaqua Central A&M for the 14th regional title in school history. Pictured, left to right: (front row) Ava Boyer, Sophie Kremitzki, Taylor Musgrave, Maddie Stahler, Ella Boyer and Mia Bozarth; (back row) coach Justin Quick, Lia Patterson, Sydney Moss, Harley Woodard, Isabelle Wilcox, Molly Macaulay, coach Tim Kohlbecker and coach Mike Rosenbaum.
— Amelia Bosch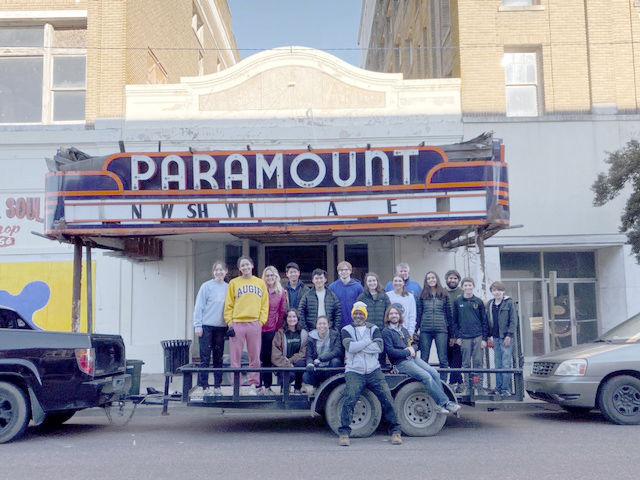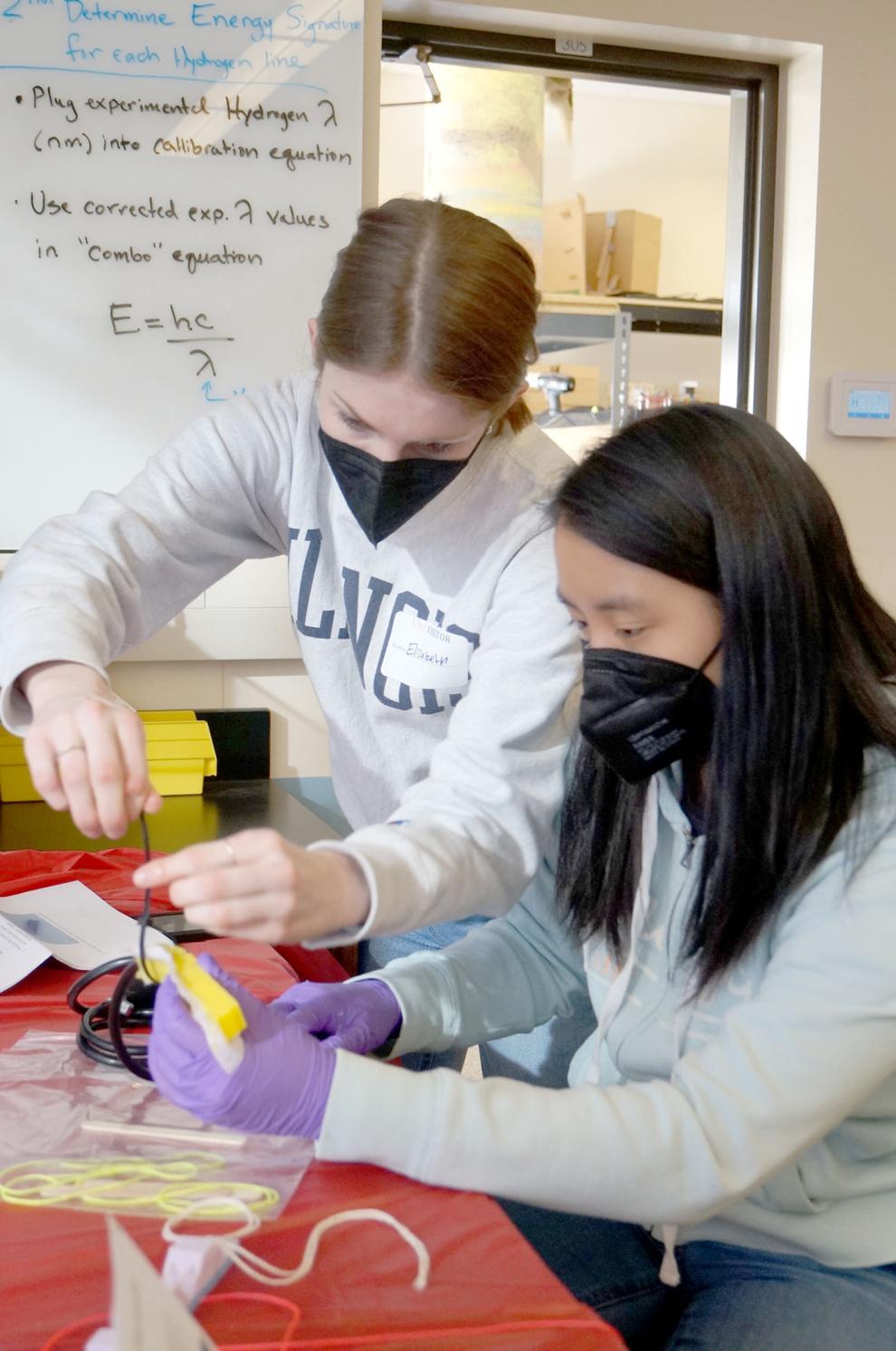 Uni High
During the annual Agora Week (Feb.15-18) — one of the most exciting times of the school year — normal lectures and homework are replaced with unique, fun classes taught by anyone from the Uni community. Students, parents, faculty and even University of Illinois professors seized the opportunity — from assisting kindergarteners with their science projects to conducting cooking and video games courses to technology electives (senior Lynette Zhang works on robots in class). Also, Habitat for Humanity and Spring Initiative chapters (Sprabitat) saw a dozen students use the week to visit Clarksdale, Miss., to help build houses for those in need (pictured: students at the Paramount Theatre in Clarksdale).
— Aakash Vasireddy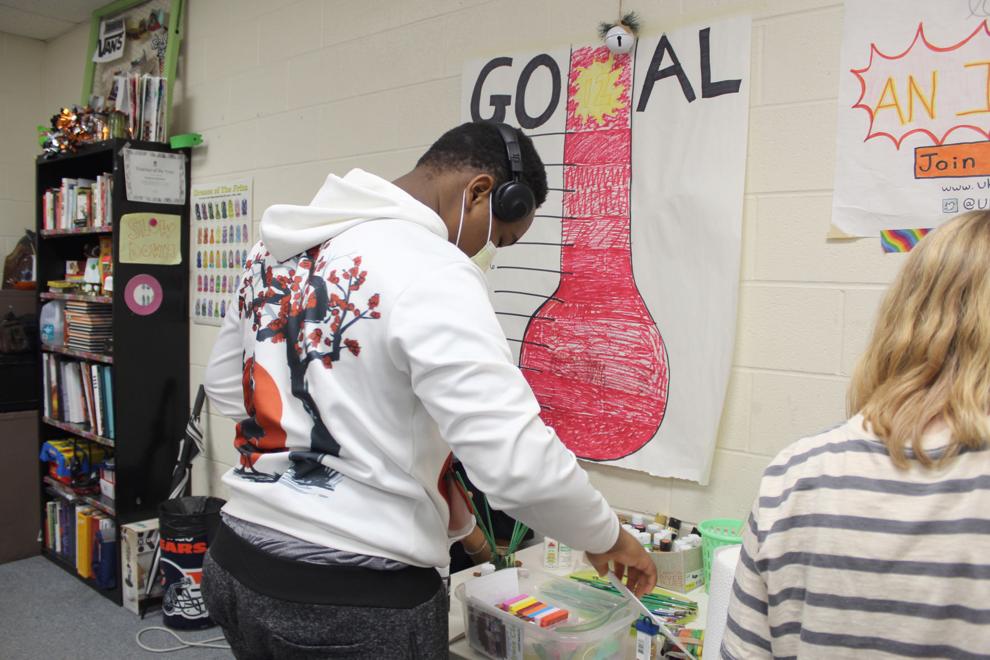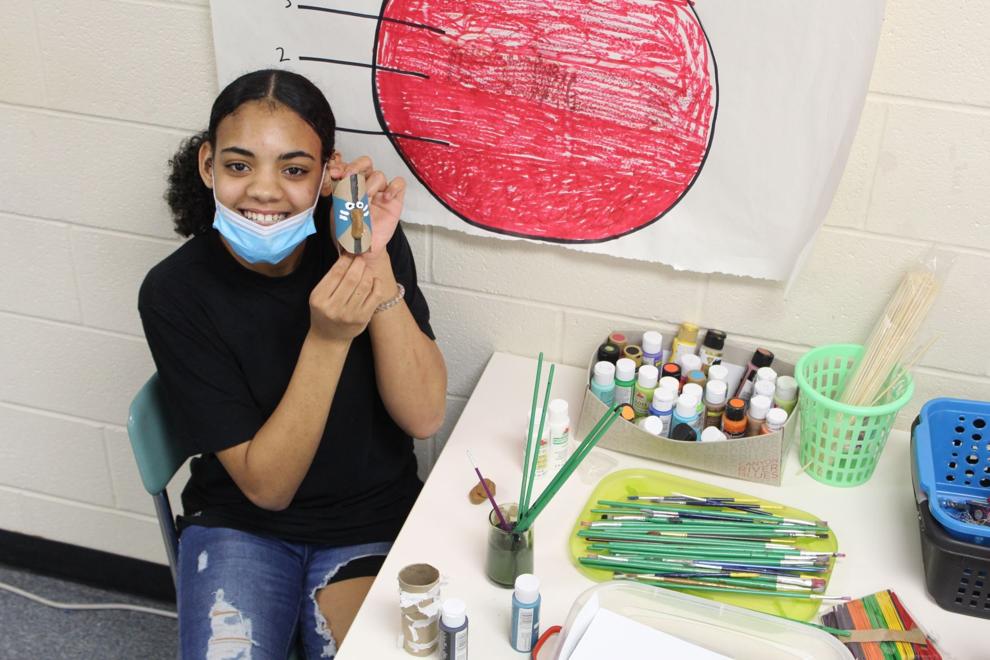 Urbana
To celebrate Black History Month, students in World Studies English created a visual to accompany a research project on a topic of their choosing. Sophomore Jasmine McCullough researched the uses of ceremonial masks by the Ibo people of Nigeria and crafted a mask based on one displayed at the National Museum of African Art. Juniors Mifrael Nkwadi and Ceonee Moore stopped by during their lunch to join in.
— Park Mitchell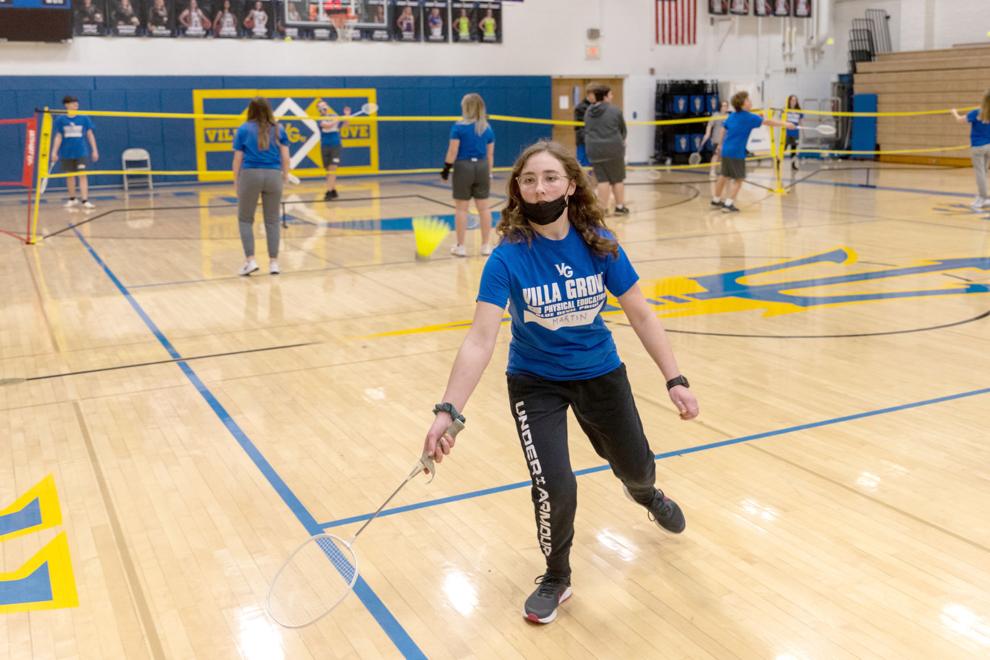 Villa Grove
Physical education classes have started playing badminton, a favorite among students. Next week starts the annual schoolwide badminton tournament. Pictured: Peyton Martin reaching for a birdie that is nearly in the 'kitchen.'
— Molly Little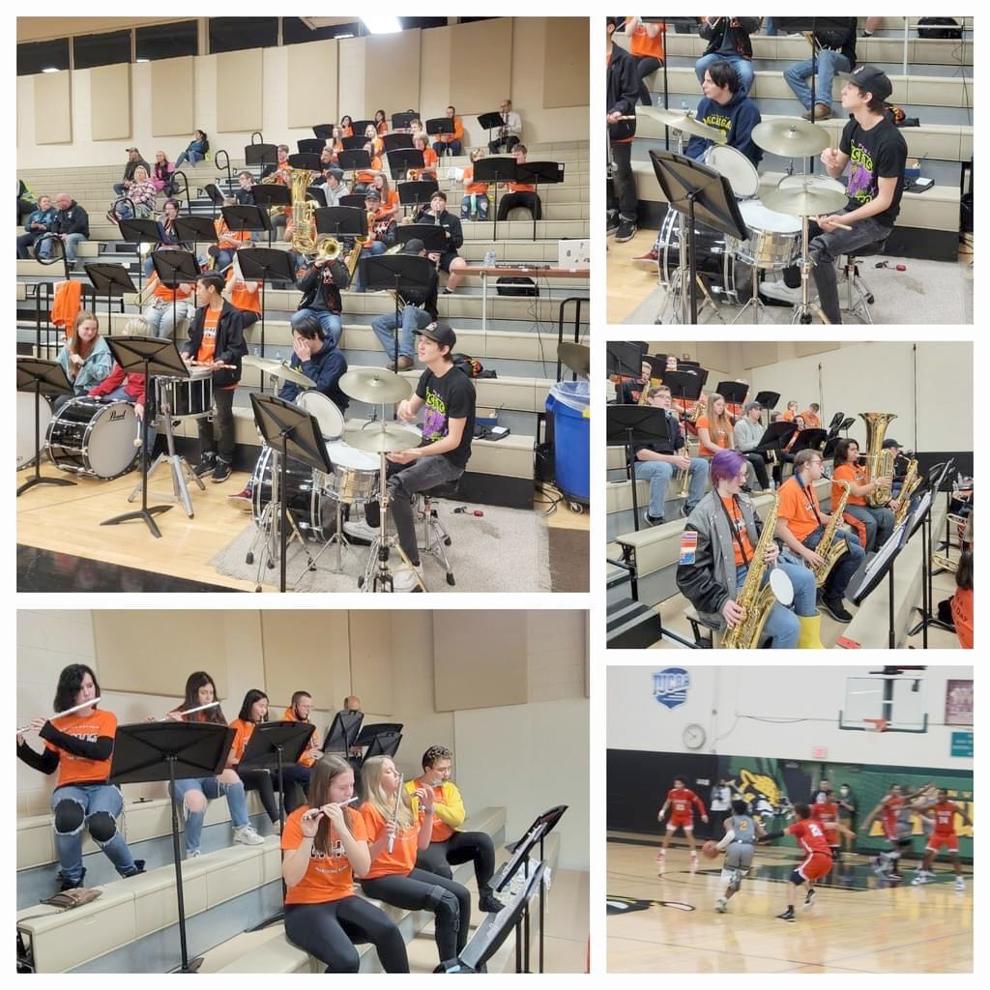 Westville
The pep band, led by band teacher Melissa Pinter, provided entertainment at the Danville Area Community College men's and women's basketball games on Feb. 16.
— Bryce Burnett