2021-22 High School Confidential: Week 4
Welcome to Year 6 of High School Confidential, an award-winning project made possible by aspiring student journalists from every corner of our circulation area. Each Friday through May, they'll tell us what's happening in their hallways at news-gazette.com.
Once a week, we'll also hand over our Snapchat account (News-Gazette) to our correspondents for behind-the-scenes tours. Today, we're at Hoopeston Area for homecoming.
Feeback? Email N-G/VP Jim Rossow at jrossow@news-gazette.com.
This year's panel:
Academy High: William Ding
ALAH: Sarah Rafferty
Arcola: Ariana Carmona
Armstrong: Mattie Kennel
Bement: Addie Fritz
BHRA: Paili Davis
Blue Ridge: Sarah Whitehouse
Centennial: Montez Dubose
Champaign Central: Lucy Moss
Chrisman: Reese Anderson
Cissna Park: Emma Morrical
Danville: Kedzie Griffin
DeLand-Weldon: Kaitlyn Sayers
Fisher: Krista Martin
Georgetown-Ridge Farm: Chloe Brock
Gibson City-Melvin-Sibley: Emily Hood
Heritage: Torie Rothermel
Hoopeston Area: Emily Ray
Judah Christian: Kaitlyn Januzik
LeRoy: Kelsey Graves
Mahomet-Seymour: Tinley Peters
Milford: Alivia Schmink
Monticello: Clara Rudolph
Oakwood: Madison Doan
Paxton-Buckley-Loda: Sydney Murphy
Rantoul: Mary Cuppernell
St. Joseph-Ogden: Regan Uden
St. Thomas More: Bailey McMahon
Salt Fork: Olivia Birge
Scharlman: Evan Sherer
Shiloh: Josephine Carroll
Tuscola: Amelia Bosch
Uni High: Aakash Vasireddy
Unity: Maddie Reed
Urbana: Park Mitchell
Villa Grove: Molly Little
Westville: Bryce Burnett
On to this week's report: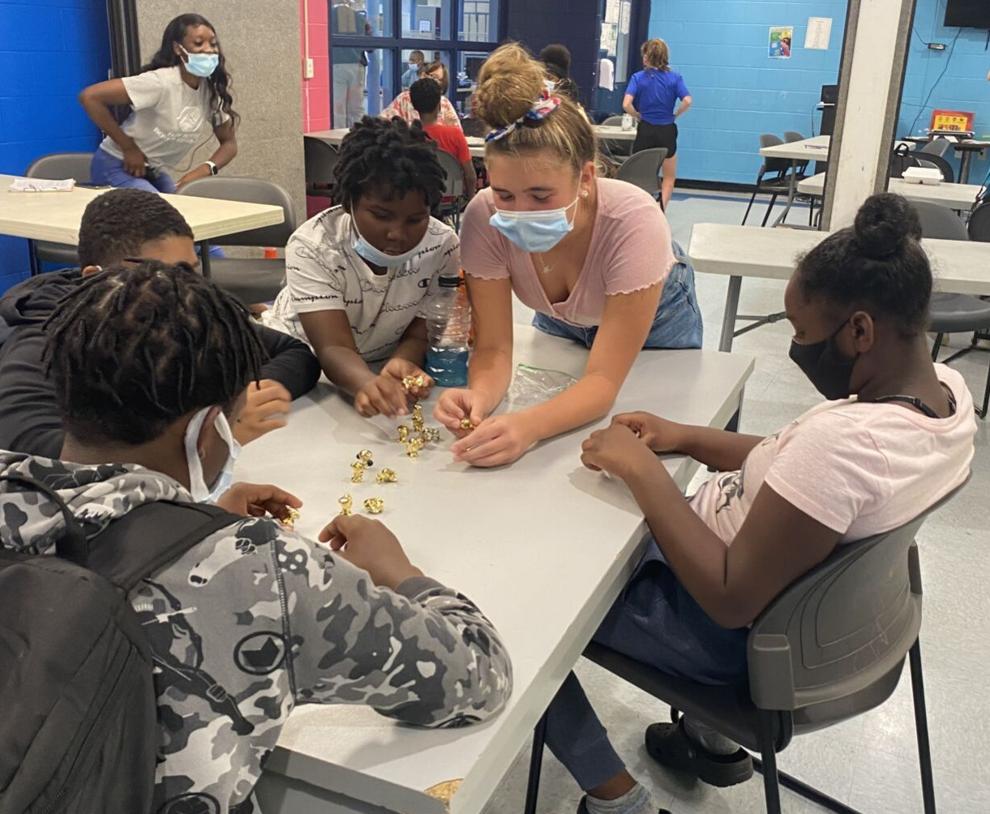 Academy High
The school's service club, the Caring Crew, led a STEM activity with Don Moyer Boys & Girls Club students, collaborating and creating short films. Pictured: Keagan Marie Markun helping out.
— William Ding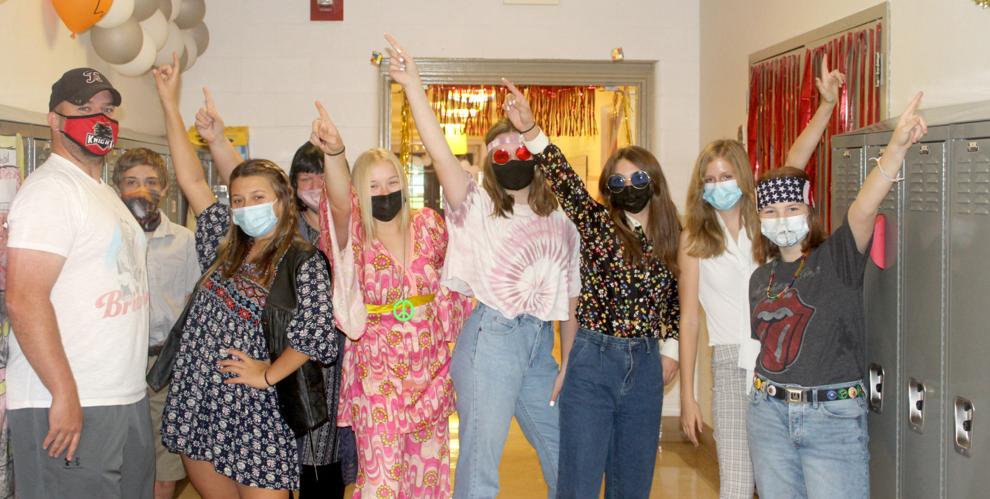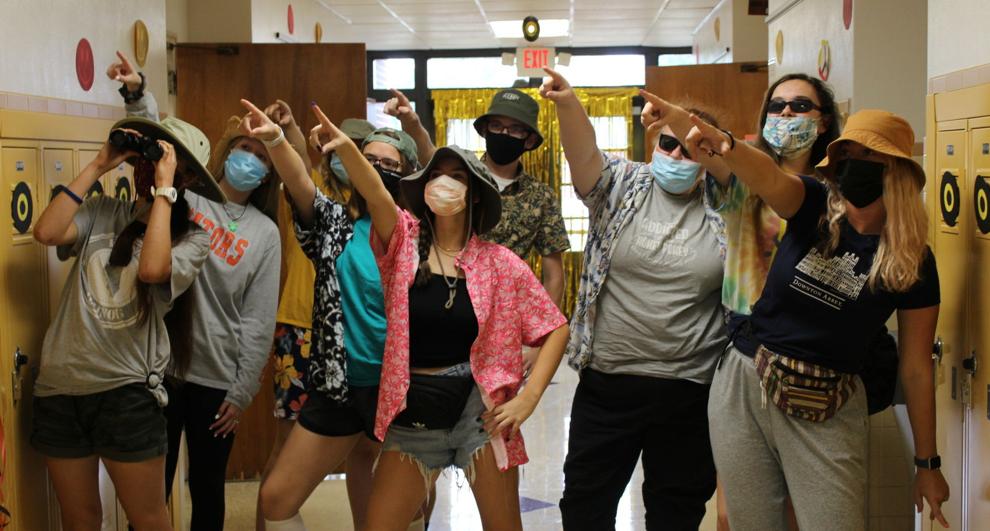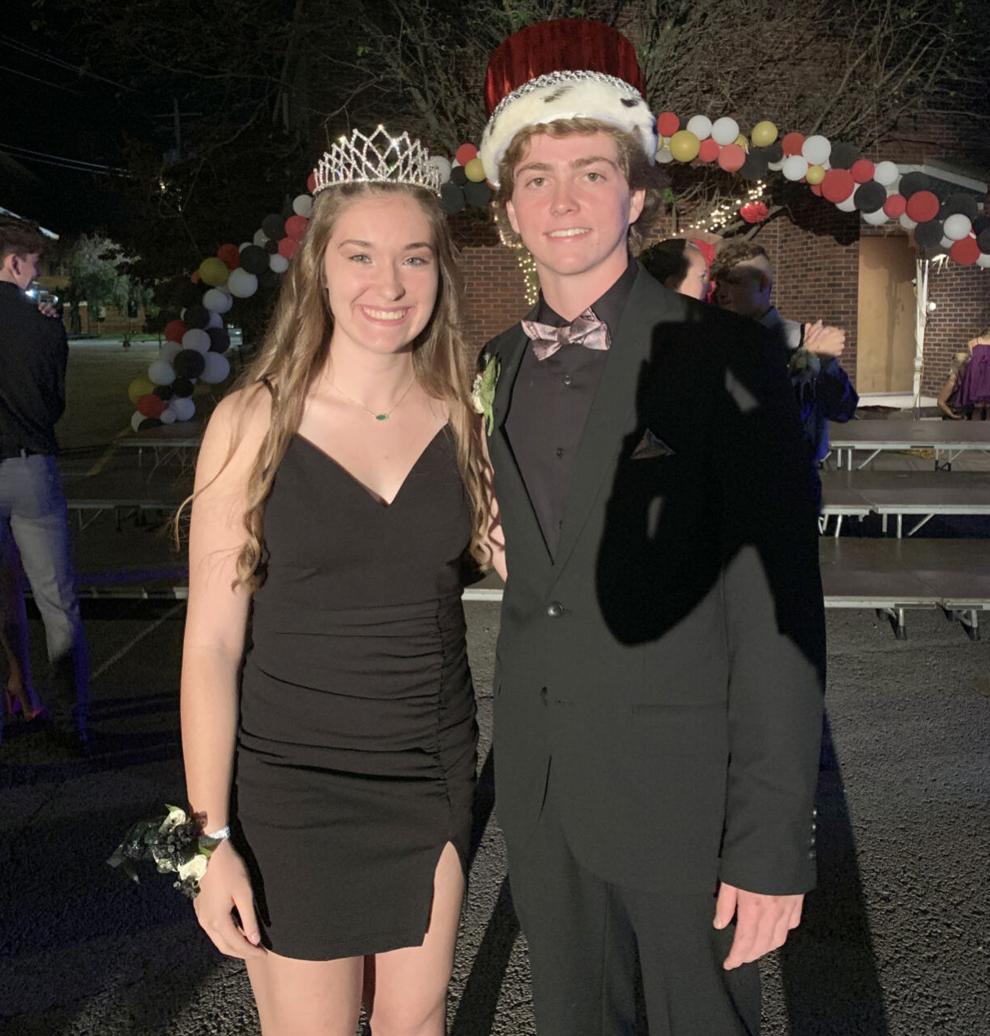 ALAH
To close out a fun homecoming week full of dressup days such as Tacky Tourist Tuesday and Decades Day Thursday, Quentin Day and Michaela Powell were crowned king and queen Saturday night.
— Sarah Rafferty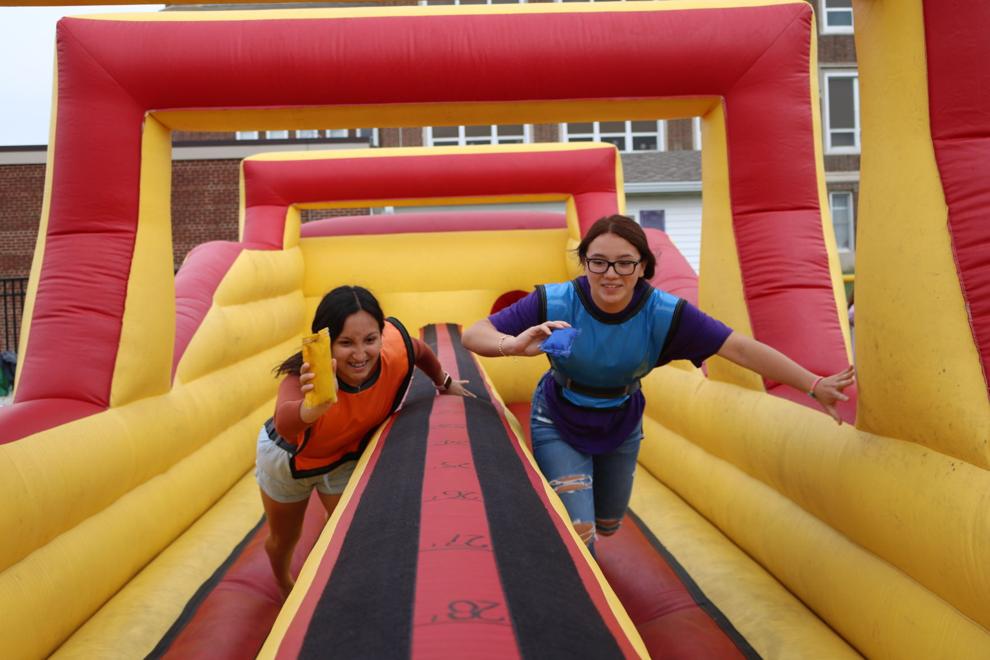 Arcola
Melanie Martinez and Yoseline Gauna race during last Friday's first-quarter celebration outside the school for students in grades 7-12.
— Ariana Carmona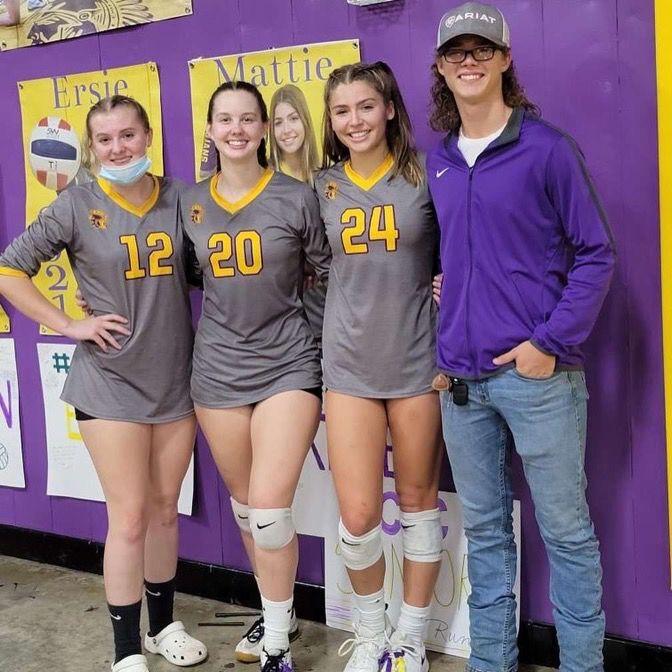 Armstrong
On Oct. 5, the school celebrated Senior Night for volleyball and cross country. Pictured, left to right: Ersie Cooper, Madelyn Hudson, Mattie Kennel and Joshua Goulding. Not pictured: Carlyn Crozier.
— Mattie Kennel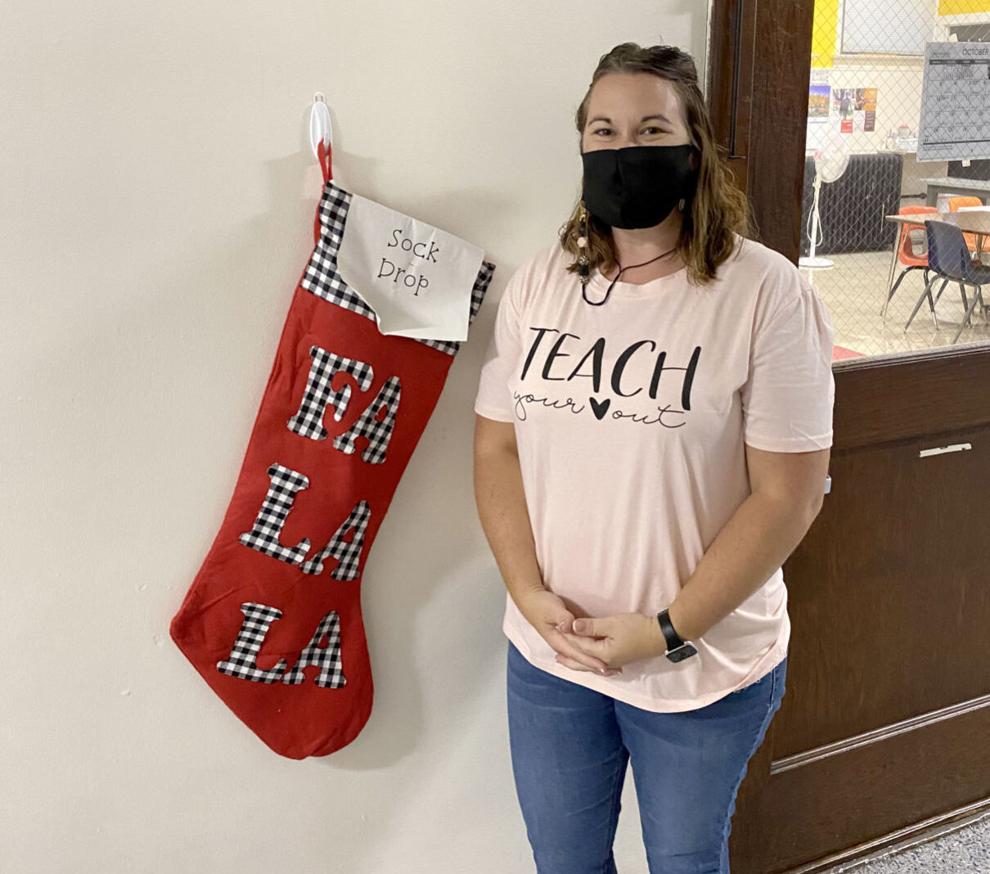 Bement
Every October, Family, Career and Community Leaders of America (FCCLA) puts on a sock drive to help provide for families in need. Students drop packages of socks off during school hours in the stocking. Pictured: FCCLA sponsor Angie Corum.
— Addie Fritz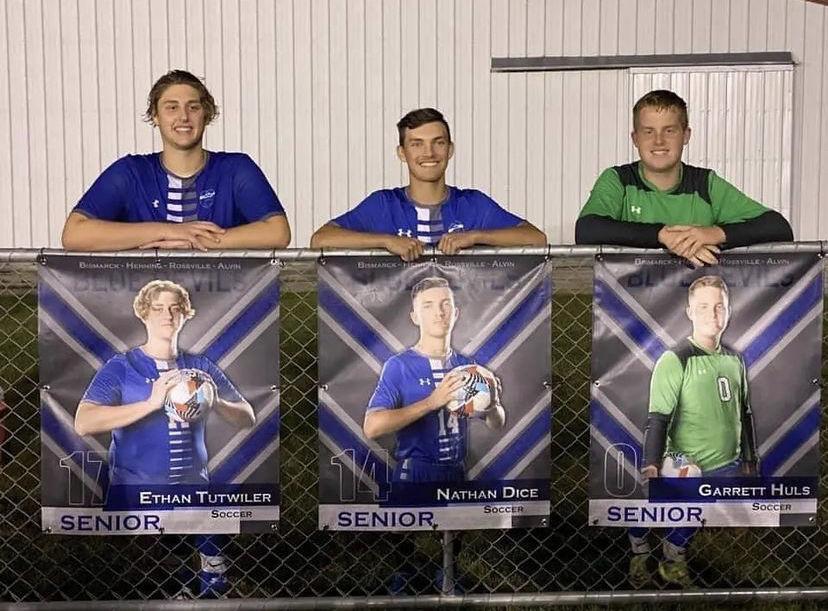 BHRA
Soccer celebrated Senior Night on Oct. 4, Ethan Tutwiler, Garrett Huls and Nathan Dice recognized for having a great season. Huls broke the record for most saves in a season (187; previous mark was 156).
— Paili Davis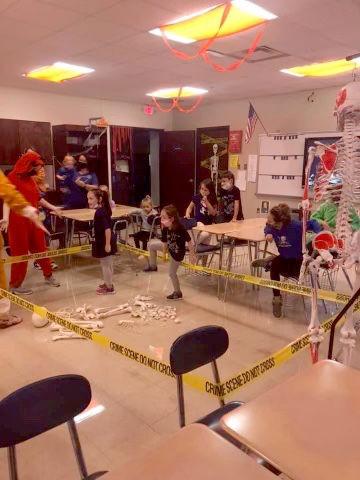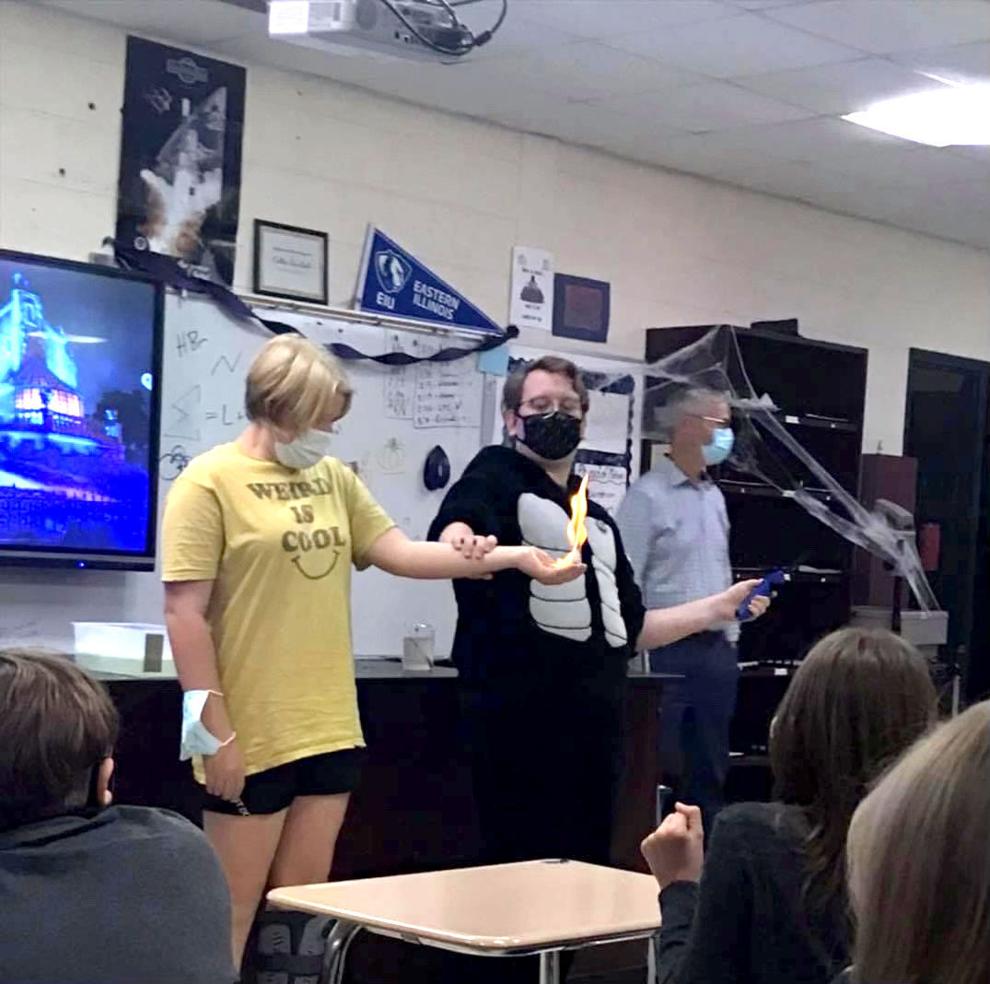 Blue Ridge
On Oct. 7, STEM Club invited students to engage in a spooky night of science. The Spooktacular included a crime scene and a costume contest. Students also participated in =science experiments. Pictured: Science teacher Cullen Scurlock lights a student on fire.
— Sarah Whitehouse
Centennial
Students were happy to hear that homecoming was rescheduled for Saturday, Jan. 22. This year's king and queen: seniors Brady Boatright and Hannah Stickels.
— Montez Dubose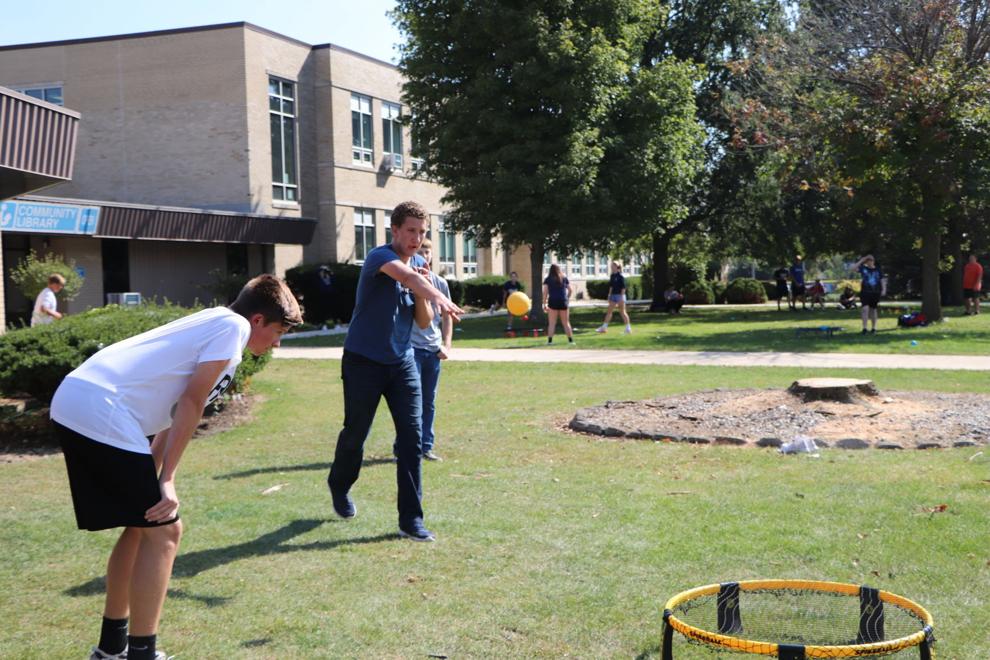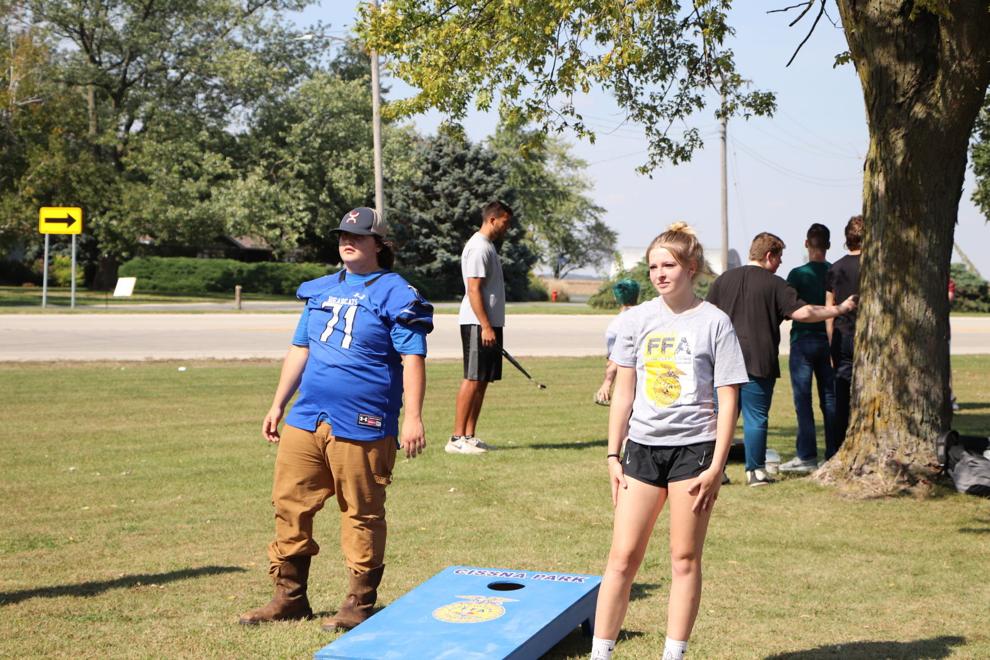 Cissna Park
Last Friday, students got out of class — and enjoyed a mask break — for the last two periods for Yearbook Games: spikeball and bags tournament followed by a trip to the black top where they played knockout and a hula hoop game.
— Emma Morrical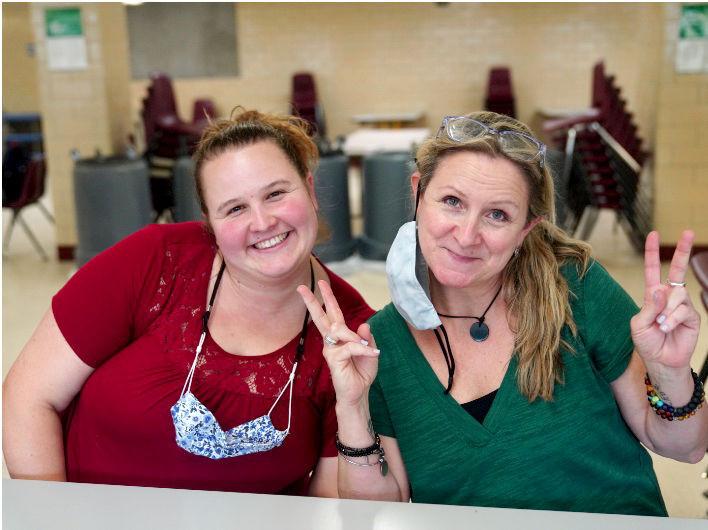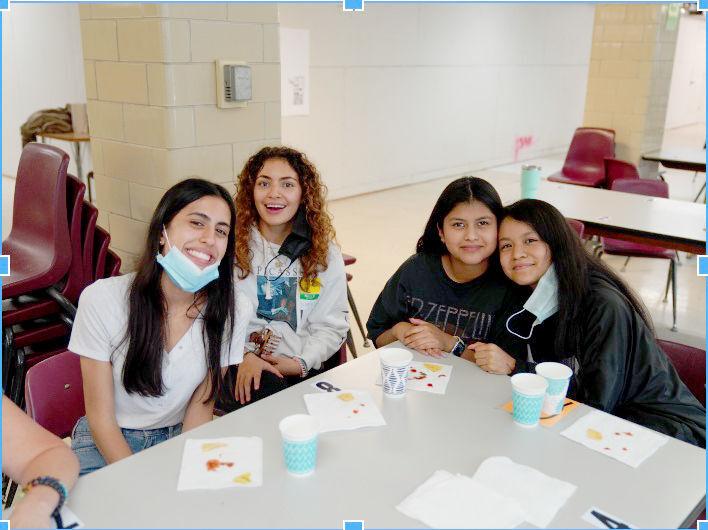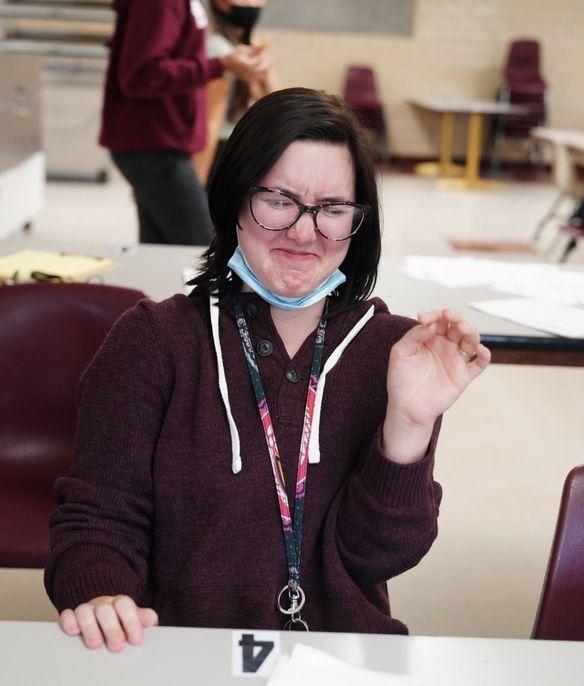 Champaign Central
Spanish Club had a hot sauce eating contest based on the show Hot Ones. Participants tested their tolerance by tasting increasingly spicier sauces and, while some were able to take the spice, others sweated their way through. Pictured, left to right: Narmeen Chahal, Kaylee Mulcahey (president of Spanish Club), Paulina Reynoso-Ixcoy and Maricela Mata-Villa (vice president); Spanish teachers Erin Cornelius and Veronica Thompson, cool under pressure; and Spanish teacher Caitlyn Vanderbeek feeling the heat.
— Lucy Moss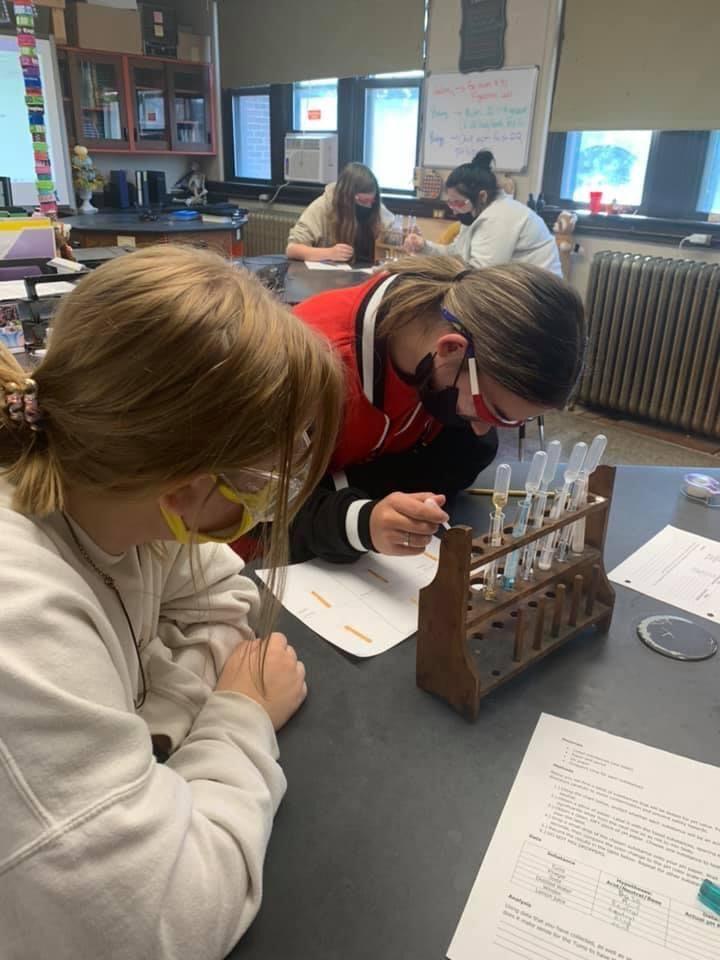 Chrisman
Jennifer Lorton's biology class took part in a biochemistry lab, always fun for freshmen. Pictured: Sabrina Boyer and Briana Barna.
— Reese Anderson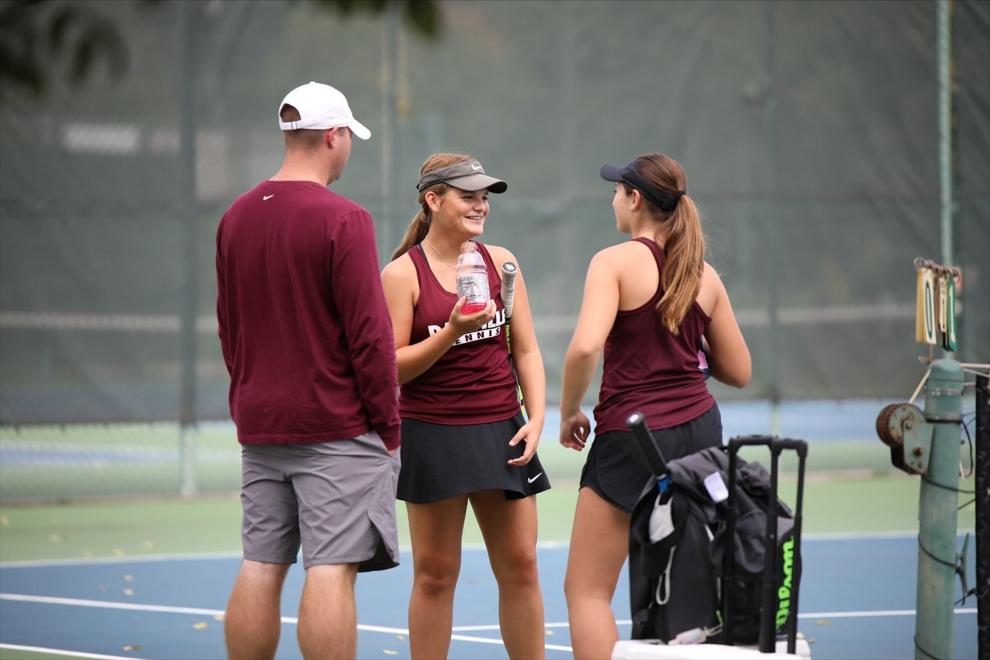 Danville
The girls' tennis team won the Big 12 conference tournament. Individual winners included Ava Towne, Brooklynn Behrens, Cici Brown and Reese Rundle. Doubles teams of Josie Hotsinpiller and Towne as well as Brown and Rundle also won.
— Kedzie Griffin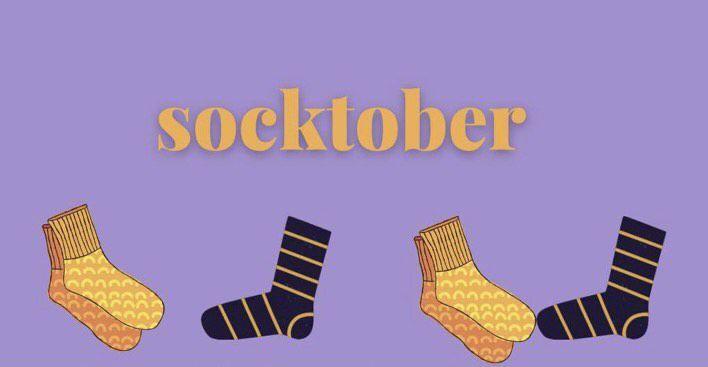 Fisher
Students are participating this month in Socktober. Since socks are one of the most requested items at homeless shelters, the school is collecting new pairs of adult socks to donate to places of need in Champaign-Urbana.
— Krista Martin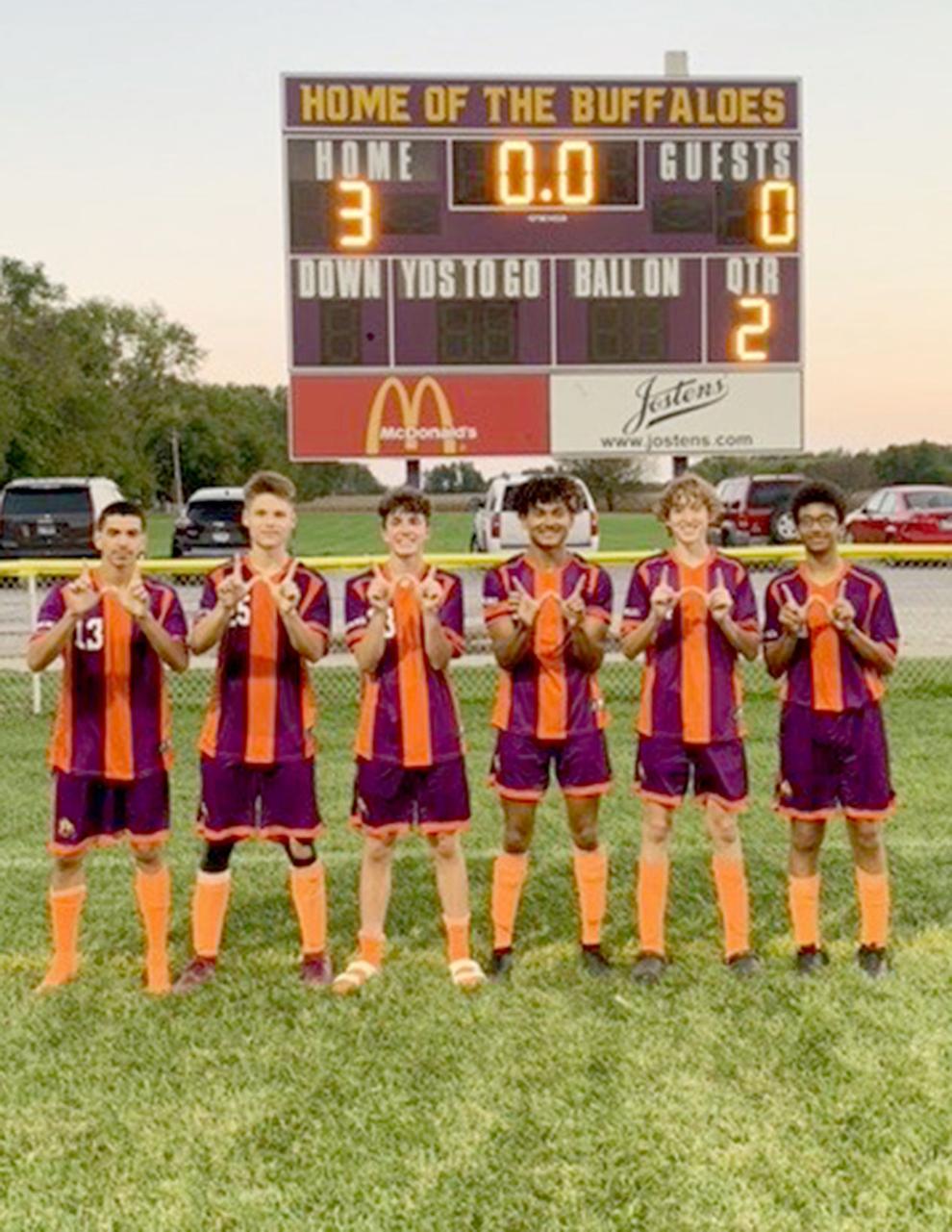 Georgetown-Ridge Farm
The GRF/Westville boys' soccer team beat Iroquois West 3-0 on Senior Night. Seniors honored, left to right: Dayton Grant, Chaz Howe (Westville), Zander Hughes (Westville), Jace Bina, Hayden Stal and Seth Brown.
— Chloe Brock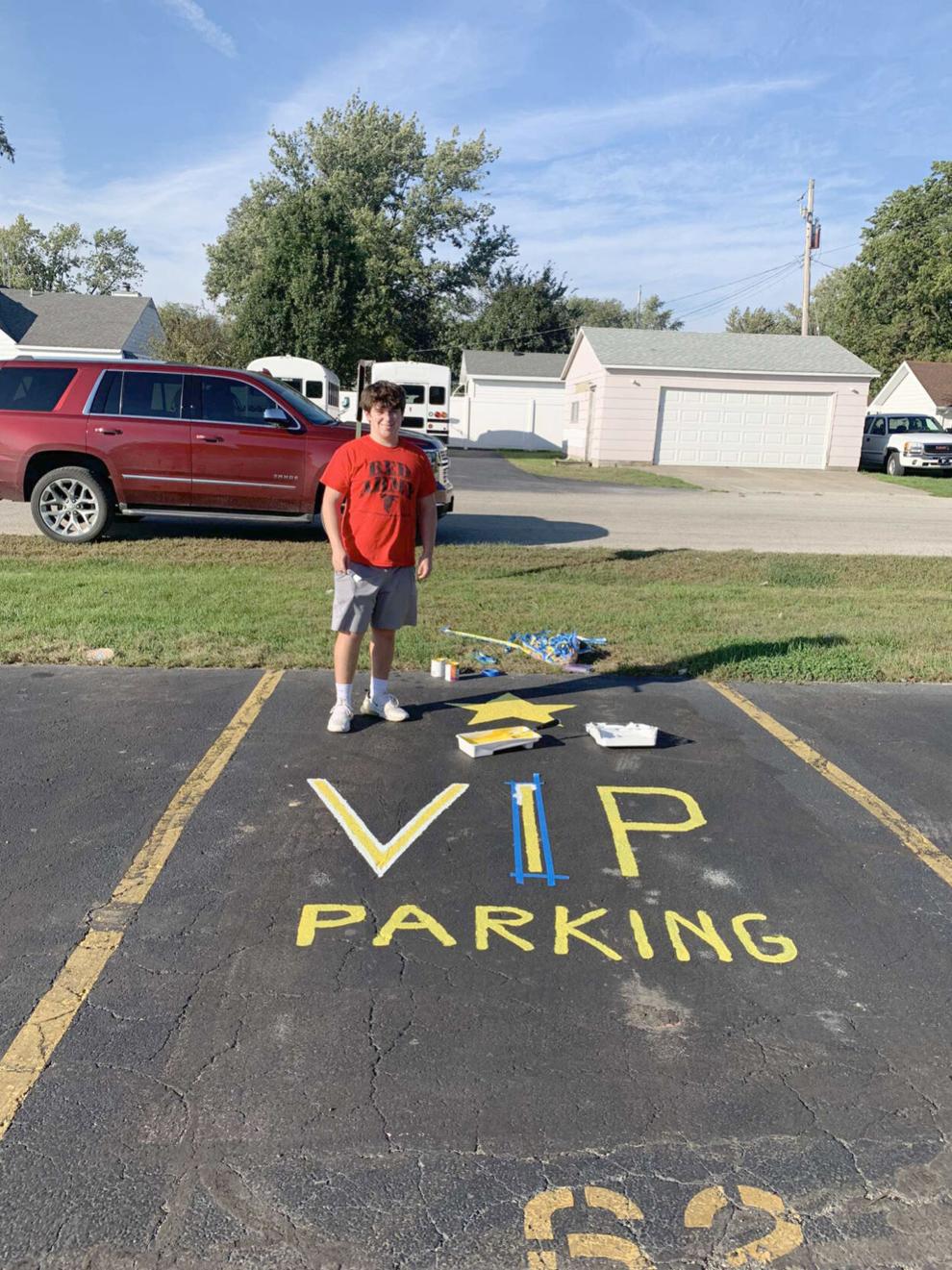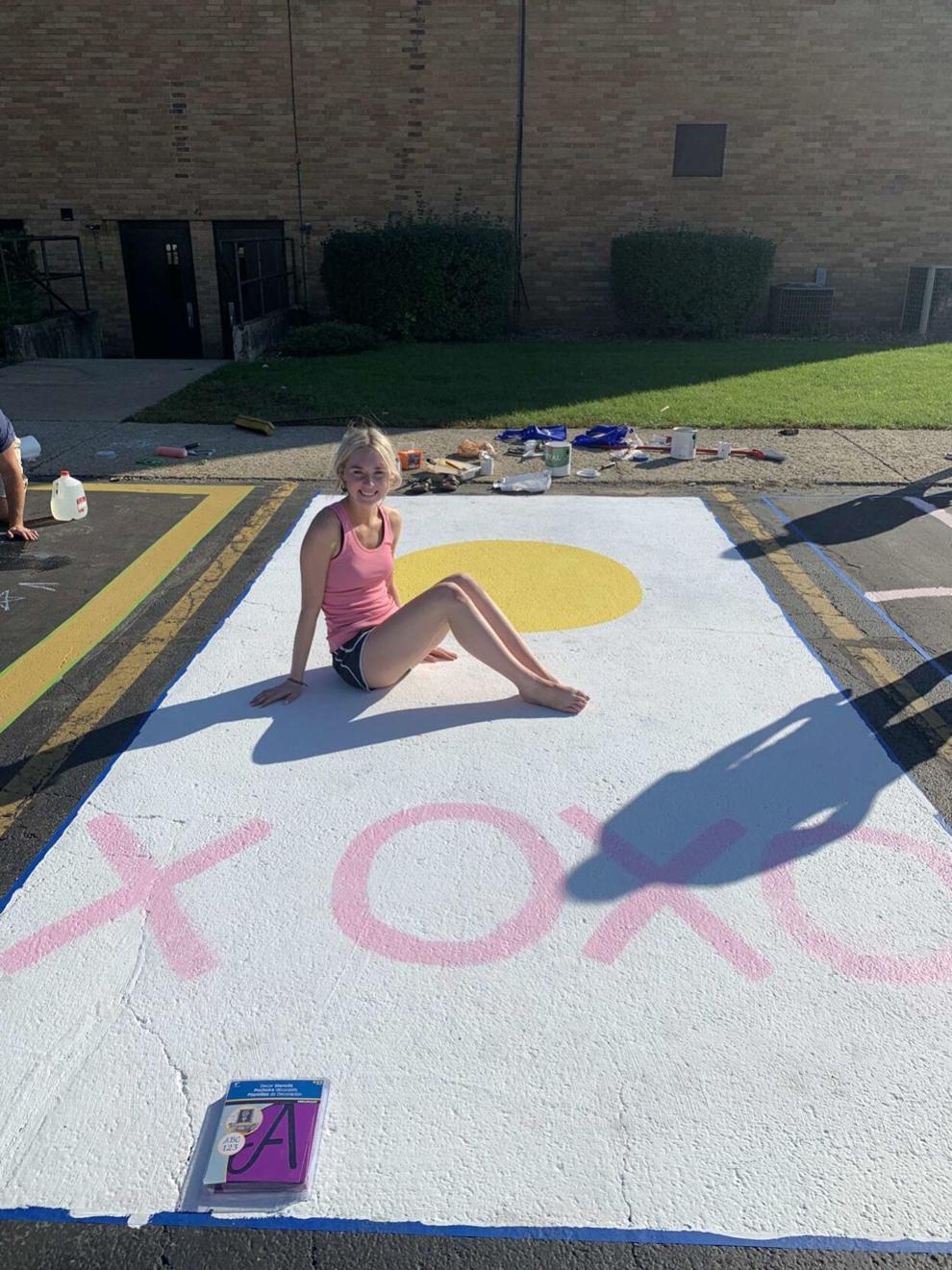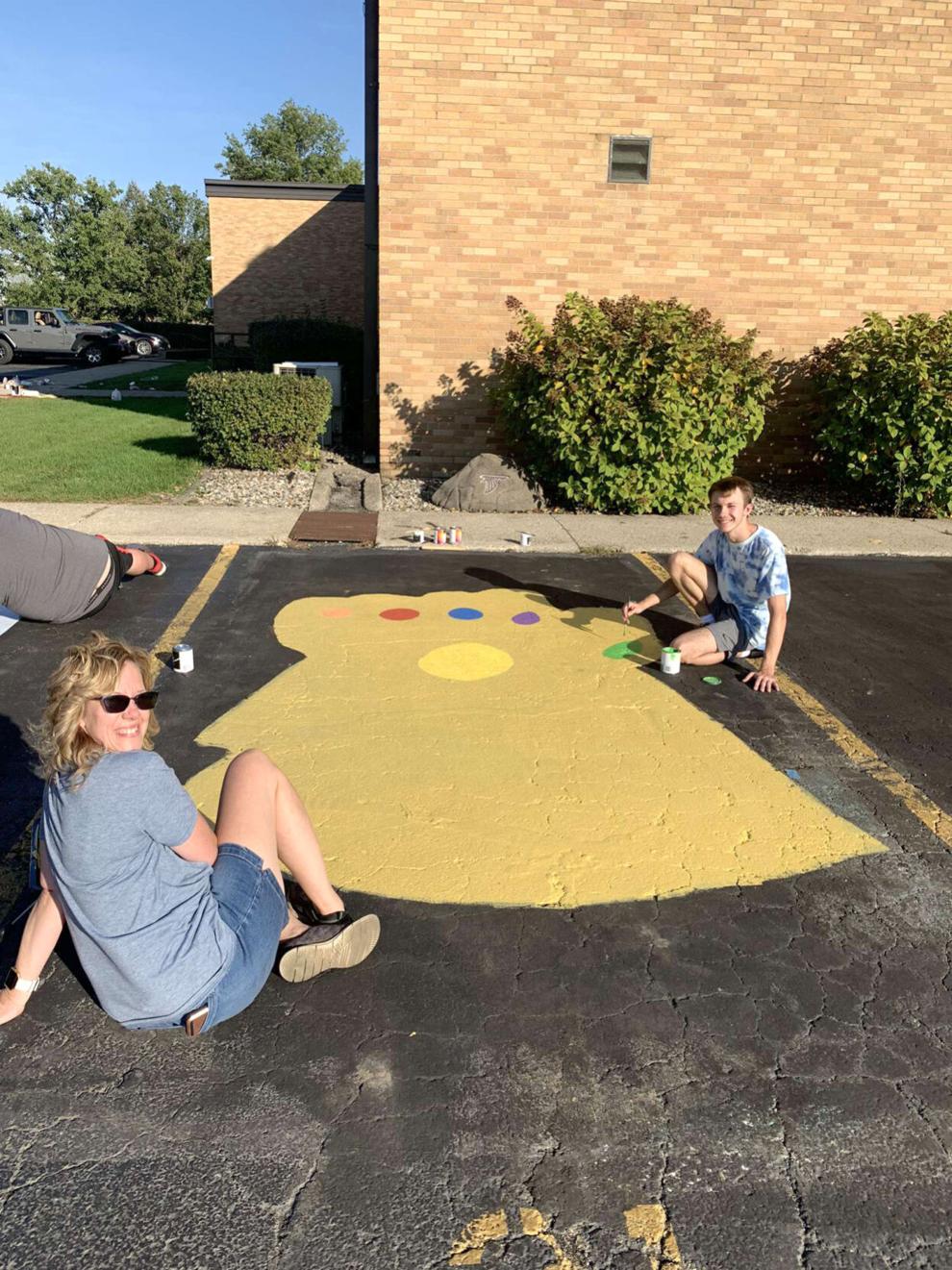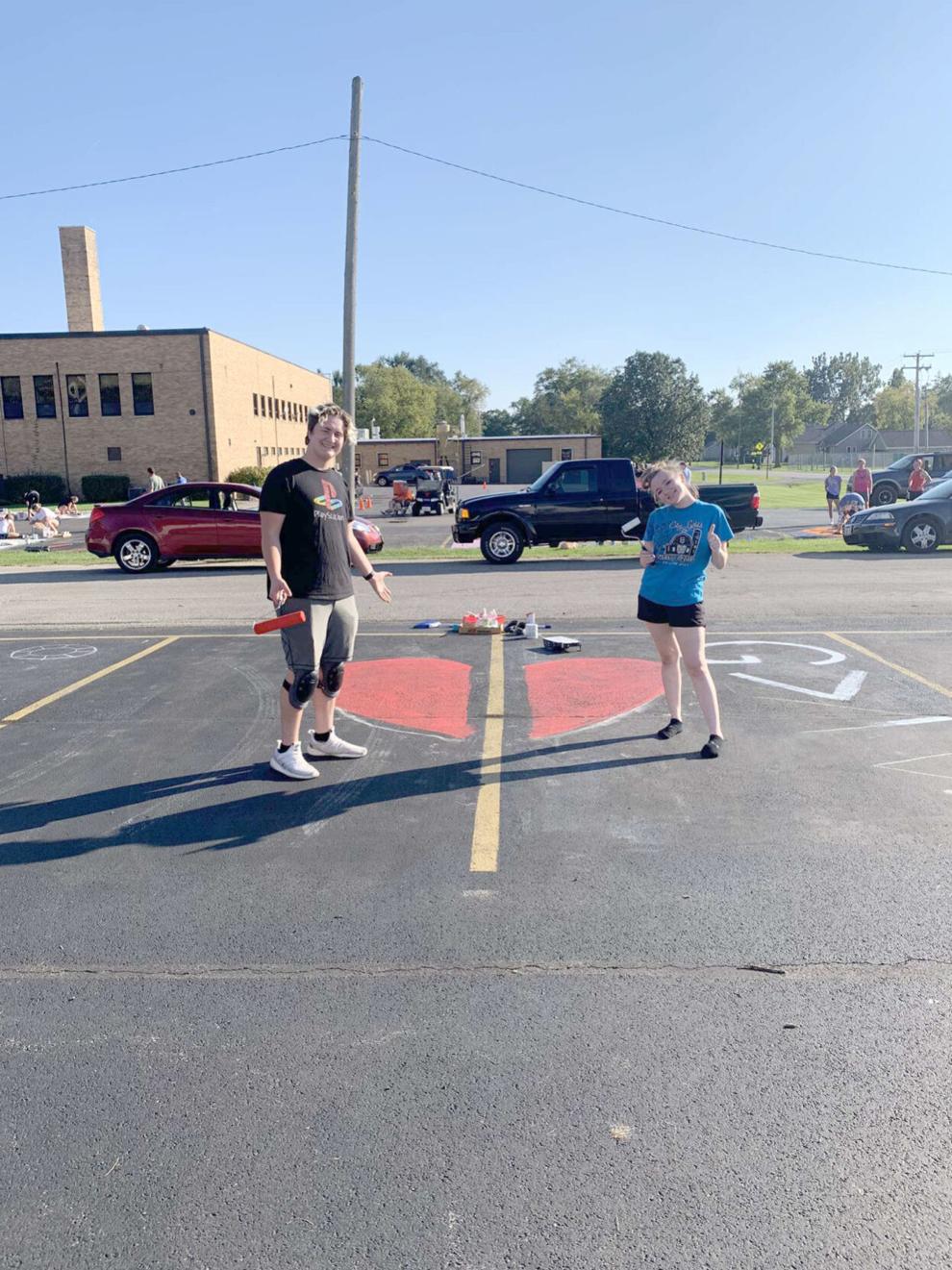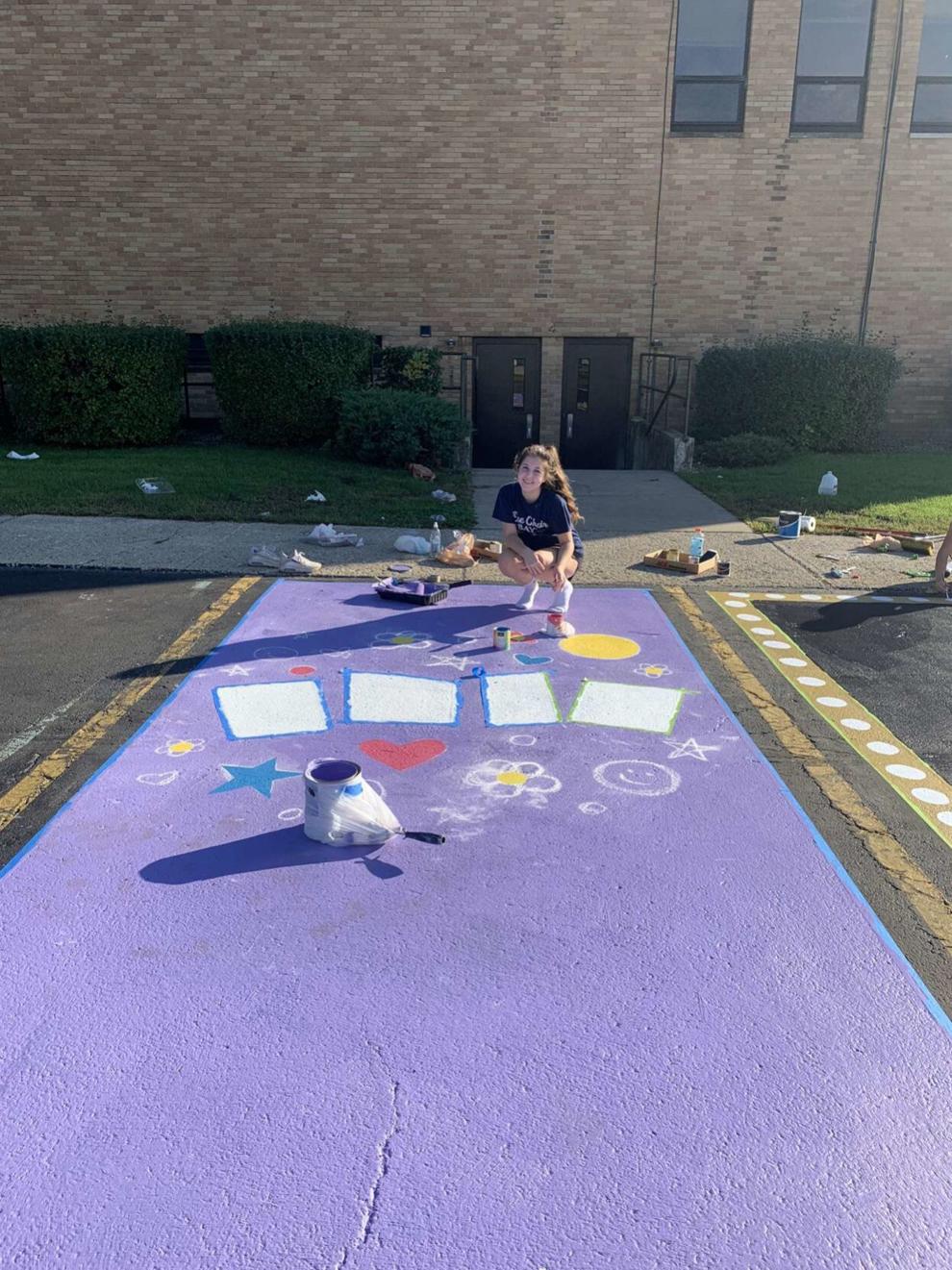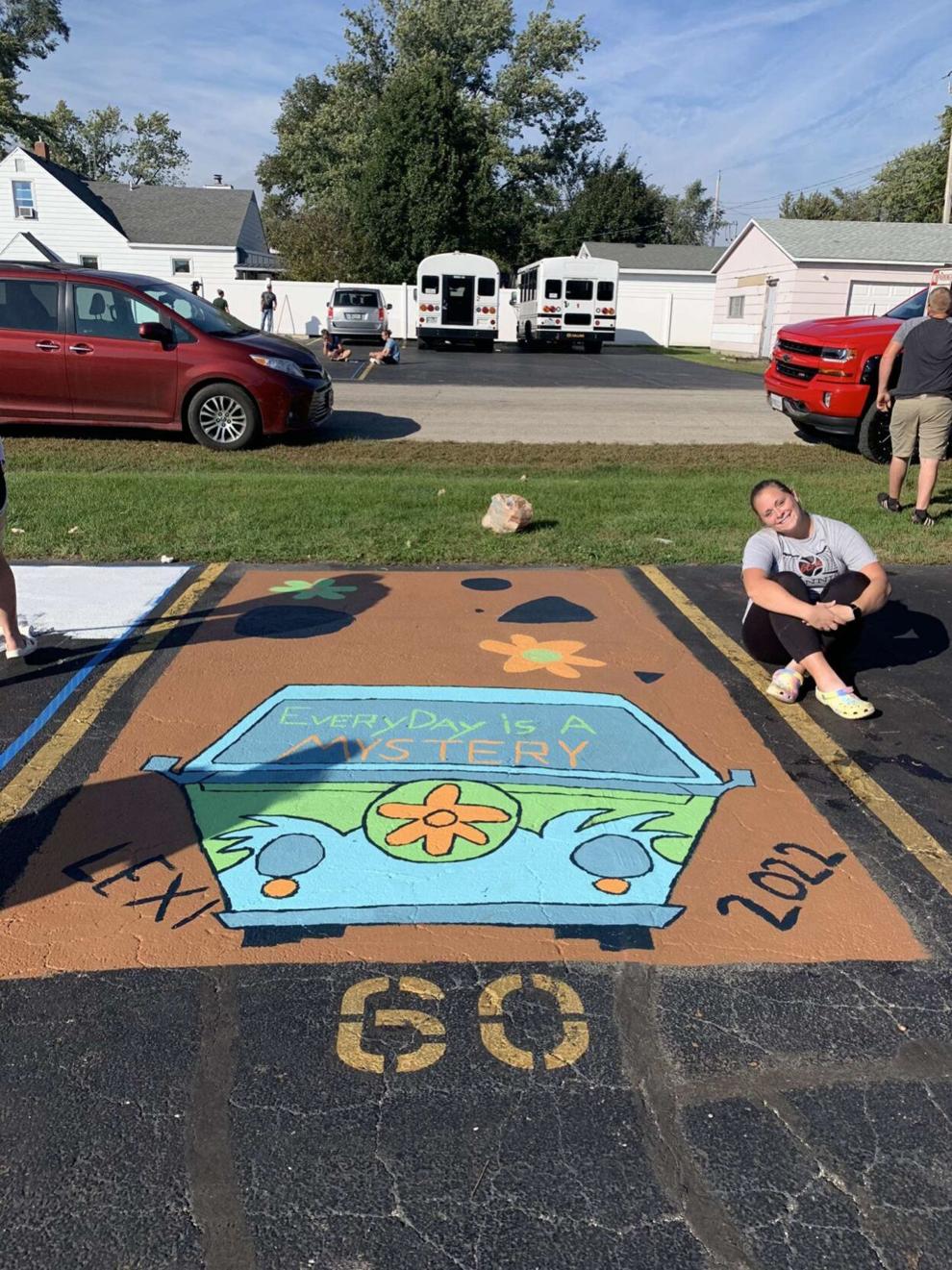 Gibson City-Melvin-Sibley
After a postponement due to weather, seniors had the opportunity to customize their parking spots last week. Pictured in their painting process: Parker Chase, Payton Allen, Connor Main, Aiden Phillips with Hailey Wahl, Lucy Keigher and Lexi Darbutt.
— Emily Hood
Heritage
The school's Future Farmers of America students supplied lunches to farmers at the grain elevator as a way to thank them for all they do. Pictured, left to right, are FFA officers Cory Stewart, Torie Rothermel, Paige George, Bri Struck, Gwen Happ and Konner Pearman.
— Torie Rothermel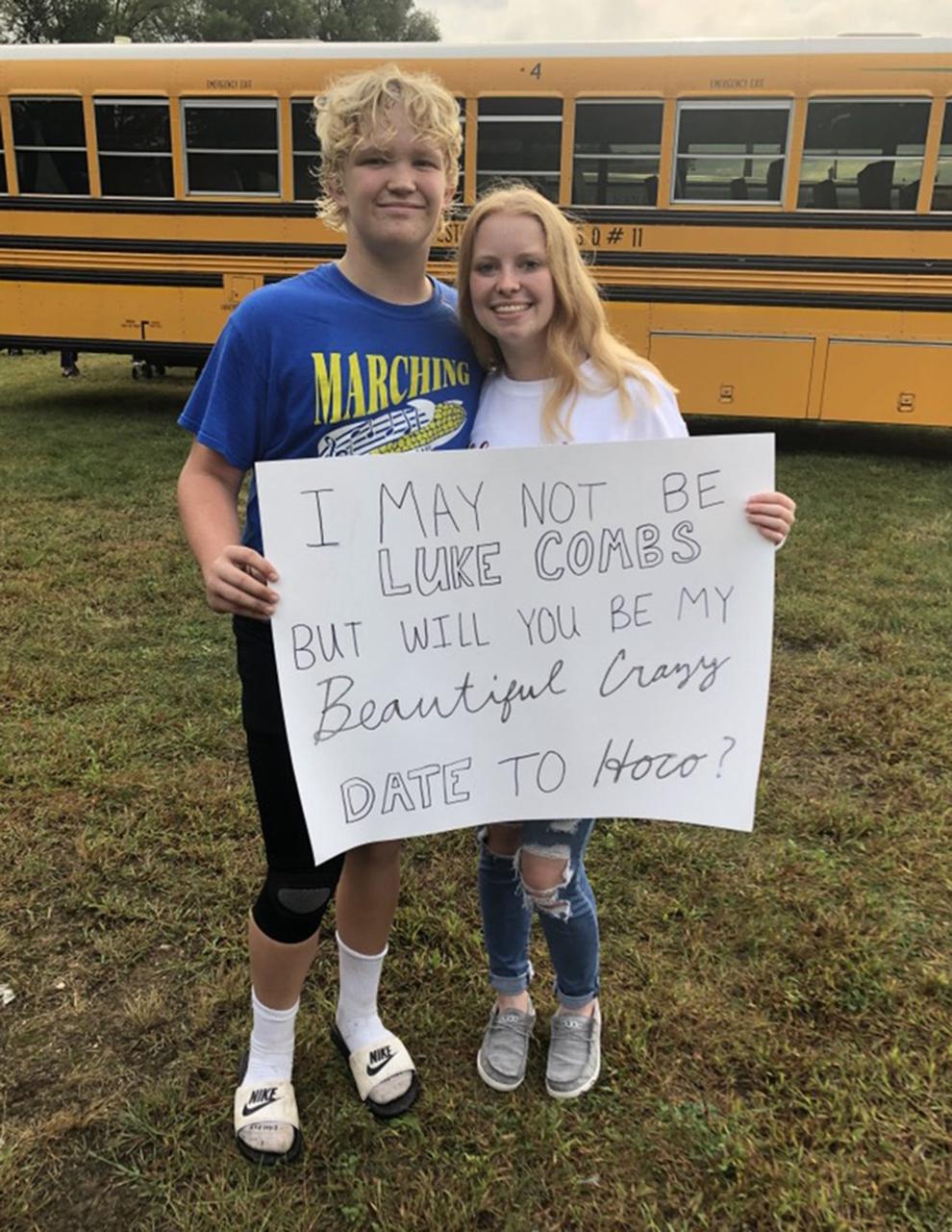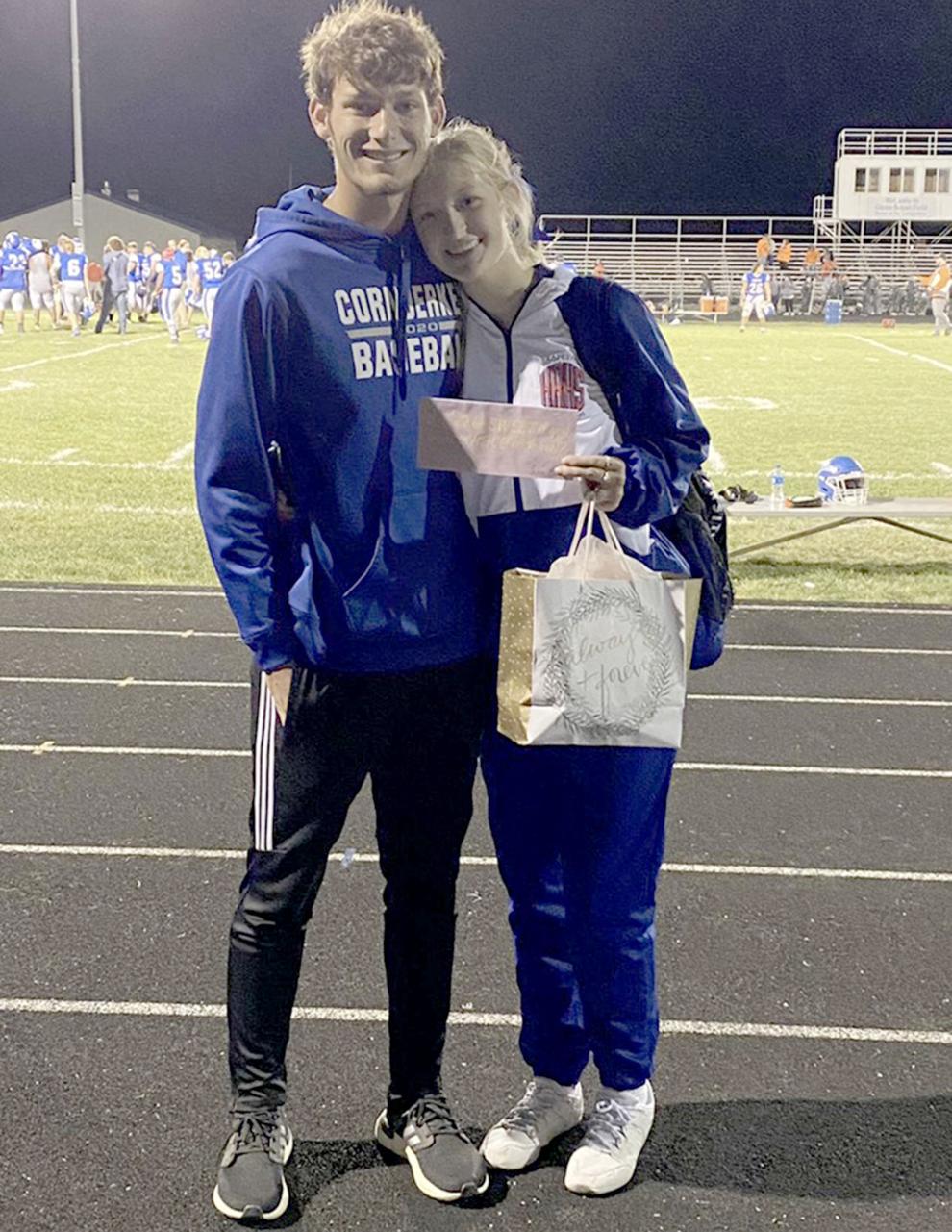 Hoopeston Area
There were many innovative homecoming proposals ahead of this weekend's dance. Pictured: Bryson Brewer and Kylie Pickett, and Nick Hofer and Makenzie Tate.
— Emily Ray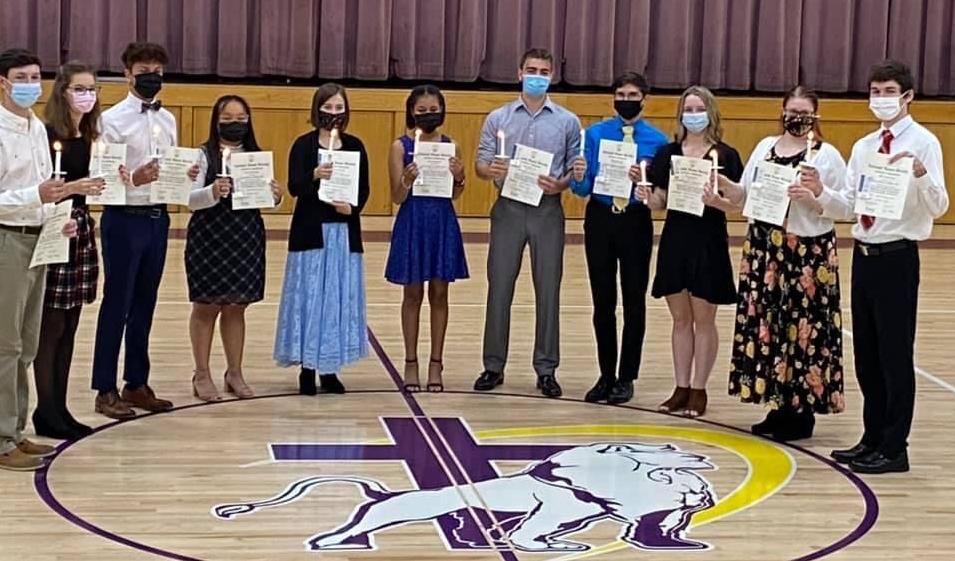 Judah Christian
Junior and senior students where inducted into National Honor Society. New inductees included, left to right: Owen Jones, Mae Thomas, Evan Payan, Selah King, Summer Hollis, Nia Gallaher, Hunter Fazio, Zane Coulter, Ella Carder, Grace Bailey and Conner Cox.
— Kaitlyn Januzik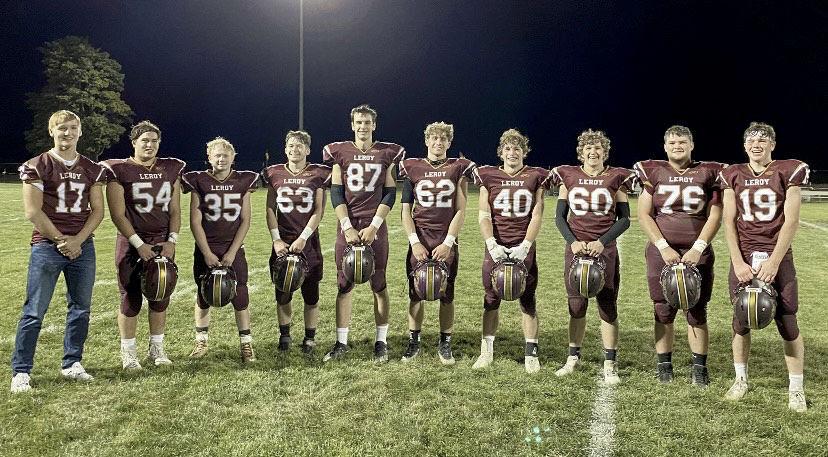 LeRoy
Senior fall athletes will be honored at Friday's football game, including football players (left to right) Porter Conn, Calvin Crawford, Mark Lohnes, Alex Stuepfert, Luke Stuepfert, Nick Payne, Brody Hanafin, Tanner Holoch, Jacob Oliver and Carson Houser.
— Kesley Graves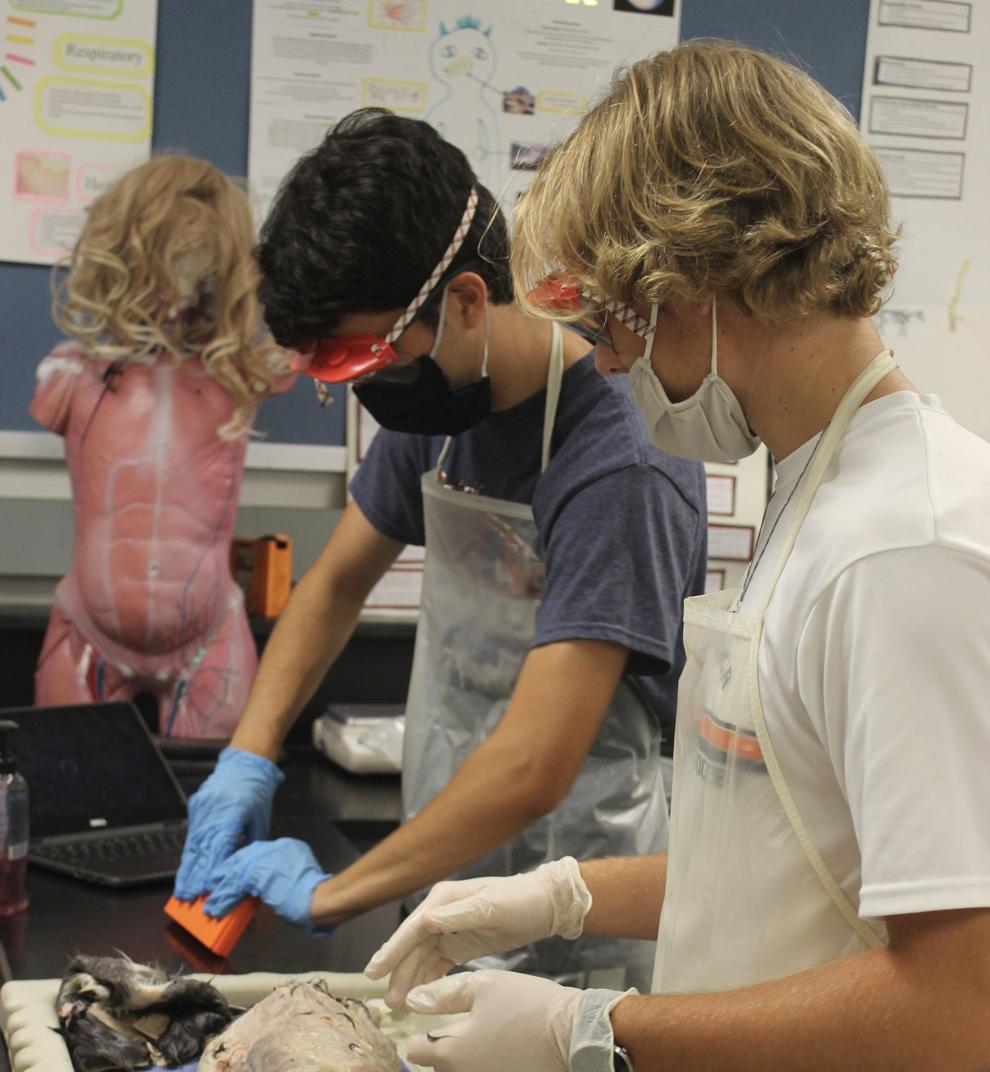 Mahomet-Seymour
Anatomy students started cat dissection lab. Seniors Gaspar Covarrubias-Zuniga and Koby Eisenmenger were all hands on deck.
— Tinley Peters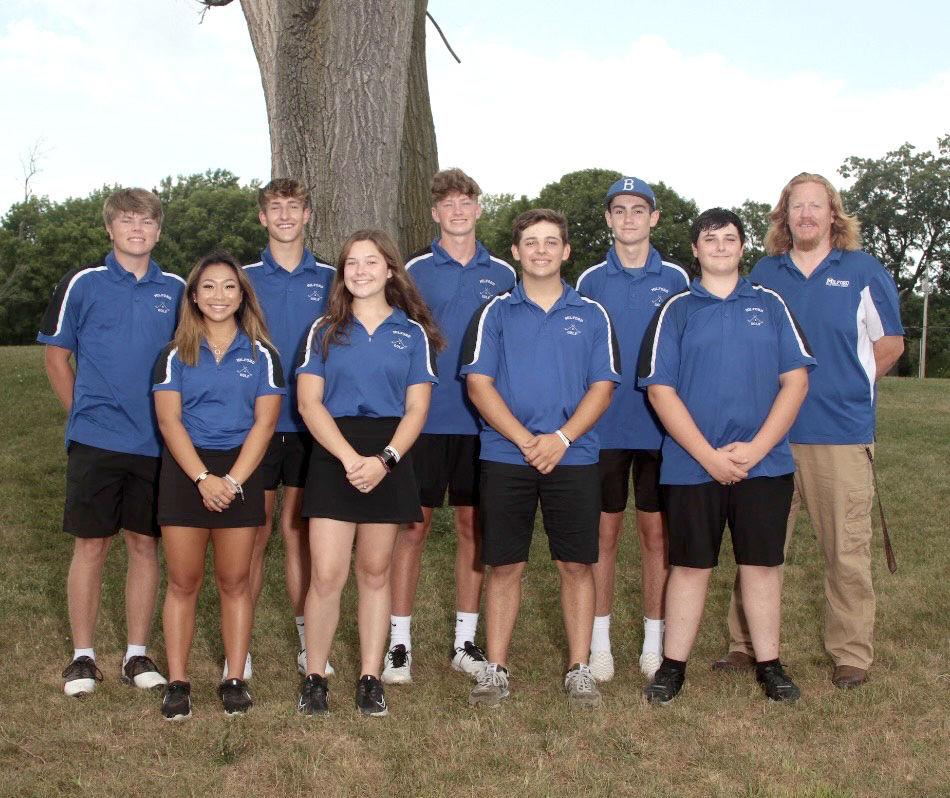 Milford
Golf ended its season at regionals. Anna Hagan was the team's only senior. Pictured, left to right: (back row) Payton Harwood, Salym Estes, Adin Portwood, RJ Mann and coach Josh Debolt; (front row) Hagan, Kirstyn Lucht, Owen Halpin and Kegan Jacks.
— Alivia Schmink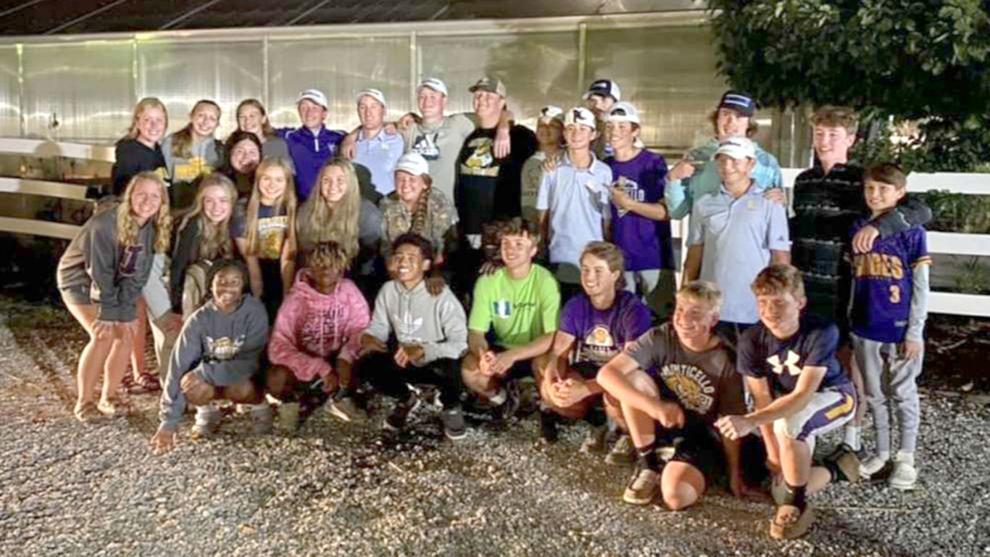 Monticello
The boys' golf team placed eighth at state, many students and staff making the trip to support them on Friday and Saturday. Pictured, left to right: (back row) Nya Reynolds, Mabry Bruhn, Laci Husinga, Amanda Dasher, Kross Reynolds, Tanner Buehnerkemper, Will Ross, Jack Brown, Sam Davison, Chase Billedo, Ethan Alexander and Eli Bailey; (middle row) Katie Mesplay, Eliza Bailey, Catie Swartz, Elise Devore, Tori Taylor, Maddux Quick, Matt Swartz, Andrew Neef and Gehrig Quick; (front row) Lynette Fenelon, Daevion Fenelon, Malachi Manuel, Biniam Lienhart, Tristan Foran, Thomas Swartz, Russ Brown and Carter Foran.
— Clara Rudolph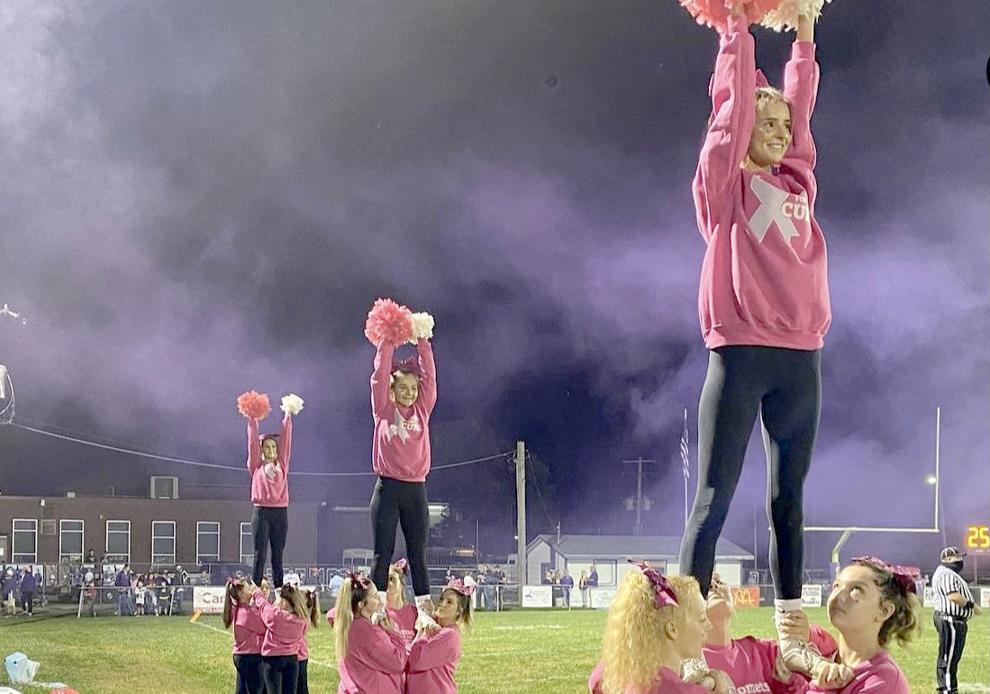 Oakwood
Football team hosted Hoopeston Area last Friday for its annual Paint the Field Pink night as October is Breast Cancer Awareness month. It is always a heartfelt month full of events raising awareness and doing anything we can do to help those battling.
— Madison Doan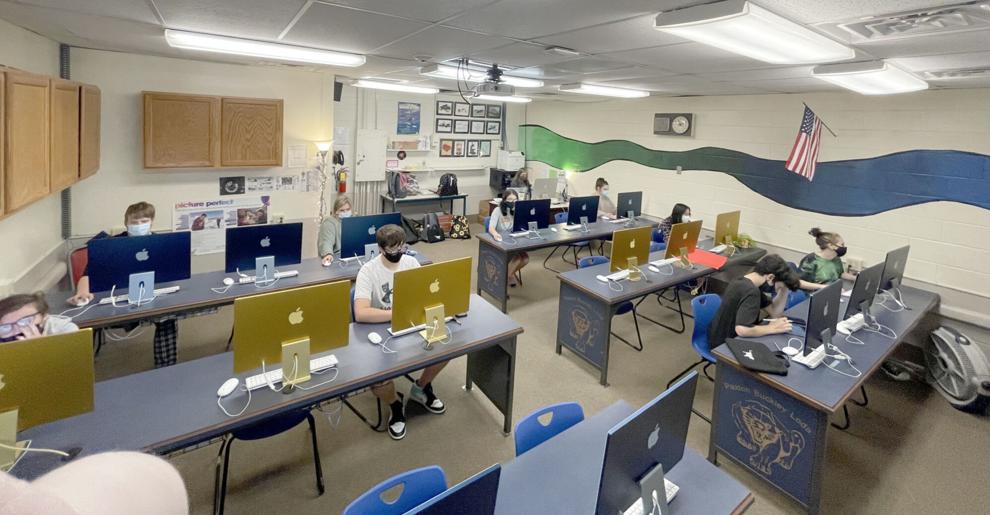 Paxton-Buckley-Loda
Yearbook staff was hard at work creating cover designs and selling business ads to help fund the yearbook production. Mary Ager is the official yearbook sponsor, and members include Makenna Ecker, Zabrina Gordon, Bren Henry, Kynlei Humes, Zoey Minick, Sydney Murphy, Manda Reck, Gavyn Shinker, Nicolas Varon, Jace Webb, Kaydon Williams and Macie Wright.
— Sydney Murphy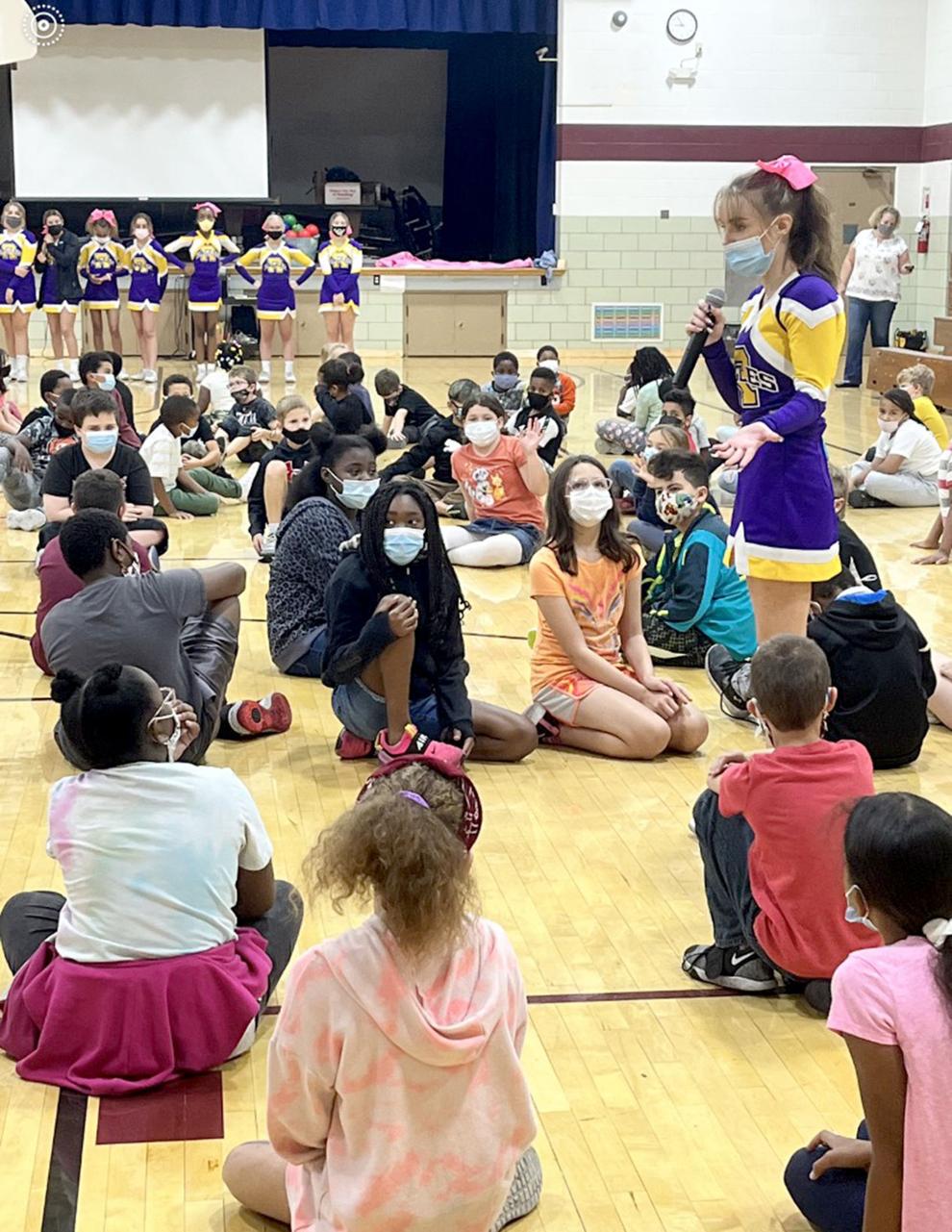 Rantoul
Last Thursday, the cheerleading team delivered a performance and pep talk to the students at Broadmeadow Elementary. Topics included respect, drama and success.
— Mary Cuppernell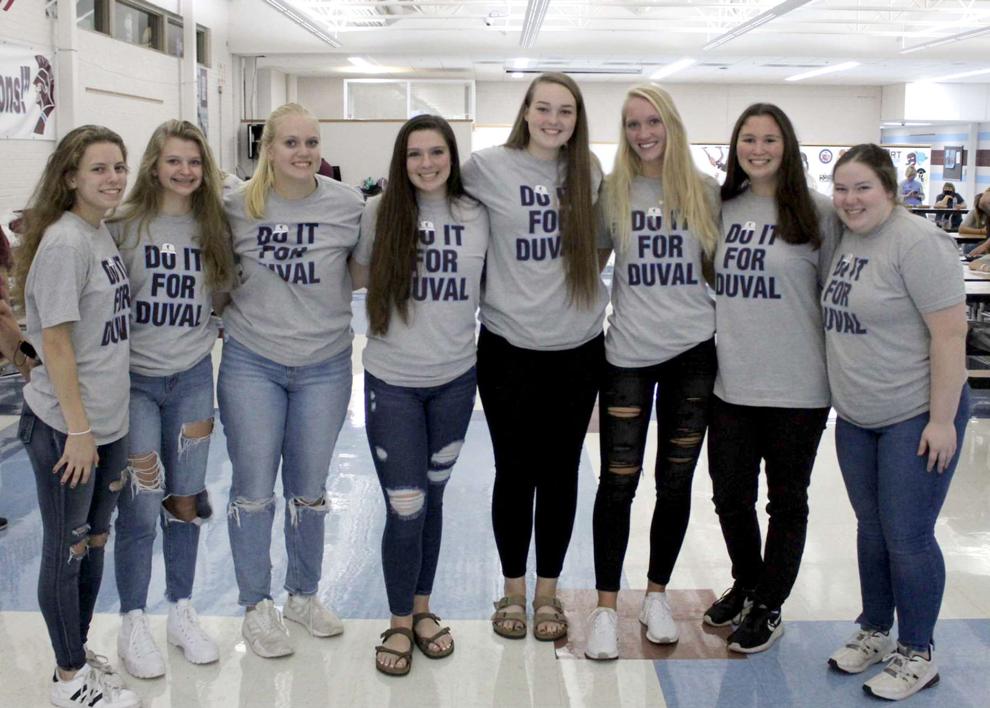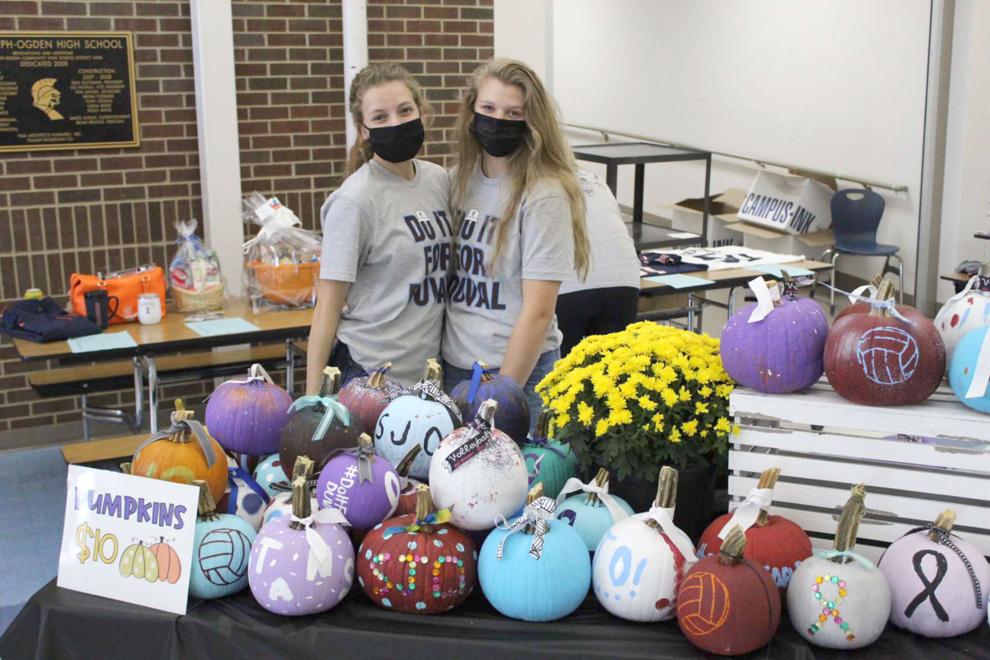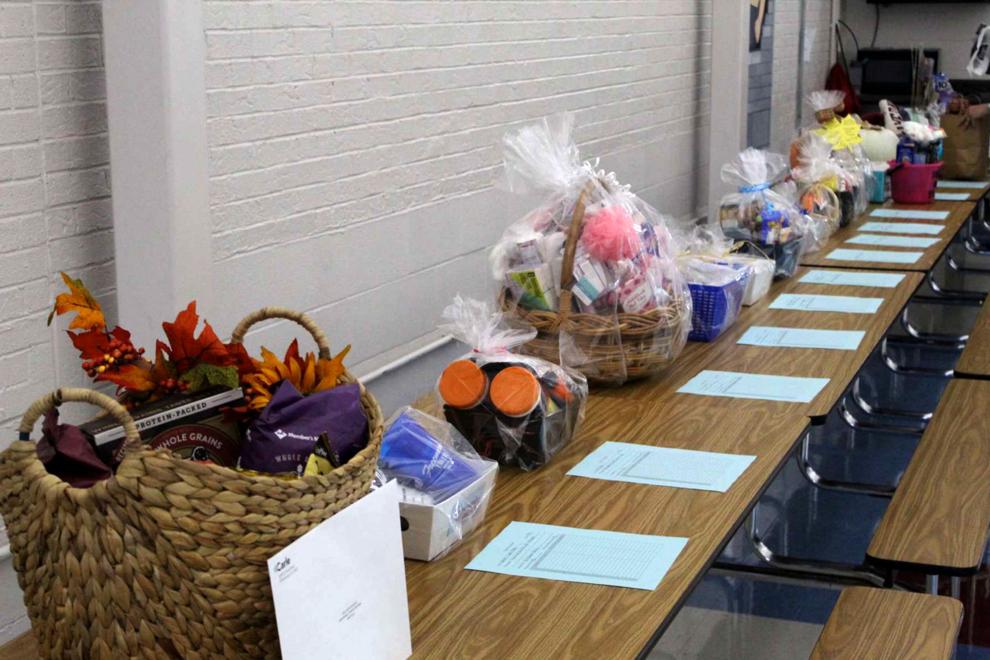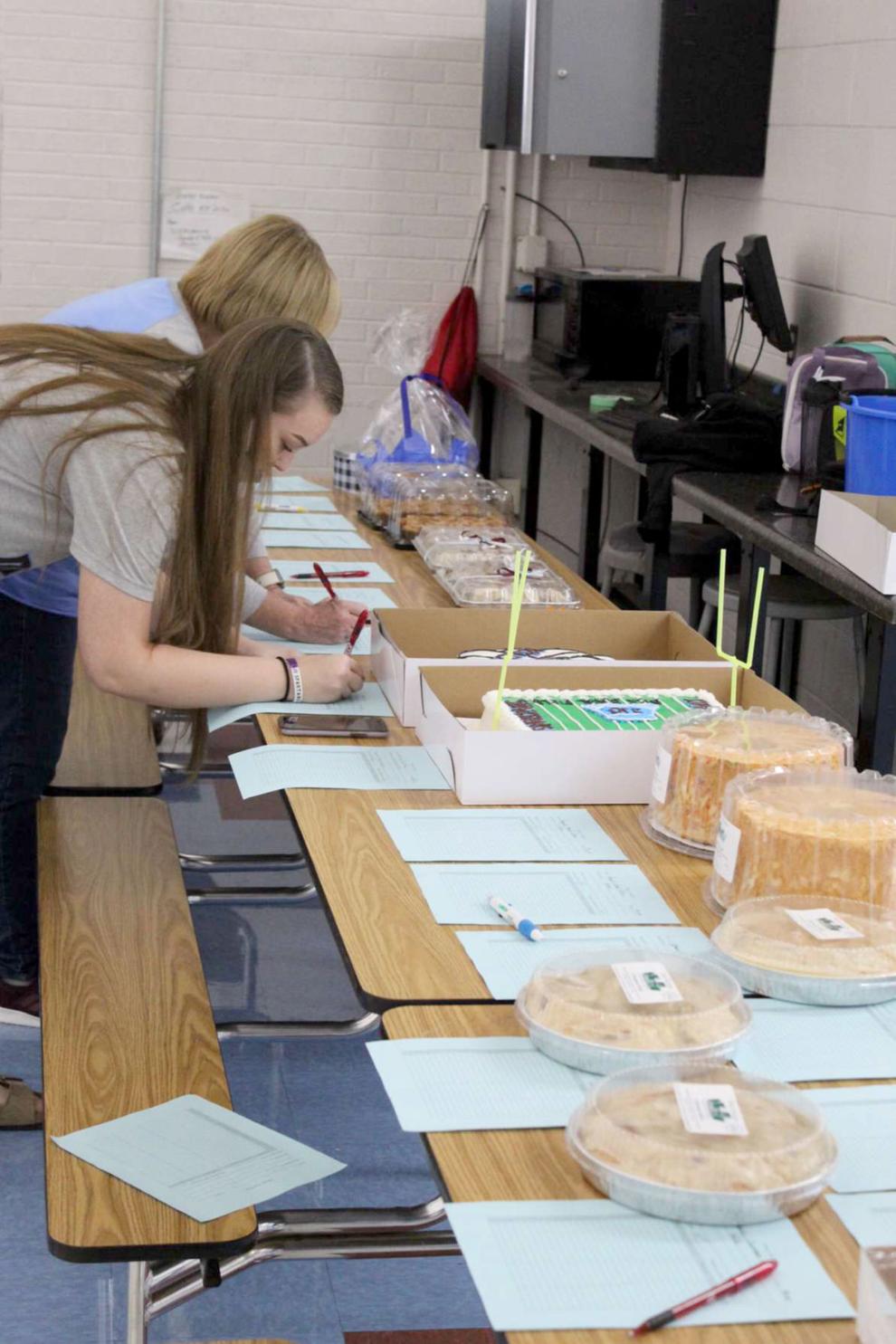 St. Joseph-Ogden
Before and during last week's volleyball game against Monticello, the Spartans raised money for the first Dick Duval Scholarship. Events included a silent auction, pork chop dinner and T-shirts for sale. At the end of the school year, one boy and girl athlete will be awarded scholarships. Pictured: Becca Steinbach, Hannah Fox, Mackenzie Trame, Madison Atwood, Taylor Wells, Kennedi Burnett, Ashley Eldridge and Deanna Cummins.
— Regan Uden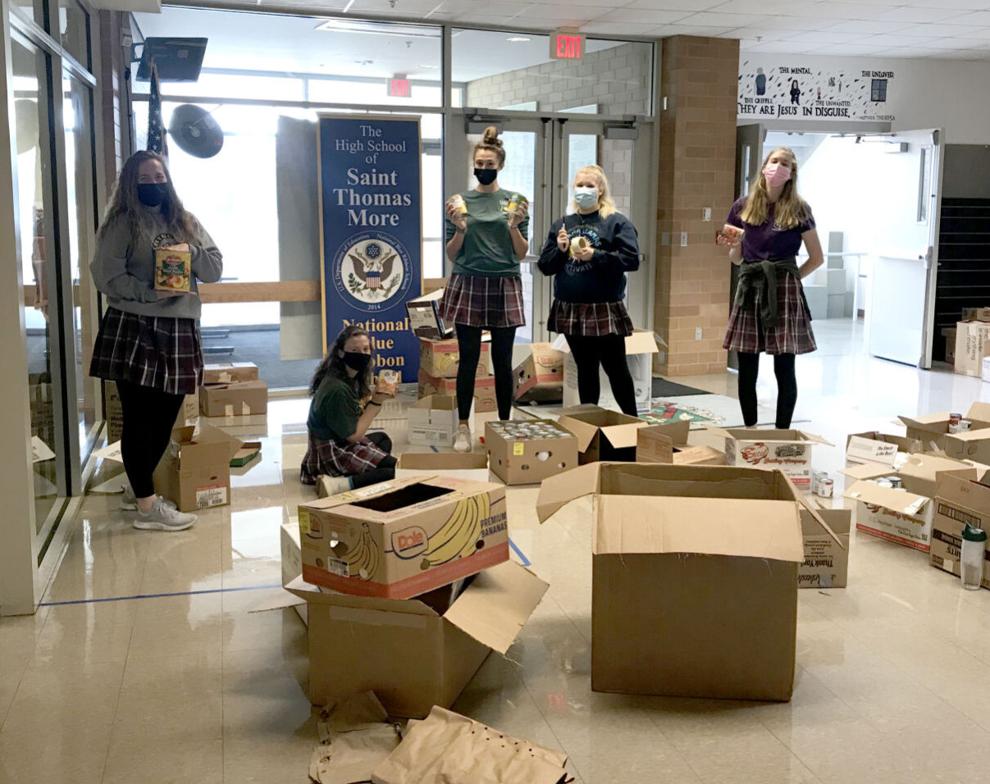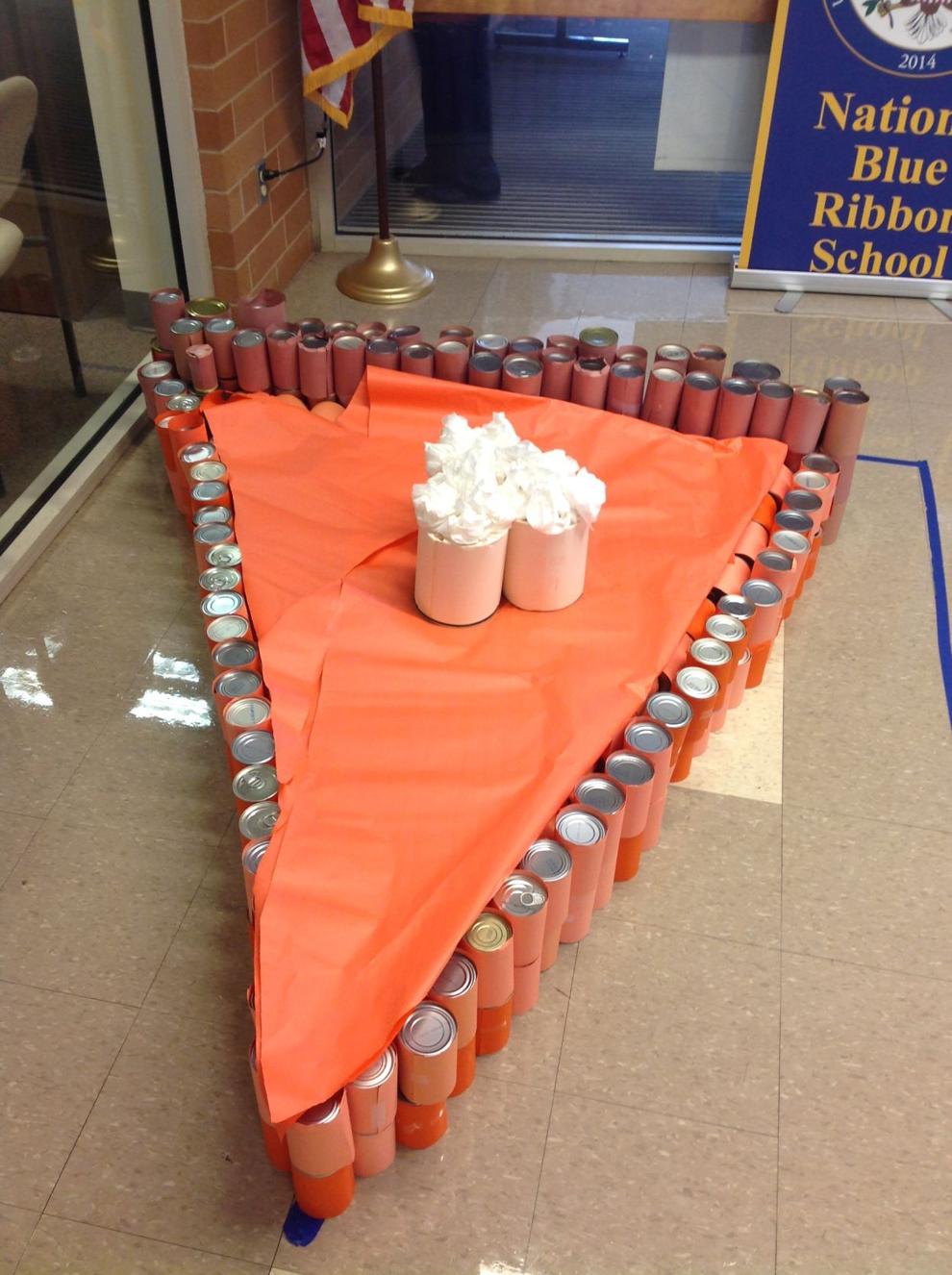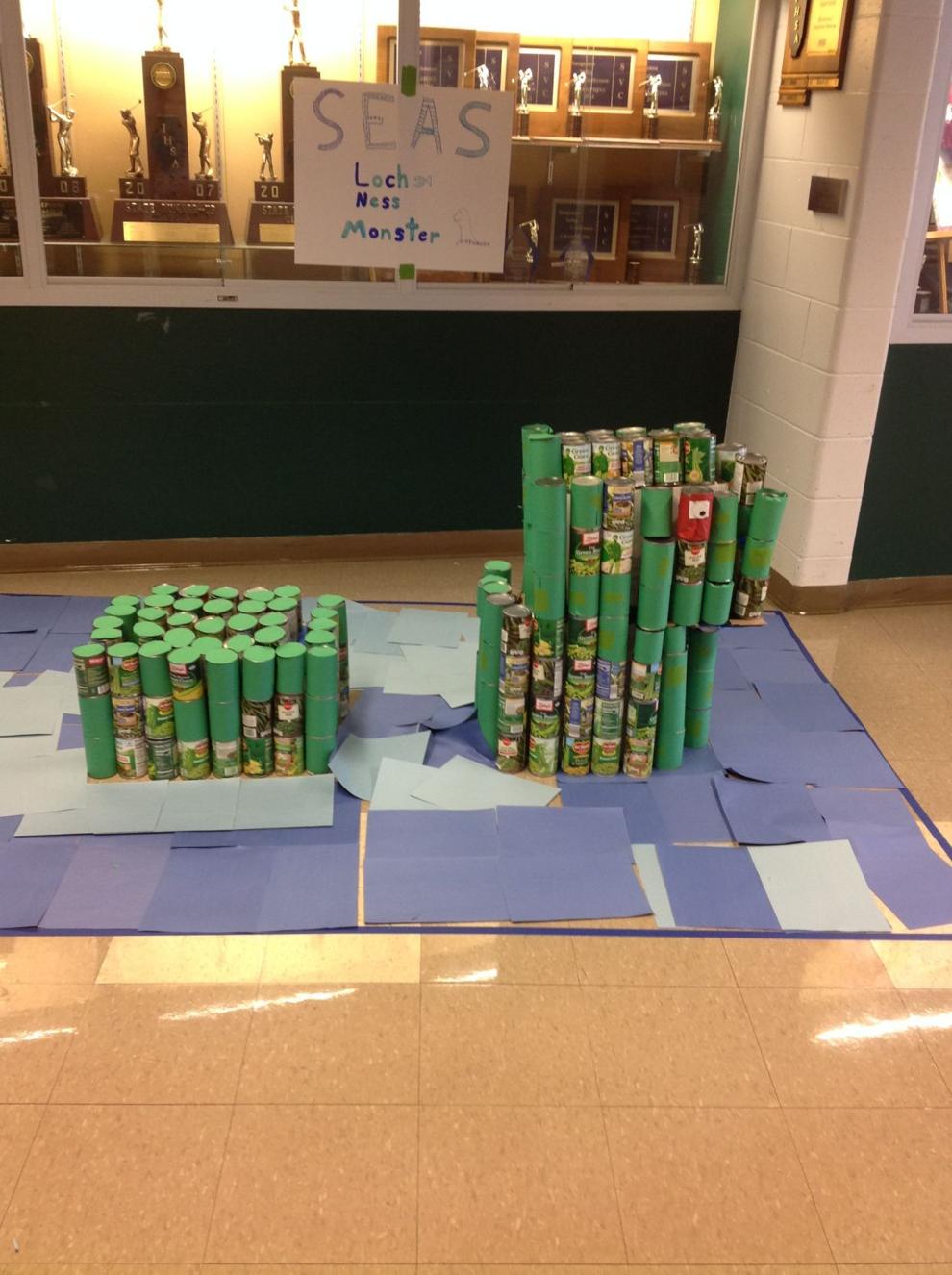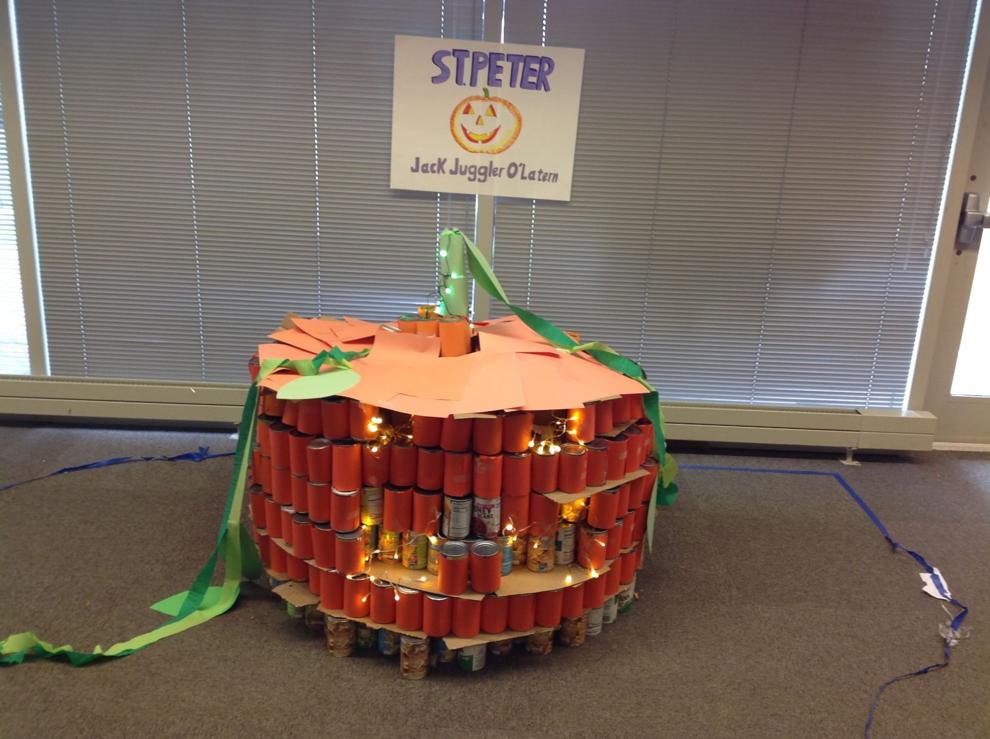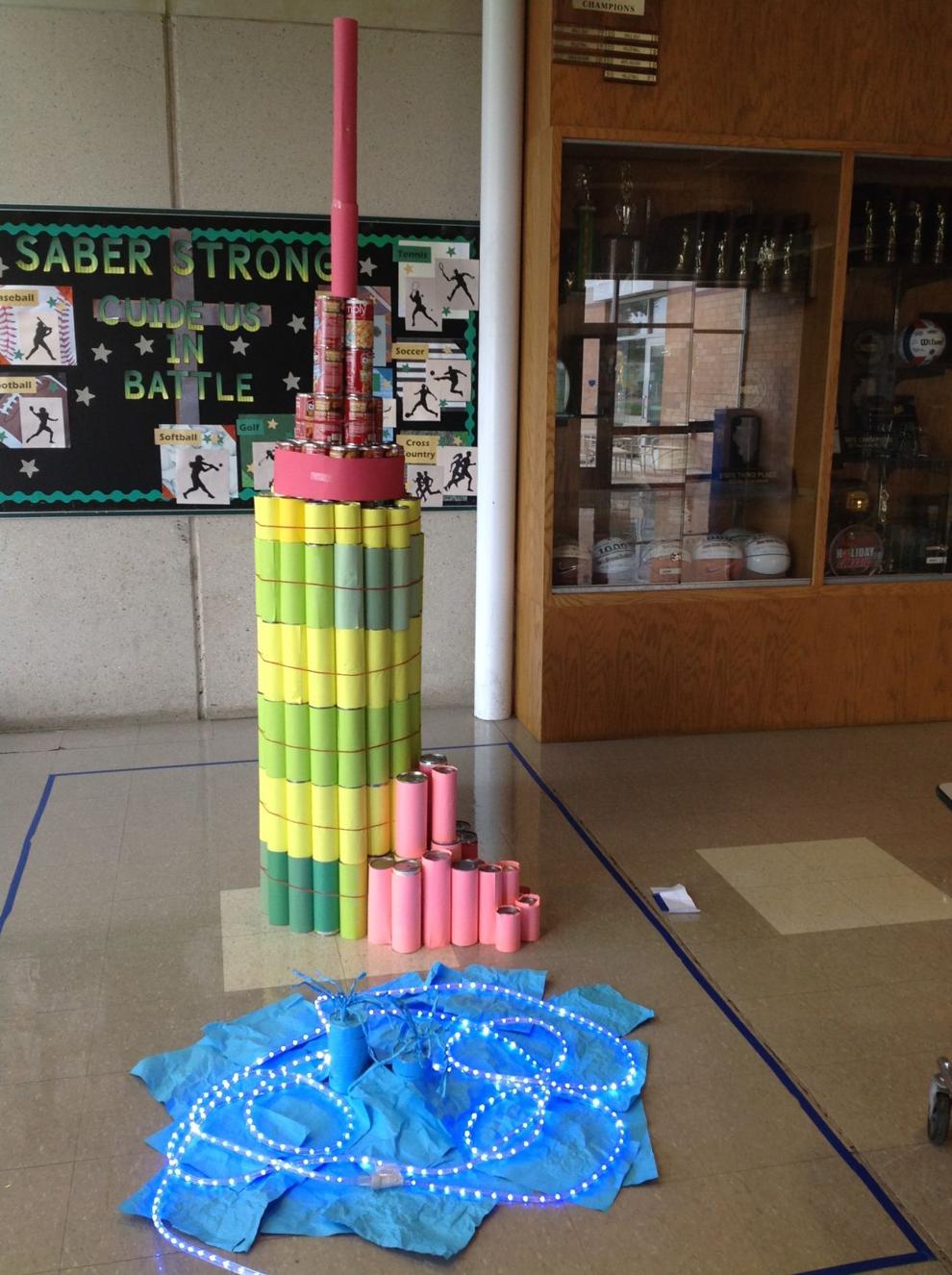 St. Thomas More
Four groups of students competed in a "canstruction" competition. The goal: bring in the largest amount of canned goods as well as create the best designs out of the cans. The final structure included the Loch Ness Monster, a slice of pumpkin pie, a tower and a pumpkin. Once sorted, all of the cans were boxed up and donated to Saint Vincent De Paul, a local food pantry.
— Bailey McMahon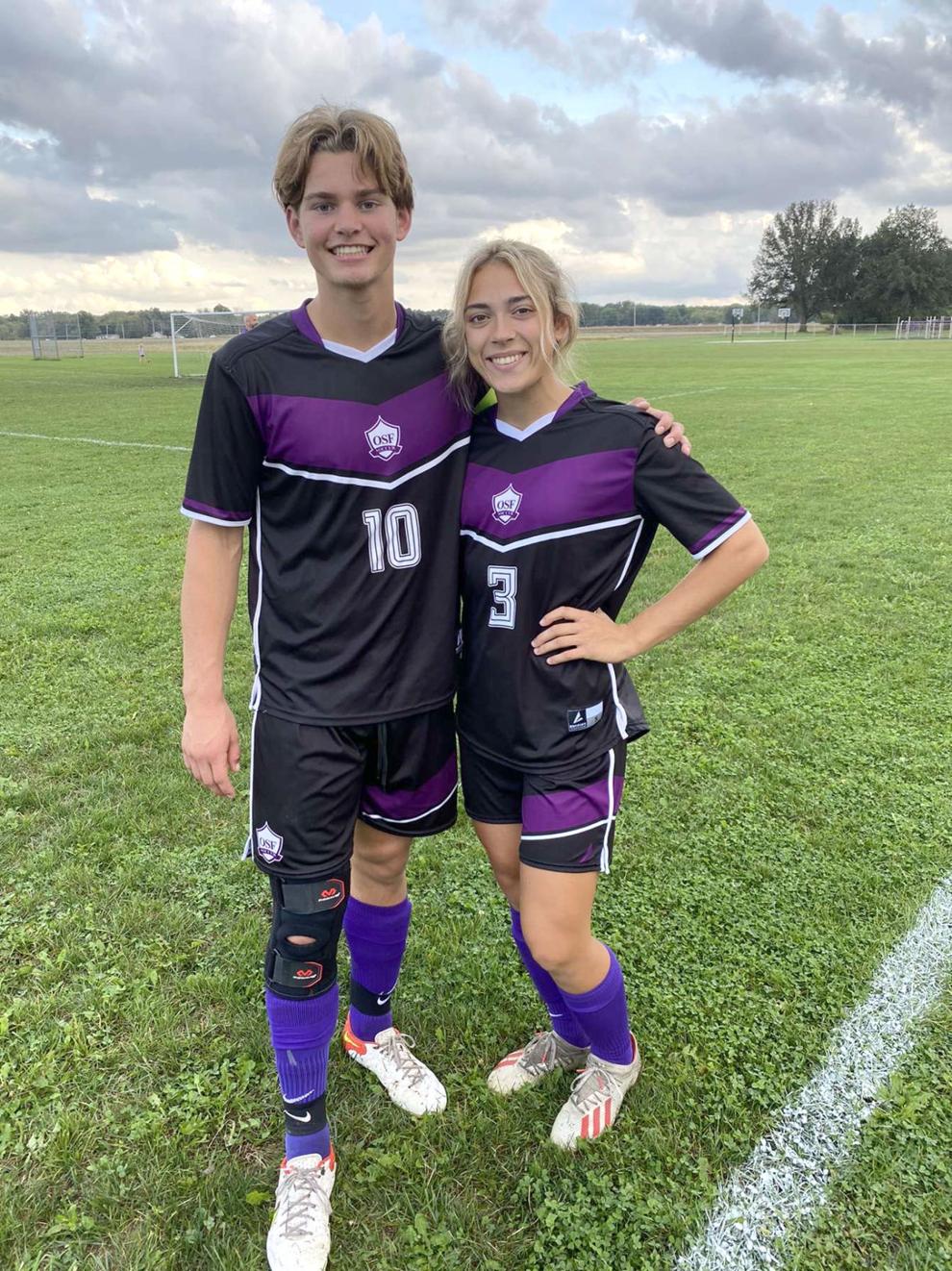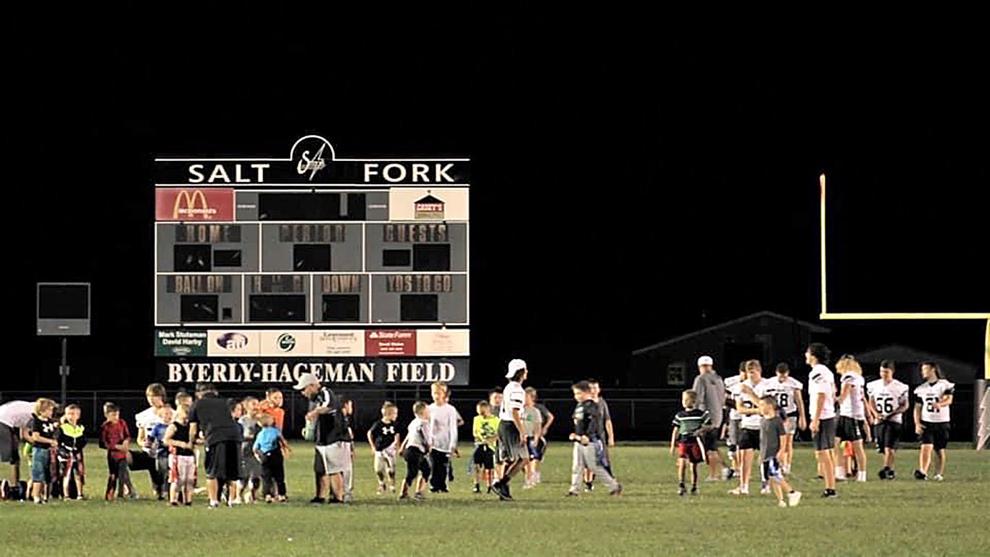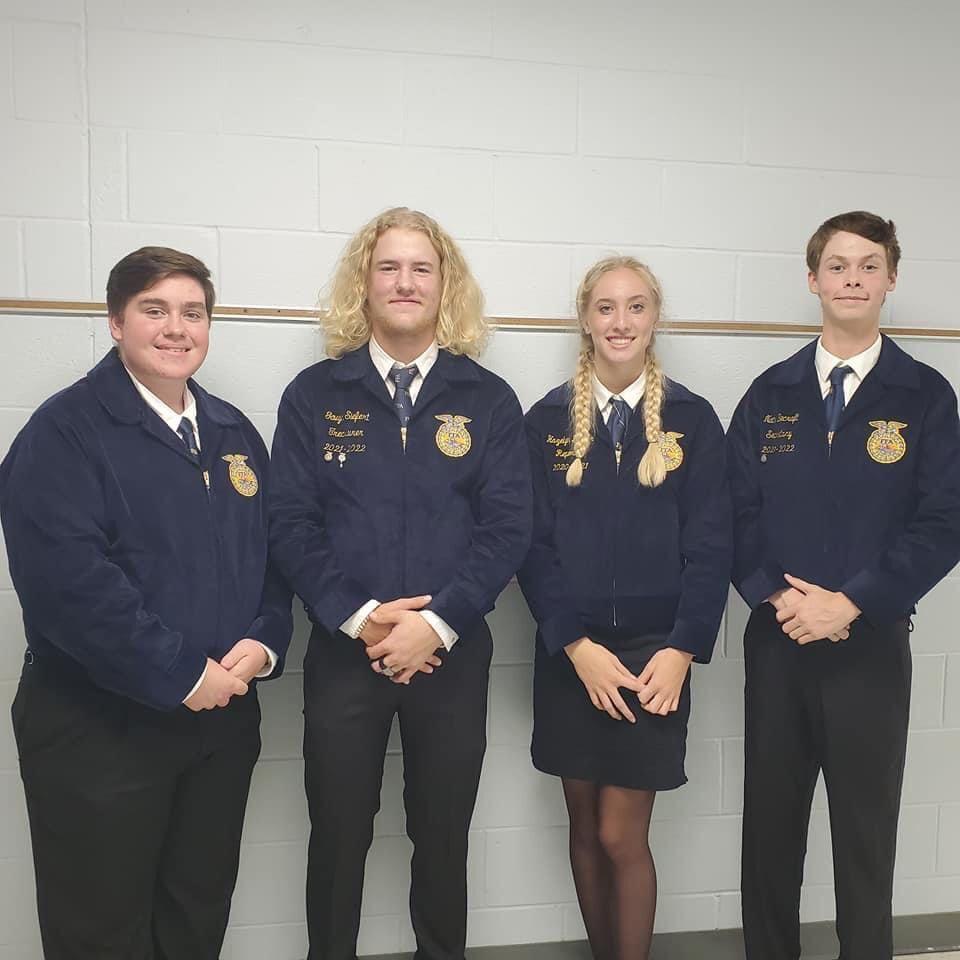 Salt Fork
As the school's lone soccer senior, Carlie Thompson (pictured with Oakwood's Joe Lashuay), was honored, the football team wrapped up its goodwill flag football league for youth in the community, celebrating with pizza after last Friday's games. Also, the Storm's ag sales team has advanced to district competition on Nov. 2. Pictured: Brixton Smith, Gavyn Seifart, Hazelyn Hunter and Nathan Becraft.
— Olivia Birge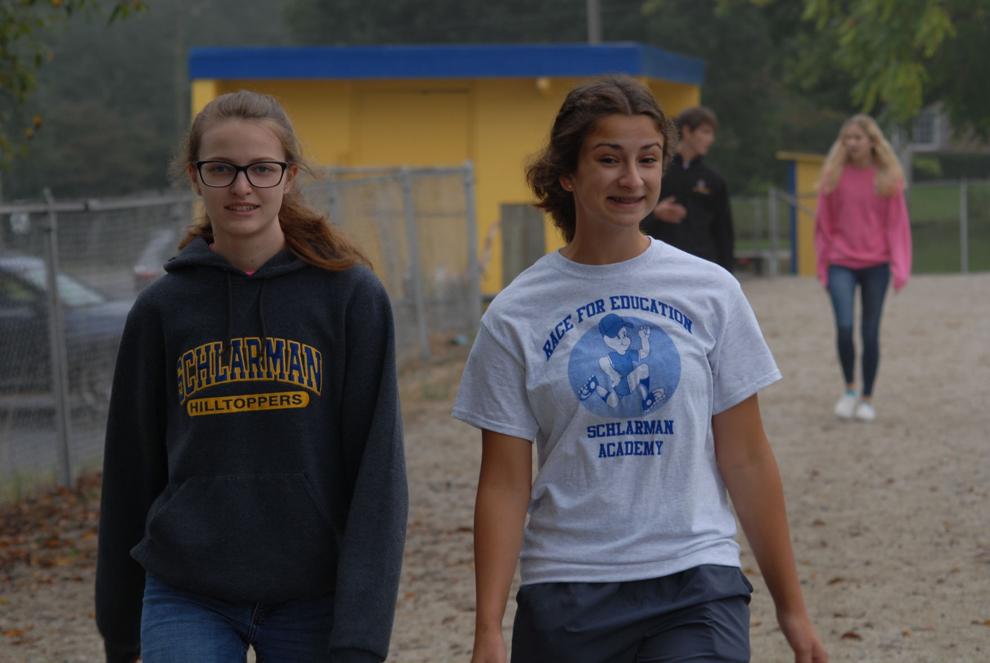 Schlarman
Students participated in the annual Race for Education to raise money for the school. It's one of our biggest fundraisers put on each year.
— Evan Scherer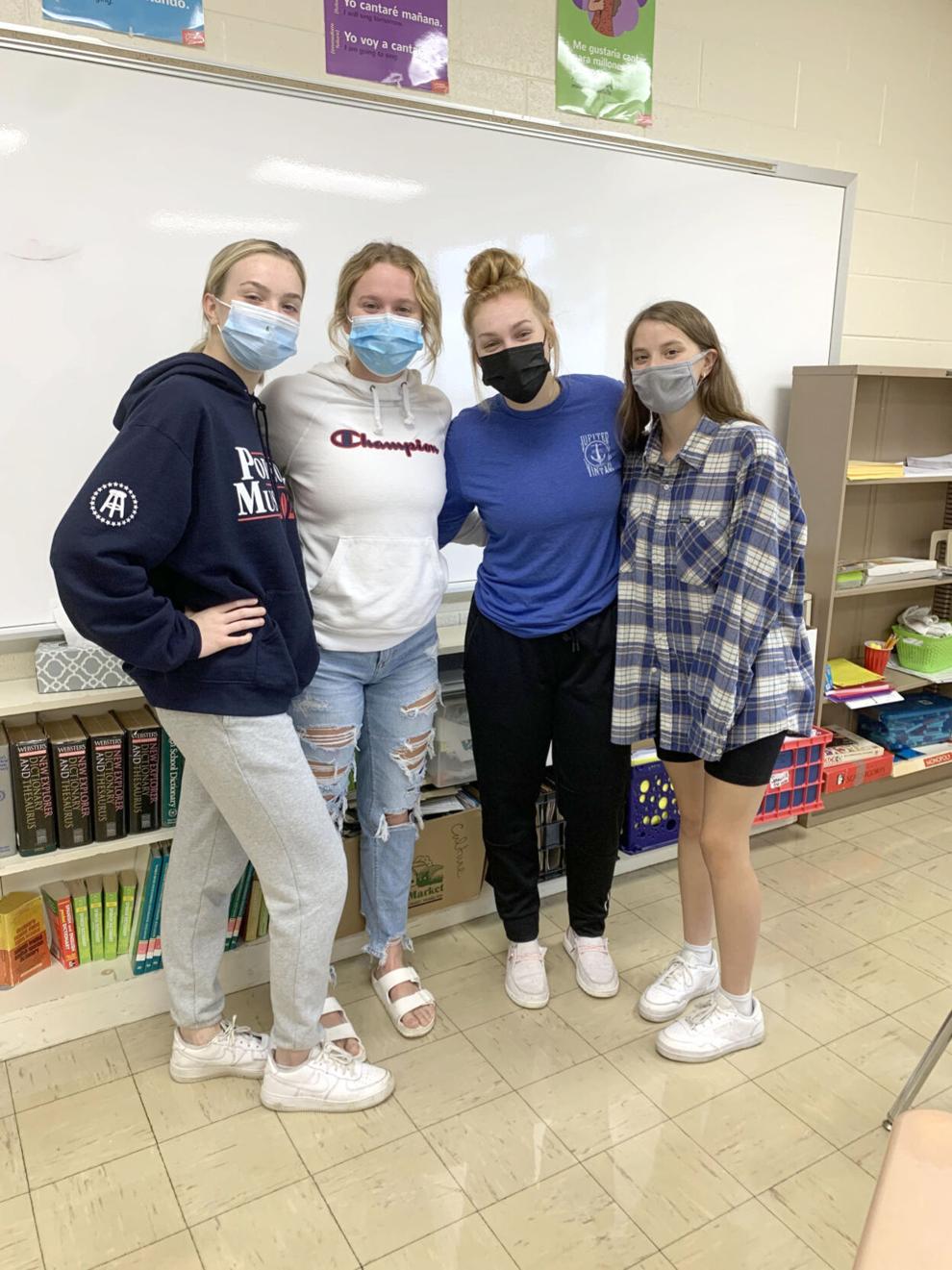 Shiloh
Chris Loop's senior class said the Pledge of Allegiance to the school in Spanish last Wednesday. Pictured, left to right: Caroline Smith, Isabella Dudley, Megan Houlihan and Josephine Carroll.
— Josie Carroll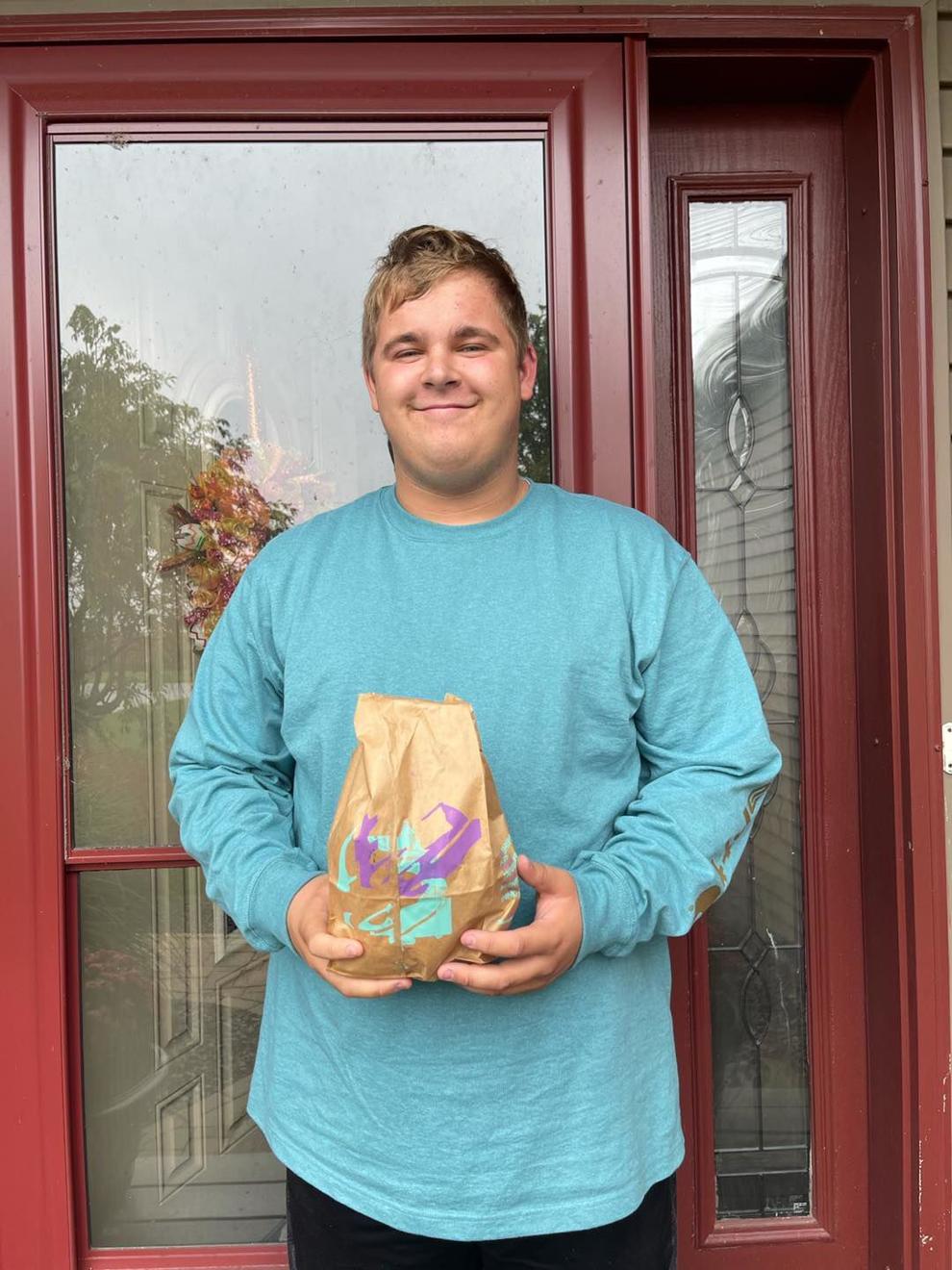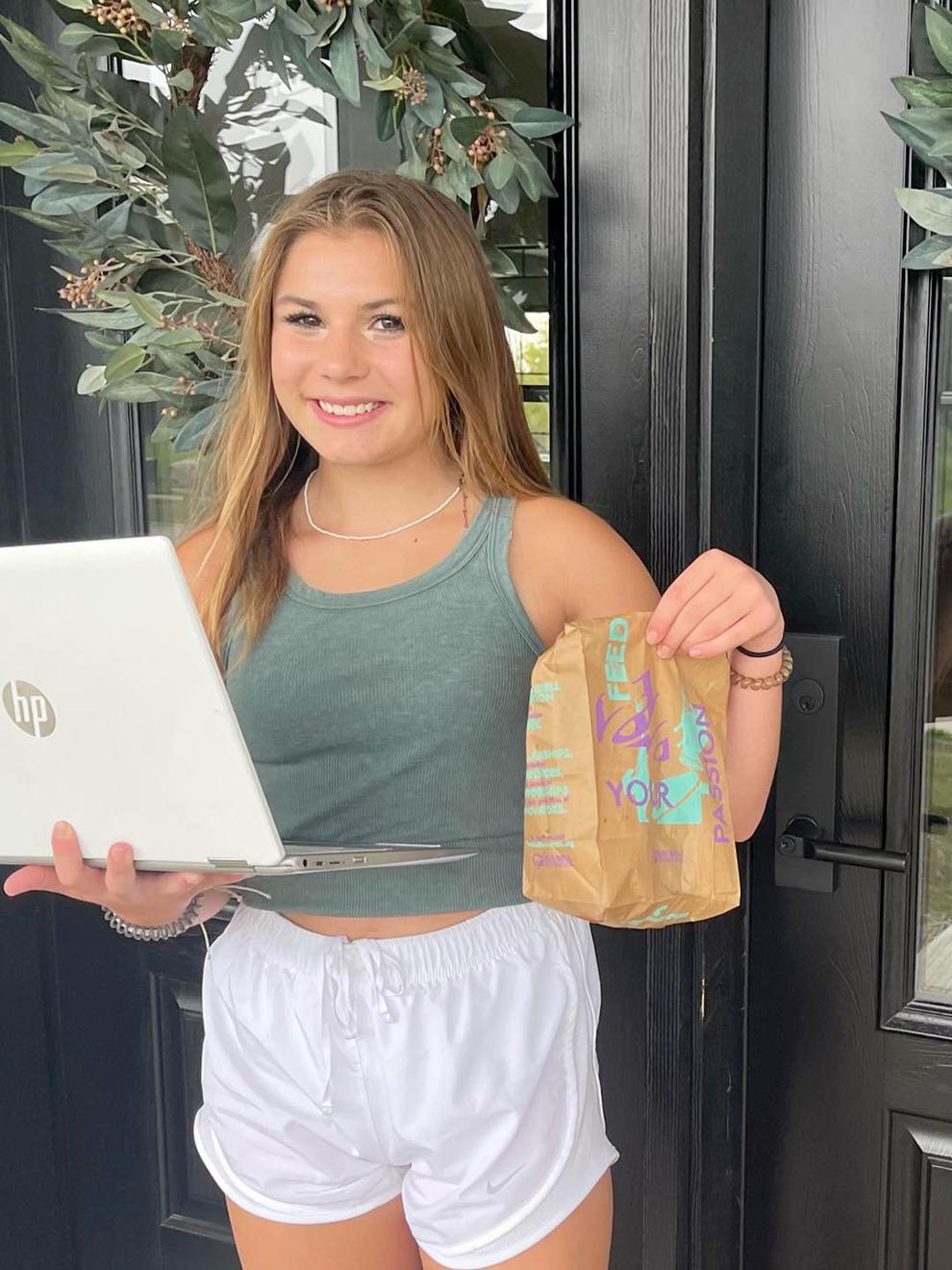 Tuscola
Due to last week's adaptive pause, remote learning was implemented. To encourage students to log on to their classes, students were randomly picked every day for the Warrior Surprise Door Dash. The initiative rewarded selected students with Taco Bell at lunch for logging on to all of their classes. Pictured are Blake Cruzan and Rylie Vanausdoll.
— Amelia Bosch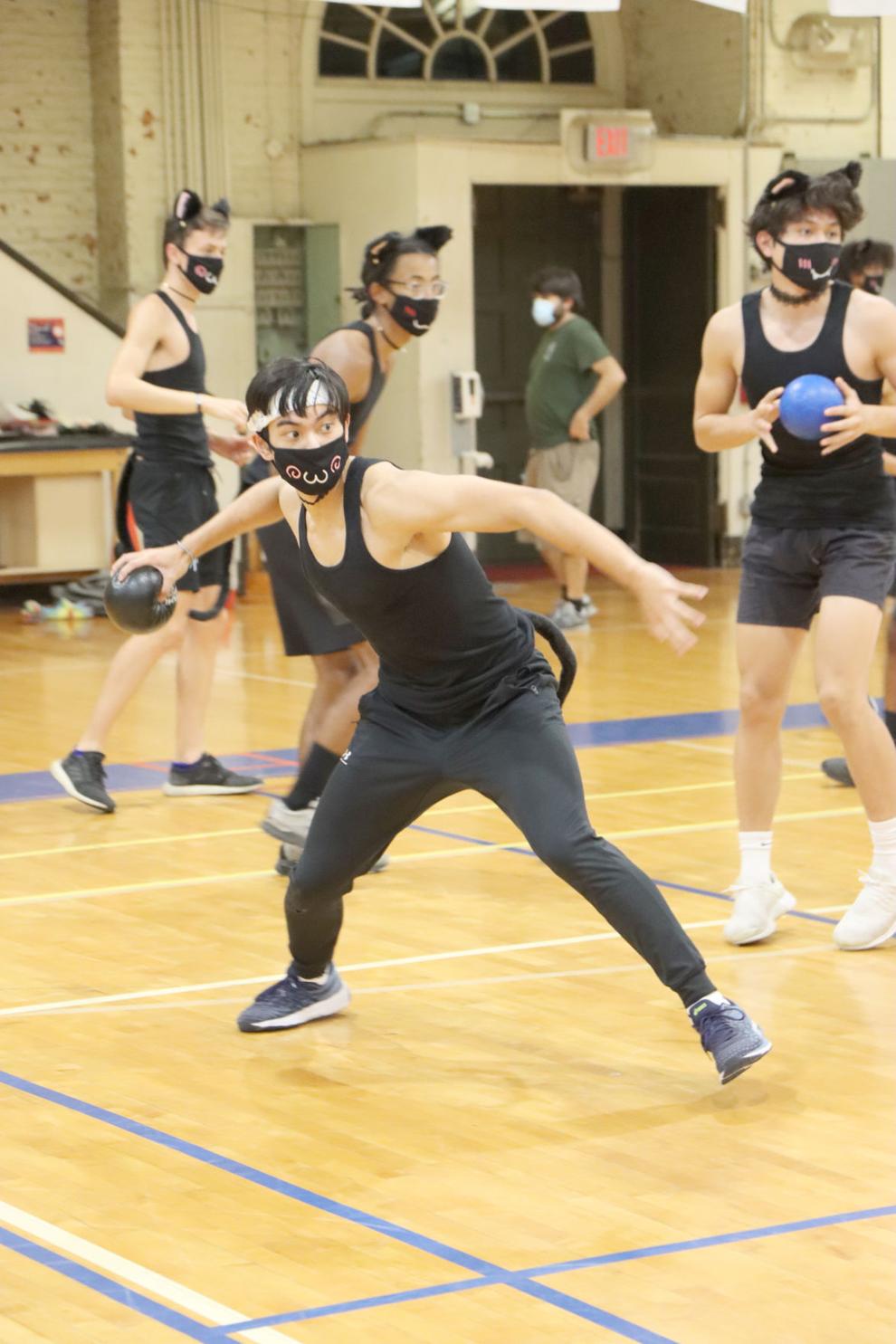 Uni High
On Oct. 8, Uni's Sprabitat Club — a combination of Habitat for Humanity and Spring Initiative, sponsored by history teacher Ben Leff — hosted its annual Sprabitat Dodgeball Tournament. Organized by seniors Kevin Chen and Andy Brown, each team — which included players from all five grade levels — created its own name and outfit and competed in round-robin and rivalry matches before transitioning to a double-elimination bracket. In addition to an award for the tourney winners: a spirit award and best costume award. The senior boys emerged victorious, and the event raised over $500! Pictured, left to right: seniors Ella Greer, Rithika Patnam, and Eliza Terziev prepare for the round to start; senior Andrew Lin fires a ball at the opposing team during a tournament match. Pictures courtesy Brooks Hu.
— Aakash Vasireddy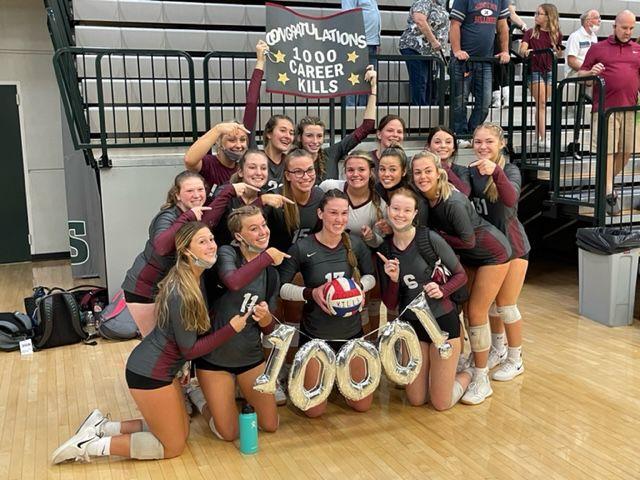 Unity
Emma Bleecher, a senior on the volleyball team, celebrated her 1,000th career kill at the Bloomington Central Catholic tournament.
— Maddie Reed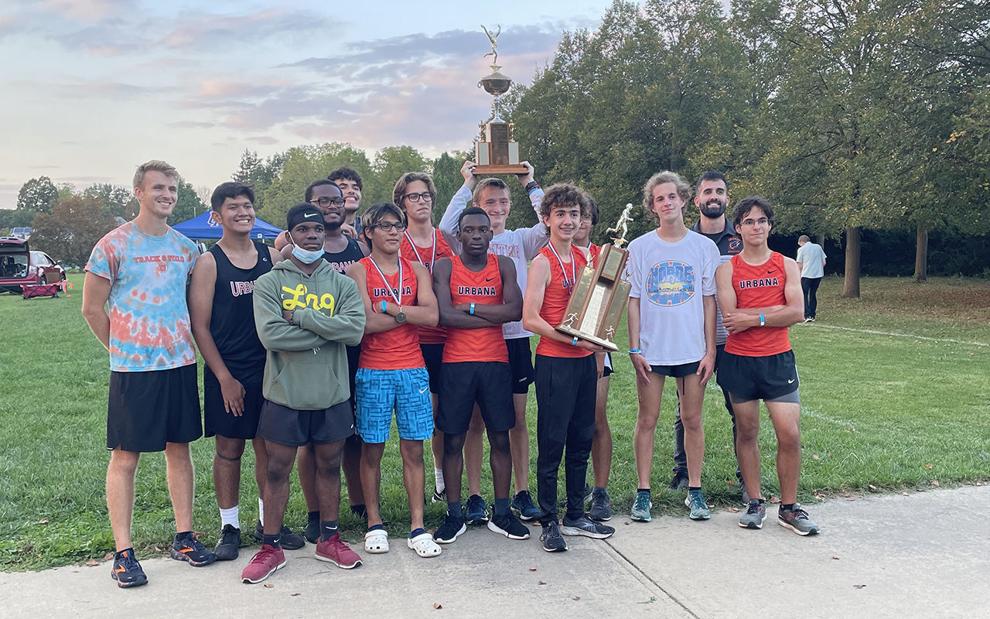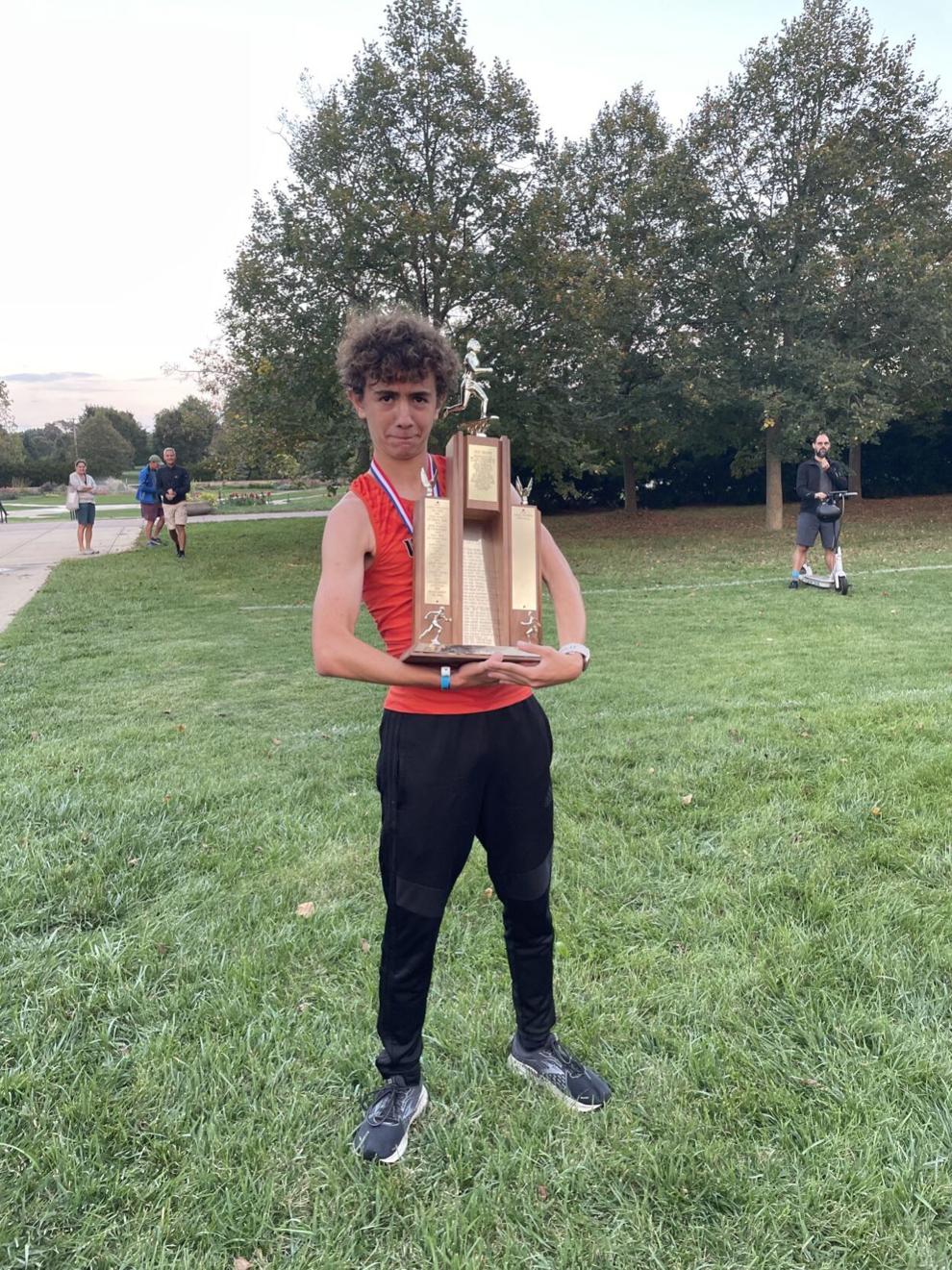 Urbana
The boys' cross-country team won last week's Twin City trophy as senior Sam Lambert continued his impressive season by taking home the individual win. Pictured, left to right: Zach Beohmke (coach), Johnathan Sanchez, Asaph Lokango, Christian Berry, Feras Hamayel, Julio Angrave, Park Mitchell, Emmanuel Lokango, Hudson Coady, Sam Lambert, Brian Allison, Parker Schroeder, Forrest Farokhi (coach) and Micheal Allison. On the girls' side, the Tigers finished fourth, led by senior Celia Barbieri's fourth-place finish.
— Park Mitchell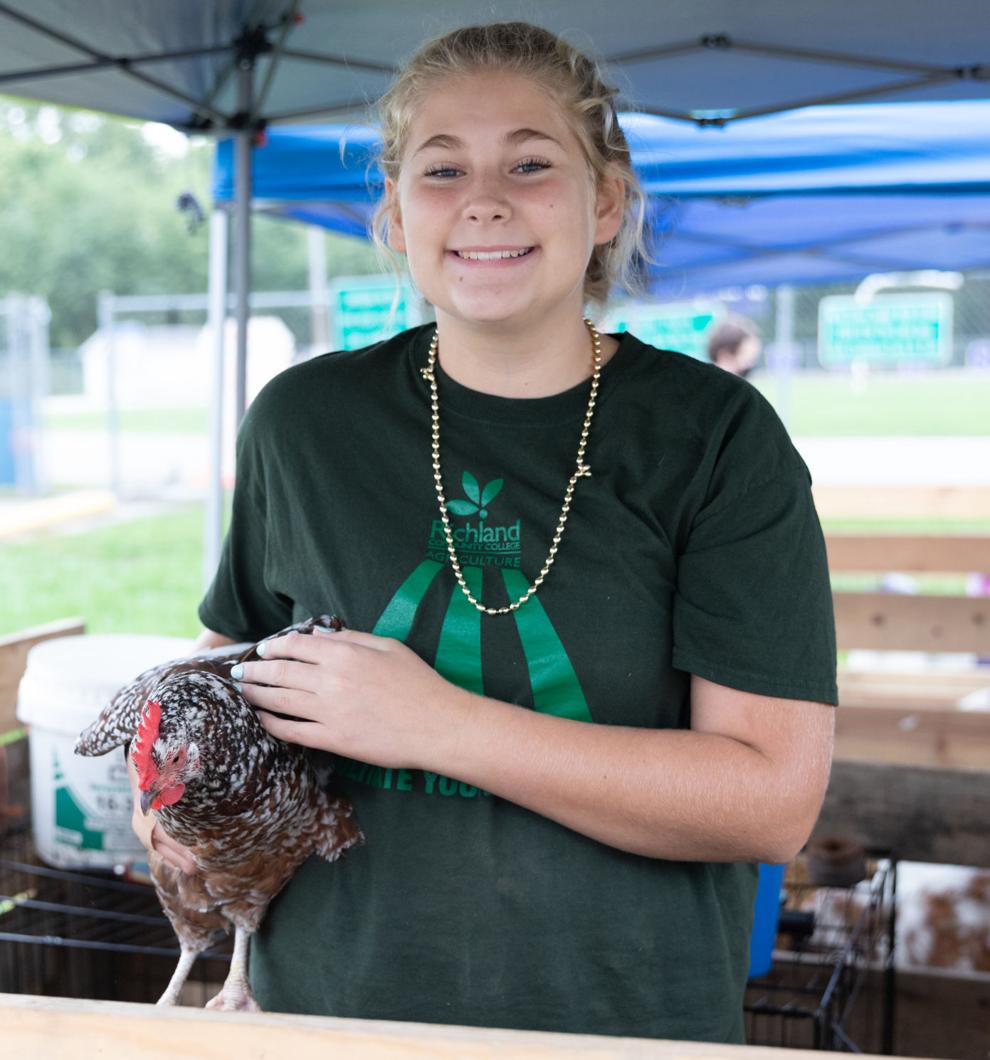 Villa Grove
At Future Farmers of American's ag field day, members taught students of all ages about agriculture and brought their own animals from home for the barnyard area. Pictured: Ryan Lillard with her chicken.
— Molly Little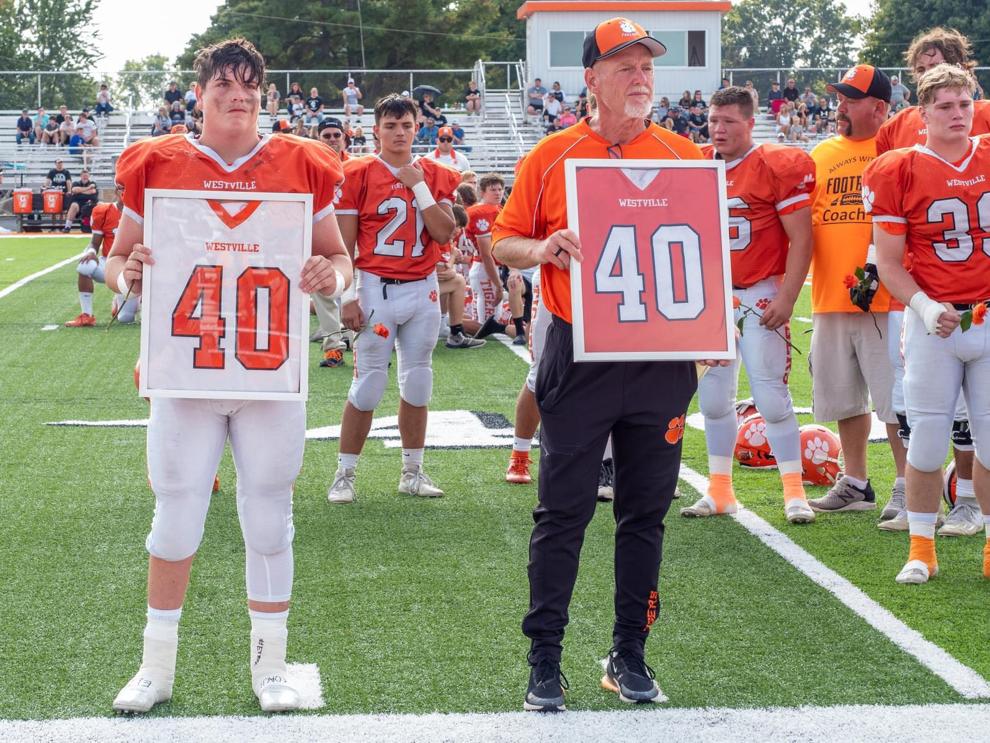 Westville
On Saturday, the school honored the family of the late Eli Williams, a former Westville player and coach who passed away this summer. Pictured: Aaron Welch-Williams (grandson of Eli) and Westville coach Guy Goodlove.
— Bryce Burnett