2021-22 High School Confidential: Week 6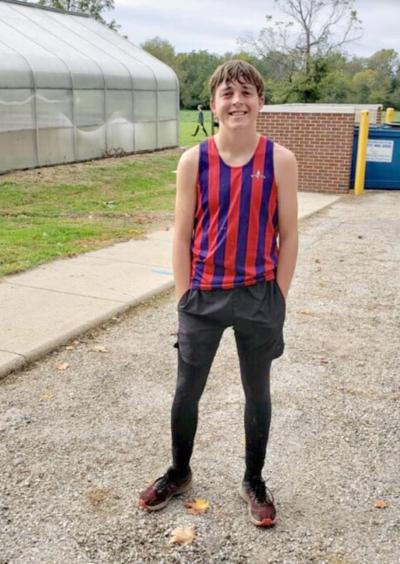 Welcome to Year 6 of High School Confidential, an award-winning project made possible by aspiring student journalists from every corner of our circulation area. Each Friday through May, they'll tell us what's happening in their hallways at news-gazette.com.
Once a week, we'll also hand over our Snapchat account (News-Gazette) to our correspondents for behind-the-scenes tours.
Feeback? Email N-G/VP Jim Rossow at jrossow@news-gazette.com.
This year's panel:
Academy High: William Ding
ALAH: Sarah Rafferty
Arcola: Ariana Carmona
Armstrong: Mattie Kennel
Bement: Addie Fritz
BHRA: Paili Davis
Blue Ridge: Sarah Whitehouse
Centennial: Montez Dubose
Champaign Central: Lucy Moss
Chrisman: Reese Anderson
Cissna Park: Emma Morrical
Danville: Kedzie Griffin
DeLand-Weldon: Kaitlyn Sayers
Fisher: Krista Martin
Georgetown-Ridge Farm: Chloe Brock
Gibson City-Melvin-Sibley: Emily Hood
Heritage: Torie Rothermel
Hoopeston Area: Emily Ray
Judah Christian: Kaitlyn Januzik
LeRoy: Kelsey Graves
Mahomet-Seymour: Tinley Peters
Milford: Alivia Schmink
Monticello: Clara Rudolph
Oakwood: Madison Doan
Paxton-Buckley-Loda: Sydney Murphy
Rantoul: Mary Cuppernell
St. Joseph-Ogden: Regan Uden
St. Thomas More: Bailey McMahon
Salt Fork: Olivia Birge
Scharlman: Evan Sherer
Shiloh: Josephine Carroll
Tuscola: Amelia Bosch
Uni High: Aakash Vasireddy
Unity: Maddie Reed
Urbana: Park Mitchell
Villa Grove: Molly Little
Westville: Bryce Burnett
On to this week's report: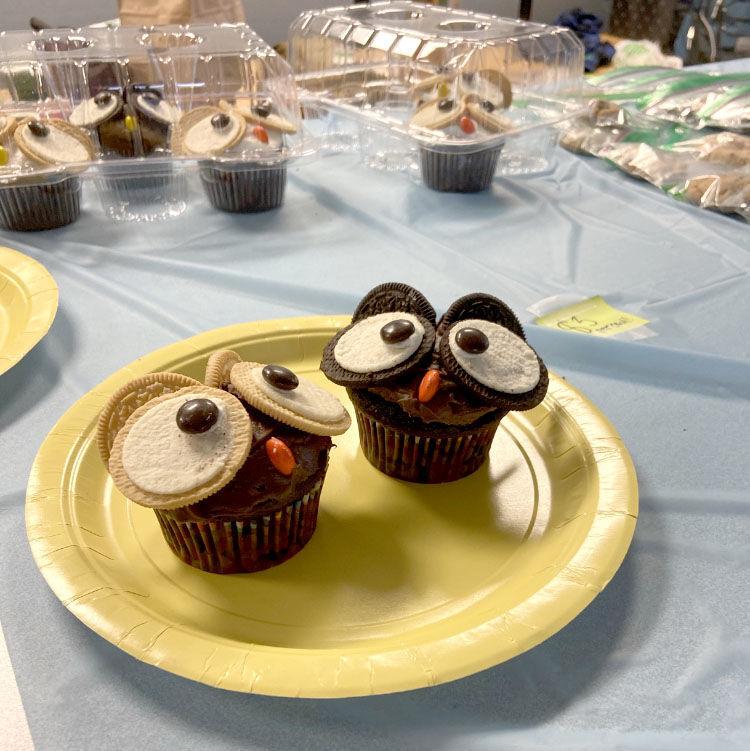 Academy High
The school's Women Empowered Club, run by Eleanor Laufenberg, held a bake sale, making $346 for Courage Connection, an organization that offers domestic-violence services to the community.
— William Ding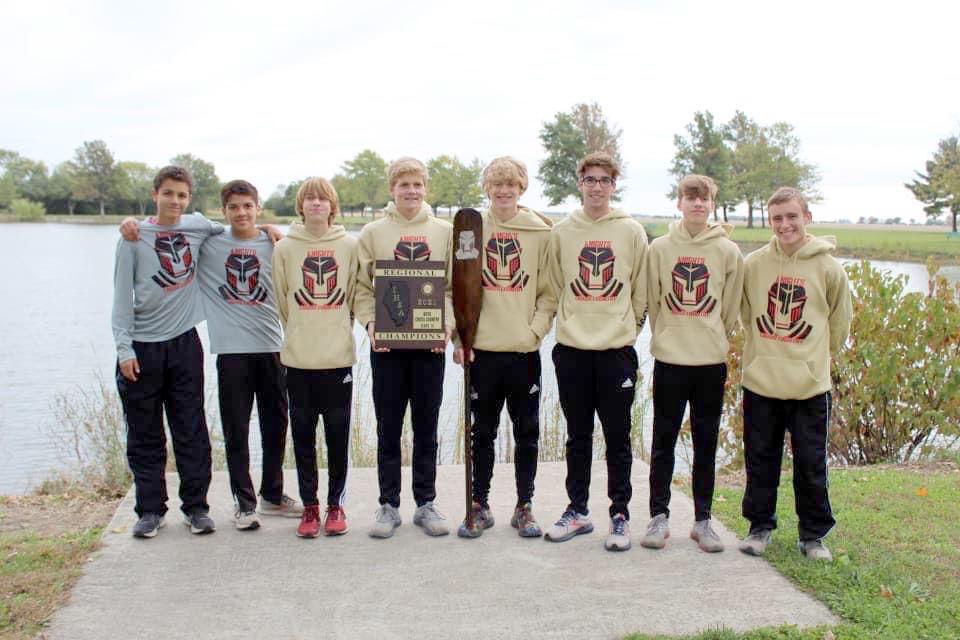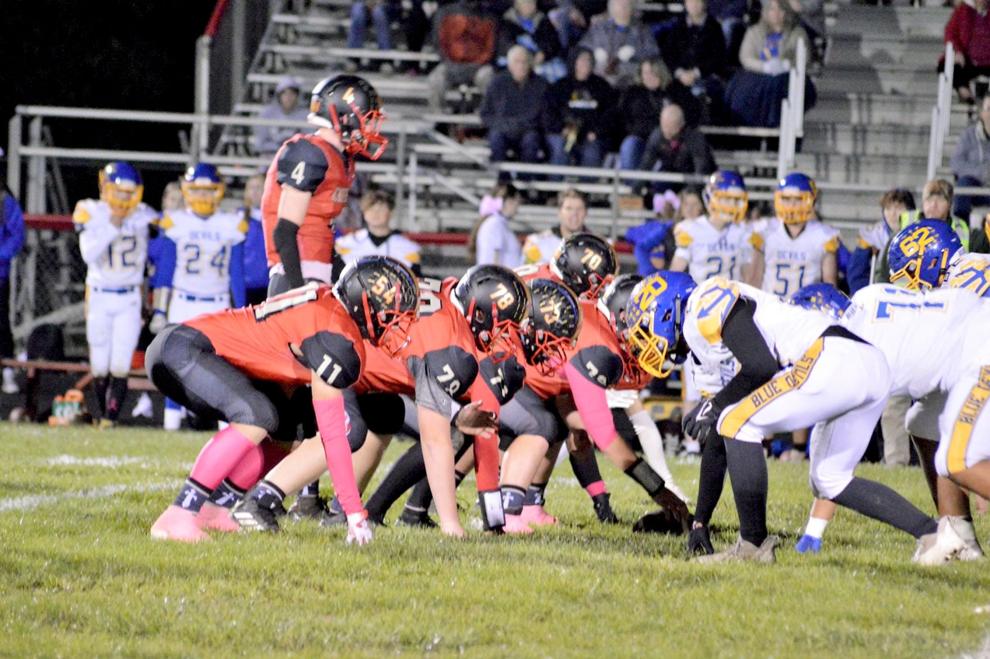 ALAH
At 4-4, the football team needed to win its regular season finale to qualify for the playoffs — and did just that, advancing to the postseason for the second time in three years. The next day, the boys' cross-country team won its third consecutive regional title, this time at Tuscola. Pictured, left to right: Connor Edmonds, Jesus Corona, Jacob Adcock, Jace Green, Logan Beckmier, Jacob Duzan, Lyle Adcock and Steven Edwards
— Sarah Rafferty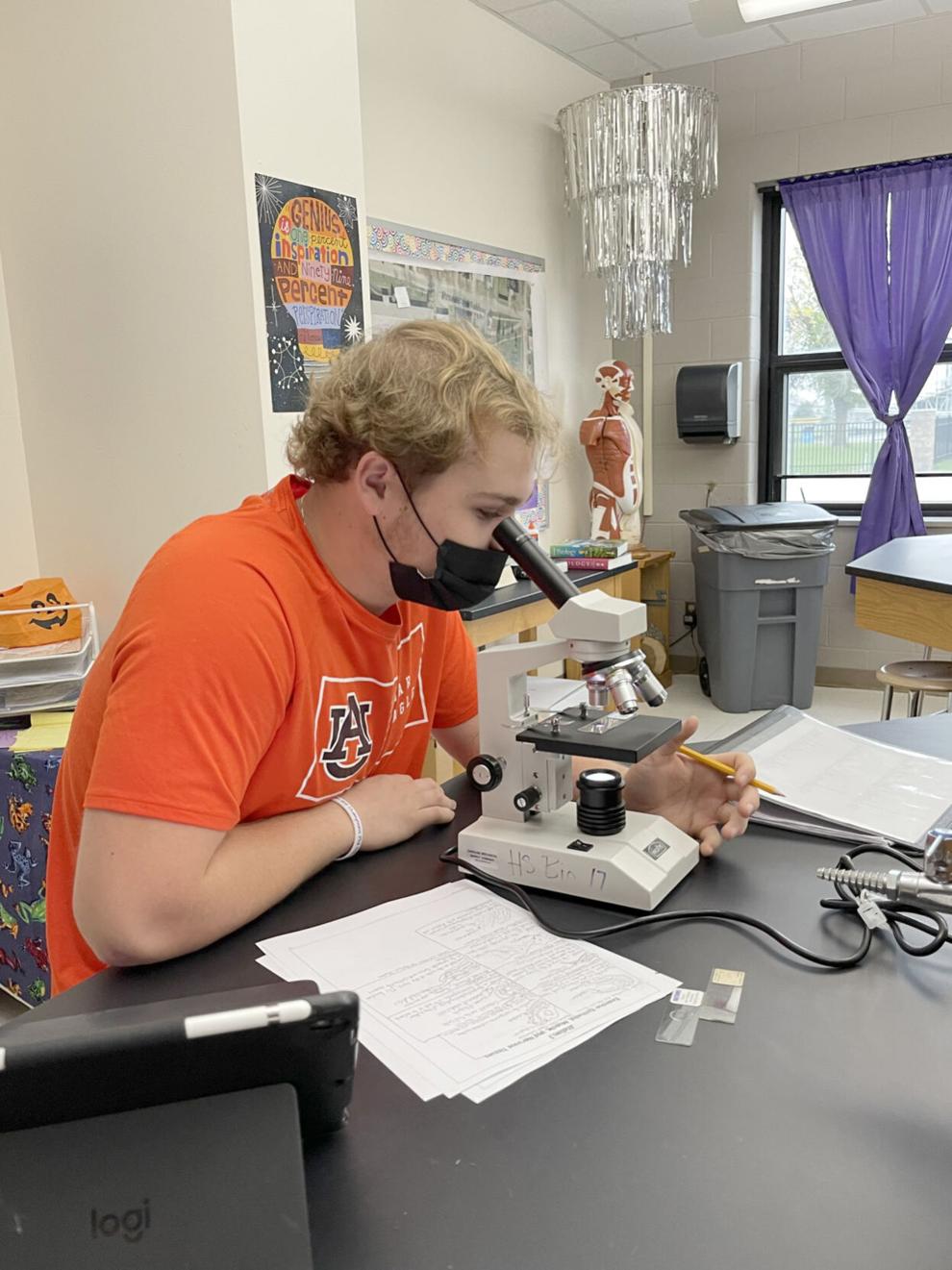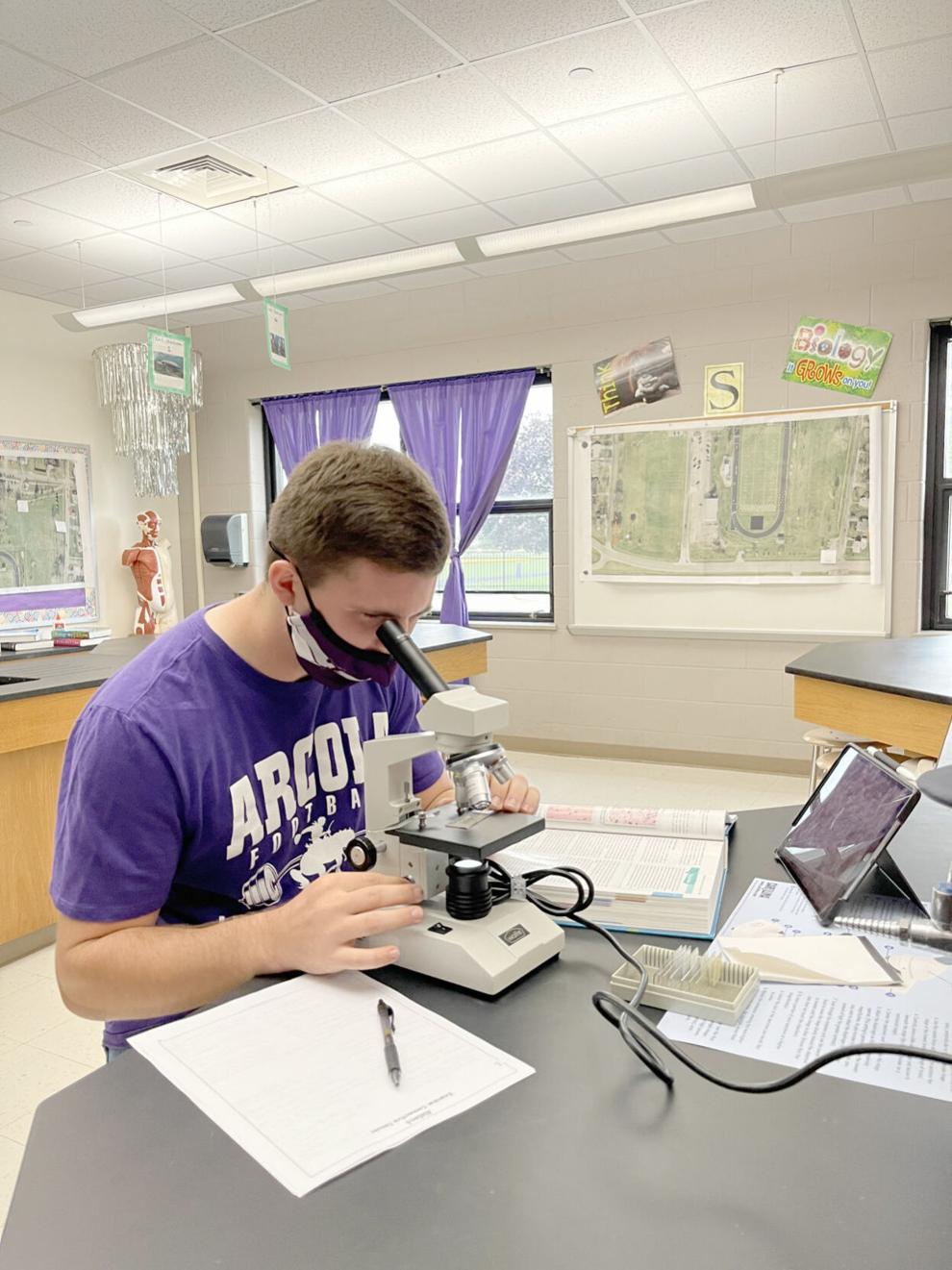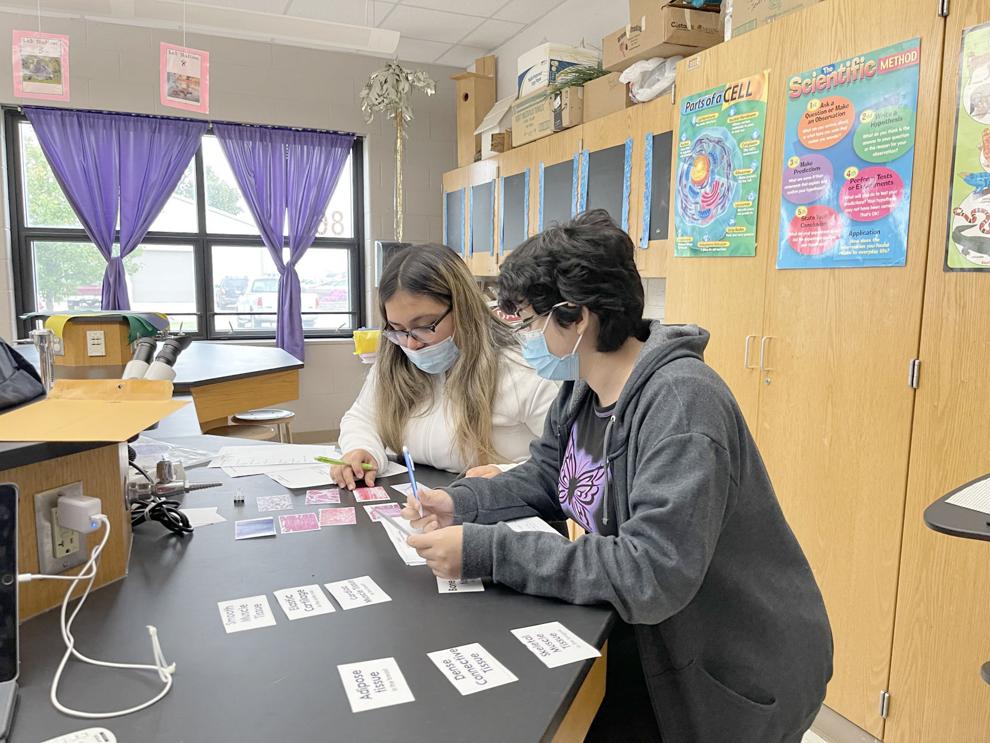 Arcola
Seniors in anatomy class are learning about and detecting different types of tissues in the human body. Pictured: Mark Truex, Zach Butler, Rubith Faustino and Giselle Rodriguez.
— Ariana Carmona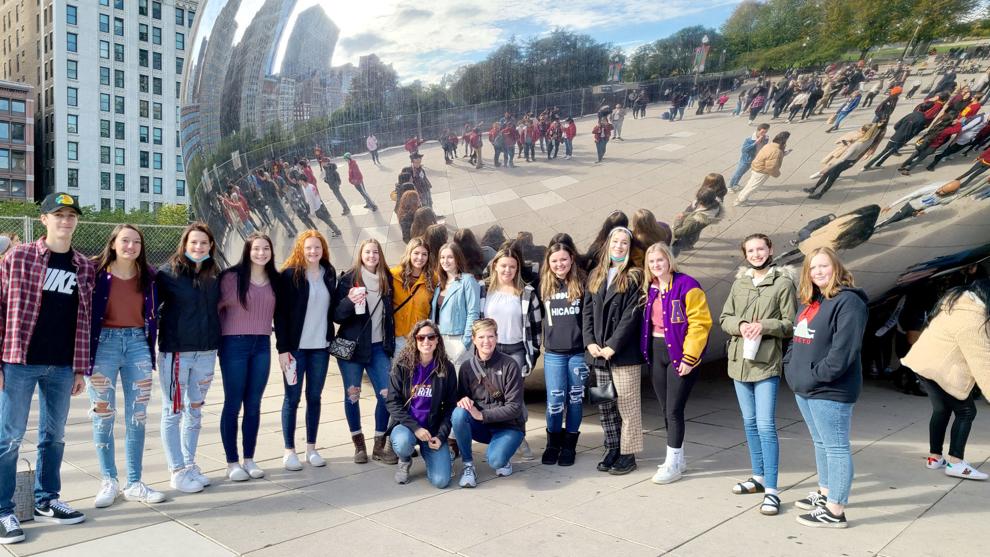 Armstrong
Members of the school's National Honor Society took their annual field trip to Chicago last Friday, visiting Field Museum and The Bean at Millennium Park. Pictured, left to right: (back row) Luke Gordon, Carlyn Crozier, Cami Saltsgaver, Lily Jameson, Kyla Bullington, Madelyn Hudson, Mattie Kennel, Cadence Crull, Casey Grant, Blythe Bridgman, Gigi Mulvaney, Ersie Cooper, Lindsay Suits and Kalie Hardwick; (front row) NHS sponsors Amy Bailey and Amber Cluver.
— Mattie Kennell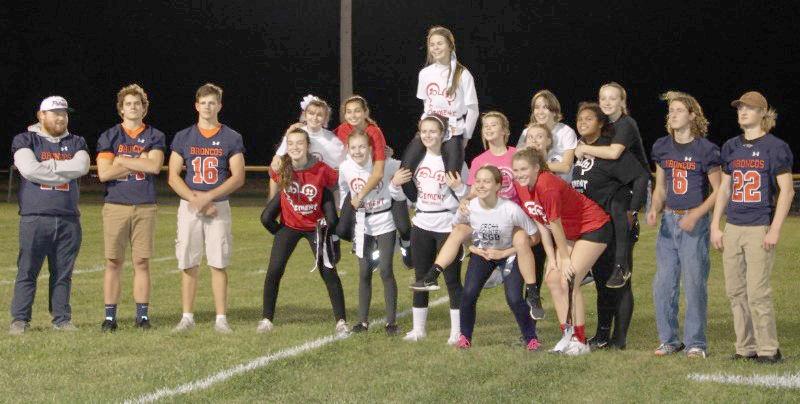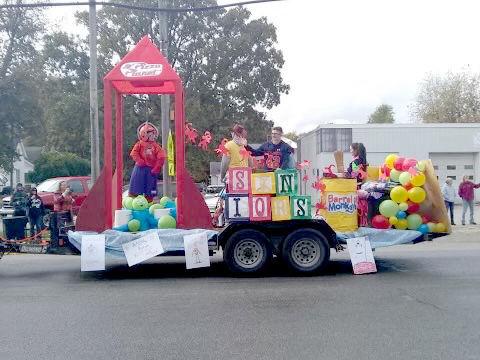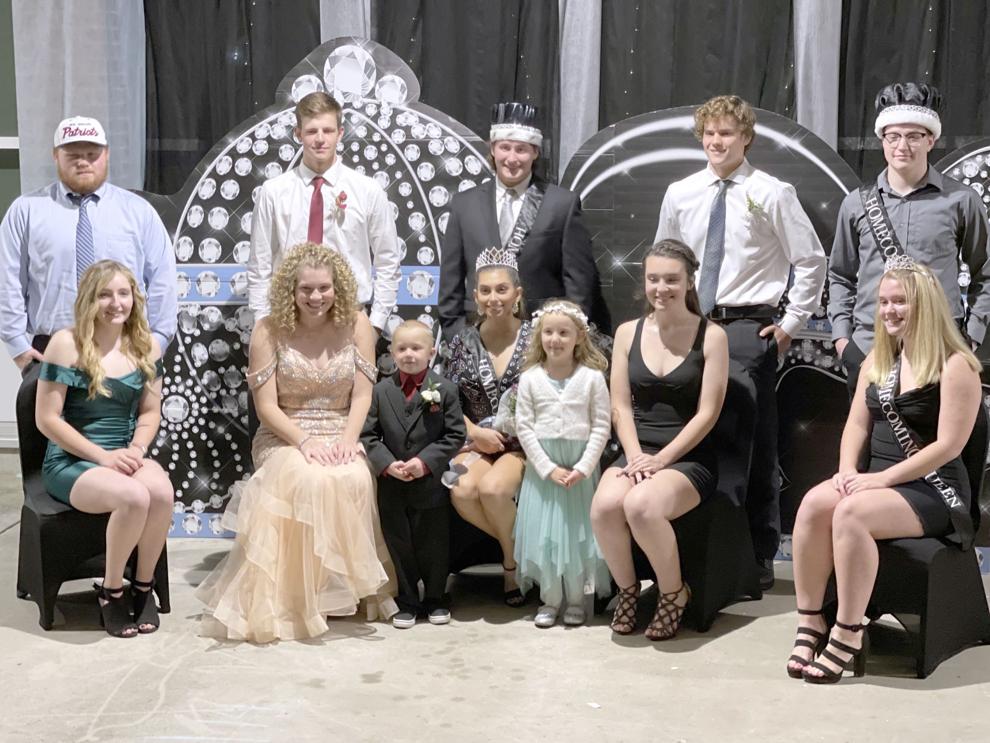 Bement
Homecoming's theme was Disney as students participated in festivities such as float-building (seniors won), powderpuff football (juniors/sophomores won, 42-21) and a Saturday night dance. Trinity Stroisch was crowned homecoming queen by the returning queen, Hailey Gadbury, and Jason Shimansky was crowned king by Jessee Quick. The other members of the court included Emma Fuqua, Xander Hutchcraft, Addie Fritz, Garrett Daniels, Anna Quick and Aiden Shonkwiler. The kindergarten attendants: Sunny Conlin and Lincoln Mills.
— Addie Fritz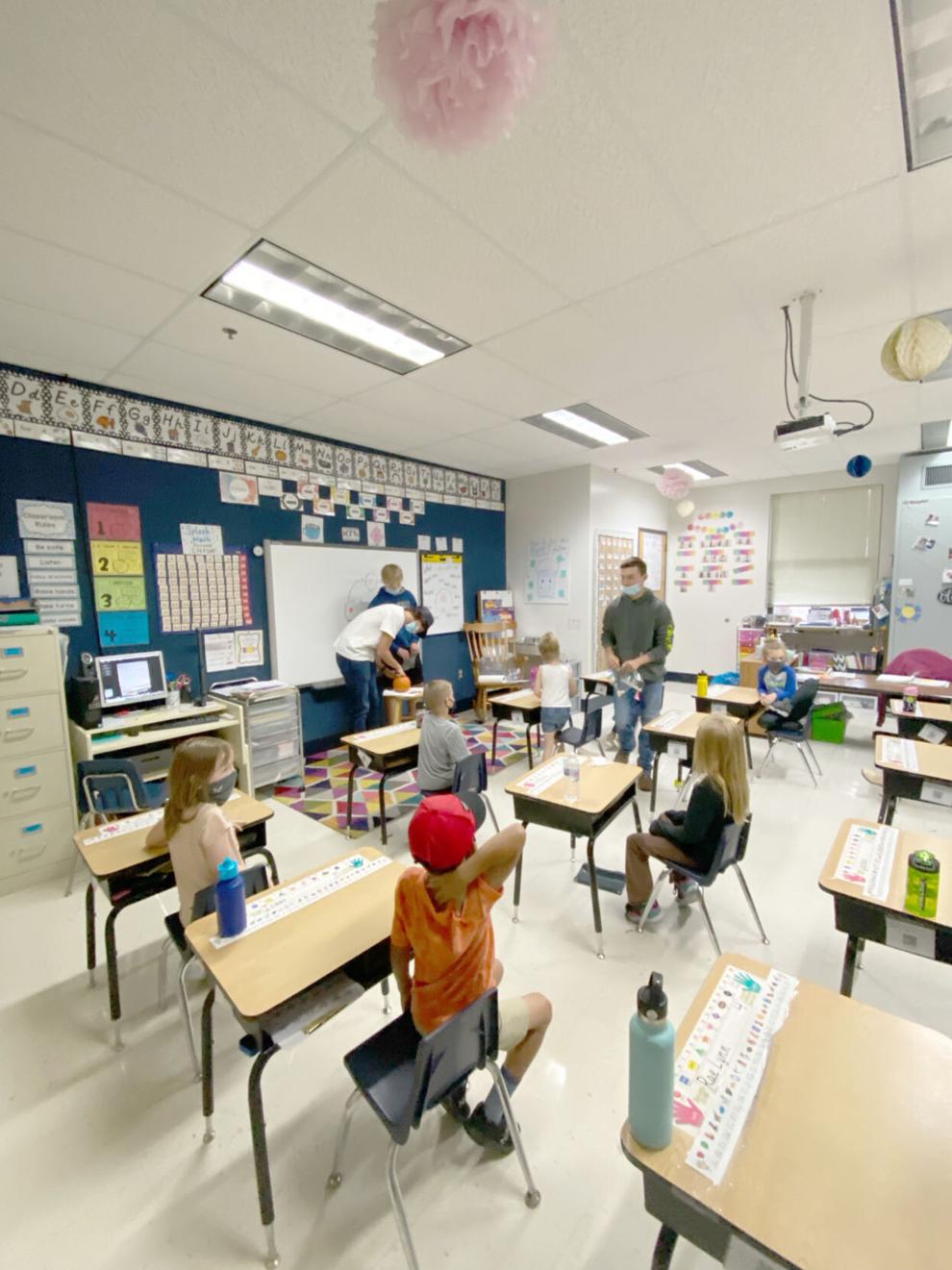 BHRA
Future Farmers of America members visited the elementary school to teach kindergartners about how a pumpkin grows. The youngsters got to touch pumpkins and both count and try seeds. Pictured: FFA officers Murphy McCool and Nathan Dice and member Kaleb Such.
— Paili Davis
Blue Ridge
After last week's Pink Out match against Cerro Gordo-Bement, the teams gathered to show their support for breast cancer awareness. It was a poignant moment for the Knights, who remembered Rita Price, the late wife of Marty Price, who recently passed away because of breast cancer. Marty is a Blue Ridge soccer coach. Among the Blue Ridge players pictured: Payton Burns, Cassie Zimmerman, Sarah Whitehouse, Alissa Crawford, Mady Wingert, Alexis Wike, Sierra Farrare, Ellie Schlieper, Gracie Shaffer, Jaclyn Pearl, Alyssa Lupton, Jamie Wanserski, Alexis Anglin, Alexis Phelps and Phoebe Reynolds.
— Sarah Whitehouse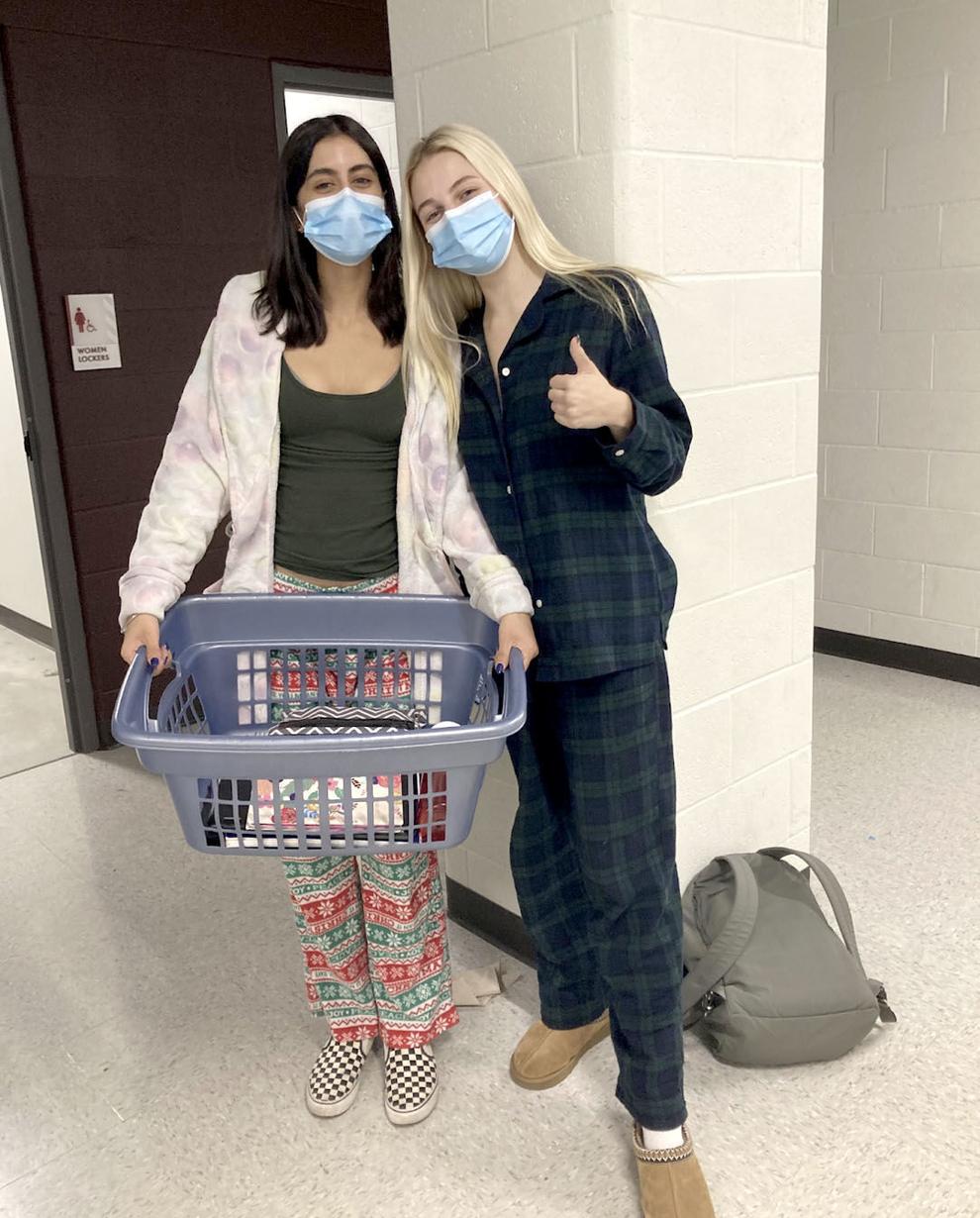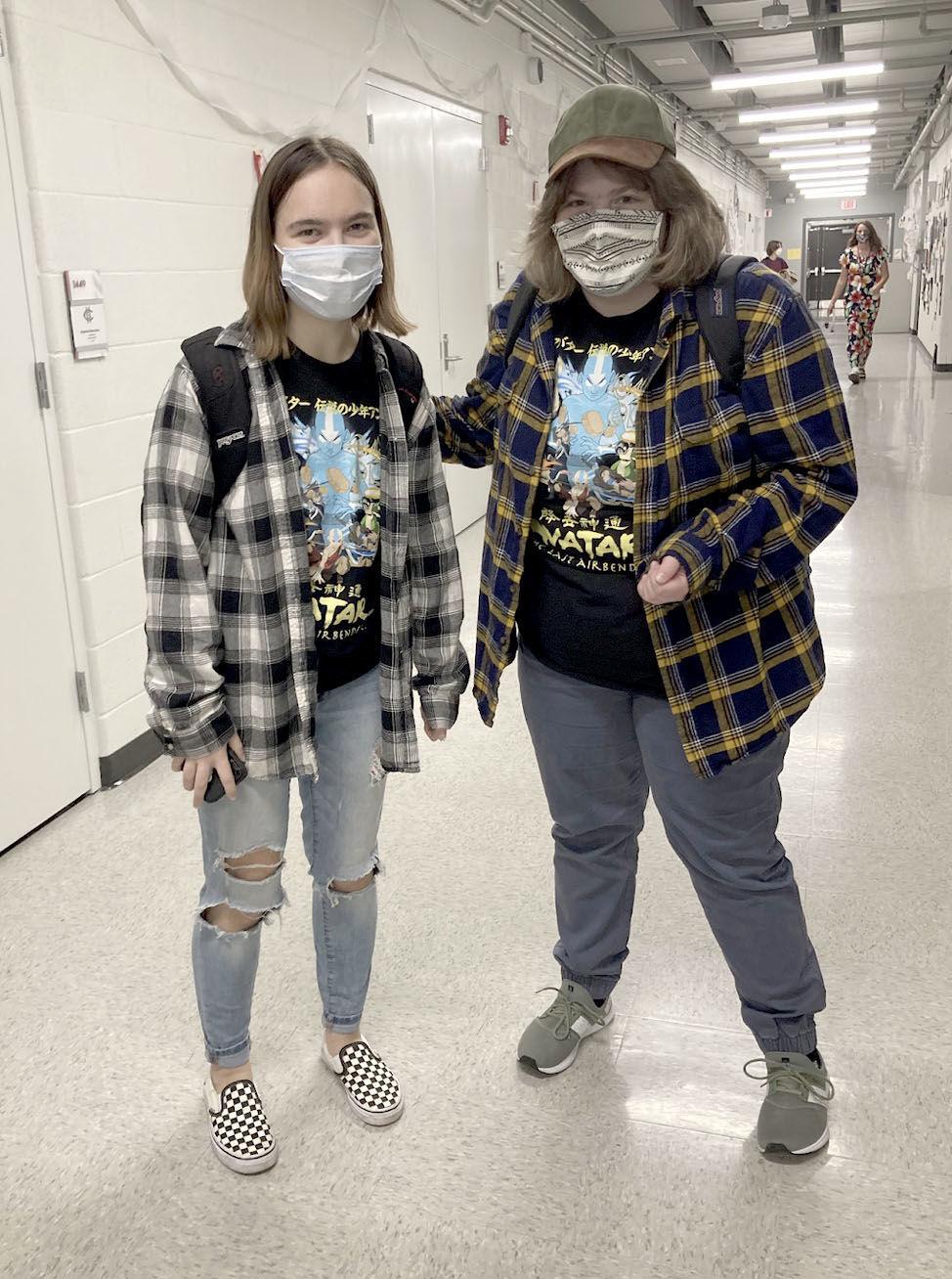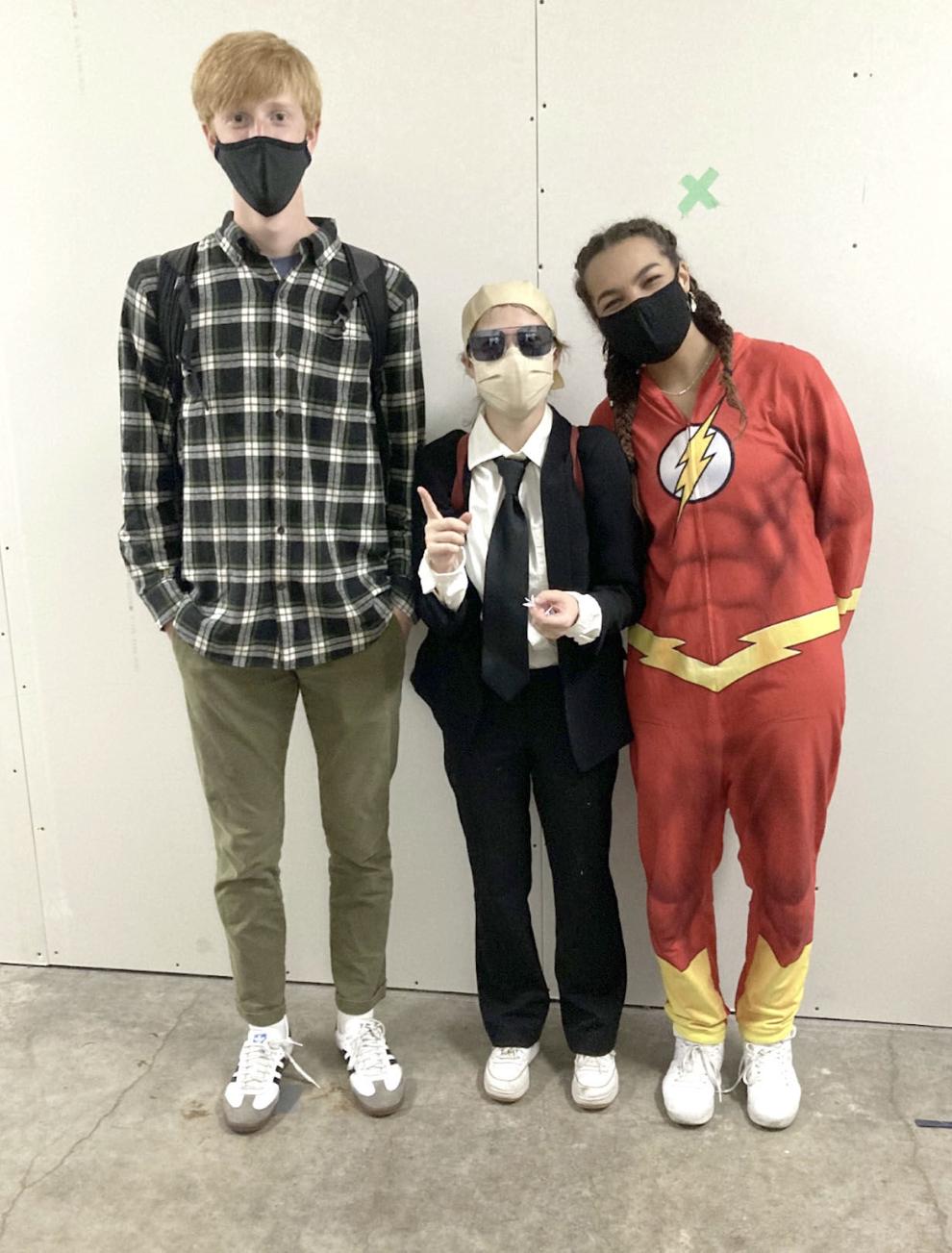 Champaign Central
During a three-day Spirit Week, student council's themes included Monday's Decade Day, Tuesday's Tacky Tourist Day and Wednesday's Character Day. Seniors went with their own themes: Monday's Pajama Day, Tuesday's Drip or Drown and Wednesday's Different Day. Pictured: senior Narmeen Chahal and junior Kat Wagner in pajamas; seniors Lee Swan-Watson and Ellen Loftus decided to twin, wearing matching Avatar shirts and flannels; looking fancy in their fur coats were seniors Isabela Barragan and Lainey Somers, and dressed up as Carson Nuñez, a fellow student, is senior Shaffer Bauer; as Pitbull is junior Andie Strauss; and as the Flash is senior Jasmine O'Connor.
— Lucy Moss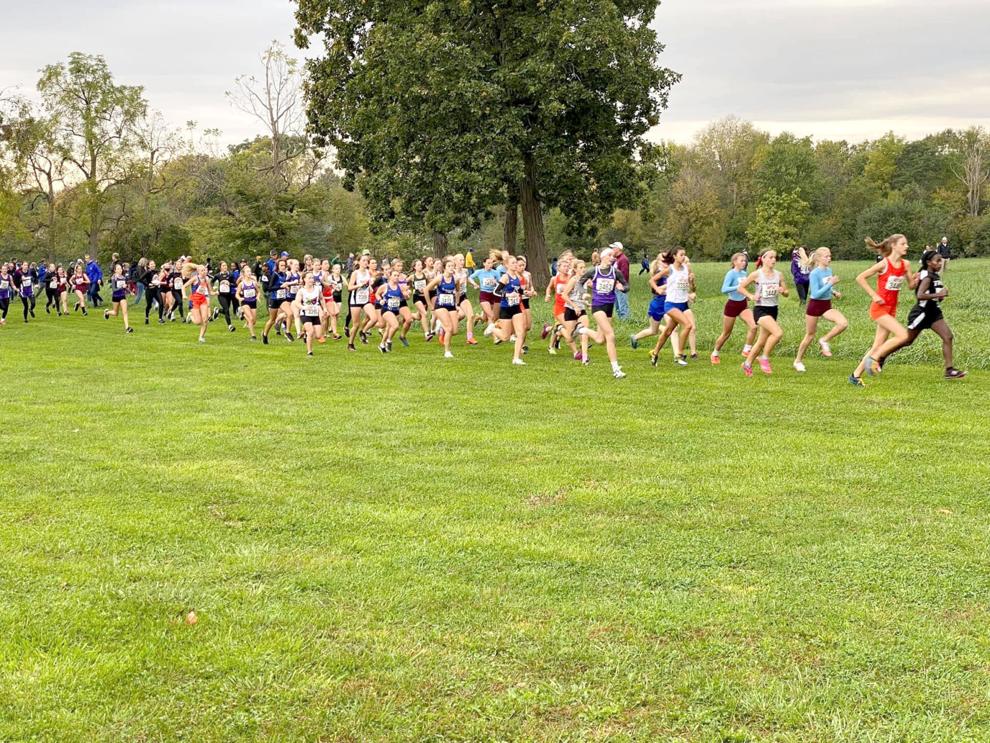 Chrisman
Cross-country regionals played out on the Cow Chip course last weekend. Senior John Phipps qualified to compete at sectionals in Decatur.
— Reese Anderson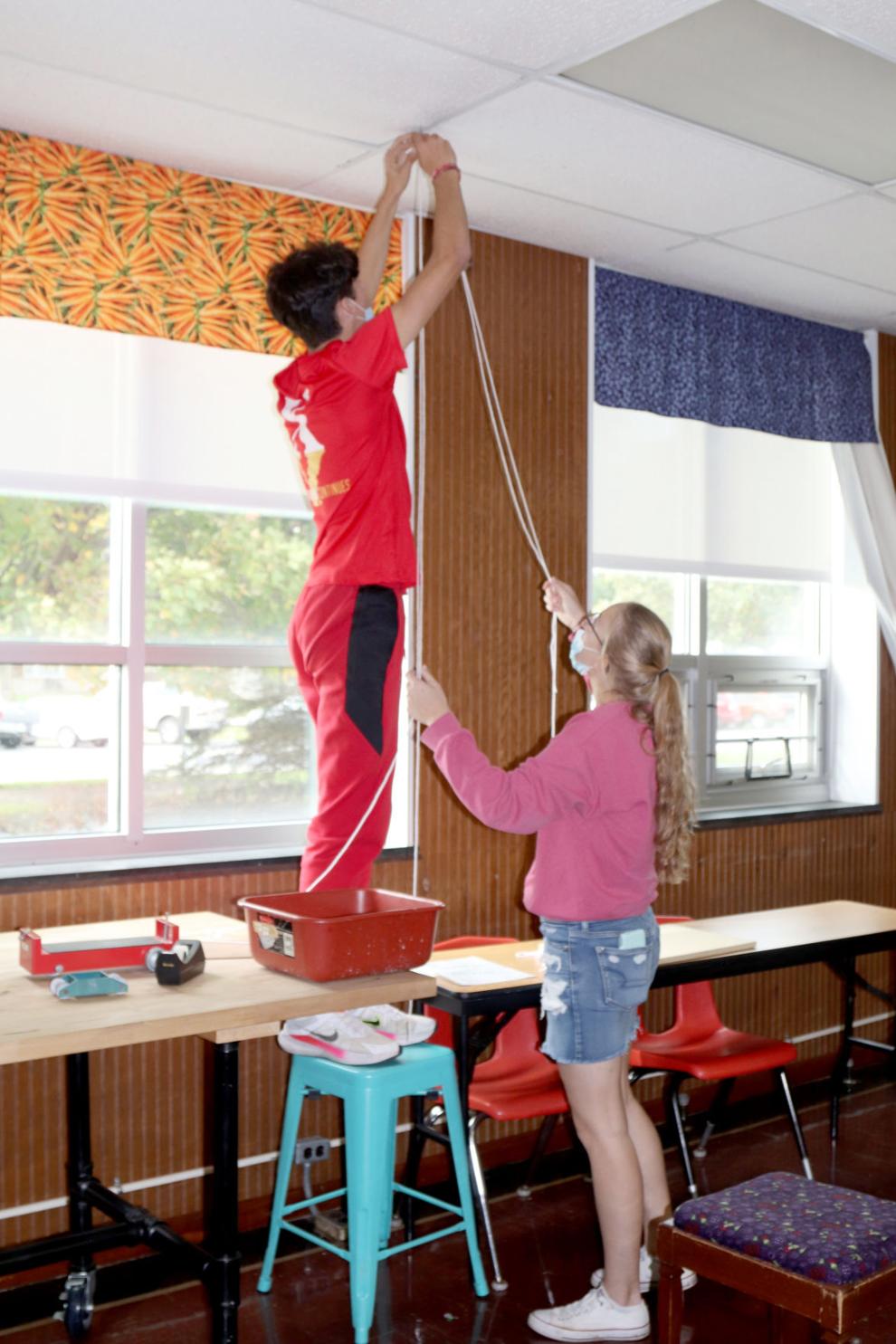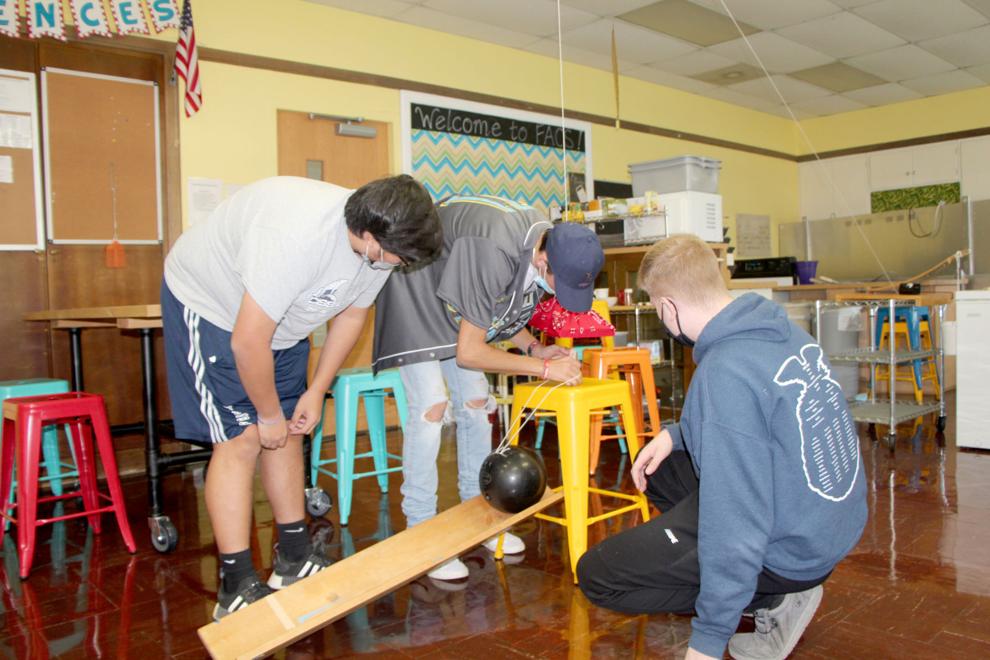 Cissna Park
Physics class made a 15-step energy transfer project, which required three days to design and complete. Pictured: Malaki Verkler and Lyssa Kaeb; and, left to right, Damain Renteria, Malaki Verkler and Trae Cobb.
— Emma Morrical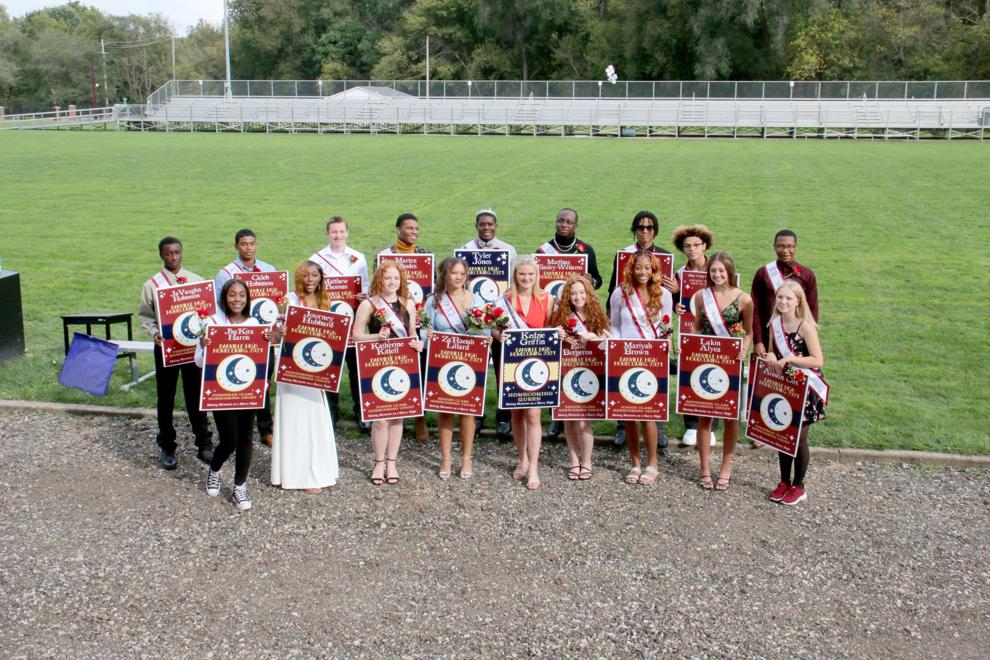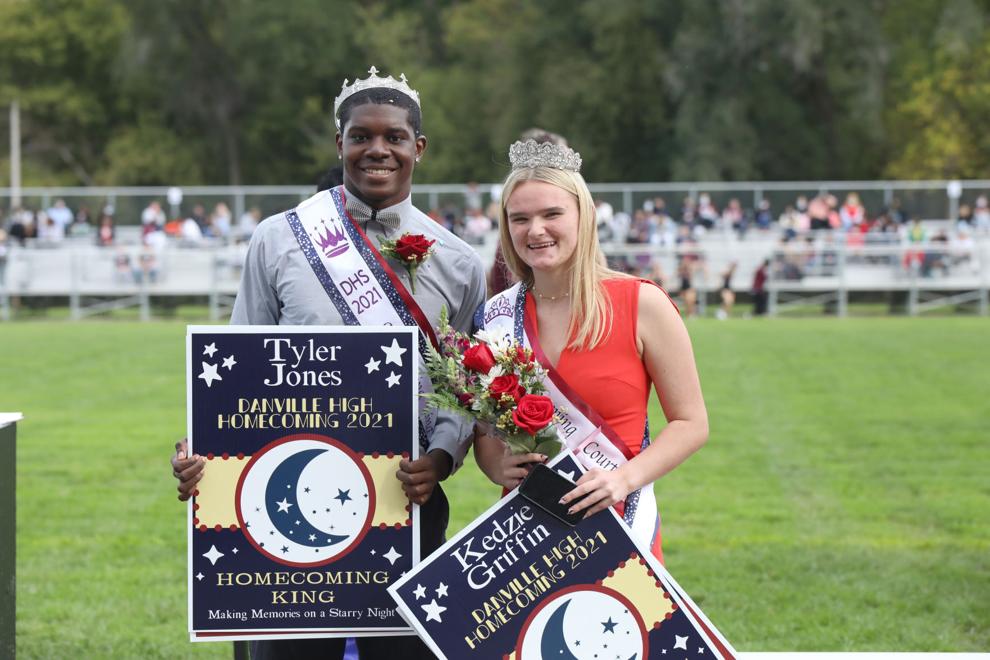 Danville
Homecoming week included spirit days like Monochrome Monday, Home Team Tuesday, Zoom Day Wednesday, Class Shirt Thursday and All-American Friday. The pep assembly on Tuesday revealed the king and queen: Tyler Jones and Kedzie Griffin. The court: (back row) Ja'Vaughn Robinson, Caleb Robinson, Matthew Thomas, Martez Rhodes, Jones, Matthias Easley-Williams, O'Shawn Jones-Winslow, Curtis Beasley and Brandon Collins-Hickman; (front row) Jha'Kira Harris, Journey Hubbard, Katherine Kittell, Za'Raeiah Lillard, Griffin, Ellie Bergeron, Mariyah Brown, Lakin Alyea and Allison Cox.
— Kedzie Griffin
Fisher
Volleyball celebrated Senior Night with a win against Villa Grove. Seven girls were honored as they played their last home match: (left to right) Isabella Hallden, Katrina Phelps, Makynzee Theis, Jaedyn Fitzgerald, Jordan Fitzgerald, Kaylee Rodgers and Katie Landers.
— Krista Martin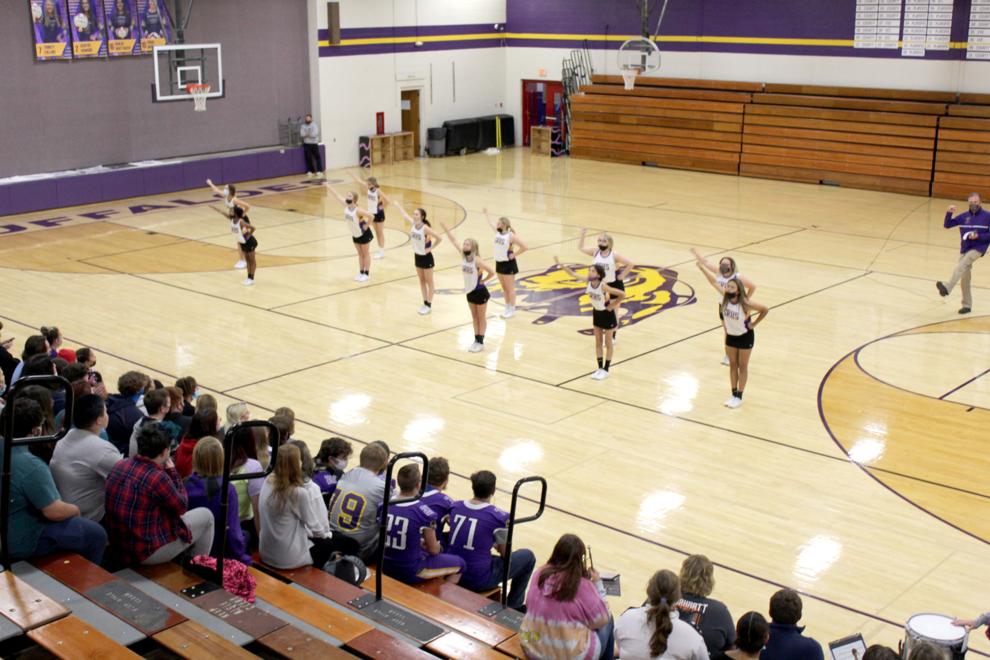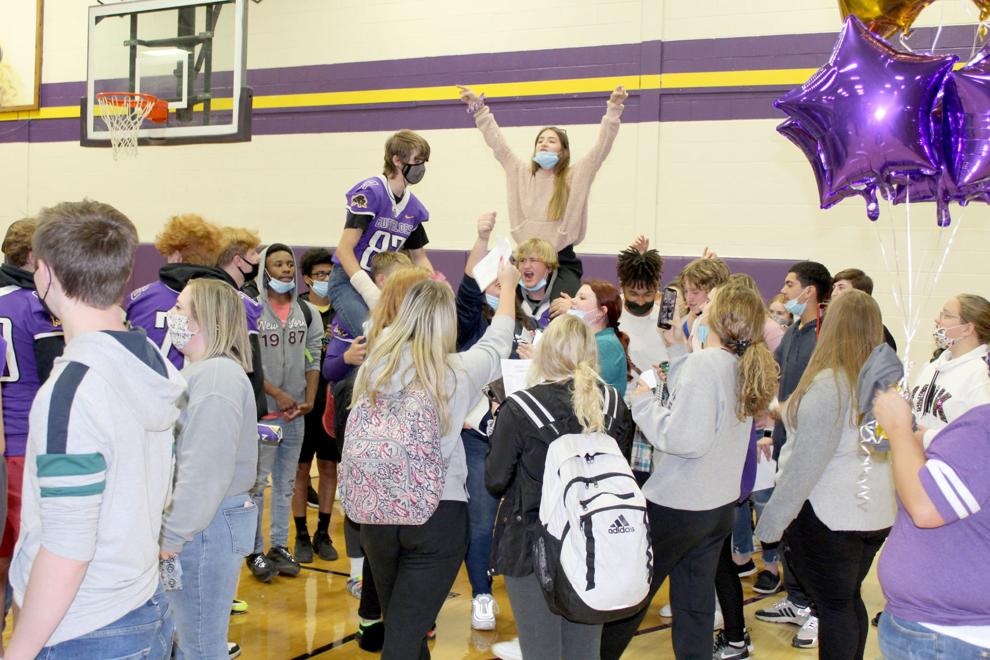 Georgetown-Ridge Farm
At last Thursday's pep rally, Principal Kevin Thomas recognized the successful seasons of the school's fall sports teams, cheerleaders led the students in cheers and a class spirit showdown wrapped things up (pictured: seniors).
— Chloe Brock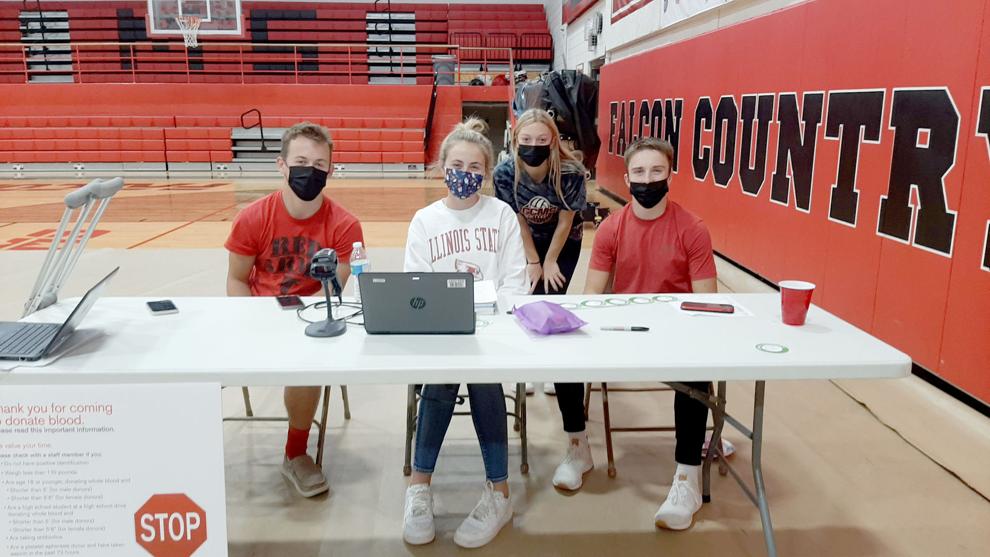 Gibson City-Melvin-Sibley
The Red Cross held its annual blood drive at the high school last week as several students and staff members volunteered to donate. Peyton Leonard, with help from fellow students, coordinated the event. Pictured, left to right: Zander Wier, Leonard, Rylee Stephens and Carter Kallal.
— Emily Hood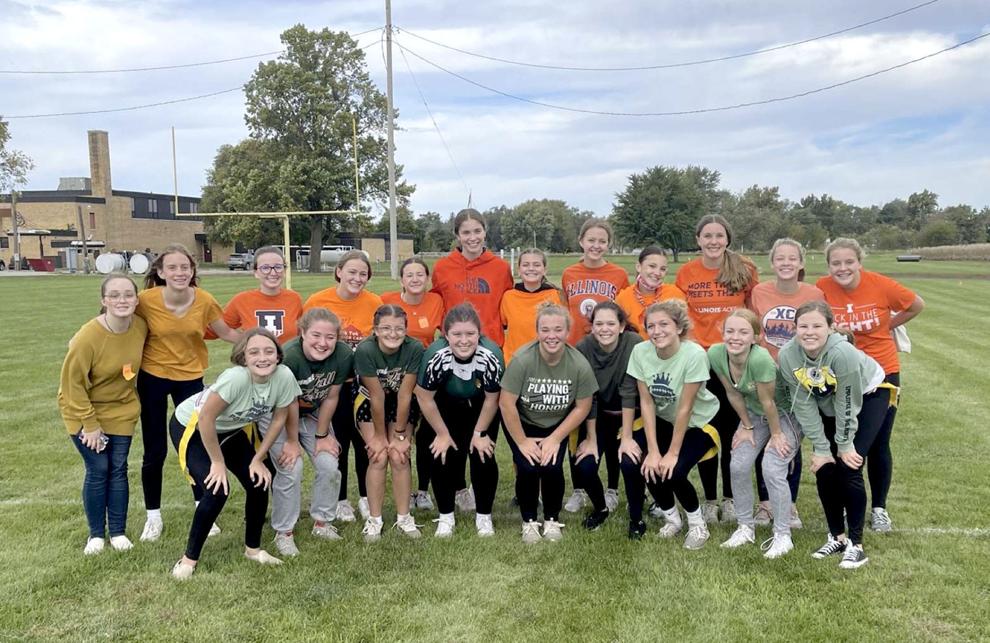 Heritage
Student council kicked off its Fall Festival week with a powderpuff football game. Freshmen and seniors (orange) went up against sophomores and juniors (green).
— Torie Rothermel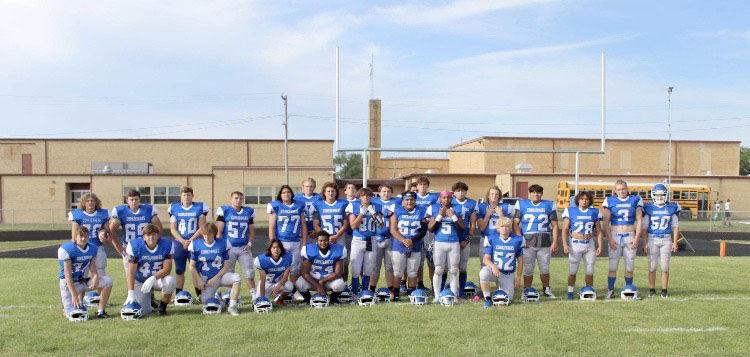 Hoopeston Area
The school is beaming with pride over a football team that made the playoffs for the first time in 29 years.
— Emily Ray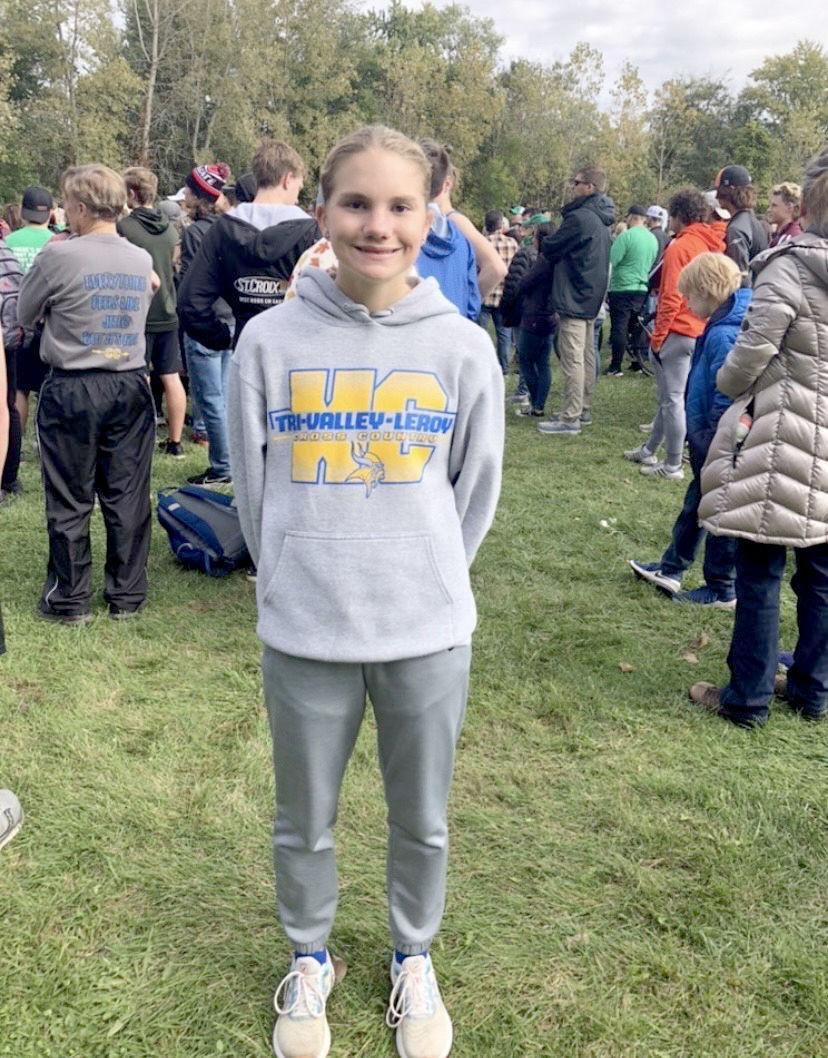 LeRoy
Hardworking junior cross-country runner Lily Monigold qualified for this weekend's Elmwood Sectional after a personal-best time of 19:18 at the Eureka Regional.
— Kelsey Graves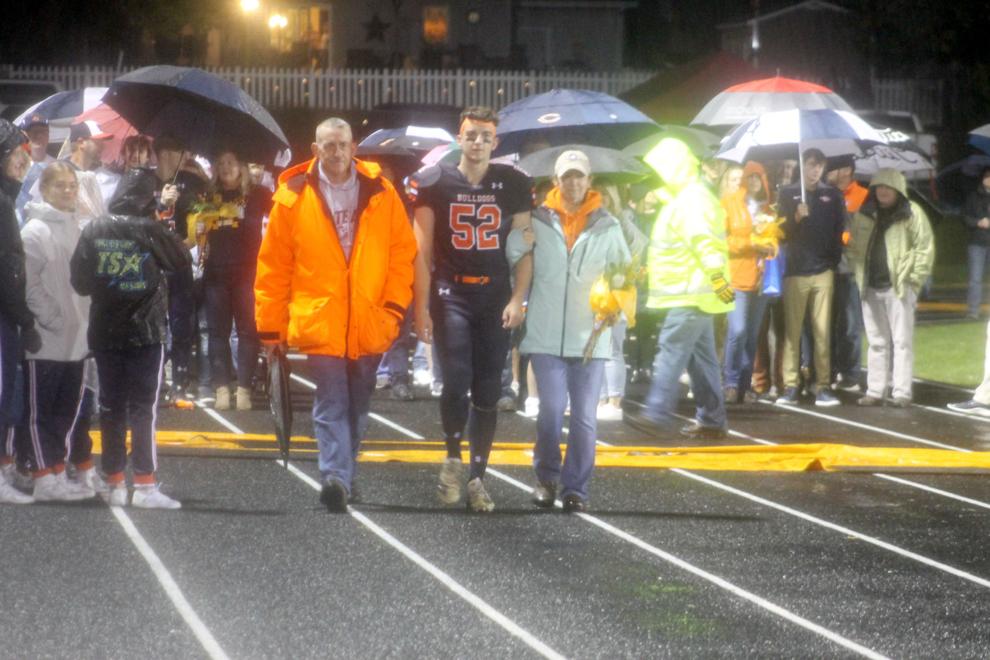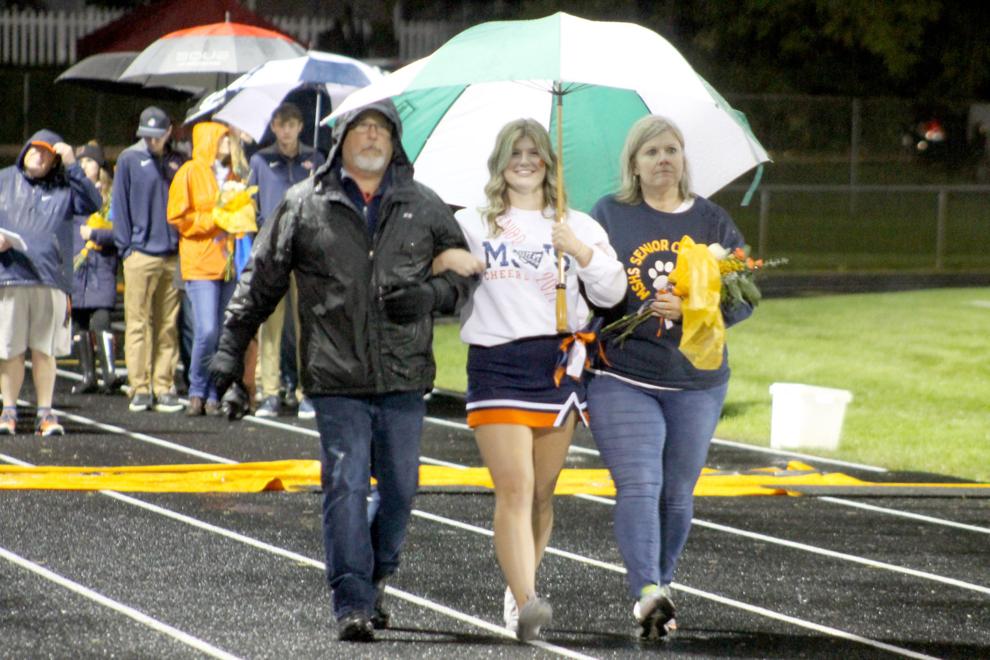 Mahomet-Seymour
Even a torrential downpour couldn't dampen the mood at last Friday's Senior Night. Pictured: Accompanied by their parents, seniors Annilee Griffeth and George Moore walk across the track to be honored alongside teammates.
— Tinley Peters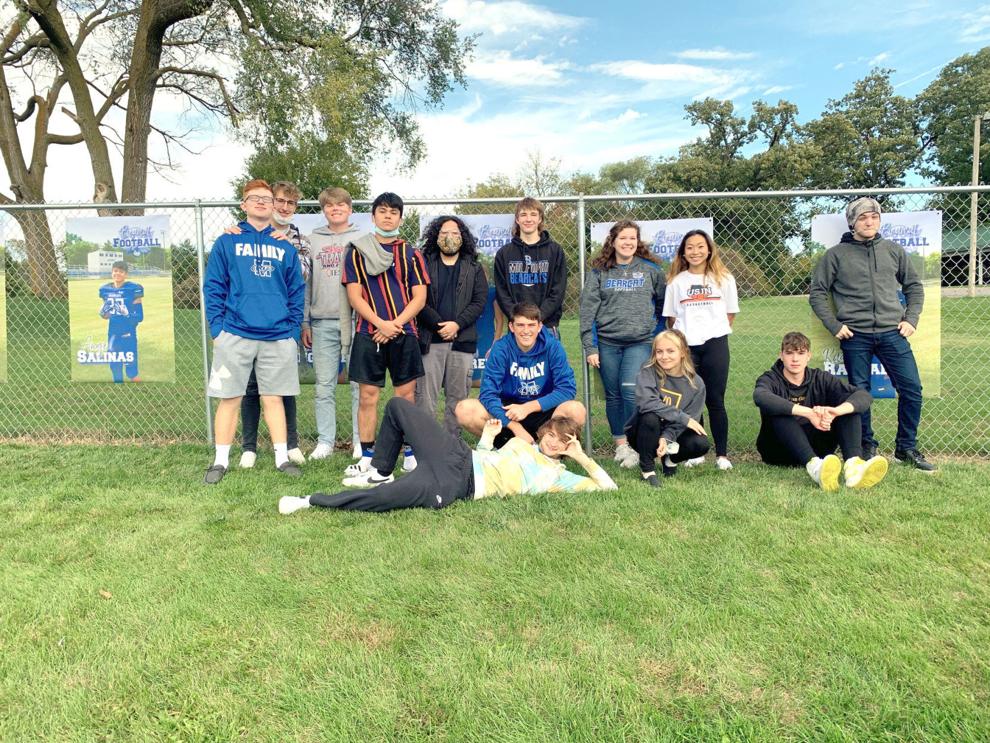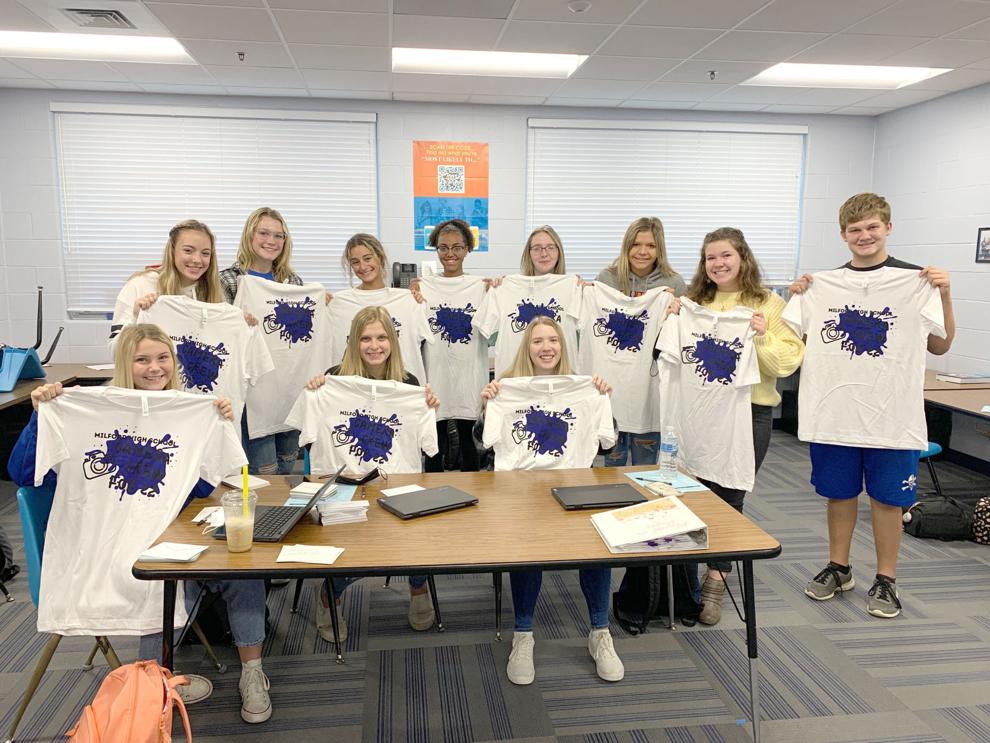 Milford
Entrepreneurship class created and hung banners outside for football and cheer Senior Night. Pictured, left to right, back to front: Chase Clutteur, Salym Estes, Payton Harwood, Angel Salinas, Angelo Avalos, Brennan Schmink, Alivia Schmink, Anna Hagan, Cameron Langellier, Nick Warren, Karissa Auxier, Will Teig and Kadin Randalls. Also, the yearbook team received T-shirts made by the printmaking class. Pictured, left to right, back to front: Jahni Lavicka, Brynlee Wright, Mady Bennett, Jasmin Cullum, Maddie Hardwick, Cassidy Mowrey, Alivia Schmink, Weston Jensen, Hunter Mowrey, Caley Mowrey and Lauren Huff.
— Alivia Schmink

Monticello
Students united to raise money for Paint Piatt Pink to support the fight against breast cancer in October. Students donated money to a bucket designated to a football captain/pep club representative, and the boy with the most money in his bucket will kiss a farm animal at Friday's pep assembly. Options were Tristan Foran, Peyton Scott, Jacob Tackett, Lucas Courson and Joey Sprinkle.
— Clara Rudolph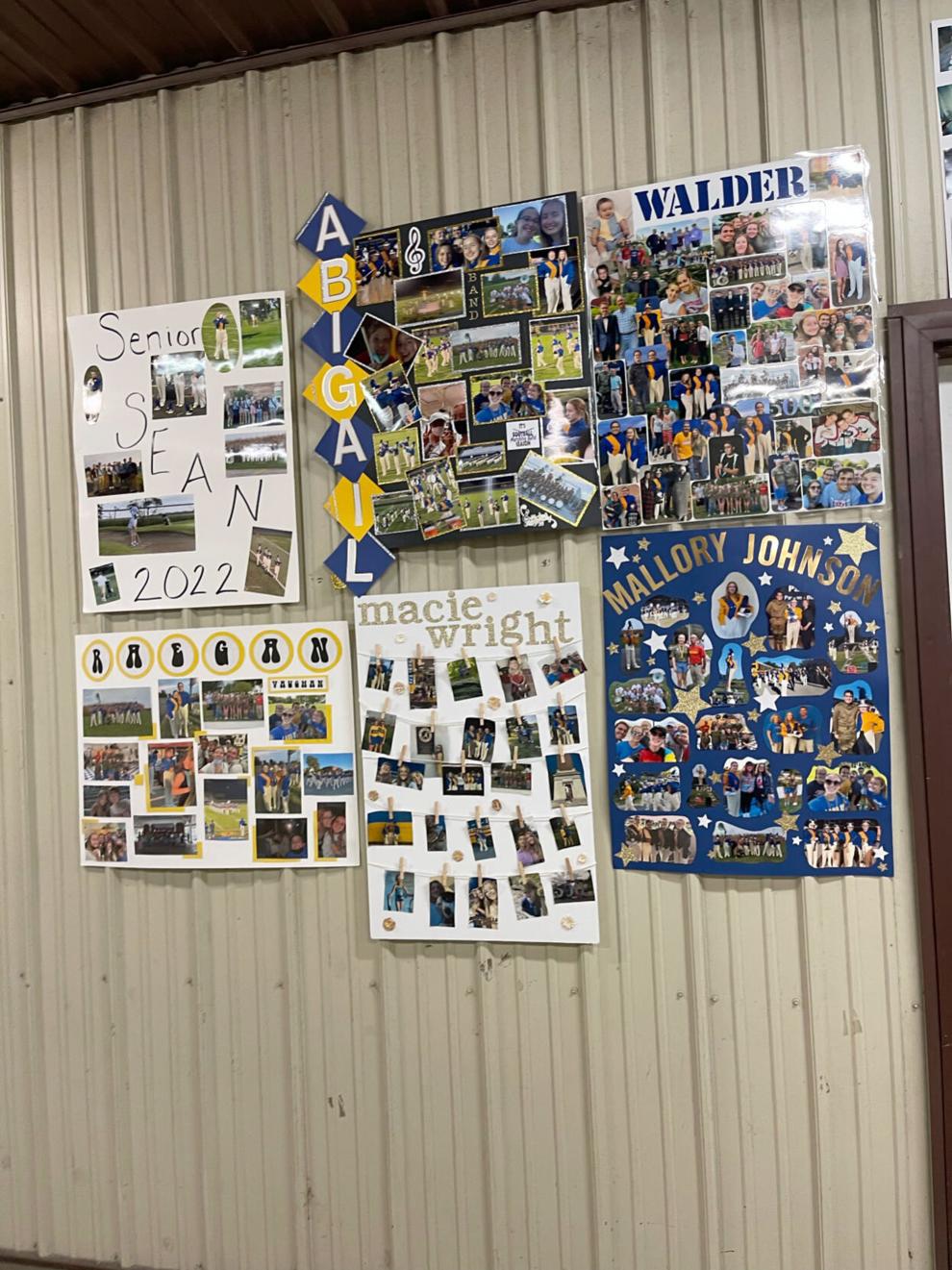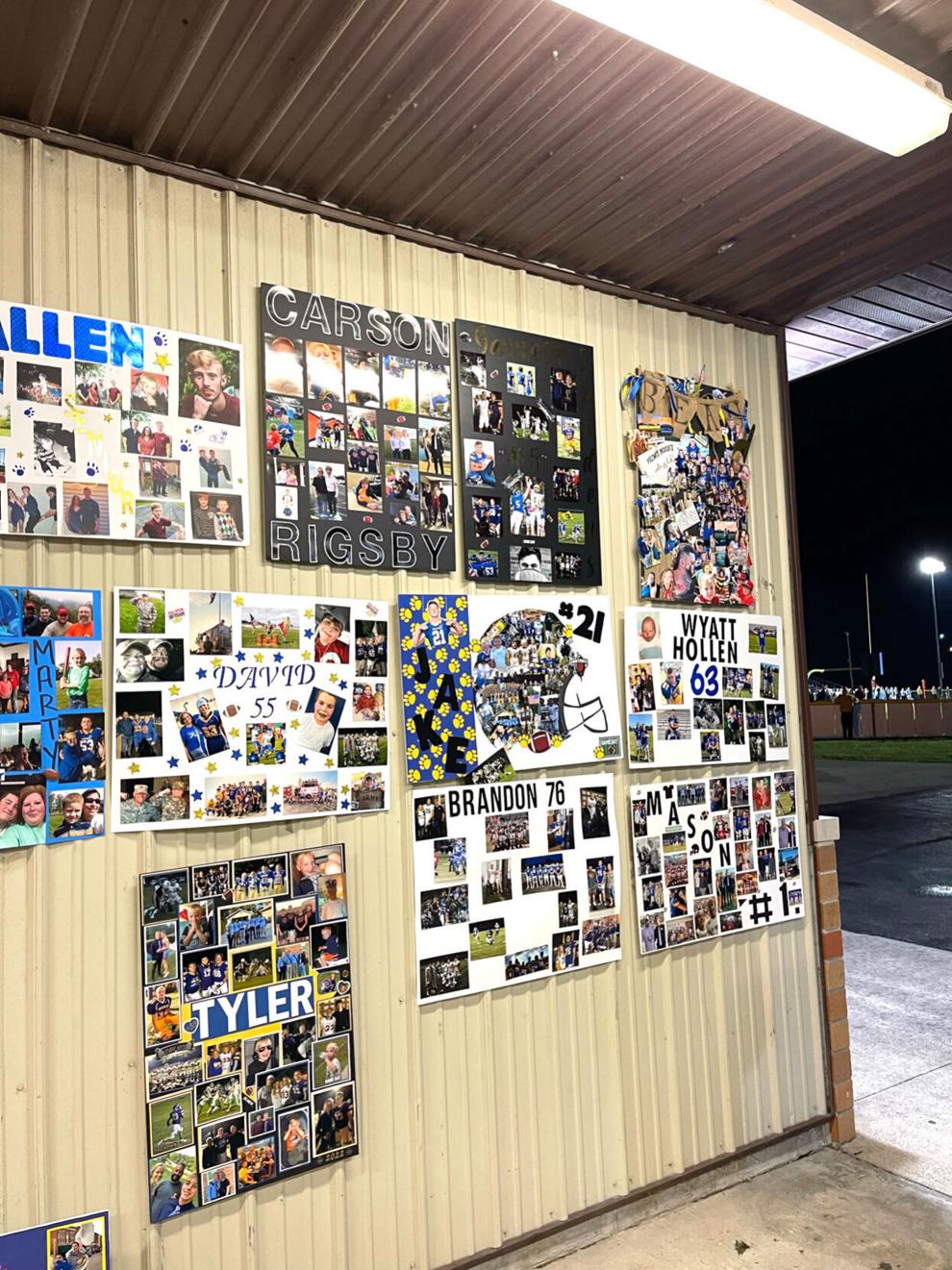 Paxton-Buckley-Loda
Senior Night was celebrated last Friday for students participating in football, cheerleading, band, golf and cross-country. At the football game, posters made by the seniors themselves decorated the walkway to the field.
— Sydney Murphy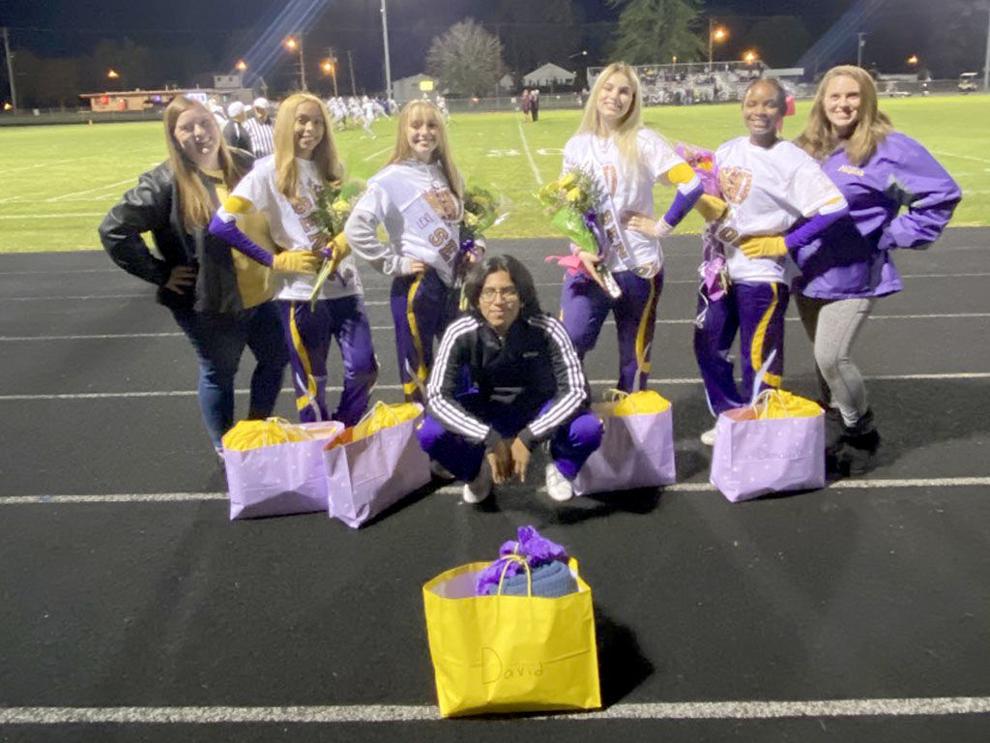 Rantoul
Football, cheerleading and band members celebrated Senior Night last Friday. Senior cheerleaders, left to right: coach Liz Dietz, Hailey Campbell, Mary Cuppernell, David Gutierrez, Tuscany Vandergriff, Damayah Thomas and coach Laura Fondia.
— Mary Cuppernell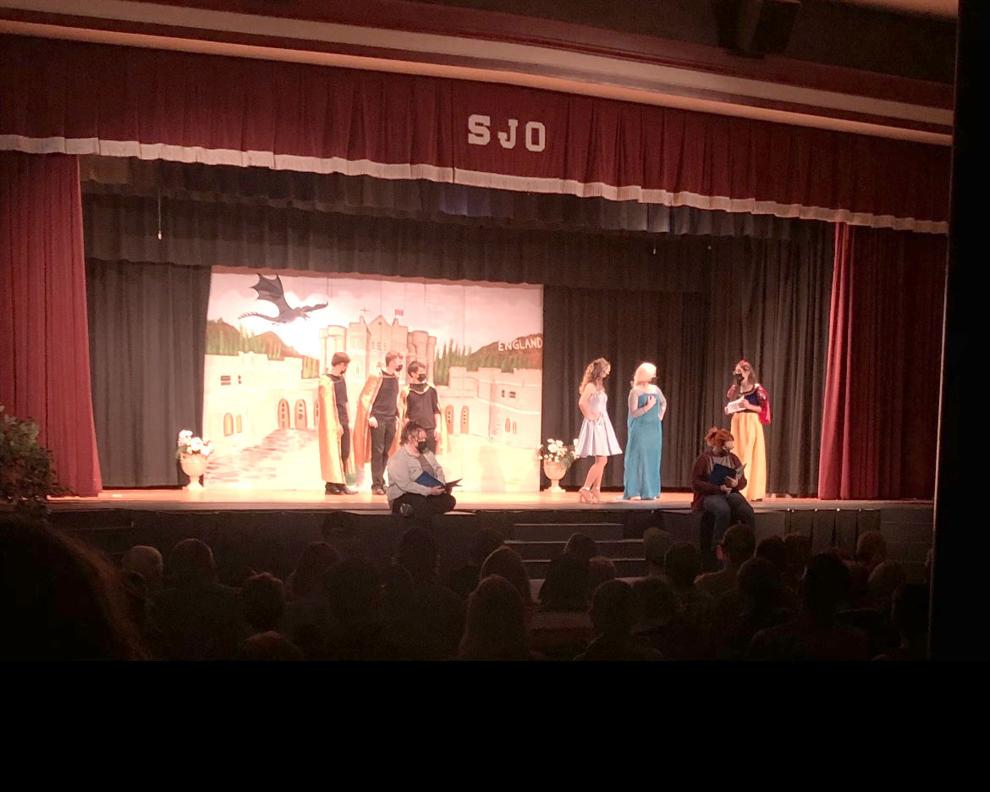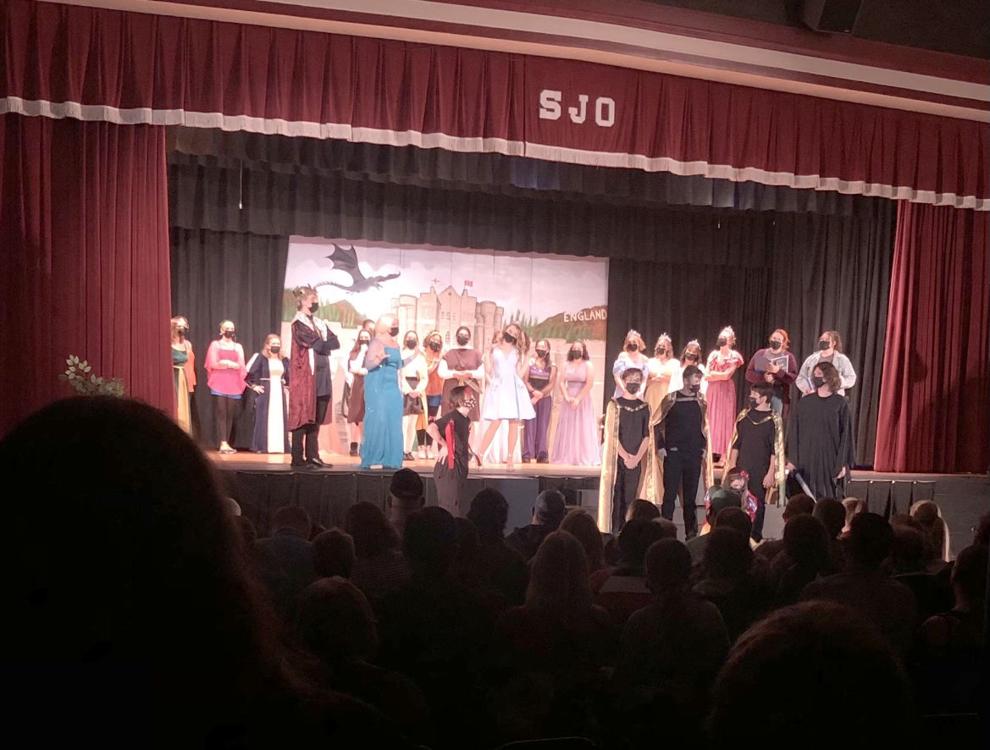 St. Joseph-Ogden
The fine arts program premiered the fall play "Game of Tiaras" with performances on Saturday and Sunday.
— Regan Uden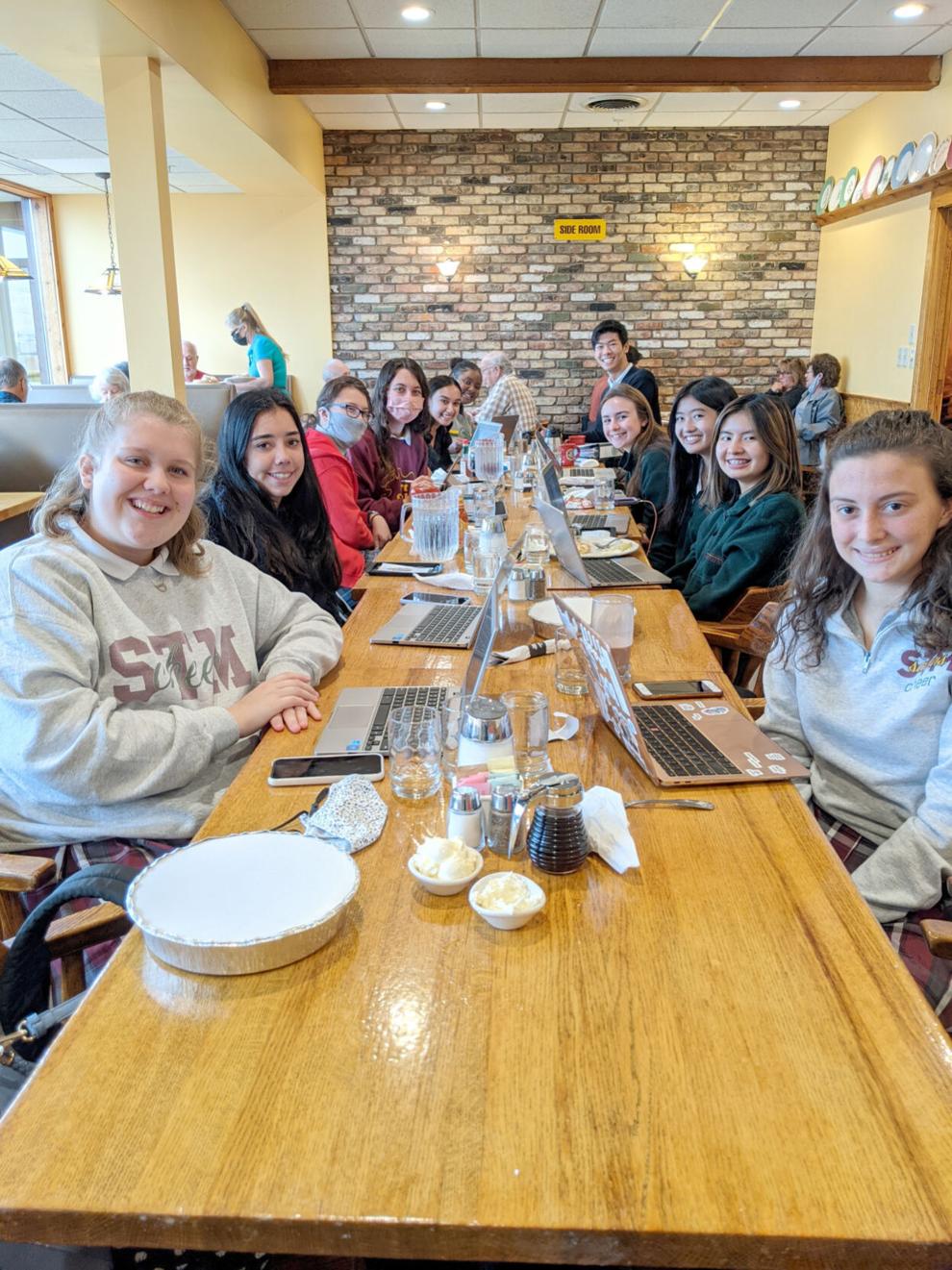 St. Thomas More
Yearbook Club, led by Erica Lyons, met at The Original Pancake House for their monthly workshop. Members present included Joshua Pierce, Amelia Case, Lydia Case, Emily Ritter, Abby Deptula and Grace Kreps.
— Bailey McMahon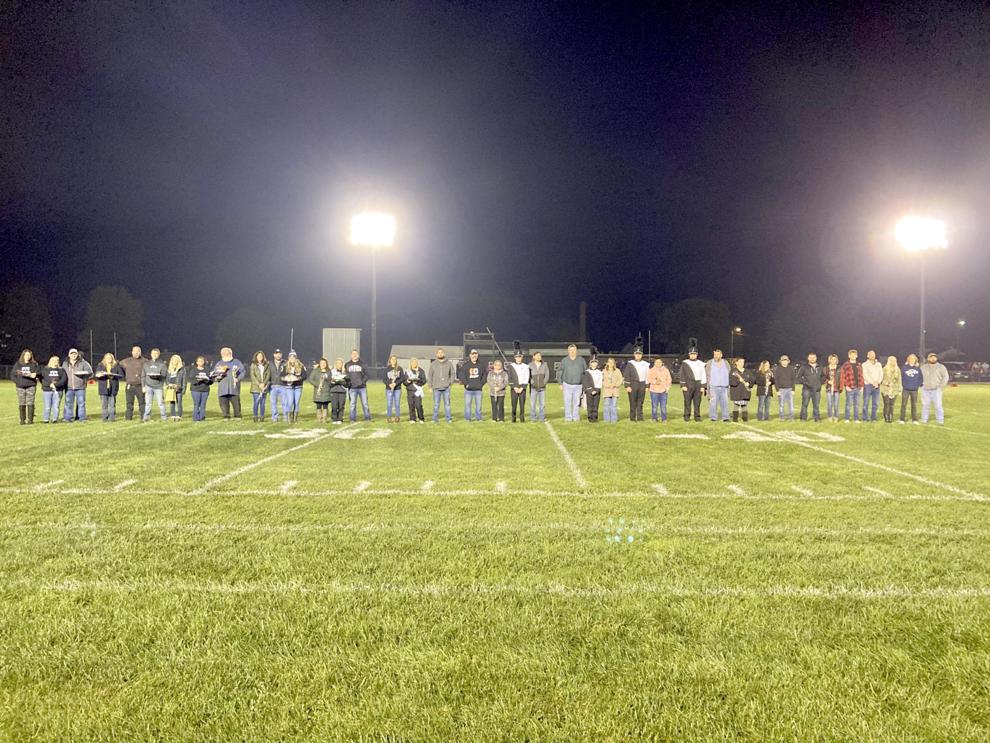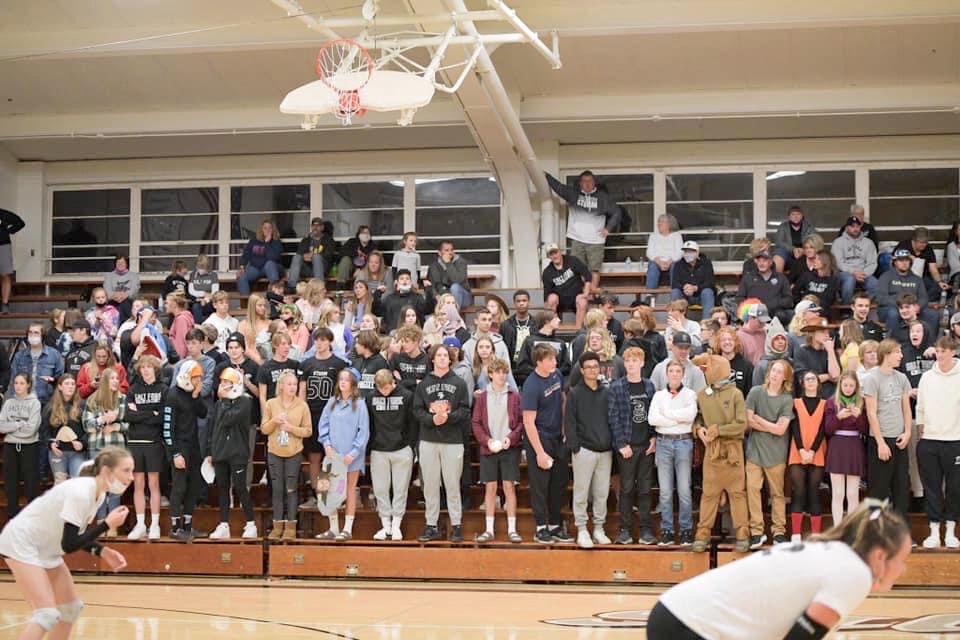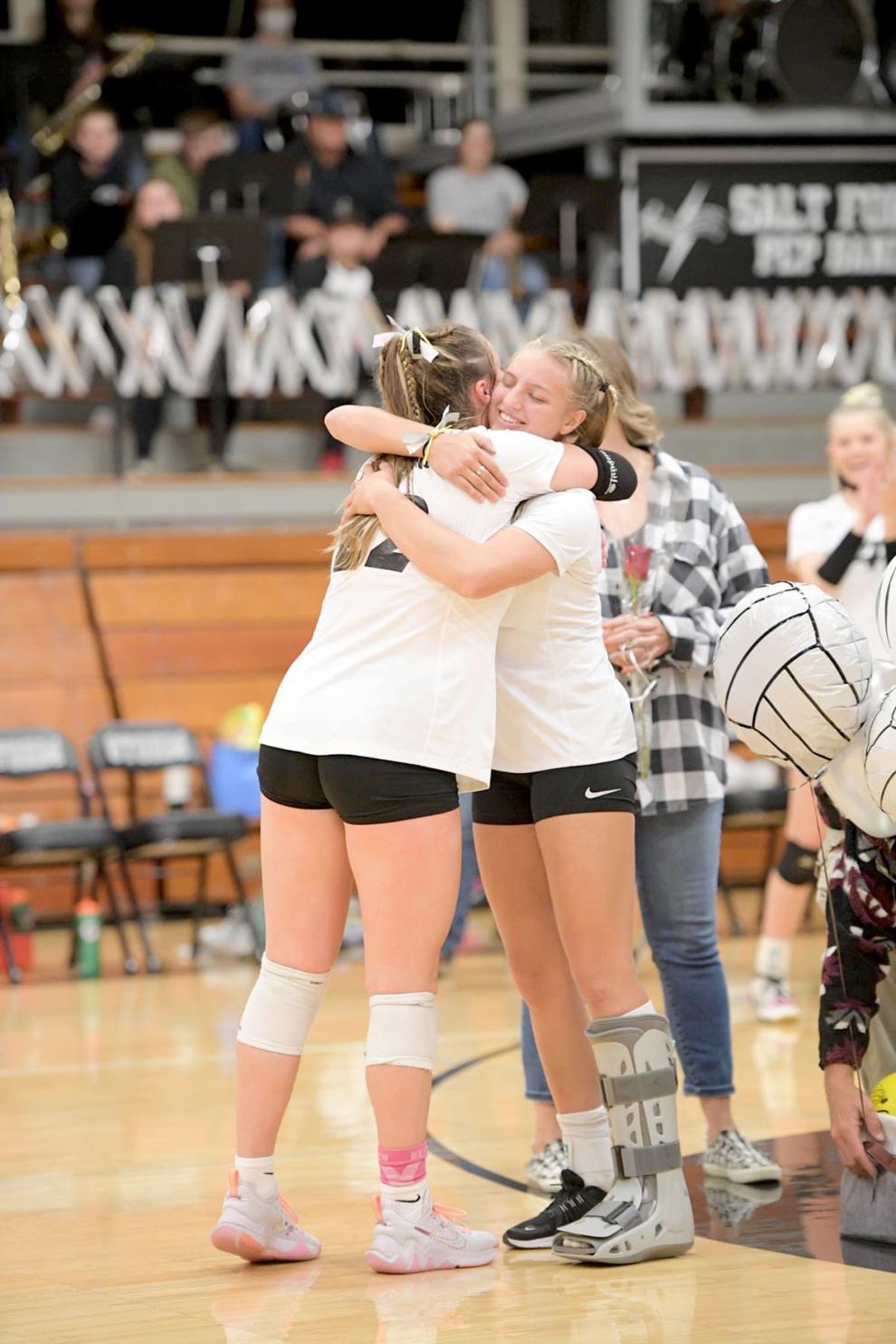 Salt Fork
Seniors were in the spotlight last week as fall sports and activities had nights to remember. At last Thursday's volleyball match — where the Storm Zone wore Halloween costumes (pictured) — seniors Olivia Birge (left) and Brynlee Keeran went out with a win against Schlarman. A day later, senior football players, team managers, cheerleaders, marching band members and golfers with their families at Friday's football game against Oakwood.
— Olivia Birge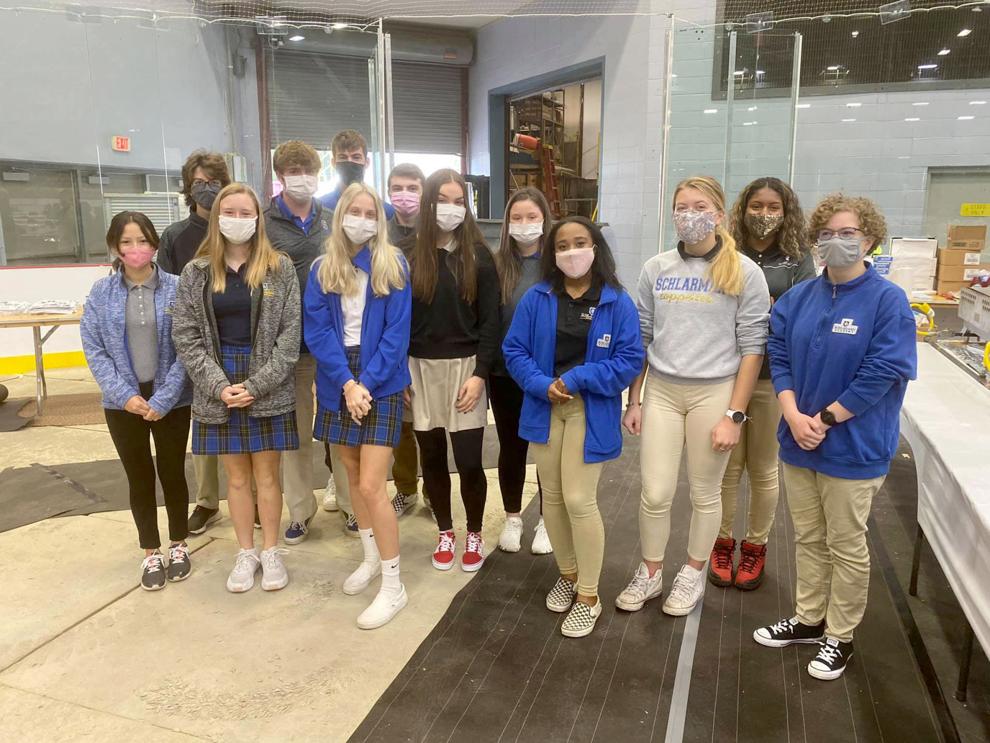 Schlarman
National Honor Society members helped at last week's 71st Kiwanis Pancake and Sausage Day at Danville's Palmer Arena, filling batter and cups of coffee, taking out trash and socializing with guests. Pictured, left to right: Lilly Perez, Dillon Taylor, Madison Watson, Liam Underwood, Aidan Gallagher (in the back), Brycie Carnahan, Evan Sherer, Caroline Bogen, Makayla Blurton, Emari Osaze, Avery Kelsey, Mia Martinez and Katie Smith.
— Evan Sherer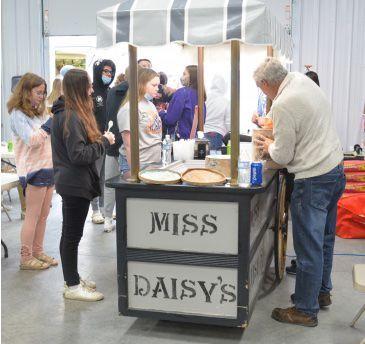 Shiloh
First-quarter rewards for having no Fs and write-ups: Students were able to spend up to $4 with the choice of a drink from a food truck, taco in a bag and/or ice cream.
— Josephine Carroll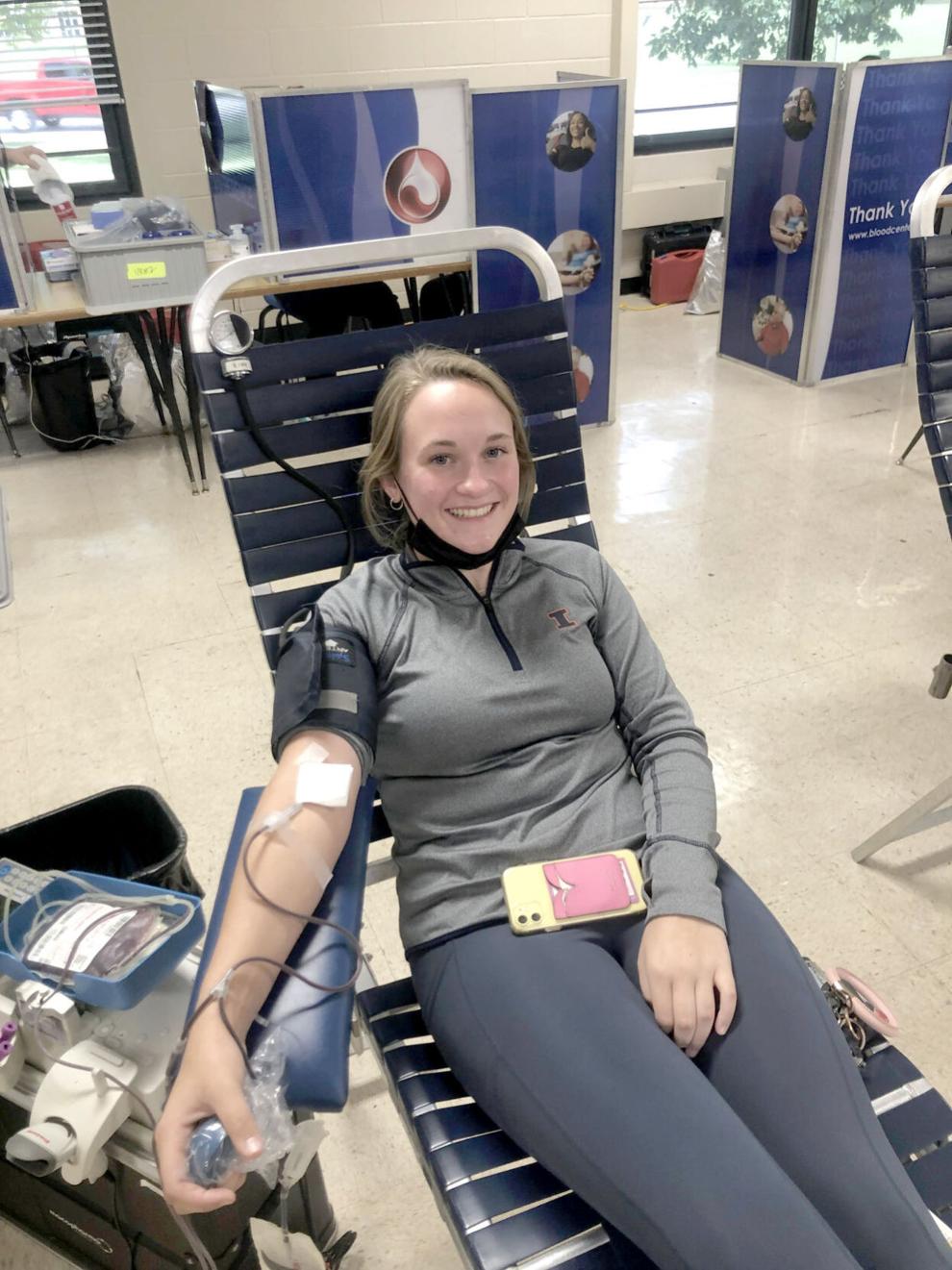 Tuscola
National Honor Society held its annual blood drive on Oct. 19 as students, staff and community members were welcome to donate. Pictured: junior Marley Good.
— Ameiia Bosch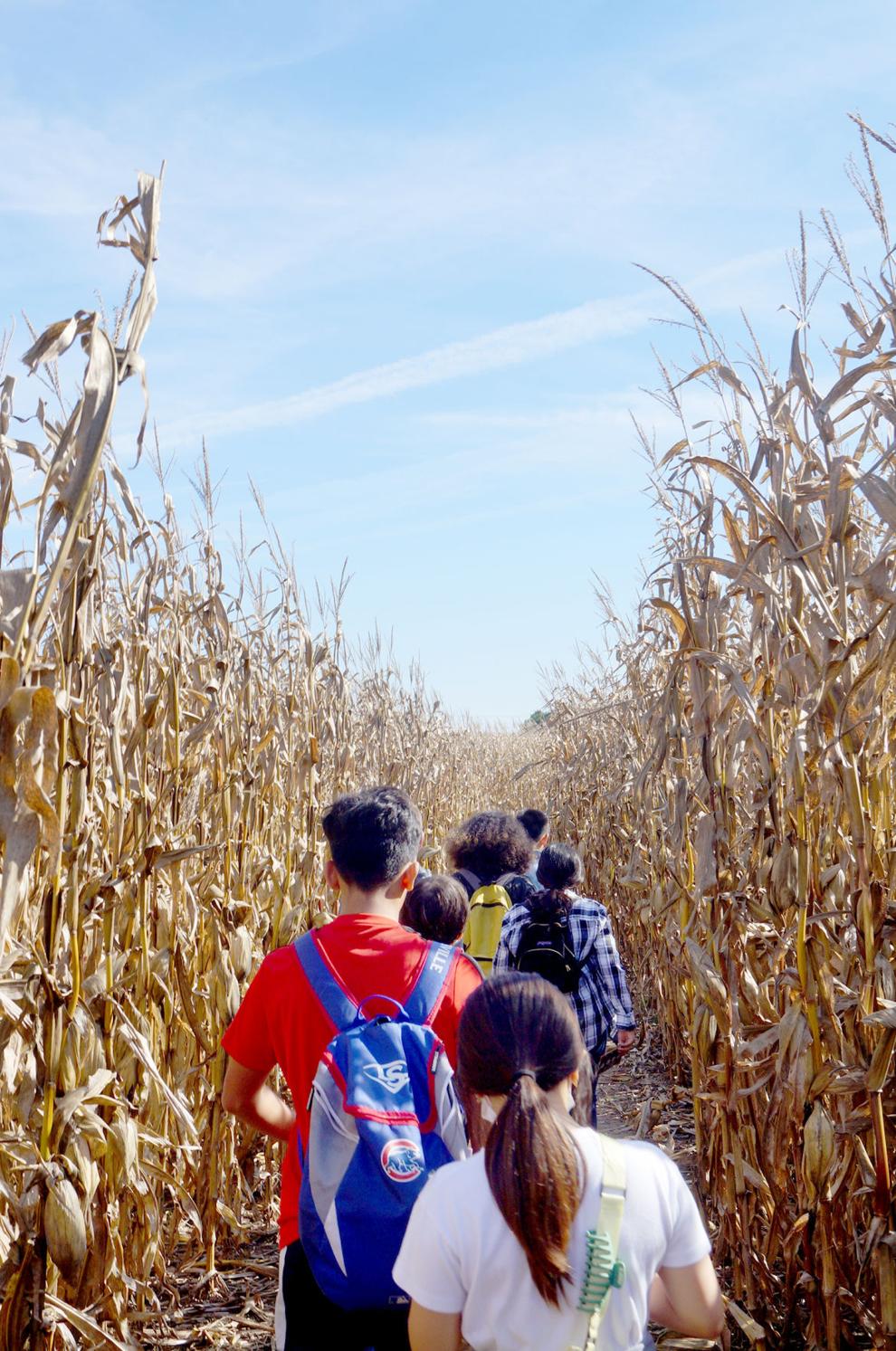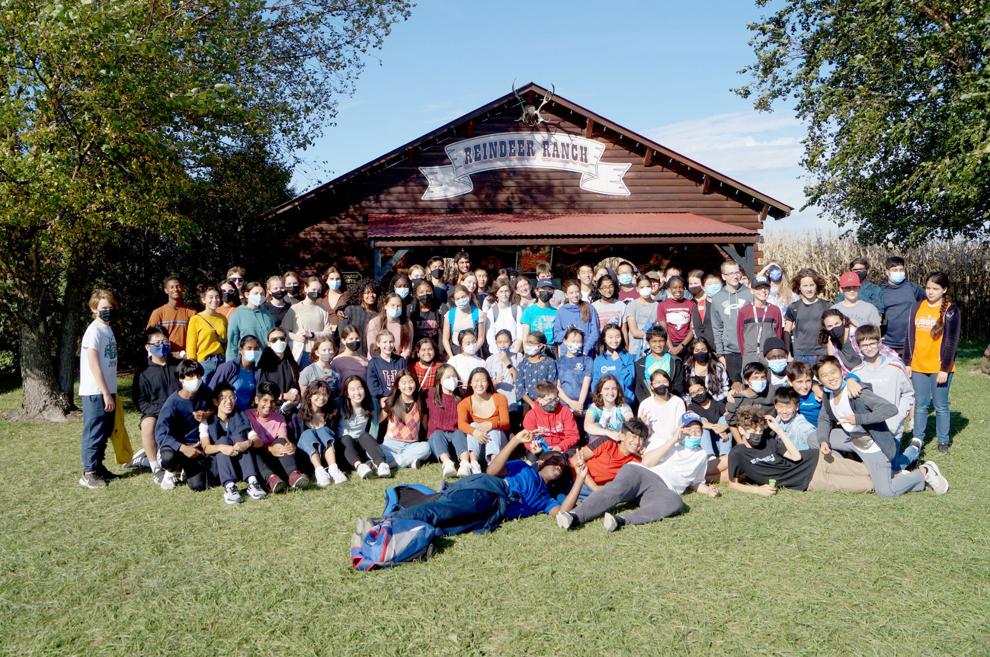 Uni High
Subbie Buddies — student mentors who help new students adjust in their first year at Uni — took the subbie class to Hardy's Reindeer Ranch in Rantoul. Prior to leaving, the students took part in games like Halloween Mafia, Night at the Museum and Pumpkin Painting. At the ranch, Subbies participated in a series of activities, including roasting hot dogs, making s'mores, a tractor ride, paintball and walking the corn maze. Pictured: Subbies and Subbie Buddies in front of the corn maze; subbies Robert Tu, Hazel Tracy, Hector Kircher, Rishi Sharma and Lynn Lee, along with sophomore Noreen Adoni, explore the corn maze.
— Aakash Vasireddy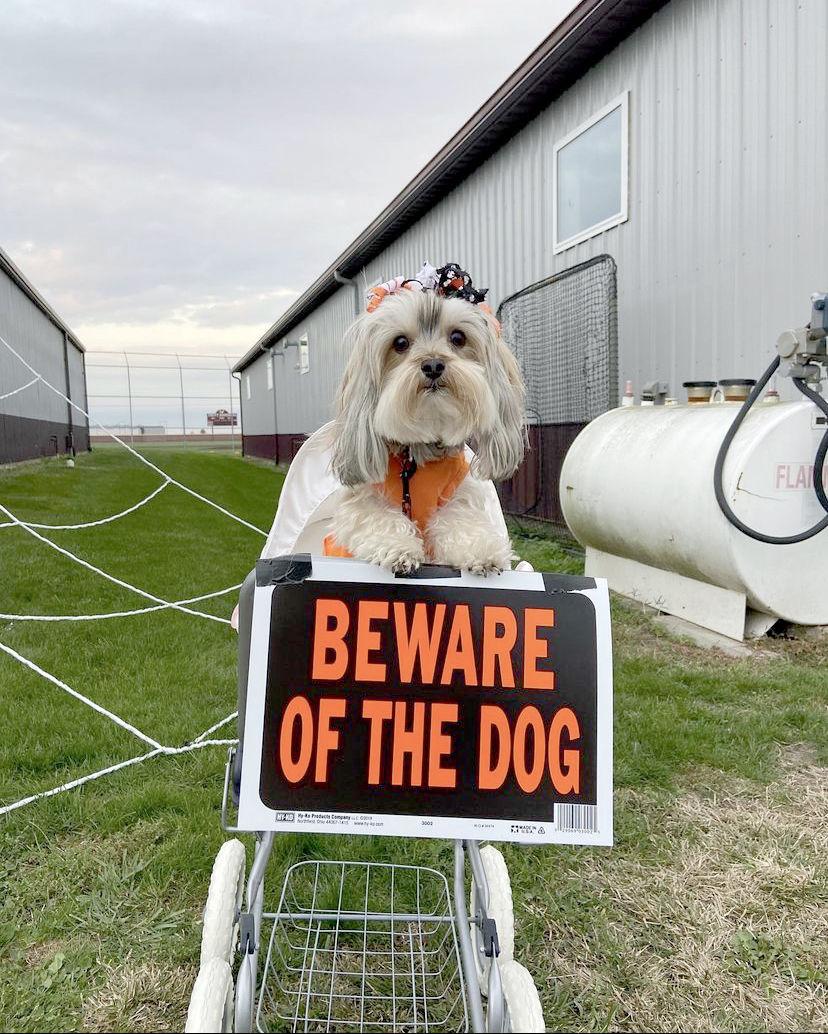 Unity
Student council created a haunted house on campus that helped raise over $2,000 to help start off its annual Thanksgiving Food Drive.
— Maddie Reed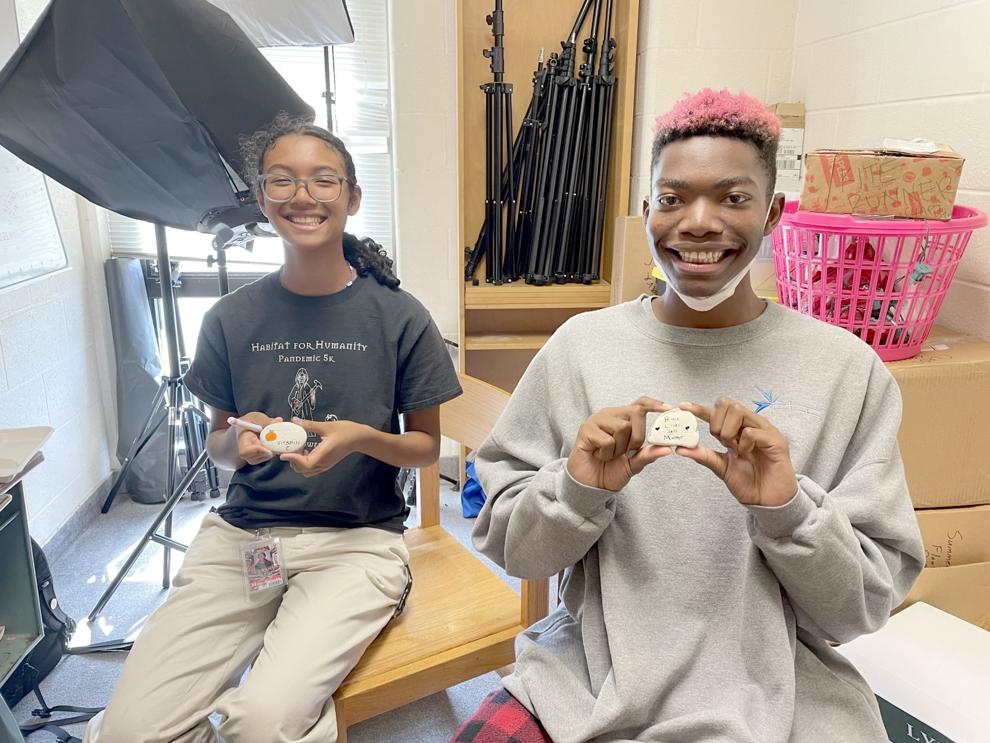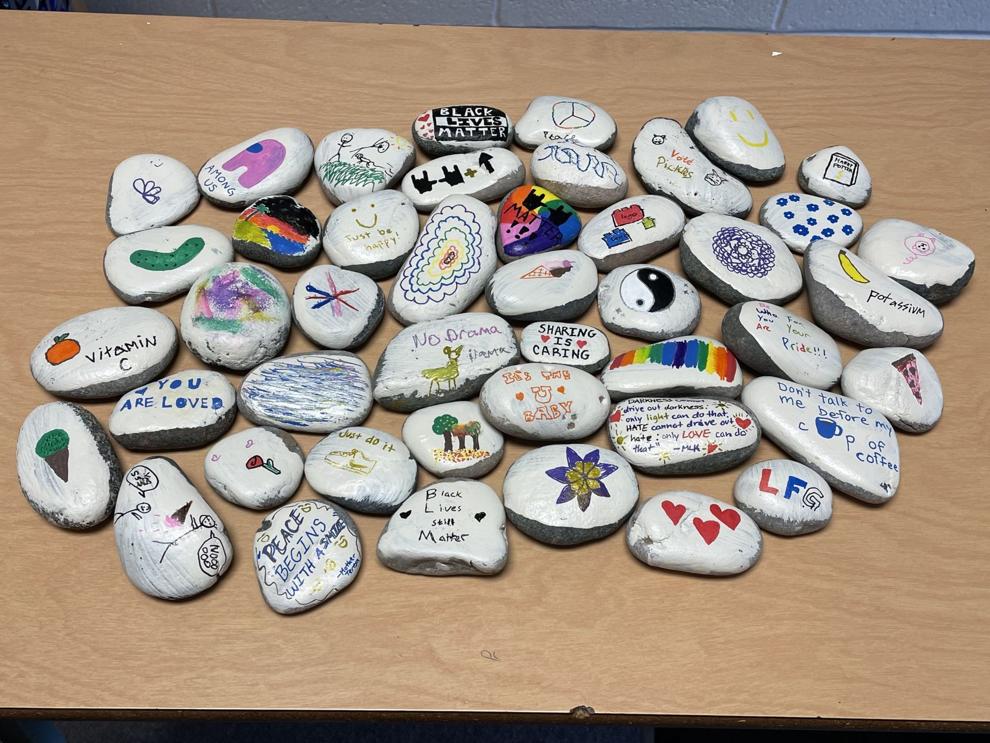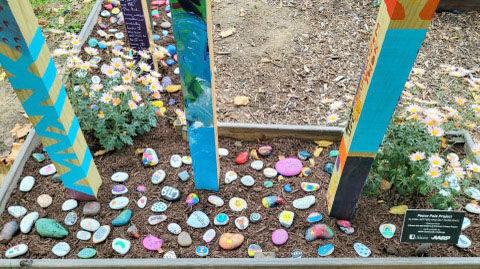 Urbana
Seniors Myra Stevens and Jaylin Ward helped paint rocks for decoration at the Habitat Community Garden. This along with yard work and cleaning were a part of this year's senior trip for Habitat Humanity.
— Park Mitchell
Villa Grove
After a tough loss to ALAH, the football team's playoff bid appeared to be in jeopardy. However, the Blue Devils and Tyler Wilson (pictured) qualified as a No. 16 seed and will travel three hours to take on Camp Point Central on Saturday.
— Molly Little