2021-22 High School Confidential: Week 8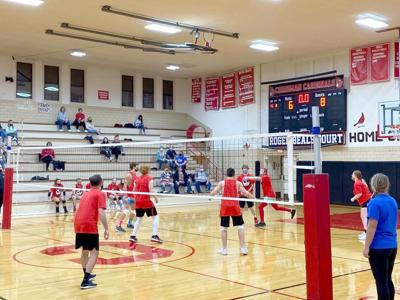 Welcome to Year 6 of High School Confidential, an award-winning project made possible by aspiring student journalists from every corner of our circulation area. Each Friday through May, they'll tell us what's happening in their hallways at news-gazette.com.
Once a week, we'll also hand over our Snapchat account (News-Gazette) to our correspondents for behind-the-scenes tours.
Feeback? Email N-G/VP Jim Rossow at jrossow@news-gazette.com.
This year's panel:
Academy High: William Ding
ALAH: Sarah Rafferty
Arcola: Ariana Carmona
Armstrong: Mattie Kennel
Bement: Addie Fritz
BHRA: Paili Davis
Blue Ridge: Sarah Whitehouse
Centennial: Montez Dubose
Champaign Central: Lucy Moss
Chrisman: Reese Anderson
Cissna Park: Emma Morrical
Danville: Kedzie Griffin
DeLand-Weldon: Kaitlyn Sayers
Fisher: Krista Martin
Georgetown-Ridge Farm: Chloe Brock
Gibson City-Melvin-Sibley: Emily Hood
Heritage: Torie Rothermel
Hoopeston Area: Emily Ray
Judah Christian: Kaitlyn Januzik
LeRoy: Kelsey Graves
Mahomet-Seymour: Tinley Peters
Milford: Alivia Schmink
Monticello: Clara Rudolph
Oakwood: Madison Doan
Paxton-Buckley-Loda: Sydney Murphy
Rantoul: Mary Cuppernell
St. Joseph-Ogden: Regan Uden
St. Thomas More: Bailey McMahon
Salt Fork: Olivia Birge
Scharlman: Evan Sherer
Shiloh: Josephine Carroll
Tuscola: Amelia Bosch
Uni High: Aakash Vasireddy
Unity: Maddie Reed
Urbana: Park Mitchell
Villa Grove: Molly Little
Westville: Bryce Burnett
On to this week's report: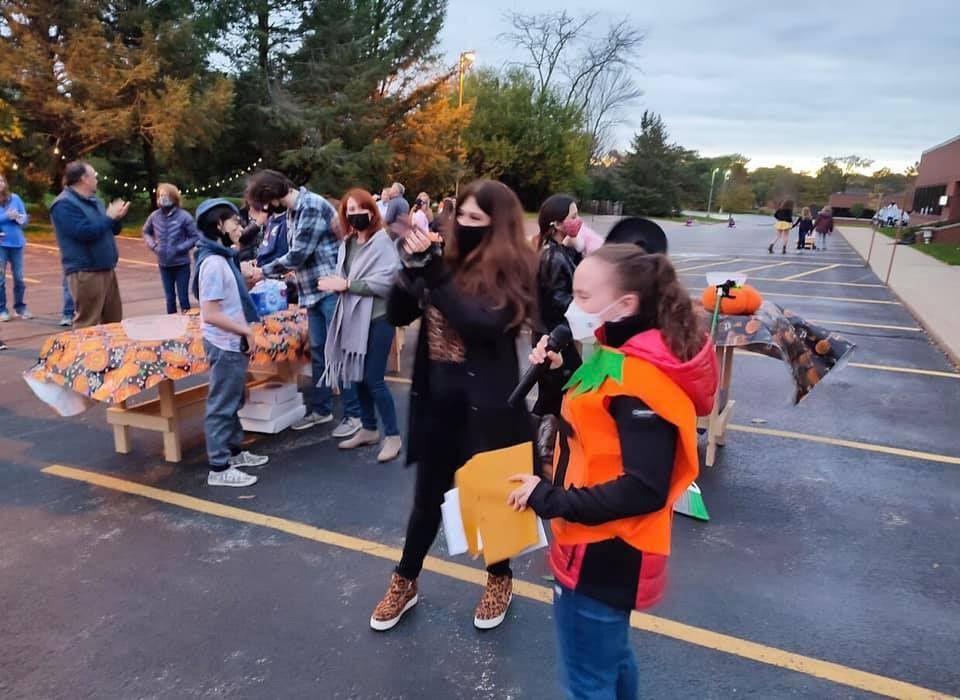 Academy High
Last weekend, Caring Crew — our community service club — held a Halloween fundraising event that involved carnival games, silent auction and bake sale. The end result: more than $3,000 for the Eastern Illinois Foodbank (the equivalent to 15,000 meals).
— William Ding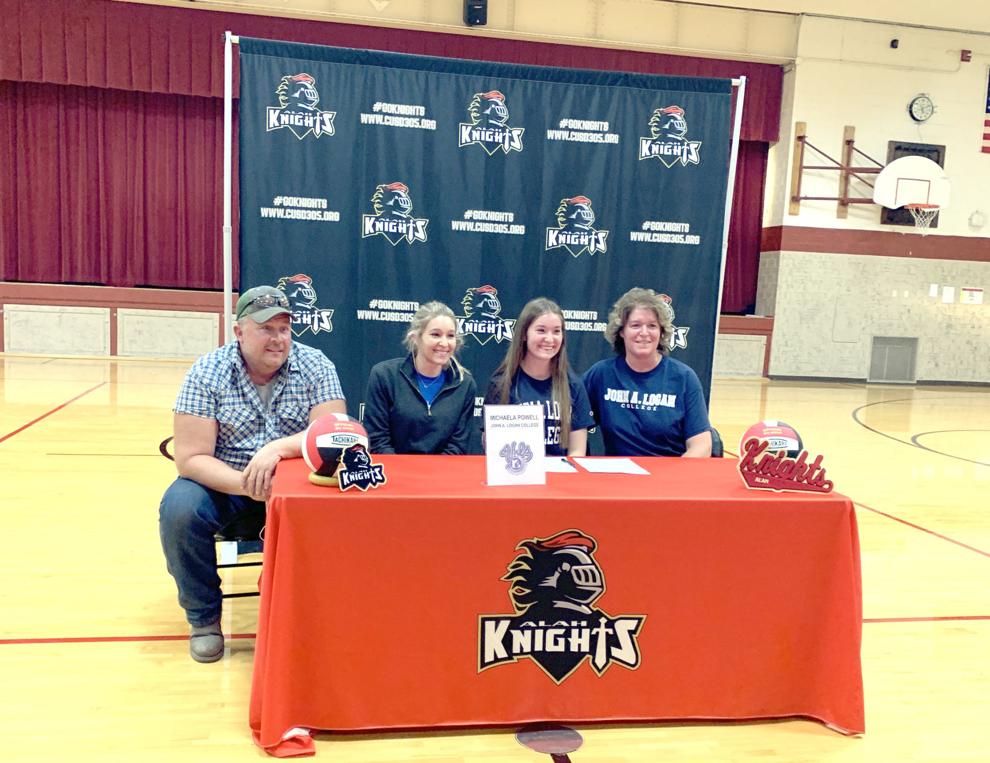 ALAH
Senior Michaela Powell signed her letter of intent to continue playing volleyball for John A. Logan College in Carterville. She capped a successful high school career by being named first team all-conference as a senior. She was second-team all-conference as a junior year and team MVP as a sophomore and junior. Pictured: father Darren Powell, sister Taylor Powell, Michaela Powell and mother Angie Powell.
— Sarah Rafferty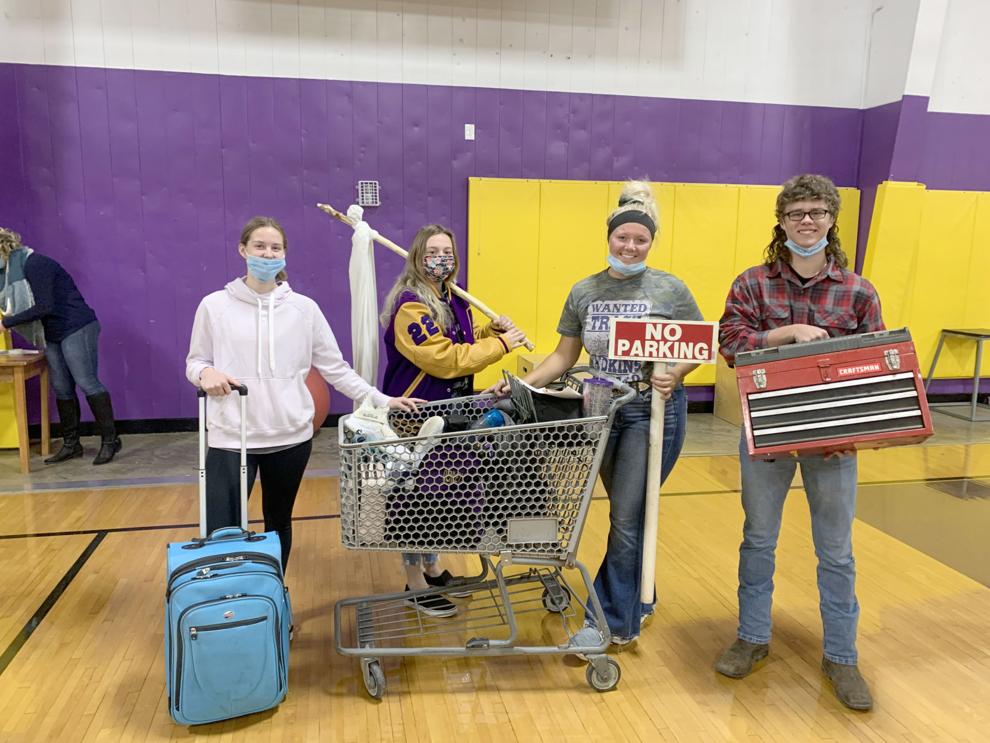 Armstrong
Seniors participated in the Students Against Destructive Decisions organization's Red Ribbon Week. Pictured, left to right, on Anything But A Backpack Day: Madelyn Hudson, Alexis Rhoades, Denley Heller and Josh Goulding.
— Mattie Kennel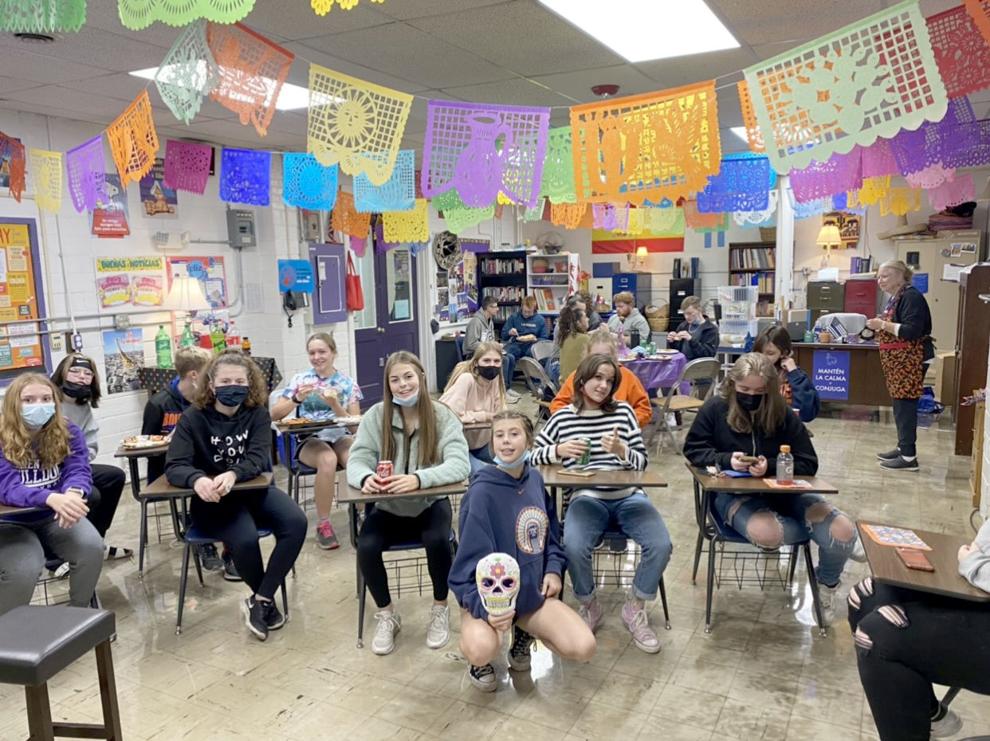 Bement
Spanish Club celebrated Dias de los Muertos on Monday and Tuesday. Students spent Friday decorating the classroom with paper mache skulls with paint and jewels.
— Addie Fritz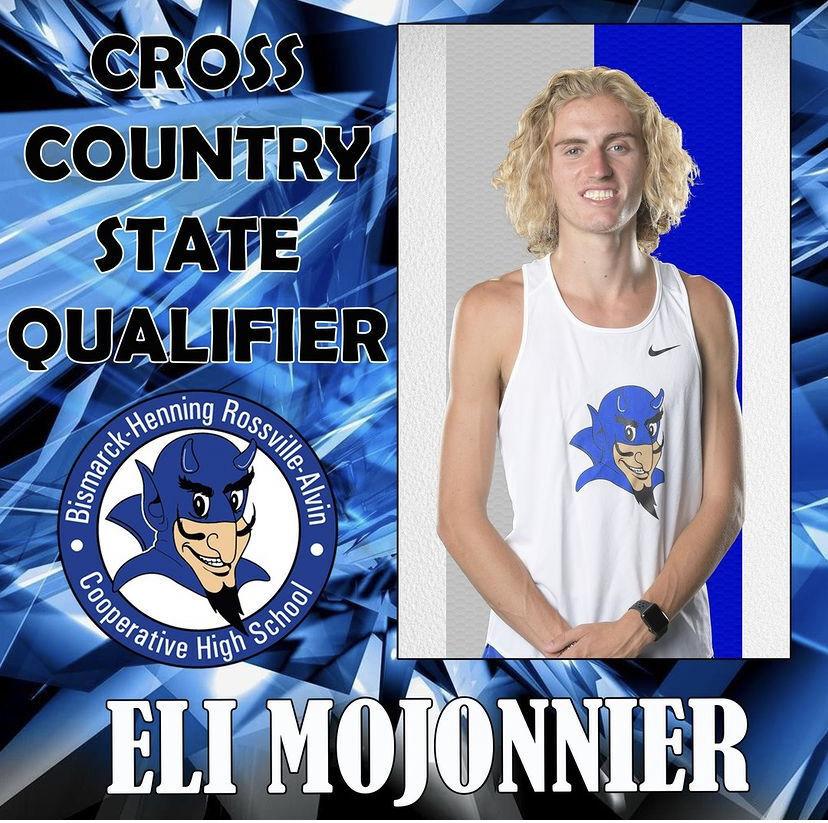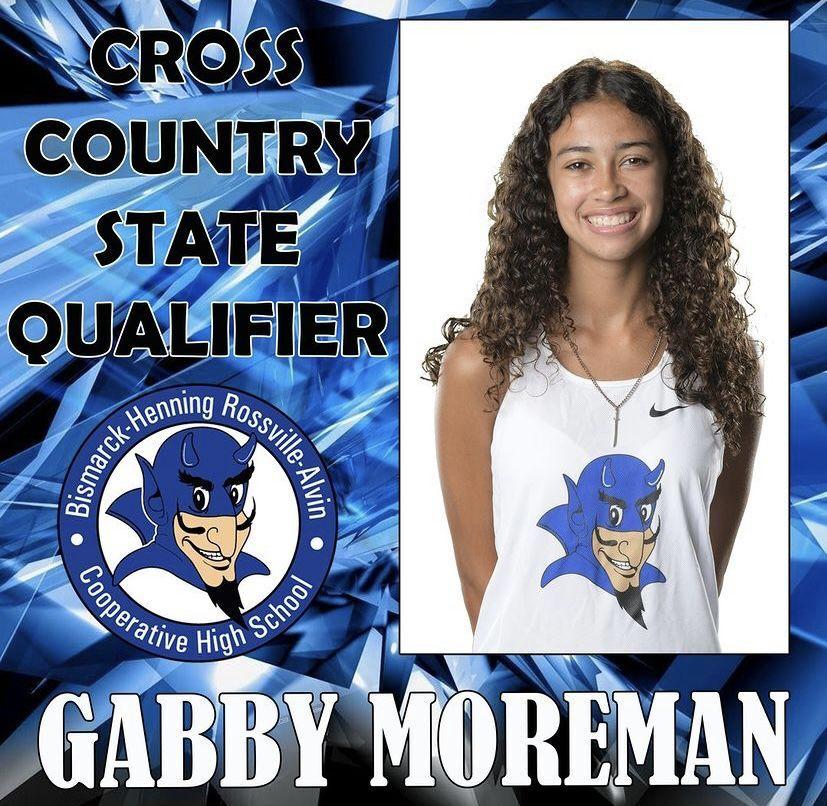 BHRA
The school celebrated Eli Mojonnier and Gabby Moreman advancing to state in IHSA cross-country. Mojonnier was 22nd in the boys' race, and Moreman 80th in the girls' race.
— Paili Davis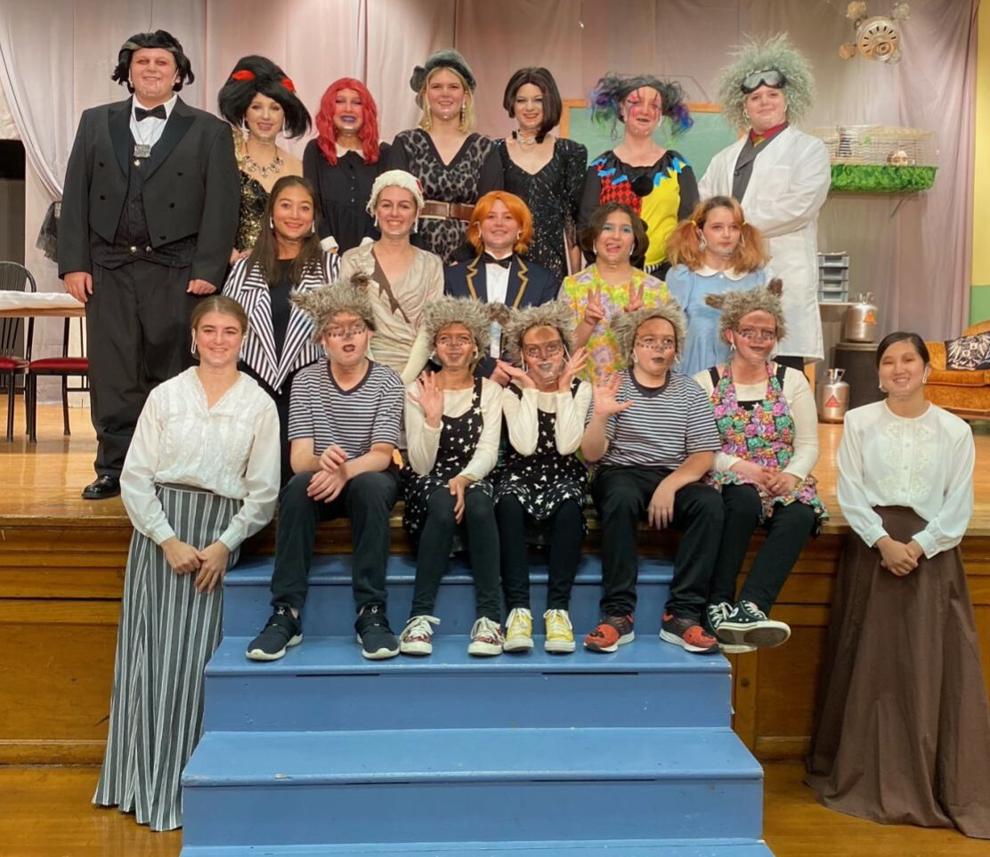 Blue Ridge
The school's Thespian Troupe's performance of "Dr. Evil and the Basket of Kittens" was a hilarious show full of monsters, mayhem and — yes — kittens. The crowd laughed as Mary Shelley (played by Sami Boogren) and Dr. Frankenstein (Sydney Beckman) narrated the story of how Dr. Evil went from trying to destroy Chicago with his newest contraption to falling in love with a basket of kittens. Pictured: (front row) Sydney Beckman, Cooper Rausch, Isabella Jenkins, RJ Coffey, Sebastian Cox, Payton Heiser and Sami Boogren; (second row) Lillian Enger, Rachel Light, Ollie Yeagle, Mariska Lipkovitch and Carol Phillips; (back row) Broden Soliday, Kallee Steinkamp, Ivy Whitehouse, Sydney Rausch, Macey Hamm, Grace Coffey and Caleb Hirschman.
— Sarah Whitehouse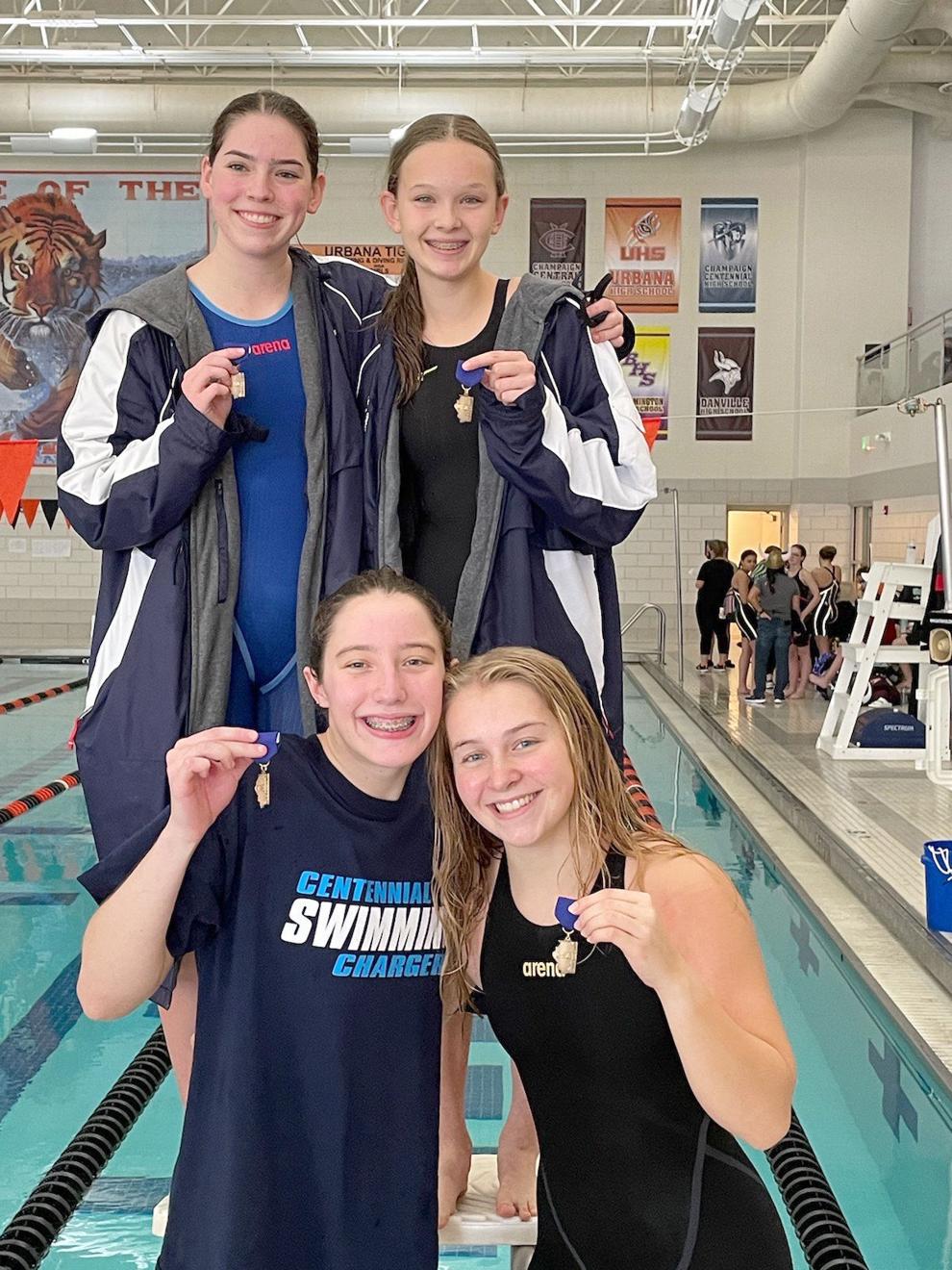 Centennial
Marin McAndrew broke a 9-year-old school record in the 50 meters in qualifying for state at last weekend's sectional meet in Urbana. Marin also teamed with Elise Maurer, Lexie Seten and Noelle Hunt to qualify in the 200 free relay.
— Montez Dubose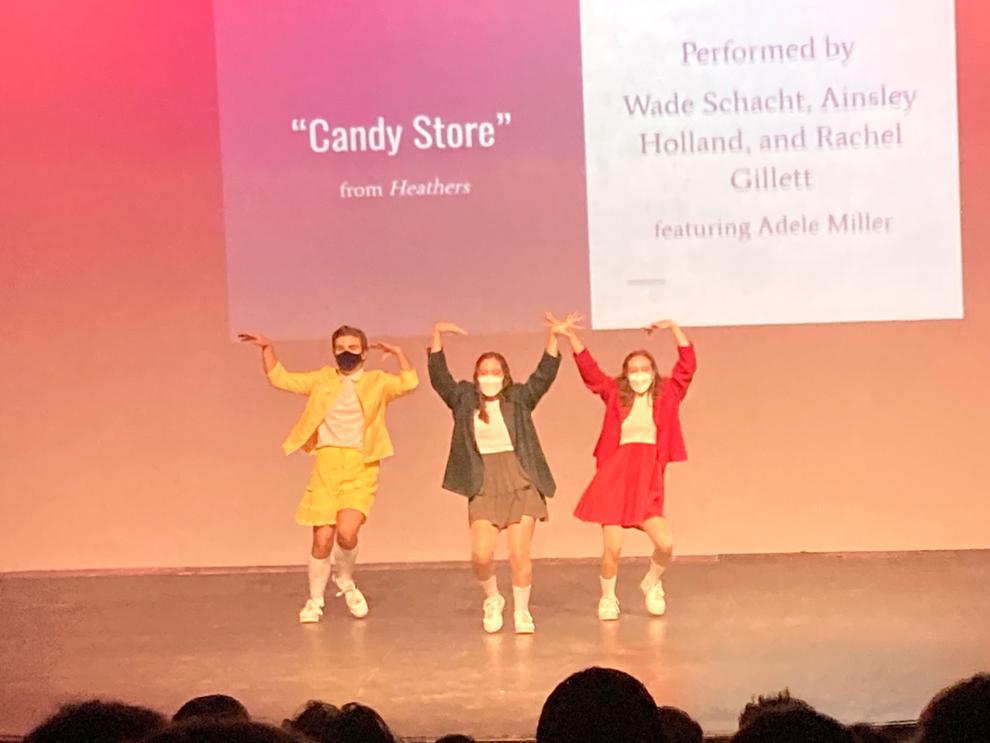 Champaign Central
Thespian Club held its annual Cabaret performance — a show in which performers only have one rehearsal to prepare their acts — in Cenntennial's auditorium. This year's setlist ranged from Taylor Swift to Heathers: The Musical to a choreographed dance. The night also included an auction during intermission, where audience members had the opportunity to bid on baskets put together by the club to raise money. Like many shows, Cabaret was not in-person due to the pandemic. Pictured, left to right: Wade Schaht, Ainsley Holland and Rachel Gillett.
— Lucy Moss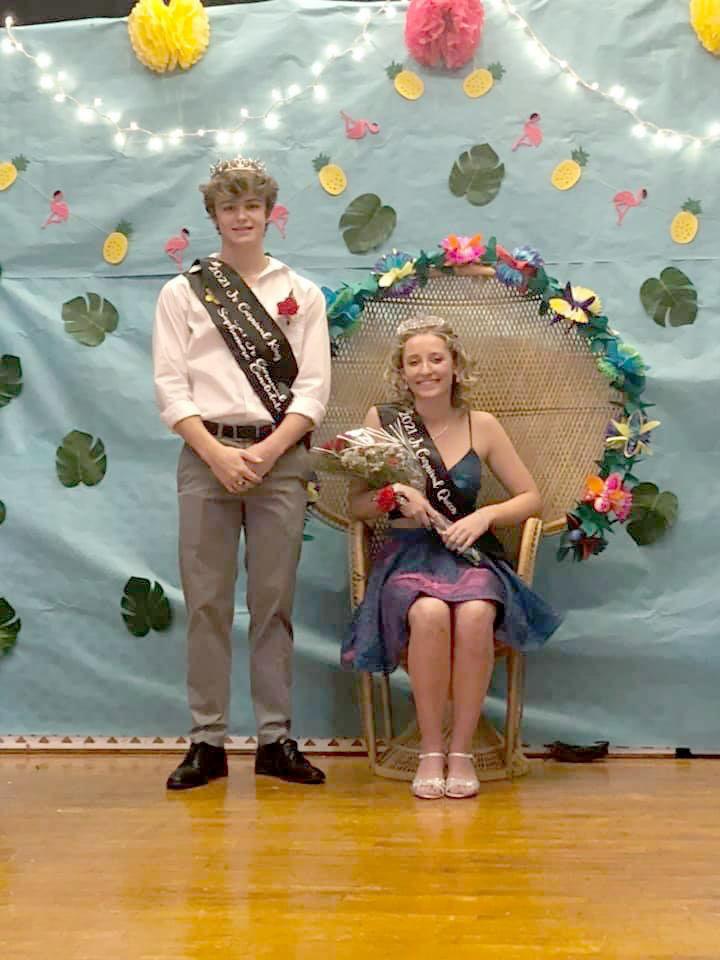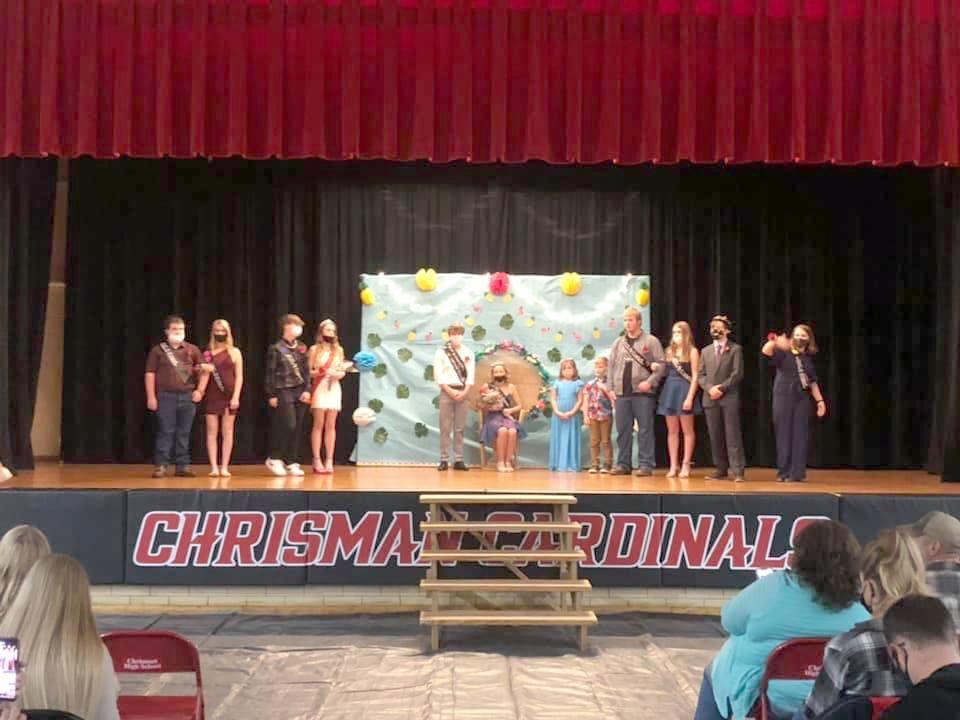 Chrisman
The junior class' annual Junior Carnival holds tradition among the small community that keeps it going. The Small Town Throw Down volleyball tournament between each class and the parents of those students took place on Friday night. On Saturday, a spaghetti dinner was served, and a variety show followed. There were several entertaining acts during the show, and many basket items were raffled off as well. Junior Carnival court took the stage once the variety show was over, and Triston Lehmkuhl and Alivia Brinkley were chosen king and queen. To end the night, a dance was held at the school for any of the students who wanted to attend.
— Reese Anderson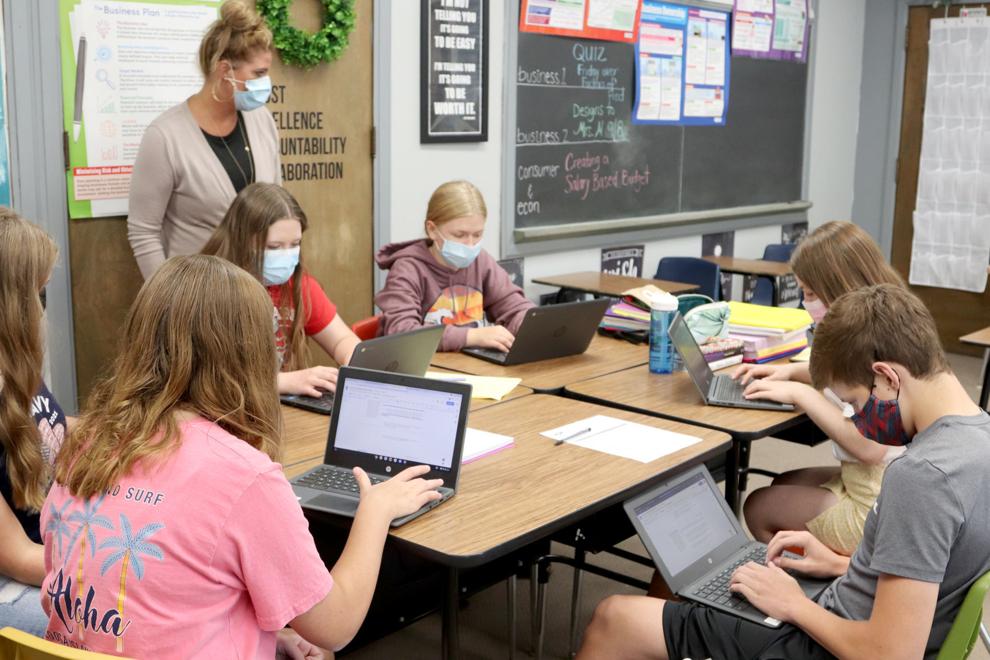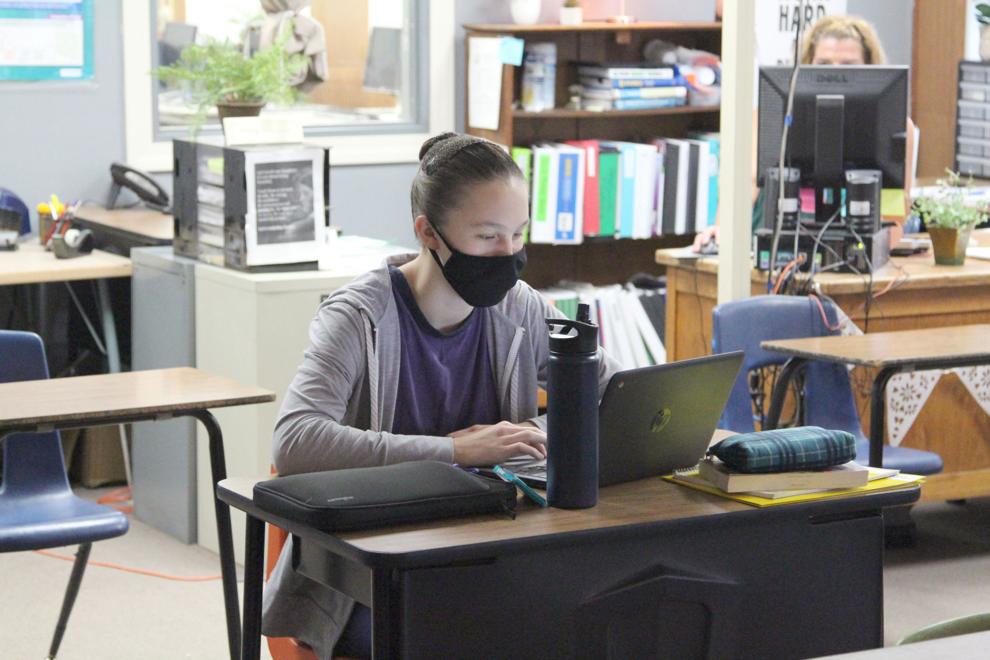 Cissna Park
Business class is redoing the school's website. Pictured: Kayla Walder, Chase Petry, Katie Hyblert and Bethany Maul with business teacher Amanda Hendricks. In the second photo: Caitlyn Waldbeser.
— Emma Morrical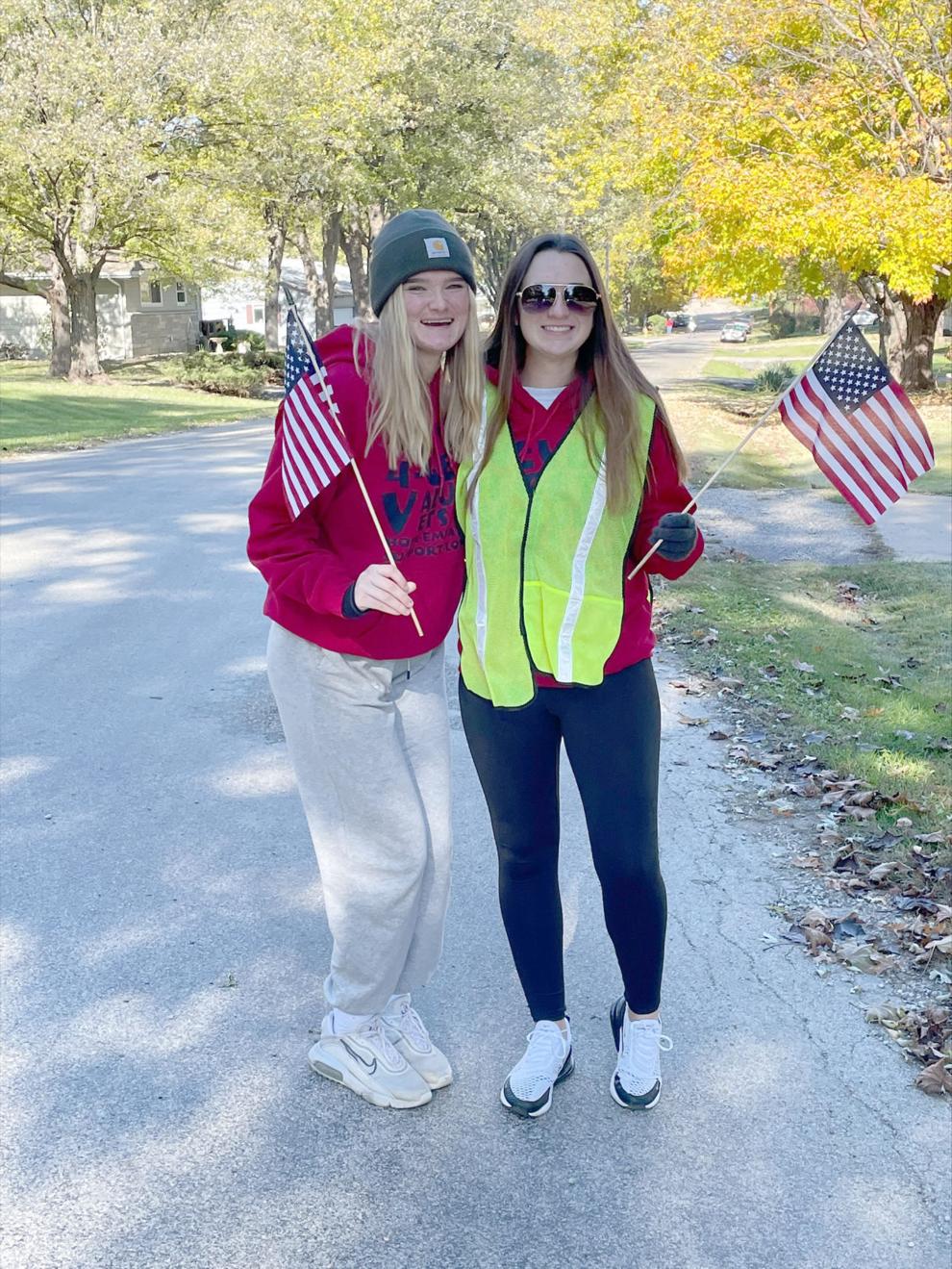 Danville
The school's Future Problem Solvers volunteered at American Legion Post 210's Veterans 5K. Students cheered on and directed the runners on Saturday. The group, supervised by Lori Woods, also is planning a Never Forget Garden to highlight veterans and those currently serving. Visit "Danville High School Future Problem Solvers" on Facebook for more informtion.
— Kedzie Griffin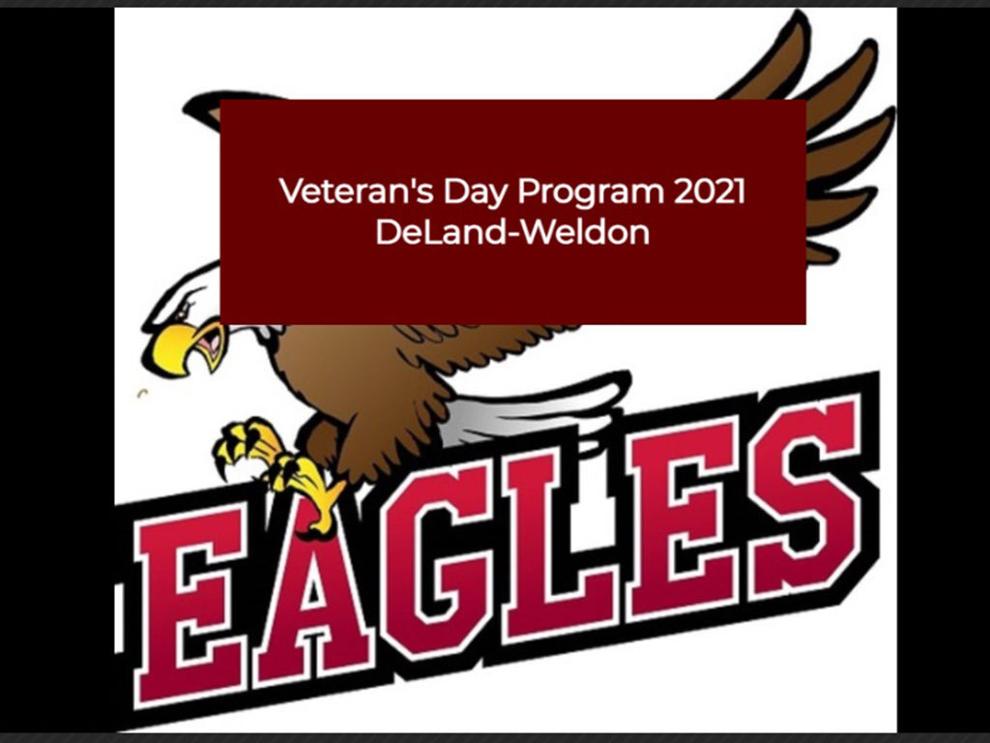 DeLand-Weldon
To say thanks to veterans and those still serving, the school put together a virtual presentation that included this sonnet:
Red, White, and Blue represents Our freedom
We'll forever be respectful and grateful
Look how far Our Country has come and grown
You guys carry your lives in a big duffel
You guys are strong, ready to win fighting
Clean cut, shaved, and handsome while you stand tall
Welcome Home, it's sure a wonderful sight
We're sorry for all the men that have fell
We're very proud to have you guys here
We will stand behind you so never fear
— Kaitlyn Sayers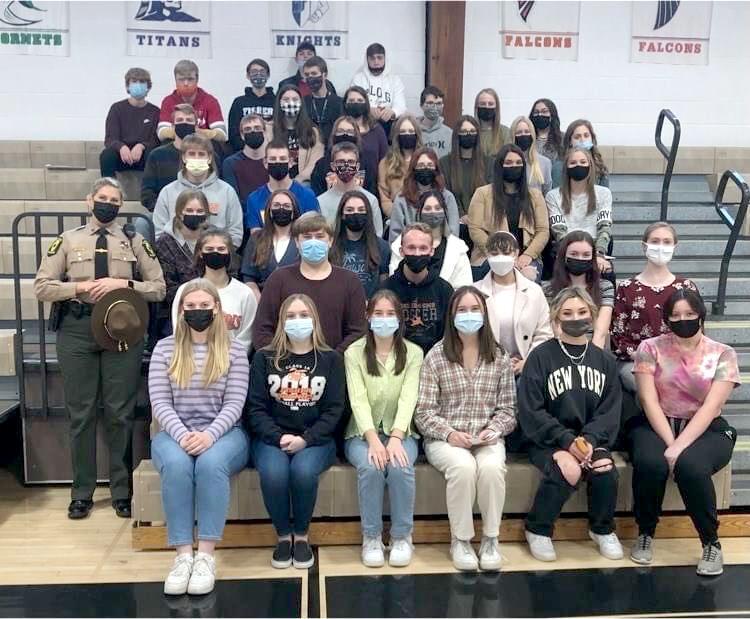 Fisher
The school recognized sophomores, juniors and seniors who earned academic letters. Illinois State trooper Tracy Lillard visited to speak at the awards ceremony.
— Krista Martin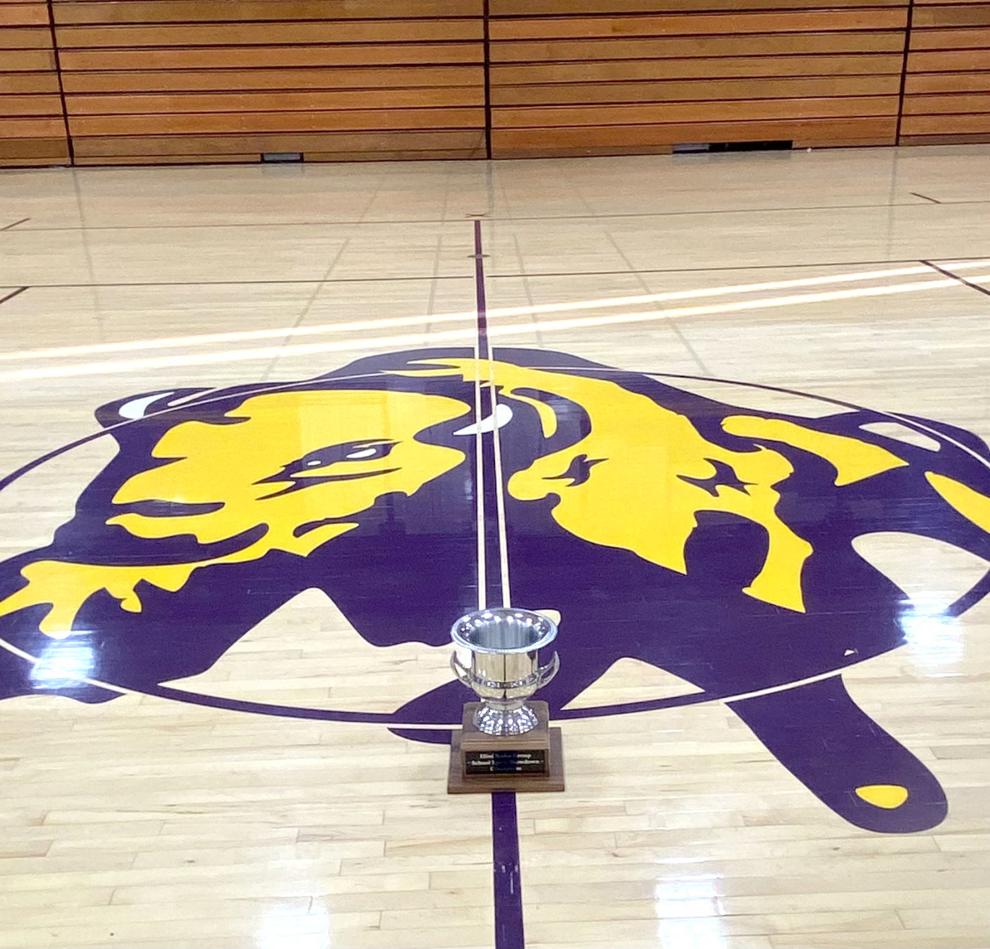 Georgetown-Ridge Farm
The Buffaloes received their award for the School Spirit Showdown, a competition put on by the Illini Radio Group in which the winning school received a trophy and $1,000 prize.
— Chloe Brock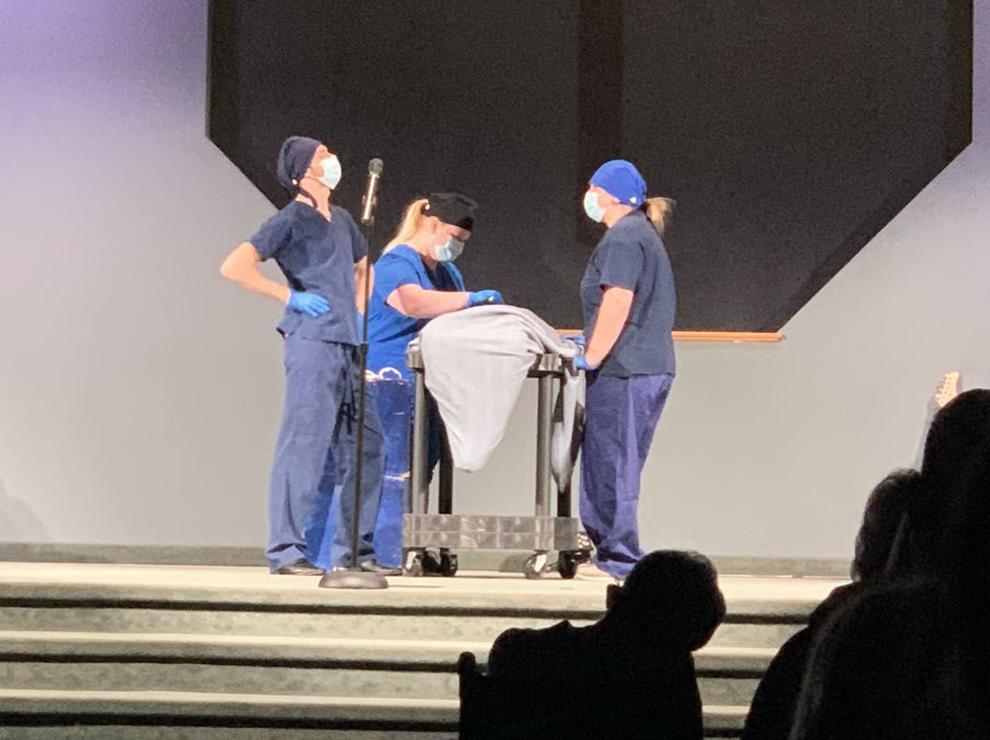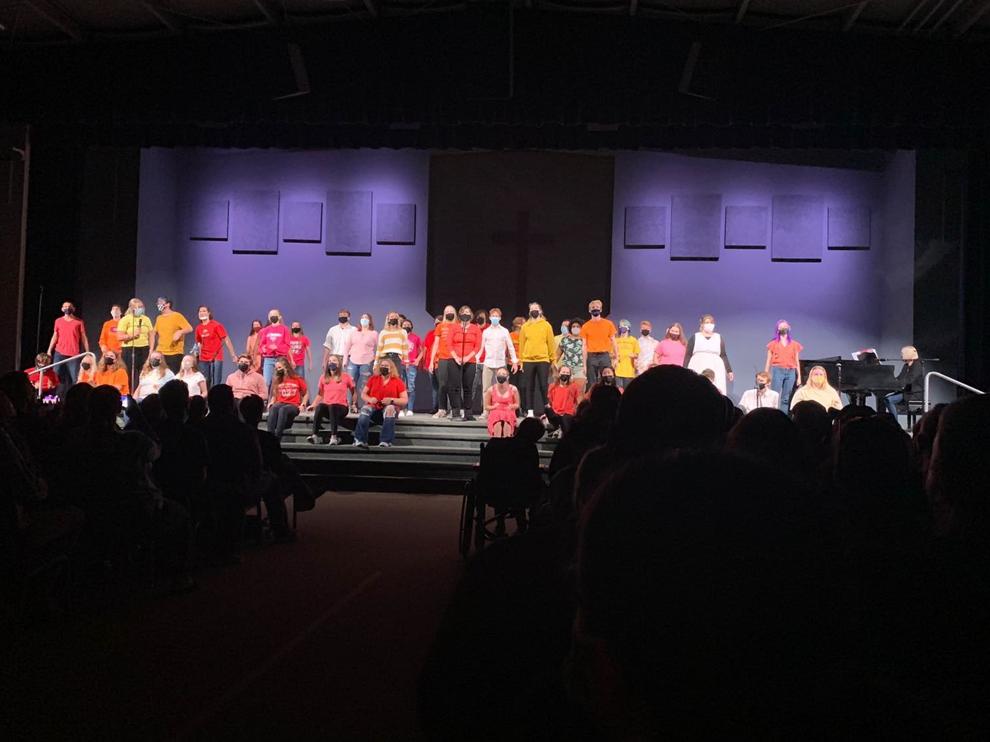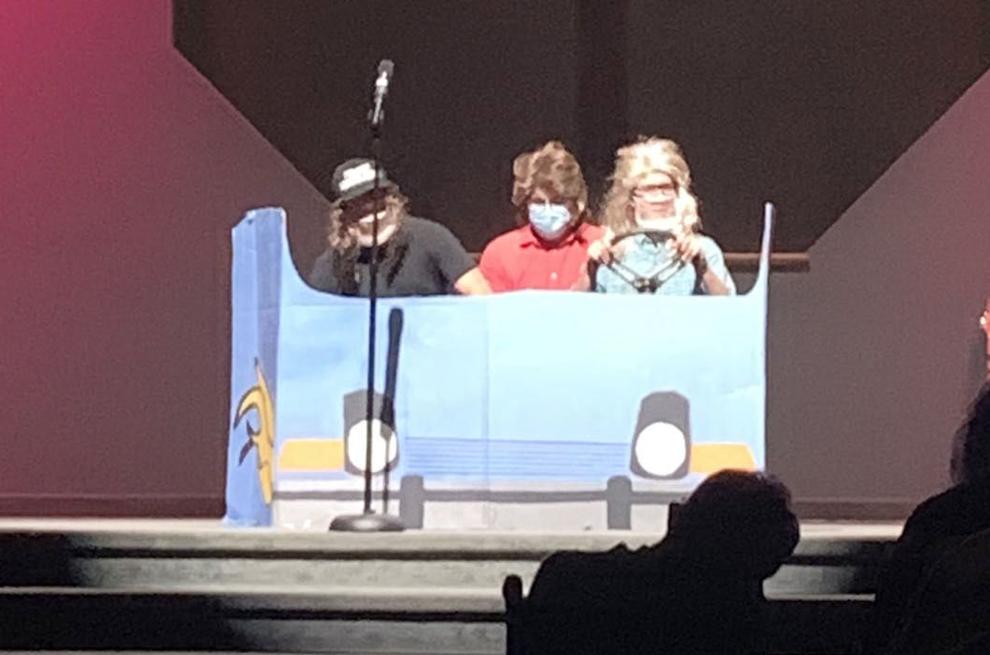 Gibson City-Melvin-Sibley
The annual GCMS Variety Show, directed by Amanda Broaddus and technologically run by Walker Willis, took place last Friday. Students had the chance to showcase their musical and comedic talents in front of a live audience.
— Emily Hood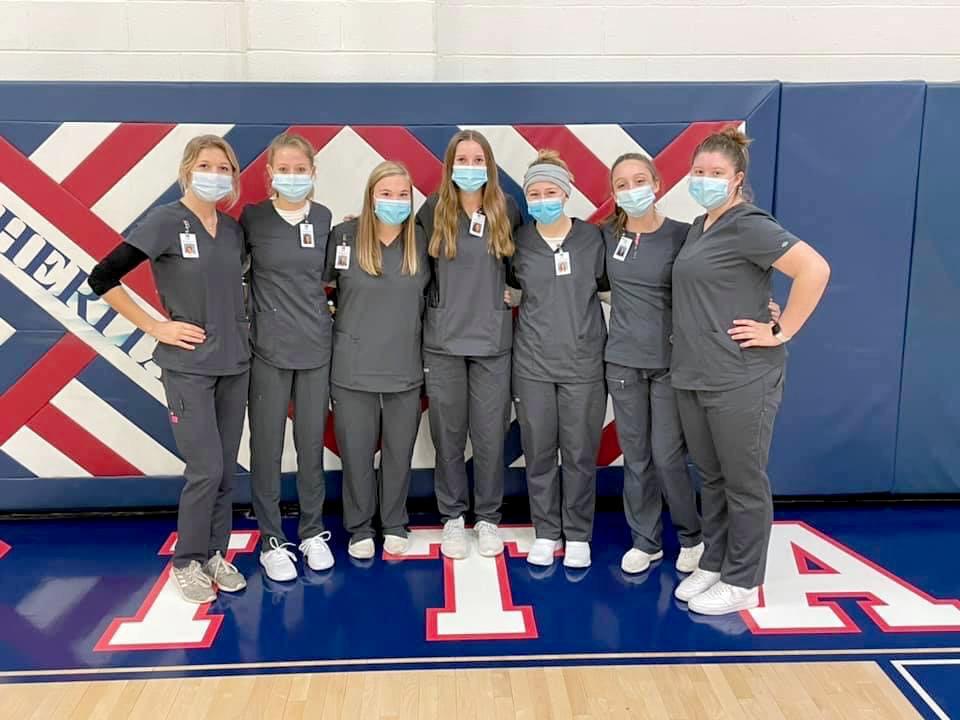 Heritage
The Parkland certified nursing assistants (CNA) students completed their first full week at their Nursing Home Clinical. Pictured, left to right: Bryn Wyant, Kiley Knoll, Paige George, Torie Rothermel, Lily Ploense, Emma Young and Adena Paul.
— Torie Rothermel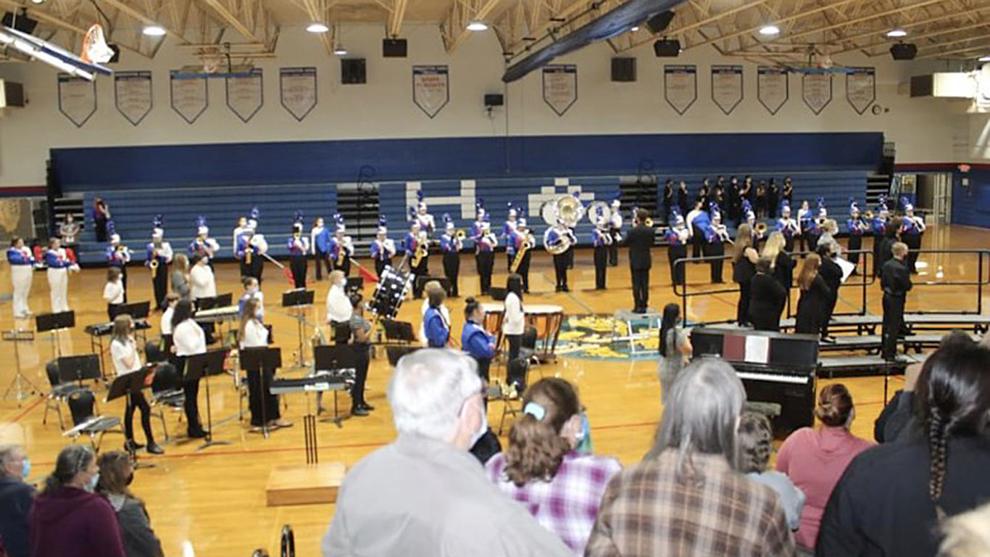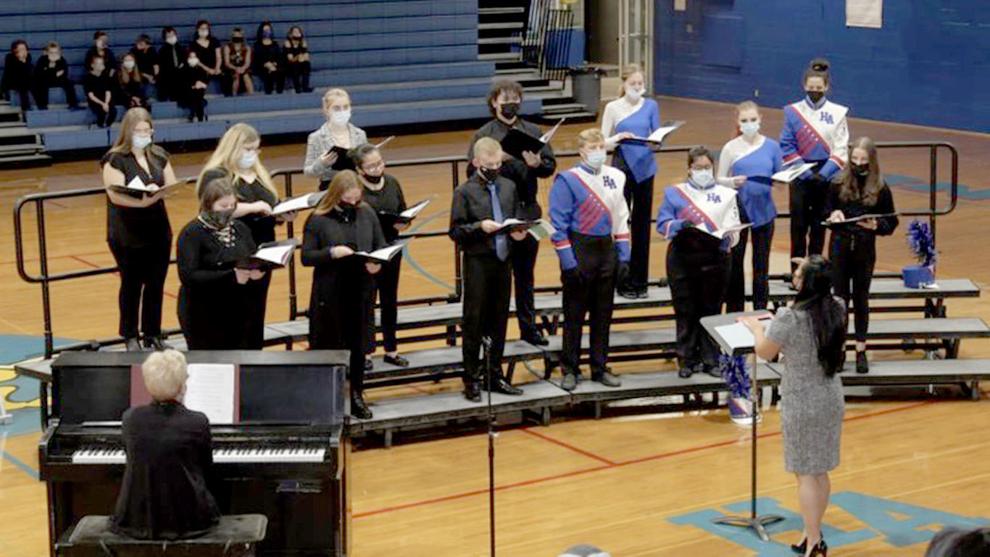 Hoopeston Area
The Marching Cornjerkers along with the choir performed at the school's fall concert, showcasing their hard work and talent.
— Emily Ray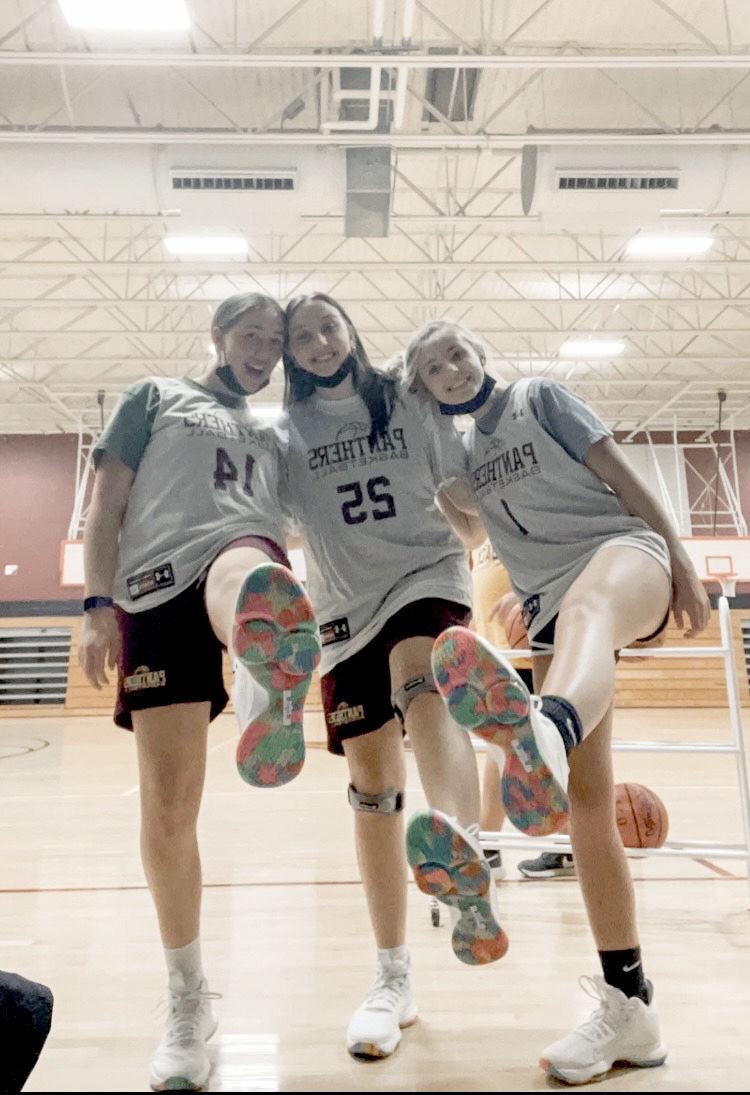 LeRoy
Left to right, senior Callie Warlow and juniors Rylee Swanson and Sydney Owens show their excitement for a girls' basketball season that starts Monday against Lexington.
— Kelsey Graves
Mahomet-Seymour
Junior Sabian Simpson and senior Miranda Morrissette took the stage at last weekend's performance of Radium Girls by Drama Club.
— Tinley Peters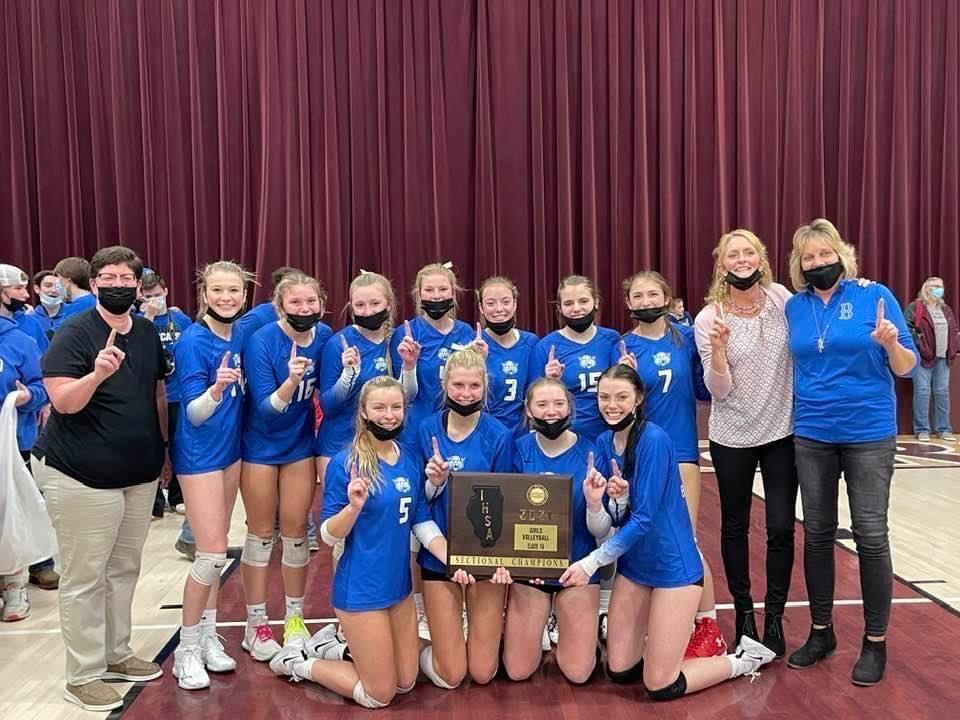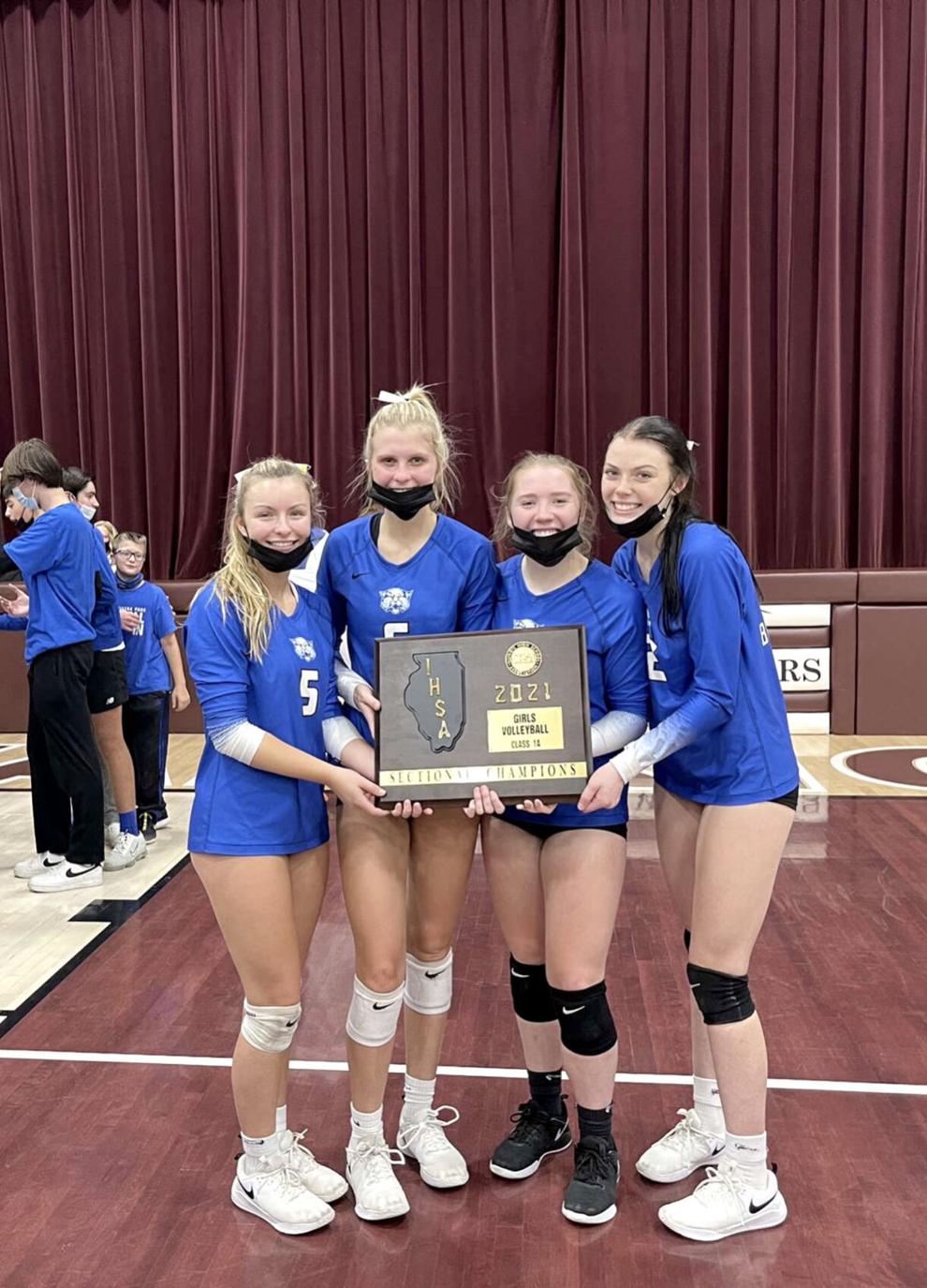 Milford
The volleyball team beat county and conference rival Watseka in the sectional championship match. Pictured, left to right: Seniors Emmaleah Marshino, Caley Mowrey, Lauren Huff and Tiffany Schroeder.
— Alivia Schmink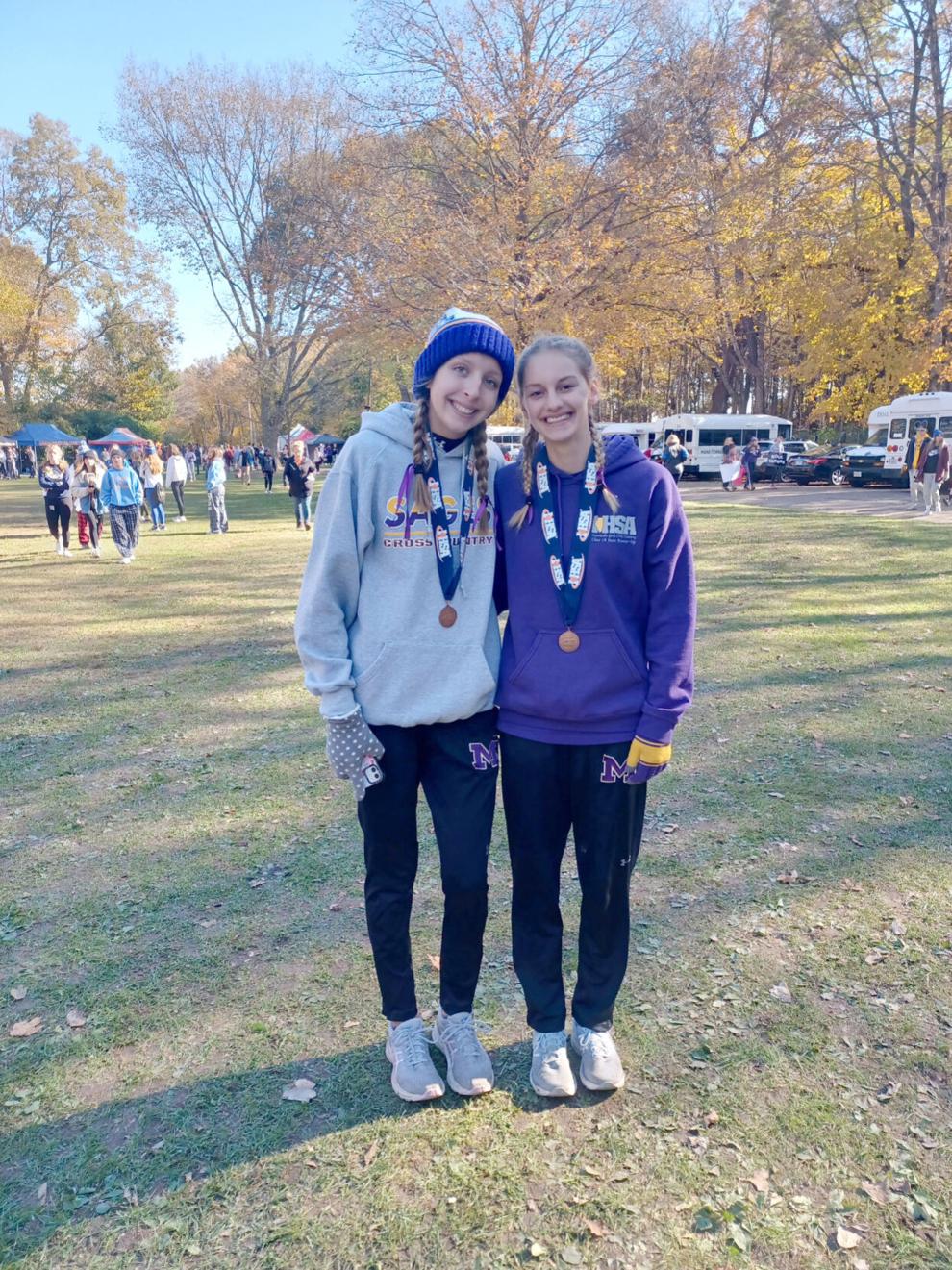 Monticello
Both the boys' and girls' cross-country teams competed at the IHSA state meet at Detweiller Park in Peoria. Junior Mabry Bruhn (ninth place) and senior Rachel Koon (13th) finished as all-staters.
— Clara Rudolph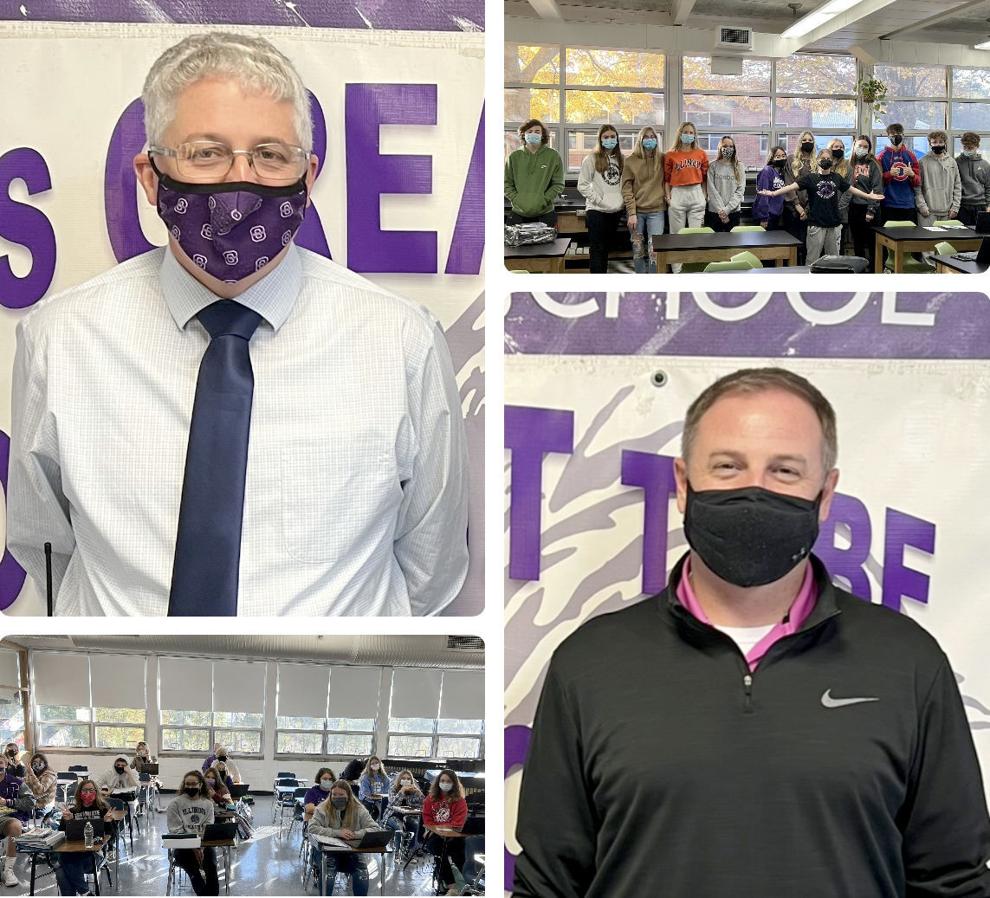 Oakwood
Students and staff returned to school on Monday after a COVID-19 pause that caused school to temporarily shift to remote learning the previous week. PIctured. Principal John Odle (top left) and assistant Principal Kyle Shelton.
— Madison Doan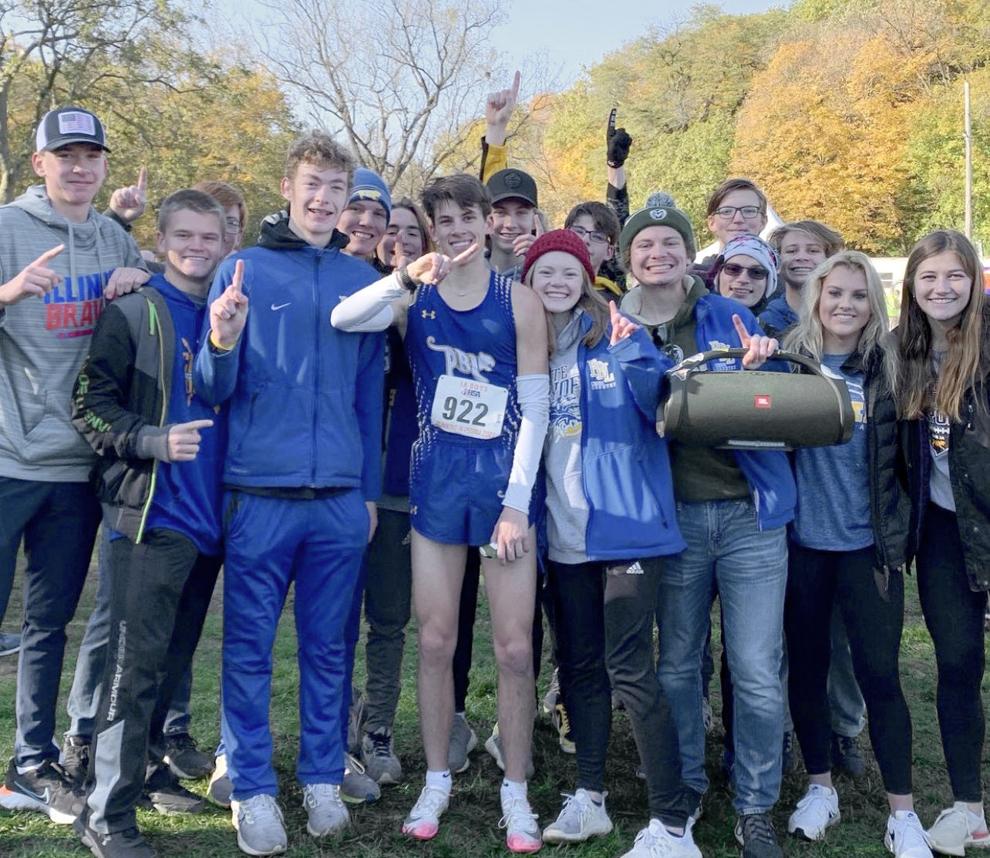 Paxton-Buckley-Loda
Senior Ryder James ran a personal-best 3-mile time of 14 minutes, 16 seconds to win an IHSA state cross-country title. There was an assembly held Monday morning in the high school gym to celebrate.
— Sydney Murphy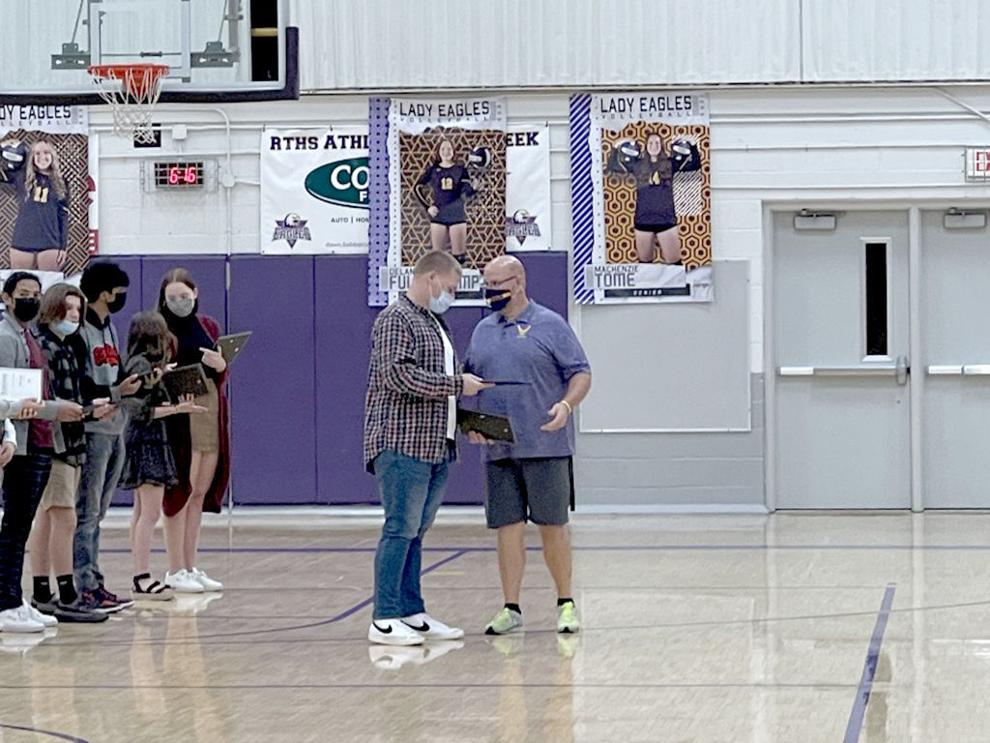 Rantoul
The school showed appreciation to the fall's student-athletes. Pictured receiving an MVP award for football: Cody Schluter, an amazing athlete and exemplary student.
— Mary Cuppernell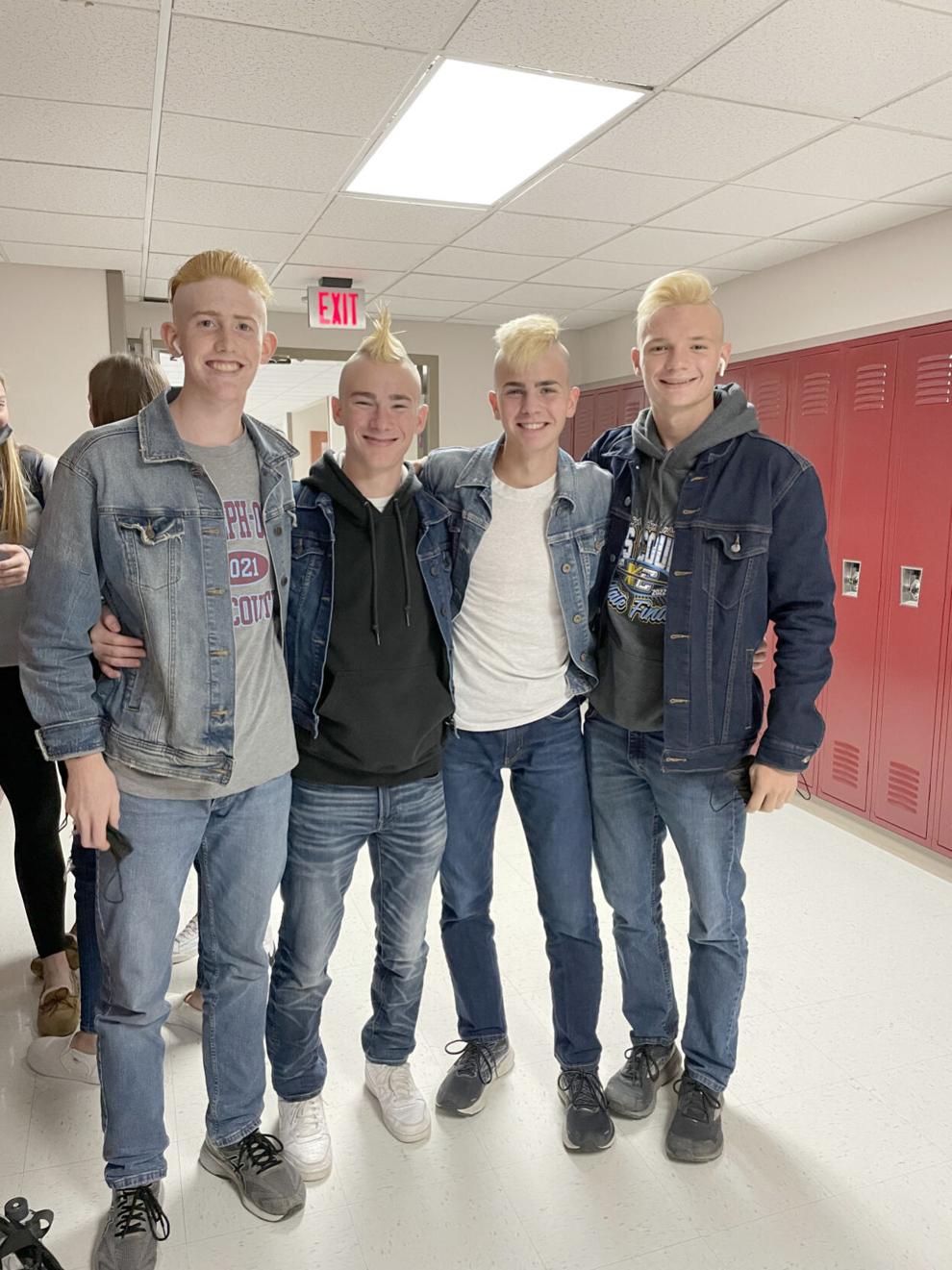 St. Joseph-Ogden
The cross-country teams have a longstanding tradition of doing crazy things to their hair before the state finals. The boys' team shaved their hair into a mohawk and bleached it (pictured: Carson Maroon, Ethan Blackburn, Aden Armstrong and Payton Wendell). The girls' dyed the tips of their hair maroon.
— Regan Uden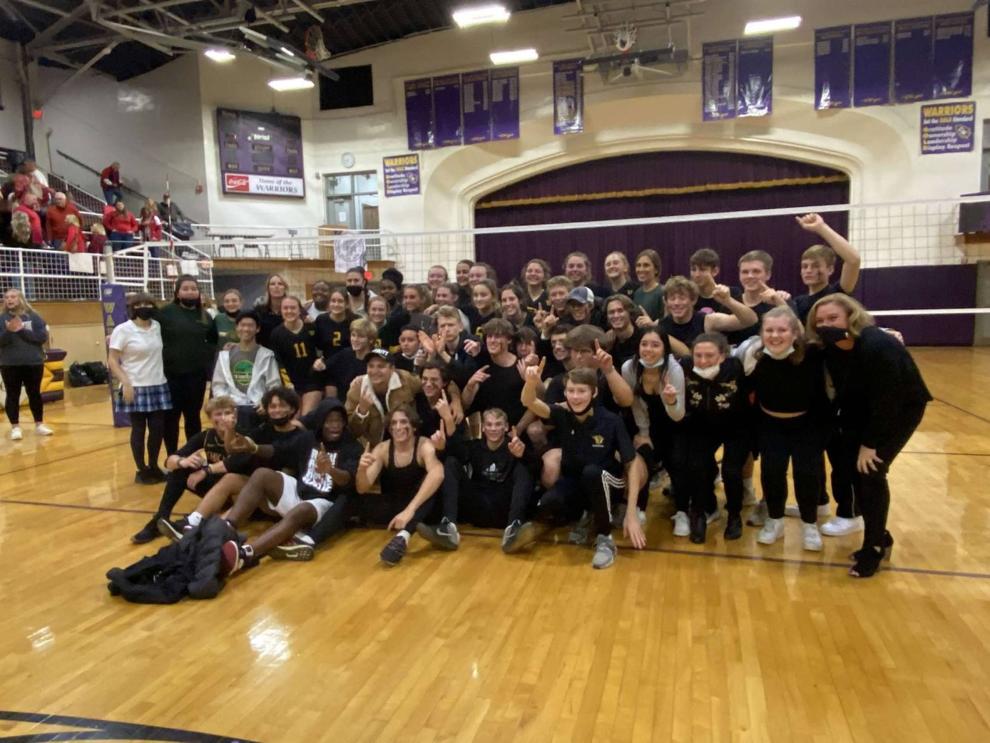 St. Thomas More
Saber Pack, the student section led by teacher Katie Markun (far right), traveled to Casey last Friday to cheer on the volleyball team at its super-sectional match. The Sabers won to advance to this morning's Final Four at Redbird Arena in Normal. There will be no school today in order to allow faculty and students to cheer on the Sabers.
— Bailey McMahon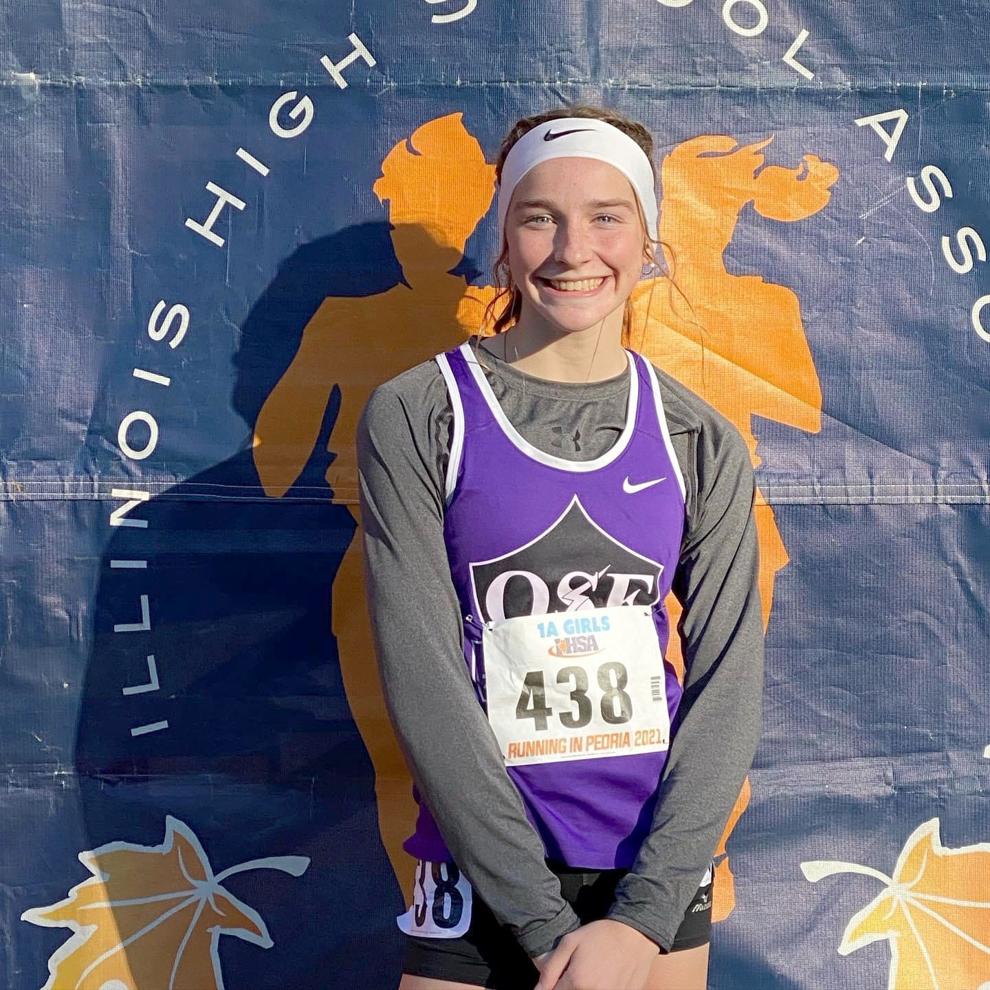 Salt Fork
To cap a successful fall sports season, super sophomore Macie Russell gained all-state honors last weekend by placing 16th at the IHSA cross-country meet in Peoria.
— Olivia Birge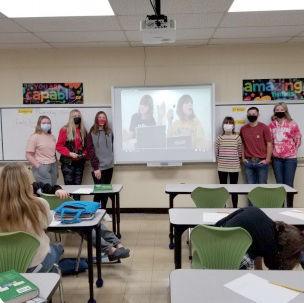 Shiloh
CAMA celebrates Red Ribbon week by going into younger classes and explaining the dangers of drugs and alcohol. Kaylin Williams, with the help of her sister Taylor Williams, produced a video that showed the evolution of what bad choices can do to them. Pictured left to right: Zoey Burton, Mollie Pollock, Kaylin Williams, Taylor Williams, Levi Eads and Kenzie Hales.
— Josephine Carroll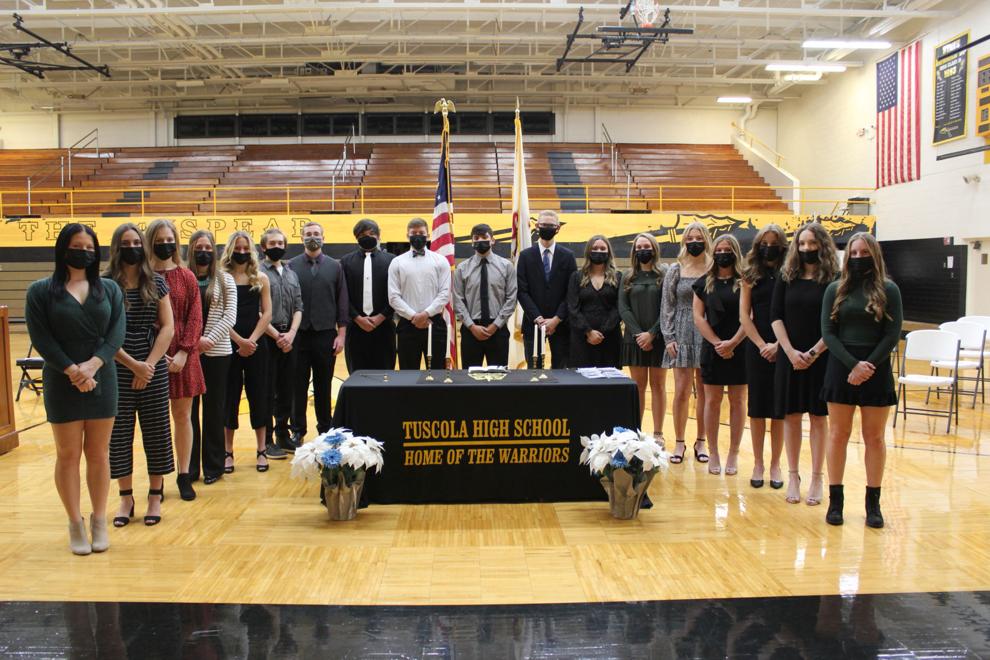 Tuscola
National Honor Society welcomed 18 new members from the junior class. The criteria: a 3.75 grade-point average or higher and an essay showing how they exemplify scholarship, service, leadership and character. Left to right: Makenna Fiscus, Natalie Veach, Harley Woodard, Brogan Rennert, Makenzie Herschberger, Kaden Carpenter, Ethan Bialeschki, Neil Walker, Grant Kauffman, Jordan Sanchez, Liam Hetland, Anna Rauguth, Marley Good, Molly Macaulay, Ella Boyer, Reggan Smith, Mikayla Dunn and Mia Hausmann.
— Amelia Bosch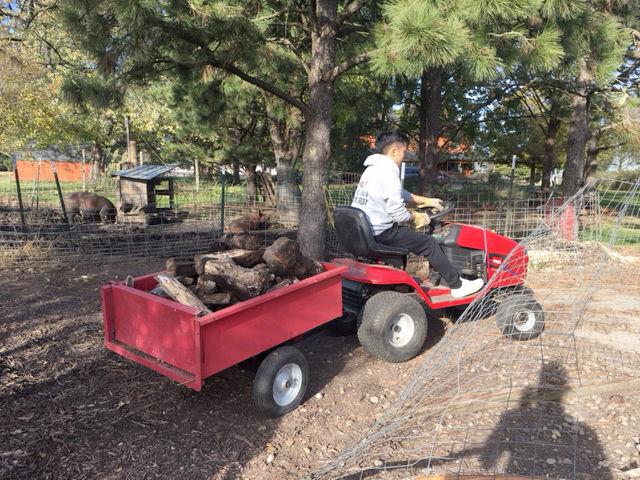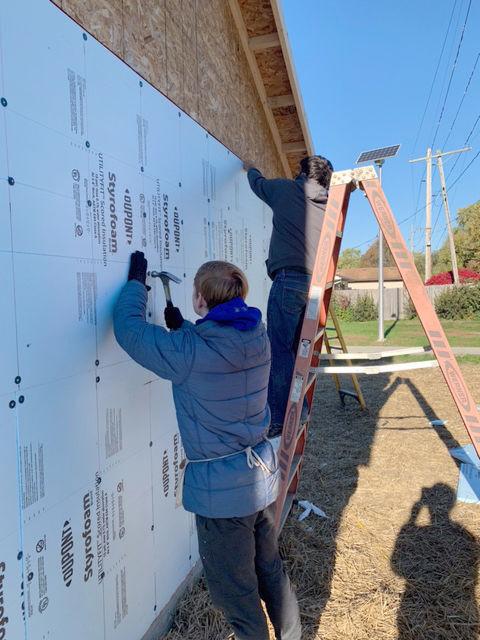 Uni High
On Saturday, Sprabitat Club students joined club sponsor/history teacher Ben Leff to help build a house over the course of several hours. In addition, the club resumed its "Chores for Clarksdale," a series of volunteer opportunities managed by Senior Elijah Song to complete various tasks for members of the Uni community in need of extra help. In exchange, a donation would be made toward the club initiative. On Sunday, a few seniors assisted Karl Radnitzer — Uni's assistant director — in activities like moving firewood, weeding and putting away furniture for the winter. Pictured: Senior Andy Brown and Leff work on the outside of the house; senior Brooks Hu drives a tractor full of firewood back to the garage for storage.
— Aakash Vasireddy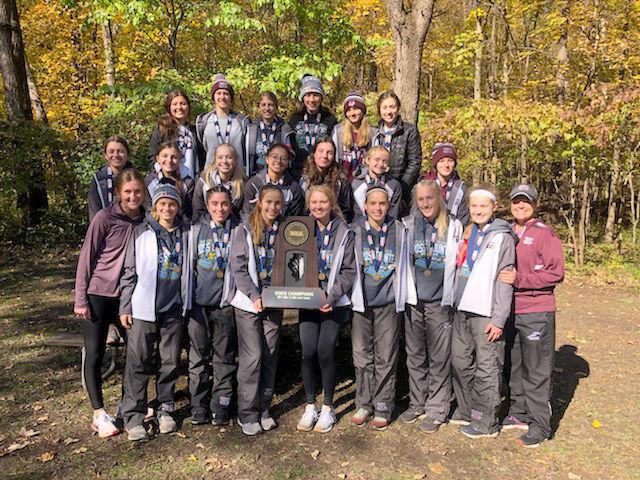 Unity
The girls' cross-country team won a state championship on Saturday, and the school celebrated with an all-school assembly on Monday.
— Maddie Reed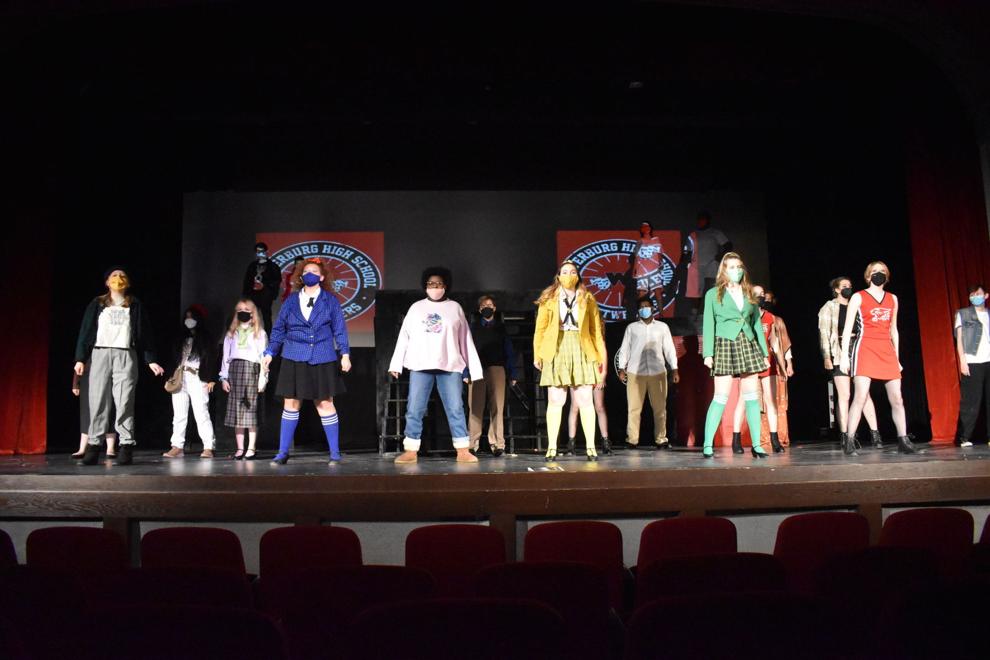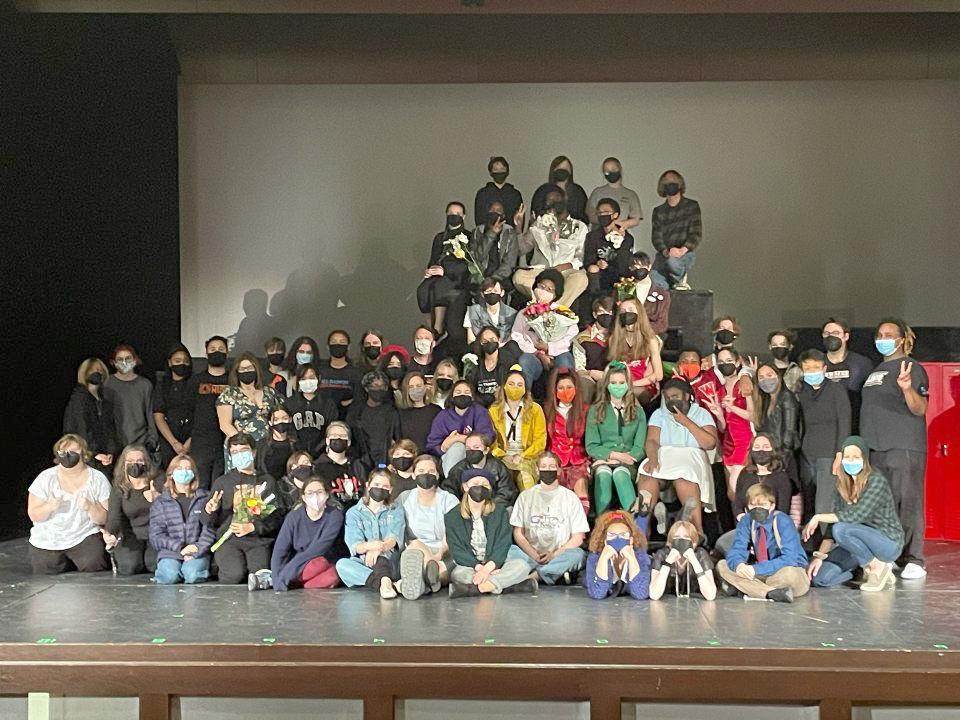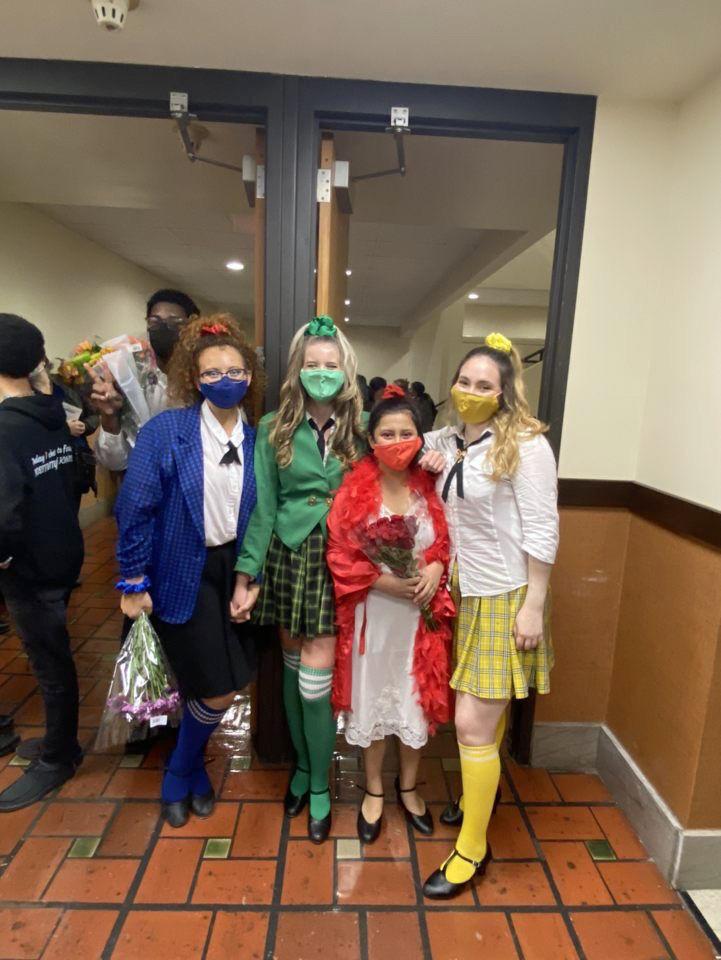 Urbana
Theater put on its production of the musical "Heathers" based on the 1980s cult classic movie. The production starred Ameriah Lockett, Willow Wiesman, Samiah Goines, Antonio Salamn, Maisie Pines, Eisla Madigan, Paulina Angrave, Jesse Wald and V Betchel.
— Park Mitchell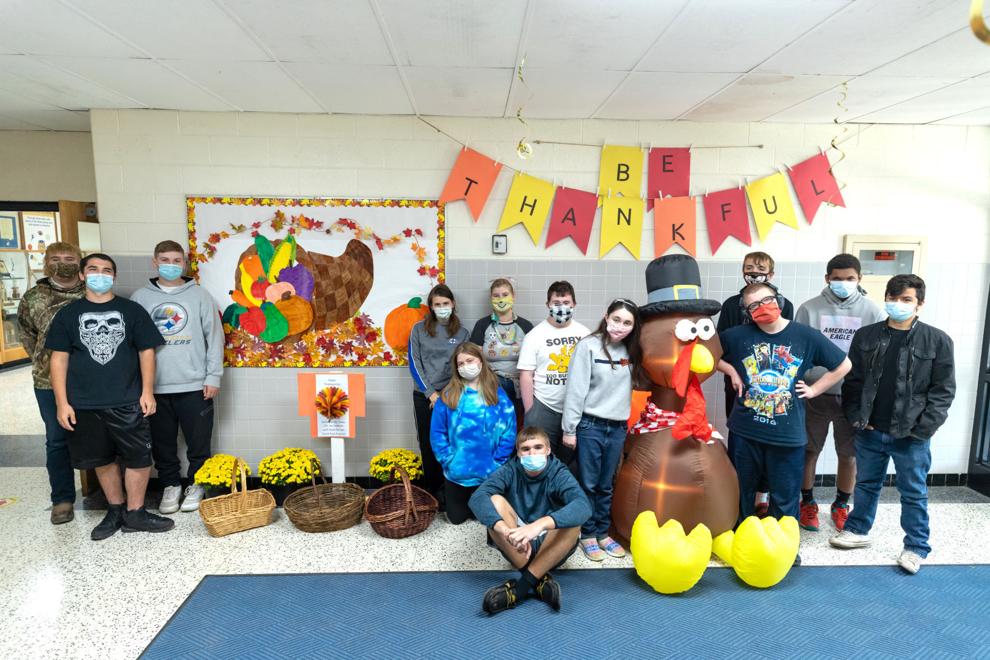 Villa Grove
Students decorated the school's entryway with fall decorations to help encourage others to donate to the school's Snack Pack Program. Pictured: Nic Wilson, Blake Morgan, Dylan Horton, Mary Tumbleson, Violet Erl-soper, Faith Shreeves, Jaxon wilson, Chance McClain, Aleah Hatten, Jacob Miller, Kaleb Drew, Morgan Quigley and Emilio Galarza.
— Molly Little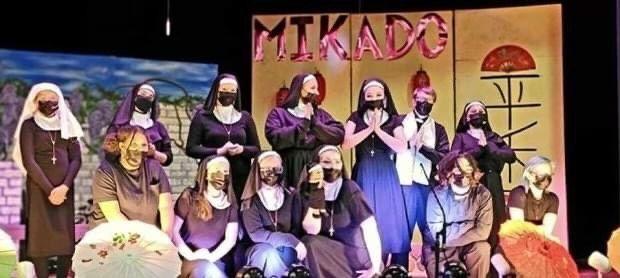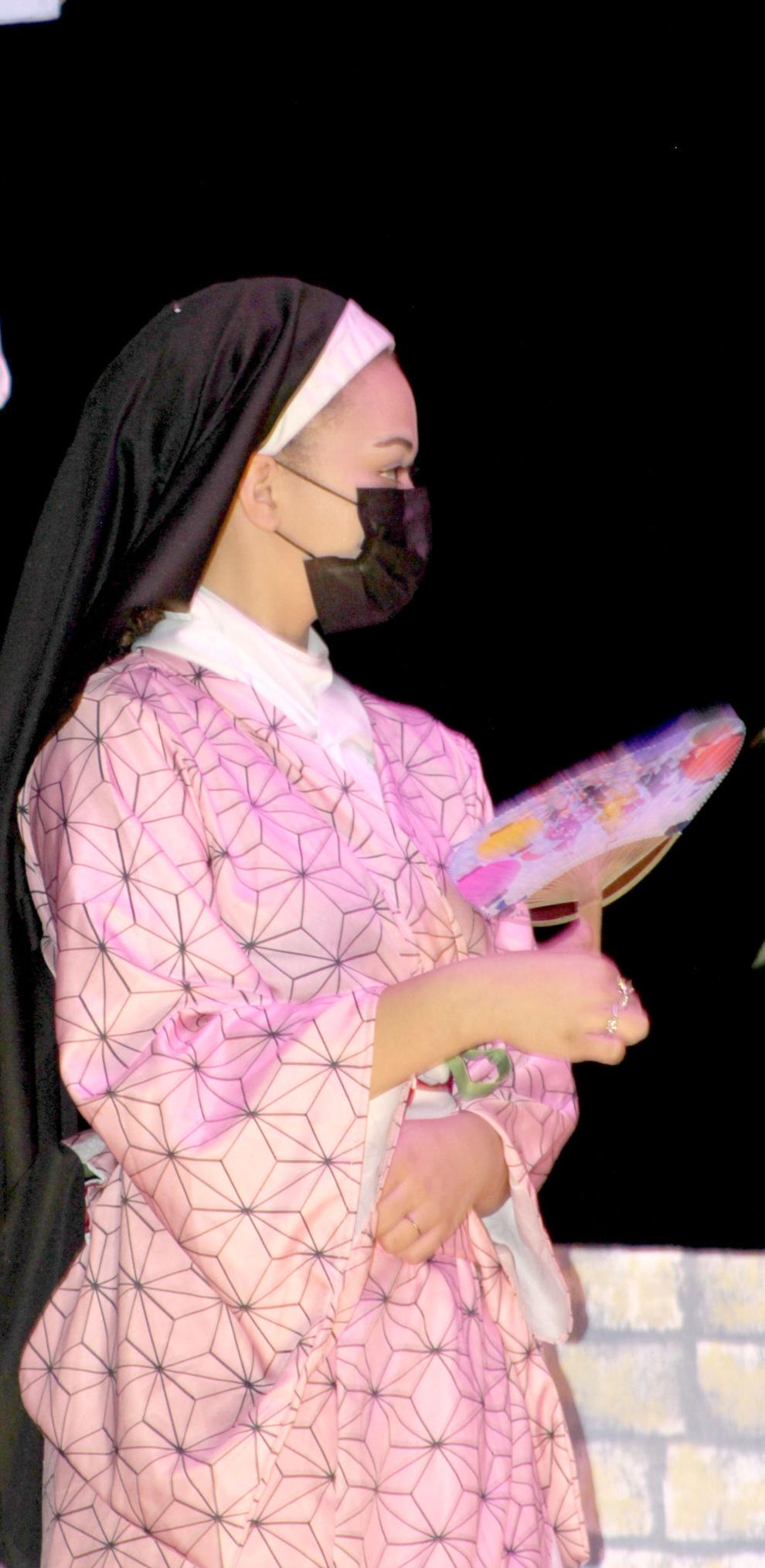 Westville
A crew of talented students, directed by Ellen Howie, performed Nunsense II in the old gym last weekend. Those taking the stage included Kayleisha Schroeder, Hadley Cox, Alexis Johnson, Haylee Nelson, Anna Freeland, Colton Cox, Hannah Wagoner, D.J. Semonick, Sarah Dittmar, Amyah Goulding, John Marrs, Irelynn Phelps, Zane Sollars, Chloey Gnaden, Aeris Poston, Avonte Kizer, Jennifer Lewis, Chris Huffman and Lane Hathaway.
Said Howie:
"It was one of the most entertaining musicals I have directed. You never knew what was going to happen next.
"The show is interactive with the audience playing bingo and singing along at times. ...
"Our production was both fun and challenging. Our cast was fairly new to drama. Only two of them had ever had any major roles before. The students worked hard and despite rehearsals being hit-and-miss because of several cases of COVID, they rallied together. They took extra lines at the last minute, because two cast members got quarantined the day of dress rehearsal, and pulled it off. They were wonderful and I think audience that came enjoyed the show and were happy to see theater back in the school."
— Bryce Burnett