Beyond the Boardroom: Urbana Superintendent Jennifer Ivory-Tatum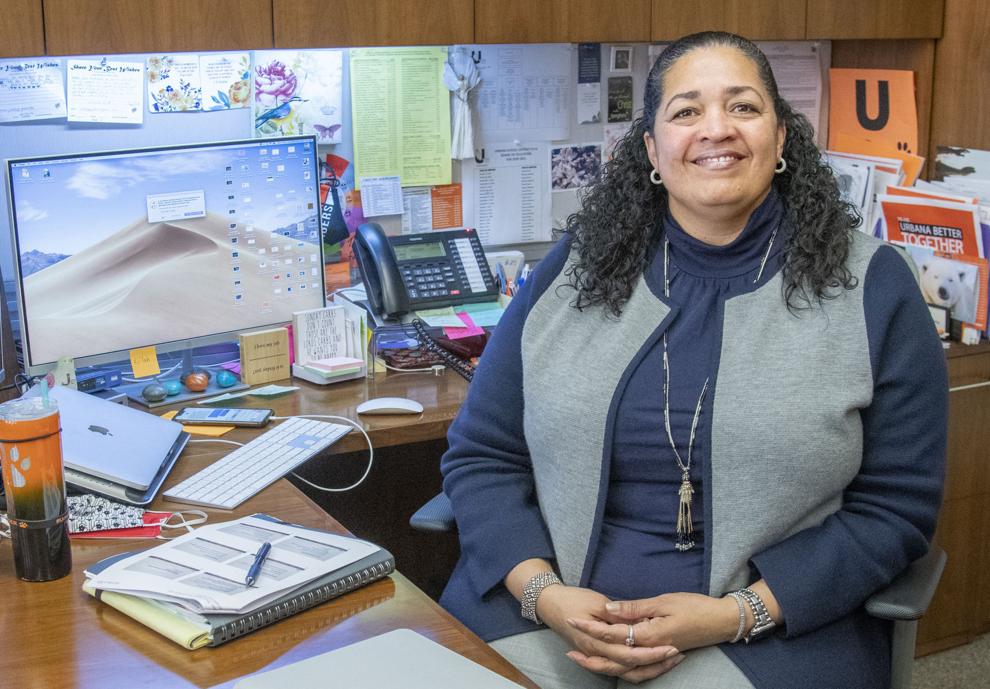 It was Preston Williams who gave JENNIFER IVORY-TATUM her big break in education, when Urbana's then-superintendent hired her away from Champaign's Unit 4 to be the new principal at King Elementary.
And it's a retired Preston Williams now, 15 years later, who Ivory-Tatum still turns to for words of wisdom now that she's superintendent of Urbana schools.
"He recruited me to Urbana and encouraged me to apply for the King School principal job," Ivory-Tatum says. "He mentored me through those first two years as a new administrator, which were extremely tough, and then several years after. He continues to be a good listener and mentor in my role as superintendent."
Speaking of extremely tough, Ivory-Tatum's first year as superintendent ended amid a global pandemic, which has also consumed the first half of Year 2 on the job.
The three-degree UI alumna, who hopes to welcome some students back to school buildings after New Year's, took time out to answer a few questions from Editor Jeff D'Alessio in the 53rd installment of our weekly speed read spotlighting leaders of organizations big and small.
---
When it comes to my favorite moment in this job … I was very much looking forward to the opportunity to turn the tassels for the Class of 2020 and give my oldest son, Bryson, his diploma in the State Farm Center, but this pandemic took away that moment.
However, I am looking forward to my next opportunity to do the same with my son Jordan and the Class of 2022.
My one unbreakable rule of the workplace is … honesty and trust are a must. For our team to function, we need our workspaces to be places where we can openly share and dialogue with one another without fear of retribution or retaliation.
I'm frugal in that … I keep up with my Meijer mPerk points, clip Meijer coupons in the app and use the store's coupons.
My philosophy on meetings is ... always have an agenda so those attending can share ideas, comments and suggestions with some forethought prior to the meeting.
I don't believe in meetings just for the sake of meeting, especially if the topic can be addressed in an email exchange instead.
The hardest thing about being a leader is … having to make very tough decisions sometimes when there is a no-win for anyone and no one will be pleased with the decision.
But as a leader, it is my job to make those tough decisions and take the hits on behalf of our stakeholders.
I can't live without ... my faith, my family and my church family.
As far as the biggest business risk I ever took ... having been let down and passed over for principal positions I had applied for in Unit 4, I decided to leave K-12 education.
I had just accepted a position as an associate professor in early childhood education at Illinois State University when the principal position at King School in Urbana was posted.
Several people reached out to me and encouraged me to apply for the job. I applied and went to the interview, thinking I had nothing to lose, and got the job. It was the biggest risk I had ever taken, and it paid off.
It reaffirmed where I belonged, which is supporting K-12 students.
When it comes to luxuries … before the pandemic, I received a gift card for a massage, an indulgence that I would never have purchased for myself.
I'm up and at 'em every day by ... 6:15 a.m., unless I'm going for a morning walk. Then it is much earlier.
For exercise ... my husband and I enjoy a brisk walk through the neighborhood. When we walk in the mornings, we can only walk for about 30 minutes, so I can get into the office, but we enjoy longer walks on the weekend.
The worst job I ever had was … before I started my first teaching job.
I had many jobs working with kids over the years that I loved, ranging from daycare center teaching assistant, day camp counselor, lifeguard and teacher's aide.
The two jobs that are neck and neck for being equally the worst jobs ever were while a student at the U of I in the late '80s — I was very briefly a delivery driver for Blimpie's, a sandwich shop on Green Street, and a call center telephone operator for Ameritech phone company.
I was terrible at both.
On a 1-to-10 scale, the impact of the pandemic has been a … 9 — due to the devastating effects on the learning impact on students, the stress on staff, the health risk to those we love and the many lost life events that kids and families will never get back.
I would say a 10, but unfortunately, there is more loss to come due to rising coronavirus numbers spiking across the country and our community.