What's your opinion? Click here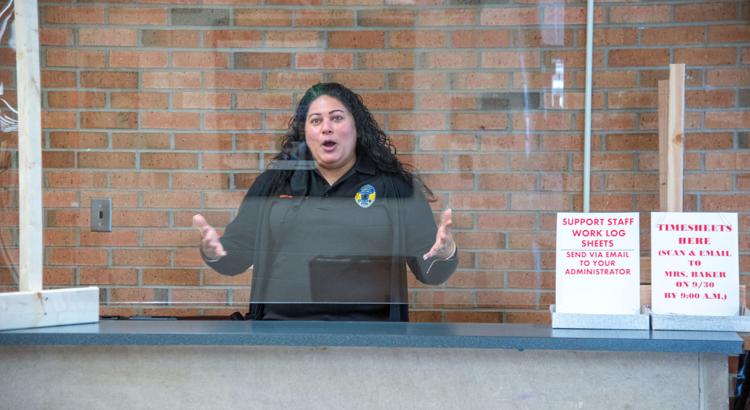 URBANA — Before Michelle Robinson began her job as the school resource officer at Urbana Middle School late last year, she had a nickname as a patrol officer.
"I was the 'mom officer,'" she said. "When I talked to people, I was the mom laying down the law."
Robinson enjoyed her beat, working in the same area where she grew up. She went to high school with some of the people who still lived in the area, and she tried her best to build a rapport with those she didn't know.
When the Urbana school board voted last November to commission two full-time school resource officers, Robinson realized the job would be a perfect fit.
After all, she has a degree in elementary education and a background working in the mental-health field, where she helped people who had been institutionalized re-adjust to normal life. She wanted to help troubled youth, she said, and thought becoming a police officer would be the best way to do that.
The job has been everything she expected.
She has built relationships with kids and adults who may have had negative interactions with police, engaging with them in different ways than she would have when she was on a call.
She has helped students who became comfortable around her, telling her about bullies who wouldn't leave them alone. She has participated in restorative circles along with social workers, helping them resolve conflicts in a non-punitive way.
She wears a polo and khakis as part of a more relaxed uniform, although she still has a gun attached to her hip.
And of course, she has used that stern, motherly voice when necessary.
"Most of the time when I'm talking to kids, even if it's something where they've done something and a parent of the victim is wanting me to take a report and I have to give them the spiel, I look at it as a 'mom' tone," she said. "The point of it is to correct their behavior. Not necessarily punish them, but correct their behavior so they can learn from what they've done and from what will happen if they continue that behavior."
After only a few months on the job, schools across the state went fully remote in March, and students in Urbana haven't been back since.
Now, whether Robinson's job should even exist is up for the debate.
At its two most recent meetings, the school board discussed whether it would be possible and advisable to amend the contract with the city — which costs the district $327,007 for two officers — given the fact that the officers can't perform their intended functions without students in school.
That comes after nationwide protests for police reform and divestment swept across the country, and calls for the removal of school resource officers have reignited locally.
Robinson and her high school counterpart, Chad Burnett, fulfill a wide variety of roles. Now, Urbana residents and the school board are once again wrestling with the question of whether armed police officers are the most qualified people for the job.
"People say, 'They're great people, they're mentoring students,' but the argument is not about the school resource officers as people," said 2007 Urbana graduate Ameena Payne, who filed a petition to remove the officers from schools.
"I'm sure they're doing their job, which is policing in schools, and I'm sure some of them do go above and beyond and take on these mentorship roles. But it's important to realize that that's not their job.
"They are there for criminal activity. There are other roles that are more appropriate, such as truancy officers, youth counselors, social workers, implementing programs that may address the root causes of what may be considered behavioral issues in the school."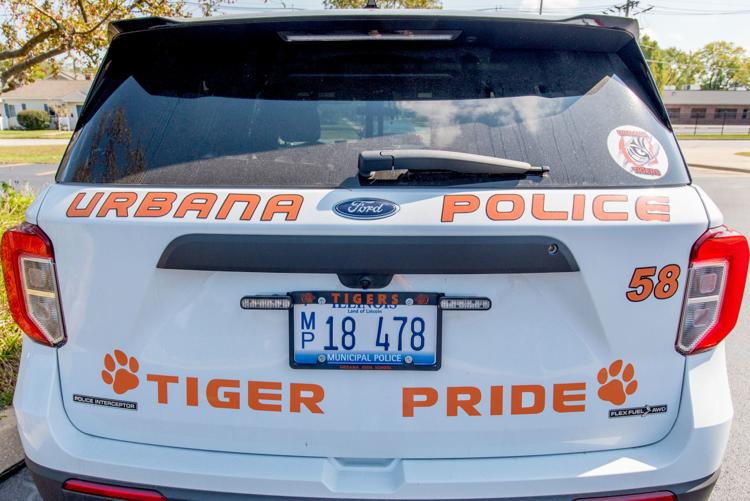 ❖ ❖ ❖ ❖ ❖
The initiative to install full-time officers at Urbana's high school and middle school was spurred by a fight in February of 2019 that resulted in 11 arrests and left a teacher briefly hospitalized.
"I have seen those videos. It was chaos," Champaign County State's Attorney Julia Rietz said. "And the teachers and the staff were not able to deal with it. And one of them got seriously hurt when she tried."
Since 1993, when a school resource officer was first installed in the district, one officer worked what was generally considered a half-time position. After the fight, an officer was stationed at the school full-time.
Later that year, a plan was put forth to install officers at both the high school and middle school, and in November, the board approved a two-and-a-half year contract that would cost the district $327,007 per year in salaries, benefits and other costs.
Two officers with education backgrounds, Robinson and Burnett, a former teacher, took on the roles. Both took a 40-hour training course, and Robinson said she's always eager to take whatever professional development training comes her way.
When Superintendent Jennifer Ivory-Tatum was asked at the most recent school board meeting whether she'd like the program to continue, she nodded her head emphatically and said, "Yes."
"I think we have the opportunity to do something great," Ivory-Tatum told the board. "It's very unique that we have two individuals in the people that we have in SRO Robinson and SRO Burnett in their temperaments and their backgrounds and their commitment to Urbana."
The debate about school resource officers goes far beyond last November's board decision.
Danielle Chynoweth has been involved with discussions surrounding the officers since 2001, shortly after she was elected to the Urbana City Council. During her first meeting, she opposed a measure to increase the number of officers in schools.
Over her seven years on the council, she worked with officers to address the negative long-term legal impacts interactions with police might have.
Chynoweth, who is now the Cunningham Township supervisor, was disappointed in the decision to increase police presence in the two schools.
"The investment in school resource officers was reactionary, and it was a reaction to a specific moment in time that has passed," Chynoweth said. "So what we need to do, instead of being reactive, is we need to be proactive in investing in education and kids and racial justice and not reactive in terms of policing and surveillance and punishment."
At a meeting last fall, Urbana police Chief Bryant Seraphin pointed out that of the 35 arrests made by the school resource officers over the previous five-and-a-half years, only one resulted in charges. Twenty-four of the students who were arrested were referred to the Youth Assessment Center, which uses restorative-justice practices as an alternative to prosecution.
The school-to-prison pipeline referenced in many public comments at city council and school board meetings simply doesn't exist in Urbana, Seraphin said.
The argument, though, isn't quite that simple.
Referrals to the Youth Assessment Center become part of a student's record, and are considered in criminal cases down the line.
"It's a diversion program, so ideally, the young person takes advantage of the opportunities and resources that are provided by the Youth Assessment Center and we never see them again in the criminal-justice system," Rietz said.
"Now, if they fail the formal station adjustment that they're put on through the Youth Assessment Center, if they continue to violate the law, then yeah, we're going to know that they had opportunities, and that's something that we're going to have to take into account."
In working with low-income and homeless residents in her role as township supervisor, Chynoweth has seen the real-world implications of building up a juvenile record.
"Ultimately, I have met school resource officers who are friendly, who are kind and who are supportive, but it's not about the person," she said. "It's about the function. The function of an officer is that, when they see something happen in the school, they view it through the lens of the criminal-justice system, and they begin a process that ends with a young adult having the state's attorney dig up that child's record and say they have prior records as juveniles, and that's how misdemeanors get turned into felonies, and that's how the participants at the township have barriers to housing and unemployment.
"It starts in school, with the tracking through police contact. And it's inappropriate for schools to embrace that. That's not their mission or their function."
❖ ❖ ❖ ❖ ❖
If the officers are fulfilling their intended purpose, though, the idea is that the crimes that lead to arrests might not occur in the first place.
A school resource officer like Robinson, Seraphin said, can build relationships and use them to help stave off problems before that happens.
She can also bridge issues that take place outside of school, which staff may not normally be aware of, with potential issues inside the school.
"What I've found interesting is the idea that SROs are vital in working with staff and students in anticipating some of these issues so that small things don't become big things," Seraphin said. "The ability for Michelle to plug into these school groups was amazing to me.
"You have somebody that can plug in there and that knows who the children are that need more support. When she's involved at the lower end of the spectrum, we don't get to the higher end of the spectrum."
For Rietz, the choice between solving the problem at its root and making sure schools are safe is a false one.
"Can't we do both?" she said. "Can't we ensure that our schools are safe and address the root causes? Why does it have to be one or the other?
"We can't pretend that our young people are not involved in serious crime," she added. "The vast majority of the gang violence that we're seeing right now involves young people carrying guns. Do we want them carrying those guns in our schools? Do we want to not have somebody who's able to address those situations?"
Of course, every dollar spent on school resource officers is a dollar not spent somewhere else. And the $327,007 spent each year can go a long way.
"You can buy 3,000 Chromebooks with the $320,000 used for SROs," Chynoweth said. "You can buy a teaching assistant for every classroom in my son's school. You can buy seven social workers.
"At township assistance levels, you can buy rental assistance for 533 families. Or, you can buy 10,658 days of hotel-room stays for homeless families."
Payne sees a better way to replicate many of the functions of a school resource officer with workers who are trained to address trauma, conflict and mental-health issues without introducing children to the criminal-justice system and the endemic racial-justice issues that come along with it.
"SROs in schools contribute to these negative outcomes, and they don't actually have any positive effects on student learning and safety," Payne said. "There's lots of academic, peer- reviewed, scholarly work out there to support these alternate approaches, and it's just about doing something different and believing in a system that's different than what we're used to."
After the city council voted this month to allow the school board to amend its contract, the board rejected that idea by a 5-2 vote the next day. That means Robinson and Barnett will keep their beats inside the schools, although several board members discussed revisiting the conversation soon on a philosophical level rather than a budgetary one.
Robinson hears the protests. As a Black woman, she's well aware of racism and bias that takes place in all forms, including policing, she said. But she contends that there's plenty of good they can do for students and families.
For now, she and Barnett are making house calls to deliver supplies to students and to help families in other ways, along with providing security at the school entrances.
When students return, she's looking forward to gathering groups of at-risk kids and continuing the relationships she began building last year.
For the detractors, she has one plea.
"Just give us a chance," Robinson said. "If in two years you don't like how it's going, and you still feel the same way then, OK, we tried to prove ourselves.
"But just give us an opportunity to prove ourselves, because you're going to be really surprised with what Officer Burnett and I have in store for the school and what we're going to do."