URBANA — The deposed superintendent of Urbana schools wants his job back and is suing the district and its seven elected school board members to get it.
In a lawsuit filed this week in Champaign County Circuit Court, former District 116 Superintendent Don Owen, 53, alleges that the district and the board of education retaliated against him by firing him for questioning an audit ordered by the board a year ago of the hiring of several minority faculty and staff members.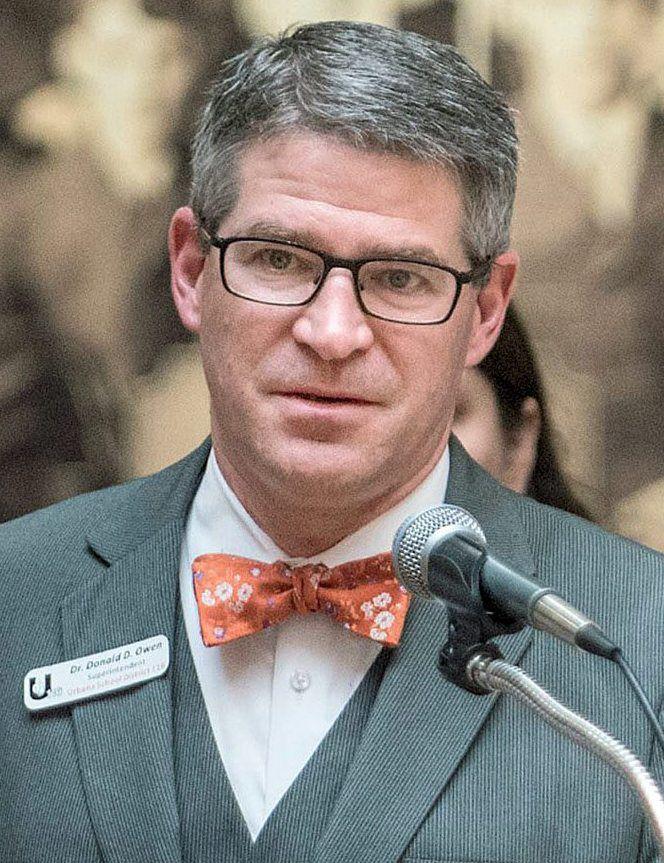 Besides his job, Owen wants punitive damages against board members John Dimit, Anne Hall, Ruth Ann Fisher, Brenda Carter, Paul Poulosky and Peggy Patten, and former board member Benita Rollins-Gay.
The seed for the dissent between the former superintendent and his bosses was planted in 2017 when Owen and other administration employees formed a "Recruitment and Retention Committee" to hire more minority teachers and staff.
In the suit, Owen attorney Ronald Langacker of Urbana describes his client as a "passionate advocate for resolving issues related to racial and gender bias within the district."
The committee was formed in response to data suggesting the district's minority students were being punished more frequently and harshly and that there was a "pronounced racial disparity" between a student body "composed primarily of racial minorities and teachers who were predominantly white."
Owen's recruitment committee sought to rectify the numbers by hiring about 30 minority staffers.
In March 2018, the administration also rolled out a district-wide attempt at restorative justice, which included getting rid of the deans in the middle and high schools.
Those hirings sparked complaints from district staff and union members that Owen and his colleagues were engaging in "top-down management" and violating hiring policies. The union maintained it was not opposed to restorative justice but rather its failure to address the needs of all students.
Without consulting Owen, the school board then ordered a "hiring practices audit" of the new staffers, who were all African-American, Latino and Asian.
In the lawsuit, Owen said when he learned of the audit, he expressed concern to the school board in a Sept. 24, 2018, closed session that it was targeting minority employees, which could have legal consequences for the district.
Owen alleges that Dimit, the board president, said in the meeting that while the district was publicly calling the records review an "audit," in Dimit's mind it was an "investigation of specific individuals."
The suit also maintains it was discovered at the end of that closed session that the recording secretary had not audio recorded the session.
Fallout from audit
In the suit, Owen said he tried to speak individually to board members about the audit violating the civil rights of a protected class of employees. On Nov. 12, 2018, he followed up with a written memo to the board outlining his concerns.
"At the Nov. 20, 2018 executive board meeting, eight days after providing the board with the memorandum, Dr. Owen was verbally notified that he would be placed on paid administrative leave for the remainder of the term of his contract, and that Dr. Preston Williams would be named as interim superintendent ..."
At the Dec. 4, 2018, meeting, the board put Owen on administrative leave for the remainder of his contract, which was to end June 30, 2019. The suit alleges he was not told why he was being put on leave but it noted that Katherine Barbour and Samuel Byndom, two other administrators who were advocates for racial diversity, were also put on leave at the same time.
(By that time, Byndom, 36, had been criminally charged with eavesdropping for allegedly placing a "spy pen" recording device in a closed session of the board on Oct. 28. His criminal case remains unresolved and a hearing on a motion to dismiss the charge is set for January.)
In February, the school board notified Owen that his contract would not be renewed. Demoted to teaching for the current school year, Owen instead resigned in August.
Owen: Damage done
The suit alleges that the board violated Owen's civil rights and the Illinois Human Rights Act by retaliating against him for opposing what he believed to be an unlawful employment practice, namely discrimination.
It also alleges he's been unable to get a job because of the damage to his reputation.
In addition to reinstatement to his job and punitive damages from the board members, Owen is seeking court costs and attorney fees from the defendants and a judicial declaration that board members violated state and federal law.
On Friday, board President John Dimit chose not to say anything about the lawsuit other than that he and the other board members are aware of it and have notified the district's attorney, Dennis Weedman of Collinsville.
Weedman did not return a call or email seeking comment. Neither did Owen nor his attorney, Langacker.