2019-20 High School Confidential: Week 14
Welcome to Year 4 of High School Confidential, an award-winning project made possible by aspiring student journalists from every corner of our circulation area. Each Wednesday through May, they'll tell us what's happening in their hallways at news-gazette.com.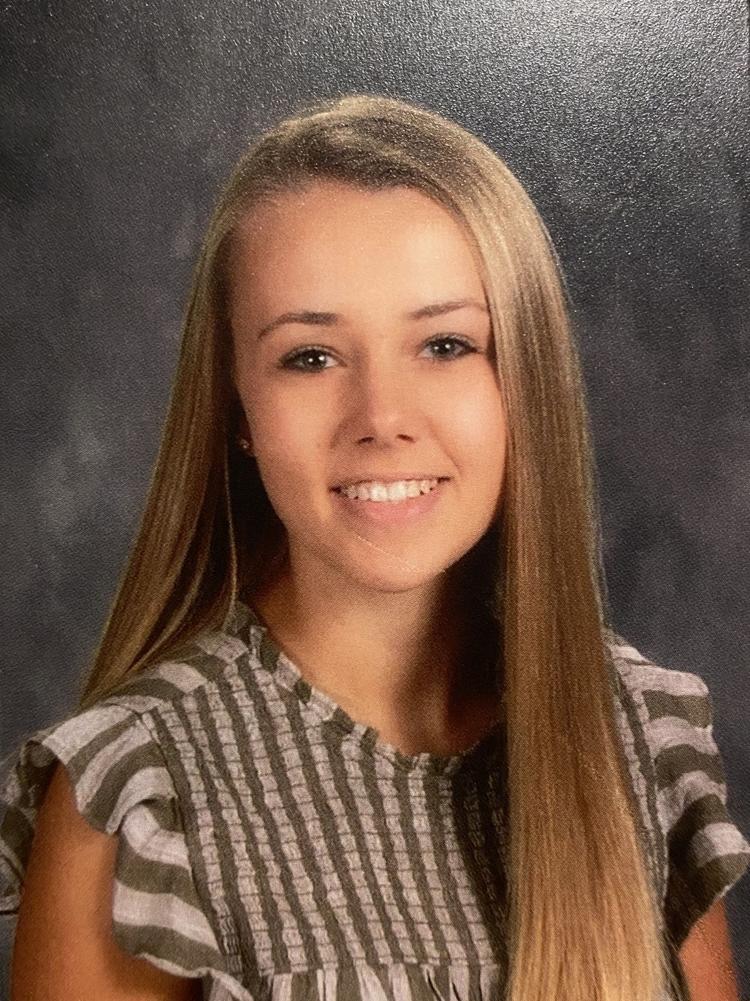 Once a week, we'll hand over our Snapchat account (News-Gazette) to our correspondents for behind-the-scenes tours.
On Wednesday night, Mahomet-Seymour student Campbell Cruse will take us behind-the-scenes at the school's job fair. On Thursday, we'll accompany the school's chess team to a possible conference-clinching match.
This year's crew:
Academy - Megan Wiarda
ALAH - Kaylee Yeakel
Arcola - Patty Rodriguez
Armstrong-Potomac - Emily Rogers
Bement - Braden Fogerson
BHRA - Gabe Martinez 
Blue Ridge - Kalyn Warner
Centennial - Hailey Choi
Central - Julia Wilson
Chrisman - Lindsey Franz
Cissna Park - Abbi Kaeb
Danville - Leilani Islam
DeLand-Weldon - Tori Billingsley
Fisher - Sidney Sievers
G-RF - Chelby Hall
GCMS - Sierra Hileman
Heritage - Lynnae Struck
Hoopeston - Erin Anderson
Judah Christian - Brayden Riesberg
Mahomet-Seymour  - Rachel Myers
Milford - Jordin Lucht
Monticello - Addison Wichus
Monticello - Mary Grace Ross
Oakwood - Maecii Barabas
PBL - Emma Schuler
Rantoul - Veronica Duddleston
St. Joseph-Ogden - Mallory Ames
St. Thomas More - Noelle Schacht
Salt Fork - Autumn Lange
Schlarman - Farrah Anderson
Tuscola - Emma Zimmer
Uni High - Samaia Jones 
Uni High - Erin Minor 
Unity - Kimberly Pruetting
Urbana - Molly Sweeney 
Villa Grove - Grace Hutchison
Westville - Emma Myers
On to this week's report: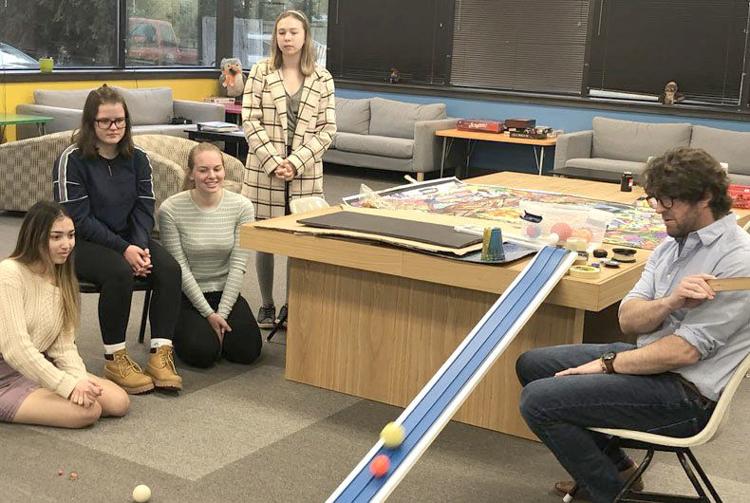 Academy
Using a ramp system in class, Darren Pascavage showed how various balls go faster or slower depending on their mass. Pictured left to right: Cassie Colmenares, Paige Dahl, Briana Ballard and Colette Tichenor. — Megan Wiarda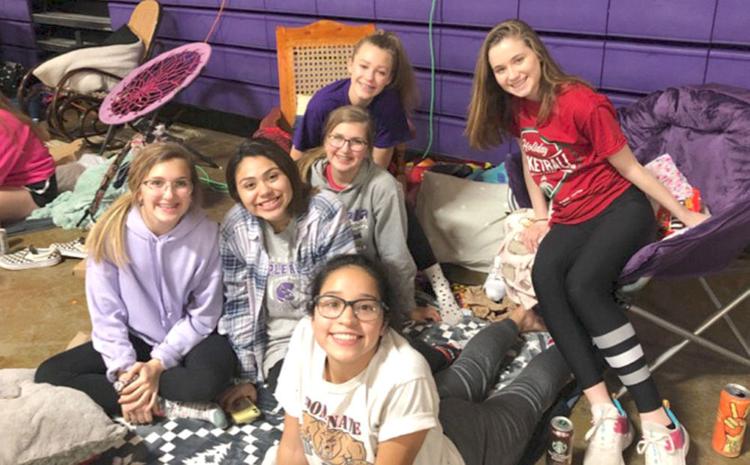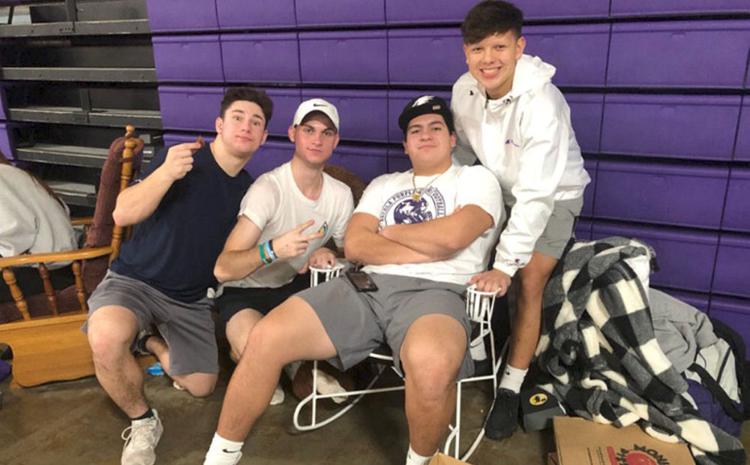 Arcola
Students involved in the America Field Service club spent the night at the school last Friday, playing various activities to pass the time. The Rock-A-Thon fundraiser helps the club make an annual field trip to the East Coast. — Patty Rodriguez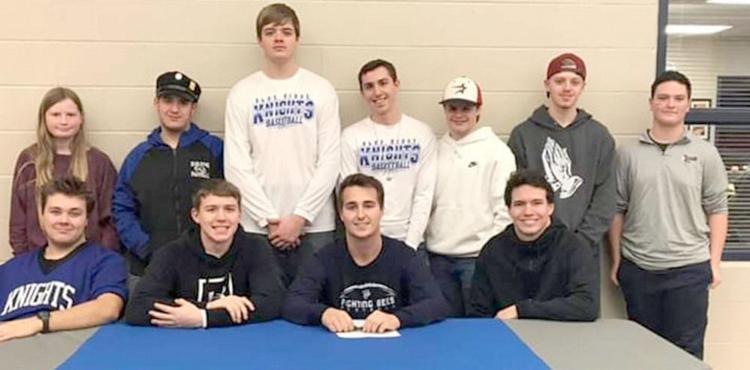 Blue Ridge
The Scholastic Bowl Team went 3-0 against Argenta-Oreana, Cerro Gordo, and Bement, improving to 13-0. The girls' basketball team beat Uni High 36-25. Brady Masengale (pictured with teammates) signed a letter of intent to play football for St. Ambrose University. — Kalyn Warner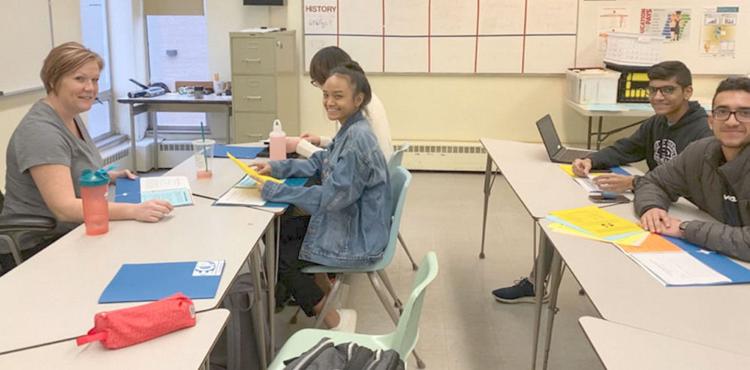 Centennial
Students in Education to Careers & Professions class discussed the course with teacher Susan Thomas (left). Students are given the opportunity to participate in an internship and research careers. Pictured left to right: Abbie Mondala, Manan Patel and Adam Youssef. — Hailey Choi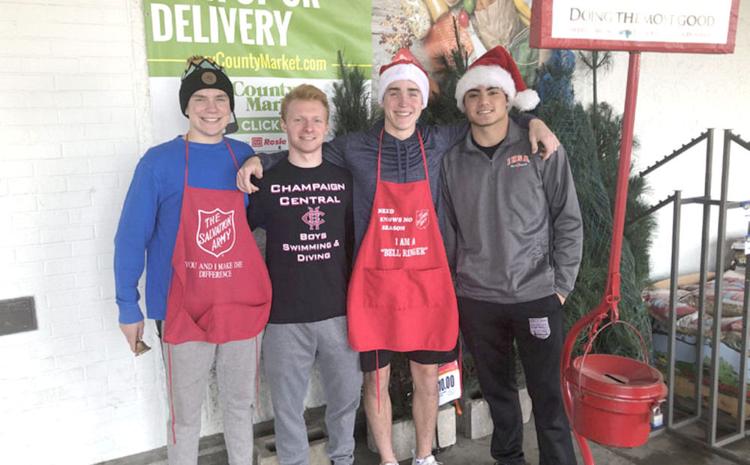 Central
During break, members of the boys' swimming and diving rang bells to help raise money for Salvation Army. Pictured: freshman Nolan Miller as well as seniors Ryan Wierschem, Jack Hummel and Nik Johnson. — Julia Wilson
Chrisman
English teacher Carrie Mason re-introduced Scholastic Bowl, a welcome addition for interested students. — Lindsey Franz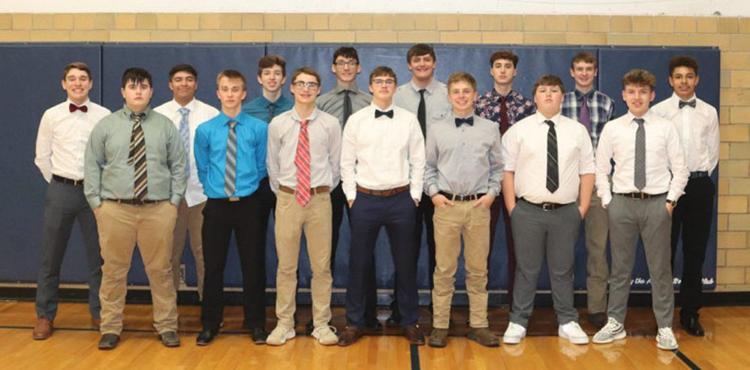 Cissna Park
The boys' basketball team dressed up for their Friday night game against Iroquois West in Gilman. — Abbi Kaeb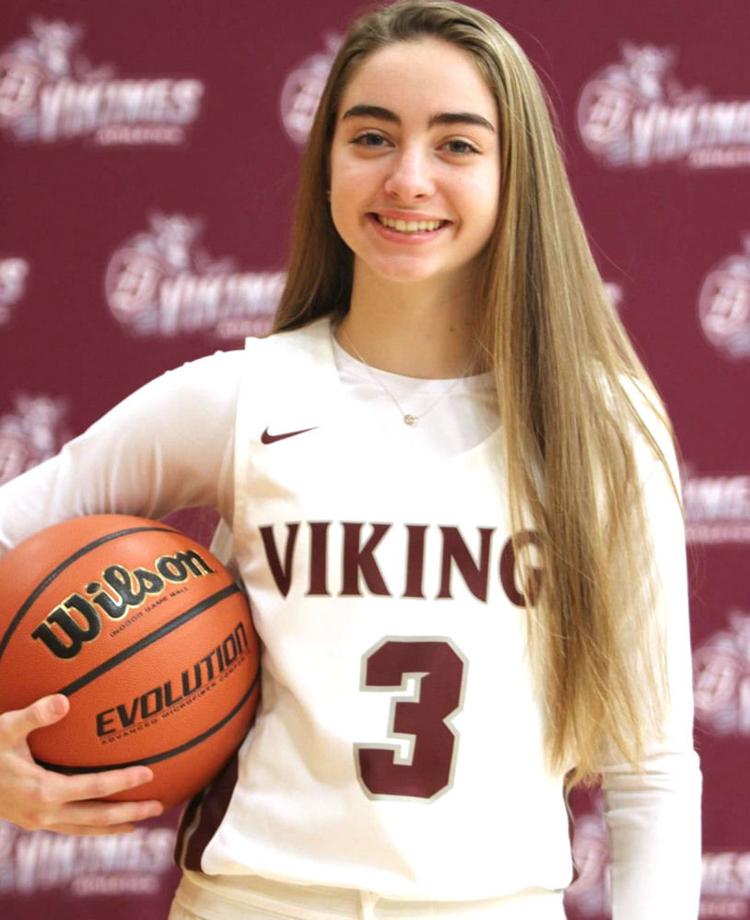 Danville
Junior Erin Houpt was named to all-tournament girls' basketball team at the Charleston Holiday Tournament. — Leilani Islam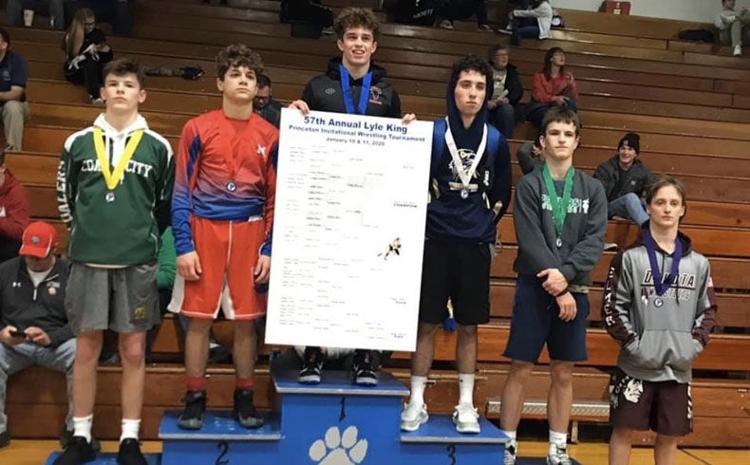 Fisher
Junior wrestler Cale Horsch won first place at the Princeton Invitational in the 126-pound weight class. — Sidney Sievers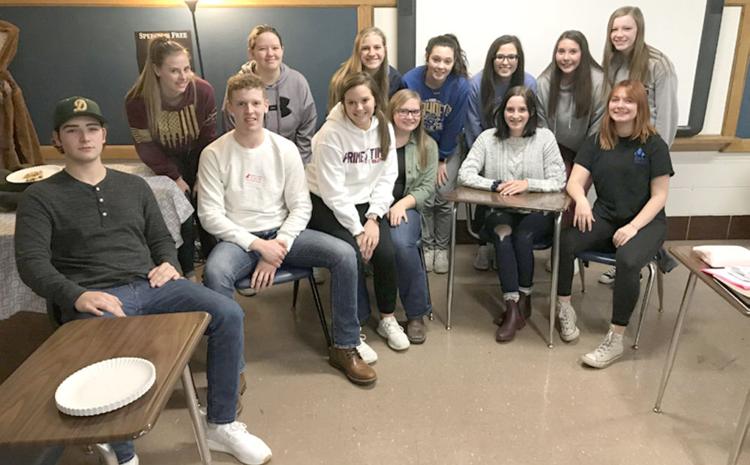 Heritage
Heritage graduates (Class of 2019) returned to school to speak to the First Year Experience class about college life. Pictured: (back row) Aliya Holloman, Kailee Eldridge, Madi Jones, Bree Buck, Kacie Roberts, Rianna Rothermel and Lynnae Struck; (front row) Evan Wilson, Bryce Dalle, Olivia Sorensen, Nicole Cheatham, Fiona Ely and Misty Robinson. — Lynnae Struck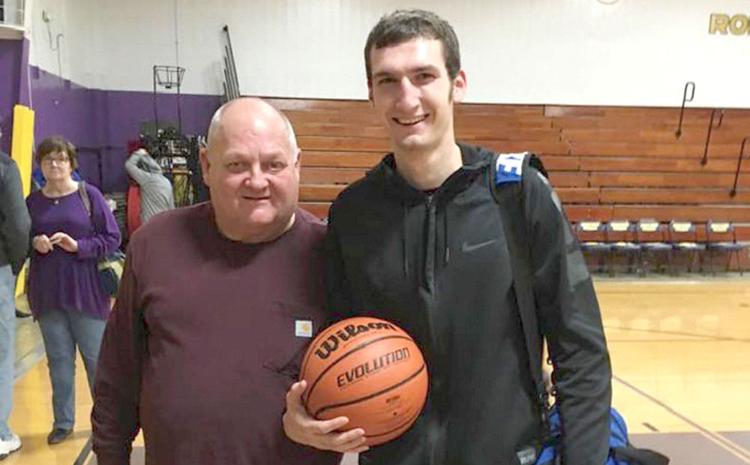 Hoopeston Area
In Friday night's win against Armstrong-Potomac, Lucas Hofer scored his 1,000th point of his high school career. Afterward, he received the game ball. — Erin Anderson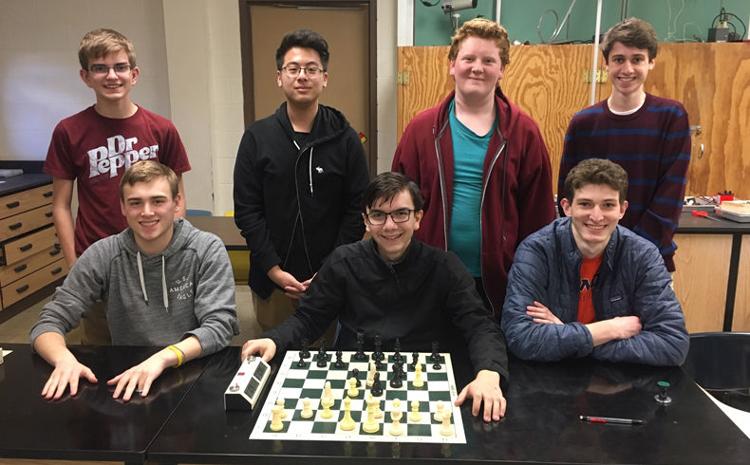 Mahomet-Seymour
The school's chess team is off to a 16-0 start as part of the Central Illinois Chess League. If the Bulldogs beat Bloomington Central Catholic on Thursday, they will be league champions. At least weekend's Illini Classic Tournament, Nathan Nagy won the Open Section and Jonah Singer was the top Board 4. The roster includes Ethan Grinberg, Clayton Burkhalter, Tony Huang, Jonah Singer, Gabe Wisnasky, Dalen Elliott, Dylan Goble, Nathan Nagy, Levi Frost, Wayne Schwaiger and Laith Shihabi.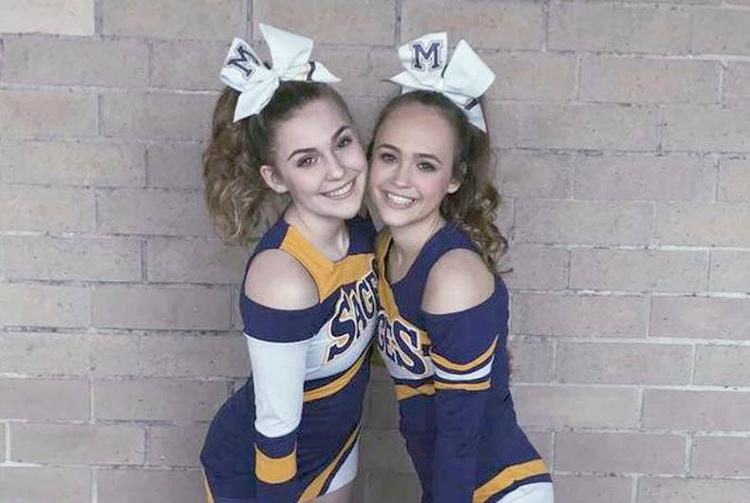 Monticello
The cheerleading team performed at Illinois Cheerleading Coaches Association State last weekend, placing 27th. Pictured: Josie Smith and Trinity Bonds. — Addison Wichus
Oakwood
The January Comet of the Month was Allie Plotner, Sam Howie took Character Trait of the Month for "bravery," and Kade Anderson was named Athlete of the Month. — Maecii Barabas
Paxton-Buckley-Loda
In the first week back after break, the boys' basketball team beat Momence and Shelbyville. Pictured: Colton Coy, Sam Penicook, Drake Schrodt, Dalton Busboom and Jarrad Debusky. — Emma Schuler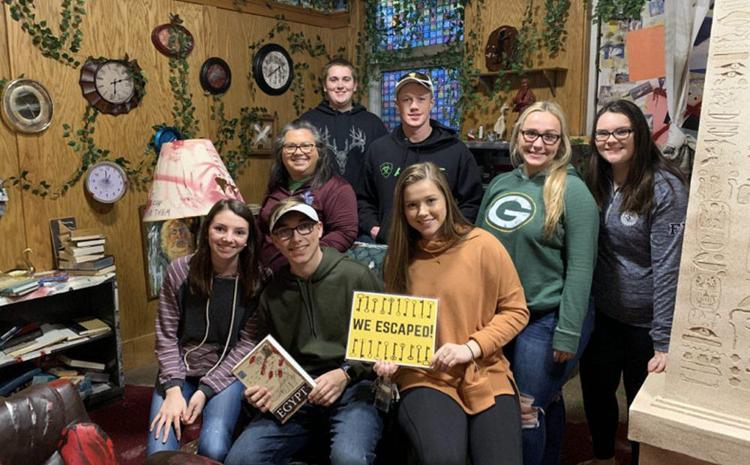 St. Joseph-Ogden
FFA officers gathered at Brainstorm Escapes in Champaign to complete an escape room before heading to the Champaign County Farm Bureau to plan events for the rest of the school year. The officers escaped the room with approximately one minute left. Pictured left to right: (back row) Darcy Nekolny (adviser), Brock Loschen and Ross Booker; (front row) Tessa Smith, Brodie Landreth, Mallory Ames, Lindsey Aden and Rachel Wilson. — Mallory Ames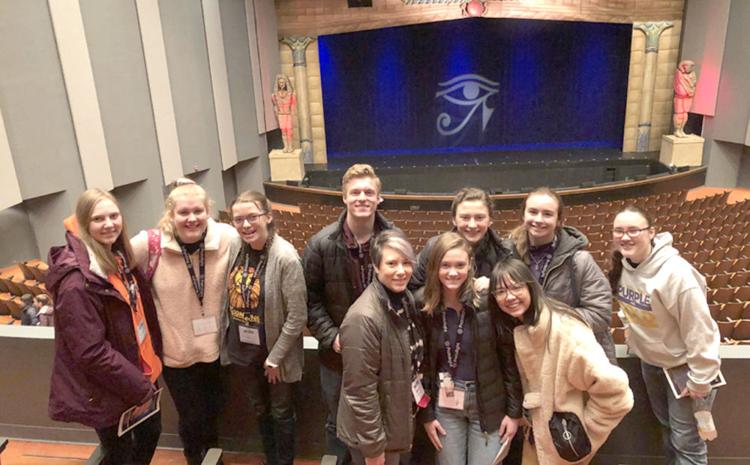 St. Thomas More
Last weekend, the drama department traveled to Illinois State for the state's annual Theatre Fest, Students saw other high schools put on musicals and plays and took part in classes ranging from ballroom dance and costume design to stage lighting and audition tips. Pictured left to right: (back) Becca Hege, Grace Kreps, Anna Craddock, Ben Croft, Abby Deptula, Emily Ritter and MaKayla Wright; (front) Melissa Marquart, Flynn Marquart and Miia Popovics. — Noelle Schacht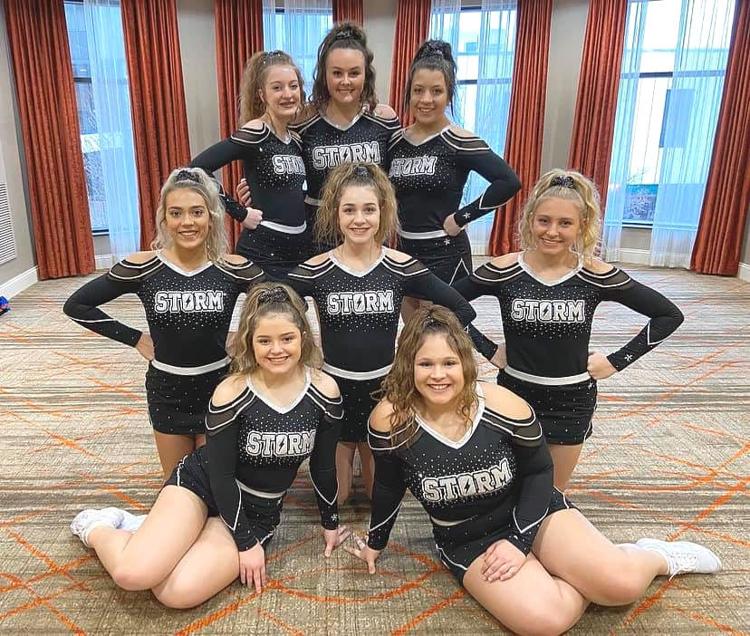 Salt Fork
The cheer team, despite learning a new routine at the last minute, participated in the ICCA State last weekend, placing 13th in a field of more than 30 teams. Said Gracie Jessup: "It was such a great feeling of relief because all of our hard work had paid off." Pictured, left to right: (back row) Riley McCrae, Olivia Birge and Paxton Fisher; (middle row) Carlie Thompson, Gracie Jessup and Grace Church; (bottom row) Gracie Labaw and Niki Jones. — Autumn Lange
Schlarman
Junior Jack Girouard completed his season as the sole member of the cross-country team. "When you're the only one on a team you're not trying to compete against others, you are competing against yourself. Being faster than others comes second. Beating yourself comes first," he said. — Farrah Anderson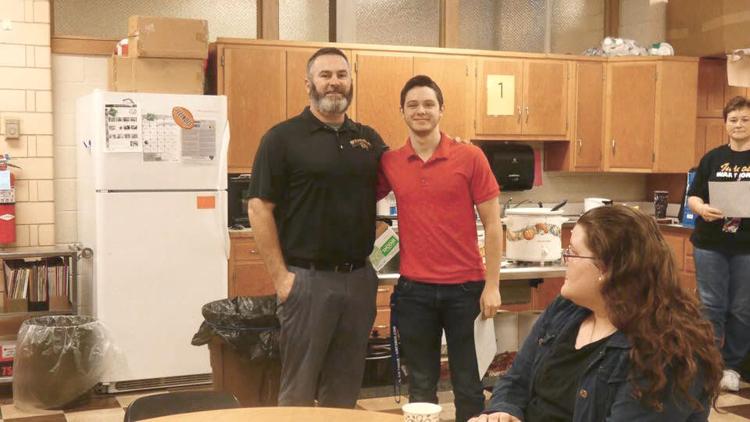 Tuscola
Junior Dustin Hale joined principal Steve Fiscus, who nominated him for the Breakfast Club award. Each student is hand-picked by members of the high school staff for being an outstanding, helpful, kind, hard- working and dedicated in class. Every quarter the chosen students are rewarded with a breakfast provided to them and their parents. — Emma Zimmer
Unity
Show Choir held a successful preview performance Saturday before a large turnout. The lively group performed songs with the theme "The Complexity of High School Relationships" as a peek into what this year's competition will hold. — Kimberly Pruetting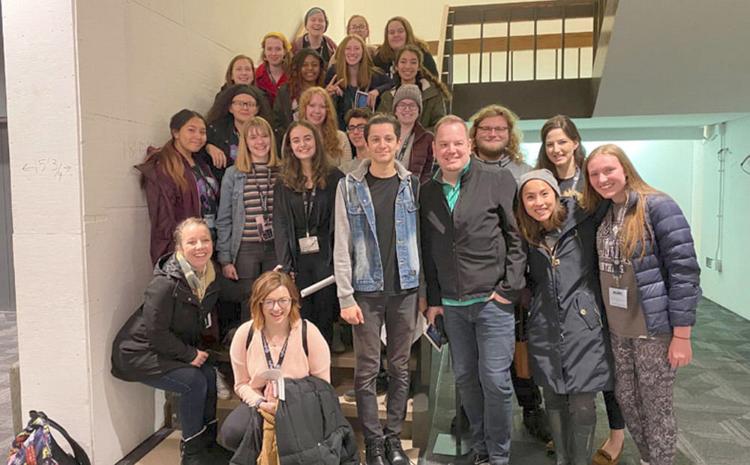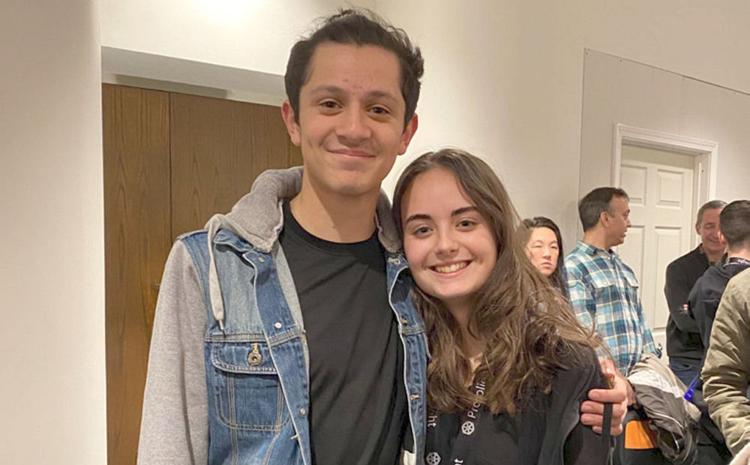 Urbana
Several students went to Illinois State University last weekend for the Illinois High School Theatre Festival. They attended workshops and shows before joining other students from around Illinois in the All-State Production. Two Urbana students, Diego Carrillo and Matilde Fernandes, were a part of the production. — Molly Sweeney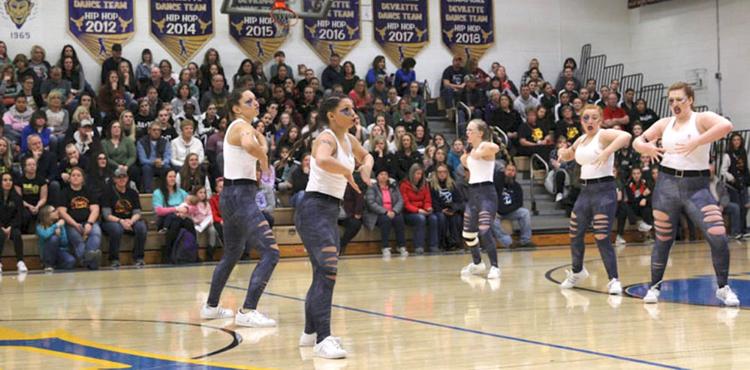 Villa Grove
The state award-winning Devilettes earned first place in Class A IDTA competition at the Charleston and Villa Grove competitions. — Grace Hutchison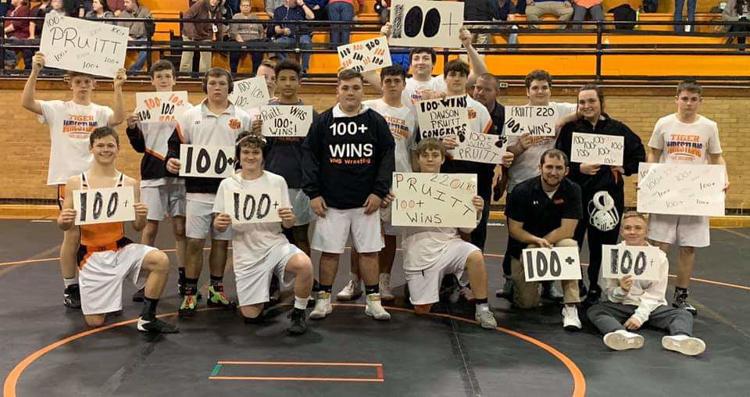 Westville
The wrestling team celebrated with senior Dawson Pruitt as he hit 100 wins in his high school career. — Emma Myers